Art Jamming Singapore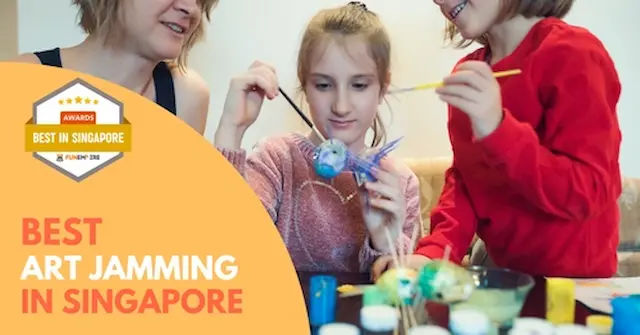 Art Jamming Singapore is a fun, non-judgmental process of painting on canvas, allowing individuals to express their creativity and release stress.
The best Art Jamming Singapore providers are FunEmpire, Art Jamming Singapore, Team Building Singapore, and Fun Workshops, and they offer a variety of sessions suitable for both beginners and experienced artists.
Selecting the right Art Jamming Singapore provider can significantly impact the quality of your experience. Important factors to consider when choosing a provider include pricing, the range of available packages, the location of the venue, and accommodation for participants.
If you're searching for a place to experience art jamming in Singapore, FunEmpire is the ultimate destination. With a diverse range of activities and backed by over 8,000 5-star reviews, we are dedicated to providing exceptional experiences.
Whether you're an individual seeking to unleash your artistic side or a group in search of a remarkable team-building experience, this article presents the best Art Jamming providers in Singapore.
Quick Summary
Best Art Jamming Singapore providers include FunEmpire, Art Jamming Singapore, Team Building Singapore, and FunWorkshops.
When booking an Art Jamming in Singapore, consider important factors such as variety of packages, locations, pricing and capacity
Best Art Jamming in Singapore is FunEmpire's Art Jamming, that has 8,000+ 5-Star reviews and 50,000+ successful events. We offer a wide variety of art jamming options – canvas art jamming, tote bag art jamming and virtual art jamming.
Key Consideration Factors
Budget: Art jamming sessions can have a wide range of prices depending on the facilities, instructors, and materials provided. You should consider how much you are willing to spend before signing up for a class.
Location: There are various art jamming studios in Singapore, so you should consider which location is convenient for you and your group.
Group size: Depending on how many people are in your group, you may need to make a reservation for a larger space or schedule a private session.
Materials provided: Some studios provide all materials needed while others may require you to bring your own. It's important to clarify what is included in the cost of the class.
Instructor expertise: If you're looking for more guidance during your art jamming session, you may want to consider booking a class with an experienced instructor.
Safety measures: To ensure a safe and enjoyable experience, it's important to check if the studio provides necessary COVID-19 safety measures, such as social distancing and sanitization protocols.
Duration: Art jamming sessions can vary in length, with some classes lasting just an hour while others may go on for several hours or more. Be sure to check the duration of the session before booking.
Type of art: Some studios may offer specific types of art, such as painting or pottery making. You should consider what type of art you want to create before booking a session.
Best Art Jamming Singapore
1. 1.5 Hour Guided Individual Canvas Art Jamming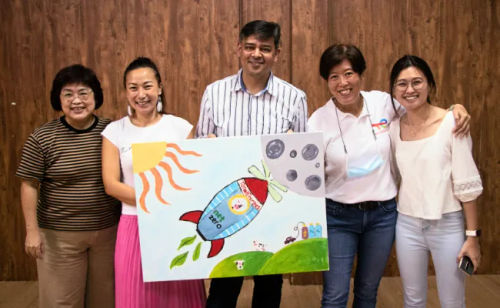 Where To Book: https://www.funempire.com/sg/art-jamming/
Unleash your inner artist at FunEmpire and share in the joy of a creative Art Jamming session with family, friends or colleagues. No experience required! All materials for an enjoyable painting adventure are supplied by FunEmpire to ensure success. Now is the perfect time to explore outside your comfort zone and tap into your imaginative side – join us today!
2. Creative Virtual Art Jamming Workshop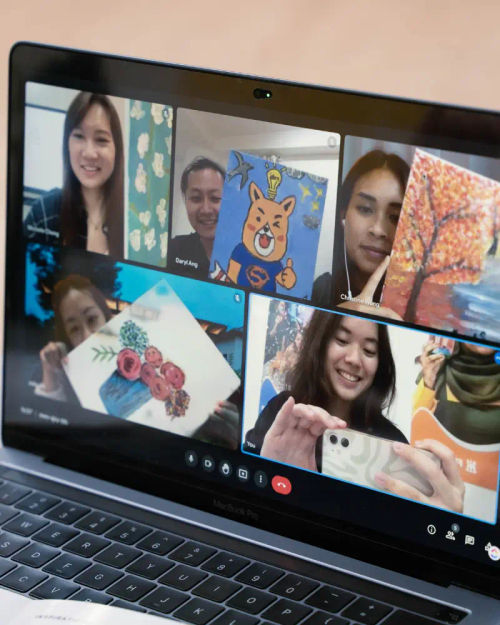 Where To Book: https://www.teambuildingsingapore.sg/art-jamming/
Team Building Singapore is proud to be the leader in providing a range of Virtual Team Building sessions and activities tailored for remote teams! Our award-winning team building games have been transformed into an array of entertaining online experiences that your personnel can enjoy from the comfort of their own homes without sacrificing fun. So don't miss out, join us now and witness how Art Jamming Workshop Singapore creates perfect virtual memories with you and your colleagues!
3. Design Your Own Tote Bags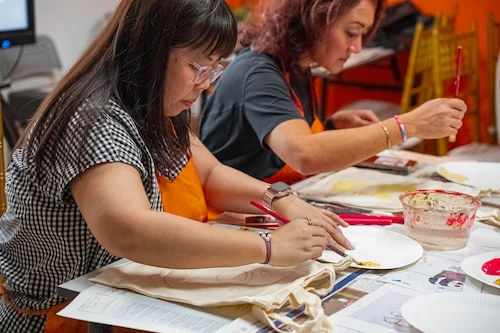 Where To Book: https://www.funempire.com/sg/art-jamming/
Release your inner artist and craft a completely original tote bag with our Art Jamming session! At FunEmpire, we provide all the materials you need for an enjoyable painting experience. No matter if it's a gift or something remarkable only to yourself – there is no requirement of prior artistic knowledge! Join us on this inspiring voyage of designing and constructing delightful creations that are one-of-a-kind and special just for you.
4. One-of-a-kind Remote Art Jamming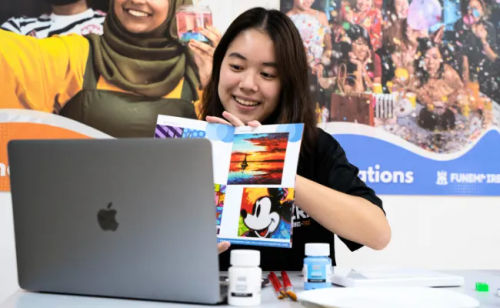 Where To Book: https://www.artjamming.sg/
Unlock the power of unity and have a blast with your remote team members in Art Jamming Singapore's award-winning virtual team building experiences! Our sessions introduce an exhilarating environment complete with games, tasks, and challenges crafted for those working from home. Don't miss out on this unique chance to make timeless memories – join us now as we guarantee that every moment matters!
5. Fun 1.5Hr Individual Canvas Painting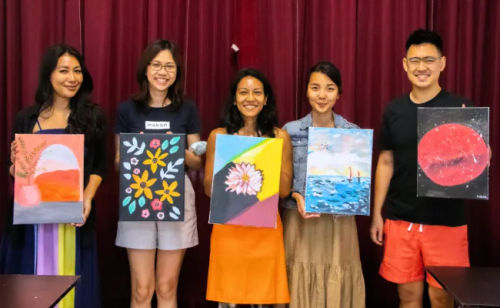 Where To Book: https://www.artjamming.sg/
Unleash the artist within and venture into a world of imaginative potential during Art Jamming Singapore's creative sessions! A great activity for families, friends or co-workers, no artistic capabilities are necessary – simply bring yourself and let go in this enjoyable environment. All supplies are provided by Art Jamming Singapore so all that is left to do is step away from your comfort zone; it's time to express yourself through art today!
6. Fun Self-Guided Art Jamming
Where To Book: https://www.teambuildingactivities.sg/
Ignite your inner artist with one of Team Building Activities Singapore's special experiences! Our workshops are the ideal activity for anniversaries and family gatherings, as they provide both guidance and freedom. Give someone you care about a unique present by enrolling them in our creative classes! Groups from two people or more can attend each public session – why not get everyone together now to explore the depths of creativity?
7. Neon Painting Workshop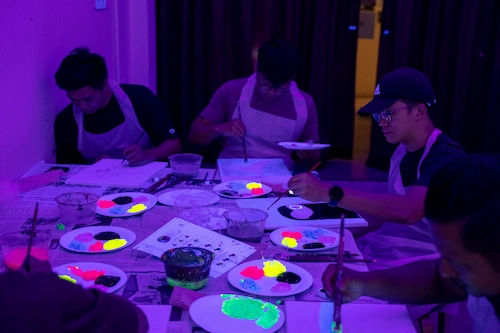 Where To Book: https://www.artjamming.sg/
Give your imagination the opportunity to thrive with Art Jamming Singapore! Revel in our stunning neon paints, materials and tools as you explore creative potential. Our glow-in-the dark painting experience is one of a kind – producing artwork that will astound even the most seasoned artists. We provide all the resources needed for your masterpiece right here! Allow us to help spark joy and creativity in your life today.
8. Glow-In-The-Dark Art Jamming Experience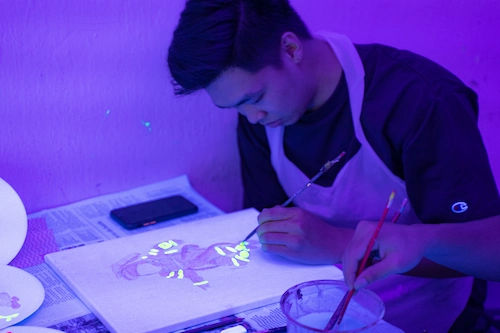 Where To Book: https://www.funworkshops.sg/art-jamming/
Unlock your creativity and unleash the power of artistic expression with our phenomenally radiant neon paints, tools, and materials! With us you can have a glowing painting experience unlike any other. Everything needed to create an electrifying work of art is here – explore new heights in visual creation today!
9. Group Art Jamming Session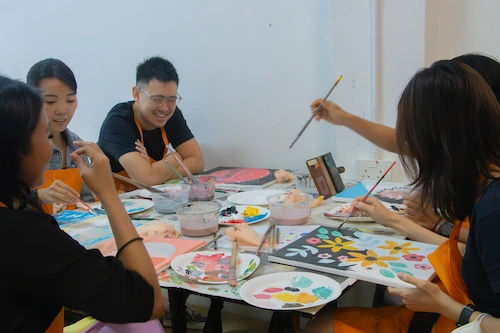 Where To Book: https://www.funworkshops.sg/art-jamming/
Unleash your team's creative energy with Fun Workshops' Group Art Jamming! A perfect way to promote collaboration, unity and relaxation for everyone – no painting expertise is required! Let the artist in each of you come out and get ready to have some fun on one giant canvas together. It will be unforgettable experience that encourages creativity within your group.
10. Public Art Jamming Workshop Experience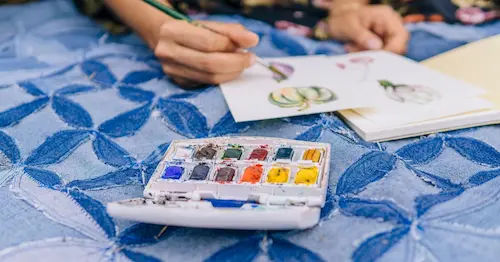 Where To Book: https://www.artjamming.sg/
Unleash your creative genius with Art Jamming Singapore! We offer a range of guided and self-guided activities that are ideal for family gatherings, romantic dates, or simply trying something new. Treat someone special to an unforgettable gift by purchasing these innovative experiences as presents – our public workshops can accommodate groups from two people upwards so don't hesitate to bring friends along too! Ready to awaken the inner artist in you? Then come on down to Art Jamming Singapore today!
11. Unique Individual Tote Bag Art Jamming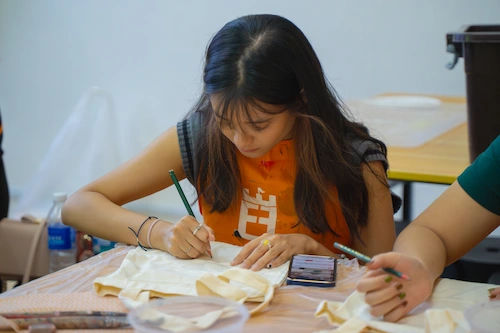 Where To Book: https://www.teambuildingsingapore.sg/art-jamming/
Unleash your hidden creativity with Team Building Singapore's Art Jamming sessions! Here you can explore and express yourself through the creation of mesmerizing tote bags that make perfect gifts or are great for personal use. Our stress-free environment is fully equipped, so all you need to bring is yourself – no prior painting skills necessary. Let your imagination run wild and discover a side of you never thought possible today!
12. Team Art Jamming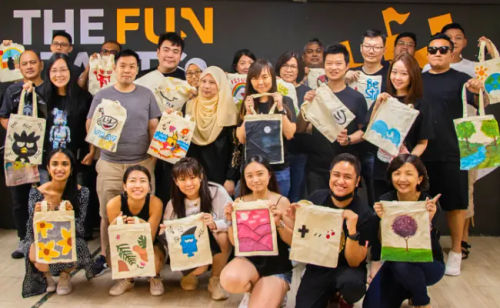 Where To Book: https://www.artjamming.sg/
Looking for an exciting and innovative experience that you and your group can enjoy? Then why not join us at Art Jamming Singapore's Group Art Jamming! Our expansive canvas is the ideal space to explore inner creativity with friends, family or coworkers. It also serves as a fantastic way to build close bonds in a tranquil setting. With all the supplies provided, there are no painting skills required – so don't miss out on this opportunity to express yourself creatively today!
13. Canvas Art Jamming Session
Where To Book: https://www.teambuildinggames.sg/art-jamming/
Unearth your untapped creativity and unleash the artist within you with Team Building Games Singapore's Art Jamming! Whether it is colleagues, family members or friends; no painting skills are required – just show up to this invigorating atmosphere. Worry not about materials as they will all be provided by us at Fun Workshops; now is the time to step outside of your comfort zone and let go- get creative today!
14. Individual Canvas Art Jamming Experience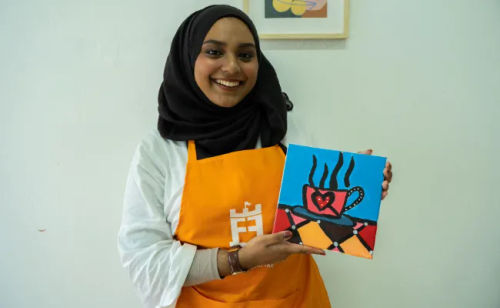 Where To Book: https://www.artjamming.com.sg/
Nurture the artistic genius inside you and attend Art Jamming Workshop Singapore's Individual Canvas workshop! It is a perfect spot for families, friends, or colleagues to express their imagination. Don't allow supplies to limit your creativity – at this workshop everything will be provided for you. Push beyond your boundaries today and get creating!
15. Open Art Jamming Workshop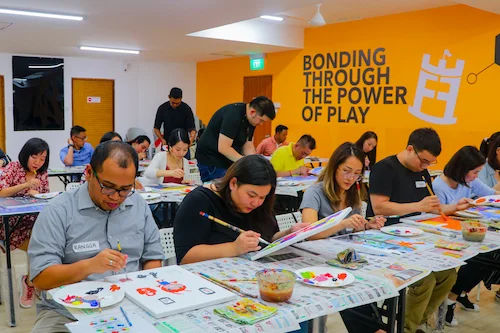 Where To Book: https://www.funworkshops.sg/art-jamming/
Searching for a distinct way to reignite your inner artist? Fun Workshops is the place! Our workshops are perfect as gifts, family reunions, or romantic dates. With each class providing both direction and independence – all you need is yourself (or 2+ companions) and an open mind. Join us at one of our public group sessions; unleash your creativity with friends today!
16. Group Canvas Art Jamming Workshop
Where To Book: https://www.funempire.com/sg/art-jamming/
If you're searching for a unique, fun-filled experience with your team? Then look no further than Group Art Jamming! A perfect way to strengthen camaraderie and unity in an enjoyable atmosphere. FunEmpire's Art Jamming package has all the necessities for a pleasant painting session without any prior artistic knowledge or expertise! Unleash your creativity on our vast canvas as one collective unit and witness excellent results that will have you coming back again soon.
17. Artistic Group Jamming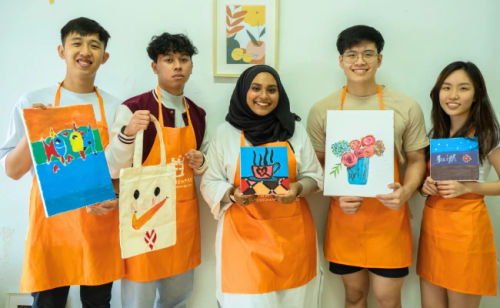 Where To Book: https://www.funworkshops.sg/
Are you in search of a stimulating and unique team-building experience? Look no further than Group Art Jamming! With Fun Workshops's professional services, your collective vision can be brilliantly showcased on an expansive canvas as part of this remarkable activity. Group Art Jamming serves to both energize spirits and cultivate collaboration within a tranquil environment. Never fear – even if you lack painting proficiency, absolutely no prior knowledge or skills are needed for one to partake in the fun!
18. DIY Art Jamming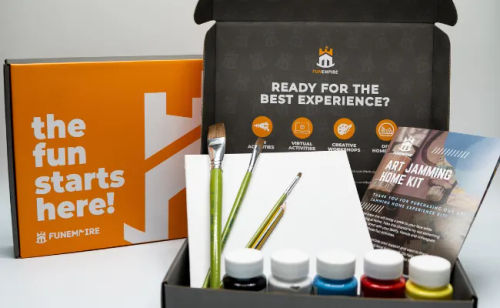 Where To Book: https://teambuildingactivities.sg/
Unlock your creative potential at Team Building Activities Singapore! Whether it's painting or leather crafting, we have a variety of hands-on activities that are perfect for reconnecting with family and friends, romantic dates, or learning something new. Give this engaging experience as an amazing surprise to someone special in your life – they will truly appreciate it. Our public workshops fit groups of all sizes (minimum 2 pax) so everyone is welcome to unleash their creativity here!
19. 90mins Step-By-Step Tote Bag Art Jamming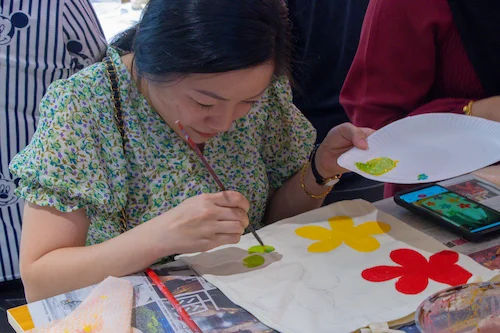 Where To Book:https://www.artjamming.com.sg/
Unleash your creativity with Art Jamming Singapore's artistic experiences! Whether you want to make something meaningful or just have some fun, our workshops offer the perfect setting for it. All necessary supplies are provided and no prior experience is needed – so let the ideas flow freely as you craft a masterpiece all by yourself or turn it into an unforgettable gift. Discover the magical power of art today at Art Jamming Workshop Singapore!
20. Trending Neon Art Jamming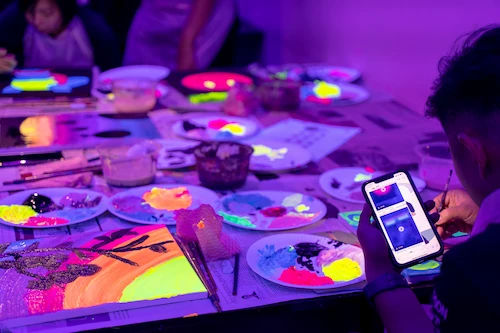 Where To Book: https://www.artjamming.com.sg/
Unleash your hidden artistic talents and create something breathtaking with our neon paints, tools, and materials! With us you can embark on a glow-in-the dark painting journey like never before. We have all the essentials to produce an amazing piece of art that will leave everyone speechless.
21. Virtual Art Jamming Workshop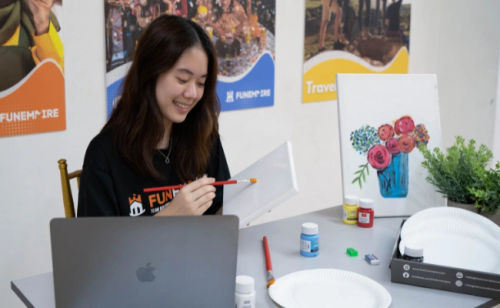 Where To Book: https://www.funempire.com/sg/virtual-art-jamming/
Step into the exciting world of team building with FunEmpire! We are the innovators in virtual sessions and activities for far-flung teams. Our award-winning games, which have been tailored to fit online experiences will leave your associates feeling satisfied without having them risk their safety at home. Don't wait any longer; join us now to see how we make perfect virtual memories that last a lifetime with you and your co-workers!
22. Neon Art Jamming Experience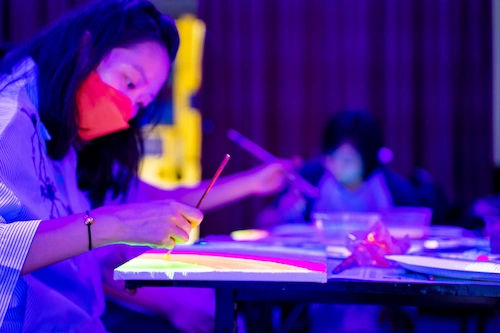 Where To Book: https://www.funempire.com/sg/art-jamming/
Rejuvenate your life with us! Give in to your inventive side and discover our impressive fluorescent neon paints and art kits for an unforgettable Art Jamming session. Our extraordinary glow-in-the dark neon painting experience includes all the supplies you need to construct a unique work of art. Come create something captivating today!
23. Online Art Jamming Session
Where To Book: https://www.virtualteambuilding.sg/
Virtual Team Building Singapore is the premier provider of virtual team building sessions and activities for remote teams! Our award-winning, stimulating games have been crafted into engaging digital experiences that can be enjoyed from home without compromising on entertainment. Don't hesitate – join us now to witness how Fun Workshops creates extraordinary virtual memories with your colleagues!
24. Unique Individual Tote Bag Art Jamming Session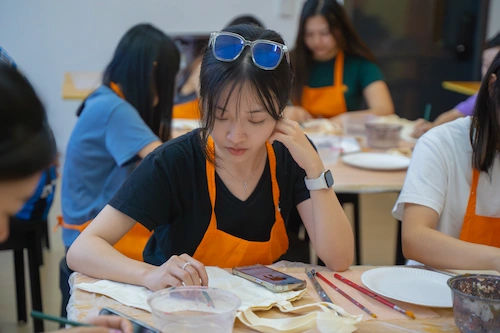 Where To Book: https://www.teambuildingsingapore.sg/art-jamming/
Ignite your creativity with Fun Workshops's Art Jamming sessions! Our stress-free environment and all the supplies you need to create an individualized tote bag will help you craft something special in a snap – no prior painting experience required. Plus, it makes for a great gift too! So don't wait any longer to discover and unleash your inner artist today – let those imaginative juices flow!
25. Paint Your Own Paper Shoot Camera
Unleash your creativity with the Paper Shoot Camera! Crafted out of stone paper, this eco-friendly digital camera offers a unique film-like quality and comes complete with four distinct filters plus interchangeable cases for you to customize however you see fit – painting them any color or image that suits your fancy. With such an easy and enjoyable way to capture beautiful moments, what are you waiting for? Get creative today!
26. Private Guided Art Jam in a Cosy Studio
Unlike other art jamming studios and cafes, The Art Nooq offers a distinctively tranquil environment to explore the finer points of artistic expression. Offering full customisation and ease-of-use for all aspects of your session, generating artwork has never been easier. After all, creativity should be allowed to flow freely!
27. Glow-in-the-dark Art Jam
Searching for an intriguing, one-of-a kind experience in Singapore? Look no further than their glow-in-the dark art jamming! Their luminous space is ideal to express your creativity with stunning cityscapes, patterns or streaks that glimmer at night. With everything you need provided – from brushes and canvas of 40cm by 50cm size to acrylics and phosphorescent paints – as well as upbeat music playing in the background and friendly people around – it's time to lighten up the evening through painting!
28. 3Hr Art Jam with 5 Different Art & Craft Techniques
Make the most of your 3-hour creative session at Studio An and dive into any one (or all!) of five available techniques. Go ahead, explore what you can do without a guide – however, should you need help along the way, their staff will be right there to give an introduction to silk screening or cutting wood. All that's left is for you to make something unique!
29. Hand Paint Agar Agar with Batik Designs
Are you eager to learn how to craft a stunning 3-layered agar agar? Their beginner friendly workshop is the perfect opportunity for that! Not only will they show you how to prepare it, but also demonstrate techniques of selecting and layering an intricate batik painting onto its surface. With their expert guidance, your finished product will boast vibrancy in colour as well as delicacy in design.
30. Piping Textured Art Workshop
Test your cake-decorating skills at their Piping Technique Textured Art Workshop! Express yourself and design a canvas that looks like something straight out of a bakery. Here, you will learn all about acrylic mediums, hues and tints, as well as how to pipe them together into an exquisite textural masterpiece. Sign up now for this one-of-a-kind chance to show off your talent!
31. Macaron Painting Workshop
If you've yearned to consume the art that you create, come join them in a two-hour macaron painting session! Their knowledgeable guides will be there all throughout your artistic journey — and when it's finished, delight in your masterpiece as dessert. Let this event provide an opportunity to truly bring out your creative side.
32. Learn Digital Illustration from a Pro
In this two-hour tutorial, you'll receive a comprehensive introduction to the fundamentals of portrait creation using Procreate for iPad. This amazing and user-friendly digital illustration program is your perfect partner when crafting portraits with an iPad! They will explore every aspect from canvas basics, colours pickers/palettes, brushes and layer selections so that you can unlock its incredible potential. So what are you waiting for? Get ready to make masterpieces on your iPad today!
33. Create a Masterpiece Art Jam on The Wall in 90 Minutes
Ready to escape from the everyday hustle and bustle? Wanting an opportunity to get creative while having a great time? Singapore's first splatter paint studio is just what you need! Unleash your inner artist in this free-spirited ambiance where inhibitions can be set aside. This experience will bring more joy than when you were a kid – here there are no rules!
34. Fluid Art/Acrylic Pour Workshop
Unleash your creativity and explore the captivating world of Acrylic Pouring! This mesmerizing art form begins with acrylic paint, which is mixed with a pouring medium and other additives to reach its pourable consistency. You can either delicately layer or rapidly tilt your canvas as you spread the liquid hues; unlocking unique effects depending on what pigments were used in mixing them together!
35. Tattoo Art Jam Faux Skin Tattoos
Come and join them for a 3-hour creative journey at their homey art studio! Over the next half hour, you'll discover your artistic talents by creating a unique tattoo on faux skin. As soon as your session is finished, you will have created an exclusive artwork that's all yours – ideal for groups of 2 to 4 people per class. Register now and explore yourself in this unparalleled Tattoo Jamming experience!
36. Palette Knife Textured Art Workshop
Ignite your creativity and hone your palette knife expertise to craft a one-of-a-kind artwork in their Palette Knife Textured Art Workshop. During this learning period, you'll be exposed to acrylic mediums, colour mixing principles and layered techniques while wielding the most excellent tool for texture painting – the palette knife! At the end of this workshop, you will have an authentic art piece that brings together all of these newfound methods.
37. Ceramic Tile Painting Workshop
Whether you are a novice or seasoned artist, this workshop is the perfect chance to explore fresh methods and express your creativity. I will provide continuous support along with examples of painting and drawing techniques that can bring out your vision. Everyone taking part in the workshop will learn everything necessary for designing their own wonderful tile masterpiece!
38. Unleash your Creativity with Graffiti
Take the plunge and dive into this incredible graffiti session! Cover up in protective clothing, pick up some spray cans, and let your imagination run wild. Whether you're a lone wolf or exploring with friends, make sure to put your inhibitions aside – it's all totally legal here! Unleash your inner artist by letting go of any constraints and expressing yourself without boundaries. It'll be an experience like no other!
39. Art Jam with Guided Photography Walk
Get ready for an incredible and exclusive three-hour art jam event at Raffles Place! You'll be taken on a thrilling guided photowalk, where you can snap your favourite photos to then be transferred onto the canvas.
40. 2Hr Tote Bag Painting
If you're an artistic soul with a practical side, join them for one of their exclusive two-hour art jam sessions! Here's your chance to unleash your creativity on something useful: a custom tote bag that will follow you wherever life takes you. Their space is limited and intimate – no crowding or noise allowed – so reserve your spot today before they're all gone. Perfect for any introvert looking for some much-needed me time!
41. Virtual Watercolour Art Jamming
Experience a unique and memorable two-hour, private virtual art jamming session with top instructors! You'll be guided in the art of watercolour painting and will receive all supplies directly to your doorstep – including canvas, brushes & colours. Perfect for group sizes ranging from 5 to 200 people!
42. Paint on a Tote Bag
If you're in search of a private, accommodating atmosphere to spark your creativity with the support and direction of an expert studio, then The Art Nooq is exactly what you need! Their space was created to help remove any unnecessary strain or anxiety from artistic development. Plus, their team is available for guidance whenever necessary – just let them know what type of assistance you require and they'll be sure to point you towards the right path. Come experience the unique blend of artistry exploration and relaxation that only The Art Nooq can offer!
43. Oil Painting for Beginners
Are you eager to explore the timeless world of oil painting? Generations have used these luxurious hues and layered techniques to create beautiful works on canvas, captivating viewers around the globe. With its enhanced flexibility over acrylics and even richer depth than watercolors, it's no wonder why people are drawn to this traditional form of expression. They provide a helping hand if needed; all you need is some patience! Start creating stunning pieces with oils now!
44. Watercolour Workshop by Kopou
Are you searching for a way to harness and express your inner artist? Then this is the perfect workshop for you! Here, they will help build your confidence with watercolour painting as well as guide you through simple yet captivating techniques. You'll also learn how to create picturesque compositions full of flowers – all without having to leave your home! Don't pass up on this singular chance – it's time unleash that creative energy within you.
45. Private Group Art Jamming
Whether you're an adult, a child or simply looking for something fun and unique to do, Motion Art Jamming is the perfect way to unlock your inner artist. Here in Singapore they offer this innovative science-meets-art experience that has been highly rated among all those who've tried it! Create your own piece of artwork – whether as a keepsake or wall decoration – with all materials provided including canvas boards, paint sets and painting tools. And if that's not enough – why not bring along some friends? It's also ideal for team building events, dates, anniversaries kids bonding sessions and parties; come join them today at their art workshop where together they can create something truly beautiful!
46. Guided Art Painting while sipping a glass of wine
Gather your favourite treats and drinks, then join them in creating a beautiful work of art! Their instructor will walk you through each brush stroke step-by-step. From majestic fields to enchanting seascapes, everyone can find something that suits them here! Even if this is your first time painting, they guarantee that their activity will help you relax – it's even more enjoyable when experienced with friends or family members by your side!
47. Be Creative through Art and Music while Art Jamming & playing Ukulele!
Calling all artistic and musical enthusiasts! Join them for this unique 3-hour gathering at Avant Garde's Art Space, where you'll have the chance to customize your own ukulele while learning how to play it. Kids of any age are welcome with an accompanying adult, but hurry – only 7 spots remain open! Don't miss out on this one-of-a-kind opportunity.
48. Watercolour Painting Workshop
Unlock your creative dreams with the Sage Artelier! They have flexible options to fit all levels, so you can create beautiful artwork like picturesque landscapes, gorgeous florals and even stunning self-portraits. Plus, they'll show you how to blend colours together for an eye-catching masterpiece of your own design. Don't wait any longer – join them now on a journey into uncovering the artist within yourself!
49. Bear Acrylic Pouring
Let your creativity soar and explore the possibilities of acrylic pouring art with their dedicated instructors! You'll have a blast creating magnificent artwork – no previous artistic knowledge required. Unleash your imagination and discover what you can create in this fun course today!
50. Design a one-of-a-kind Bear Figurine and Keychain Bear of your own!
Step into the invigorating world of Avant-Garde Art Space and create your own remarkable teddy bear figurine! Their helpful staff will be there to assist you with any difficulties that arise, so don't stress out if it seems too difficult. As a bonus, every set comes with both the regular size figurine and its mini version which can come along in all your adventures! So join them today for an incredible experience where imagination has no limits.
51. 1.5Hr Free and Easy Art Jamming Session
Art Room's art jamming sessions are a great opportunity for young creatives to be creative and explore new ideas. In just 1.5 short hours, you will find yourself in an idyllic setting where your painting tools can help unleash the power of your imagination! Don't miss out on this half-size, half-time experience – discover what wonders you can create with Art Room's full art jamming session!
52. Fun Art Jamming in a Cosy Studio
Discover your inner artist with them in an engaging and enjoyable 2.5 hour art jam session! Gather your family, friends, and loved ones for this exciting opportunity to create something spectacular. From canvas to paint brushes – they have everything you need to make a masterpiece of self-expression come alive on the page. Unleash your imagination as creativity takes the wheel – it's time to join them at their fun filled art jam session!
53. Unlock your Inner Artist at an Art Workshop
Make your next event an unforgettable one by hosting a stimulating art workshop – ideal for corporate team building, kids' parties, and adult gatherings. For 75 minutes you will have access to a vibrantly decorated wall with enough time to freely express yourself artistically. Prepare for an energetic session that reveals the inner artist in everyone!
54. Enchanting Art with Anime Glass Painting!
Unleash your creative side and learn all the fundamentals of anime painting with their skilled tutors! Get inspired by renowned characters from delightful animations, and make them come alive on canvas through this popular art form. Create breathtaking artwork that boasts intricate details as you explore how to express yourself artistically in a way that is totally unique. Don't miss out on this opportunity – it's time to paint some legendary moments!
55. Acrylic Pour
Unlock your creative potential and delve into the captivating world of acrylic pouring! With them, anyone can create their own masterpieces – no artistic background required. Their workshop is ideal for people of all ages, from kids to adults alike. Come join them to unleash your inner strength and ignite brilliant ideas in an exhilarating Acrylic Pour session that's sure to be a blast!
56. Relax and Unwind with 2-Hour Art Jamming in a zen studio
If you desire a stress-free, entertaining way to unwind – then this picturesque studio is the perfect place for art jamming! In only two hours you'll be able to craft your own acrylic painting memento. Even though the session has little guidance, their friendly and patient instructors are willing to lend helpful advice if needed. Don't miss out on this opportunity and come join them today at the studio!
57. Hand Paint Agar Agar with Batik Designs
Embrace the art of cooking and craft an exquisite, multilayered agar agar! This beginner-friendly workshop is perfect for those wishing to learn how to make a remarkable 3-layered creation. Not only will you be guided through the processes of preparing and transferring batik paintings onto your masterpiece, but also receive helpful tips on choosing vibrant colours that bring it all together in one design. Join them today – with their expert guidance, your creation will truly stand out from the rest!
58. Paint your own plant pot!
Unleash your artistic expression and add color to your home with their 2-hour guided pot painting session! Whether you're a novice or an experienced painter, they have instructors to guide you every step of the way. Paint away as they provide hands-on assistance for optimal results!
59. Paper Marbling
Join them for this two-hour session of paper marbling, taking place in an enchanting rooftop garden! This unique craft uses paint and water to develop simultaneously surreal yet elegant designs reminiscent of marble. It's a great activity for your friends or family members, ages 4 and above — come have fun outdoors while creating one-of-a kind souvenirs from nature!
60. 1.5Hr of Explosive Fun
Get ready to have an incredible time at Art Pop Studio! Their workshop will show you how to mix colors, layer techniques, and create your own unique splatter art. And then comes the best part – it's time for some popping fun! All materials necessary are included so all there is left for you to do is be enthusiastic and excited as you enter into the splash zone and start poppin' away!
Art Jamming Singapore
Art Jamming in Singapore is an art form that allows you to explore your creativity and express yourself in a unique way. With the abundance of art jamming studios available in Singapore, it has never been easier to take part in this creative activity.
Whether you're looking for individual art jamming sessions or group activities for team building in Singapore or as an activity for a birthday party in Singapore, there are plenty of options to choose from depending on what suits your needs best.
Explore these art jamming studios today and experience the power of art therapy with friends!
If you enjoyed reading this, you might also like:
Frequently Asked Questions (FAQ)
If you have any questions about Art Jamming in Singapore, you can refer to the frequently asked questions (FAQ) about the Best Art Jamming in Singapore below:
Is there a limit on how many people can join an art jamming session?
The pax limit depends on the art jamming studio you choose. Most studios have a maximum capacity of 10 pax, some may accommodate up to 20 pax or more – so be sure to check ahead before booking! Also, bear in mind that most places require prior bookings so availability may be limited.
Which are the best art jamming providers in Singapore?
There are numerous art jamming providers in Singapore, offering a wide range of creative experiences to cater to your artistic desires. Some notable providers include FunEmpire, Motion Art space, splat paint house, liberty art jam, spin paint house, and artify studio.
What are some of the top art jamming studios in Singapore?
Singapore hosts a variety of reputable art jamming studios, with FunEmpire and Art Jamming Singapore being among the most popular. These studios offer a range of art jamming activities and workshops that cater to all skill levels.
Can I try folk art painting at an art jamming workshop?
Yes, many art jamming studios in Singapore, including FunEmpire and Art Jamming Singapore, provide the necessary art tools and guidance for you to explore different art styles, including folk art painting.
How does abstract art fit into the art jamming activities?
Abstract art is a great way to let your creative juices flow freely during art jamming activities. With unlimited acrylic paint and various art tools at your disposal, you can experiment with colors, shapes, and textures to create your own unique masterpiece.
What should I bring to an art jamming session?
Most art jamming studios provide all the necessary materials, including canvases, brushes, and unlimited acrylic paint. You might want to bring reference pictures if you have a specific design in mind. Otherwise, just bring your creativity!
Can I use acrylic paints in art jamming workshops?
Absolutely! Acrylic paints are commonly used in art jamming workshops due to their versatility and vibrant colors. Plus, many art jamming studios in Singapore offer unlimited acrylic paint during the session, allowing you to create to your heart's content.
What are the benefits of participating in art jamming activities?
Art jamming activities offer a relaxing and fun environment to express yourself creatively. They can help to relieve stress, boost your mood, and even improve cognitive functions. Plus, you get to take home your own artwork at the end of the session.
What can I expect in an art jamming session at OG art jamming studios like FunEmpire or Art Jamming Singapore?
At OG art jamming studios like FunEmpire or Art Jamming Singapore, you can expect a warm and friendly environment equipped with all the necessary art supplies. Their sessions are guided by experienced instructors who can help you unleash your creativity and enjoy the process of creating art.
Do I need any prior experience to join the art jamming workshops?
Not at all! Art jamming workshops are designed for everyone, regardless of artistic experience or ability. The goal is to enjoy the process of creating and expressing yourself through art. So come ready to have fun and let your creative juices flow!
Additional Useful Guides
If you are looking for other useful guides and articles about Art Jamming in Singapore, check them out below: