Awning Singapore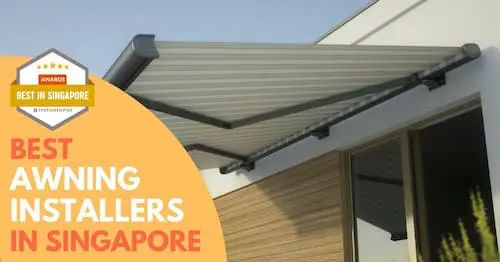 With Singapore's tropical climate, the need for effective shade solutions like awnings is undeniable.
The best awning installers in Singapore include Elite Deco Pte Ltd, Creative Shades, Century Awning Industrial, and Sky Grilles.
When selecting an awning installer in Singapore, take into account factors like longevity, aesthetics, and cost.
In Singapore, the finest awning installers employ high-quality materials like aluminum, canvas, and polycarbonate to guarantee durability that lasts.
We've conducted extensive research to find top awning installers in Singapore, offering high-quality and well-designed awning systems.
Key Considerations Factors
Purpose: Think about what you want the awning to do, such as provide shade, prevent the entrance of rain and wind, or improve the appearance of your property. This will help you select the sort of material that will work best.
Structure: Choose an awning style that is crafted from high-quality materials and comes equipped with sturdy supports and fittings. Check that it is capable of withstanding harsh and unpredictable Singapore weather conditions such as high winds and persistent precipitation.
Design: Consider how much space the awning can cover and whether it will complement your existing architecture. Look for models with features like adjustable sides so you can adjust angles to block out more sun or rain depending on need.
Cost: While deciding on the size, style, color, and other aspects of an awning, you should take into account your available budget for the materials and the installation. Do research on the many options for bundles offered by a variety of vendors before settling on one.
Maintenance: Select an easy-to-maintain option that won't require regular cleaning or repairs over time. Look for models with removable covers, which can be taken down easily for cleaning and storage during rain or other inclement and unpredictable Singapore weather conditions.
Best Awning Singapore
1. Elite Deco
Elite Deco specializes in a wide array of roofing and shades. Whether you are thinking of creating a comfortable outdoor space to enjoy and entertain in, or providing privacy while controlling heat, you can be assured of Elite Deco's quality guaranteed products. They are committed to meet clients' requirements by carrying a full range of choices and staying ahead of trends with new selections. From roller blinds, canopy, trellis as well as, balcony awning Singapore, they aim for functionality and privacy features customized to your lifestyle.
Key Differentiators
Retractable Awning
Aluminium composite panel roof
Polycarbonate roof
2. Creative Shades
Creative Shades has been in the business for 28 years, yet their prices are kept low. However, on account of their low costs, this does not imply inferior quality. Their awnings would vie with other notable choices when it comes to durability. Their awnings are constructed of waterproof fabric and are intended to withstand tough and unpredictable Singapore weather conditions. That being said, they are not only suitable for your backyard but for your brick-and-mortar store as well.
Creative Shades is excellent for any home or business space upgrade project on a tight budget, with an average rating of 5 stars out of 52 Google evaluations. They've also been featured on Best in Singapore.
Key Differentiators
Free quotes available
Relatively long weekend hours
Client Testimonial
We got in touch with Cedric for glass roof+decking+zipscreen quotation for our patio. He was one of the 5 that we approached for a quote. Not only his quote was the cheapest, he was able to provide useful suggestions that proved to work to the best of our advantage. It was brilliant to work with him too, very communicative, and he went out of his way to help us pick up the fans for the patio to fabricate the part to hold the fans to the structure on the roof, and painted the patio railings all the way to the back. Customer service at its best! The installation crew were very professional and courteous too. The patio now is the best part of our home, realising our dream for an al fresco dining and chill area. And the compliments from guests of this space just make this 'investment' very worthwhile. Thank you Cedric & the Creative Shades team!
3. Century Awning Industrial
The reputation of Century Awning Industrial for high-quality goods and installation services is well-deserved. Their excellent customer service is another one of their trademarks. And it's not surprising, given their corporate culture that emphasizes a client-first attitude.
Century Awning Industrial is the firm to work with if you're looking for awning installers that will be generous enough to offer you the finest recommendations for your home from start to end. They provide free onsite consultation and quotation, and according to some of their customers, they are always honest about the expenses and maintain reasonable pricing without compromising
They're a reputable company that provides exceptional customer service. They guarantee that the work is completed to code and in accordance with the original contract, and they always stick to their word. They also give after-sales service and support, which is an excellent benefit for homeowners who don't want to hire professional awning contractor.
Key Differentiators
Free quotes available
Client Testimonial
Highly recommended. Very professional service and good workmanship with reasonable price. Rikki and his team are friendly and prompt in reply. Explain in details and very helpful in answering doubts. Overall great experience.
4. Francia Outdoor Shades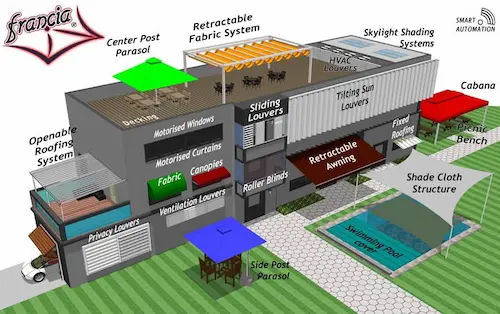 As a leader in the Outdoor Shade industry since 1981, Francia Outdoor Shades constantly strives to keep the competitive edge.
Capitalizing on the latest in innovations is a great way to stay not steps but miles ahead of the competition. They have always remained committed to the finest quality, safety & appearance in their Shades.
They offer a wide array of Outdoor solutions designed to meet/suit your requirements. Their high-tech products offer you Safety, Quality & Appearance.
They would like you take this opportunity to browse their website and take advantage of their offers.
Key Differentiators
They are manufactures with experience since 1981.
They work with Customised Retractable Project Needs & Requirements.
In house fabrication of fabrics, frame & automations for shading products.
5. Sky Grilles
Sky Grilles can supply and install whatever type of roofing you choose, whether it's aluminum composite panels or polycarbonate. Their objective as a firm is to offer clients with shades that protect them from direct sunlight and wet weather while also protecting them from the rain.
The fact that they only utilize high-quality awnings and materials is what distinguishes them as a business to hire. Each awning is coated with anti-rust and anti-dust chemicals, so you won't have to clean it very often.
The components were also tested, ensuring that the awning you choose is long-lasting and sturdy. Furthermore, each good passed its quality control, so you can rest confident in the awning that will be installed in your home. If you don't like their services, they'll return your money; it's clear that they're confident.
Finally, if you have any difficulties with your awnings, they provide excellent customer service and will address all of your inquiries.
Key Differentiators
Wide range of awnings
Free quotes available
Client Testimonial
Leonard was reccomended by my friend who said he was good. He came promptly to look at my balcony that 3 other professional awning contractor had said it was a tough job and need to cut my balcony or rework the whole thing – leonard said yes. Can be done. I couldnt believe. He explained that it was more challenging and might charge a little
6. Decorial
Decorial provides retractable awning systems, rain and sun shielding, as well as various house and building automation enhancements. They are dedicated to creating bespoke technologies using cutting-edge European technology.
Due to its high-quality materials and experienced artisans, the company believes it is possible to improve your home's façade while also having a practical use. They make sure that your house is well maintained and pleasant to live in, thanks to their skilled architects and builders.
As a customer, you will never have to worry about their service quality since they adhere to rigorous international criteria. Why not pay Decorial a visit if you want to make your house more safe and pleasant?
Key Differentiators
10-year guarantee for spare parts
Consultancy services available
Client Testimonial
Professional turnkey project specialists that provide all-rounded management, coordination and detailed consultancy services!
7. Heng Lip Awning Installation Contractor
Heng Lip is a supplier of awnings and canopies that provides a comprehensive range of services, including aluminum ceilings, aluminum window shutters, metal roofing, sun screens, and other similar goods.
So, if you want a professional awning contractor who will work as hard as possible to keep you safe from direct light, contact them.
They have competitive pricing and work closely with their customers to deliver a personalized service that meets their needs. They take pleasure in the trust they've earned as a one-stop-shop for all of homeowners' and business owners' demands.
They also have a staff of skilled experts who are arguably the best in their field. And it's just one more thing to admire about them!
Key Differentiators
Free consultations
Wide variety of awnings
Convenient location
Client Testimonial
I was looking for a professional awning contractor and saw a review about their good service and called them for a quote. Best decision made. They are not your polished contractor/designer sort and are more homely but they give good, practical and cost effective advice and service. Their pricing was not only cheaper than my other quotes but they were more flexible and approachable when I needed changes. When they came onsite to do the work, they were professional and thorough and most importantly experienced. They went beyond the job service to help me check and fix some small faults without us asking – at no extra charge. There are some contractors that are really "ngiao" and will be reluctant or black faced but not the case here. I dealt with Jess and their on ground guy Thomas. I am very pleased with their service and strongly recommend them!
8. Perfect Deco
The attractive website of Deco's shows not only essential information about their products and services, but also an intriguing portfolio of current projects.
Perfect Deco is an established business with over 18 years of experience working in the awning industry and registered with the Building and Construction Authority (BCA). They have a team of designers, architects, construction experts, engineers, fabricators, and manufacturers on site. Restaurants, hospitals, government buildings, seaports, airports, hotels are just a few of their clients they have worked closely with.
If you need a retractable awning for your physical business, Perfect Deco is the best option. They also deal with private residences. Their Somfy-powered retractable awning systems are able to perform both manual and automatic tasks.
Key Differentiators
Wide range of awnings
Client Testimonial
My Landed House roof awning was done 4 years ago. due to fair wear and tear there are some leaking issue. Called the Boss Victor up and he did an inspection and immediately send his guys down within few days.
9. SG Sunshade Guru
SG Sunshade Guru has been praised by clients for their quick and high-quality service. Their professional installers are also prepared to go above and beyond by performing a variety of activities outside of their job responsibilities.
They're upfront about pricing as well as thorough when it comes to describing the awnings' features and construction, as well as the conditions. If you want clear, honest, and transparent communication throughout the project, they're the firm to choose.
SG Sunshade Guru awning company, which has been active for two decades, creates and deploys custom-made fully motorized and automated waterproof retractable awnings that are simple to install, cost-effective, long-lasting, straightforward to maintain, and suitable for both residential and commercial usage.
Key Differentiators
Free quotes available
Wide range of awnings
Client Testimonial
A big thanks to "Mr Hands On" Albert and his team on the installation of the awning at my garden. Extremely satisfied with not only the service rendered by Albert but the professional work done by him and his team as well. Very meticulous, clean and precise to what was promised. Highly recommend SG Sunshade Guru .
10. Awnings.com.sg
While they appear to be frugal when choosing their business name, their product catalog offers a lot of alternatives. You could call it a one-stop-shop, for example. You can see associated products and home accessories in their store that you may include with your main purchase to give the appearance and feel you're going for in your area.
There are many different types of awnings and sunshades available, including aluminum, dome, fabric, and several others. Their team of professional installers ensures that the measurements for your awning are accurate so that it fits the area where it will be placed properly. Check out their website to see if there are any special offers available as well.
Key Differentiators
Free site visits
Wide range of awnings and blinds
Central location
Client Testimonial
It's been a pleasant experience along the process, started from site visit, quotation, installation. Shawn has been very helpful, accommodating, and professional, and resourceful. Installation has been a breeze and effective, which was led by his PIC, Rashid. I feel grateful that I have came across Ace Awnings and satisfied with the result. Thanks!
11. Best Solution Decor
If you're looking for an excellent awning installer on a budget, Best Solution Decor is the company to call. Despite not being the most well-known professional awning contractor on the island, they've amassed a list of satisfied clients.
They also have a crew of expert installers that know their way around various types of awnings and roofs, so whether you want sunshades or actual frames like trellises, they can help you select the right ones.
Key Differentiators
Ideal for trellises
Wide range of awnings
Free quotes available
Client Testimonial
Your satisfaction is our priority… Ask for a quote with no obligation
12. HLH Singapore
They are totally dedicated to offering the best returns on their sunshade investments at Al'fresco. Years of committed and exceptional customer service, honesty, and high-quality materials have established them as a leader in awning industry.
All of these combine to make them one of the most popular sunshades, whether it's an Outdoor Umbrella, a French Awning, or a Zip Blind System. Regardless of your budget or needs, they can help you choose the ideal option. Their experience and high-quality sunshade products always produce an elegant balance of usefulness and appearance.
Key Differentiators
Great design and clever technology
Wide range of awnings
Client Testimonial
Was very impressed with "Andrea'. She was very helpful, not pushy, patience and come across as very sincere. Easy to communicate with.
13. Shadetimes
They develop and manufacture sunshades, as well as a large range of other goods, as a leading roofing company in Singapore. This includes Retractable Awning Systems, ZEN Latin Systems, Outdoor Vertical Drop Systems, Fixed Roofing, Outdoor Parasols, and many more roofing solutions.
They are the most experienced awning company in Singapore, having more than 20 years of expertise in outdoor coverings.
Key Differentiators
Wide variety of awnings
Client Testimonial
We want you to know that we are very pleased with the quality of service and product your company provides. We sincerely appreciate your responsiveness (Alvin) and the swift installation work by rest of the team. The motorised vertical drop system from Spain that you recommended to us looks and feels very robust unlike other system that we used before. We are glad that we have made the right decision. We look forward to doing business with you for years to come.
14. MC.2
MC.2 has recently expanded its smart awning offerings from Belgium to Singapore. They've established an unique collaboration with Renson, a famous Belgian firm recognized for their sleek and high-tech line of motorized louvers and retractable patio covers that not only provide a cozy canopy in any outdoor area but also elevate the design by adding a luxurious vibe to it.
You can envision the ideal backyard getaway that would call for impromptu barbeque parties at any time of the week with Renson's Camargue, Algarve, and Aero motorized louvers! The Lapure retractable awning, on the other hand, while its form is conventional, blends effectively with just about any architectural
It also has a high wind resistance and is made of high-quality, long-lasting materials. You won't have to worry about your awning sagging in the rain thanks to its Fix screen technology.
Key Differentiators
Wide range of awnings
Client Testimonial
Although the scheduling for installation was very far out due to the long queue, I am very satisfied with the quality of the product. Subsequent request for helping out with the settings due to the height limits were also replied promptly and the guys came over the next day to teach me again on how to do the settings. Overall very satisfied.
15. Ace Awnings
For over 15 years, Ace Awnings has been a dependable supplier of retractable awning solutions in Singapore. They've worked on everything from quick private home renovations to huge property development projects, and they've handled both big and little installations.
Both manual and motorized retractable awnings are available. A crank is used to spread or pull in the cloth for manual retractable awnings, while automated or remote control versions are operated with ease using a remote control or switch. What's their advice? If there's an outage, install one that includes both capabilities so you can manually extend or retract your awning in an event of a power interruption.
To top it off, the company has also been featured on Best in Singapore's Best Awnings Installers list.
Key Differentiators
Free site visits
Wide range of awnings and blinds
Client Testimonial
It's been a pleasant experience along the process, started from site visit, quotation, installation. Shawn has been very helpful, accommodating, and professional, and resourceful. Installation has been a breeze and effective, which was led by his PIC, Rashid. I feel grateful that I have came across Ace Awnings and satisfied with the result. Thanks!
Awning Singapore
If you found this article useful in selecting your awning contractor, do consider our other articles!
Frequently Asked Questions (FAQ)
If you have any questions about Awning in Singapore, you can refer to the frequently asked questions (FAQ) about the best Awning in Singapore below:
Additional Useful Articles
If you are looking for other useful guides and articles about Awnings in Singapore, check them out below: