Carpet Cleaning Singapore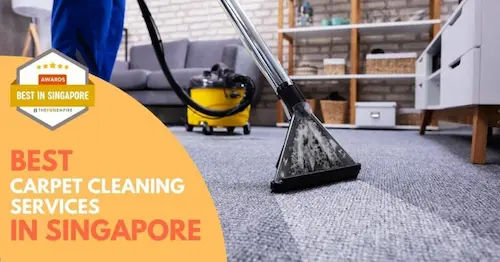 Keep your carpets spotless and fresh with the best carpet cleaning services in Singapore.
The best carpet cleaning services in Singapore include Royal Carpet Maintenance Services, Singapore Carpet Cleaning, DW Carpet Cleaning, and Art Of Cleaning.
When selecting a carpet cleaning service in Singapore, take into account aspects like professionalism, customer service, pricing, and the quality of their work.
Carpet cleaning services in Singapore provide cleaning for a wide range of carpets, such as Persian, Oriental, wool, synthetic, and wall-to-wall carpets.
So if you're looking for the best carpet cleaner in town, this article will help you find it!
Quick Summary
Best carpet cleaning services in Singapore include Royal Carpet Maintenance Services, Singapore Carpet Cleaning, DW Carpet Cleaning, and Art Of Cleaning.
When choosing a carpet cleaning service in Singapore, consider factors such as professionalism, customer service, price, and results.
Carpet cleaning services in Singapore clean a variety of carpets, including Persian, Oriental, wool, synthetic, and wall-to-wall carpets.
Best Carpet Cleaning Singapore
1. Cleaning Compare
Cleaning Compare can connect you to a variety of cleaning firms from across the world. On their website, you can compare prices and services from a variety of companies, whether you want an independent cleaning service or a reputable franchise for carpet cleaning in Singapore.
You don't have to wait around for a long time for an estimate. After you've completed their form, they will send you a price list, allowing you to compare carpet cleaning Singapore prices as quickly as possible.
2. Royal Carpet Maintenance Services
Key Features
24/7 cleaning services
Comprehensive carpet cleaning
Personalized Cleaning Services
Website
https://royalcarpetsg.com
Address
Katong Shopping Centre, 865 Mountbatten Rd, #02-64, Singapore 437844
Contact
+65 6432 8221
Operating Hours
Daily 24/7
Royal Carpet Maintenance Services has been delivering high-quality carpet cleaning services in Singapore since it was formed in 1986.
When it comes to the many types of carpets, their team understands the need for specialised attention. They can remove any filth, dirt, stains, and odors from one's carpet, returning it to its former gorgeous condition with their talents and knowledge.
If you're seeking for a carpet cleaner in Singapore that has seen it all, Royal Carpet is the best alternative.
3. Singapore Carpet Cleaning
Key Features
Affordable services
Experienced cleaners
Satisfaction guaranteed
Website
https://www.singaporecarpetcleaning.com/
Address
61 Kaki Bukit Ave 1 #02-01A, Singapore 417943
Contact
+65 6229 3976
Operating Hours
Monday – Sunday, 8:00 AM – 8:00 PM
Singapore Carpet Cleaning offers thorough carpet cleaning services that guarantee to satisfy the needs of all clients. As a result, we believe it is one of the finest carpet cleaning services in Singapore.
Hiring their services will allow you to spend more time with family and friends, as well as complete more essential tasks. You may always anticipate prompt and efficient service from SCC's team of cleaners while they work on your carpet.
Whether you need carpet cleaning at your home or place of business in Singapore, they can simply provide both types of services. Along with this, their costs have dropped considerably and are available to most individuals. This is due to the fact that they feel that everyone deserves outstanding service.
Worry no more if you're a business owner in need of an office cleaning, because Singapore Carpet Cleaning is the answer. While specializing in residential services, they have also branched out to commercial businesses.
4. DW Carpet Cleaning
Key Features
Highly trained staff
Assured quality
Website
https://www.dwcarpetcleaning.com/
Address
1090 Lower Delta Road #03-07F, Singapore 169201
Contact
+65 66532977
Operating Hours
Monday – Saturday, 9:00 AM – 6:00 PM
DW Carpet Cleaning has over a decade of expertise in the field of cleaning and has established itself as a premium name in terms of high-quality cleaning services. Furthermore, they have a large client base drawn from both residential and business communities. All of these may vouch to how outstanding their services are.
They aim to provide high-quality results by utilizing the most effective cleaning techniques available, which is one of their company's major objectives. They also try to make their services as environmentally friendly as possible.
Plus, instead of using harsh chemicals that may have a negative influence on your family and pets, you'll only see them utilizing natural solutions. All of their carpet shampoo Singapore cleaning supplies are safe, environmentally friendly, and non-toxic.
Carpet cleaning is a costly and time-consuming process, but it can be somewhat more affordable and quicker when you have a team of professionals. They will make certain that your carpet is free of dirt and debris that would render it unsightly. When they leave your home, it will be in its best and freshest shape once again.
5. Art Of Cleaning
Key Features
Safe for children and pets
Pickup and delivery services
Affordable Rates
Website
http://www.artofcleaning.com.sg/
Address
Blk 1 Defu Lane 10 #01-563 Singapore 539182
Contact
+65 9886 0178
Operating Hours
Monday – Saturday, 7:00 AM – 9:00 PM
Art of Cleaning offers cleaning services for both residential and commercial spaces, from carpet cleaning to sofa cleaning.
Art Of Cleaning has been recognized as one of the most reputable carpet cleaning businesses. They can assure that carpets will be completely clean and free of germs after they're done with the work.
Art of Cleaning offers clients the option of dry or wet cleaning, both of which have been shown to be successful. In addition, because they clean with detergents that are both safe and hypoallergenic, you won't have to worry about your children developing allergies as a result of their cleaning.
Finally, if you don't have enough time to transport your carpet to their store, you may choose their delivery and collection service for just $20.
6. Singapore Carpet Cleaning Service
Have you been wanting to get your filthy carpets cleaned but simply don't have the time? There's just no way you can do this house task in time, is there? Singapore Carpet Cleaning provides the solution.
They are a professional carpet cleaning business in Singapore that is fully equipped with the latest carpet cleaning technology to assist you get your filthy carpets removed.
They provide a high-quality yet cost-effective service to keep your carpets clean and fresh at all times. They promise to leave your carpet spotless and free of germs after the treatment.
They may also include upholstery cleaning and room disinfection to their services. Simply tell the crew what you want and they will promptly fulfill it.
7. LUKIS
Key Features
An array of comprehensive services
Dedicated 24/7 customer service
Trained cleaners
Website
https://www.lukisclean.com/
Address
8 Burn Road #15-13, Trivex, Singapore 369977
Contact
+65 6741 9968
Lukis Cleaning services specializes in cleaning and organizing office settings. They have served small and large companies alike.
Your staff are well-trained with the necessary abilities and expertise for cleaning your office. They've completed in-house training and on-the-job training courses, which were especially developed by their growth team.
They provide professional carpet cleaning services that will thoroughly clean your carpet to ensure that no traces of dirt or germs are left behind. They also weigh the time efficiency of the task against disrupting your operations any further.
8. Art of Carpet Cleaning
Key Features
Friendly customer service officers
Certified professional cleaners
Website
http://artofcarpetcleaning.com.sg/
Contact
+65 8788 2788
Operating Hours
9:00 AM – 6:00 PM
6 Days a Week
The company's name is a reminder that an expert cleaning of carpets should be left to the experts. The Art of Carpet Cleaning takes pleasure in offering a wide range of carpet washing services for both residential and commercial places. They are regarded as one of the most trustworthy and frequently requested service providers when it comes to carpet cleaning services.
All of the staff are well-trained, have been thoroughly investigated and interviewed, and are extremely professional and experienced. The crew guarantees that they will assist you in resolving any carpet problem while maintaining high standards.
You don't have to worry about cleaning supplies or materials since the firm will supply them for you.
9. SGCleaning Xpert
That is how SG Cleaning Xpert may be characterized: professional, cheap, and experienced. They make sure that your carpets are as good as new thanks to the most up-to-date technology and equipment.
Cleaning Services is a renowned company that provides cleaning services for both residential and commercial areas. They serve both homes and businesses, indicating their expertise in the industry. Cleaning solutions are tailored to the sort of consumer they have and the demands.
They kill germs, bacteria, dirt, and odors. They also provide allergy control services for your whole carpet care.
10. Chem-Dry Singapore
Key Features
Hassle-free services
Safe and non-toxic treatment
Trained and professional cleaners
Website
https://chemdry.com.sg/
Address
85 Genting Lane #04-03 Guan Hua Building Singapore 349569
Contact
+65 6749 3252
Operating Hours
Monday – Saturday, 9:00 AM – 6:00 PM
Chem-Dry is the world's largest carpet cleaning business, with over 4000 franchises worldwide. If you're seeking for the finest carpet cleaning in Singapore, Chem-Dry Singapore should be your first choice.
They have over 40 years of expertise, and they know which cleaning approach is appropriate for a specific carpet cleaning. Furthermore, all of their cleaning methods utilize safe and environmentally responsible chemicals that won't endanger your family's health.
We also appreciate their own cleaning technology and goods that not only ensure sparkling clean carpets but also speed up the drying process. Your carpet will be dry and usable in less than 2 hours.
In the event you have concerns, don't hesitate to communicate with their team of carpet cleaning professionals. They're well-known for being courteous and kind to everyone who comes through their doors.
11. Clean Care
Key Features
Environmentally friendly products
Advanced cleaning methods
Website
https://cleancare.com.sg
Address
Yishun A'Posh #06-24, Singapore 768160
Contact
+65 66028171
+65 8725 6612
Operating Hours
Weekdays 9am-6pm

Saturday 9am-6pm
Clean Care strives to understand and exceed beyond expectations for their customers. They know time is a constraint and maintaining the cleanliness of your items can be tedious and specific. For instance, cleaning a Persian rug demands a tailored approach that will delicately preserve the textural quality of the fibres, in contrast to the methods employed in cleaning a hand-loomed, luxurious shag rug.
It is this intimate attention to detail that sets apart Clean Care. They pride themselves on the high-quality cleaning services they offer at Clean Care, which solely aim to create elevated textural and sensorial experiences of your finest possessions. From preserving the vivid colouration and rich scent of your Italian leather sofa, to protecting the exquisite density of your silk drapes, they are dedicated to offering professional, trustworthy, and customised cleaning experiences while nurturing meaningful relationships with their clients.
Key Differentiators
Clean Care uses specially formulated in-house cleaning solutions, which includes Stain Care, Care Guard and more
12. CleanWorthy
We think that Singapore's carpet washing companies should make it as simple and painless as possible for customers. We also believe in transparent pricing, which we define as a price that is readily available to everyone through the internet or by phone without any additional fees.
Regardless of whether you need residential carpet cleaning for rugs, living room carpet cleaning, or business and commercial carpet cleaning for example, office carpet sanitizing and stain removal. CleanWorthy has you covered.
13. Carpet Clean Singapore
Carpet Clean Singapore is the best alternative if you're searching for low-cost and high-quality carpet and rug cleaning in Singapore. Their online platform allows customers to contact expert professionals they can trust to do the task correctly.
After you've booked an appointment, you can anticipate them to arrive on time. They may also give you pointers about how to properly care for your flooring.
Carpet Clean Singapore is a firm that you should think about for your carpet cleaning needs because of their commitment to client happiness and outstanding service.
Carpet Cleaning Singapore
Choosing the right carpet cleaning company is essential. Not all companies are created equal and not every service will work for your needs or budget. We recommend you take some time to research Singapore's best carpet cleaners before making a decision on which one to hire. The 13 mentioned above should be good places to start, but don't stop there! Read reviews of each company's services online and ask friends what they've used in the past with great success; these tips should help you find an excellent match that won't break your bank account or leave you unsatisfied with their results.
If you enjoyed what you read, do consider checking out our other articles as well!
Frequently Asked Questions (FAQ)
If you have any questions about carpet cleaning services in Singapore, you can refer to the frequently asked questions (FAQ) about the best Carpet Cleaning Services in Singapore below:
What are the best carpet cleaning services in Singapore?
The best carpet cleaning services in Singapore include Royal Carpet Maintenance Services, Singapore Carpet Cleaning, DW Carpet Cleaning, and Art Of Cleaning.
Why should I consider professional carpet cleaners in Singapore?
Professional carpet cleaners in Singapore are equipped with the right knowledge, skills, and tools to effectively clean your carpets. They can handle everything from stubborn stains to heavy foot traffic areas. Plus, they're well-versed in the recommendations of carpet manufacturers, ensuring that your carpets are professionally cleaned without causing any damage.
What is deep cleaning and why is it important for my carpets?
Deep cleaning goes beyond the surface level to remove dirt, grime, and allergens that have become embedded in your carpet fibers. It's important because it can help extend the lifespan of your carpet, improve indoor air quality, and restore the appearance of your carpet.
How does steam cleaning work?
Steam cleaning, often performed by professional carpet cleaners, involves using hot water vapor to penetrate carpet fibers and break down dirt and bacteria. This method is favored by many carpet manufacturers because it's effective at removing deeply embedded dirt and killing bacteria, fungi, and dust mites.
Can a professional cleaning service handle office carpet cleaning?
Yes, many professional cleaning services in Singapore offer office carpet cleaning. These services understand the unique needs of commercial spaces, including the need to handle high foot traffic and maintain a clean, professional appearance.
How do professional carpet cleaners deal with stubborn stains?
Professional carpet cleaners use specialized cleaning solutions and techniques to effectively remove stubborn stains. They're trained to handle various types of stains, from coffee and wine spills to pet accidents, ensuring that your carpet is restored to its original condition.
Do professional carpet cleaners also offer rug cleaning services?
Yes, many professional carpet cleaner also provide rug cleaning services. Just like carpets, rugs can harbor a great deal of dirt and allergens, so it's important to have them professionally cleaned regularly to maintain their appearance and longevity.
How does foot traffic affect my carpets?
Foot traffic can cause dirt, grime, and allergens to become embedded in your carpet fibers, leading to wear and tear over time. Areas with high foot traffic may also show signs of matting and discoloration. Regular professional cleaning can help mitigate these effects and keep your carpets looking their best.
How often should I have my carpets professionally cleaned?
Most carpet manufacturers recommend having your carpets professionally cleaned at least once a year. However, if you have pets, children, or high foot traffic in your home, you might need to schedule cleanings more frequently.
What makes rug cleaning service different from regular carpet cleaning?
Rug cleaning service often requires more delicate handling as rugs can be made of different materials and dyes that may not respond well to traditional carpet cleaning methods. Professional rug cleaners have the knowledge and equipment to safely and effectively clean various types of rugs, from oriental to Persian styles.
Additional Useful Articles
If you are looking for other useful guides and articles about the best Carpet Cleaning Services in Singapore, check them out below: