Chinese Tuition Singapore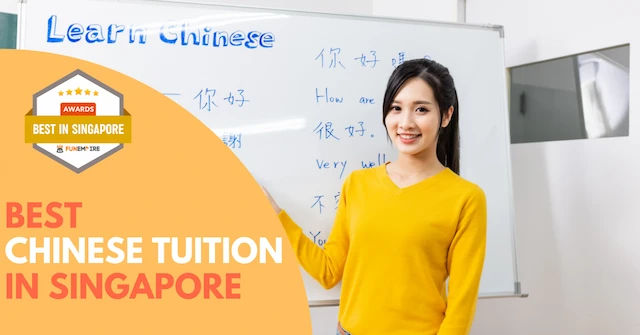 Taking up Chinese tuition in Singapore is not just an academic pursuit, but also a gateway to understanding one of the world's oldest cultures and fast-growing economies.
The best Chinese Tuition Singapore providers are Miss SY Wang Chinese Distinctions Learning Studio, Chinese Bridge Language School, Beijing Language School, FUNTASTIC Chinese Education Hub, and Yi Mu Tian Chinese Enrichment.
When choosing Chinese Tuition in Singapore, some factors you should consider include the tutor's qualifications, communication skills, experience, and cost of the lessons.
Without further ado, here's our curated list of the best Chinese Tuition in Singapore!
Key Consideration Factors
Qualifications and level of expertise: It is important to select a tutor who has a strong understanding of the language and can effectively teach it. An experienced Chinese tutor should have formal training in teaching Chinese as a second language and be well-versed in the subject matter.
Communication skills: The ability to communicate clearly and effectively with students is essential for effective learning, so it is important to select a tutor who can help the student understand what is being taught, such as Chinese vocabulary, Chinese phonetics or Chinese idioms. It would also be beneficial to look for a tutor who speaks both Mandarin and English, to ensure the student can understand their instructions.
Experience and track record: A good tutor should be able to demonstrate successful teaching experiences with other students as well as provide references or testimonials from past clients. It is also important to look for Chinese tutors who are passionate about their subject matter, as this will help create a positive learning environment.
Cost of the lessons: The cost may vary depending on the experience and qualifications of the tutor, so it is important to consider all options before making a decision.
Best Chinese Tuition Singapore
1. Miss SY Wang Chinese Distinctions Learning Studio
Having graduated from the best schools such as RGS, HCJC, NUS, and NTU (NIE), as well as having taught in Independent, IP and MOE schools (RI and MGS) for 20 years, Miss SY Wang is a highly experienced and popular Chinese Tutor who surely knows how to help her students ace the examinations!
Not only does Miss Wang have an excellent understanding of examination syllabus and education pedagogies, she is also outstanding at developing critical thinking skills in students to facilitate improvements in writing Chinese, Reading Comprehension and Oral Presentation.
While delivering her lessons proficiently with a high level of engagement, she is also able to build great rapport with her students.
Being effectively bilingual, Miss Wang is equally able to communicate clearly in English so that students can understand key concepts with ease.
Miss Wang seeks to improve her students holistically, and the stellar numbers and student testimonials speak for themselves! Indeed, many of her students achieved distinctions for their major examinations.
If you find that your child lacks needs the guidance to improve Chinese Language, you can rest assured that Miss Wang will know how to engage your child to gain good improvements and clinch the distinction grade!
Key Differentiators
A former MOE Teacher and MOE Teaching Award Holder with 20 Years of Teaching Experience
Graduated with honours and distinctions from the best schools in Singapore with a Master Degree
Highly Proficient, Professional and Experienced
Customer Testimonial
From the very beginning, Miss Wang has been spurring me on to work harder in the learning of Chinese Language. With her focused teaching Chinese, useful techniques and patient guidance, I found myself to be more motivated and confident of my grasp of the language. Hard work on both ends eventually secured me an overall A1 and a Distinction Grade for Oral Examination in my Higher Chinese GCE O Level Examinations! I especially like how Miss Wang diversifies the resources she provides for her students so as to enable us to gain enough exposure and practice in order to hone our skills in handling the various assessments. Miss Wang's lessons are certainly enjoyable as well, as she never fails to check in on us and also often brings up relevant current affairs that we might be able to relate to! I am most glad to have joined Miss Wang's online Chinese Tuition Class and would definitely recommend it to all students!

Lim Shi Ying, Raffles Girls' School
Sec 4 HCL Student, Graduated in 2020
2. Chinese Bridge Language School
Chinese Bridge Language School is a Chinese bridge school dedicated to teaching children through play, as it helps them develop their social and cognitive abilities.
As a result, the institution has created a learning atmosphere that is both interesting and beneficial while still conforming to the Ministry Of Education's curriculum.
Chinese Bridge Language School, which takes pleasure in its effective methodologies for teaching academic-based Chinese to youngsters from pre-kindergarten through secondary level, is another language school to consider.
Key Differentiators
Led by an Academic Board of esteemed professionals with strong Chinese language education background
Chinese education that is continuously aligned with the national curriculum
Member of Crestar Education Group
3. Beijing Language School
Beijing Language School (BLS) was founded in 2005 and has spent more than 16 years developing. Its mission is to raise and develop the true capabilities of each student through their teaching method.
Beijing Language School is one of the most convenient schools on our list, owing to its close proximity to home. With over 8 school branches in Singapore and more on the way, Beijing Language School is definitely one of the most accessible schools in Singapore!
Key DIfferentiators
Established in 2005
Now having 10 school branches in Singapore and are still expanding
Customer Testimonial
Sent my child to here early this year and see significant improvement in her ability in Chinese language, from not knowing how to write till able to write independently without adult assistance, and from slang pronunciation to clearer articulation during conversation. The teachers and staff were friendly and we as parents are able to receive regular feedback on child's progress

Quanyu Wong
4. FUNTASTIC Chinese Education Hub
Assertions and arguments for this language are based on extensive research by experts in the field of linguistics, cultural studies, translation theory, and social science.
Professor Kenneth DEAN, NUS Head of Chinese Studies and Associate Professor Ong Yong Peng from the National Institute of Education Lecturer for Asian Languages and Cultures endorse the FUNTASTIC Chinese Education Hub.
The primary aim of FUNTASTIC Chinese Education Hub is to offer a comprehensive learning experience for everyone, while also encouraging people to reach their full potential.
Equipped with NIE-trained teachers and ex-MOE Chinese teachers, FUNTASTIC Chinese is not your average tuition center.
It supports you in developing a solid foundation in Chinese so that you may become world-ready by providing expert and committed MOE Award-winning education.
Key Differentiators
Provide a holistic learning experience for one and all
They want all students to learn Chinese beyond just a subject, but to make Chinese a lifelong living language
Empowering their students to lay a solid foundation in Chinese and to prepare them to be world-ready
5. Yi Mu Tian Chinese Enrichment
A productive and comfortable space is a wonderful way to grow your practice. You might plant or cultivate a field of saplings here, but sustain it by adding new seedlings in the case of plants.
In this sense, Ms. Jiang associates teaching Chinese here at Yi Mu Tian Chinese Enrichment was like tending a field of saplings.
She will nurture them with care and patience until they blossom, no matter what shocks or disappointments her pupils may offer.
If you're searching for a committed, impactful, and inspiring instructor who will go above and beyond, Ms. Jiang is someone you should think about.
Key Differentiators
More than ten years of teaching experience and accumulative reputation
Convenient and Accessible location
Trial Classes
Customer Testimonial
My 2 children are taught by Jiang lao shi, I trust her to teach my boys well. Thank you for Jiang lao shi dedication.

Veralyn Siow
6. Yanzi Mandarin
The Yanzi Mandarin School, which was founded in 1997, provides a solid Mandarin education. That is to say, the institution strives to help pupils and children learn and master the Chinese language.
They have accomplished their objective, as evidenced by the findings. Since its inception, 82% of their pupils have received an 'A' grade.
This holds true for both school and national examinations. Students are taught the abilities they'll need to answer examination queries confidently because Yanzl Mandarin's qualified teachers are all skilled experts.
Plus, with over ten years of expertise, they will surely provide a superior education.
Key Differentiators
Established since 1997
82% of students score A in school and national examinations
Elite Track Record
Customer Testimonial
The daughters of one of my siblings have excellent academic achievements including their Chinese language subject. That was how I found out about 林老师. It has been a few years since I put my kids under her Chinese tuition class. It was an easy decision and one of the best decisions that I made on my kids' education. I would strongly recommend 林老师 to parents who are looking for a good Chinese tuition teacher for their kids.

Danny Kong
7. International Mandarin
An organization that believes that students come first is the International Mandarin School.
Because of this, they adapt their curriculum to assist pupils in meeting their learning goals. The institution is a 'boutique' educational center. As a result, class sizes are kept small.
The Communicative Language Teaching approach (CLT) is used at the school to assist pupils in communicating more effectively and in honing ther Chinese skills.
YY Huang heads up the institution. She is a tutor who is committed to assisting her pupils in excelling. She has a master's degree in education from Singapore's Nanyang Technological University (NTU).
Key Differentiators
The facility offers tuition to both children as well as adult students.
Preparation for mandatory Chinese exams in local or international schools
Tailor a curriculum that achieves your objectives
Customer Testimonial
"Huang Laoshi has played an important role in getting my son to adopt a keen interest to learn Mandarin and to increase his proficiency skills in Mandarin. Ever since we started with Huang Laoshi more than 2 years ago, my son has increased his confidence, ability and skill to speak, read and write Mandarin and his grades in school have improved.

We are very pleased with Huang Laoshi's teaching Chinese, her attention to detail and her ability to understand her students' needs. She is diligent, proactive, experienced and is well regarded by her students and their parents. She is professional, has a kind demeanor and goes out of her way to ensure that her students are well in class and let parents like us know about the progress of our children in class.

As the saying goes "A good teacher can inspire hope, ignite the imagination and instill a love of learning"

John Ho
8. Tien Hsia Language School
Tien Hsia Language School is a leading Chinese Tuition in Singapore that provides a "Chinese-only" learning environment to assist students to get well-versed with the language. The End-of-Term mini-concert for kindergarteners will allow them to show their new grasp of Chinese to their parents.
Tien Hsia teaches Chinese to pre-schoolers in order for them to be fully prepared for Primary Chinese. They use a variety of engaging activities such as games, dancing, and music to keep Mandarin lessons brief.
Tien Hsia specializes in preparing primary students and secondary students for the PSLE/O Level Chinese and Higher Chinese tests while also encouraging students develop their critical thinking abilities.
Tien Hsia also has its own holiday programs for youngsters aged 4 to 9, where they participate in island-wide activities such as going on boat rides and interacting with live animals.
Key DIfferentiators
Specialises in Chinese for children
Registered with the MOE
Established in 1989
Distinct group of teachers for pre-school and
primary/secondary programmes.
No mixed levels in our programmes.
Separate programmes for Higher and Primary Chinese
Customer Testimonial
I like the theme learning ! Very useful & easier for children to learn the language & use them. My kid has been with them since K2 & he has shown great results from not wanting to speak mandarin to able to converse & write mandarin.

Susan Chua
9. Confucius Mandarin
The teachers at the Confucius Mandarin School are all licensed by the MOE and trained in Singapore, China, or Taiwan. They're all kept up to date on the MOE Chinese and Higher Chinese curriculum.
They utilize storybooks, games, and fable-sharing to teach toddlers through Nursery to Kindergarten levels, before preparing them for the Primary Chinese curriculum. Students in primary and secondary schools are taught the skills required to pass the PSLE and O Levels.
The Confucius Mandarin School is also one of the few institutions that provide both H1 Chinese Language and Literature and H2 Chinese Language and Literature (CLL) instruction. These JC Chinese tuition classes aim to teach kids how to think critically and improve their analysis and writing abilities in terms of the Chinese language.
Key Differentiators
Talented teaching team with years of experience
"4C" to Excel in Chinese
Each set of materials contains clear and targeted learning objectives
Customer Testimonial
Confucius Mandarin specializes in Chinese tutoring and offers Chinese Language courses at different levels from students of varying academic levels including pre-school, primary, secondary and tertiary, to working adults who require the language for business usage and even for the foreigners who would like to take up Chinese as a third language.

YuLei Liu
10. Le Xue Education Centre
Ms. Vivien Le, an Ex-MOE teacher at Catholic High School, founded the Le Xue Education Centre. Their motto is "joyful learning," emphasizing their focus on incorporating enjoyment into lessons in order for students to appreciate the language.
Ms. Le has also created the "3R Method," which has been implemented into Le Xue's learning curriculum, and they have established a "purely Chinese culture environment" for they believe that with this, students will learn best.
Le Xue also has a unique lesson for separating the Higher Chinese and IP Chinese students from the Express Chinese Secondary pupils, which is limited only to 10 pupils.
This is done so that the pupils may learn in accordance with their curriculum and at their own pace, which is appropriate for them.
Key Differentiators
Established in December 2012
Founder has more than 22 years of experience in teaching and preparing pupils
Developing pupils to reach their fullest Chinese Language potential
Customer Testimonial
It's an amazing learning journey in Le Xue Eduction during my son's PSLE year. Ms Vivien is a very dedicated and passionate teacher, the way she taught is beyond the academics in nurturing the kids. My son enjoyed her class very much. He definitely will not score 276+3 in the PSLE without Ms Vivien and the whole team's help.
I would like to express my sincere gratitude and many thanks towards this EXCELLENT team!

Xin Y
11. Sprout Language Centre
Sprout was created by Singaporeans who wished to change the way Chinese education is viewed in their country. They acknowledge that while many children still enjoy to learn Mandarin in Pre-school and Primary school, the "enjoyment" is gradually lost as a result of the national examinations' pressure.
Sprout has a variety of goals, including increasing children's language competence and fostering long-term interest in the language. Students are encouraged to be "confident speakers," "independent readers," "critical thinkers," and "competent writers" as part of Sprout's process planning.
Sprout offers a variety of out-of-classroom experiences in addition to its regular curriculum. For example, the Sprout Book Club – Singapore's first Chinese family book club, where parents and children are all invited to participate – was founded as one such activity.
Key Differentiators
Strive to create a natural and authentic language learning environment
Farming Reading Garden uphold Reading is the beliefs and principles of the foundation of all learning ability
Gengduyuan is also committed to designing and arranging family education and parent-child activities
Customer Testimonial
Been sent my kids here for 3 years. A tuition center which is not commercialise, teachers are full of care and patient to the kids. Good teaching materials and well organise full years syllabus.

Angel Ong
12. Stanford Language Center
Stanford aims to be your preferred provider of basic conversation lessons in languages such as mandarin, Thai, Japanese, and French. They pursue a comprehensive and all-round strategy for teaching Chinese language skills through the use of their native instructors.
They have assisted numerous individuals in realising their potential to learn foreign languages more effectively.
They've seen the success and accomplishments of our students, which have motivated us to continue being one of Singapore's most reputable language schools. They take pleasure in their commitment to service, which is evident in the success of our students and more to come.
Key Differentiators
Affordable
Native Trainers
Providing a holistic and all-rounded approach in imparting the skills of mastering the various languages
Customer Testimonial
"I recently completed 10 lessons of Vietnamese for Beginners. My class was fortunate to have Cô Vân (Teacher Vanessa) as our teacher. She is passionate and patient in teaching and sharing her native language and culture. Overall, I had a good experience with Stanford Language Centre.

I look forward to taking the next level of Vietnamese."

– Zhen Wei Kong
13. inlingua School of Languages
A worldwide network of 300 schools with over 50 years of language teaching experience in Singapore. 17 languages are available, and students may select from a variety of language programs to match their specific needs. Teachers are highly educated and teach Chinese in a method that focuses on improving communicative competence.
Key Differentiators
Provides more than just language courses. Academic courses available
Design your course around your effective learning style, goals and needs
Benefit from over 50 years of experience in language training and curriculum design
Customer Testimonial
"My experience study in Inlingua is very satisfying, I have been attending my Chinese class as beginner and I am really enjoy study here. My teachers are native speaker who have professional skill and very patient. they help me a lot and also encouraging me to confidently speak. All staff are very friendly too, I would highly recommend."

-Kookkik Soudachanh
14. Han Hai Language Studio
Han Hai Language Studio, a boutique language school founded in 2010 on Orchard Road, is committed to educating non-Chinese speakers about Chinese culture and guiding students in exploring this beautiful Asian language, such as understanding how to read Chinese characters and learning how to speak Chinese confidently.
Key Differentiators
Available to kids and adults
Various proficiency level of classes such as beginners, intermediate and advanced.
Pronunciation and accent training
Customer Testimonial
"It was my best choice to join the Han Hai language studio. I am so grateful to Jordan, our teacher, for his knowledge and patience. I LOVE our Mandarin lessons, cosy and friendly atmosphere. Only a few weeks ago, all I could say was a "ni hao" (with all the wrong tones) and today I can have a small conversation about my age, dates, profession. I really like the method, without a doubt it is very efficient. The Chinese language requires a lot of self discipline and home work, have no doubt the school gives us the maximum to reach a very good level of Chinese language. The nuances explained during the Mandarin lessons I haven't seen in any other articles about the Chinese language."

– Aleksandra Lowe
15. School of Language International
In a fun atmosphere, the School of Language International links people with English and Chinese language learning opportunities.
Key Differentiators
Fun experience learning
Private and normal classes
Tutoring for children
Customer Testimonial
"I found School of Language International through google. I was looking for part-time English course to improved. After doing a few research and comparisons to other schools. I find that it has many positive reviews on google. I decided to embark on my English language learning with SLI. I'm writing this review based on my 3 months with the school. The teachers here are responsible and the teaching style is helpful and easy for me to absorb the knowledge. I've enjoyed my English learning at SLI.
I would highly recommend School of Language International be the first choice for language learning."

– Choon Wei
16. Linda Mandarin
They provide private and group Chinese lessons according to the Hanban curriculum. Their experienced Chinese tutors are dedicated to assisting you in learning Chinese.
Key Differentiators
Kids course available
Business Chinese Course
Private or group class
Customer Testimonial
"I took a class to brush up my Mandarin. There are students of varying levels of Chinese inside my class but the teacher effortlessly teach us all with no-one left behind. In addition, the lessons are enjoyable making learning easier. Nice to see students of various races and nationalities in the pursuit of learning Mandarin."

Meng Ong
17. Chinese Edge
The Chinese Edge is a Mandarin school in Singapore that offers a rigorous Chinese curriculum based on the Hanban syllabus, which is affiliated to China Ministry of Education and staffed by qualified and experienced teachers.
Key Differentiators
Chinese courses for children Mandarin learning, for local and international learners to fit different needs.
Native Chinese Teachers
Different levels of courses available
Customer Testimonial
"Very helpful staff to get you started. You can do a free trial lesson before enrolling. The teachers are very patient and want you to succeed. You also get videos of the lessons and additional audio material to keep practicing outside of classroom. Highly recommend Chinese Edge."

Julia Balaz
Chinese Tuition Singapore
These professional and home Chinese tutors are qualified and experienced in their field which ensures that each student gets the personalized attention they need to learn at their own pace and succeed!
If you're looking for Chinese lessons or Chinese grammar lessons, these experts will suit your needs. We hope that our list has helped you and other students find a Chinese tutor near you so that you can enjoy learning the authentic Chinese language from someone who speaks fluent mother tongue fluently.
Want more interesting topics to read? Check out some of our blog posts down below!
Frequently Asked Questions