Confinement Center Singapore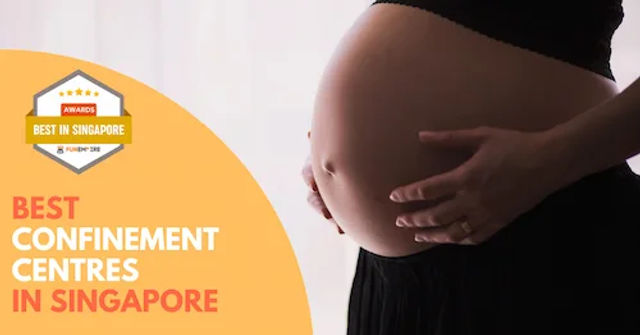 Confinement centers in Singapore are always in high demand, as more and more mothers-to-be are choosing confinement centers in Singapore to take care of their postnatal needs.
While there are many confinement centers to choose from, not all of them provide the same level of quality service. In this blog post, we will be listing the best confinement centers in Singapore for you to consider!
1. PEM Confinement Nanny
PEM Confinement Nanny has been in business for 30 years and is MOM-certified. You can rest assured that you are in capable hands because their nannies undergo 150 hours of training before being assigned.
Additionally, as part of the deal, they offer a complimentary replacement nanny in case something goes wrong during your confinement month. An in-house registered lactation counselor teaches PEM nannies about proper latching techniques and different breastfeeding positions so they can help you if you're experiencing problems nursing.
Key Differentiators
Award-winning agency
No.1 choice for mothers
Professional confinement care
Customer Testimonial
Thank you Auntie Jennie (#1221) for coming by to save us after our bad experience with another nanny. She takes good care of us and ensure that I don go hungry everyday. We can see her love for children. She is very diligent and tidy. She always clean up the kitchen after every meal. Learnt a lot from her despite being a second time mother.

Hope I have met her earlier. Thank you Auntie Jennie! Take care and stay safe!

rachel lim
2. Madam Partum
Madam Partum is a renowned provider of Confinement Care Centers, Pre- and Post-Partum Care, and both. Madam Partum uses the power of meridian massage (Tuina), which has been used for centuries in TCM, and is supported by Chien Chi Tow, a well-known TCM company in Singapore.
In order to ensure that its mothers are properly cared for at every step of their pregnancy and parenting journey, Madam Partum believes in providing the best, from meridian massages to confinement care products and post-partum services.
Key Differentiators
Pre-Partum Care
Post-Partum Care
Confinement Products
Customer Testimonial
Great ambience, superb service and I really would love to share that the masseurs here had great skills. Mr Loo did a full body Tuina treatment for me and it was really on point. He helped to solve some of the backaches that I have and was really attentive to how I feel. Uncle Eric did my foot massage and it was really amazing too. Right amount of pressure, not too painful, and I almost fell asleep. The customer service specialist Kymberly made me feel really welcome all the time.

Kudos to the team for the wonderful experience. It's my second time here and will definitely be back again. Will recommend my friends to try out the massage and TCM treatments here!

Andee Chua
3. Kai Suites
If you really want to splurge on top-notch confinement care, make a lavish reservation at Kai Suites.
You and your baby will receive round-the-clock care at this brand-new confinement hotel, but it is not inexpensive. You will be treated to facials, prenatal and postnatal massages at the on-site spa and wellness center as a recovering mother. The standard package at Kai Suites consists of a three-month prenatal program, a seven-day stay, and a three-month postpartum program.
Key Differentiators
Japanese hospitality
Spa & Wellness
Postnatal nourishment and nutrition
Body rejuvenation
Customer Testimonial
We decided to stay with Kai Suites when deciding on post-partum care for my wife. We have been staying here for the past 3 weeks and the experience so far has been great. Our twin girls have been gaining weight steadily under the care of Kai's nursing team, and my wife has recovered well with the nourishing meals served daily. Thank you to the whole Kai Team for making us feel at home.

Kelvin Tay
4. SingJoy Confinement Centre
While recuperating after childbirth, you can learn how to nurse effortlessly with expert lactation consultants at the Singjoy confinement center, which is housed in the opulent Shangri-la Apartments.
Packages begin at a 14-day stay in a two-bedroom house, allowing parents and other kids to be close by while giving the new mother and baby some space and quiet. Among the extras are prenatal yoga, psychotherapy, and physiotherapist-assisted pelvic healing.
Key Differentiators
Located in Shangri-La Apartments and Hotel
We are also the Postnatal Health Expert
Breastfeeding coaching postpartum recovery
5. NewLife Confinement Services
NewLife was founded in 2016 with the goal of delivering the greatest confinement care to new moms and their children. The Service also provides services such as confinement Centre, Nanny to Home Service, Confinement Herbals, and Postpartum Rehabilitation Programs.
Key Differentiators
Confinement Center
Confinement Herbal
Postnatal Massage
Customer Testimonial
Great experienced team as well as nanny. Will definitely promote them to soon to be parents friends and family.
Professionally cooked meals by confinement chef so nanny will have time to care for both baby n mother.
Thanks Aunty Ling Ling for helping us care for baby during our last honeymoon period.

Yourdon Chew
6. AP Confinement
The first and only integrated luxury confinement suite in Singapore, AP Confinement is a facility that provides recognized services in key regions across the country. They are dedicated to providing a superior confinement experience.
Key Differentiators
Renowned facilities
Pregnancy Care Center
Prime locations across the region
7. My Queen
My Queen believes in a woman-centric approach to prenatal and postpartum care that integrates contemporary evidence-based knowledge with customary cultural practices rooted in the demands of a Woman's maternal health and well-being. Their journey through motherhood is an experience of sumptuous luxury that appeals to today's requirements of a Quintessential Woman.
Key Differentiators
Women-centric approach
Prenatal and postpartum care
Traditional cultural practices
8. Singapore Muying Service
The International Plaza location of Singapore Muying Service provides a family-oriented confinement center for new moms and babies, as well as high-quality postpartum services. They are also well-versed in baby care and will be able to discuss any concerns that newborns may have, such as eczema or jaundice.
They also offer a postpartum recovery program that includes physiotherapy, detoxification, and more for new mums. Also, their meals are freshly prepared with enough nutrition for nursing mothers.
Key Differentiators
Exclusive Singapore confinement concept
Family confinement center
One-stop confinement health service
9. The Clover Suites
You and your kid will be pampered in this luxurious confinement facility, which is meant to mimic a boutique hotel and give you and your youngster the finest attention possible. Professional caregivers will guarantee that your newborn baby meets all of his or her requirements while you recuperate and relax with sumptuous confinement meals, herbal hair washing, and postnatal massages.
Key Differentiators
Premium Boutique Post-partum Suite for confinement services
Dietitian-planned luxurious meals
Post-partum activities
Customer Testimonial
The baby care team is caring, patient, attentive to details, professional and greatly helps first time parents like us. We are able to learn techniques on caring for a new born while having sufficient rest ourselves, as we know that our baby is in good hands

Germain Tang
10. NannySOS
If you're on a budget or only need confinement care for a few weeks, 'NannySOS' provides very affordable confinement services. They also provide confined feeding services as well as prenatal and postnatal massages.
Perhaps you're looking for some alone time with your spouse, or maybe you want to do something special as a couple.
Key Differentiators
CONFINEMENT NANNY SERVICES
Customer Testimonial
Thank you Nanny SOS for 阿友's confinement service.
Special thanks also to Juztin for accommodating baby's unexpected early arrival.

Daddy and I were able to rest well. 阿友was very careful with handling our preemie, took good care of baby and mummy, and very proactive with house chores.
She also cooked very delicious and nourishing meals throughout my confinement period.
Would highly recommend Nanny SOS and would love to engage 阿友again for our next pregnancy.

sammy siew
Confinement Center Singapore
Hope you have found this list helpful. Confinement is an important postnatal rite of passage for many Asian cultures, and Singapore is no exception. The confinement period allows new mothers to rest and recuperate, and bond with their newborns.
With so many confinement centers to choose from, it can be difficult to know where to start. However, the ten centers listed above are all reputable and provide a wide range of services to meet the needs of new mothers.
So whether you're looking for traditional Chinese medicine or custom-made postnatal formulas, you're sure to find what you're looking for at one of these top confinement centers in Singapore.