LIVINGCARE Jewel Series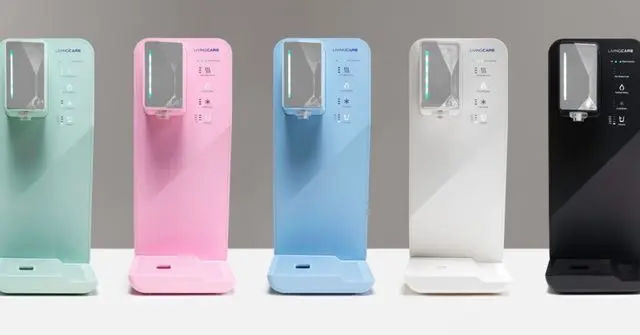 Water dispensers are all the rage these days because of their slim designs and energy efficiency. The Livingcare Jewel Series is one of the slimmest tankless dispensers on the market, making it a perfect fit for small spaces. With its sleek design and convenient features, the Livingcare Jewel Series is sure to be a hit for everyone!
Livingcare is a modest homegrown company in Singapore that specializes in water purification. With their goods, they aim to bring health and well-being into Singaporeans' homes while also improving people's lives. Customer happiness is what keeps them going.
Jewel Series
The Livingcare Jewel Series is the water dispenser to buy if you value convenience above all else. It also dispenses water at seven distinct temperatures, from room temperature to piping hot cups of tea, for your preferences.
The working principle of Livingcare Jewel water dispensers is simple and automated. The company has also designed a 5-stage filtration process, producing excellent results.
Key Features
1. Temperature Settings
You have the option of having your water heated or cooled, with three options for varying temperatures. You can have hot water dispensed at a maximum of 45, 70, or 90°C. This means you may even make tea and coffee, prepare baby formula, and cook cup noodles using it! You can choose between 7, 9, or 11 degrees Celsius for the cold option. There's also a choice for conventional room temperature water.
It's also note-worthy that the hot water option includes a safety feature to prevent your children or the elderlies from scalding themselves by accident if they accidentally bump the dispenser.
2. Motorless Alkaline Dispenser
The Livingcare Jewel Series is also capable of dispensing alkaline water for a health boost for everyone in the house, with its antioxidant and antibacterial effects that kill 99% of germs and bacteria. The unit also feature a built-in auto cleaning function and a UV nozzle sterilization. This makes it ideal for families where individuals of all ages consume from it – particularly children and the elderly.
3. Slim Tankless Design
The Livingcare Jewel Series is a small-profile (W 13cm x D 39 cm x H 32cm, with a weight of 5.8 kg) and clean, simple design. This makes it perfect for small homes and tight situations where every square inch counts.
The filter cleaning indicator will notify you when the filters need to be replaced, thanks to the automatic self-cleaning function.
Apart from the fact that it truly is a water-saving device, the tankless feature ensures that there is no stagnant water in your tubings, ensuring that you have fresh alkaline water with each use!
4. Energy Saving Mode
When the unit is not in use, it automatically switches to idle mode. This feature helps the user to save energy, resulting to less power consumption.
5. Filter Replacement
Changing and replacing the filters is also very easy and convenient, saving you a lot of time with minimal effort. Just open the cap, place it at the connector, then do a twist and turn motion, and you're done!
6. Fun and Refreshing Colour Options
The Jewel series, aside their your Midnight black and Chiffon white choices for the minimalist kitchens, also comes in an exclusive selection of peppy pastel hues to liven up your countertop – sea foam mint, flamingo pink, and powder blue.
Pricing
Livingcare Jewel Series is currently priced at $2,788, which includes three-year supply of complimentary sets of Jewel Filters that can last for 3 years, and a 3 years of extended warranty! If you are looking to purchase this slim water dispenser that comes in gorgeous pastel shades, check out their exclusive ongoing promotion!
Promotion
Livingcare is offering additional discounts on their water dispensers:
$300 off* on all their dispensers.
$700 off* on all their dispensers when you trade-in any dispenser.
*Terms & Conditions Apply.
Where To Buy?
Interested on getting yourself this awesome water dispenser? Click the button below!
LIVINGCARE Jewel Series
The Livingcare Jewel Series water dispensers are perfect for those who want convenience and functionality above all else. With a tankless design, 7 different temperature settings, and an alkaline dispenser, this unit has everything you need to make your life easier. The slim profile also makes it perfect for small homes or tight spaces.
You can check out Livingcare's website for more amazing products!