Curtain Cleaning Singapore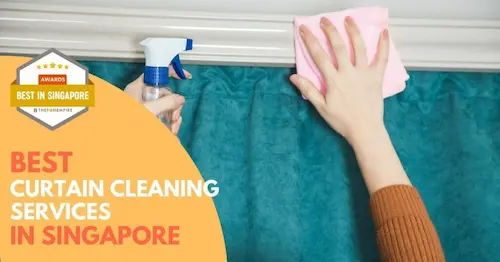 Keeping your curtains clean can be a tedious task, and that's where professional curtain cleaning services come in.
The best curtain cleaning services in Singapore include Singapore Curtain Cleaning, Cleaning Compare, Singapore Curtains, CleanWorthy, and Singapore Laundry.
When selecting a curtain cleaning service in Singapore, take into account criteria such as pricing, range of services, and customer reviews.
Keeping curtains clean on a regular basis helps prevent the accumulation of dust, preserves delicate fabrics quality, and extends their lifespan.
Let's explore the best curtain cleaning services available in Singapore.
Quick Summary
Best curtain cleaning services in Singapore include Singapore Curtain Cleaning, Cleaning Compare, Singapore Curtains, CleanWorthy, and Singapore Laundry.
When choosing a curtain cleaning service in Singapore, consider factors such as pricing, services offered, and customer reviews.
Regular curtain cleaning helps to prevent dust build-up, maintain the quality of the fabric, and prolong their lifespan.
Best Curtain Cleaning Singapore
1. Singapore Curtain Cleaning
Singapore Curtain Cleaning's name implies that it has only one objective in mind: to clean your curtains. To keep your drapes as clean and fresh as ever, this cleaning company offers steam cleaning and dry cleaning.
The Singapore Curtain Cleaning staff is also trained on a regular basis so that clients may expect the highest level of curtain cleaning for a reasonable price. To save money and delays, its personnel can even do steam cleaning on-site.
Another service that Singapore Curtain Cleaning provides is stain and odor removal. The nicest part about this business is that it does a delicate fabrics examination to ensure that the correct cleaning services are utilized for your curtains.
Key Differentiators
Fabric-specific services
Affordable prices
Client Testimonial
Big thanks to Karen for helping me to process my order. My curtains look great and my landlord is happy. I would use them again for curtain cleaning if I ever need to move again

Edgar Mantz
Got my curtains cleaned, and hung back up before I turned over my apartment. Great job and would use again

Sugar Liquicia
2. Cleaning Compare
They're not a curtain cleaning service by any stretch of the imagination, but they do narrow down your options when it comes to curtains.
Cleaning Compare compares numerous cleaning companies and provides you with quotations from at most five businesses that can meet your needs. Simply prepare a list of your requirements, wait for the confirmation, and you're ready to go.
Cleaning Compare is a cleaning service that caters to every sector, including residential, commercial, and industrial cleaning services. As a result, Cleaning Compared may benefit anyone from house owners to hospital administrators.
Key Differentiators
Comparison of up to 5 companies
Fast price comparison
Suitable cleaning type
Client Testimonial
Cleaning Compare helped me find the perfect cleaners for our Singapore office! I didn't know which company to choose because their prices and services all looked the same at first, but when Cleaning Compare drilled down to the differences and details, it made all the difference! Suddenly I could see which cleaner was head and shoulders above the competition! Great comparison site!
3. Singapore Curtains
Singapore Curtains is a respected provider of window coverings. It also promises to put the customer first, offering low prices, free estimates, and kind assistance.
The fact that it can handle every sort of window add-ons, such as roman blinds and curtains, makes it unique. So, customers may bring their blinds and drapes to be cleaned by Singapore Curtains.
Aside from curtains and blinds cleaning, Singapore Curtains is also well-known for selling window coverings that are made of gorgeous colors and delicate materials combined with the finest stitching techniques.
Key Differentiators
Expertise in curtains and blinds
Additional advice on curtain care
Additional painting services
Fast services
Client Testimonial
We requested for a free on site quote for the curtains and roman blinds in our HDB. They came and quoted us last week. We are very impressed with their workmanship. Curtains and roman blinds installed within 2 weeks after they quoted us. Will recommend your service to our friends.

Steven Wong
"Fast and efficient service. Got my free onsite quotation for my blackout curtains. Price quoted was good and installation was done fast also.Cindy Rivera 14 reviews 9 years ago Fast and efficient service. Got my free onsite quotation for my blackout curtains. Price quoted was good and installation was done fast also."

Cindy Rivera
4. CleanWorthy
CleanWorthy is a window treatment specialist that also specializes in a variety of other window coverings. It serves both homes and businesses with blinds and curtain cleaning services.
It can clean curtains for both day, night, and even heavy blackout curtains. CleanWorthy is capable of cleaning both wooden and Venetian blinds when it comes to window coverings.
CleanWorthy provides a full range of cleaning services, in addition to these ones. It is also an expert in polishing stone surfaces, such as marble countertops and granite floors, among other things.
Key Differentiators
On-site curtain cleaning services
Handles all curtain fabric type
Wide range of cleaning services
Great customer services
Client Testimonial
"I have used a CleanWorthy service for about two years. Service exceeded my expectations. The manager is professional, flexible and very reasonable. I trust them and their service has been consistently high quality. Highly recommend cleanWorthy to everyone. Thank you."
"CleanWorthy was the most responsive cleaning company among 4 that I contacted. The cleaners were punctual, friendly and did a thorough cleaning for my sofa and curtains."
5. Singapore Laundry
Singapore Laundry is another dry cleaner that also cleans delicate apparel. This laundry business also has the greatest on-site dry cleaning in Singapore, for a lower price per kilogram than others.
Singapore Laundry not only provides washing and dry-cleaning services, but it also offers clients with some personal care advice to help them keep their curtains in excellent shape. It keeps an eye on its clients after providing services so that it can obtain valuable comments for improvement.
Singapore Laundry is popular with the Singaporean community since to its exceptional customer service and inexpensive costs.
Key Differentiators
Affordable prices
On-site dry cleaning services
6. Cotton Care
Cotton Care will be there to help you with any sort of linen that needs washing. For curtains on a track, Cotton Care is your one-stop shop for the best curtain cleaning in Singapore.
The company offers dry cleaning method, on-site cleaning, dismantling and reinstallation. Cotton Care also determines the kind of cloth before cleaning to ensure that they receive the appropriate treatment.
Cotton Care also offers cleaning services, as well as curtain making, sofa upholstery, blinds manufacturing, and disinfection services. Cotton Care serves all styles of settings, including houses to businesses, with this variety of services.
Key Differentiators
Available discounts
Dismantling and installation included
Wide range of services
Client Testimonial
I'm very happy with their service! They also have a pick-up and delivery service so you don't even need to leave your house to get your clothes cleaned. They are also very responsive if you have any questions. They will send you photos of stains and update you on the progress. The quality and the prices are great! Highly recommended!!!
Most professional and efficient dry cleaning company I've ever worked with. Company also updates with photos of any difficult stains to remove which is useful for me as a business owner to know. Special mention to Regine who is incredibly prompt, professional and customer-oriented. Looking forward to working with Cotton Care.
7. LaundryMart Pte. Ltd
Website
www.laundrymart.com.sg
Address
Boon Keng: #01-37, Block 22, Boon Keng Road, (S) 330022

Tanjong Pagar: #B1-18, Guoco Tower, 1 Wallich Street, (S) 078881

UE Square: #01-39, UE Square, 83 Clemenceau Avenue, (S) 239920

Somerset: #02-31, TripleOne Somerset, 111 Somerset Road, (S) 238164

River Valley: #01-15, Loft @ Nathan, 428 River Valley Road, (S) 248327 2

Woodlands: #02-05, 38 woodlands industrial park E1, Singapore 757700
Phone
Boon Keng: +65 6294 2256

Tanjong Pagar: +65 6702 6930

UE Square: +65 6836 2256

Somerset: +65 9634 0565

River Valley: +65 6702 1086

Woodlands: +65 6769 6603
Operating Hours
24/7
LaundryMart's self-washing service is a good choice if you already know how to care for your own curtains and are considering washing them by yourself. LaundryStore offers both personal and expert dry cleaning services.
It also provides free laundry pickup and delivery for customers who purchase more than four pieces of linen. It still offers curtain disassembly and installation services, despite being a basic laundry service.
The best thing about this service is that it is open 24 hours a day, 7 days a week. Customers who can't seem to find time for their chores may still go to any of LaundryMart's shops on the island, even if they are busy.
Key Differentiators
6 locations in Singapore
Free pickup and delivery options
Client Testimonial
Laundrymart at ue square was excellent. They collected my curtains washed and dry cleaned them and returned them promptly. They also suggested that I take them down and remove the clips to save money. They were excellent so glad I found them. They couldn't have been better.

Cindy Bloom
8. Unique Express Cleaning And Repairs
All types of curtain cleaning services, including on-site steaming, dry cleaning method, and laundry services, are available through Instant Express. It's also an expert in the field of repairs, so customers can call this firm at any time for assistance with damaged curtains.
The curtain cleaning service is also able to take same-day and drop-off bookings and collections. If the gathered drapes exceed 10 kg, it will provide free delivery.
The firm also provides free replacements for missing hooks and pins, as well as free curtain replacements. Customers can keep their privacy while having their curtains washed thanks to the company's replacement curtain rentals, which allow customers
Key Differentiators
Assortment of cleaning options
Free hook and pin replacements
Same-day collection
Client Testimonial
Provide curtain cleaning services at a reasonable price. Staff are well trained and professional. They are also responsive and reply quickly. Definitely will recommend to others!

Justin Ow
Had juice spilled onto the curtain and sent them for curtain cleaning here. i must say i am impressed with their work ethic as they cleaned it in no time and returned to me in as if brand new condition! they were responsive with my queries as well. on top of that, they offered me free curtain dry cleaning service out of their courtesy! thank you so much!

Alex Denzel
9. DuoNini Laundry
DuoNini Laundry is one of Singapore's most versatile washing businesses. This laundry business can handle any sort of clothing and linen, from denim pants to heavy drapes.
The most significant advantage of this laundry shop is that it provides free delivery and collection on purchases over $50. Customers who have destroyed curtains may also count on DuoNini to provide on-the-spot repair services.
This laundry business will even repair rails, hooks, and tracks on the spot as part of its remodeling services. DuoNini also provides disinfection services and house cleaning in addition to laundry services.
Key Differentiators
Alterations and curtain accessory repairs
Free delivery and collection for large orders
Assortment of services
Client Testimonial
The team did a very professional and fast job dry cleaning the curtain, deep cleaning my entire flat as well as painting the flat at short notice. Absolutely satisfied with them and would without hesitation recommend Duo Nini to all my friends in SG.

Simon JDS
10. Reward Laundry
Reward Laundry believes in providing a quick and dependable laundry service. Since its inception in 2011, Reward Laundry has already assisted over 25,000 families!
Reward Laundry provides some of the quickest turnarounds in the business, with 1-hour, 1-day, and 48-hour dry cleaning services to accommodate its busy clients. It also uses environmentally friendly detergents that leave no persistent smell that can cause allergies.
Clients can also ask for on-site steam cleaning for stage and blackout curtains. Reward Laundry offers more than conventional laundry services since it may be used to repair, restore, and resurrect damaged curtains.
Key Differentiators
Eco-friendly and non-fragrant detergents
Additional curtain repair and alteration services
Client Testimonial
Service provided was excellent as they were quick to respond to any queries and gave timely updates and advice on the clothing sent in. The delivery person was also very accommodating. I had a miscalculation of the number of suits sent in and when he delivered the already dry cleaned suits he was willing to pick up and send in just that one more suit. It was nice of him to do so without any extra charges and just for 1 more suit. Thank you so much!
11. Fresh & Clean Laundry
Fresh & Clean Laundry does not disappoint when it comes to cleaning. It employs only the best-rated solvents and laundry processes for the finest curtain washing in Singapore, using dry cleaning.
It tailors its services to the sector it is working in. Since 2014, it has been servicing a variety of commercial businesses, such as restaurants, spas, and gyms.
Fresh & Clean also cleans and deacidifies, including comforters, rugs, carpets, and any other curtain fabrics that may be difficult to clean. Fresh & Clean provides a 10% discount for new clients as an additional measure to improve the customer experience.
Key Differentiators
Latest laundry technologies
Best eco-friendly laundry solvents
Client Testimonial
I got them to help with my mums flat after the HIP upgrading works which was really messy.The cleaners were friendly,obliging and were very patient with my 77 year old mothers requests.Would recommend anyone to use Fresh and Cleans services!

Nanan Wang
12. Helpling
Helpling is a digital home concierge service with a vision to provide quality living for everyone through their tech-enabled platform and dedicated home advisors. They take care of the time-consuming and dreadful household tasks for you so that you can spend time on other things that matter. Whether you need a part-time helper to clean your home, a technician for your leaking aircon, or curtain cleaning before guests come over, your home advisor can arrange it for you.
Their curtain cleaning service covers curtains of various delicate materials including suede, lace, silk, and blinds as well. Choose between steam cleaning or dry cleaning depending on the type of curtain/blind and the time frame you're working with. For dry cleaning, dismantling and reinstallation is included at no extra cost. 
Key Differentiators
Dedicated home advisors
Dismantling and reinstallation, delivery and pick-up included for dry cleaning – Suitable for different types of curtains/blinds
Wide range of other services available
Client Testimonial
I find it hard to sleep with any light so I love my blackout curtains. But they're hard to clean because you can't dismantle and throw them into the washing machine. Thankfully Helpling can come by and steam clean my curtains on the spot! No lead time required.

Zhang Meng
Curtain Cleaning Singapore
When you need a curtain cleaning service, it's important to do your research and find one that specializes in what you're looking for. Whether you want the fastest turnaround time, environmentally friendly detergents, or on-site steam cleaning services; we've got Singapore's best options lined up and waiting! Which of these cleaners would work well with your lifestyle? Let us know if any of this sounds like something that might interest you so we can help set things up for maximum convenience. We'll be happy to provide more information about each option as needed.
Before you go, do check out our other articles as well!
Frequently Asked Questions (FAQ)
If you have any questions about curtain cleaning service in Singapore, you can refer to the frequently asked questions (FAQ) about the best Curtain Cleaning Services in Singapore below:
What are the best curtain cleaning services in Singapore?
The best curtain cleaning services in Singapore include Singapore Curtain Cleaning, Cleaning Compare, Singapore Curtains, CleanWorthy, and Singapore Laundry.
What is curtain steam cleaning and why should I consider it for my curtains?
Curtain steam cleaning is a process that uses hot, high-pressure steam to remove dirt, dust, and allergens from your curtains. This cleaning method is particularly effective for night curtains that are often exposed to outdoor pollutants. It's recommended because it not only cleans but also sanitizes your curtains, leaving them fresh and clean.
How does professional curtain cleaning company differ from home cleaning?
A professional curtain cleaning company has the right tools, knowledge, and experience to properly clean different types of curtains including dry clean only curtains and day curtains. They understand the right cleaning method for each fabric type and can provide superior results compared to DIY cleaning.
Why should I choose a professional curtain cleaning service provider over doing it myself?
Choosing a professional curtain cleaning provider ensures that your curtains are handled with care and cleaned effectively. They have a dedicated customer service team that will address your curtain cleaning needs promptly and professionally. Plus, many providers also offer dismantling and installing service, which adds to the convenience.
What are curtain steam cleaning services and how can they benefit me?
Curtain steam cleaning services involve using steam machines to deep clean your curtains. These services are advantageous because they kill bacteria and allergens, remove odours, and restore the original look of your curtains. They're especially beneficial for night curtains that accumulate more dirt and dust due to their constant exposure.
Can a curtain cleaning service provider handle delicate or 'dry clean only' curtains?
Yes, a professional curtain cleaning service provider can handle 'dry clean only' curtains. They have the necessary equipment and expertise to ensure that these delicate curtains are cleaned without causing any damage.
How does a dedicated customer service team enhance the curtain cleaning service?
A dedicated customer service team ensures that all your queries and concerns related to the curtain cleaning service are addressed promptly and satisfactorily. They provide timely updates about your service, help resolve issues, and ensure a smooth and hassle-free experience.
Can professional curtain cleaning services handle both day and night curtains?
Yes, professional curtain cleaning services can handle both day and night curtains. Day curtains, which are usually lighter, may require different cleaning method compared to heavier night curtains. A professional cleaning specialist has the knowledge and equipment to clean both types effectively.
Do curtain cleaning service providers also offer dismantling and installing services?
Yes, many curtain cleaning service providers offer dismantling and installing services. This means they will take down your curtains, transport them for cleaning, and then reinstall them at your home. This end-to-end service provides utmost convenience to the customers.
How can I find the best company that provides curtain cleaning services in Singapore?
When looking for the best companies that provide curtain cleaning services in Singapore, consider their experience, customer reviews, and the range of services they offer. Also, check if they have a dedicated customer service team to assist you with your curtain cleaning needs. Always opt for a service provider who is transparent about their processes and pricing.
Additional Useful Articles
If you are looking for other useful guides and articles about Curtain Cleaning Services in Singapore, check them out below: