Durian Singapore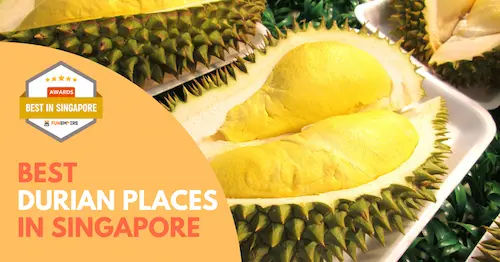 Known as the "King of Fruits," durian is renowned for its unique taste and aroma, and Singapore presents an impressive spectrum of these delectable delights.
The best places for durians in Singapore include Durian Delivery Singapore, Durian Express Delivery, The Durian Story, Parkway Durian, and Durian BB.
When selecting a durian store in Singapore, take into account factors like the store's location, pricing, quality of products, variety, and available delivery options.
Durians, a popular fruit in Singapore, are utilized to craft a multitude of dishes and desserts such as cakes, ice creams, smoothies, candies, and tarts.
Without further ado, let's explore all these places for your next durian parties!
Quick Summary
Best places for durians in Singapore include Durian Delivery Singapore, Durian Express Delivery, The Durian Story, Parkway Durian, and Durian BB.
When choosing a durian store in Singapore, consider factors such as location, pricing, quality, range of products, and delivery options.
In Singapore, durians are used to create various dishes and desserts like cakes, ice creams, smoothies, candies, and tarts.
Key Consideration Factors
Location: It is important to choose a Durian store that is conveniently located and accessible.
Prices: Compare prices between durian shop to ensure you get the best deals on your durians.
Quality of food: Check for freshness and expiration dates before purchasing products from a Durian store in Singapore. This buttery, custard like golden flesh taste fruit is great! Get this in a full swing! In terms of smell, you either like it or don't.
Range of products: Consider what type of durian variety range the store offers, including organic produce or international brands if required
Loyalty program: Look out for loyalty programs offered by certain stores so you can enjoy discounts when shopping at their outlets regularly
Storage and packing options available: Determine whether the store provides storage solutions such as freezers, refrigerators or other packaging materials that are needed for storing items safely
Delivery options: Find out if delivery services are provided, so you can order online and have your durians delivered straight to your doorstep
Payment methods accepted: Make sure that the payment methods accepted by the supermarket align with what is convenient for you (e-wallets/credit cards/cash etc.) Customer service & support – Ensure that quality customer service & support are provided at all times, both during in-store visits or via phone/online chat.
Best Durian Singapore
1. Durian Delivery Singapore
With over 20 awards under their belt, it is no wonder why Durian Delivery Singapore offers the best durians on our list.
Durians are delivered to you right-out-of-the-husk fresh not more than 10 hours after they've dropped at their private plantation in Pahang. There's no anxiety about ending up with a bad box of durians with the 100% replacement guarantee that Durian Delivery offers – just drop them a text!
With over 100,000 happy customers and extensive great reviews, it is safe to say the durians here are Singapore's favorite durians!
Must-try Durians: Signature Pahang Black Gold & Pahang Old Tree Mao Shan Wang
Key Differentiators
Most Awarded Durian in Singapore
100% Replacement guarantee – Love it or we'll replace it!
Free Islandwide Delivery Above $100
Client Testimonial
I was recommended to Durian Delivery by a fellow 'durian addict' a couple of months ago and he
initially ordered on my behalf. My family immediately fell in love with the durians from Durian Deliverythey were as promised- good quality, reasonable prices and delivered on time. The fulfilled the promise of honest & sincere Durian Sellers . I will definitely only order from DURIAN DELIVERY from now on and I will recommend to my friends, colleagues and relatives. Thank You Durian Delivery for Your honesty, helpfulness, good quality Durian and most of all in your confirmed claim for buyers
that your durian are "BAO CHIA" KUM SIAH

John Tee CC
2. Durian Express Delivery
| | |
| --- | --- |
| Key Services | Durians Singapore: Durian Deliveries |
| Website | http://www.durianexpressdelivery.com.sg/ |
| Address | 594 Geylang Road |
| Phone | 81168890 |
| Email | durianexpressdelivery@gmail.com |
| Operating Hours | Mon-Sun: 11 am-1030 pm |
Presently, Durian Express Delivery provides delivery services of exquisite quality durian island-wide on the same day to your home or office. In addition, they are a company that believes a positive durian buying experience begins with vendor customer trust and freshness of durian.
Key Differentiators
Firstly, 60 mins delivery
Secondly, solely owned dedicate durian plantation in Malaysia
Thirdly, wide selection of durian varieties
Client Testimonial
Ordered thrice from them, and they've never disappointed! Durian's were always super fresh and good. The team behind the brand is also very friendly and provides great customer service. Thanks for always providing quality durians!

Customer
3. The Durian Story
| | |
| --- | --- |
| Key Services | Duraians Singapore: Retailing of premium durians in Singapore |
| Website | http://www.thedurianstory.com.sg/ |
| Address | Blk 151, Serangoon North Avenue 2, #01-11 S(550151) |
| Phone | 8797 6699 |
| Email | thedurianstory.enquiry@gmail.com |
| Operating Hours | 2 – 10 pm |
The Durian Story assures competitive pricing as well as the best quality to all our customers. Moreover, with a plethora of durian cultivars at The Durian Story, every customer will definitely have their durian cravings satisfied.
Key Differentiators
Firstly, they provide premium durians at competitive pricing with a 100% exchange policy
Secondly, specialise in durian events, be it small or big
Thirdly, islandwide delivery
4. Parkway Durian
| | |
| --- | --- |
| Key Address | Durians Singapore: Sales of durian, including delivery |
| Website | http://parkwaydurian.com/ |
| Address | Blk 83 Marine Parade Central #01-568 |
| Phone | +65 8344 4687 |
| Email | sales@parkwaydurian.com |
| Operating Hours | 24 hrs (durian subject to availability) |
Parkway Durian has a history of more than 20 years of selling durians! Certainly, the store is well-known in the eastern neighbourhood of Singapore and the constant stream of customers validate the quality of the durians. Presently, it serves a wide range of best quality durians from Mao Shan Wang (most popular) to D24 and Tekka. In fact, their durians originate from top farms in Pahang, Muar and Johor of Malaysia. In addition, Parkway Durian has modernised to provide vacuum sealed and airtight takeaways through its website, social media page and messaging channels. At the core of the business, it aims to be an honest as well as reliable source of quality durians for Singaporeans. Moreover, it believes that enjoying durian with friends and family has become an indispensable local culture and it should be promoted for the next generation.
Key Differentiators
Firstly, they are honest, with a guaranteed exchange policy
Secondly, there is a consistently good quality
Thirdly, a wide range of service including airtight durians for travel
Client Testimonial
Never disappointed. The durians are the best that I have eaten so far. Really enjoyed myself and I hope others can get their chance too.

Alvin Cheng
5. Durian BB
DurianBB was founded by a squad of fun-loving as well as avid durian lovers who are passionate about disruptive ideas. In addition, their focus on durian has allowed them to continue to trailblaze in the industry with innovative durian products and services.
Presently, the newly established Singapore outlet at Crawford Lane has encapsulated that mindset. In fact, their mission is to deliver happiness to the world by tapping on to the unparalleled, fine gourmet quality in durians.
Key Differentiators
Firstly, they are the 1st ever Durian brand that has gone international across Asia: China, Hong Kong, Macao, Malaysia as well as Singapore
Secondly, the brand center around the Happiness we Deliver with Durian
Thirdly, they offer a wide variety of durian-themed products, ranging from fresh durians, snacks, beverages, durian mochi, pastries, cakes to merchandise.
Client Testimonial
Went here a few weeks ago & I must say that this is one of my fav cafe ever! The presentation of the food is beautiful & the desserts so yummy! My 4years old niece also loves their food especially the mousse cake We tried 6 items (4desserts & 2drinks) & we love all of them!
All the staff are friendly & helpful! Chai ting was so nice to help us arrange our durian feast (we request to change to the table near the counter) & Raymond explains every detail of the menu to us. Definitely, will come again to try their other menu

Chin Mui Ling
6. Kungfu Durian
| | |
| --- | --- |
| Key Services | Durian Singapore: Delivery services for our durian and fruits as well as organising corporate fruits/durians events. In addition, our durians are all vacuum-sealed to maintain their freshness |
| Website | http://www.kungfudurian.sg/ |
| Address | 30 Joo Chiat place Singapore 427754 |
| Phone | 81186318 |
| Email | info@kungfudurian.sg |
| Operating Hours | 830am to 1030pm |
At Kungfu Durian, they promise all their customers quality fruits as well as durians at reasonable prices. In fact, there's a 100% replacement policy if they are of sub-standard quality. Additionally, they provide island-wide delivery services at a min delivery costs to our customers. For a $98 purchase, they will provide free delivery services. Furthermore, they have a wide range of fruits, as expensive as imported fruits from Japan to common-found fruits in Malaysia.
Key Differentiators
Firstly, They have their own plantations in Pahang and Johor
Secondly, A fleet of motorcycle deliveries to cater to the ever-demanding delivery needs
Lastly, They sourced their fruits from the whole world.
Client Testimonial
Finally tried and I have to say the quality of the durians far exceeded my expectations. Wang zhong Wang is so flavourful and creamy. definitely will visit again!

Yi Chun Teo Jeremy
7. Ah Seng Durian
| | |
| --- | --- |
| Key Services | Durian Singapore: Sales of durians as well as Mao Shan Wang desserts next door (Durian Lab Café) |
| Website | http://www.ahsengdurian.com.sg/ |
| Address | 119 Bukit Merah Lane 1 #01-22/24 |
| Phone | 94656160 / 91596160 |
| Email | ahsengdurian@gmail.com |
| Operating Hours | 12pm – 9pm (during season) |
Ah Seng Durian has been serving delicious as well as high-quality durians to durian lovers in Singapore and abroad. As a result, Ah Seng Durian has established a reputation as one of the best durian retailers in Singapore.
Key Differentiators
Firstly, quality assurance
Secondly, customers' Satisfaction
Thirdly, competitive pricing
Client Testimonial
I have no idea when it comes to durians but thankfully the staff here do. You can text ahead and order your selection before you pitch up and they'll cut it fresh for you and seal it fresh for taking away. they even gave us some water and gloves, do we could go and snack.
We tried three types: D24, Phoenix and one other. I actually enjoyed the D24 most as it was a bit sweeter but all were very creamy.
I might even try durian again – thanks, guys!

Diane Perkins
8. Durian 36
Initially, the name DURIAN 36 may sound alien. But in fact, they have been actively trading for almost two decades in Singapore. In fact, many of you would have known us as Fruits Top 1 Department Store. Up to the present time, they were engaged to conduct high-quality events of various types and scales ranging from the largest durian buffet to a mini private durian party. In essence, they set forth to revolutionize the experience of enjoying durians!
In June 2020, they had set up a Durian Delivery website (www.durian36delivery.com.sg) due largely to health and safety concerns related to COVID-19 as well as customers' need for variety, comfort and indulgence.
Key Differentiators
Firstly, arguably one of the Singapore Top Durian Party Provider
Secondly, provide 60 min delivery to your doorstep
Thirdly, guaranteed Quality (100% replacement for unripe, sour or watery durians)
Client Testimonial
Lots of durians for durian lovers, supply comes from Malaysia daily. Sweet, bittersweet as well as bitter durians!! Cool down with Thai coconut after durian. The staff are friendly too! There are vacuum pack facilities if needed to bring durians overseas for friends as well as families. Highly recommended! Will definitely come back for more!

Mimi Chan
Durian Singapore
And there you have it; the best places to get your durians in Singapore. To sum up, do check out all of these amazing places which sell durians that are of high quality. Therefore, we hope you will have a good time indulging in the sweetness of the durians. Enjoy!
Since you made it to the end, why not check our interesting articles?:
Frequently Asked Questions (FAQ)
If you have any questions about durian in Singapore, you can refer to the frequently asked questions (FAQ) about the best durian in Singapore below:
What are the best places for durians in Singapore?
The best places for durians in Singapore include Durian Delivery Singapore, Durian Express Delivery, The Durian Story, Sindy Durian, Parkway Durian, and Durian BB.
Is durian available in Singapore?
The durian season generally lasts between June and September, although there is a minor season of December to February. During the months of December to February, you will notice that the number of delicious durians for sale in Singapore durian stall owners nearly doubles or triples. There are even a lot of shops with durian near me like Combat Durian @ Rangoon Road, Jin Feng, Yong, 99 Old Trees, Red Prawn, Durian Kaki and the Ah Di Dempsey Durian.
Where does Singapore get its durian from?
Singapore gets most of its durians from Malaysia, with a smaller amount coming from Thailand. Fresh durian imports to Singapore reached their peak in 2013, when 22,900 tonnes arrived. Singaporeans are just as enthusiastic about durians as Malaysians, according to reports.
Which durian is the best?
Mao Shan Wang Durian is one of the most well-known varieties of durian and is dubbed the crème de la crème of Durians. It's been called the finest and richest tasting durian ever developed. Because it is a premium grade durian, it is generally more expensive. It is considered the king of fruits when it comes to durians and has been the top variety in the durian empire for years that it can even effect the durian culture and durian prices.
What is durian taste like?
The durian fruit is a unique mix of savory, sweet, texture, and creamy flesh. A durian should have light dashes of chives. It's supposed to be flavored with diced garlic and caramel blended into whipped cream. You can even create durian desserts like durian ice cream.
Where can I find the best durian stalls in Singapore?
In Singapore, you can find some of the best durian stalls at various locations. A popular choice among locals is the "humble durian stall" located in Geylang. This stall is well-known for its high-quality durians and friendly service. Other notable durian stalls include Durian Tree at Dempsey Hill and Durian Fix at Serangoon Gardens.
What is unique about the durian tree?
The durian tree is a tropical tree native to Southeast Asia. It's known for its large, spiky fruit with a strong, distinctive smell. The fruit from the durian tree is highly prized in Singapore for its rich, creamy taste. Some durian stalls, like Trees Durian, even offer visitors a chance to see these majestic trees up close.
How can I satisfy my durian fix in Singapore?
To satisfy your durian cravings in Singapore, consider ordering from a durian delivery service. Many durian stalls, such as Durian Fix, offers delivery services so you can enjoy this delicious fruit in the comfort of your own home.
How can I deal with the strong durian smell?
The durian smell is a unique aspect of this fruit that people either love or hate. If you're not fond of the smell, consider eating it outdoors or in a well-ventilated area. Some people also find that drinking salt water from the durian shell can help neutralize the smell.
Where can I order fresh durian delivery in Singapore?
Many durian stalls in Singapore offer fresh durian delivery services. This includes the Humble Durian Stall, and Durian Tree. You can usually place an order through their website or over the phone, and have fresh durians delivered right to your doorstep.
Additional Useful Articles
If you are looking for other useful guides and articles about durians in Singapore, check them out below: