Event Company Singapore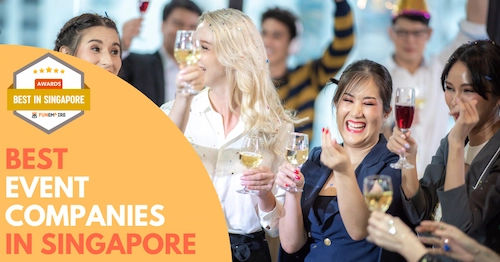 In the past, events were often planned by people from a variety of different industries. But now, more and more companies have been getting into the business of planning events.
The best Event Companies in Singapore are FunEmpire, Virtual Team Building Singapore, Virtual Amazing Race Singapore, and Laser Tag Singapore.
When choosing a company for events, it is crucial to assess factors such as the venue, pricing, available packages, customer reviews, and the experience of the facilitator.
FunEmpire is the best-trusted event company, boasting 8,000+ 5-star client reviews and an impressive track record of over 50,000 successful events to date.
In this blog post, we've put together the Best Event Companies in Singapore that are sure to make your next event or conference unforgettable!
1. FunEmpire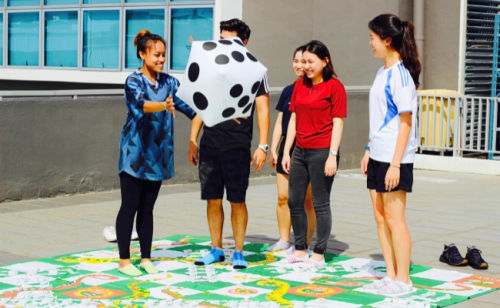 There's no better place to build team cohesion than at FunEmpire! Whether you're looking for an indoor activity or outdoor event, they've got a perfect solution. FunEmpire specialize in providing events for team building in Singapore that are not only exciting but also memorable and long-lasting so your employees will have lots of opportunities to strengthen their bonds with one another while having fun together.
FunEmpire is the world's most unique and interesting events and team-building business, offering the most distinctive and fun activities such as Saber Tag ®, SaberFit ®, Ninja Tag ™, Combat Archery Tag , Bubble Bump TM, Poolball ®, Laser Tag, Art Jamming, Terrarium Making Workshop , Leather Workshop, and many more.
Their games, ideas, and packages provide thrilling experiences for all ages. FunEmpire is the ideal solution for company parties, school programs, major events, shopping mall festivals, carnivals, team-building exercises, cohesions-building activities like treasure hunts – and much more.
FunEmpire has been covered in over 200 media outlets, including television, newspapers, radio, periodicals, digital platforms, and others (Forbes, The Straits Times, The Business Times, Channel News Asia, Channel 8, Shape Magazine, Her World Magazine, Timeout Singapore, The Smart Local, etc.).
2. Birthday Party Singapore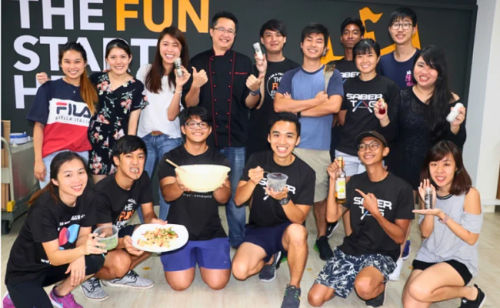 If you are looking for the Biggest Birthday Party provider in Singapore, look no further.
Birthday Party Singapore is the #1 provider of birthday parties in Singapore, and they take pleasure in being so. They are also the only birthday party company in Singapore that provides a variety of inventive birthday party workshops, as well as venues for all your birthday celebration or next event, needs.
They also offer virtual birthday party celebration, so check them out now!
3. Team Building Singapore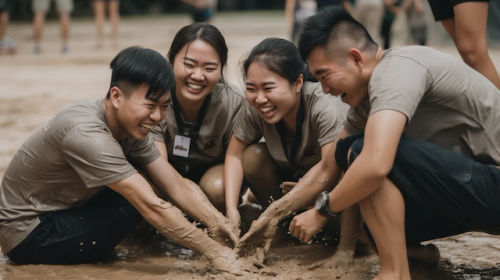 Team Building Singapore is the most experienced and successful team-building organization in Singapore, having organized over 12,000 hybrid events for more than 1,000,000 participants. They provide over 40 of the world's most entertaining and engaging team building activities that are ideal for business team activity, birthday parties, celebrations, and more!
4. Virtual Team Building Singapore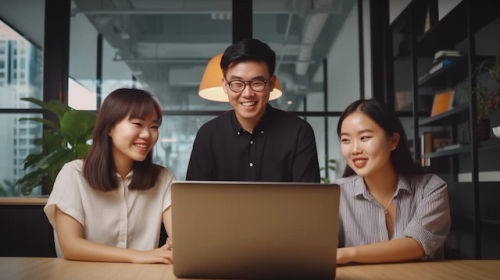 Virtual Team Building Singapore is proud to be the FIRST and ONLY events company to provide a variety of virtual corporate events for remote teams! They have perfected the most efficient methods for engaging remote employees as the market leader in team bonding!
5. Virtual Amazing Race Singapore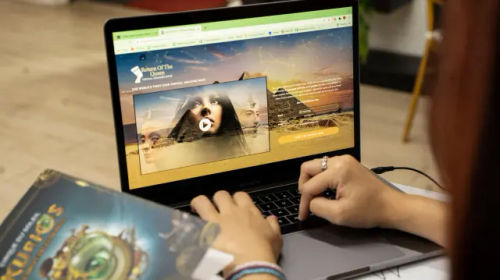 Virtual Amazing Race Singapore are designed specifically for players to be completely involved in immersive virtual events on online platform. The Virtual Amazing Race is a story-driven journey that takes you across all seven continents. It also has 360° real life clues and technology-enabled puzzles that require collaborative team work.
With this unique Virtual Amazing Race, created by their in-house gaming specialists, you and your friends can improve communication, foster rapport, and enhance cooperation. It can be played for as many people as you want.
6. Leather Workshop Singapore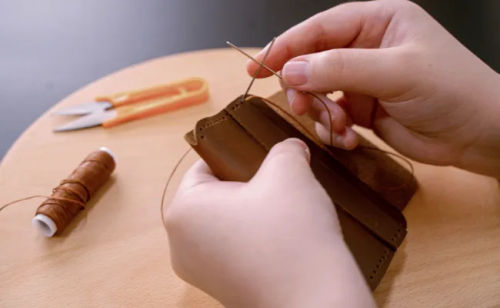 Learn basic crafting skills and make your very own custom leather products from the comfort of your home! Leather Workshop Singapore is an award-winning workshop in Singapore and offer DIY Leather Crafting Kits that clients can enjoy safely from the comfort of their own home!
Leather Workshop Singapore allows anyone to have fun and bond with their coworkers, friends, or family for a small cost. Enjoy an entirely guided experience as your helpful instructor walks you through the fundamentals of leather production.
7. Laser Tag Singapore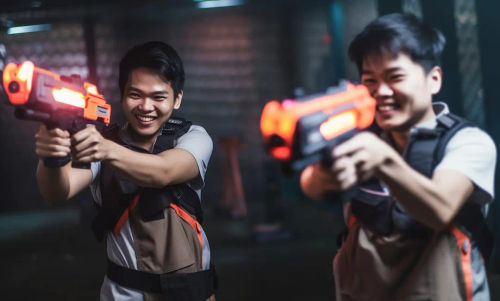 With their unique approach to outdoor Laser Tag, you can take your laser tag event to the next level! Laser Tag Singapore has specialized equipment that allows players to play both indoors and outside at night as well as during the day. With thrilling mission scenarios that appeal to players of all ages, they provide an adrenaline pumping gaming experience!
They are Singapore's and Southeast Asia's most renowned provider of Outdoor Laser Tag, utilizing the best laser tag technology with camouflaged tents for the finest laser tag experience.
8. Art Jamming Singapore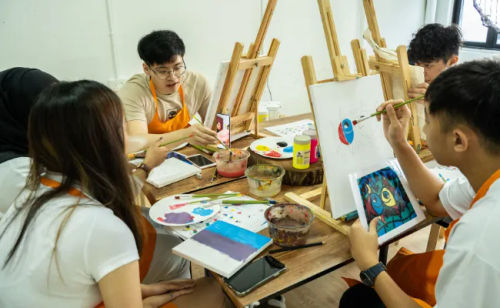 Art Jamming Singapore provides a therapeutic Art Jamming experience that relaxes and rejuvenates art jammers! They put together a vibrant and colorful Art Jamming session that gives everyone the opportunity to create their own artwork!
Their Art Jamming courses provide everything you'll need for a stress-free painting session, including canvases, a relaxing atmosphere, and limitless access to acrylic paints, brushes, and other specialist tools!
9. Escape Room Singapore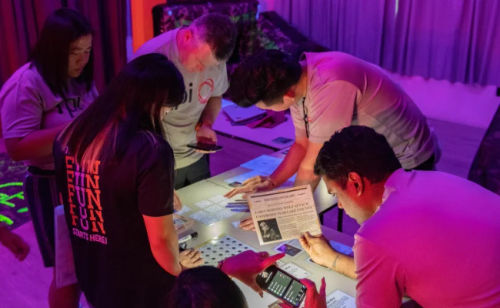 Singapore's first, one and only Virtual Escape Room Experience is provided by Escape Room Singapore! You can enjoy the popular Escape Room Experience online with your loved ones, friends, and coworkers in the safety and convenience of your own homes.
With this one-of-a-kind and fun experience, you can energize your team members who work from home. Participants will have to collaborate in online groups to discover mysteries and solve problems. It's extremely thrilling and difficult; it's ideal for virtual team activity, virtual date suggestions, and virtual hangouts with pals!
10. Virtual Escape Room Singapore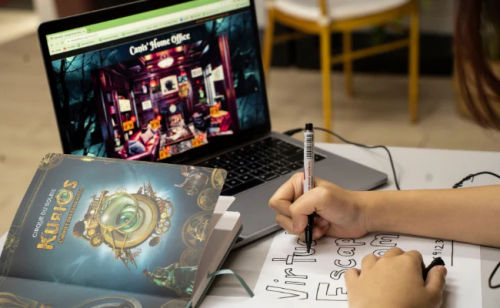 Virtual Escape Room Singapore has developed the best and most interactive virtual escape room games in Singapore and Asia.
They have over 20 rooms and engaging hints to explore, interact with, and solve in each of their Escape Room Games.
They also offer highly engaging puzzles, interactive locks (such as genuine padlock-unlocking mechanisms), and fascinating mysteries to be solved. You and your team will have an exciting and highly active escape game experience for your next event!
11. The Fun Workshops Singapore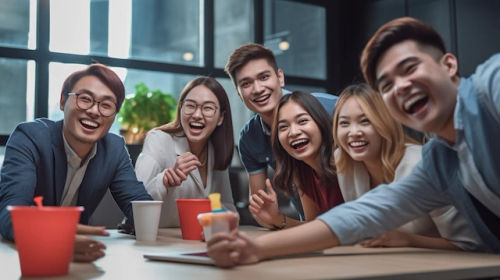 The Fun Workshops embraces the power of play and creativity to bring people together. Their wide range of classes are carefully chosen to provide you with the greatest possible experience. Take a break from your daily routine to improve your creative abilities, unwind with friends, or simply connect with others. They will take you from painting to constructing your own tiny garden, and they'll get you crafting and exploring on your own with the most up-to-date and exciting workshops!
12. Terrarium Singapore
Unleash your creativity and design your very own mini glass garden. Bond with your family, friends, and colleagues through Terrarium Singapore.
Their experienced professionals will lead you and guarantee that you have a fantastic Terrarium Singapore experience, as their title as Singapore's Best Terrarium Workshop Provider suggests. Enjoy a long-lasting mini-garden with them using the finest materials and techniques on plant care.
13. Combat Archery Singapore
Prepare for a thrilling, action-packed Archery Tag game that provides the ultimate Archery Tag experience! Combat Archery Tag makes use of special foam-tipped arrows to improve safety and comfort. It may be played both inside and outside.
Combat Archery Tag combines the elements of paintball, dodgeball, and archery in a quick game that will get you moving and your adrenaline pumping! This exciting Combat Archery Tag Singapore sport offers the ideal family-friendly entertainment for everyone aged 10 and above.
14. Pool Ball Singapore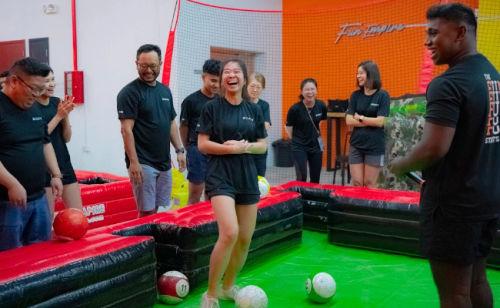 Their Poolballers will be there to assist you! Even better if you're a football enthusiast. The rules are simple, but the game itself is not. This game experience is ideal for people of all ages and skill levels. If you're a beginner, that's fine! It's all about having fun, and you'll pick it up quickly.
You can pick from a range of different game types when playing Poolball Classic. There are also new games like Poolball Checkmate, Poolball Math-Geek, and Poolball Sabotage available for you to enjoy!
15. Terrarium Workshop Singapore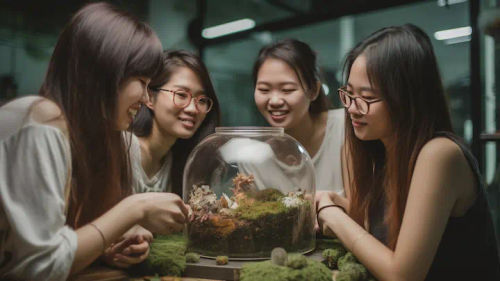 Their in-house specialists have developed a unique and exciting experience for participants with their proprietary Terrarium curriculum, which has been meticulously planned by their staff. Apart from learning ideas, practical hands-on features, and other entertaining elements, Terrarium Singapore also provides teams the opportunity to bond while working on their own green projects together uniquely and engagingly.
16. Team Building Games Singapore
Asia's leading Team Building and Events firm, based in Singapore, delivers the most exciting and affordable Team Activities and Ice Breaker games available.
They have a large number of Team Bonding exercises to select from, including group excursions and meals that you and your team can enjoy. Team Activities and Venues, Successful Event Management, Corporate Dinner and Dance, Company's Fitness and Sports days are just a few of the many services they provide.
17. Ninja Tag Singapore
A unique close-combat game you've never experienced before. With just your Ninja dagger, battle your coworkers and pals face to face, toe to toe in an exciting combat sport that appeals to everyone who's up for a little Kung Fu fighting.
Ninja Tag is the first and only foam sword fighting game that allows you to compete with your friends in a completely safe way. Choose your fights and learn how to be a Ninja!
18. Team Building Activities Singapore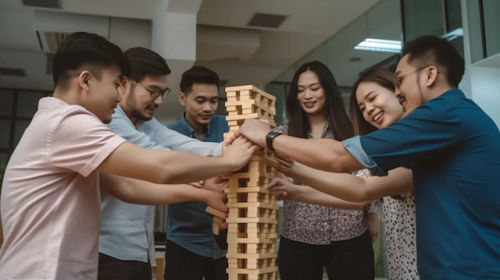 Team Building Activities is committed to the idea that activities should be different, interesting, and exciting. This trusted company strives in creating unforgettable experiences in Singapore for bonding and motivating your employees since they have organised over 12,000 engaging events for 1 million clients.
Participants will undoubtedly have a highly memorable experience through their team-building activities such as archery tag, art jamming, and terrarium. They are delighted with the more than 1,200 5-star evaluations from their clients!
19. Team Building Squad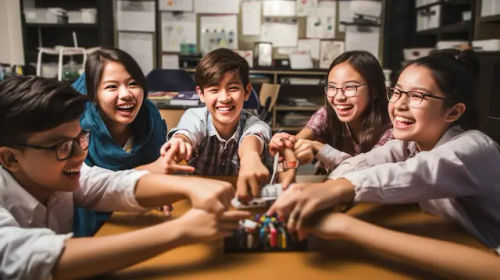 A fresh location in the scenery – Team Building Squad is the most popular event space provider in Singapore. It provides an open and spacious area of 3000 square feet. It offers two distinct event spaces with two distinct themes that may be used for any event.
It is more than simply a space; it's a flexible event venue that may easily accommodate small groups of 10 to 150 people depending on the configuration. The event location provides the ideal backdrop for any sort of celebration, such as children's birthday parties, baby showers, and corporate team activities.
20. Archery Tag Singapore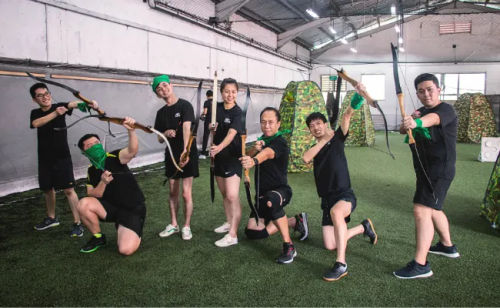 Archery Tag Singapore is an event planner specializing in the exhilarating sport of Archery Tag. Their taglines and core values revolve around providing teams of players with a safe and enjoyable environment for their game sessions.
They provide players with all necessary safety equipment, including face masks, arm guards, and finger tabs. This ensures that everyone participating in their game sessions is safe and secure at all times.
21. Cohesion Team Building Singapore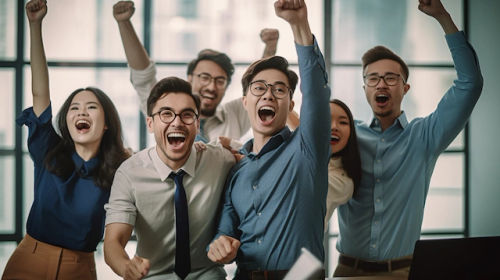 Cohesion Team Building Singapore is a full-service event planning offering team games, corporate training, and other services. They offer customised engaging events designed to help teams work together more efficiently. Their programs are tailored to each client's individual needs and can be used for both large or small groups of people. They also focus on the use of different tools and technologies to help create a more interactive environment during the event.
22. Bubble Bump Singapore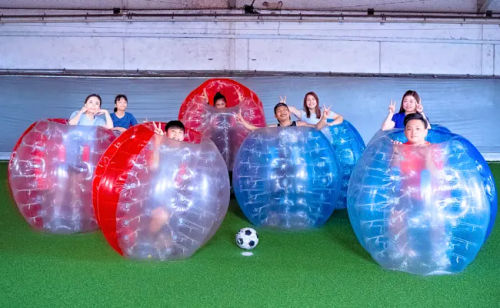 Bubble Bump Singapore is one of the best event companies. With their innovative ideas and excellent customer service, they are sure to bring your engaging events to life with a bang!
They offer event solutions like balloon sculpting, face painting, and bubble machines rental, to make your event unforgettable. They also provide quality audio systems and party equipment rentals, ensuring an enjoyable experience for everyone.
Event Company Singapore
What are you waiting for? Get your event planned by one of these best event companies and prepare to be wowed! It's time to live life on the edge and experience something new.
No more boring events, it's time for an unforgettable event with a company that knows how to make any occasion special!
If you'd like to learn more in order to assist you plan your big event, here are some additional links that might be of assistance!
Frequently Asked Questions
If you have any questions about event company in Singapore, you can refer to the frequently asked questions (FAQ) about the Best Event Companies in Singapore below:
Additional Useful Articles
If you are looking for other useful guides and articles about the best Event Companies in Singapore, check them out below: