Funeral Services Singapore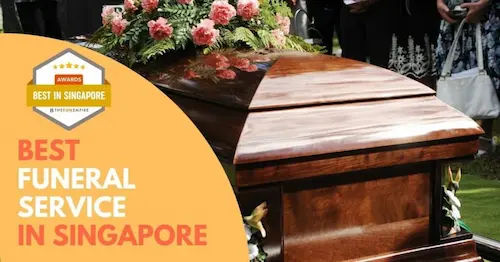 Experienced and compassionate funeral service providers can offer invaluable assistance when arranging a fitting farewell for a loved one lost.
The best funeral services in Singapore include Empathy Funeral Services, Singapore Funeral Group, Gallant Garden, and Singapore Funeral & Casket Services.
When selecting a funeral service in Singapore, take into account factors like cost, convenience of location, and reputation.
In Singapore, companies specializing in funeral services offer a range of options, such as wakes, funeral ceremonies, caskets, and post-funeral procedures like cremation or burial.
This blog post lists the funeral services in Singapore that are some of the best choices for funeral arrangements, no matter what type of funeral service you need!
Best Funeral Services Singapore
1. Empathy Funeral Services
Empathy Funeral Services, as the name implies, puts itself in the shoes of a grieving family to make sure that the funeral service is as painless and convenient as possible. Every family will have the opportunity to mourn in their own way because Empathy Funeral Services will handle everything connected with the funeral, including the kind of flowers and decorations.
Empathy Funeral Services is open to arrange funerals for anybody, regardless of their religion. Even if the deceased didn't adhere to any particular faith, we appreciate that Empathy has an in-house team that handles everything. In contrast, it's typical for other funeral homes to outsource their work, resulting in greater funeral expenses owing to middlemen fees.
Empathy is upfront about pricing, so the price on the quotation will be quite similar to your final bill. There will be no last-minute charges or hidden fees for families grieving over a deceased loved one. Empathy can assist with this as well, by providing funeral pre-planning for families with old and terminally ill members.
Key Differentiators
One stop solution for funeral services, regardless of religious beliefs
Transparent pricing policy, no hidden cost
Funeral pre planning
2. Singapore Funeral Group
Singapore Funeral Group has years of expertise serving customers, and have been offering services and solutions to everyone, regardless of race or religion, for over a decade. They're renowned for their ability to comprehend clients' current situation and culture as a service organisation. You can count on them to ensure that all funerals and rituals are meticulously conducted in accordance to your customs and religion.
Singapore Funeral Group offers a wide range of services to meet your needs, whether it is a traditional or modern funeral. They are experienced in managing all sorts of funerals, from the most simple to the most extravagant. If you need assistance with anything related to funerals, feel free to contact them.
Prices of funeral packages are available on their website!
Key Differentiators
Transparent Funeral Packages online
Honest, Reliable Funeral Director Team
Full Glass Merc Benz Hearse
Client's Testimonial
We want you to know how much we appreciate the excellent service your team at Singapore Funeral Group have provided to our family in our time of distress. On behalf of the entire family, I want to thank you and your team for the caring and professional manner in which you handled the services for our father.

The funeral setup was simple yet elegant and offered a sense of peace and serenity. We know that was how our father would have wanted it to be done. Losing him was hard, but knowing his final journey was handled with such perfection and grace comforted us.

It was a very difficult time for us and we are struggling for our loss of our beloved one, but you and your team did an exemplary job in guiding us through this tough time. For that, we are truly grateful and appreciative of the attention you and your team members have rendered.

Thank you again, for the great service.

Bel Kuek
3. Gallant Garden
The firm of Gallant Garden operates 24 hours a day, seven days a week, providing all sorts of religion-based funeral services. Here's why it earned this position: It goes above and beyond to make funeral services more available to everyone, regardless of financial status or religious affiliation. It explains why its costs are somewhat lower than those of funeral homes that are more popular.
Second, because its funeral directors will take charge of everything from transporting the body to finding funeral decorations for the wake, no family member of the deceased will have to do anything. It's a funeral business that caters to everyone.
Gallant Gardens is an excellent alternative for every family due to its comprehensive funeral services, accessible different funeral packages, and reasonable pricing.
Key Differentiators
Affordable and transparent pricing policy
One-stop funeral service provider
4. Singapore Funeral & Casket Services
When it comes to funeral parlor facilities, Singapore Funeral & Casket Services is the best option. Its eight funeral parlors are not only spacious, but also provide a private shower and resting area for the family's convenience. Furthermore, its funerary parlours are located in a sacerdotal area set back from temples surrounded by temples.
Another thing that will give family members piece of mind with Singapore Funeral & Casket Services is its all-inclusive funeral package. For a respectable and decent send-off, every package includes essential services and materials. If your family does not want a wake, their funeral directors can arrange a direct cremation for you as soon as possible.
Singapore Funeral & Casket Services has received praise for its responsiveness, but this comes as no surprise since it's been in business for more than two decades. It understands what families from all cultural and religious backgrounds need before, during, and after a wake.
Key Differentiators
Premium funeral services
All-inclusive funeral package
One of the most experienced funeral services in Singapore
5. Singapore Funeral Sanctuary
Another funeral home that caters to a wide range of religious and cultural groups, including those who are non-religious, is Singapore Funeral Sanctuary. Here's why it made the cut: Its different funeral packages are some of the most detailed we've seen. The family of the deceased may pay for food catering and a burial recording as part of the package.
Singapore Funeral Sanctuary has been operating for more than 20 years and has never taken a day off since, demonstrating the excellence of its funeral services. If you want to have a hands-on experience, this funeral home has it. In terms of pricing, it's clear when issuing quotations and describing the contents of each funeral package. You may rest confident that your loved one's funeral service is a top priority for this funeral home.
The Singapore Funeral Sanctuary, like other funeral homes, is open 24 hours a day, seven days a week. Its hotline is accessible at any time of the day or night, and it aids families with everything from repatriation to reimbursement claims to estates and even deceased estate administration.
Key Differentiators
Detailed funeral packages
One of the most experienced funeral parlours in Singapore
Transparent pricing
6. Singapore Funeral Planner
If you want a funeral firm with a seasoned team of funeral directors, Singapore Funeral Planner is the way to go. It's a one-stop funeral service provider that can handle all of your burial and memorial needs. Singapore Funeral Planner is open to bereaved families from various cultural and religious backgrounds, including those who do not follow any religion.
We acknowledge that it is a typical funeral business, so there isn't much to distinguish it from others. However, it has a dedicated team that is ready to assist you at any time and is more than delighted to meet all of your requirements. Singapore Funeral Planner has also earned plaudits for being detail-oriented, which is an important quality for funeral homes.
Key Differentiators
Dedicated team
Detail-oriented
One stop funeral service provider
7. Nituo Funeral Services
Nituo Funeral Services is one of the newest on this list, but their high-quality services demonstrate years more than they have been in operation. This is due to the fact that they put a lot of effort into each service they perform, never failing to keep business ethics in mind: honesty, sincerity, and caution.
Another thing to consider is that Nituo Funeral Services is very clear about the prices of their services. There are no hidden costs, a thorough explanation of expenses is given, and the Nituo team will attempt to solve any issues as soon as possible.
Last but not least, Nituo thinks that fair pricing is an absolute must in the funeral business. Charges should not be elevated simply because a client comes from a different economic level. As a result, most of their goods are expected to have fixed prices — prices that include everything in the package and leave nothing out.
Key Differentiators
High quality service
Transparent pricing
One stop funeral service provider
8. Casket Fairprice Pte Ltd
Casket Fairprice offers a wide range of services, from funeral supplies to actual burial procedures. Casket Fairprice guarantees to deliver high-quality work that will honor and dignify the deceased. It earned this position for three primary reasons. First and foremost, Casket Fairprice serves people of all faiths, including those who do not adhere to any religion.
Second, Casket Fairprice offers a comprehensive range of funeral services at an affordable price. Who says paying thousands of dollars in a single payment is necessary when there's an installment plan available?
Finally, Casket Fairprice has one of the few installment burial payment plans, so you won't have to worry if you can't pay hundreds of dollars all at once for funeral services.
Aside from arranging the funeral, Casket Fairprice can also arrange international repatriation and direct cremation. We suppose it's to say that it's a funeral firm that provides all of your funerary requirements in one package. If you have questions not addressed here, go to its website!
Key Differentiators
Dignified funeral for the deceased
Range of services including cremation and repatriation services
Installment plans available
9. Holy Land Casket
Holy Land Casket is at its best when it comes to providing different funeral packages that can be tailored to your family's preferences. It's a funeral service company that is open to everyone, regardless of their cultural or religious background. As of now, Holy Land Casket has served more than 8,000 families and has satisfied each and every one of them.
However, Holy Land Casket has a minor flaw: its prices are somewhat higher than usual. Other families, on the other hand, tend to overlook this because there are no additional charges and hidden expenses.
Holy Land has received praises from many families for their hospitality, sincerity, and patience when dealing with guests and relatives of the deceased. We admire them for that. When it comes to funerary packages, we believe it is one of the finest because it includes almost everything you could imagine and more.
Key Differentiators
No hidden cost
One of the finest funeral services in Singapore
10. Reliant Funeral Services
Reliant Funeral Services was established in 2006 and has assisted hundreds of families through the grief process. Although it is a small funeral service business, its packages are jam-packed with funeral necessities. There are no intricate procedures to follow when engaging Reliant Funeral Services. All you have to do is call their hotline, select a type of funeral, and pay the funeral director.
Consider Reliant Funeral Services if other funeral providers make you jump through hoops and submit numerous documents. You will get all the time you need to deal with the death of a friend or loved one with them. Reliant Funeral Services welcomes people from all cultural and religious backgrounds, just like most funeral service providers in Singapore.
Reliant Funeral Services has a lot of good things to say about how its team handled the entire funeral preparations for their loved ones. That demonstrates that Reliant's services are of high quality.
Key Differentiators
Reliant Funeral Services will handle the entire process for you
High quality services
11. Ang Brothers Funeral Services
Ang Brothers Funeral Services traces its origins back to the 1950s, making it one of Singapore's most established and reputable funeral firms. If you're looking for a company with a long history, we highly recommend them. Hiring them will allow you to devote more time to your grief and processing the loss of your loved one.
The Ang Brothers undertakes funeral and post-funeral services for all races and religions, including those who do not follow a specific faith. Its funeral directors and specialists are well-versed in the customs and beliefs of many different faiths and cultures. There's more to it than just its excellent hearses.
The second reason it made the cut is its variety of payment options, which allow clients to break down the expenses into smaller installments. This is fantastic news for individuals who are hesitant to spend thousands of dollars in a single payout. While its flexible payment plans don't imply higher costs, they do provide some relief.
Key Differentiators
Funeral and post funeral services for all races and religions
Installment plans are available
12. Trinity Casket
If you want high-quality coffins, there's no better place to go than Trinity Caskets. It has some of the finest coffins on the island, but we think its funeral services are worth noting as well. Trinity Casket may be largely recognised for its high-quality coffins, but its funeral packages are nothing short of comprehensive.
Transportation, funerary decorations, flowers, embalming, supper, and of course a casket are just a few of the included services. The funeral home has been in operation for almost 30 years and has assisted more than 12,000 families, demonstrating the high level of its funeral services. It wouldn't have lasted three decades if it wasn't exceptional.
Key Differentiators
Open on holidays
No-obligation consultation
High-quality caskets
Client Testimonial
"Hi Angelo, the kindness you extended to us during my aunt's wake and funeral meant so much. Your professionalism made the planning and execution of the funeral painless and seamless. And you went above and beyond the scope of your duty to have the urn and ashes delivered to her son after his quarantine and for that I will be forever grateful to you" -Evelyn
13. An Lok Funeral Services
An Lok Funeral Services is a well-known funeral business in Singapore that was founded in 1997. It has developed into one of the most reputable funeral businesses in Singapore because to its comprehensive and inexpensive death care services.
The only funeral service provider on the island that can conduct a Baha'i Faith burial is The Eternality of Life, which is rather unusual. It's incredible to find someone who can arrange a wake that follows its traditions, even though it's only practiced by a few people in Singapore.
According to reports, An Lok will handle funerals for people of other religions, such as Buddhist funerals, Catholic burials, Christian burials, Soka funeral services and so on. Its funeral directors will make sure that all customs and traditions are followed and maintained. Depending on the circumstances, the wake may be held at a HDB void deck or a multipurpose hall. Customers may want to hire an additional area to accommodate a high number of guests.
Key Differentiators
More than 20 years of experience
Transparent pricing
Can arrange a Baha'i Faith funeral
Client Testimonial
"An Lok Singapore Funeral Services helped my bereaved family to cope with the loss of our loved one whilst ensuring that the wake was well-organised and dignified. In face of our sudden loss and grief, our beloved father still had a beautiful and respectful wake — this is only possible with the help of Alvin. He was transparent and honest with all charges and billables. He advised on what's practised traditionally and the difference in various rituals. He will always check the objective behind the family for the respective rituals and advise on what is practical and what is not necessary. He offered sincere options and not just whichever that is "best for business", it goes to show that An Lok practises good business ethics. Because Alvin was so reliable, honest and helpful, we engaged him for all of our beloved father's buddhist rituals (7th, 49th, 100th and death anniversary). An Lok is an honest and respectable business that prioritises the deceased and the bereaved family. I can not recommend their services enough. They are undoubtedly the best way to bid a loved one goodbye."
14. Singapore Casket Co Pte Ltd
After you've located a funeral hall and procured funerary decor, Singapore Casket can handle the repatriation, embalming, makeup, obituary placement, food catering, and even cremation of the deceased. It's unusual to deal with a funeral business that can handle everything, but there's still more than Singapore Casket can do. For example, it may organise an online funeral live streaming for relatives who won't be able to attend the wake.
Singapore Casket is the world's first casket that can be restored in a Day. Singapore Casket houses several funeral professionals who will accompany the family throughout the wake and give post-funeral assistance if required.
Key Differentiators
Can be reached 24 hours a day
Multiple funeral halls
Online funeral live streaming
Client Testimonial
"My family held my late grandmother's wake at Singapore Casket and we were impressed by the service provided. All the staff were polite and knowledgeable, which relieved a good deal of stress for us as we are not very well versed in funeral traditions. My grandmother's wake was held in the Sapphire Hall which was well appointed and comfortable. Everything went very smoothly, including the sea burial of my grandmother's ashes which was arranged by Singapore Casket as well."
15. Harmony Funeral Care
At Harmony Funeral Care, we believe that sending off cherished ones and friends should not have to be financially draining, therefore it might be the cost-effective funeral service provider you've been looking for!
As a family-owned funeral parlor, Harmony Funeral Care understands the family's loss and sympathizes with them by handling all funeral arrangements and giving them all of the time and privacy they need to mourn.
The basic burial costs at 'Harmony Funeral Care' include transportation, flowers, funeral hall, funerary décor, and food catering. If the deceased must be repatriated after death, the assigned funeral director will take care of it.
Key Differentiators
Sends updates through text
Competitively priced funeral packages
More than 60 years in the business
Client Testimonial
"Was recommended to engage Harmony Funeral Care. Decided on them due to competitive pricing and good recommendations. They were able to have everything set up within the next day upon contact. I was really impressed with the speed of delivery and services provided. Harmony and her team assisted us throughout the 5 days mourning process up to the cremation. Today was the final day and everything went smoothly. I'm glad that I took up this recommendation. Thank you once again." -Joven Chan
16. Sri Rudras Singapore Indian Funeral Services
Sri Rudras Singapore Indian Funeral Services is dedicated to delivering a personalized funeral service that honors the memory of your loved one.
The advantage is that they will be able to comprehend that in the event of a death, the family and loved ones of the deceased may be emotionally traumatized, and making decisions might be difficult. As a result, they provide non-obligatory contact.
You may now ask them for help and receive a list of Hindu Funeral Service Packages that might be suitable for your needs.
Key Differentiators
Over 24 years of experience
Wide range of services
World wide repatriation
17. Jasa Budi Muslim Casket Services
Jasa Budi Muslim Casket Services isn't technically a funeral business, but it made the cut because it has helped not just the Muslim community in Singapore, but also those in neighboring countries.
Jasa Budi Muslim Casket Services is the one to call if you have friends or relatives that need to be re-entered into or de-exported from Singapore. It's carried coffins from Indonesia, India, Vietnam, China, Australia, and Egypt to and back.
Jasa Budi offers home/hospital packages that include transportation, cleaning, and dressing the body, as well as religious services, grave up keep, and refreshments for the family when bodies do not have to be repatriated.
There's no other burial business in Singapore that understands Muslim customs and traditions as well as Jasa Budi, so we strongly suggest it to our Muslim friends and family.
Key Differentiators
Knows Muslims traditions
Can export and import bodies
24-hour service
Client Testimonial
Very excellent service
18. Singapore Indian Casket
If you're an Indian living in Singapore, you've undoubtedly heard of Singapore Indian Casket since it is the island's largest Hindu funeral provider – and we're not surprised to see it take home the crown.
The Singapore Indian Casket team is a small group of local Indians with extensive understanding of Hindu customs and funerals. If you're going to let someone arrange your funeral, who better to trust than someone who knows your culture by heart?
Another thing we appreciate about Singapore Indian Casket is how comprehensive its funeral packages are. Aside from the coffin and hearse, the flower arrangement, bathing of the deceased, 45-seat bus, tables and chairs, and ash collection prayers are included in the basic package.
Key Differentiators
24-hour embalming doctor
Competitively priced packages
Friendly and approachable funeral directors
Client Testimonial
"I would like to thank Mr Kanthan & Mr Vinod(Buddy) for their funeral service of my beloved sister Saratha. They provided excellent service right from the beginning till the very last procedures. Was very clear with the instructions which were given by them and had been very patient in carrying out the process without any complications. Overall an excellent service provider that I would highly recommend to people who are intending to carry out a funeral service. Two thumbs up" -Ryan Irianto
19. Funeral Solutions
Many Singaporeans choose to use Funeral Solutions as their preferred provider for basic Buddhist and Taoist burial services, nothing too fancy or extravagant. It's also a cost-effective alternative, so going over budget isn't something that'll happen.
One thing we noticed about Funeral Solutions is that it adheres to a fairly typical service-arranging process. Your assigned funeral director will begin by asking questions regarding the deceased's wishes and your preferences, for example.
Following that each package will be addressed in detail. It also aids parents in determining the distinctions between Buddhist and Taoist traditions.
Key Differentiators
Budget-friendly option
Traditional funeral service, nothing fancy
Customised funeral packages
Client Testimonial
"Professional and affordable pricing, really no hidden cost! Honest!!!"
20. A.Lifegrad Funeral Service
A.Lifegrad Funeral Service is a funeral service provider that caters to all religious beliefs. You may count on them to organise and deliver an appropriate program for your loved one, from funeral pre-planning to what to do after the wake.
You know you're dealing with the real deal at A.Lifegrad because the firm has been in business for more than 15 years without a single day off. If a funeral service provider can survive for years, it's because it's exceptional in some way.
In terms of pricing, A.Lifegrad does not exceed the national average, so expect reasonably priced funeral packages. Even though Taoist funerals are typically pricey, the cost of the Taoist funeral package is fairly reasonable.
You can also use A.Lifegrad Funeral Service to repatriate bodies into and out of Singapore by land, sea, or air. It's a service that is accessible 24 hours a day, every day of the year.
Key Differentiators
Over 15 years of experience
Reasonably priced packages
Reliable customer service
Client Testimonial
"Thank you John , Vincent and staffs of A.life grad for doing such a serene and peaceful buddism funeral for my PoPo. The makeup of Popo received great compliment of looking natural , peaceful and beautiful. Modern and Greenery Setup was also complimented by many guest even thou they are not buddism. The staff professionalism and whole funeral services was something we had never seen before, thank you all Keep up the good work and all the best A.lifegrad peeps."
21. Celebration of Life
It may have some of the lowest funeral services in Singapore, but that does not imply it is low-quality or mediocre. Because it lacks high fixed expenses, its pricing is low. Celebration of Life can provide more than simply a traditional funeral as a full-range funeral firm. It can also arrange for the return and sea and land ash burial, issue death certificates, and transport family members.
Celebration of Life will help you plan your loved one's funeral from beginning to end, including the procession and burial. You may be certain that your loved one will be buried with the care and reverence they deserve.
Key Differentiators
Budget-friendly funeral packages
Full-service funeral company
No overtime charges
Client Testimonial
"We would like to thank Nicholas Raj, Joseph Heng, Titus and all their staff for making our mum's send off a beautiful one. Nicholas and team took care of everything promptly and smoothly and made it as easy as possible, allowing us to grief. The setup at the wake was so beautiful and the funeral went smoothly.

Thank you from the bottom of my heart for being with us and helping us during mum's final journey."
22. The Life Celebrant
We suggest calling The Life Celebrant if you're searching for a personalised funeral service in Singapore. Despite its modest size, it is able to pay tribute to a loved one or friend through a respectable funeral ceremony.
The Life Celebrant provides a wide range of funeral services that may be customised to match the desires of the deceased and family preferences. nNo family member will have to lift a finger since the funeral directors will take care of everything.
We were particularly struck by the funeral ceremony known as "Showers of Love." It's where bereaved families can do last acts of love and filial piety for the departed, which might assist them in dealing with their sorrow.
Key Differentiators
Full-range funeral packages
Responsive customer service
Funeral for babies
Client Testimonial
"A week ago, we entrusted TLC to conduct the funeral for our mother. From the first call, I was put at ease by Mr Denis Wee who assured me with his caring tone that everything will be well taken care of. What followed ran like clockwork. Who to do what at when went smoothly without hiccups. This was not my first encounter with TLC. It was the third time. I chose TLC again this time because of their reliability , care and professionalism. The staff members dressed elegantly. Wong KT is always smiling even though she was so busy. The wake area was set up elegantly with modern appearance without losing the traditional flavour of a Taoist ritual. All this came with reasonable cost. The charges are transparent. There was no hidden cost. I paid what I chose. We thanks TLC for making our experience less painful." -Chua Poh Keyong
23. Singapore Funeral Organisation
The third funeral service provider on our list is Singapore Funeral Organisation, which is one of the most renowned funeral businesses in Singapore.
One of the finest aspects of Singapore Funeral Organisation is that it serves individuals from all walks of life, and is prepared to provide funeral services for anybody.
Buddhist funeral services, Taoist funeral services, Christian funeral services, and Free Thinker funeral services are just a few of the funerals provided by Singapore Funeral Organisation. They also provide post-funeral care including sea burials, memorial services, and prayer sessions.
Key Differentiators
Offers pre- and post-funeral services
Caters to various religions
Handles pre- and post-funeral services
24. Serenity Casket
Serenity Caskets focuses on personalizing funeral services, so whether you want to hold the wake at a church, HDB void deck, or your own home, its funeral planners will handle the arrangements.
Serenity Caskets goes above and beyond to make the entire funeral as simple and stress-free as possible for the family of the deceased. If other relatives are unable to attend, Serenity Caskets will provide a live webcast that may be viewed from anywhere in the world.
Finally, if you want to bury the urn in a columbarium or throw it into the sea, Serenity Caskets can help you make your decision.
Key Differentiators
Large team of funeral directors and coordinators
Uses a Mercedes-Benz limo hearse
Responsive customer service, any time of the day
Client Testimonial
"Appreciated and thanks to Jacky and his team. Everything went smoothly from hospital to wake. All details were well taken care of by his team. Our dad's wake was beautifully set up and it is peaceful, soothing and comforting to all of us. Toilet was clean and spacious too. We were surprisingly pleased with the funeral hearse provided. During memorial service, staff was assigned to help up with seating arrangements and refreshments. Their service had really exceeded our expectations. Jacky and his team are really supportive, professional and awesome." -Apple Kow
25. Embrace Funeral Services Pte Ltd
For over four generations, Embrace Funeral Services Pte Ltd has been a firm that provides funeral services to clients all around Singapore. They have incorporated continuously evolved funeral services that are compatible with the present era since they began 20 years ago.
We were very pleased with their customer service. Their consultations were extremely accommodating since they do not provide a one-time solution for all clients, but rather a customized solution suited to the client's specific requirements, including family customs and practices.
Another thing we believe will add to the experience for both the client and their departed loved ones is that they provide mementos of remembrance and prayer items.
Key Differentiators
Hospitable services
Hassle-free transaction
Inclusive packages available
Client Testimonial
"I will like to express our greatest gratitude to Jeffrey and his team for their preparation on my father funeral. They have come up with the online obituary that save us a hassle to inform all the relative during the hard time that they are experiencing. All small little details are clearly explain even during the wee hours during this difficult time. 5 star ratings and 5 thumbs up for the thoughtful service." – Jenessa Ng
26. Passion Bereavement Care
Passion Bereavement Care was created with the goal of giving funeral services and handing off the deceased's body in a calm, respectable, and honorable manner, regardless of their birth, wealth/status, or lives they led.
Key Differentiators
Assist in Ash Collection
Claiming of Body from Hospital or Home
Professional Embalming
Client Testimonial
"Thank you Deborah, Kenny & the entire team from Passion Bereavement Care for ensuring that my dad last journey was so honourable, smooth & grand. All staff was attentive and extremely compassionate. Grand deluxe package was definitely worth it and all expectation were met. Not pushy & no hard selling. Everything listed on the package is being delivered. Highly recommend Once again, thank you. God bless!"
27. SK Funeral
Shao Kuang, the owner of SJS Funeral Group, leads a team of expert professionals who have upheld the highest funeral standard in Singapore since 1990 and serve thousands of families. They are one of Singapore's major funeral service providers, offering everything from limousine hearses to typical hearses to funeral arrangements for toilets and refrigerators.
The firm's reputation for excellence has allowed it to grow into one of Singapore's top funeral providers. You're unlikely to come across a direct funeral provider and funeral director led by the same managing director in Singapore who doesn't have an internet presence.
Key Differentiators
one of the largest funeral services provider that provides essential items
rides itself as the best funeral services provider in Singapore
best competitive pricing in Singapore with the exclusive funeral package and providing unique quotations
28. Nirvana Memorial Garden
Nirvana Memorial Garden (富贵山庄) has a team of highly qualified and experienced funeral advisors that will offer you full guidance, so you will be able to provide your loved ones with a memorable send-off. They were the award winner for the title of "Largest Bereavement Company in Singapore" by Singapore Books of Record (SBOR) in 2018.
Nirvana Memorial Garden has luxurious and stunning custom-made hearses. It is a sophisticated selection for families who wish to send their loved one off in style. Besides, they have a team of entirely professionally trained female embalmers. They are committed to providing a clean, attractive, and fully preserved burial for the deceased.
Nirvana Memorial Garden encourages pre-planning for funerals and provides a zero percent interest loan each month. The costs are clear, and the checklist is followed and tracked from start to end of the funeral ceremony.
Nirvana Singapore has fully equipped facilities and first-rate service from the heart. They also have many columbarium niches for urn placement. The niches of their columbarium are elegant and well-kept and have become famous as the Final Resting Place. They provide FREE 49 days memorial rite, during which the daily prayer sessions and offerings will be arranged for the deceased.
Key Differentiators
One-stop solution from funeral services to columbarium niches
Luxurious custom-made Hearse
Transparent pricing, no hidden cost
Client's Testimonial
Excellent service provided! Kehsin is meticulous in providing details on my afterlife planning without judging my young age. She spent time going thru different products and help me to understand the product that can fulfil my needs and to my best interest. In a service industry similar to insurance, this will be my last insurance in the lifetime and I'm very fortunate to have meet Kehsin and her team. I want to take a minute to compliment her dedication and high degree of working ethic, placing her client as priority. Highly recommended to anyone who is interested to engage in her expertise!
Funeral Services Singapore
In funeral services, it's important to price funeral packages fairly and not inflate prices for people from a different economic level. When you're looking into funeral service providers in Singapore, there are many options that will suit your needs perfectly. If you want the best funeral package at an affordable price, check out the list above!
If you liked reading this article, check the links below to read some of our other articles:
Frequently Asked Questions (FAQ)
If you have any questions about funeral services in Singapore, you can refer to the frequently asked questions (FAQ) about the best Funeral Services in Singapore below:
Additional Useful Articles
If you are looking for other useful guides and articles about Funeral Services in Singapore, check them out below: