Infant Care Singapore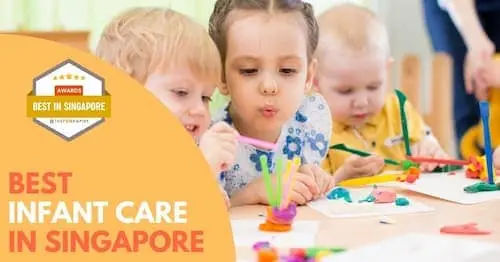 Choosing the right care center for your infant in Singapore is a critical decision that shapes your child's early development.
The best infant care centers in Singapore include MindChamps, Agape Little Uni, Greentree Montessori, Raffles Kidz International, and Tots and Teddies.
When choosing an infant care center in Singapore, take into account aspects such as the center's location, fees, staff expertise and qualifications, curriculum, facilities, and services offered.
In Singapore, infant care centers offer care and learning programs that are tailored to the age of infants, fostering their physical, cognitive, and emotional development.
Read on to learn more about each infant care center and find the one that is right for your family!
Quick Summary
Best infant care centers in Singapore include MindChamps, Agape Little Uni, Greentree Montessori, Raffles Kidz International, and Tots and Teddies.
When selecting an infant care center in Singapore, consider factors like location, fees, staff experience and qualifications, curriculum, facilities, and services.
Infant care centers in Singapore provide age-appropriate care and learning programs, while supporting the emotional, cognitive and physical development of infants.
Key Consideration Factors
Accreditation: Look for infant care centers that have been approved by the Early Childhood Development Agency (ECDA). This assures that the facility satisfies specific quality and safety requirements within the industry.
Staff Qualifications: It's important to think about the qualifications and experience of the staff at the infant care center, since they will be taking care of your child. Look for centers with trained and experienced caregivers who have a passion for working with infants.
Curriculum: Infants may not go to school, but having a curriculum or infant and toddler programme in place can help make sure they get the right kind of developmentally appropriate stimulation. Look for centers that have a well-structured curriculum that focuses on developing motor skills, social interaction, and language development.
Facilities: The daycare for infants has to have facilities that are not only safe and hygienic but also conducive to the learning and development of the children who go there. Search for centers that include equipment, toys, and amenities like as sleeping spaces that are suitable for children of the proper ages.
Parental Involvement: Parental involvement is important for ensuring that your child's needs are being met while they are at the infant care center. Look for centers that have regular ways for parents and teachers to talk, like parent-teacher conferences or newsletters.
Location: It is crucial to consider about the location of the baby care facility since it should be convenient for you to travel there from either your house or your work place.
Best Infant Care Singapore
1. MindChamps
The prestigious MindChamps of Singapore is the most renowned performing arts institution on the island. Music, vocal performance, acting, dance, and communication are all part of its holistic curriculum.
Performance training programs, in addition to their proprietary performance training courses, include international certifications like LAMDA, ABRSM, CSTD, and TRINITY. Moreover, their curriculum offered is Performance Training, Teenstars, and Champion Communication.
Key Differentiators
Child's holistic development
Enrichment & Holiday Programmes
Growing global presence
2. Agape Little Uni
The Greek word "Agape" means "unconditional love." This is the sort of love that a parent has for his or her kid, who is unconditionally and sincerely loved. The best climate for a youngster's development is created by this type of love.
They are attempting to recreate this ambiance and encourage learning at Agape Little Uni. Simply said, Agape aspires to be a children's "home away from home."
You can avail of the existing curriculums here which are Infant Care, Early Years Preschool, and Holiday Camp.
Key Differentiators
Established in 1995
First ISO certified academic institution to provide quality childcare and student care services
More than 200 staff
3. Greentree Montessori
Key Services
Infant and Childcare Services
Website
https://www.greentreemontessori.com/
Address
Greentree Montessori Children Hub – 45 Jalan Mata Ayer, Singapore 759130
Greentree Montessori Children Cottage – 26 Jalan Shaer, Singapore 769372
Phone
Greentree Montessori Children Hub – 6756 4382
Greentree Montessori Children Cottage – 6970 5320
Email
greentreemontessori@gmail.com
Operating Hours
Mon to Fri – 7am to 7pm
Sat – 9am to 1pm
Sun – Closed
Greentree Montessori was established in 1990 in Singapore with a mission to fulfill each child's only childhood.
Greentree's schools serve children from 2 months to 6 years of age. Besides preschool and childcare services, Greentree Montessori also conducts frequent events and classes tailored for children, the whole family, adults and professional educators.
As a community for those who value life and have a goal of allowing children to be themselves, Greentree Montessori actively reaches out to both children and adults; providing and designing meaningful and enjoyable experiences for everyone.
Greentree Montessori supports a mindful approach to education, parenting and human development by adopting the Montessori Method, the Resources for Infant Educarers (RIE) approach, the Pikler approach, and a natural environment.
Key Differentiators
Adopts the Montessori methodology fully for preschool programs
Adopts the Pikler and Resources for Infant Educarers (RIE) approach for its infant care programs
Natural environment and Singapore's only outdoor classroom.
Client Testimonial
My daughter is 3 and joined the school since 2. The teachers are caring and patient. The school uses montessori based materials as part of their curriculumn that helps with children's fine motor skills and aids learning, seen great improvements in my daughter's developments. They also teach Phonics and basic math foundation concept, sensory materials, trinomial cubes etc. Environment is great for kids too! Lots of trees and plants

CC CC
4. Raffles Kidz International
Since its establishment in 2014, Raffles Kidz International has won multiple awards as one of
the top bilingual preschools in Singapore that provides quality preschool and childcare
programmes. Infant care is also provided in its largest centre at Jurong West for infants and
toddlers aged 2 to 18 months.
Their holistic infant care programmes aim to provide the best head start for young children by
fostering their physical, cognitive, social, and emotional skills in a safe and nurturing
environment. Their teacher child ratio is at 1:3 on average to facilitate the development of
strong and positive relationships with well-trained infant educators. Personalized infant care
programs are also set in place to meet every infant's preferences, routines and interests.
Find out more about their infant care programme here. Keen to enrol in other centres? Book a
tour here.
Key Differentiators
Multi-Award-Winning Preschool
Bilingual Inquiry-based Curriculum
Holistic & Nurturing Learning Environment
Experienced and Well-trained Educators
Raving Reviews from Parents
Client Testimonial
We have the fondest memories of my daughter's time in the Infant class at Raffles Kidz Jurong West. Her teachers were kind, caring and very attentive. Drop offs and picks ups were always a breeze as the teachers and staff welcome each child with open arms and warm smiles, which really helps comfort them.

Being a working parent, I appreciate the regular updates from the center as it gives me a peace of mind knowing that my child is well taken care of. I've seen her grow in ways I've never expected – she's more sociable, compassionate and independent. This is a testament to the warm and welcoming culture at Raffles Kidz!

Rachel Wong
5. Tots and Teddies
Tots & Teddies aspires to be Singapore's best child care facility, and they don't take this claim lightly! They cater to picky parents seeking the finest quality child care for their babies from two months old through children aged six years and under.
The goal of each center is to provide every child in its care with a sense of significance, worth, understanding, and protection. They do this by limiting their own class sizes. This allows for close attention and high-quality shared experiences between kids and educators.
Key Differentiators
Bilingual full-day infant care and preschool
Award-winning preschool
Holistic P1-ready curriculum
6. My First Skool
For over 40 years, My First Skool has been the center of attention and education for toddlers. Since its inception in 1977 as the pre-school division of National Trade Union Conference First Campus Co-operative, it has evolved into one of Singapore's most prominent early childhood facilities.
The region is home to more than 140 kindergartens, many of which are within a short walk. The carefully constructed curriculum allows children to learn through non-traditional methods and explore their passions in STEM, the arts, nature, the Bilinger rhythm, and cultural intellect.
Key Differentiators
Provide children with authentic and varied learning experiences
Non-traditional modes of learning
All-round child's development
7. Cherie Hearts
Cherie Hearts is one of Singapore's major childcare centers and education providers, with 20 locations around the island. Their multi-literacy curriculum aims to improve a child's holistic growth, boost their pleasure in learning, and set them up for future success.
They have a highly qualified, experienced staff that is skilled in building children's learning foundations, developing 21st-century skills, and fostering a lifelong learning attitude.
The infant care curriculum is designed for both newborns and curious toddlers. Their curriculum for infants and toddlers encourages them to participate in a variety of activities that promote development in many learning areas.
The goal of the program is to provide a stable, nurturing, and loving atmosphere with attentive caretakers to assist their newborn's early development.
Key Differentiators
Premium preschool center
Cross-cultural Experience
Early Development Centre
8. Pat's Schoolhouse
Pat's Schoolhouse emphasizes being daring, exuberant, and inspiring. Their teaching method is particularly designed to support your child's present and potential capabilities and growth across all developmental phases.
They provide an immersive curriculum that includes inquiry-embedded play and engaging activities to educate and develop active, inquisitive, and competent students. They also have a stronger music-integrated curriculum in order to support confidence, discipline, and the development of motor and social abilities among other things.
Key Differentiators
Download activity kits curated by our Pat's team
Give children a vibrant and memorable
Established in 1988
Client Testimonial
Rest assured that kids are in clean and TCl. Tender love and care

Chen Yang
9. Columbia Academy
Columbia Academy, with over 20 years of expertise in infant care, can offer you with knowledge and experience in child care. It offers sanitary baby care to help your kid acquire important traits while developing.
At Columbia Academy, the goal is to assist children in learning through expert instruction. Your baby will benefit from a variety of teaching techniques at the learning center. It focuses on infants from 2 months to 12 years old and their development. Communication skills, language learning, creativity, computer literacy, and self-confidence are among the skills taught by the programs.
Key Differentiators
Conducive and safe learning environment
Qualified and experienced teachers
Small teacher to pupil ratio
Client Testimonial
A team of good and dedicated teachers with an enriching curriculum for all students. My two girls definitely benefit a lot from attending this pre-school!

Jamie Han
10. Sunshine Kids Care Centre
Sunshine Kids was founded in 1990 and currently has more than three decades of expertise in providing child care and infant care services. The institution takes pride in being a reliable assistant to parents, working alongside families to guarantee that children aged 2 months to 6 years get the comprehensive care and development they need.
You can be confident that your child will benefit from the excellent services delivered at reasonable costs as a Partner Operator by the Early Childhood Development Agency (ECDA) and SPARK certified.
Their approach includes treating youngsters with respect, listening to them, and responding to their needs, which is used in their child care. This ensures that children develop into secure and self-assured individuals, providing a solid foundation for future growth.
Key Differentiators
Purposeful Play
Teachers with education qualifications
Holistic learning and development
Client Testimonial
Cosy heartlander child care unlike those mega centres that are so commercialized now. This is what I want for my child – a community where he can grow up knowing everybody's name and vice versa, not just another face lost in the crowd. Two thumbs up for the management and teachers!

Anthea Ong
Infant Care Singapore
Choosing the right infant care center can be a difficult decision. However, with our list of the Best Infant Care Centers Singapore, you should have no problem finding one that suits your family's needs and budget!
Select from daycare to nannies or nurseries, we are confident you will find something perfect for your child. Get started by clicking on any infant care center above – all reviews and information are available quickly and easily online. Happy searching!
Looking for more interesting articles to read? Check out more of our blog posts down below!
Frequently Asked Questions (FAQ)
If you have any questions about Infant Care in Singapore, you can refer to the frequently asked questions (FAQ) about the best Infant Care in Singapore below:
What are the best infant care centers Singapore?
The best infant care centers Singapore include MindChamps, Agape Little Uni, Greentree Montessori, Mulberry Learning, Raffles Kidz International, and Tots and Teddies.
What is the age range for children at infant care centres in Singapore?
The age range for children at infant care centers Singapore typically starts from 2 months up to 18 months. However, some centres may extend their services to children up to 36 months.
What does an infant care programme focus on at these centres?
An infant care programme focuses on the holistic development of a child. This includes cognitive, physical, emotional, and social development. The programmes are designed by qualified infant educators and are tailored to the specific needs of each age group.
How do childcare centres differ from infant care centres?
While both childcare centres and infant care centers provide care and education for young children, they cater to different age groups. Childcare centres generally cater to children from 18 months to 6 years, preparing them for primary school. On the other hand, infant care centers cater to younger children, from 2 months to 18 months.
What qualifications do educators at infant care centres have?
Educators at infant care centers, also known as qualified infant educators, have undergone specialised training in early childhood education. They are equipped with the necessary skills and knowledge to provide age-appropriate materials and activities to stimulate the infants' learning and development.
How are age-appropriate materials used in an infant care centre?
Age-appropriate materials are carefully selected to suit the developmental needs of each age group. These can range from sensory toys for babies, to more complex play sets for older infants to promote motor skills and cognitive development.
Are there any health guidelines that infant care centres in Singapore follow?
Yes, infant care centers Singapore adhere to health guidelines set by the Health Promotion Board. This includes maintaining high standards of cleanliness, providing balanced meals, and ensuring regular health checks for the infants.
How does infant care prepare my child for primary school?
While the main focus of infant care is to provide care and stimulate early development, it also lays the foundation for your child's future learning. The activities and routines at the centre help children develop essential skills such as communication, socialisation, and basic problem-solving, which are vital when they start primary school.
How does preschool education fit into the picture?
Preschool education typically starts after a child graduates from an infant care centre. It plays a crucial role in preparing children for formal education in primary school. It builds on the foundational skills learnt during infant care, with a more structured curriculum that includes literacy, numeracy, and socio-emotional learning.
How do I choose the best infant care centre in Singapore for my child?
Choosing the best infant care centre involves considering several factors such as the centre's curriculum, the qualifications of the educators, the cleanliness of the facilities, the centre's adherence to health guidelines, and feedback from other parents. It is important to choose a childcare centre where your child will be safe, cared for, and given ample opportunities to learn and grow.
Additional Useful Articles
If you are looking for other useful guides and articles about Infant Care in Singapore, check them out below: