Jewellery Shop Singapore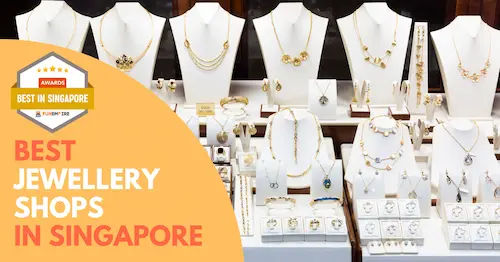 An elegant and sophisticated piece of jewellery is the best way to level up your #OOTD from everyday to glamorous.
The best jewellery shops in Singapore include Michael Trio, Jewels Galleria, Made Different, Vault Fine Jewellery, and Carrie K.
When selecting a jewelry store in Singapore, take into account aspects like reputation, customer feedback, the quality of materials utilized, and design proficiency.
In Singapore, popular types of jewelry include diamond engagement rings, customized jewelry, delicate gold pieces, and elegant pearl earrings.
Below, we've curated a list of the best jewellery shops in Singapore, ensuring that you'll find the perfect piece to elevate your style.
Quick Summary
Best jewellery shops in Singapore include Michael Trio, Jewels Galleria, Made Different, Vault Fine Jewellery, and Carrie K.
When choosing a jewellery shop in Singapore, consider factors such as reputation, customer reviews, quality of materials used and design expertise.
Diamond engagement rings, bespoke jewelry, minimalistic gold pieces, and pearl earrings are some of the popular types of jewelry in Singapore.
Best Jewellery Shop Singapore
1. Michael Trio
Key Services
Custom-made engagement rings, wedding bands & diamond jewellery from rings, bracelets, necklaces. earrings and more!
Website
www.michaeltrio.com
Address
JEM Showroom:
50 Jurong Gateway Road 01-60, Singapore 608549

Tanjong Pagar Showroom:
91 Tanjong Pagar Road Singapore 088512
Phone
+65 6299 0110 / +65 6951 3296
Email
service@michaeltrio.com
Operating hours
JEM Showroom: 11am – 9.30pm
Tanjong Pagar Showroom: 12pm – 8:30pm
Michael Trio offers exceptional craftsmanship, service and quality at a remarkable price. Michael Trio is a homegrown custom jewellery business that provides custom-made engagement rings, wedding bands and diamond jewellery pieces sold at their 2 showrooms in Singapore and on their fully functioning e-commerce website.
Many of the advantages Michael Trio has as makers of fine jewellery lie in how their founder-father began his business designing and crafting medallions for sultans and other royals. Passing skills and lessons perfected over 40 years down from generation to generation, this invaluable expertise serves as the foundation for Michael Trio. Their gemstone and precious metal selection process is rigorous. Their level of craftsmanship is fine to the last detail. One might even say that every jewellery piece of Michael Trio is simply, literally, fit for royalty.
Check out their catalogue of exquisite craftsmanship and fine jewellery pieces on their Facebook and Instagram pages.
Key Differentiators
Exceptional jewellery craftsmanship, customer service and quality at a remarkable price (4.9 Star Rating in Google Reviews with 450+ reviews from customers).
Free shipping worldwide.
Only jewellery store in Singapore that has a fully functioning e-commerce website.
Customer Review
Michael Trio introduced the basics of diamond patiently and recommended design and diamonds that well suited my request and budget. The entire experience from chatting with them over the website to going down to their actual store to view and pick the ring is smooth and customer oriented. I would definitely recommend my friends to go with Michael Trio for their future jewellery purchase.

Kok Wei Lim
2. Jewels Galleria
Key Services
Coloured gems, bespoke statement creations, custom designs, everyday diamond pieces
Website
www.jewelsgalleria.com
Address
583 Orchard Rd #01-44 Forum The Shopping Mall
Singapore 238884
Phone
67326601 / Whatsapp: 97578752
Email
eugenia@jewelsgalleria.com
Operating hours
Monday – Saturday: 10am – 7pm
Closed on Sundays
Established in 1987, Jewels Galleria opened its flagship jewellery boutique in the heart of Orchard Road at Forum the Shopping Mall. More than 30 years on, their jewel house caters to a distinctive group of clients who appreciate the intricacy of jewellery and also individuals who are just beginning their foray into it. Their reputation is founded upon fine, bespoke and high-quality pieces.
Jewels Galleria's current collection features a diverse variety of pieces – from casual and chic semi-precious items to one-of-a-kind statement cocktail rings. Recently, they moved towards catering their jewellery for the modern, young professional meaning lots of versatile classics suitable for everyday wear and functionality.
Key Differentiators
Bespoke
Affordable
Service-centric
Customer Review
Very nice designs for a good price. Purchased a beautiful necklace for a present and my partner like it so much. Thumbs up! 🙂

Ruth Choy
3. Made Different
Key Services
Hypoallergenic everyday jewellery with complimentary engraving.
Website
https://www.madedifferent.co
Address
N.A.
(Products available online only)
Phone
N.A
Email
hello@madedifferent.co
Operating hours
Online
Made Different Co. is a Singapore based jewellery brand. For everyone, every occasion, and every day – Made Different aims to create classic, personal and long lasting pieces at an affordable price point. The collections found on their website are inspired by every beautiful thing, including you – a strong, motivated and courageous woman.
For their pieces, Made Different uses highly durable and quality materials, mainly surgical stainless steel and 925 sterling silver, that is manufactured for longevity so that you'll get the best wear out of it and that your jewellery can last for a lifetime.
Key Differentiators
Hypoallergenic and safe for sensitive skin.
Affordable price points.
Complimentary fine engraving service done in-house by the team.
Customer Review
Impressed Service and Delivery! Customised the necklace which makes it very very meaningful for my close ones. Delivery is super fast and special requests made were also fulfilled! Very impressed with the service and I would strongly recommend this! (will buy again too)

Cassandra T.
4. Vault Fine Jewellery
| | |
| --- | --- |
| Key Services | Bespoke Fine Jewellery & Wedding Jewellery |
| Website | www.vaultfinejewellery.com |
| Address | 32 Zion Road, Singapore 247770 |
| Phone | 69176590 |
| Email | enquiries@vaultfinejewellery.com |
| Operating hours | By Appointment Only |
Vault Fine Jewellery offers both alternative and traditional fine jewellery. Their approach to creating fine jewellery designs and quality pieces embodies the brand mission – designing beautiful keepsakes that evokes emotions. For instance, each jewellery is exclusively designed and intrinsically crafted in quality materials, offering an enduring wear for present and generations to come.
Vault appreciates that each jewellery has as a unique story to tell and that they should gifted, received and worn as an act of love. More than just another piece of wearable, they are intimate, personalised and often irreplaceable. Materials used by Vault are sourced through environmentally responsible procedures, and great care is taken during the fabrication of each jewellery.
The goal is that every process – from design consultation to the finished piece – to be as personalised and enjoyable as possible.
Key Differentiators
Bespoke pieces fit for any occasion.
Sustainable – all their materials are sourced through environmentally responsible procedures.
Personalised – Vault believes every piece of jewellery should tell a story. The value of a jewellery is not defined only by materialism, but the unique experience into realizing a design, and the sentimental value instilled into every single piece.
Customer Review
My fiancée and I were looking for the perfect engagement ring. We went to half a dozen jewellery stores in Singapore before finding Vault. First and foremost, the customer service provided was second to none when compared to every single jewellery store we had been visiting so far. When you and your partner are looking for something as personal as an engagement ring, customer experience is of utmost importance. Even before trying rings on, we were struck by the warmth and friendliness; these kinds of things matter a great deal! Then it turns out that it is not easy to find special diamonds (especially in the cut and colour section). Vault has a lot of special, unique diamonds that would be very hard to find anywhere else, at least as far as our experience is concerned. We got our heart set on one salt and pepper diamond; Vault did an amazing job working with our specifications, from setting to engraving. I can count on one hand the number of times when I had such an amazing customer experience. We would absolutely recommend Vault.

Simon Joliet
5. Carrie K.
Key Services
Pearls, Bespoke/Customised jewellery, Engagement Rings
Website
www.carriekrocks.com
Address
National Design Centre:
111 Middle Road, #02-02
Singapore 188969

Takashimaya:
391A Orchard Road, Takashimaya, Singapore 238873
Jewellery & Accessories Department / Level 1
Phone
9299 8244
Email
contact@carriekrocks.com
Operating hours
National Design Centre:
By Appointment Only

Takashimaya:
11am – 8pm
It all started with a trip to Florence, Italy where the founder, Carolyn found herself taking a month-long apprenticeship with a silversmith. As she put the finishing touches to the first piece of jewellery made by her, she had an epiphany. And at that moment she knew she wanted to be a silversmith and jewellery designer, and Carrie K. was born.
Carrie K. creates meaningful and versatile jewellery that lets you bring your story to life. Passionate about story-telling, the team at Carrie K. translates your journeys into meaningful and modular jewellery that transforms from simple everyday wear to statement pieces for special days.
Key Differentiators
Signature Pearl Bar: Unlock infinite styling options with Carrie K.'s signature pearl chains that are modern yet timeless.
Bespoke services: From weddings, heirloom revival, to any milestone worth celebrating, the team at Carrie K. works closely with you to bring your stories to life through their designs and services.
Unique engagement rings and wedding jewellery: The perfect ring for the perfect occasion; choose from Carrie K.'s stunning designs or work with their designers to design your own wedding ring fit for your special day. At Carrie K., the team also keeps you in the know by sharing insights and tips to choosing the right engagement ring of your dreams.
Customer Review
Love the attention to detail that Carrie and her team give to the consultation all the way to the construction of the masterpiece. They were super helpful in getting key info to ensure that the ring will be adored by her for a long time to come. We aced it!
The subtle, multi-layered storytelling elements of the ring wowed her as I explained each thought that was put into it. The team also worked promptly to help me meet my ideal date of proposal.

Big thanks to Carrie, Sheila and Terrence for being awesome and supportive the entire journey!

She said YES!!!
6. Rina Lee Jewellery
| | |
| --- | --- |
| Key Services | Online Demi-Fine Jewellery brand |
| Website | https://www.rinaleejewellery.com |
| Address | N.A |
| Phone | 96312240 (text only) |
| Email | hello@rinaleejewellery.com |
| Operating hours | Always Open |
Created to heal and empower women to be better versions of themselves, Rina Lee offers modern spiritual, Demi-Fine jewellery that tells stories of self-love, strength and courage. Rina designs meaningful jewellery by incorporating healing gemstones with precious metals that will compliment one at any stage of their life journey. Handcrafted in Singapore, South East Asia and South Asia by Fair-trade artisans, the pieces from Rina Lee Jewellery is made from 100% hypoallergenic 925 sterling silver and ethically sourced gemstones. Every piece of jewellery is sound cleansed and set with loving intentions before delivering out to you.
Key Differentiators
Jewellery with intention, heart-centred around healing and empowering women.
Fair-trade practices and ethically sourced materials.
100% Hypoallergenic & 925 Sterling Silver. Free from nickel, lead, cadmium etc.
Customer Review
I was looking for a perfect gift for a very good friend and I wanted something made in Singapore from a local designer, at an affordable price. Definitely I found what I was looking for with Rina. The earrings look stunning, and came in a nice box with a personal handwritten note from her. You don't find these details on Amazon. Very happy.

J. Remesar
7. MADLY Gems
| | |
| --- | --- |
| Key Services | Bespoke customised jewellery, top 0.1% of coloured gems, hand-drawn designs straight from our imagination |
| Website | https://madlygems.com/ |
| Address | 72 Seng Poh Rd, #01-63, Singapore 160072 |
| Phone | 6650 1544 |
| Email | create@madlygems.com |
| Operating hours | Daily: 10:30am – 6:30pm (By appointment only) |
Enter the world of luxury where jewellery is customised, not standardised; joyful, and undeniably you.
Every MADLY encounter in their cozy studio is the epitome of approachable, personalised luxury. As Singapore's only fine jewellery design house that specialises in coloured gems, MADLY Gems are committed to bringing exceptional gemstones to you; they even started their own sourcing office in Tanzania, East Africa where some of the world's most astonishing gem material originates from. A MADLY Gem is one worth collecting now and for future generations to come because when it comes to MADLY gemstones, only the world's finest, top 0.1% will do.
Key Differentiators
Original designs — pieces that clients had never conceived of before, but were their dream jewels brought to life with the help of trained experienced designers.
MADLY prides themselves with having the world's finest 0.1% of coloured gemstones, and the diverse range of rare, top quality gems in Singapore, a feat only possible because of their discerning network of miners, gem cutters and partners around the world. Early 2020, MADLY invested in a sourcing office right in the mining production region of Morogoro in Tanzania, where some of Mother Nature's most stunning gemstones are found. By having a presence right at the source, MADLY will be able to get top-of-the-line gem roughs, and also be able to ascertain the mines from which these gems come from.
MADLY are one of the first few jewellers in the world, and the first in Singapore to be Accredited Ethical Members of the International Colored Gemstone Association, so you can purchase your gems from MADLY with the comfort and knowledge that any treatments and enhancements of the gemstone are fully disclosed, gems are mined responsibly and traded sustainably, not sourced using child labour, and obtained legally.
Customer Review
I was incredibly impressed by the professionalism, knowledge, and service of the Madly Gems staff. The gem selection process was very thorough, transparent and informative. I was shown a wide selection of gemstones within my price range and colour choice and also told about the origin of each stone and how they were prices according to clarity and rarity. I never felt pushed or rushed into any decision. After selecting my stone, we then launched into the design consultation process where my designer, Hae Min, paid close attention to what I was for and drew inspiration from a few pictures I had shown her. I made a few changes to the design along the way and I found the process incredibly fun, creative, and consultative. Really delighted with the final product and can't wait to find another excuse to go back to Madly again. I will not hesitate to recommend them to anyone.

Adeline Rice
8. L'Excellence Diamond
| | |
| --- | --- |
| Key Services | Bespoke French fine jeweller & Engagement ring expert |
| Website | www.lexcellencediamond.com |
| Address | 50 Raffles Place, Singapore Land Tower, #30-01, Singapore 048623 |
| Phone | 6589 8738 |
| Email | contact@lexcellencediamond.com |
| Operating hours | Monday to Saturday: 09:00AM – 0730PM (By prior appointment only) |
Trusted over generations, L'Excellence Diamond is a family enterprise with 70 years of invaluable expertise in diamonds and precious gemstones. It is the only jeweller in Singapore with an unrivalled heritage encompassing all aspects of a gemstone's journey, starting from gemstone mining and gemstone wholesale to the art of French fine jewellery craftsmanship.
Today, the family legacy continues to share its gemmological expertise and to craft bespoke jewellery pieces in celebration of life's milestones such as engagement rings, wedding bands, cufflinks and meaningful anniversary jewellery presents and family heirlooms.
L'Excellence Diamond is the go-to place when it comes to choosing the perfect engagement ring, as they offer direct access to quality diamonds and gemstones, and expert guidance in the customisation of your unique ring design leading to the crafting of your ring with top-notch French quality standards. L'Excellence Diamond is your most reliable and expert Engagement ring Jeweller in town.
Key Differentiators
Gemmology Expert Guidance on a diverse range of top-quality diamonds & precious gemstones.
Bespoke French fine jewellery experience.
Best quality at competitive prices.
Customer Review
Sophie and her sister Sylvie were very accommodating, helpful and friendly. After having looked at so many brands and bespoke jewellers, we chose them for the quality of the product, their trustworthiness, and competitive price. And my fiancée and I are both delighted with the result! Already recommended to a couple of friends!
9. eClarity Diamond
Key Services
Bespoke Engagement Rings and Wedding Bands, Jewellery perfect gift (Anniversary, Bridal, Baby shower), Customization of All Jewellery, Gemmologist Selection & Service
Website
www.eclarity.com.sg
Address
391B Orchard Road Ngee Ann City Tower B #21-05A, Singapore 238874
Phone
9833 1220
Email
info@eclarity.com.sg
Operating hours
By appointment:
Weekdays – 12 PM to 8 PM
Saturdays – 12 PM to 3 PM
eClarity is an award-winning brand, recognised for its design sophistication, gemologist's recommendation, heart-warming services, and top-notched craftmanship in bespoke engagement rings, wedding bands, bridal & anniversary jewellery.
eClarity continues to provide top-notch service standards to assist couples in their search for their ideal proposal ring, wedding bands, and wedding jewellery – whichever suits the occasion. They take pride in their growing recognition and reputation as they bear testament to their steadfastness in their beliefs. With the fundamental belief to let every customer leave with a smile, eClarity's name continues to spread far and wide and hope they can bring a smile to you on your special days.
Key Differentiators
eClarity has Gemologist 1 on 1 consultation, and Zoom webinars every Tuesday on different topics.
Bespoke wedding bands with 500 designs in store to try on – Special alloys like pink, champagne, black, purple gold, and 5 types of finishing with comfort fit.
Customise engagement rings with more than 30,000 real time GIA diamonds and gemstones and 280 ring designs.
Customer Review
Great experience at eClarity! The staff were very patient while we are finalising our choices between 4 different pairs of rings and they shared with us their opinions about the different finishings and the rings turned out perfect for our taste!

Excellent service with constant updates to ensure us that the rings will be able to meet the collection dates!

Wei Lun Ng (via Google Reviews)
10. BA.SG
Key Services
Natural Diamonds (GIA Cert), Labgrown Diamonds (IGI Cert) and Affordable engagement diamonds
Website
www.ba.sg
Address
391B Orchard Road Ngee Ann City Tower B #21-05A, Singapore 238874
Phone
9233 7218
Email
info@ba.sg
Operating hours
By appointment:
Weekdays – 12 PM to 8 PM
Saturdays – 12 PM to 3 PM
Closed on Sunday
Environmentalist, bold and forward. BA.SG is built on a unique idea; that choosing an engagement ring doesn't have to be complicated. Diamonds can be simple to understand and making the right choice can be easy. With more than 30,000 natural and lab-grown diamonds, BA.SG's Best Price Challenge revolutionizes the diamond search experience online and in-store, binding the love of the young generations in the world.
At BA.SG, you'll find high-quality diamonds certified by the most respected independent diamond grading labs. You can create your own jewellery — choose the right diamond and they'll set it in your favourite earring, pendant, or ring design. Every order is shipped free, guaranteed and returnable within 30 days, so you can be sure you made the right decision.
Key Differentiators
Biggest database of IGI certified lab-grown diamonds in Singapore. Lab-grown diamonds are environmentally friendly, making it the preferred diamond choice of many millenials.
Runs a worldwide best price challenge – against all online and instore diamond quotations.
Zoom consultation and webinars hosted by Gemologist with 16 years of experience
Customer Review
The initial arrangements were scheduled by Jimmy & Chris. Our appointment was well coordinated as it should be, with no hiccups. Ended up going to them by sheer luck after months of browsing the web and comparing prices/designs. Decided to choose them for their lab-grown diamond selection, and it was indeed a good choice. The prices were surprisingly competitive and they had the specs and design that I was looking for. Amanda was the one who guided me through the process of purchasing/selecting the ring and also on things to take note of. The team was accommodating throughout the whole time. Came back a 2nd time 3 months later to collect the ring, as arranged and was not disappointed (Pics below). Will look to go back for the wedding bands. Hoping for a smooth proposal! Thanks again Jimmy, Chris, Amanda & team! Truly a hidden gem. *Pun intended.

J T (via Google Reviews)
Jewellery Shop Singapore
And there you go; the best jewellery shops in Singapore. With various trends on the radar, we're sure that these jewellery shops have just what you need to go from ordinary to extraordinary. Keep on shining!
And hey, since you're here, why not check out these awesome articles to satiate your shopping mood?
Frequently Asked Questions (FAQ)
If you have any questions about jewellery shops in Singapore, you can refer to the frequently asked questions (FAQ) about the best Jewellery Shops in Singapore below:
What are the best jewellery shops in Singapore?
The best jewellery shops in Singapore include Michael Trio, Jewels Galleria, Made Different, Vault Fine Jewellery, and Carrie K.
Which are the best jewellery shops in Singapore to buy gold jewellery?
There are several renowned jewellery shops in Singapore known for their gold jewellery, such as Poh Heng, Lee Hwa Jewellery, and Soo Kee Jewellery. These shops offer an extensive range of designs, from traditional to modern, ensuring that there is something for everyone.
Where can I find rose gold jewellery in Singapore?
Rose gold jewellery has become increasingly popular due to its unique and romantic hue. Shops like SK Jewellery, Tiffany & Co., and Cartier offer a variety of rose gold pieces, including rings, necklaces, and bracelets.
I'm looking for modern jewellery designs. Which shops should I visit?
For modern jewellery designs, you might want to check out Atelier Swarovski, Bvlgari, and Monica Vinader. These international brands offer contemporary designs that are both stylish and sophisticated, perfect for the modern woman.
What are some jewellery shops in Singapore known for their quality jewellery?
Quality is paramount when it comes to jewellery. Shops like Poh Heng, Larry Jewelry, and Cartier are renowned for their quality jewellery, ensuring that each piece is crafted with precision and care.
Can I buy gold bars from jewellery shops in Singapore?
Yes, certain jewellery shops in Singapore such as Poh Heng and SK Jewellery do sell gold bars. These are often purchased for investment purposes or to commemorate special occasions, symbolizing good fortune and prosperity.
Which jewellery shops in Singapore offer an extensive range of designs?
Jewellery shops such as Poh Heng, Lee Hwa Jewellery, and Soo Kee Jewellery offer an extensive range of designs, catering to different tastes and preferences. Whether you're looking for a classic piece or something more contemporary, these shops have got you covered.
Are there any jewellery shops in Singapore that offer affordable prices?
Yes, there are several jewellery shops in Singapore that offer quality pieces at affordable prices. These include Lovis Diamonds, Goldheart, and SK Jewellery. They offer a wide selection of jewellery, from pure gold pieces to diamond-studded designs.
Where can I find pure gold jewellery in Singapore?
Pure gold jewellery can be found in several shops in Singapore. Poh Heng, for instance, is known for its collection of 24K gold jewellery. Similarly, Soo Kee Jewellery also offers a range of pure gold pieces.
I want to buy a piece of jewellery that tells a love story. Any recommendations?
Many jewellery shops in Singapore offer collections that tell a love story. For example, Love & Co. specializes in couple and wedding bands, each piece symbolizing a unique love story. Likewise, Tiffany & Co.'s 'Return to Tiffany' collection is inspired by a tale of lost and found items, echoing the journey of finding love.
Additional Useful Articles
If you are looking for other useful guides and articles about the best Jewellery Shops in Singapore, check them out below: