Luxury Furniture Singapore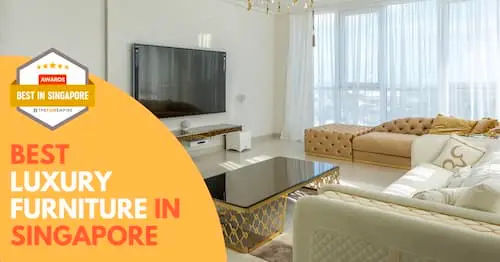 If you are in the market for some new furniture, you may be wondering where to shop.
The best luxury furniture shops in Singapore include Air Furniture, Dream Interiors, Danish Design, Nicoline Italia, and Lush.
When selecting a high-end furniture store in Singapore, take into account elements like design, craftsmanship, customer service, and pricing.
Singapore's luxury furniture stores showcase an extensive selection of top-tier items, such as premium sofas, dining tables, bed frames, outdoor furniture, and exclusive designer collections in store.
If you're looking for high-quality, luxurious furniture, then you should definitely check out these shops!
Quick Summary
Best luxury furniture shops in Singapore include Air Furniture, Dream Interiors, Danish Design, Nicoline Italia, and Lush.
When choosing a luxury furniture shop in Singapore, consider factors such as design, quality, customer service and price.
Luxury furniture stores in Singapore offer a wide range of high-end items, including premium-quality sofas, dining tables, bed frames, outdoor furniture, and exclusive designer collections.
Best Luxury Furniture Singapore
1. Air Furniture
Key Services:
Leading furniture retail brand that carries minimalist and functional designs
Website:
https://www.airfurniture.com.sg/
Address:
Boutique: 315 Outram Road #02-01, Tan Boon Liat Building

Flagship: 315 Outram Road #05-08, Tan Boon Liat Building
Phone:
+65 6908 8060 / 8875 8259‬
Email:
info@airfurniture.com.sg
Operating Hours:
Daily, 10:30 – 18:30
From sofas and beds to tables and shelving units, Air Furniture has it all. Their pieces are ideal for individuals searching for modern style and space-saving furniture for their urban houses. Air Furniture offers Plank Living items, which feature teak, oak wood, and a mix of other materials in the form of modern furnishings. The Ark Table, the Taj Sofa, and the Gruppe Lounge Chair are some of Plank Living's most distinctive pieces. Air Furniture also sells a few products by Royce, which are ideal for customers looking for a more luxurious brand. The Massa TV Console and Swank Modular Sofa are two of their most iconic pieces of furniture.
Key Differentiators:
Established in 1999
First local furniture company to get the Red Dot Award from Germany, Product Design of the Year
The majority of their furniture is designed in Singapore
Customer Review
Fantastic and responsive customer service by jess. Clarified all our questions promptly and went the extra mile for us. Bought a coffee table and have received countless compliments on the design and height, and how it looks like a beautiful tree stump.

Great furniture pieces with super support staff

Andrew Kwa
2. Dream Interiors
| | |
| --- | --- |
| Key Services: | The forefront of style and design for modern European furniture and accessories |
| Address: | 456 River Valley Rd., Singapore, Singapore |
| Phone: | +65 9006 3835 |
| Operating Hours: | (9:30am to 6pm, Mon-Fri) |
The company's inventory includes a comprehensive range of designer names from around the world, including Knoll, Cassina, Capppelini, Mateo Grassi, Ercol, Tecno, Sancal, and Vibieffe. They provide a large variety of best designer furniture items that range in style and preference; these items include modern classics to bright, geometric pieces. The Bertoia Bird Chair (a lounge chair made from welded steel rods) and the Saarinen Tulip Chair (which has a fiberglass frame with an aluminum base and comes in leather or fabric upholstery) are two of their most iconic works. You might also want to look at Cappelini's Proust Geometrica Armchair, which is made of a geometric cotton cloth designed by Alessandro Mendini.
Key Differentiators:
The Home of best designer furniture in Singapore – From timeless classics to modern contemporaries
Founded in 2006
Features an eclectic range of contemporary European design furniture and deco pieces.
Customer Review
No reviews yet
3. Danish Design
Key Services:
Furniture store retailing authentic, Scandinavian designs
Website:
https://danishdesignco.com.sg/
Address:
100E Pasir Panjang Road, B&D Building #06-03 Singapore 118521
Phone:
+65 62708483
Email:
info@danishdesignco.com
Operating Hours:
Mon – Sat: 10 am to 6 pm
Sun & PH: 12pm to 6pm
Danish Design offers a variety of Scandinavian and European designer furniture. They sell over 500 furniture and home accessories from all around Europe, with names like Eilersen, Gloster, Susanne Gronlund, Soren Rose, and Gubi. The Jens Juul Eilersen designed the Tub Sofa, which features a solid wood frame, nozag-spring base, and 100% down and duck feathers wrapped in polyurethane foam and a cambric casing. The Mundo Lounge Chair by Susanne Gronlund is one of their well-known indoor furniture pieces.
Key Differentiators:
Established in Singapore in 2006
Their store features iconic furniture from legendary designers by the likes of Borge Morgensen, Hans Wegner, and Finn Juhl
All furniture pieces they bring in are toxin-free
Customer Review
Was hunting high and low for a modern and sleek looking sofa and finally found in at Danish Design. Fell in love at first sight and decided to up the budget to get a set in leather for ease of maintenance. Excellent service from Danish Design. While the six month wait was long, they kept us updated regarding the progress. Picture showing our "princess of the house" enjoying on the comfy sofa. Well worth the $$$.

Jonathan Lee
4. Nicoline Italia
| | |
| --- | --- |
| Key Services | Handmade Luxury Italian Furniture Pieces: High-End Leather Sofas, Nicoline Italia Armchairs, Beautiful Coffee Tables |
| Website | https://www.nicoline.asia/ |
| Address | 23 Genting Road, #06-01 Chevalier House, Singapore 349481 |
| Phone | +65 8168 3354 |
| Email | info@nicoline.asia |
| Operating Hours | 10am – 8pm |
Nicoline Italia, a top Italian sofa manufacturer synonymous with quality and attention to detail, has arrived in Singapore. With over 30 years of experience and an unwavering pursuit of innovative materials, every single piece of sofa produced is a testament to exclusive design and exceptional craftsmanship.
At the helm of the showroom is Paolo Colzani, a firm believer in never settling for mediocrity. With a modest location, he offers top-quality Italian sofas at a fair price, bridging the gap in the market for authentic, high-quality furniture in Singapore.
Each sofa produced by Nicoline Italia undergoes rigorous checks at every stage of production, ensuring that the raw materials and production process are guaranteed and certified. From leather and fabric cutting to stitching, assembly, and quality control, every step is meticulously controlled for an excellent final product.
Don't settle for mediocrity in your home decor. Visit Nicoline Italia's showroom in Singapore for a new perspective on comfort and style, and an exclusive elegance that will stand the test of time.
Key Differentiators
Uncompromising quality in every detail.
Authentic Italian designs for personalized elegance.
Fair pricing without compromising on quality.
Client Testimonial
We bought the ANTARES sofa about a year ago and we really enjoyed the workmanship of the sofa, and of course the sofa is comfortable. We had a seamless shopping experience with Paolo during our purchase. He had given us professional advice and suggestions, which helped us in making the right choice. There is a variety of different leathers to choose from, and they enable different configuration in term of the seating arrangement. I would definitely recommend Nicoline to anyone who are looking for premium furniture. Is worth it!

funhua cheong
5. Lush
| | |
| --- | --- |
| Key Services: | Offers a wide selection of contemporary furniture including chairs, sofas, tables, bedroom furniture, storage units, and kid's furniture |
| Website: | https://lush-lush.com/ |
| Address: | 73 Upper Paya Lebar Road #03-01 Singapore 534818 Ample Basement Carpark |
| Phone: | +65 6858 5882 |
| Email: | sales@lush-lush.com |
| Operating Hours: | Mon – Sun, 11am – 8pm, including public holidays |
Lush provides a diverse selection of contemporary furniture, including chairs, sofas, tables, bedroom furniture, storage units, and kid's items. The majority of their designs are based on well-known contemporary furniture, while some are exact copies of famous designers' work from all around the world. They provide a variety of seating solutions, including replicas of Eileen Gray's Bibendum Chair, Eero Aarnio's Ball Chair, and Bertoia Asymmetric Chairs. The EM Wood Lounge Chair (which is inspired by the Eames DCW Chair) and Le Corbusier's Grand Confort and Chaise Lounge Chairs are two more notable replicas.
Key Differentiators:
Custom furniture to your ideal needs
All LUSH furniture comes with a 1-year manufacturer warranty except for showroom or display sets sold with 6 months structure warranty
Showcasing Contemporary & Scandinavian Nordic Designs
Customer Review
By chance, I popped by Lush Furniture, and out of my expectation, I was served by Susan. She is professional, most importantly, she genuinely care and listen to what I need.

Through her recommendation, I'm very pleased with the furnitures and looking forward to receiving them soon.

Thank you very much again, Susan!

Joan Tan
6. Xtra
| | |
| --- | --- |
| Key Services: | Offers retail and contract furnishing services for individual and corporate buyers |
| Website: | https://xtra.com.sg/ |
| Address: | 6 Raffles Boulevard #02-48 Marina Square, 039594 |
| Phone: | +65 6336 0688 |
| Email: | contactus@xtra.com.sg |
| Operating Hours: | Mon to Sun: 11am – 8pm |
The site has a huge number of designer furniture from more than 50 manufacturers all around the world. The collection in store includes the Eames Lounge Chair and Ottoman Set, as well as other iconic Herman Miller pieces such as the Eames LCW Lounge Chair and Ottoman Set. They also have Vondom designer furniture, including the Vela Tables and FAZ Sofa Modules (which have a remote-controlled LED lighting function). The couple's other notable works include the Globus Work Station by Michiel Van Der Kley (which opens into a workstation with a tabletop and chair), as well as My First Office (a study table and shelving unit for children) by Martí Guixé.
Key Differentiators:
Founded in 1989
12 months warranty is applicable for all brands against any manufacturers' defect, except for Herman Miller. (Herman Miller carries a stipulated warranty for its products)
FOC subject to minimum purchase of $1000 based on 1 driver and assistant
Customer Review
My favorite furniture store! Been going since I was a little kid.

Tim L
7. Born In Colour
Key Services:
Furniture | Scandinavian | Industrial | Modern | Unique | Retro | Vintage | Fun | Everything with Colour
Website:
https://www.bornincolour.com/
Address:
North Showroom: 1024 Yishun Industrial Park A #02-31, Singapore 768763
Central Showroom: 201 Henderson Road, #07-11/12 Singapore 159545
Phone:
6257-2501 / 6988-3308
Operating Hours:
11am-6pm on weekends and 11am-6.30pm on weekdays
Born In Color is an online furniture store that sells trendy designer furniture, claiming that as a result of skipping the distributor and physical shops, they can offer goods at a lower price. Born in Colour has a large selection of furniture for your house. Their furniture isn't the cheapest, but it's not the most expensive either.
Key Differentiators:
Free Delivery & Assembly for orders above $1000
Up to 15 Year Warranty Quality assured
Online furniture store specializing in trendy designer furniture
Customer Review
The furniture are of good quality, is durable and affordable. They definitely do not lack variety and aesthetics as well. The staff, especially Marcus & Sally, were patient and very willing to render help and give recommendations when needed. Made a few purchases from them and will definitely go back again!!

Charmaine Tay
8. Proof Living
| | |
| --- | --- |
| Key Services: | Offers a wide selection of designer furniture from famous brands including Poltrona Frau, Barbara Barry, Walter Knoll, Fiam, Vitra, and Zanotta |
| Website: | https://proof.com.sg/ |
| Address: | ION ORCHARD #04-16 2 ORCHARD TURN SINGAPORE 238801 |
| Phone: | +65 6509 0555 |
| Email: | retail@proof.com.sg |
| Operating Hours: | Daily 10.00AM TO 9.30PM |
The firm has a wide range of designer furniture from well-known brands such as Poltrona Frau, Barbara Barry, Walter Knoll, Fiam, Vitra, and Zanotta. Their furniture collections, however, are more modernized. The Prismatic Table by Isamu Noguchi (inspired by the traditional Japanese art of paper folding) and the Mamy Blue Armchair by Poltrona Frau (which features bright Pelle Frau leather inside) are examples of this. You could look at the Joco Dining Table by Walter Knoll (which has a natural solid wood tabletop and a geometric steel base) or Fiam's collection of curving glass furniture.
Key Differentiators:
Established in 2004
Most of their furniture collections showcase contemporary and modern designs
Also offers lighting fixtures, carpets, and home décor
Customer Review
Good place for home decoration

YC Z.
9. Space Furniture
| | |
| --- | --- |
| Key Services: | They carry furniture pieces by renowned designers including the likes of Anna Ferrieri, Arne Jacobsen, Hans J. Wegner, and James Irvine, just to name a few |
| Website: | https://www.spacefurniture.com.sg/ |
| Address: | 77 Bencoolen St, Singapore 189653 |
| Phone: | +65 6415 0000 |
| Email: | info@spacefurniture.com.sg |
| Operating Hours: | Mon – Sun 10:30am – 8pm |
Space distributes over 20 different international furniture brands. They offer furniture produced by well-known designers such as Anna Ferrieri, Arne Jacobsen, Hans J. Wegner, and James Irvine, to mention a few. The brand has a wide range of furniture available, including indoor and outdoor furniture, storage solutions, children's furnishings, and even kitchen installations. Some of their most interesting products include the Hans J. Wegner CH445 Wingchair and the Danny Lane Atlas Table (with 20mm-thick curved glass and sculptured glass legs), among others.
Key Differentiators:
Space has five purpose-built showrooms in Sydney, Melbourne, Brisbane, Singapore, and Kuala Lumpur
Setting the benchmark for design retailing in Singapore and Kuala Lumpur representing brands including B&B Italia, Maxalto, Poliform, SP01, and more
Distributes over 20 international furniture brands
Customer Review
WOW – that's what was running through my mind from the time I saw it from the outside, to everytime I turned the corner in this 4-storey showroom that carries the biggest names in furniture and kitchen design.

It was amazing – it felt more like a modern art gallery rather than a furniture showroom / store – every piece of furniture looked like a piece of art, with clever and innovative designs that will leave you amazed for hours after.

The best thing about it? Its wonderfully quiet so you really could pretend you're at an art gallery and take your time to appreciate every new design! The staff were excellent, not pushy about selling the furniture at all, and incredibly patient at taking you around the place – you can tell they enjoy their job and take pride in what they do!

Everything is designer priced though, so unless you have a huge budget you probably won't end up buying from here, but its a great place to get inspiration on how to match pieces together and do up your house. Even if you aren't looking to furnish or re-decorate your house, you'll have a good time just looking around anyway 🙂

Gloria O
10. Herman Furniture
Key Services:
Specialist in live-edge Suar wood tables
Website:
http://hermanfurniture.com/
Address:
6D Mandai Estate #08-07 M-Space Singapore 729938
Phone:
8668 9595
Email:
hello@hermanfurniture.com
Operating Hours:
Monday to Saturday – 9am to 6pm
Closed on Sundays & PH
Herman Furniture is a company that specializes in teak, suar wood, rosewood, tamarind, and other hardwoods furniture. Their home furniture lines include dining tables, seating units, storage solutions, appliance consoles, and vanity basins. The Round Block Coffee Table (crafted of natural suar wood) and the Tiger in the Woods Set are two of their most notable pieces. The natural qualities of trees are emphasized by this furniture. Herman Furniture also has a variety of designs, ranging from traditional items such as the Coffee Table Set to contemporary pieces like the Noguchi Coffee Table and the New York Side Table.
Key Differentiators:
First in Singapore which started bringing in curated solid live edge slabs
Provide a one-time reparation of any cracks that might occur within 1 year from the date of purchase
Established in 2012
Customer Review
Excellent product, and great customer service from their team. Had to make some adjustments to the table after delivery and they dealt with it speedily and professionally.

ZAE Home&Away
11. Taylor B. Design
In their showroom, Taylor B. sells more than 30,000 pieces of furniture and home decor. Traditional and antique furnishings are among their product types, as well as modern and contemporary pieces. They have a wide range of furnishings, including sofas, tables, and bedroom and home office furniture. They sell several designer names such as Lauren by Ralph Lauren, Schnadig, and Caracole among others. They sell the types of furniture that are typically and traditionally made from intricately carved wood and metal, with ornate inlays, and rich fabric and leather upholstery.
Key Differentiators:
Free delivery for orders over SGD $200
14 day easy returns
25% off when you join their newsletter
Customer Review
Saw a chaise lounge online and called to enquire, stock available so I went to the shop to check out the item. Kim was very friendly and helpful, and has all info I need, including delivery schedule for next day! I have been shopping furniture, and most deliveries are at least 4 days away or some even a week! From the first phone call to the item being delivered, the service has been satisfactory. Delivery team of 3 were professional and friendly. E-invoice and e-payment made at store, smooth transaction. Kim also text the day after delivery to see if all is okay. Highly recommended. Will be back again!

Peline Ong
Luxury Furniture Singapore
Luxury furniture can be expensive, but it is definitely worth the investment. Not only will you enjoy your furniture for many years to come, but you will also be adding value to your home. If you're looking for some of the best luxury furniture shops in Singapore, then you should check out these stores! They offer high-quality products and excellent.
If you're looking for more recommendations, you can check out our other posts below:
Check out some of our related articles and guides below:
Frequently Asked Questions (FAQ)
If you have any questions about luxury furniture in Singapore, you can refer to the frequently asked questions (FAQ) about the best Luxury Furniture in Singapore below:
What are the best luxury furniture shops in Singapore?
The best luxury furniture shops in Singapore include Air Furniture, Dream Interiors, Danish Design, Nicoline Italia, and Lush.
Where can I find luxury furniture pieces such as coffee tables and side tables in Singapore?
There are numerous high-end shops in Singapore where you can buy furniture, especially luxury pieces like coffee tables and side tables. Some of these include Proof Living, Marquis QSquare, and Space Furniture.
What makes the furniture in these Singapore shops luxurious?
The luxury furniture pieces found in these shops are made from high quality materials. For instance, you'll find coffee tables made from solid wood or genuine leather couches, all crafted with exceptional attention to detail.
Can I find dining chairs made from genuine leather in these shops?
Yes, dining chairs made from genuine leather are a staple in many luxury furniture shops in Singapore. They add an exquisite touch to your dining area, elevating it from ordinary to extraordinary.
How can buying luxury furniture in Singapore enhance my living space?
Luxury furniture pieces can greatly improve the look and feel of your living space. With their superior design and quality, they can transform an ordinary room into a stunning interior design masterpiece.
Are there home furnishing services available in these luxury furniture shops?
Most luxury furniture shops in Singapore offer home furnishing services. They have professional interior designers who can help you choose the right pieces that will turn your dream home into reality.
Can I find perfect gifts for housewarming or weddings in these shops?
Absolutely! Luxury furniture pieces like side tables or coffee tables make perfect gifts for special occasions like housewarmings or weddings. They are not just functional, but also add a touch of elegance to any home.
Is there a wide selection of luxury furniture to choose from?
Yes, there is a wide range of luxury furniture pieces to choose from in these shops, while having a seamless shopping experience. Whether you're looking for dining chairs, coffee tables, or other home furnishings, you're sure to find something that suits your taste and budget.
How can I ensure that the furniture I buy is of high quality?
When buying furniture, especially luxury pieces, make sure to check the materials used. High quality materials such as genuine leather or solid wood are durable and can withstand the test of time.
Can these furniture pieces fit different interior design styles?
Yes, the variety of luxury furniture pieces available means they can fit into a range of interior design styles. Whether your home has a modern, minimalist, classic, or rustic style, there's a piece of luxury furniture that will complement it perfectly.
Additional Useful Articles
If you are looking for other useful guides and articles about Luxury Furniture Shops in Singapore, check them out below: