Outdoor Activities Singapore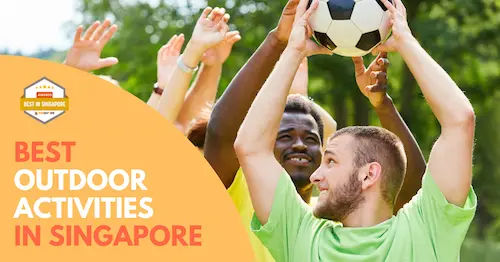 Singapore, a bustling metropolis, presents an abundance of thrilling outdoor team building activities that are gaining immense popularity.
The best outdoor activities in Singapore are Laser Tag, Combat Archery Tag, Poolball, Bubble Soccer, Ninja Tag, Amazing Race, Saber Tag, and bullet ball.
Consider several factors when making reservations for outdoor activities: availability of outdoor spaces, preferred activities, participant age group, and total number of people involved.
FunEmpire, a prominent team building company in Singapore, has a remarkable track record of organizing more than 50,000 successful events and receiving 8,000 5-star client reviews.
So grab your sunscreen and get ready for an adventure – it's time to explore Singapore like never before!
Quick Summary
Best outdoor activities in Singapore are Laser Tag, Combat Archery Tag, Poolball, Bubble Soccer, Ninja Tag, Amazing Race, Saber Tag, and bullet ball.
When booking outdoor activities in Singapore, consider factors such as the availability of outdoor space, type of activities that suit your needs, age group and number of participants.
FunEmpire is a leading team building company in Singapore, boasting an impressive track record of over 50,000 successful events and 8,000 5-star client reviews.
Benefits of Outdoor Activities
Physical Fitness: Outdoor activities often involve physical exertion, which improves cardiovascular health, boosts muscle strength, and enhances overall fitness.
Mental Well-Being: They provide a break from daily routines, reducing stress and anxiety, and promoting better mental health.
Social Skills: Participating in outdoor activities, especially in teams, can help improve social skills and develop teamwork.
Exposure to Nature: Outdoor activities aid in connecting with nature, which can have calming and rejuvenating effects.
Vitamin D Intake: Sun exposure during outdoor activities leads to natural Vitamin D intake, which is essential for bone health.
Learning Opportunities: They provide real-life experiences that can teach practical skills and inspire creativity.
Confidence Boost: Meeting challenges during outdoor activities can lead to increased self-confidence and resilience.
Improves Focus: Studies suggest that spending time outdoors can help improve focus and concentration.
Enhanced Mood: Nature and physical activity are known to boost mood and create a positive mindset.
Fun and Recreation: Above all, outdoor activities are a lot of fun and provide a great way to relax and enjoy.
Consideration Factors for Outdoor Activities
Here are some crucial factors to keep in mind while planning for outdoor activities:
Safety Precautions: Always ensure that the activity you choose adheres to the highest safety standards. Whether it's equipment safety, instructor's experience, or emergency protocols, safety should always be a priority.
Weather Conditions: Singapore's weather can be unpredictable. Hence, it's essential to check the weather forecast before planning an outdoor activity. Some activities might be weather-dependent and can get canceled in case of rain or storm.
Physical Abilities and Health Conditions: Not every outdoor activity suits everyone. Consider the physical abilities and health conditions of the participants. For example, an intense activity like Laser Tag might not be suitable for everyone.
Budget: Outdoor activities in Singapore can range from free public parks to premium team-building events. Before choosing an activity, you should consider your budget.
Time Availability: Some activities require more time than others. Ensure that you have enough time to fully enjoy the outdoor activity you choose.
Best Outdoor Activities In Singapore
1) Laser Tag
Laser tag is a remarkable way to bond and build teamwork amongst friends of all ages! Not only can it be played inside or out, but it's also perfect for groups big and small – making any event unforgettable. With laser tag, each participant embarks on an exciting adventure that leads to lasting memories. Don't miss the opportunity to partake in this unique experience; join in on the fun today!
2) Combat Archery Tag
Are you looking for an extraordinary experience? Look no further than Archery Tag! Combining the best elements of archery and dodgeball, this exhilarating game will definitely keep everyone on their toes. For safety purposes, all participants must wear face masks as they aim foam-tipped arrows at their opponents while groups compete against one another in a vibrant setting. Upgrade your night's fun – get ready to feel that rush of adrenaline when playing Archery Tag!
3) Poolball
Indulge in the adrenaline rush of playing exhilarating games like Poolball Classic and Poolball Sabotage on our gigantic pool table! Suitable for individuals, corporate events, small gatherings or large parties – no matter your age bracket – strategize together while fostering strong relationships. Our enormous pool table is specially designed for everyone to become a champion without fail! Don't miss out this golden opportunity; step up now and be part of an unforgettable experience!
4) Bubble Soccer
If you're searching for an extraordinary and entertaining team building activity in Singapore, look no further than Bubble Soccer! With a safe space to bump around with your colleagues and friends while strategizing collaboratively as a team, this activity is the perfect way to reduce stress while enjoying all the fun that comes along. On top of all that, reap the rewards of improved teamwork – now isn't that an ideal way to connect?
5) Ninja Tag
Are you ready to unleash your inner ninja? Ninja Tag is here with a thrilling team-building experience! Outfitted with soft foam daggers, vests for tracking scores, and various missions, it's the perfect opportunity to engage in hand-to-hand combat. Do not delay – join us now and tap into that warrior energy as we provide endless gaming fun customized just for you!
6) Saber Tag
It's your moment to shine! Gather up a magnificent combat saber and challenge other players in enthralling missions such as Saber Wars and Defenders of the Galaxy. Unite with others, perfect your skillsets, and embark on an unprecedented journey now!
Are you in search of a fun and invigorating way to spice up your corporate team-building or birthday celebration? Then look no further than Saber Tag! This thrilling game will bring out the best in your coworkers, creating memories that they'll never forget. Plus, it's one of Singapore's hottest activities at this moment – don't miss out on all the excitement! Get ready for an adrenaline-filled experience with us – come join Saber Tag and make longlasting memories today!
7) Bullet Ball
Looking to excite your teammates while also maintaining a budget? Look no further than FunEmpire's Bullet Ball – the perfect wallet-friendly team activity! It's a new form of Dodgeball that ensures hours of exhilaration and entertainment. All you need is some gear, an appearance in Singapore, and above all else – readiness for an incomparable experience. Don't let another moment pass; it's time to play Bullet Ball!
8) SaberFit
Unleash the strength of an innovative saber fitness workout that seamlessly combines enthralling battle techniques and stimulating partner-working duelling! Our meticulously planned group exercise, combined with exciting team building activities, is ideal for your next Singaporean corporate bonding event. This invigorating experience not only provides a strenuous challenge but also cultivates solidarity among coworkers while being incredibly entertaining as well! Prepare to break a sweat and savor this extraordinary activity – it will be a remarkable journey you won't ever forget!
9) Bullet Strike
For an adrenaline pumping, heart-racing experience like no other, try out Nerf Laser Tag! Outfitted with soft foam pellets and high-powered blasters, players must use strategic thinking to attack their opponents while completing objectives. Safety is a top priority at our facility as all participants don protective masks before entering the arena. Join us for a fun group activity that encourages team building in Singapore and provides hours of entertainment!
10) Giant Whack-A-Mole
Ready for an electrifying and exciting adventure? Then don't miss the thrilling Giant Whack-A-Mole game from Singapore! Compete with others to grab vibrant balls in this exclusive experience that you can't afford to pass up – hurry before it's too late!
11) Escape Room
For a team-building experience you won't soon forget, Escape Rooms are the perfect choice! Put your problem solving and teamwork skills to the test as you collaborate with colleagues under the pressure of time. With dozens of thrilling puzzles throughout Singapore, it will be an unforgettable journey for all involved – one that's sure to bring everyone closer together. Unlock your inner detective and embark on this captivating quest today – it'll leave lasting impressions!
12) Amazing Race
Experience the unparalleled adventure of FunEmpire's Amazing Race – a groundbreaking team-building exercise that unites the virtual and physical realms. In this thrilling quest, participants join forces to solve puzzles, overcome exciting obstacles, and voyage through iconic locations in Singapore. With its innovative mix of fun activities and collaboration possibilities, it is no wonder why people from all walks of life are talking about this one-of-a-kind experience!
13) Giant Board Games
Ready to have a night of fun and games? We've got all your favorite classic board games, including Giant Jenga, Pick Up Sticks, Connect Four and Snakes & Ladders. Bring out those fond memories – or emotions you never knew existed! Hosting a get-together with friends? Invite them over for an unforgettable challenge: nothing like what you've experienced before; it's guaranteed to be a blast!
14) Hybrid Amazing Race
Ready for an unprecedented exploration through Singapore's culture and cuisine? FunEmpire's Hybrid Amazing Race is a game-changer! Our unique experience fuses physical and virtual activities, so you can uncover Chinatown's renowned landmarks while solving puzzles – all from the comfort of your home. So what are you waiting for? Join us now to start your journey into Singapore like never before!
Tips for Making the Most Out of Your Adventure
If you're looking to get the most out of your outdoor activities in Singapore, here are some tips:
Get ready to sweat! Being outside usually means facing hot and humid weather, so don't forget to bring water and sunscreen with you.
Check if there are any safety precautions that need to be taken before participating in activities like buggies and trampolines.
If you're attending a team-building event, make sure that everyone is comfortable with the activity they've chosen.
Make sure to dress appropriately for each activity to ensure your comfortability and safety as well.
Don't forget to have fun! Make sure to take breaks and enjoy the scenery as you bond with your friends or colleagues.
With these tips, make sure that you have an unforgettable experience while exploring Singapore's outdoor activities. Happy adventuring!
Outdoor Activities Singapore
Singapore has something for everyone when it comes to outdoor activities. Whether you're looking for outdoor challenges for team building in Singapore or just want to relax and take in the sights, Singapore's got it all.
From laser tag in Singapore and combat archery tag to visiting the zoo and exploring Gardens by the Bay, there are plenty of exciting activities that will make your time in this vibrant city unforgettable! So grab your sunscreen and get ready – these best outdoor activities will help you explore Singapore like never before!
Interested in related articles? Do check out the links below!
Frequently Asked Questions
If you have any questions about outdoor activities in Singapore, you can refer to the frequently asked questions (FAQ) about the Best Outdoor Activities in Singapore below:
What are some popular outdoor activities to do in East Coast Park?
East Coast Park is one of Singapore's most beloved outdoor spots where you can enjoy cycling, inline skating, barbecuing, and camping. For water sports enthusiasts, the Singapore Wake Park offers cable ski park fun, providing both mental and physical health benefits.
What can I expect at Ola Beach Club?
Ola Beach Club is a Hawaiian-themed beach club located on Siloso Beach. It provides a variety of water sports activities, including Singapore's only jetpack and jetblade. It's also home to a floating aqua park with various obstacle courses.
Why should I visit Chestnut Nature Park?
Chestnut Nature Park is Singapore's largest nature park, offering separate trails for hiking and mountain biking. It's a great place to enjoy fresh air and immerse yourself in Singapore's natural beauty.
What does Jurong Lake Gardens offer?
Jurong Lake Gardens is a waterfront park that combines Lakeside Garden, Chinese Garden, and Japanese Garden. It offers recreational activities such as paddle boating and fishing, making it a perfect spot for family outings.
Where can I experience wakeboarding in Singapore?
The Singapore Wake Park in East Coast Park is the place to go for wakeboarding. Whether you're a beginner or an experienced rider, the park provides all the thrills you'd expect from a cable ski park.
What makes Changi Beach Park unique?
Changi Beach Park is one of the oldest coastal parks in Singapore. With its beautiful beachfront, BBQ pits, and picnic tables, it's a great place to relax, soak up the sun and enjoy the fresh air.
What is there to do at Kent Ridge Park?
Kent Ridge Park offers lush greenery and panoramic views of the city and sea. It's a great place for fitness enthusiasts with its fitness stations, walking, and jogging paths. History buffs can also visit Reflections at Bukit Chandu, a World War II interpretive centre located within the park.
What can I see at the Singapore Botanic Gardens?
The Singapore Botanic Gardens is a UNESCO World Heritage site that houses a vast array of plant and animal life. Highlights include the National Orchid Garden, Rainforest, and the Jacob Ballas Children's Garden.
What is the historical significance of Fort Canning Park?
Fort Canning Park is a historic hilltop park in the heart of Singapore. It served as the headquarters of the British East Command during World War II. Today, it hosts a range of cultural and artistic events throughout the year.
Which outdoor attractions in Singapore are perfect for wildlife enthusiasts?
The Sungei Buloh Wetland Reserve, Singapore Zoo, and Coney Island Park are fantastic for wildlife enthusiasts. Sungei Buloh is known for its rich biodiversity, the Singapore Zoo houses over 300 species of mammals, birds, and reptiles, while Coney Island Park offers a rustic nature experience and bird spotting opportunities.
Additional Useful Links
If you are looking for other useful guides and articles about Outdoor Activities in Singapore, check them out below: