Painting Services Singapore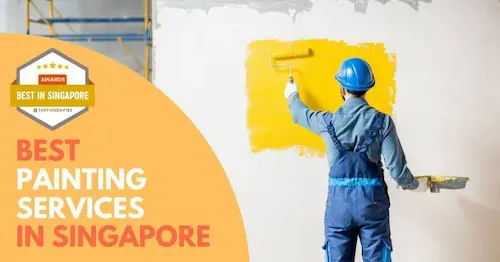 When it comes to revitalizing your home or office in Singapore, professional painting services can make a world of difference.
The best painting services in Singapore include Benjamin Moore, DCS (Reliable), Painting Guy SG, Meptech Painting Services, and A&J Painting.
When selecting a painting service in Singapore, it's important to take into account factors like skillset, years of experience, pricing, and feedback from customers.
In Singapore, painting services provide a range of solutions including interior and exterior house painting, mural painting, commercial painting, industrial painting, and feature wall painting.
Let's explore and find the perfect match for your painting needs.
Key Consideration Factors
Before getting into the best painting services in Singapore, here are some consideration factors to remember:
Quality of Workmanship: A good painting service will be able to provide a high-quality finish and smooth texture. Make sure the company you choose has highly skilled painters that use quality materials for their work.
Budget: Painting services vary in terms of cost, so it pays to shop around and compare different quotes before settling on one.
Experience: Find out how long the company has been in business and what kind of experience its painters have with painting jobs of all sizes.
Customer Service: When you hire a painting service, you want to ensure that you are treated fairly and that your concerns are addressed promptly by the company.
Best Painting Services Singapore
1) Benjamin Moore
When it comes to premium paints for your home, Benjamin Moore has set the standard for excellence. Founded in 1883, they have remained committed to the vision of their founder: to produce the highest quality paints and finishes. With their acquisition in 2000 by Berkshire Hathaway, Benjamin Moore joined a family of companies under the direction of Warren Buffett, which embodies success and is distinguished by sustainable brands that shine through the clutter of competition.
Today, Benjamin Moore is one of the world's leading manufacturers of premium quality residential and commercial paint coatings. They manufacture their own resins and exclusive Gennex® colorants with their patented waterborne technologies to ensure the quality of their paints. Paired with their incomparable selection of authentic colours, Benjamin Moore paints are formulated to help you achieve beautiful, lasting results—every time you paint.
Key Differentiators
Superior Paint Quality
Benjamin Moore Paints are ultra-durable, remarkably fade resistant and environmentally responsible. The innovation of Gennex® enables our zero-VOC paints to remain zero-VOC even after being tinted with Gennex® colourants, an impossibility with generic, all-purpose colourant.
Expansive Colour Portfolio
With more than 3,600 shades ranging from dramatic deeps to perfectly pales, their colour palette is full of inspirational hues that transform everyday rooms into extraordinary spaces.
Professional Workmanship
At Benjamin Moore Paints, they pride ourselves on the quality of their paints and professional workmanship. With transparent pricing packages for different home types, and detailed expertise, you can count on them for a seamless painting experience.
Client Testimonial
"This is the first time that I am using Benjamin Moore paints. I must say I am extremely satisfied with the quality and the paintwork done by Momo and Win. Before the start of the paint work, they spent considerably amount time to wrap up the area to prevent the paint from staining the floors and the furniture. The sales rep is very patient to walk me and my wife through the paint selection process. He even makes sure that the workers are painting the whole flat correctly. I strongly recommend their service and Benjamin Moore paint."
2) DCS (Reliable)
Reliable Painting is one of the most reputed companies in Singapore providing Professional Painting Services. Their key USP is their trained and experienced workforce. Safety and Covid protocols are followed. Their customer profile is varied and they deliver over 250+ projects per year with a huge list of satisfied customers.
Their painters are also trained in using varied products like genuine Nippon paint Singapore, Dulux ICI , Jotun etc. They have also executed projects using specialized paint products like Gush and Benjamin Moore. Mould repair is their specialization too along with minor waterproofing works on interiors and plastering and repair.
Key Differentiators
Lowest painting costs in Singapore
Paints a wide array of property types including private apartments and landed property painting
Pricing / Price Range
Available on request as below are indicative prices:
3room HDB/ 2BR Condo- 600$ – 65sqmts
4room HDB/ 3BR Condo – 900$ – 95-100sqmts
5room HDB – 4BR Condo- 1150$- 110-118sqmts
Sealer application- 200$-600$ approximately
Client Testimonial
Very happy with how my room turned out. Painters did a good job. We also had cement work done. Also pleased with that. Overall, it was good work. David explained and answered all my questions regarding the services and also followed up afterwards. Pleasant experience.

han johns
3) Painting Guy SG
PaintingGuy.sg provides reliable professional house painting services for both HDBs and condos. Their excellent workmanship comes from painting over 100 homes in Singapore. Their professional contractors are trained in painting with at least 5 years of experience, and they believe in delivering quality and excellent painting works. PaintingGuy.sg is also able to provide advice on the colours and type of paint colours that are suitable for your painting needs.
Key Differentiators
All painters have at least 5 years of experience.
At least 2 new coats of paint for all walls.
Exterior wall painting using rock climbing equipment (a cheaper alternative to scaffold
4) Meptech Painting Services
Meptech painting services is a company with 11 years of experience in Painting. They offer painting services to properties like HDB, condos, Landed houses, and commercial properties.
All their painters have professional painting experience. Their painting services
come with a minimum one-year warranty.
Key Differentiators
Professional painters with multiple years of experience
Equipped to undertake all sizes of properties.
One-year warranty with all of their painting services
Affordable painting packages for house & commercial properties.
5) A&J Painting
A&J Painting provides house painting services to end user(home owners). No sub out and not working for ID/ Designer / main contractor to provide best direct price and services. They only use Singapore Professional Painters to ensure Excellent painting service for your lovely home. Apart from painting, the company also provices handyman work like electrical, aircon, floor polishes, plumber, and drilling hole to hang pictures.
Key Differentiators
Great Painting Service
Wide Variety of Service
Client Testimonial
"A&J Painting is highly-recommended for paint services and Alvin is very prompted with his communication and have helped to prioritize to start their job for my house on phrase 2 – 1st day and the painters are both very friendly and is excellent in their painting work completed less than 2 days with good touch-up that looks flawless like new. They are really responsible to help sweep my house clean after job completion!"

Jessica Mak
6) Paint Service Singapore
Offering the most dependable painting services island-wide: from small apartments to offices and HDBs, they offer a fresh coat of your paint to make your home or commercial building look livelier. They have been around long enough to know how to give top-quality professional painting services to our clients as well as affordable rates.
Key Differentiators
Experts in Interior Planning
High Quality Paint
Ability to Paint Anything From Commercial Properties To Residential Properties
7) 5 Star Painting
5 Star Painting offers top quality painting services in Singapore at the cheapest prices. Their promise is to provide affordable painting for every household in Singapore. Their team of painting contractors are dedicated to offering superb services to all customers in Singapore. They will never compromise on quality, while maintaining great prices for all.
The company makes sure you get quality services when you choose their services and contractors. Even their cheapest paints are a top-quality range, offering you a long-lasting finish for your home in Singapore. Combined with our professional, experienced, and reliable contractors, you can colour any room, house, HDB or condo with ease.
Key Differentiators
Reliable painting services
Dedicated team of painting contractors
Wide variety of services including indoor painting, exterior painting
Client Testimonial
I had searched for painting services and landed on 5 Star. After reading the good reviews, I gave Joshua a call and he promptly came for site survey in a few days time. The quotation was satisfactory and he also gave some valuable advices.

During the days where the house is painted, a group of very courteous and professional uncles came, and they were very accommodating and hardworking. All furniture and flooring will be covered during the painting process. When the job is done, Joshua also provided me information on how to maintain the paint job.

I am very satisfied with the service and would recommend viewers to consider 5 Star.

Alan Tan
8) Coozy Painting Services
Coozy Painting will help you with every stage of the design process, from consultation through to completion. They'll provide you with expert assistance throughout every step of the process, from the beginning to the end. When it comes to painting in Singapore, they're one of the most dependable businesses around. They're particularly good at coming up with unusual and stylish solutions for your home or office. They'll work closely with you to ensure that you get the colors and design that you want, whether it's a bold pop of color or a more subtle change in shade.
Key Differentiators
Free on-site quotation
Plumbing and electrical services
9) Singapore Painter Compared
Do you want to find out which painting services in Singapore are the cheapest? We've discovered a site that's perfect for you. The Singapore Painter Compared website is a platform that allows you to compare painting service providers across Singapore. Their extensive list makes it easy for you to connect with only the most trustworthy businesses available.
They offer reliable painting services in Singapore. They can save you time and money by providing an estimate that is specific to your needs, rather than a blanket price for the region. Their team's mapping technology can handle both your area and painting requirements, resulting in more precise price estimates that are sure to fit your budget.
Key Differentiators
Extensive global directory
Accurate price estimates
Free quotation available
10) Colour Creative Painting Service
You might be wondering if expert painters still operate in your region if you are now living in a location far from the metropolis. Colour Creative Painting Service, fortunately, serves all of Singapore. For over a decade, their trained and skilled contractors have been assisting clients by offering advise on color choices and design as well as implementing them in a tasteful and professional manner.
Key Differentiators
Overall residential painting services
Interior decorations are personalised
Client Testimonial
James came down to take a look at the place so that he could recommend whether the sealer was needed or not, rather than just quoting outright. I was in a hurry and needed the painting job done fast. He was able to slot in a holiday, which normally the guys don't work (appreciate this). The painting job was fantastic, and my home looks refreshed now.

Samantha Fu
11) Painting.com.sg
Founded by Paintland in 2012, Painting.com.sg believes that homeowners in Singapore want quality paint jobs with experienced painters at reasonable prices. They strive to make painting services a professional work and provide homeowners who want good paint jobs with a platform to find painting professionals easily in Singapore. Since all of their painters are in-house and can begin working the next day, they provide a rapid and professional service!
Key Differentiators
Uses 100% Guaranteed NIPPON Paint
All paintwork have 2 years warranty
Registered Painting Company with ACRA(53230884X)
In-House Project Managers & Painters
Client Testimonial
Professional service. Patrick is very helpful and his team did a good job.

C Tan
12) Nippon Paint
Nippon Paint offers both interior and exterior painting services for home furnishings, skyscrapers, businesses and industrial structures. They offer the finest quality paint at unbeatable pricing so you don't have to worry about how much paint or supplies you'll need.
Their painting services offered in inexpensive packages, so it will be simple for you to budget all of your expenditures. The packages are classified by the number of sectors that they will be working on. They also offer themes and palette alternatives if you aren't sure what you want to paint. They also sell a range of high-quality paint products that may be purchased separately from the painting service. For a quotation or for more information, call Nippon Paint today!
Key Differentiators
DIY paint tips
There is a wide range of paint products
Special promotions and packages available
Client Testimonial
Had painting job done by Ken's team including supervisor Ao. Excellent service and very detailed work done by the team. Kudos again to the team and 10/10 recommend Nippon Paint for house painting.

Nancy Teo
13) PS Painting Service Singapore
If you need professional painting service for your home, condo, HDB, office or room, this is one of the best painting companies around. With a variety of great painting services, PS Painting Service Singapore offers upfront and reasonable prices and they only use the best quality products. With over 20 years of experience, their team of office and house painters are ready to help give your home or office the paint job it needs!
Key Differentiators
Upfront and reasonable prices
Team of office and house painters ready to help
Quality service
14) CleanWorthy
CleanWorthy is a painting company in Singapore. They think that painless, transparent pricing and a user-friendly approach to service should be the norm for all businesses. CleanWorthy specializes in house and workplace painting services, and you can put your faith in them. Painting projects have always been stressful at times, but with CleanWorthy's skilled and trustworthy painters and affordable rates, you can rest assured that your project will be done efficiently and right.
Key Differentiators
Outstanding Team Of Friendly Painters
Cleanliness and Longevity
Very Good Services
Client Testimonial
very friendly staff, punctual, response well. Clean air con ledge 100%. Remove bird nest and feces. Great job!

Tay Chee Kien
15) SG One Stop Services & Repair
Our houses will never be flawless, no matter how hard we try. It's similar to how wear and tear affects other possessions of ours. This is where SG One Stop Services & Repair comes in handy. This firm, called for its name, is recognized for providing a wide range of house renovation services, including painting, plumbing, electrical work, brick work, installation of windows and doors, landscaping among others.
While we appreciate their lengthy list of services, SG One Stop Services & Repair is recommended for a different reason. That's because of the company's staff. See, SG One Stop Services & Repair is made up of specialists from several fields who combine to form a highly effective, trustworthy group. So, regardless of your housing concerns, SG One Stop Services & Repair can handle them all. In other words, it's more efficient and productive than hiring a separate worker for every household issue.
Key Differentiators
Professional and prompt team
Wide array of services including handyman services
Client Testimonial
Excellent service, electricians who came were very courteous and professional. They worked quickly and did a great job.

Colin Tan
16) Painter Cube
The Painter Cube is a comprehensive home painting service. They not only provide wall painting for HDB properties, condos, landed property, and commercial property; they also provide wall and ceiling repair services, waterproofing services, wall mural art services, and wallpapering services, making them a one-stop shop for virtually all of your wall-related needs.
Key Differentiators
Free touch-ups
Wood floor painting services available
Client Testimonial
Very sincere and professional service. The painter team came at the appointment timing and gave their best to complete the work with detailed and high quality workmanship. Great work at a fair price. Thanks!

Nicholas Wong
17) Stamford Paint
Perhaps you're working on a home improvement project and need a firm that can perform high-quality house painting in Singapore? Stamford Painters may give you with an accurate quote and a project manager to book your paint job. Paint with Singapore's top painting business. They'll be there to guide you through the painting procedure, answer any questions you have, and make sure you are fully satisfied.
Key Differentiators
Provides quick assistance, excellent painting for reasonable rates, and flawless workmanship
Professional painting, floor polishing, and dry wall partitioning services
Client Testimonial
Stamford Painters team did a great painting & marble polishing job for my unit. Jewel & Mazed were friendly and accommodative to us too. Their project manager, George, also came down to ensure the workers were doing correct things. Will recommend to my friends and family.

Francis Lee
18) Nouve
Nouve Home Services is a one-stop shop for residential remodels and improvements. Professional house cleaning and removals, overall home painting, aircon cleaning, curtain dry cleaning, and even marble polishing are all available through them. You may rely on them to take care of everything once you've completed your planning.
Key Differentiators
Proficient and talented contractors
Shifting and protection of furniture and floors
Client Testimonial
The team did a great job for our handover, put us at ease during the stress of moving. I highly recommend them.

Matt Jacobson
19) Services Schulze Pte. Ltd
Service Schulze Pte. Ltd is a firm that specializes in interior design and remodeling. Service Schulze, the parent company, has been operating for over 15 years and has continued to provide services in various countries throughout this time. They offer products for sale, however they are generally utilized for their renovation and interior design projects. Wall and floor panels are sold for use in these projects.
Key Differentiators
Moulding and foam tiles
Special wall covering
Wall painting and ceiling refurbished
Painting Services Singapore
The companies that we have listed above provide painting services in Singapore provide exceptional service at competitively-priced rates. Many satisfied customers love the exceptional paintwork that they have received. So if you're looking to start painting, make sure to compare the different painting services available before deciding on one for your next paint job!
Frequently Asked Questions (FAQ)
If you have any questions about painting services in Singapore, you can refer to the frequently asked questions (FAQ) about the best painting services in Singapore below:
Additional Useful Articles
If you are looking for other useful guides and articles about painting services in Singapore, check them out below: