Personal Trainers Singapore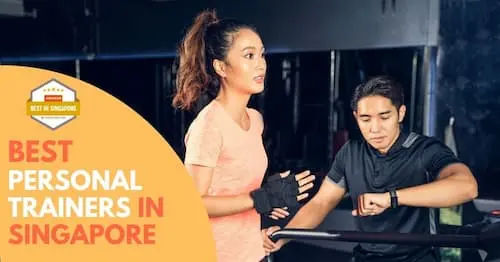 Singaporeans prioritize fitness, evident in the abundance of gyms, particularly those offering personal training services.
The best gyms with personal trainers in Singapore include Athleaders, Surge: Strength & Results, Gold's Gym, PT works, StringsSG, Anytime Fitness, and TSquared Lab.
When selecting a personal trainer in Singapore, take into account factors such as qualifications, expertise, training approach, and location.
Singapore provides a wide range of fitness programs, including HIIT, strength and conditioning, pilates, yoga, and personalized training sessions.
If this sounds like what you need – then check out our list of top gyms with the best personal trainers in Singapore!
Quick Summary
Best gyms with personal trainers in Singapore include Athleaders, Surge: Strength & Results, PT works, StringsSG, Anytime Fitness, and TSquared Lab.
When choosing a personal trainer in Singapore, consider factors such as credentials, experience, training style and location.
Singapore offers diverse fitness programs, such as HIIT, strength and conditioning, pilates, yoga, and personalized training sessions.
Best Personal Trainers Singapore
1. Athleaders
| | |
| --- | --- |
| Key Services | Personal Training, Nutrition Coaching, Bootcamps, Corporate Workshops |
| Website | http://www.athleaders.co/ |
| Address | 60 Paya Lebar Rd, #07-54 Paya Lebar Square, Singapore 409051 |
| Phone | 98907224 |
| Email | support@athleaders.co |
| Operating Hours | They run personal sessions at people's preferred location 24/7. Office hours are Mon – Friday 10AM – 7:30PM and Sat from 2PM-6PM |
Athleaders has been voted the top personal training company for the past 2 years consecutively by Expat magazines & forums. They achieve this ranking by ensuring their core principles are always at the forefront of every service they deliver. Their core principles are Results, Convenience and Customisation.
Athleaders ensures their clients achieve results at the convenience of training at their preferred location (condo gym, living room etc.) Along with Singapore's top trainers, they offer a customised and holistic approach through fitness & nutrition guidance. They can customise a program that offers maximum results in the minimum amount of time OR design a program that ensures long term and sustainable success.
They take into account your circumstances – injuries, work life, family obligations & overall lifestyle and tailor a program to your needs. They ensure you will see results and provide you with the guidance you need to achieve your goals.
Key Differentiators
Results: Their personal training is paired with a customised nutrition program which has proven time and time again to yield results. They have had clients who have lost 16kg in 13 weeks to get in shape for their wedding but also clients who have lost 30kg in a year as they were looking for something more sustainable and long term. Their programs are always tweaked accordingly.
Convenience: By coming to their clients preferred location (condo gym, living room etc.), their clients save on average 9 hours every month not having to travel to and from a gym. This is almost 100 hours a year which is over 4 days a year! They take on the hurdle of traveling and bringing gym equipment so that fitness is made as easy as possible. 
Customised: All their fitness and nutrition programs are highly customised (they do not believe in a 1 size fits all approach).
Client Testimonial
Want actual results and not just talk? Athleaders is the way to go. It is the only Personal Training company that has helped me reach my goals and trust me, I've tried many Personal Trainers out there.

Andres Ramos
2. Surge: Strength & Results – Best Personal Training Singapore Fitness Gym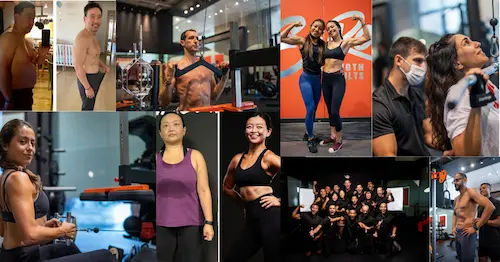 Key Services
Premier Personal Training, Strength Foundation, Body Transformation, Life-Lasting Results, Healthy Nutrition Diets, Solutions for Life
Website
surge-pt.com
Address
Surge @ Anson (Main Gym): 79 Anson Rd #01-04, Singapore 079906

Surge @ Dempsey: 27A, 30B/C Loewen Road, Singapore 248839

Surge @ Katong: 112 East Coast Road, Singapore 428802

Surge @ Sentosa: Sentosa Island, 1 Larkhill Rd, Singapore 099394
Contact
Whatsapp Enquires
Book Free Physical Evaluation and Onsite Consultation Here
Operating Hours
6am-9pm Monday to Friday, 7am-3pm Saturday and Sunday
Surge: Strength & Results have a proven track record of working with individuals from diverse backgrounds and health conditions. Renowned for their expertise in losing fat and gaining muscles with healthy lifestyles changes, Surge PT Trainers excel at helping clients incorporate beneficial habits into their daily workout routines. This includes focusing on exercise, sleep patterns, nutrition, injury prevention/rehabilitation, as well as addressing pre-existing health conditions like high cholesterol, pre/post-natal care & menopause transition.
The trainers adore and celebrates success stories and impressive body transformations they have achieved with their clients. Their main objective is to assist clients in losing unwanted fat, sculpting desired muscle tone, and fostering enduring changes and self-confidence. Adaptable to every type of diets limitations, like vegetarian, halal, kosher, they offer their client the best advice on the best nutritional in take their receive based on it.
Key Differentiators
Life-Lasting Changes: Surge offers personal training sessions that emphasize lasting lifestyle changes and long-term results. Their approach equips clients with the necessary tools and knowledge to maintain their fitness levels and promote overall well-being. Rather than offering temporary solutions, Surge's training sessions aim to instill discipline, healthy habits, and a sustainable fitness pathway.
International Background & Diversified Expertise: Surge boasts a diverse team of trainers with backgrounds in nursing, nutritional science, and competitive sports, enabling them to offer expert advice tailored to individual health conditions and needs. They are adaptable to different cultures and can handle unique dietary restrictions, medical concerns, or specialized guidance. Prioritizing client well-being, Surge's trainers are committed to helping clients achieve their goals while ensuring their safety and health.
Empowering Primer Service: Surge offers premium personal training services with advanced equipment to help clients reach their fitness goals. Their trainers provide personalized, effective guidance and support in an empowering and motivational environment. By choosing Surge, clients can expect tailored workouts, access to expert advice, and a pathway to realizing their full potential and achieving desired outcomes. The company is committed to delivering optimal results and helping clients unlock their success.
Client Testimonial
In December 2020, I weighed 111kgs, had a 40-inch waist, wore XXL clothes and had a metabolic age of 59. Today, thanks to SURGE, I weigh 84kgs, have a 33-inch waist and wear size M. These results speak volumes about SURGE, who provide a 24×7 program of healthy eating, sleeping and, of course, weight loss training. In addition to designing my training program, my Personal Trainer is on hand to guide me through daily challenges, ranging from good cardio workouts during lockdowns to sensible alcohol choices when out with my buddies. Data is at the heart of SURGE with data collection through Apple Watch and integrated apps. The whole thing is very convenient, scientific, and provides continuous feedback to keep me on the right track. Their new gym is excellent, full of state- of-the-art equipment and never overcrowded.
3. PT works
PT Works is a gym that focuses on one-on-one personal training and working at your own pace. They offer a variety of classes such as Yoga, Pilates, and Zumba. The gym will help you find the trainer right for you and provide nutritional guidance for weight loss or maintenance plans. They also offer customized fitness programs which include goal setting, nutrition advice, and accountability coaching all at an affordable price.
Perhaps one good trait for PT works would be their free trial program that allows you to experience if this is something that would suit your fitness preference before further investing in the program. Furthermore, if you prefer to exercise while being surrounded by beautiful sceneries, we recommend considering their boot camps classes as well as their cross-fit style workouts to enhance your experience.
Testimonials
"Sean is an amazing trainer who not only understands fitness but also the human body enabling him to effectively get you lean and fit in a safe and structured way. He makes the training session both challenging and fun and takes a personal interest in helping you achieve your goals. No session is the same and he regularly brings in new equipment and techniques so you never get bored. Highly Recommended!" – Raj Bharij
"Grateful for Sean who is an excellent coach. He has helped me to get back in shape and improve on my fitness, while picking up the real fundamentals and techniques of Muay Thai! I'm not a work out fanatic but I look forward to his training sessions every week. He is knowledgeable and his passion for sports and fitness is infectious. 5 stars and highly recommended!" – Cheryl Chen
4. StringsSG
StringsSG is not a gym, rather a place to find the best matching personal trainers and gyms near you based on your budget, trainer gender, workout timing and location preference!
It is a web and mobile app which connects people in all locations of Singapore with over 200 gyms and dedicated personal trainers. Just open a request and receive responses from gyms professionals and freelance trainers. View the trainers profile for details and initiate further discussion using the inbuilt chat system. You may also choose to browse through over 250 fitness deals (includes group fitness classes as well) and contact the trainer directly. Use the rating system to rate the trainer and write a review based on your experience.
Key Differentiators
Unique ability of the app to connect people to the perfect fitness professional based on their requirements.
Opening a request is completely free and no service fee is charged, plus there are several free trials available to try from.
24 hours email support and 48 hours guaranteed resolution for any issues with the app.
5. TSquared Lab
Key Services
One on One Personal Training, Online Training, 12-Week Transformation Plan
Website
https://tsquaredlab.com/sg/personal-training
Address
TSQUARED LAB ALEXANDRA
991F Alexandra Rd, Singapore 119974
Nearest MRT: Labrador Park

TSQUARED LAB CECIL
01-01A/02, Keck Seng Tower, 133 Cecil St, Singapore 069535
Nearest MRT: Tanjong Pagar
Phone
+65 8891 8313
Email
Hello@tsquaredlab.com
Operating Hours
6am to 9pm daily
TSquared Lab is a bespoke sustainable body transformation ecosystem that helps you become the best version of yourself. Founded on our unique philosophy – True transformation is holistic, TSquared Lab weaves in all the key enabling factors of transformation into a singular experience. Our unique approach consists of four pillars: personal training guided by the world's leading personal trainers with years of experience; nutritious meal prep calibrated to your daily intake of macronutrients; recovery sessions to help you bounce back from a hard working day in the gym; and health experts give you expert advice and facts that sharpen your mind and help you improve your health.
Key Differentiators
The 360-degree transformation that is holistic and sustainable – We care about you both when you are training with us and when you strike out on your own. We are guided by the philosophy that your transformation is a lifelong journey that goes beyond your time with us. We love to be part of your journey.
Results backed by science – Our results-driven culture is built on robust systems and meticulous data analysis. We care about you both when you are training with us and when you strike out on your own. We are guided by the philosophy that your transformation is a lifelong journey that goes beyond your time with us.
Luxury personifying facilities with knowledgeable experts – We have assembled a team of the world's leading experts in personal training, mindset, and body transformation in a professionally designed and meticulously planned facility. TSquared Lab is designed with bright, open training spaces, cutting-edge equipment, integrated technology, and luxury fitness club amenities spread across 13,000 square ft. in two facilities – 991F Alexandra Rd, and 133 Cecil Street.
Client Testimonial
Just the finest words for Dimitar. He is the best. I'm 38 years old and I have never exercised in my life. Lately I have experienced back problems and it was a sign that I need to make some changes. I'm so lucky to have Dimitar as my trainer. He has such a positive attitude, knowledge, energy and dedication for his work. He truly helped me transform my daily workout routines in to a more healthy one. I have felt the first results after only 10 days of work out, my pain was gone, my posture started improving, my eating habits became more healthy. He is an expert in creating the perfect training program, allowing me to continue my day fully energized and in the same time providing a fast and healthy transformation. I highly recommend him to anyone who seeks utmost transformation for both the body and quality of life.

Branka Djajkovska
6.Level Gym
Level gym offers a variety of classes such as Yoga, Pilates, and Zumba. The gym will help you find the trainer right for you and provide nutritional guidance for weight loss or maintenance plans. They also offer customized fitness programs which include goal setting, nutrition advice, and accountability coaching all at an affordable price.
If you're looking to work out with a friend, we recommend that Level Gym is a suitable location for you and your friend to bond over a fun and interesting time in your workout sessions. They cater a wide range of outdoor and indoor exercises ranging from many different types of cardio exercises such as their spartan skill classes to outdoor boot camps hosted around the marina bay area.
Unlike transformational gyms, Level gym sees it as vital to keep clients injury-free by prioritizing consistency rather than extreme effort in order for people to train sustainably and avoid getting hurt.
Testimonials
Positive: Communication, Professionalism, quality. "I trained with both Coach Wu and Erik Lane, and both are amazing. Coach Wu is *the* go-to person in Singapore if you want to learn how to do Olympic Weightlifting with the proper technique. Not only does he actually know his stuff (Coach Wu is the former member of the Chinese national weightlifting team and the former head coach of the Singapore Weightlifting Federation), but he also breaks down the various movements involved in Olympic Weightlifting in a way that is intuitive and easy to learn. Despite being in high demand, Coach Wu is always personable, humble, patient and respectful. Training with him is a pleasure.
Erik is also a wonderful personal trainer. He tailors the training program to your specific training goals and helps you work toward them. I had been training for 1.5 years before I started working with him, and I am still learning so much from him.
All in all, I am very happy with this gym. If you want to get stronger, improve your mobility, gain a better awareness of your body, and do everything safely while having fun, this is the go-to place." – Jennifer Lim
"Great experience coming back again and taking up a personal training package with Level. Friendly and helpful staffs makes it a very wholesome training time. Found what I needed with the skills class and very appreciative of the coaches' meticulousness and knowledge to execute the proper technique!" – Phua Di Sheng
7.Strength Avenue
If you're looking to focus on strength building, Strength Avenue is definitely a top choice that we believe would suit you greatly. Strength avenue has been around for over 10 years and has been catering to Singaporeans athletes mainly for sporting competitions and weight loss management. They offer personal training, group fitness classes as well as boot camp sessions to cater to both individuals as well as friends that would want to exercise and lead a healthier lifestyle together.
Perhaps the only downside would be that they do not provide any online training classes which may cause inconvenience to those staying far from the respective outlets.
Testimonials
"Amazing people who knows what they are doing. Such a great environment and atmosphere. Equipments are proper and well maintained. In terms of serenity, it is a very comforting place where most people can take that relaxing breaks between sets and some may even agree it's a great place to do yoga". – Tim Halim
"Cozy environment for gym newbies who are intimidated by commercial gyms! trainers are friendly and very knowledgeable. they have a wide variety of classes too."
love training here! 🙂 – Gee Ann
8.Fit Luc Gym
Fitluc aims to provide a "more personalized and more flexible way of fitness".
In fact, their personal training packages are quite flexible. They provide house calls, live one-to-one sessions online, and in-person classes at their flagship gym. Their packages are extremely reasonable, and you can even get your first session free! We believe that they have a great team to help with all kinds of fitness goals which is why we recommend them to anyone looking into visiting a gym in Singapore.
As it's located along Keong Saik road, it makes it easily accessible to commuters since it is within a 3-minute walking distance from Outram Park MRT station exit H. Additionally, for those that are driving, parking along that roads there are also easily accessible and not to mention the numerous amount of eateries nearby such as Pasta bar or Meta Restaurant which can be ideal after a tough gym session.
Testimonial
Positive: ProfessionalismI was a beginner and had no experience in working out before. After training consistently for three times a week in six months, I was able to gain the knowledge and technique on how to train properly.
My trainer was experienced and knowledgeable. He was able to design a training regime and diet to suit my specific fitness goal. He would also provide scientific explanations for each exercises.
I personally think what differentiates Fitluc from other commercial gym is that they specialise in personal training where clients can build closer connection with their trainers which can make each training session fun and enjoyable.
– Christoper Melvin
9.Smartfit Pilates
Lastly, we can't help but add this to our list due to their 2 main differentiators that we believe are beneficial and useful to customers.
Firstly, their classes are flexible enough to accommodate private sessions for individuals and duos with a capacity of 6 participants per session.
Secondly, the interior of their studio at Tanglin is aesthetically pleasing and can be deemed as Instagram-worthy for customers to take aesthetic pictures of their workouts. The studio also houses necessary provisions such as an in-house cafe that caters soothing drinks after your workout sessions.
Testimonials
Fantastic place to get fit and improve flexibility. They offer a range of classes, so it's very easy to find one that suits you. The expertise of the instructors is remarkable and the owners are very kind and loving. Would absolutely recommend coming to this studio! – Louis Lau
I love SmartFit. The studio is nice and the instructors are very good and experienced. I've been going for pilates weekly shortly after I gave birth and feel much stronger now. Pilates at SmartFit has helped with my postpartum recovery. – Esther Foo
10.EzFit Gym
EzFit Gym is the ultimate destination for all your fitness needs. Whether you're looking to get back into shape or stay in peak condition, EzFit has everything you need to succeed. They offer a wide range of classes from cardio kickboxing and yoga to weightlifting and spinning. You can also take advantage of their personalized training programs which include nutritional advice, goal setting, and accountability coaching.
With not many gyms catering to home-based services, EZfit gym offers a wide variety of qualified professional trainers that are willing to take the extra mile to support you in achieving your fitness goals.
If you have a child at home, you'll be pleased to know that EZfit gym also provides personal training for kids. With a fun and interactive opportunity to get your children to exercise, you wouldn't have to worry so much about them not exercising and eating healthily, if that's something you struggle with.
Testimonials
"Vanan is an excellent trainer – very professional and thoughtful. He knows when to push you and when to cut you some slack (when needed!). His professional knowledge goes beyond the physical exercise realm; I like the fact that he is able to layer in information from e.g. medical/scientific / nutritional perspectives. I would highly recommend him to anyone who is looking for a personal trainer." – Beverly Guai
"My daughter would like to be fit so she works out at the gym and at home. I thought of engaging a personal trainer Singapore since she has scoliosis. I want her to learn to use the gym equipments properly and have the right form when working out so as not to injure herself or worsen her scoliosis. Haylie is her personal trainer Singapore and it's been great. Her friendly and happy personality made my daughter really comfortable and have fun during the sessions. Even our dog likes her! Haylie is very generous with her time and knowledge. She is patient in answering our questions about diet, health and fitness. She varies the exercises so it doesn't get boring and gives my daughter encouragement to get through the workout. Having a strong core is very important for someone with scoliosis and Haylie takes this into consideration in designing effective and appropriate workouts. She corrects her form and teaches her how to engage the muscles. My daughter's PE teacher even praised her good form when she's doing workouts in school. Thanks a lot Haylie!" Clarie De Villa
11.Ultimate Performance
When it comes to choosing the different gyms in Singapore, Ultimate Performance is unarguably a popular fitness center choice that most people go to that provides personal training and group classes to help you get in shape. They offer an affordable 1-month unlimited membership that includes up to two personal training sessions per week, access to all their classes, and discounts on nutritional products. The facility has top-of-the-line equipment for both cardio and strength workouts with state-of-the-art technology such as interactive touchscreen TVs.
The staff at Ultimate Performance are highly qualified trainers who will work with you one on one or in small groups so you can reach your goals without feeling intimidated or alone. Apart from the personalized attention from start to finish which is what sets them apart from other gyms, the personal training exercises conducted are supported through a science-based approach that is part of collaborative research with scientists at Cambridge University.
Testimonials
"I want to give a shout out to Lawrence for helping me with fitness and health transformation for the past couple of months. He taught me the art of flexible diet, to plan my calories ahead of time, and fit in the foods that I enjoy to eat, instead of having bland chicken breast and broccoli all day. Combine that with a structured training program focusing on the perfecting the forms on compound lifts and progressively adding weight to them, I can say that I am in the best shape of my life. I feel so good throughout the day, my energy levels are constant, and I recover so much faster from any physical activities. I highly recommend anyone who is serious about achieving their goals to join UP. It's not a shortcut. You must be committed to put in the work, to learn from the trainers, and you'll pick up a valuable life skill along the way." – Kenny Quek
"I love it whereby the trainers here are very committed and sincere about working with the client to achieve their individual goals while being very specific in terms of nutrition and training plan to achieve one's ideal body in the shortest period of time. Their supplements are very tasty as well. Absolutely love working with UP" – Eden Lim
12. Dennis Gym
Dennis Gym is a place where you can receive one-on-one personal training and work at your own pace. They offer a variety of classes such as Yoga, Pilates, and Zumba. The gym will help you find the trainer that is right for you and provide nutritional guidance for weight loss or maintenance plans. They also offer customized fitness programs which include goal setting, nutrition advice, and accountability coaching.
Apart from the owner Dennis Tew being a former national fitness coach. The staff at Dennis Gym are personally handpicked by him to be deemed as professional and qualified to help you make the best out of every session. With their supportive and encouraging environment, they'll be there to motivate and push you to achieve your fitness goals.
In fact, you can actually get personal training from Dennis Tew himself but at a higher price point. Furthermore, Dennis Gym also provides 12 weeks of training programs ranging from fat loss programs to dumbbell workouts on their mobile application for both genders at a fixed price of $99.
Testimonials
"Clean and well-equipped gym! Professional trainer, Jesse, who always ensures the users are well-taken care of. Not pushy and very friendly. Jesse also tailors fitness plans to individuals and encourages people to improve for better results. Value-for-money gym and personal training sessions. Highly recommended!" —lamedot, Google Reviews
Personal Trainers Singapore
Additionally, check out some of our other useful articles and guides here:
Frequently Asked Questions (FAQ)
If you have any questions about personal fitness trainers in Singapore, you can refer to the frequently asked questions (FAQ) about the best Gyms With Personal Trainers in Singapore below:
What are the best gyms with personal trainers in Singapore?
The top personal trainers in Singapore include Athleaders, Surge: Strength & Results, PT works, Gold's Gym, StringsSG, Anytime Fitness, Urban Active Fitness, and TSquared Lab.
What can I expect from my fitness journey at these best gyms in Singapore?
When you embark on your fitness journey at these top-notch gyms in Singapore, you can expect a holistic approach that includes personalized workout plans, nutritional guidance, and continuous support from certified personal trainer. These gyms also offer a variety of fitness programs to cater to different fitness levels and goals.
What qualifications do the personal trainers at these gyms have?
The experienced personal trainers at these gyms are highly qualified and certified. They undergo rigorous training and certification processes to ensure they're equipped with the knowledge and skills to guide you through your fitness journey effectively. Many of them hold certifications from reputable fitness organizations, and some even have degrees in related fields like sports science.
What is buddy training, and do these gyms offer it?
Buddy training is a type of personal training where two or more individuals train together under the supervision of a personal trainer. This can be a fun and motivating way to stay committed to your fitness goals. Most of the top-rated gyms in Singapore offer buddy training as part of their personal training programme.
Do these gyms offer free consultations?
Yes, many of the best gyms with personal fitness trainers in Singapore offer free consultation. During this session, you can discuss your fitness goals, ask any questions you may have, and get a feel for the gym's environment and the personal trainer's coaching style.
What does a personal training program at these gyms involve?
A personal training program at these gyms typically involves an initial assessment, goal setting, a customized training plan, and regular check-ins to track progress. The focus can range from strength training to cardiovascular fitness, depending on your personal goals.
How is strength training incorporated into the personal training program?
Strength training is a key component of any comprehensive fitness program. The personal fitness trainer at these gyms will design a strength training programme that suits your fitness level and goals. This could involve free weights, resistance bands, or bodyweight exercises.
Can I hire a private personal trainer or a freelance personal trainer at these gyms?
Many of these gyms do allow you to hire a private personal trainer or a freelance personal trainer. However, the policies can vary from gym to gym, so it's best to contact the gym directly to inquire about this.
What happens during a personal training session?
During a personal training session, your trainer will guide you through your workout, ensuring that you're performing each exercise correctly and safely. They'll provide real-time feedback and adjustments as needed, and they'll motivate you to push yourself to your limits.
How dedicated are the personal trainers at these gyms?
The personal fitness trainer at these top gyms in Singapore are highly dedicated professionals who are passionate about helping their clients achieve their fitness goals. They invest time and effort into creating personalized training programs, providing quality coaching, and motivating their clients throughout their fitness journey.
Additional Useful Articles
If you are looking for other useful guides and articles about the best Gyms With Personal Trainers in Singapore, check them out below: