Thai Massage Singapore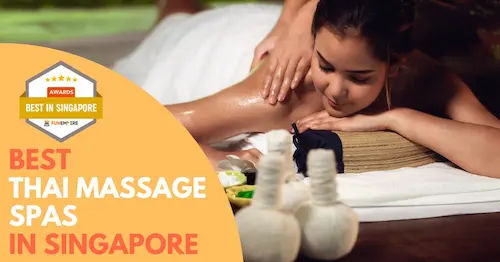 If you're looking for a relaxing and rejuvenating massage, Thai massage might be just the thing for you.
The best Thai massage places in Singapore include Healthland Traditional Thai massage, Sabaai Sabaai Thai Massage, and Healing Touch.
When selecting a Thai massage spa in Singapore, take into account criteria like pricing, location, atmosphere, hygiene, and customer feedback.
Thai massage provides a range of advantages, such as enhancing blood circulation, alleviating stress and muscle tension, and promoting increased flexibility.
So if you're looking to treat yourself to a little pampering, check out one of these Best Thai Massage Spas in Singapore!
Quick Summary
Best Thai massage places in Singapore include Healthland Traditional Thai massage, Sabaai Sabaai Thai Massage, and Healing Touch.
When choosing a Thai massage spa in Singapore, consider factors such as price, location, ambience, cleanliness, and customer reviews.
Thai massage offers a variety of benefits, including improved circulation, reduced stress and muscle tension, and increased flexibility.
But before that, here are some consideration factors when choosing a Thai massage spa in Singapore:
Key Consideration Factors
Professionalism and expertise of the therapist: Make sure that you are getting a trained professional who has experience with providing Thai massages.
Hygiene standards: Ensure that the spa is compliant with stringent hygiene standards and practices proper sanitation protocols.
Quality of products used: Make sure that quality oils and other massage-related products are used at the spa to ensure a safe and effective experience.
Location: Consider if the spa location is convenient for your needs and lifestyle, as well as being accessible to public transport like MRT or buses if necessary.
Value for money: Get an idea about the value for money provided by the spa so that you can make an informed decision before making a booking.
Reviews from past clients: Read reviews from previous clients before making a decision, as they can often provide valuable insight into what you can expect from the spa experience itself.
Now that you know what to look for, here are the Best Thai Massage Parlours in Singapore!
Best Thai Massage Singapore
1. Healthland Traditional Thai massage
Key Services
Traditional Thai Massage
Oil Massage
Foot Massage
Address
252A South Bridge Road, Singapore 058801
Website
healthlandspa.com.sg/
Phone
+65 6221 3376
Email
healthlandpl@gmail.com
Operating Hours
Monday to Sunday:
10:30AM–10PM
Massage therapy at Healthland Thailand combines both Thai and Aroma Oil treatments. This can help with your blood pressure and memory, as well as reduce stress.
They also provide massages that concentrate on specific regions that are vulnerable to muscle pains, such as the back, shoulders, and feet.
Key Differentiators
Males and females are welcome
Dedicated to deliver authentic Traditional Thai massage
Unique treatment
Client Testimonial
Their authentic thai massage fully relaxes the whole body and provides calmness and peace of mind to tackle the routine challenges of the next day. I have tried all of the young service providers and there was never a dull moment in each and every unique and pleasurable experience they make you feel. No doubt about it's fit for a king!

Cheong Tien woi
2. Sabaai Sabaai Thai Massage
Working in an office all day can put a strain on your muscles. Given the long hours you may spend typing at a computer and staring at your screen, it's no surprise that aching muscles are frequent among 9-to-5 employees. Fortunately, those who work near CBD have Sabaai Thai Massage available.
Although a Traditional Thai Massage is effective, the Thai Herb Massage is another good option for those with severe muscular pains. This therapy includes a herbal compress, which, when heated and applied, helps to alleviate muscular pain.
Key Differentiators
4-min walk from the Asian Civilisations Museum
Traditional Thai meets modern chic
Offers services to both genders
Client Testimonial
Awesome place for a massage. I loved the ambiance and the staff was wonderful. Smelled lovely, great lighting and music to completely relax you. Had the foot, neck and shoulder massage and it did not disappoint. Can't wait to go back!

Melissa Elsner
3. Healing Touch
Healing Touch, an award-winning spa chain with seven locations around the city, provides a clean, comfortable, and elegant environment for massage enthusiasts to enjoy an inexpensive Thai massage.
The spa's website can be used to make an online reservation, which is also a means to stay up to date on all of the newest tempting offers.
Key Differentiators
Multi-Award Winning Spa
Free parking
Professional staff
Client Testimonial
Went for the massage session a few days ago and massage was really comfortable and I slept in the middle of the massage! Receptionist (Queenie) was friendly and patience as they guide you through on the whole process and the pricing is very reasonable, especially with the packages. Environment is very relaxing and quiet with very well mannered staff. Highly recommended to go to the city gate's outlet

Michael Zang
4. Hatyai Thai Massage
Hatyai Thai Massage has a long history in the industry, having opened in 1996 at the heart of Chinatown, which is only a stone's throw from Bangkok's Central Business District.
From its centrally located location, it is easily accessible to weary employees and tourists seeking a break from the demands of the day.
The pleasant employees welcome you as soon as you walk through the door. You might even get to meet the store's owner, who personally manages operations to ensure high-quality service for each customer.
At Hatyai Thai Massage, you may select from a range of highly skilled Chinese, Malaysian, or Thai therapists.
You may also opt for Hatyai Thai Massage's services at your leisure, whether it be at home or a hotel. As a bonus, bookings can be made via phone or online.
Key Differentiators
Traditional Thai Massage
Signature Thai oil massage
Outcall Massage To Hotels
Client Testimonial
Very authentic Thai massage, and the service from Meggy is very nice.

Jo Khoi
5. Ayuthaya The Royal Thai Spa
Ayuthaya The Royal Thai Spa is a top spa for receiving premium Thai massage in Singapore.
The experience is enhanced by high-quality spa products and Thai-style décor in their premium spa rooms, during which visitors may enjoy a heavenly indulging with genuine Thai massage from highly experienced masseurs.
For greater pampering, you may treat yourselves to a facial treatment or a full-body scrub before the massage session.
For that spa concept, their prices are on the higher side. So, if money isn't an issue, go to Ayuthaya The Royal Thai Spa to enjoy some of the greatest Thai massage treatments, Singapore has to offer.
Key Differentiators
Royal Thai Massage
Thai Herbal Heat Compress
Achieve balance between the Body, Mind and Soul
Client Testimonial
I must say, it is one of the best massage i have had in a long time. Price is on the high side but its affordable to

Kean T.
Thai Massage Singapore
There you have it! This list of 6 Best Thai Massage in Singapore is tailored just for you.
Thai massage is a popular treatment for people all around the world. It's not only good for relaxation; it also helps to alleviate aches and pains from athletic activity or overuse, as well as stress and tension.
If you're in need of a relaxing, rejuvenating massage, Thai massage might be just what you're looking for.
Read more of our interesting articles by clicking the links down below:
Frequently Asked Questions (FAQs)
If you have any questions about Thai Massage Singapore, you can refer to the frequently asked questions (FAQ) about the best Thai Massage Spas in Singapore below:
What are the best Thai Massage places in Singapore?
The best Thai massage places in Singapore include Healthland Traditional Thai massage, Sabaai Sabaai Thai Massage, and Healing Touch.
Are Thai massages sensual?
You may rest confident that Thai massage is no more sexually charged than a Javanese Massage treatment, Shiatsu massage or a Swedish massage. It's simply a restorative, healing Thai massage experience with several therapeutic advantages.
What is Thai Aromatherapy Oil Massage?
Thai Aroma Oil Massage is a type of massage that uses natural essential oils to provide a relaxing and therapeutic experience. The oils used are typically cold-pressed from plant seeds, flowers, fruits and leaves to create a unique blend that helps soothe and relax the body.
Where can I get a Beauty World Thai Massage?
Beauty World Thai Massage is conveniently located at Beauty World Centre in Singapore, providing both spa services and massage treatments. It offers traditional Thai massage techniques such as aromatherapy oil massage, reflexology, Swedish massage and more.
What is Thai Yoga Massage?
Thai Yoga Massage combines stretching, rhythmic compression and acupressure techniques with yoga postures for an invigorating full body massage. It's aimed at releasing tension within the body's muscles to improve mobility and flexibility while promoting relaxation and improved circulation.
What is a Thai Japanese Fusion Massage?
A Thai Japanese Fusion Massage combines elements of both traditional Eastern healing arts with modern Western style therapeutic techniques such as aromatherapy, Swedish massage and reflexology for a truly holistic experience combining deep tissue massage work with acupressure points to release stress from tired muscles and enhance circulation throughout the body for greater wellbeing.
What are some of the best Thai massage parlours in Singapore?
There are numerous Thai massage parlours in Singapore that offer top-notch services. Some of the most popular ones include the Healing Touch Spa, known for its excellent full body Thai massage and other massage services, and Ancient Thai Massage, which is revered for its traditional Thai massage techniques.
Why should I consider getting a Thai massage?
Thai massage is an ancient practice with many benefits. An ancient Thai massage can help improve circulation, increase flexibility, reduce muscle tension, and promote overall wellness. Additionally, it's a great way to relax and relieve stress. Most Thai massage parlors in Singapore have well-trained therapists who can provide these benefits.
What does a full body Thai massage involve?
A full body Thai massage typically involves the masseuse using their hands, elbows, knees, and even their feet to apply pressure on different parts of your body. The session may also involve stretching similar to yoga poses. This type of massage can help improve your energy flow and relieve tension in your muscles.
Are there any other types of massage services available at these Thai massage parlours?
Yes, most Thai massage parlors in Singapore offer a variety of other massage services. For instance, you might want to try a Balinese massage, which uses a combination of gentle stretches, acupressure, reflexology, and aromatherapy to stimulate the flow of blood, oxygen, and energy around your body.
Additional Useful Articles
If you are looking for other useful guides and articles about Thai Massage in Singapore, check them out below: