Water Fountains Singapore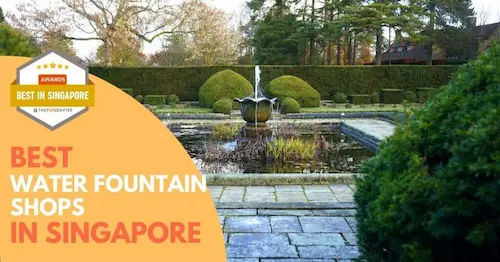 Water fountains can add a touch of elegance and serenity to any setting, be it a home, office, or outdoor garden.
The best water fountain shops in Singapore De Anne & Co, Water Feature Singapore, Fukai, The Fountain House, and Tami Services.
When selecting a water fountain in Singapore, it's important to take into account factors like size, design, water flow type, and installation needs.
Singapore provides a wide range of water fountains to choose from, such as wall fountains, floor fountains, tabletop fountains, and garden or pond fountains.
Discover the top water fountain shops in Singapore, ideal for adding a serene and visually appealing touch to your space.
Quick Summary
Best water fountain shops in Singapore De Anne & Co, Water Feature Singapore, Fukai, The Fountain House, and Tami Services.
When choosing a water fountain in Singapore, consider factors such as size, design, type of water flow, and installation requirements.
Singapore offers a diverse selection of water fountains, including wall fountains, floor fountains, tabletop fountains, and garden or pond fountains.
Best Water Fountains Singapore
1. De Anne & Co
Key Features
All types of water fountains
Maintenance and fountain care
Installment payment plan
Replacement spares
Website
https://www.deanneco.com/
Address
1093 Lower Delta Road (JTC Mapletree) #04-14 Singapore 169204
Contact
+65 8800 3570
Operating Hours
Monday to Saturday: 10.00am-5.00pm
De Anne & Co is one of Singapore's top water fountains suppliers, and they're recognized for their wide selection of contemporary aquatic features.
All of their products are self-contained, portable, and easy to set up. There's no need for an external water supply: simply fill up the water, connect it in, and turn on!
At their store, you can find tabletop fountains, free-standing water features, granite fountains, water walls, bubble water features, and a variety of other items. If you want to decorate the fountain with artificial turf, pebbles, or decking, they also provide it.
With their wide selection of goods, you'll definitely discover the finest water fountain in Singapore!
2. Water Feature Singapore
Key Features
Wood and timber decking
Repair and refurbish services
Waterproofing
Waterfall features
Website
https://waterfeaturesingapore.com/
Address
Yishun Industrial Street 1, Singapore
Contact
+65 8389 2499
Unlike the old store, Water Feature Singapore is a custom-order shop that creates bespoke water fountains based on clients' demands. They specialize in landscape design and interior decor, and can turn your unique thoughts into a work of art!
With their talents, expertise, and cutting-edge technologies, you can be certain that they'll create the finest water fountain in Singapore for you! They're also experts in solving and maintaining water features.
They've been serving residences, home builders, and enterprises on the island for years, showing they truly provide long-lasting water feature solutions.
3. Fukai
Key Features
Residential and commercial services
Durable quality
Water feature and pond services
Website
https://fukai.com.sg/
Address
Woodlands East Industrial Estate, 22 Woodlands Link #01-53, Singapore 738734
Contact
+65 6755 4755
Operating Hours
Monday to Friday: 9am–7pm

Saturday: 9am–6pm

Sunday: 12–6pm
Fukai's water fountains are known for their calming sounds and negative ions that purify the surrounding air. Their best Singapore water fountains can provide stress relief for everyone thanks to the relaxing sound of flowing water and negative ions that cleanse the air!
They assist you in the production, design, building, and installation of the fountain; so you can be certain that your concepts will be fully realized — and perhaps even exceed your expectations.
You may also request a personalized water feature, which can be named and inscribed with a personalized card message — an excellent example for home showcases.
They can also create wall sculptures, ornaments, and garden furniture if you want to up the attractiveness of your fountain. This award-winning business has also been recognized for its creative design that generates good vibes, thus influencing everyone's mood.
4. The Fountain House
Key Features
Tabletop fountains
Forest-like water fountains
Temple-inspired water fountains
Website
https://thefountainhouse.weebly.com/
Address
149 Rochor Rd, Singapore 188425
Contact
+65 6684 4337
The Fountain House is the place to go if you're seeking for water fountains as lucky charms. They provide tiny tabletop fountains that symbolize luck and fortune, ideal for new business owners!
Waterfalls are a great way to add beauty and charm to your yard. Waterfall fountains range from simple cascades to more detailed structures, such as water gardens or forest-like fountains. Their best water fountains Singapore are also simple to operate and maintain.
It's an automatic water pump that draws its power from the main electrical outlet. Simply connect it and switch it on, and it will work immediately without requiring any outside water!
5. Tami Services
Key Features
Convenient and Cost-effective
Family safe
Website
https://www.tami.com.sg/
Address
7 Kaki Bukit Road 1 #03-04 Singapore 415937
Contact
+65 6742 0218
Operating Hours
Monday – Fridays:
8.30am – 5.30pm

Saturdays:
CLOSED DURING COVID-19 PERIOD

Sundays & Public Holidays:
Closed
Tami Services can get the best quality water from your water fountain. They sell both filtration and treatment systems that are both easy to use and inexpensive.
Their products are proven to be effective, according to their twenty years of expertise. If you want to look at their goods, go to their website.
6. Skyland Gardening
Key Features
Traditional and modern water fountain designs
Pond and water fountain on balcony/terrace
Website
skylandgardening.com
Address
15 Pandan Loop, Singapore 128233
Contact
+65 9233 9004
Operating Hours
Weekdays: 9am–5pm
Skyland Gardening offers both traditional and modern water fountains for indoor and outdoor usage. They can also help you create the perfect design based on your preferences.
They provide a wide range of services, including stonework, fiberglass shells, tilts, stainless steel panels, and more. If you want to add a water feature to your garden or patio area, they can construct and install classic or modern fountain kits that will make your space seem more sophisticated and restful.
If you'd like to have the finest water fountain in Singapore without breaking the bank, we can help! Our experts will also make certain that the planning and design proposals are appropriate for your budget.
7. World of Fountain
Key Features
Thoroughly tested products
Wide variety of fountains
Website
https://worldoffountain.jimdofree.com/
Address
201 Upper Thomson Road, #01-118/119
Spore 574408
Thomson Plaza
Contact
+65 9899 9808
The World of Fountain is Singapore's No. 1 Water Fountain Provider, known for its variety and high quality. They provide fountains that create a sense of calm in their environment.
They do not simply sell a product; rather, they give thorough analyses of the items they distribute. You may trust that if your purchased fountain becomes damaged, they will have a replacement ready for you.
Water Fountains Singapore
If you're looking for a high-quality water fountain, Singapore is the place to go. The 7 best water fountains in Singapore are all well known and have been serving residences, home builders, and enterprises on the island for years. Whether you need a simple cascading waterfall or an elaborate forest-like feature that's going to take up your entire backyard space, one of these local businesses can help!
If you enjoyed what you read, do consider checking out our other articles as well!
Frequently Asked Questions (FAQ)
If you have any questions about water fountains in Singapore, you can refer to the frequently asked questions (FAQ) about the best Water Fountain Shops in Singapore below:
What are the best shops for water fountains in Singapore?
The best water fountain shops in Singapore De Anne & Co, Water Feature Singapore, Fukai, The Fountain House, and Tami Services.
What are the best shops to find an outdoor water fountain in Singapore?
There are numerous places in Singapore where you can find beautiful outdoor water fountains. These include The Nature Company, Far East Flora, and Song Lang Garden. Each of these shops offers a variety of designs to enhance your outdoor space with the soothing sounds and positive energy of a water element.
Can I find contemporary fountain kits at Singapore water fountain shops?
Yes, many water fountain shops in Singapore offer contemporary fountain kits. These kits typically include everything you need to install a modern, sleek water feature in your indoor or outdoor space.
Is it possible to find a rock fountain in Singapore?
Absolutely! Rock fountains are quite popular in Singapore due to their natural aesthetic that can resemble forests. Stores like The Nature Company and Far East Flora have a wide selection of rock fountains to choose from.
What kind of indoor water fountain options are available in Singapore?
You can find a wide range of indoor water fountains in Singapore. From small tabletop fountains to larger free-standing units, there's something for every indoor space. These fountains not only add a soothing sound to your environment but also bring in a lot of positive energy.
Can water fountains be added to any outdoor space?
Yes, water fountains can be added to any outdoor space. Whether you have a small balcony or a large backyard, there's a fountain that will fit perfectly. The soothing sounds of the water can transform your outdoor space into a tranquil oasis.
What benefits can I expect from adding a water element to my space?
Adding a water element to your space can create a soothing atmosphere with its calming sounds. It's also believed to bring positive energy into your home or office. Moreover, water fountains can serve as a stunning focal point in both indoor and outdoor spaces.
Do water fountain shops in Singapore offer installation services?
Most water fountain shops in Singapore do offer installation services. This can be particularly helpful if you're looking to install traditional or large fountains, which may require professional assistance for safe and correct installation.
How do water fountains create soothing sounds?
The soothing sounds of a water fountain are created by the movement of water. As the water flows over rocks or down tiers in the fountain, it creates a gentle, calming sound that many people find relaxing.
Can a water fountain really bring positive energy into my home or office?
Yes, according to Feng Shui principles, adding a water element like a fountain to your space can help attract wealth and prosperity. The flowing water is seen as a symbol of abundance and positive energy. Whether or not you subscribe to these beliefs, there's no denying that a water fountain adds a tranquil, beautiful touch to any space.
Additional Useful Articles
If you are looking for other useful guides and articles about Water Fountain Shops in Singapore, check them out below: