Workshop For Team Building Singapore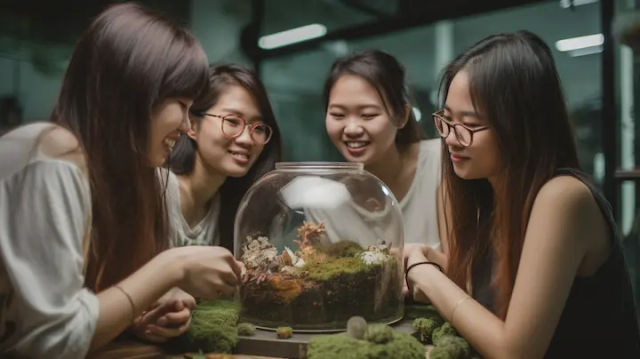 Team building plays a vital role in fostering effective collaboration, improving communication, and boosting morale within organizations.
As companies in Singapore recognize the significance of building strong and cohesive teams, the demand for team building workshops has been steadily increasing. In this article, we present the top 10 workshops for team building in Singapore.
These workshops in Singapore are carefully curated to address diverse team dynamics and cater to specific organizational goals. Whether you're seeking to enhance teamwork, develop leadership skills, or improve problem-solving abilities, these workshops offer unique experiences designed to bring out the best in your team.
What are Creative Workshops?
Creative Workshops in Singapore operate just like any other workshop – bringing people together to engage in an activity. The difference is that such workshops provide an opportunity for people to test or hone their creative capabilities. They do this in an open-minded social setting as a means of fostering a teamwork culture.
Despite the term, Creative Workshops aren't exclusively meant for creative professionals. Anyone, regardless of their career background or age, is fully welcomed to join the sessions. As such, not only is it an excellent and fun activity to do with your friends and colleagues, but also with family as well!
Reasons Why Every Company Should Attend Creative Workshops in Singapore
Yes, Creative Workshops are highly entertaining. However, do you know that there are also benefits to be gained in attending one?
Workplace stress is becoming more common and one attribute is the taxing work environment. Constantly being stuck in the office is only going to escalate this situation.
To prevent this, here are various reasons to motivate you to get up and partake in your favourite team building activities in Singapore outside of your regular surroundings.
1. Encourages Creative Thinking
At the workplace, creativity is an extremely vital skill to possess, yet seems to be rather disregarded. In order to be creative, people have to step out of their comfort zones, take risks and achieve new objectives. Thus, this may seem daunting to a few.
However, creative workshops are conducted in a relaxing and non-judgemental environment. Thus, if you're afraid to showcase your artistic side, no worries! Just express it in any way you feel comfortable and lose the self-consciousness!
This cultivates a workplace culture which inspires people to be more engaged, motivated and confident. Not to mention increases their morale and happiness as well.
2. Develops Team Building Singapore
Participating in Creative Workshops in Singapore allow people to work together and form closer relationships. Workshops such as our Art Jamming and Terrarium sessions, helps people to better comprehend each other's strengths, weaknesses and interests.
This help break down any personal barriers that are hindering the group from striving together. This also builds trust and inculcates a sense of togetherness in everyone, which further strengthens a group's dynamic.
Good team bonding means better collaboration. And better collaboration means a more effective work performance. This is the definition of synergy. As such, attending Creative Workshops not only benefit the attendees on a personal level but also improve the performances of the business. It's no wonder that everyone says that teamwork makes the dream work!
3. Networking Opportunities
As Creative Workshops cater to larger crowds, representatives from various companies will likely mingle and interact with each other. In a surrounding where exhibiting personalities are fully encouraged, attendees, even those reserved, will instantly feel more at ease. This no doubt increases their self-esteem levels. Oh, and not to forget forging of new friendships are always a satisfaction.
Networking is an essential aspect of growing a business by raising its' public profile and influence. The interaction also builds connection, which in turn, opens doors to new opportunities. This is relative for companies or businesses to seize, explore and bring forth inspirations and fresh ideas to the table. Think about it, it's a win-win for everyone.
4. Stress-Relief
This is a no-brainer. Aside from providing a fun and enjoyable experience, Creative Workshops in Singapore serve as a temporary getaway from their hectic work life. Attend our workshops such as our Leather Crafting, and acquire new and unique skills and therapeutic benefits.
Benefits such as reclaiming your mind and regaining concentration. You will head back to work more motivated than before, raising productivity levels!
Team Building Lessons You Will Learn
Creative Workshops not only demonstrate team bonding skills but also promote critical thinking and problem-solving. All these factors are essential for both businesses and personal growth. Hence, they are highly valued.
For this reason, I consider such workshops to truly be a one-stop shop. Get your creative juices flowing and be presented with situations that entail you to think out of the box and analyse problems faced.
At the end of the day, be instilled with traits that constitute a team's effectiveness and functionality.
1. Communication
We have seen time and time again how poor communication can lead to conflicts and undesirable results. Therefore, we cannot stress how critical it is for companies or businesses to prioritise good communication skills, face-to-face conversations and verbal communication. Good communication fosters healthy working relationships with your colleagues and improves efficiency in the workplace.
Creative workshops act as a platform to interact with people, practice and develop communicating ability at a relaxed pace.​
2. Leadership
Being a leader isn't a walk in the park. You are taken as the example whom everyone should aspire to be, and that is a pretty big responsibility to shoulder. However, attending Creative Workshops wi enable you to improve your capability as a leader or even make you aware of your leadership potential.
One of the most crucial characteristics of competent leadership that many people tend to overlook is to consider the needs and feelings of others. When attending Creative Workshops, your interaction and cooperation with other people will equip and strengthen certain admirable qualities that people look for in a leader, such as empathy and respect.
3. Management/Organization
When we discuss good management skills, we're not only implying about time. Being organised brings about many benefits and one of them is an increase in efficiency. Being organised also allows you to be more focused, motivated and to stay on track for tasks.
In order to successfully manage your life, you have to be responsible and reliable. Attend a creative workshop and be rewarded with these values through he hands-on experience. The creative environment you're in also natures your visualisation skill to accomplish better and desired goals.
4. Positive Attitude
Adapting or possessing a positive attitude is the basis of successful teamwork. If you constantly hold a pessimistic view and easily give in to defeatism, the team dynamic will easily diminish, and you and your team will find it strenuous to advance forward.
Creative Workshops provide a comforting environment where you won't be faced with fault-finders, and you could use this opportunity to be who you are by expressing your own ideas and proposals. This not only improves your self-assurance and outlook on work and life but also relations with your team members.
Best Workshops For Team Building In Singapore
At FunEmpire, we have had extensive experience in providing the most unique, interesting yet affordable corporate team building activities and workshops in Singapore to more than 1,000,000 clients.
If you are searching for fun activities for your next team bonding event or things to do in Singapore, look no further.
We have leveraged our years of experience to compile this list of amazing Creative Workshops that you could do with your colleagues, friends and family!
1. Art Jamming
Our Art Jamming sessions are very popular among corporates, schools and consumers. In each Art Jamming creative workshop, there will facilitators providing instruction and guidance for your team building session. There are also additional services available (subject to additional charges) that can be booked, such as sound systems, catering, bus transportation, corporate gifts and more.
We offer different packages for our Art Jamming sessions – Individual and Team Building. As what the name suggests, our Team Building Singapore option boosts team cohesion.
This team building activity infuses team work, communication and bonding elements into the session. Rather than just painting individually, participants will have to work in teams to visualise the painting together and work with each other to complete the painting on a large canvas provided.
We have also recently launched our newest creative workshop team building activity, Tote Bag Art Jamming. Instead of canvas painting, this allows participants to paint on tote bags instead. Each participant will be able to paint their own tote bag designs and bring them back home after the session.
2. Terrarium Workshop
Terrariums are transparent bowls filled with soil and plants (as pictured above) and are commonly used for decorative or ornamental purposes. Even though there are people who have not heard of or are aware of terrarium creative workshops in Singapore, they are gaining popularity among those who are considering alternative favourite corporate team building activity building activities to partake on.
Crafting your own terrarium is extremely worthwhile as it is much more affordable than to purchase it from the stores (which would usually cost you over a hundred dollars). You have the freedom to design and create it in any way you aesthetically-prefer. Did I mention that they're also environmentally-friendly? Have terrarium workshop Singapore as your next team building activity!
3. Leather Crafting Workshop
Leather Crafting creative workshops are considered to be a rather unconventional activity in Singapore, and it does not cross the minds of many people. However, DIY workshops such as leather crafting are not only a one-of-a-kind stimulating experience, you can actually opt to learn interesting stitching skills and make Stitched Leather item. They are also incredibly rewarding as you are allowed to bring your creations home. Imagine using a wallet or cardholder that you made it all by yourself! That sense of pride and accomplishment is priceless.
Depending on the location you decide on, the limit for class sizes will vary. However, a trainer would be assigned to every 12 participants, so larger crowds are fully welcomed to enjoy the leather making workshop nonetheless.
4. Candle Making Workshop
Another DIY and craft workshop that do not garner as much audience in Singapore is Gel Candle Making. It is an activity where both adults and children can be entertained by. Thus, making it a perfect recreation to do for a corporate family day or simply during the weekends. As the process deals with hot wax, young children will be supervised by a trainer.
Making soy candles is a fantastic way to relieve stress and declutter the mind. Due to the properties used, the candles are organic and carry no harmful substances, and are also eco-friendly! As such, if you have a desire to save the earth and would prefer to use health-friendly products, do give this activity a try!
We have explained all about the benefits of gel candles which you can read from our post about Why Gel Candles are better than Paraffin Ones.
5. Cooking Class
According to the Straits Times, signing up for cooking (and baking) classes are on the rise in Singapore, with the opportunity to unwind as being one of the biggest factors for the registration. Contrary to popular belief, cooking classes are not only meant for food enthusiasts and aspiring chefs, but also to anyone who seeks to hang out with friends, family and to associate with new people.
When it comes to our cooking classes, you have a plethora of options to choose from. If you have a sweet tooth, you can sign up for the Dessert Cooking Workshop or Ice-cream Workshop, or if you have a preference for Japanese food, our Sushi Making Workshop or Bento Making Workshop will be suitable for you. We also tailor to specific dietary and nutritional requirements, as Vegetarian or halal options are available and a healthier recipe will be served upon request.
6. Wine Appreciation
Wine Appreciation classes are perfect occasions for social drinking. As wine loosens you up, you may feel confident expressing yourself and interact with people. However, since the legal drinking age in Singapore is 18, anyone who is under age are not allowed to attend our sessions.
Aside from wine (each participant will be served 4 different wines), we provide light bites such as cheese and baguettes to go along with drinks as well. Team building activities can also be conducted if requested.
7. Perfume Workshop
Love smelling good or picky when comes to selecting your scents? If yes, then our Perfume Workshop would be the perfect team building activity choice for you! You do not need to be a scientist to craft out your very own fragrance. To help you with your choice of fragrance, a personality test will be take at the start of the session.
Our workshop also provides alcohol-free options for Muslims, and the classes could be conducted in Mandarin and Hokkien if the audience is uncomfortable in an English-speaking environment.
Want to know what makes Perfume Making such a fascinating activity? Read more about it here: Perfume Making and Personality Types.
8. Flower Arrangements
Flowers have the ability to instantly brighten someone's day, so why not design a bouquet for special someone or even to yourself as a little treat? On top of being able to cater to your location of choice, if you prefer going to our location instead, sessions are mostly held in floral shops. This is where professional florists will oversee you and your team.
Being in a vibrant setting surrounded by the aroma of fresh flowers, it's an outlet for creativity and a place where you and your team could de-stress and spend time together.
There are many more advantages of attending our Flower Arrangements workshop which you can find out from our post: Modern Flower Arrangement and its Benefits.
8. The Power of Synergy
For teams seeking to enhance their problem-solving abilities, the Creative Problem Solving workshop offers an innovative approach. This team building activities singapore encourages participants to think outside the box and tackle challenges from different perspectives. Through brainstorming sessions, interactive simulations, and design thinking exercises, teams develop their problem-solving skills and learn effective strategies for overcoming obstacles. The Creative Problem Solving workshop is known for its engaging activities that stimulate creativity and critical thinking, enabling teams to develop practical solutions to complex problems.
9. Creative Problem Solving
For teams seeking to enhance their problem-solving abilities, the Creative Problem Solving workshop offers an innovative approach. This workshop encourages participants to think outside the box and tackle challenges from different perspectives. Through brainstorming sessions, interactive simulations, and design thinking exercises, teams develop their problem-solving skills and learn effective strategies for overcoming obstacles. The Creative Problem Solving workshop is known for its engaging activities that stimulate creativity and critical thinking, enabling teams to develop practical solutions to complex problems.
10. Leadership Development Intensive
Effective leadership is crucial for driving team success. The Leadership Development Intensive workshop focuses on developing and honing leadership skills within teams. Participants engage in a series of experiential activities and leadership simulations that test their decision-making, communication, and strategic thinking abilities. Led by seasoned leadership trainers, this workshop equips participants with the tools and insights needed to inspire and lead their entire team to achieve exceptional results. The Leadership Development Intensive workshop has garnered acclaim for its transformative impact on participants' leadership capabilities.
Workshop For Team Building Singapore
Investing in team-building workshops is a proactive step toward cultivating a cohesive and high-performing team. The top 10 workshops for team building in Singapore offer a diverse range of experiences and strategies to meet the unique needs of organizations.
Whether your team requires improved communication, enhanced problem-solving abilities, or strengthened leadership skills, these workshops provide valuable opportunities for growth and development.
Embrace the power of team building games and activities and take your team's performance to new heights by exploring these exceptional workshops in Singapore.
Frequently Asked Questions (FAQs)
If you have any questions about the best workshops for team building in Singapore, you can refer to the frequently asked questions (FAQs) about the best workshops for team building in Singapore below:
Why are team-building workshops important for organizations?
Team-building workshops are essential for organizations as they promote effective collaboration, improve communication, boost morale, and enhance productivity among team members. Every corporate team building event provides a platform for teams to develop their skills, build strong relationships, and work towards common goals.
How were the top 10 workshops for team building in Singapore selected?
The top 10 workshops were selected based on their reputation, track record of success, unique features, participant feedback, and their ability to address specific team-building needs. These workshops have proven their effectiveness in improving teamwork, leadership, problem-solving, communication, and other essential skills.
What can I expect from the Power of Synergy workshop?
The Power of Synergy workshop focuses on fostering collaboration and synergy among team members. It includes interactive activities, problem-solving games, communication drills, and trust-building exercises. Participants in your next team building event can expect improved teamwork, enhanced communication, and increased productivity as a result of attending this workshop.
How does the Creative Problem Solving workshop help teams?
The Creative Problem Solving workshop enhances teams' problem-solving abilities by encouraging them to think innovatively and approach challenges from different perspectives. Through brainstorming sessions, interactive simulations, and design thinking exercises, teams develop practical solutions to complex problems, improve their critical thinking skills, and enhance team morale.
What leadership skills can I develop in the Leadership Development Intensive workshop?
The Leadership Development Intensive workshop focuses on developing essential leadership skills such as decision-making, communication, and strategic thinking. Participants in your fun team building event engage in experiential best team building activities and leadership simulations that test and refine their leadership capabilities, enabling every team member to inspire and lead their teams to achieve exceptional results.