Bars With Live Band In Singapore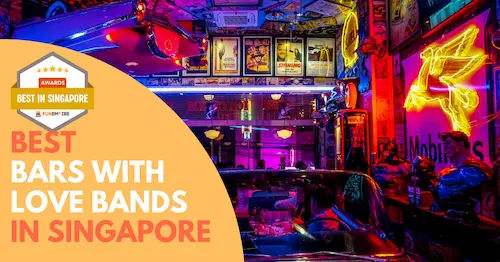 Singapore, known for its vibrant nightlife, is home to a plethora of live music bars that offer a unique melange of music genres.
The best bars with live band in Singapore include Stage, Astor Bar, Hard Rock Café, Wala Wala Cafe & Bar, and Bob's Bar.
When selecting a bar in Singapore that features live bands, take into account elements like the type of music, ambiance, beverage choices, and proximity.
Live band music, popular in Singaporean bars, encompasses a diverse range of genres. Jazz, Classic Rock, Indie Pop, and R&B are particularly adored by the audience.
Let's explore the top live music bars that make the city's music scene truly exceptional.
Quick Summary
Best bars with live band in Singapore include Stage, Astor Bar, Hard Rock Café, Wala Wala Cafe & Bar, and Bob's Bar.
When choosing a bar with live band in Singapore, consider factors such as the music genre, atmosphere, drink options, and location.
The live band music that are popular in bars in Singapore span a wide array of genres, with Jazz, Classic Rock, Indie Pop, and R&B being among the most beloved.
Consideration Factors When Choosing Bars With Live Band In Singapore
Music Genre: The type of music the band plays is a significant factor. Whether it's Jazz, Classic Rock, Indie Pop, R&B, or a mix, it should align with your personal taste.
Band Performance: Check out reviews or previews of the band's performance. A quality live band can make all the difference in your experience.
Ambience: The atmosphere of the bar matters. Some patrons prefer a more intimate setting, while others may prefer a more lively and energetic atmosphere.
Beverage Selection: A good range of drinks, both alcoholic and non-alcoholic, can enhance the overall experience.
Food Options: While not always a priority for everyone, access to good quality food can be a plus.
Location: The bar's location should be convenient and easily accessible. Proximity to public transportation can be a deciding factor.
Seating Comfort: Comfortable seating arrangements can significantly impact your enjoyment of the live music entertainment.
Customer Service: Good customer service can make your visit much more enjoyable.
Price Range: The affordability of the drinks and food should fit within your budget.
Sound Quality: Last but by no means least, the sound quality in a live music bar is crucial. Poor acoustics can ruin a great band's performance.
Best Bars With Live Band In Singapore
1. Stage
Key Services
Western Restaurant
Address
60 PRINSEP STREET, SINGAPORE 188664
Website
https://www.stage.sg/
Phone
+65 6333 0689
Operating Hours
Opening Hours: Daily, 4pm till late
Live Music Daily, 8pm till late
Bring your appetite for live acoustic music to Prinsep Street, where you'll discover this tiny gastropub. Scan the QR code to submit your request for your favorite song.
At 8 p.m., the stage lights up for the band, but before then, you may satisfy your appetite with a hearty Western meal like rib-eye steak or the local-inspired chili crab pizza or laksa pasta.
Wash it all down with fantastic alcoholic beverages that are kind to your wallet!
Key Differentiators
Events
Open Mic
Stage Exposure
Customer's Testimony
Great place for hang out with good food and cocktails!
I enjoy the black pepper beef spaghetti , lobster, prawn and scallop combo and the grilled stuffed cheese squid very much!
Cocktail lover must order the old fashion and butterfly affect!
Coffee lover have to try the flat white, cold brew and dalgona coffee

Jim Tan
2. Astor Bar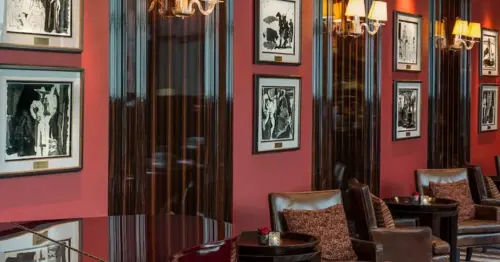 Astor Bar Singapore is the place for you if the typical bar scene isn't your cup of tea and you'd rather be somewhere a bit more sophisticated.
Soak in the relaxing sounds of Ron Sinclair, the bar's resident Jazz musicians, as his soothing voice takes care of any song requests on your mind while you enjoy a cocktail from the bar's extensive selection.
Key Differentiators
Bespoke cocktail list
Sgnature bar's daily rituals
Exudes an aura of sophistication and elegance
Customer's Testimony
Went to the bar Singapore for a celebration on Saturday night (12/12/20), and was served by Von. The ambience of the bar was great for a date night, and the service was impeccable. We want to extend our gratitude towards Von especially, who decided on the drinks for us when we couldn't, and her choices were perfect to each of our liking. Amazing experience, would definitely return!

Eugene Ng Jun Kian
3. Hard Rock Café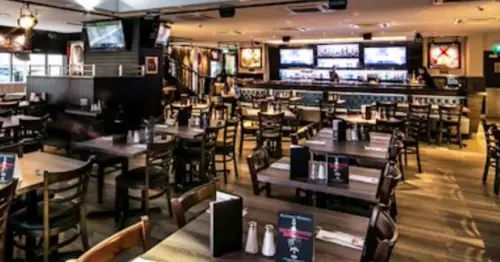 Key Services
Rock 'n' roll-themed chain with a high-energy vibe serving burgers & American classics
Address
50 Cuscaden Road, Hpl House #02-01
Singapore 249724 SG
Website
https://www.hardrockcafe.com/location/singapore/
Phone
+65 6235 5232
Operating Hours
Monday to Saturday:
11:30AM–9:30PM
The name tells you everything you need to know. , In fact, it is one of the city's oldest live music entertainment venues and an Orchard hideout.
It also features some softer music. Hard Rock Café consistently changes genres to keep its lineup interesting, including rock and reggae. It also has a close relationship with the local music scene and promotes up-and-coming local musicians.
Key Differentiators
Range of mouthwatering selections
American classics
Availability of Kid's Menu
Customer's Testimony
Humongous portions. The waiter told us not to worry as we can always takeaway the leftovers. But, we ate it all, down to the last morsel as the food was amazing. So embarrassing. Haha. Will definitely be back!

Yingxi
4. Wala Wala Cafe & Bar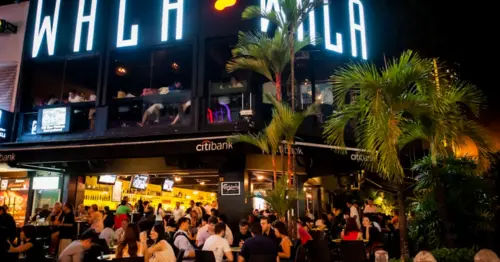 Key Services
2-story pub drawing a festive crowd for live bands, beer, signature cocktails
Casual global eats
Address
31 Lor Mambong, Singapore 277689
Website
http://www.walawala.sg/
Phone
+65 6462 4288
Operating Hours
Monday to Sunday: 3–10:30PM
The best music bar in the city. Enjoy a cold drink at the distinctive yellow-lit bar Singapore and watch the game on several flat-screen TVs on the ground floor. Upstairs, the bar hosts a diverse selection of local performers, with an emphasis on loud rock music.
Key Differentiators
Curbside pickup
Laid-back Cafe
Wide range of global menu
Customer's Testimony
Favourite bar/ restaurant to go at Holland v! Food and music is great! drinks are pretty cheap during HH, (house pours at 6$ per glass). Absolutely Love the fried jalapeño with cream cheese(Forgot to take a photo of it when it came as my friends and I were to excited to eat it). Will be back again for sure!!

Annie Tay
5. Bob's Bar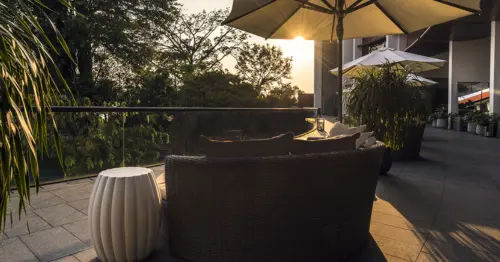 Bob's Bar offers a wide selection of mojitos, Cubanos, Latin music, and even desserts with a wonderful jazz soundtrack. In addition, because of its live house band that performs over the weekend. Also, you may get a dose of Cuban charm thanks to its rum-based cocktails and menu of bar snacks ranging from standard to mildly exotic.
And for the best views, you can enjoy your sundown cocktails on an alfresco terrace.
Key Differentiators
Elegant bar at the Capella Singapore
Offering spirits & tapas
Patio area & sunset vistas.
Customer's Testimony
6. Blu Jaz Café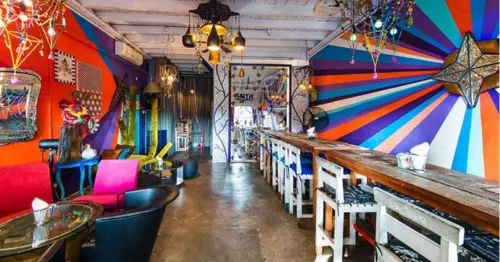 This is without a doubt one of the most fascinating locations to visit while looking for live music in Singapore. It's well-known for its cuisine, beverages, and as the name suggests, jazz music.
If you enjoy the blues or jazz, this is the best live music bar for you, since aside from other musical genres that were presented here, jazz is preferred more!
Plus, on Mondays, Wednesdays, Fridays, and Saturdays, artists from all around Singapore perform in this club.
Key Differentiators
Buzzing hotspot featuring eclectic international eats
Full bar
Quirky decor & live bands
Customer's Testimony
Staff was attentive. Food was tasty. Drink prices reasonable. Indoor seating was comfortable.

HyperNinjaNerd
7. Cuba Libre Cafe and Bar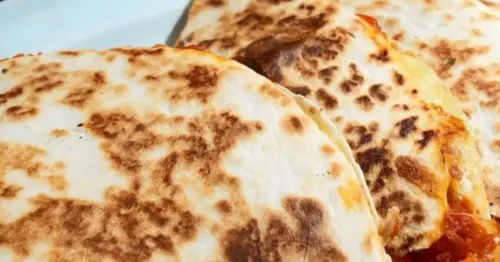 Key Services
Cuban restaurant
Address
3B River Valley Road 01, Clarke Quay Blk B, #01-13, Singapore 179021
Website
http://cubalibre.asia/
Phone
+65 8418 0203
Operating Hours
Monday to Friday
12–10:30PM
The fact that this club is known for live music in Singapore and has a distinctive and unique approach, distinguishes it from the rest.
The club features a wide range of Cuban and Latino music, which you may always boogie to. Apart from that, the warm and cozy atmosphere will make you feel closer to Singapore's diversity of culture.
Every day, with the exception of Sunday, the local musicians perform, and live music begins at around 10:00 PM.
Key Differentiators
Happy Hour
Offers Delivery
Unique range of menu
Customer's Testimony
Personalised service by chef Alex Moreno indulging us with exquisite old world wines with gastronomical food pairing that matches perfectly with each bottle we've chosen! Well done!

Arabelle Chia
8. Le Noir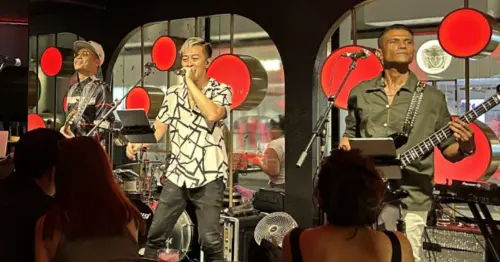 Key Services
Bar
Address
2 Bayfront Ave, #01-84, Singapore 018972
Website
http://www.lenoir.com.sg/
Phone
+65 8684 2122
Operating Hours
Monday to Friday:
4pm – 1am

Saturday & Sunday:
12pm – 2am
While the outdoor seating at this restaurant bar is lovely, the real excitement happens inside – step into Le Noir's ultra-chic, sleek black-and-gold lined interiors and journey to an elegant realm with chandeliers, bright lights, and flowing champagne.
The line-up at this Singaporean live music venue includes international and local performers such as Randolf, Camille & Mox, Syltra, MMLD, and Abby & Vish. Listen to the skilled musicians sing their songs while eating delectable wagyu beef burgers and sipping exquisite wines.
Key Differentiators
Live music
Alfresco setting
Vibrant atmosphere
Greats drinks & casual dining
Customer's Testimony
Perfect Friday evening date night… despite COVID restrictions upbeat vibe, superb Negroni and Fish Tacos, good energy staff super attentive service… say hi to the Godfather Roberto for red carpet treatment and one of the best river front views in Singapore… never disappoints

Pierre Habib
9. Monti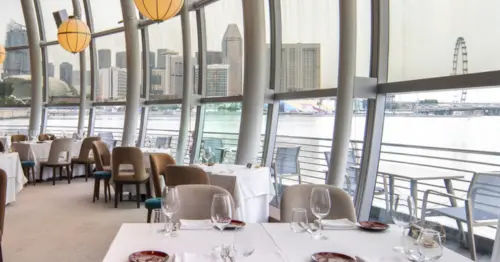 Key Services
Italian restaurant
Address
82 Collyer Quay, Singapore 049327
Website
https://www.monti.sg/
Phone
+65 6535 0724
Operating Hours
Monday to Friday:
11AM–10:30PM
Saturday & Sunday:
9AM–10:30PM
Every evening, this high-end Italian restaurant transforms into a boisterous location with live jazz performers singing out some brilliant music.
Patrons are likely to lose themselves in the delicious food, fiery cocktails, breathtaking views of Marina Bay, and soulful music with renowned artists on the stage frequently.
Key Differentiators
Contemporary hub
Offers Italian cuisine
Rooftop bar
Club nights
Customer's Testimony
This place is impressive, from the food to the service. The burst of flavours when eating the mains is really indescribable. Some places rely on their views/ambience rather than focus on the menu and food, but Monti is impeccable in all aspects. The view, service, ambience and most importantly, food, were amazing. They told us that they spent the past 2 years perfecting their lunch menu, and I must say it was a job well done.

Went for a celebration, had a nice relaxed lunch. Kudos and thank you to the team!

S Chan
10. Hero's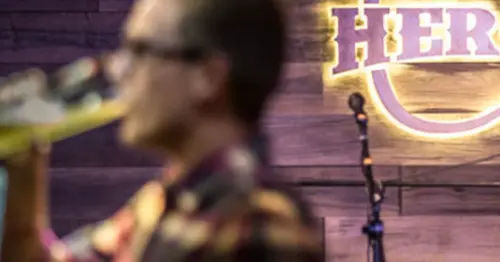 Key Services
Bar
Address
69 Circular Road, #01-01, Singapore 049423
Website
https://heros.sg/
Phone
+65 6438 6058
Operating Hours
Monday to Friday: 11AM–10:30PM
Saturday: 3 PM–10:30PM
Walk back in time to the Wild, Wild West and enter Hero's, a bar that elevates southern hospitality to new heights.
Hero's features a live music stage with foot-tapping live performances every night, including The Souls, About Tomorrow, and Indy Laville. Aside from guest appearances, the resident band Joined Tracks performs classic rock and pop songs that set the tone for stimulating discussion and dancing.
The private area, which is only open to members and their guests, includes draft beer taps as well as a comprehensive selection of tequila, whiskeys, and bourbon.
Key Differentiators
Live Music
Live Sport
Beer Tap Tables
Customer's Testimony
Good vibes and great deals good for chilling out with buddies n friends n of course great selection of finger bites

Tony
Tips for Enjoying Live Music in Singapore
Plan ahead and book your tickets early to avoid disappointment, especially for popular live music bars.
Take note of the days that each bar has live music available and plan accordingly – some have specific genres on certain days.
Check the dress code beforehand, as some bars may have a smart casual dress requirement.
Bring cash for cover charges or tips to show appreciation to the musicians.
Be mindful of other patrons and respect their enjoyment of the live music.
Support local artists by purchasing their merchandise or albums if available.
Don't be afraid to engage with the musicians and let them know you appreciate their performance.
Consider trying new genres of music at different bars to broaden your musical tastes.
Take advantage of happy hour promotions and food menus during the live performances.
Most importantly, have fun and enjoy the lively atmosphere at these top live music bars in Singapore! So don't miss out on these amazing venues with great drinks, delicious food and talented musicians that will definitely make your night a memorable one.
Bars With Live Band In Singapore
There you have it! We have listed the Best Live Music Bars here in Singapore! If music is your passion, then you'll surely love these selections. Whether you're looking for a place to enjoy some music after work or want to party all night long, our list of the best music venues will not disappoint!
Which one of these live music bars are you hopping on to next?
Check out more of our blog posts here:
Frequently Asked Questions (FAQ)
If you have any questions about bars with live band in Singapore, you can refer to the frequently asked questions (FAQ) about the best Bars With Live Band In Singapore below:
What are the best bars with live bands in Singapore?
The best bars with live band in Singapore include Stage, Astor Bar, Hard Rock Café, Wala Wala Cafe & Bar, Cool Cats, Yang Club located at at 3A River Valley Road, Timbre X S.E.A, and Bob's Bar.
Where can I catch live music performances in Singapore?
There are several music venues in Singapore where you can catch live music, such as the Acid Bar, and bars around Marina Bay Sands. These venues feature a variety of live performances from local and international artists alike.
What makes Acid Bar one of the best live music bars in Singapore?
Located on Bali Lane, Acid Bar is known for its live acoustic tunes, creating an intimate and relaxed atmosphere. It's a place where music lovers can enjoy a wide range of genres performed by talented local bands while indulging in good food and drinks.
Can I enjoy live music at Marina Bay Sands?
Yes, Marina Bay Sands hosts a variety of live music performances at its different venues. Whether you're enjoying a meal at one of their restaurants or having a cocktail at their rooftop bar, you can often catch live music to enhance your experience.
What kind of music can I expect at a live music bar in Singapore?
Live music bars in Singapore offer a wide array of music. You can enjoy everything from acoustic tunes, jazz, rock, pop, to local and international hits. The variety ensures that there's something for every music lover.
Are there any live music bars that also serve as a cocktail bar?
Yes, many live music bars in Singapore also operate as cocktail bars. These venues provide a fun night out with expertly crafted cocktails and live music performances, making for a lively and enjoyable atmosphere.
What can I expect when visiting the Shaw Foundation Symphony Stage for a music event?
The Shaw Foundation Symphony Stage, located within the Singapore Botanic Gardens, regularly hosts outdoor concerts. You can expect a unique live music experience in a beautiful, natural setting. Remember to bring a picnic mat, some food and drinks, and enjoy the performance under the stars!
Does the Hard Rock Cafe in Singapore offer live music performances?
Yes, the Hard Rock Cafe in Singapore is known for its live music performances. It's a great place to enjoy rock 'n' roll music while dining on American-style food. The energetic atmosphere and iconic music memorabilia make it a popular choice for music lovers.
How early should I arrive at a live music bar to get a good spot?
It's generally a good idea to arrive at least 30 minutes before the performance starts. This gives you time to find a good spot, order some food and drinks, and settle in before the music begins.
Can I request songs at live music bars in Singapore?
Yes, many live music bars in Singapore allow patrons to request songs. However, this depends on the venue and the performers, so it's best to check with the staff beforehand.
Additional Useful Articles
If you are looking for other useful guides and articles about Bars With Live Band In Singapore, check them out below: