Company Incorporation Singapore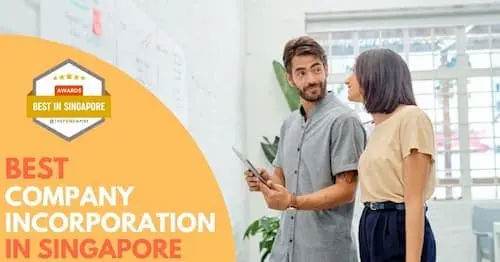 When it comes to establishing your business presence in Singapore, the importance of choosing the right company incorporation service cannot be overstated.
The best company incorporation services in Singapore include Sandhurst Consultancy, Fastcorp, Lanturn, Osome, and Aspire.
When selecting a company incorporation service in Singapore, take into account factors like reputation, experience, and pricing.
In Singapore, company incorporation services provide various offerings such as company registration, secretarial support, accounting services, and compliance assistance.
By the end of this post, you should have a good idea of which service is right for you!
Quick Summary
Best company incorporation services in Singapore include Sandhurst Consultancy, Fastcorp, Lanturn, Osome, and Aspire.
When choosing a company incorporation service in Singapore, consider factors such as reputation, experience, and pricing.
Company incorporation services in Singapore typically offer a range of services including company registration, secretarial services, accounting services, and compliance assistance.
Best Company Incorporation Singapore
1. Sandhurst Consultancy
Key Services
Company incorporation
Corporate secretarial
Accounting
Corporate Tax GST
Address
77 high street # 03-01 High Street Plaza Singapore 179433
Website
https://www.e-sandhurst.com
Phone
63384202
Email
info@e-sandhurst.com
Operating Hours
Monday to Friday 9am-6pm
At the moment, Sandhurst Consultancy is a rapidly expanding consulting firm based in Singapore that specializes in company formation/setup, registration, financial accounting, taxation and business advisory. They assist businesses in Singapore and the rest of Asia in taking full advantage of the pro-business policies and tax incentives offered to new companies looking to establish operations. The firm was recognized for its outstanding service by being awarded the first place in the category of Business Consultancy in the Expat readers' choice award in 2019.
The accountants at Sandhurst Consultancy are all qualified and have more than 28 years of experience in the business. As a result, they not only offer company creation services, but also provide important back-up service such as tax advice, GST registration, business process outsourcing, payroll and accounting services.
By means of a qualified company secretary, Sandhurst Consultancy offers guidance and assistance on good corporate governance procedures and compliance to a variety of statutory regulations and standards.
Key differentiators
Qualified Company Secretary as well as Qualified Accountants
Makes sure the company complies with the law
Dedicated team of experienced support staff
Client Testimonial
I engaged Sandhurst from offshore for setting up my company in Singapore. From the very first communication to this time point, I have found them to be excellent at the services they provide. They are honest and upfront about the realities and do not make false promises. Their communication and practices are perfect and timely, and their recommendations genuine. They have provided excellent services and beyond to ensure I have all the information I need. Mr. Sukhbir and Ms. Maribel are very knowledgeable and pleasant people to deal with. My experience of them has been fantastic and I would definitely recommend their firm.

Sidharth Handa
2. Fastcorp
Key Services
Company registration
Work Passes
Accounting
Tax Services
Corporate Services
Corpass & Licensing
Payroll Services
Funds
Business Advisory
Address
250 North Bridge Road
12-02 Raffles City Tower
Singapore 179101
Website
https://fastcorp.sg/
Phone
(+65) 6817 9888
Email
help@fastcorp.sg
Operating Hours
Monday – Friday 9.00 am – 6.00 pm
Fastcorp has assisted hundreds of aspiring business owners in setting up their firms in Singapore over the last 20 years, having helped thousands of individuals.
They are recognized for providing inexpensive, dependable, and, most importantly, quick company formation services.
Your firm can be registered with all requirements completed in as little as an hour! Everything will be taken care of in a matter of minutes, from the company seal to the corporate bank account.
The key to the company's success is its team of experienced and competent corporate advisors, who provide legal counsel and help in other sectors. If you're thinking about hiring their services, give them a call now!
Key Differentiators
Team of experienced corporate services professionals with years of training
Provide leading edge business services
Most competitive prices
Client Testimonial
Last week I contacted Fastcorp with an inquiry for incorporating my company in Singapore. The outstanding service started the moment I sent my first message. Within a few minutes i received an email response and was able to set up a brief introductory phone call to better understand the service they provide. The call was followed up with a detailed email outlining all the next steps. Through the entire process all my questions were answered quickly, they never once pushed a product or extra service on me and the final meeting to incorporate the company took less than two hours and the whole team was prepared for my visit and everything went very smooth.

Richard Harrison
3. Lanturn
| | |
| --- | --- |
| Key Services | Incorporation, Accounting, Corporate Secretary, Immigration Services, KYC, Taxes, Payroll, Fund Administration, Fund Formation |
| Website | https://www.lanturn.com/sg |
| Address | 160 Robinson Road #24-09, S0689142 |
| Phone | +65 6304 8087 |
| Email | hello@lanturn.com |
| Operating Hours | 9AM to 6PM |
Lanturn is a modern corporate and fund services company for the growth-minded. It offers UX-driven corporate and fund services for high-growth companies and asset managers. With Lanturn, your business will have unparalleled technology and an expert team giving you peace of mind so you can focus on achieving your business goals.
Lanturn has the trust of 400 businesses and over five years of experience can get you the edge your company needs to start strong right from the get-go.
For 2023, Lanturn is introducing its Launch with Lanturn program that offers affordable business registration packages for self-fund business owners in Singapore.
Key Differentiators
Highly experienced team
Custom-built technology
Fair and Transparent Pricing
Client Testimonial
We've been engaging with Lanturn for more than a year now and using their platform allows us to save time—significantly! It provides real-time updates and communication, and this is crucial when you're running a startup. The flexibility that the platform provides also helps us to automate many processes.

Jamie Lee, The Kind Friend, Co-Founder
4. Osome
Key Services
ACCOUNTING
SECRETARY
INCORPORATION
Address
39 Robinson Road, Robinson Point, #11‍-‍01, Singapore 068911
Website
https://osome.com/sg/
Phone
+65 6589 8807
Email
hi@osome.com
Operating Hours
Open 24 hours
Osome is a virtual service provider that specializes in assisting businesses solely in the online world. It provides corporate secretary, accounting, taxation, and, of course, the finest company registration in Singapore as part of its services.
If you don't want to deal with a huge stack of paperwork, Osome can be the firm for you.
Clients can rest confident that they will never have to deal with the pain of organizing and submitting paperwork to be registered after being introduced to Osome's signature service.
Osome's mobile application is available for download, allowing interested parties to contact them using their mobile phone.
Key Differentiators
Answer your questions in a chat or a call
Collect data about your business
Prepare a quote for your specific needs
Client Testimonial
Amazing service. They managed to setup my company in one day. The communication through the osome app made it super simple, all the signing, documents and all complex stuff are managed there with ease.

The client success team is so helpful, answered all my questions and assisting in opening a bank account.

They go far and beyond with customers service. Highly recommended for anyone trying to open a business in Singapore.

Saif Abas
5. Aspire
Aspire is the leading digital bank for businesses, designed especially for modern entrepreneurs and startup owners.
The company's end-to-end incorporation service enables individuals from all throughout the world to establish their firm and open a business account in Singapore in less than 10 minutes, entirely online.
With its rapid and completely online procedures, Aspire helps businesses to save time and money. It's the best choice for foreign entrepreneurs and startup founders because of its low start-up costs.
In addition, Aspire's incorporations get you access to a business startup kit with over S$50,000 in goodies from the world's most renowned business technology brands including Google, Microsoft, Xero, AWS, Stripe, Shopify, Hubspot, and more.
Key Differentiators
Open an account in 5 minutes
No hidden fees
All in one place
Client Testimonial
Have been using Aspire as my business banking partner and support has been very prompt and good. Highly recommend using Aspire for your banking needs.

Hana J. Owens
6. Lanturn
Key Services
ACCOUNTING AND TAX
CORPORATE SECRETARY
INCORPORATION SERVICES
IMMIGRATION & VISAS
VIRTUAL CFO
Address
160 Robinson Road
24-09, SBF Center,
Singapore 068914
Website
https://www.lanturn.com/
Phone
+65 6304 8087
Email
hello@lanturn.com
Operating Hours
Monday to Friday: 9AM–6PM
There's one thing that distinguishes Lanturn from the competition, and it's the fact that they have a knowledgeable and skilled staff of advisors. They're prepared to go above and beyond to help small business owners alleviate their stress.
We strongly advise business owners who are unfamiliar with government rules and regulations to seek assistance from Lanturn's professional staff.
Over and above that, as one of Singapore's top suppliers of excellent incorporation services, it eliminates the need for paperwork using its own program.
It's also a well-known Singapore all-inclusive corporate services provider, so company owners don't have to be concerned about spending a lot of money in the early phases of their enterprises.
Key Differentiators
Trusted by over 300 companies
Makes your entrepreneurial life easier
Digital Corporate Services
Client Testimonial
Recently switched to Lanturn from my previous accountant. Simply a breath of fresh air!

Red tape is no longer a headache, no more time-wasting walls of text. Lanturn uses Xero, so there's no need to send extracts and try to guess what the accountants want.

In addition, Lanturn provides specialised services for tech startups like us: valuation analysis for fundraising needs, virtual CFO. All that with a great quality of service and competitive pricing.

Vadim Berman
7. Bluebox
Key Services
Ventures and Startup Advisory
Digital Transformation
Variable Capital Companies
Address
10 Marina Boulevard Level 39 Marina Bay Financial Center Singapore 019983
Website
https://blueboxglobal.com/
Phone
+65 6970 6990
Email
hello@blueboxglobal.com
Operating Hours
Monday to Friday: 9AM–5PM
Bluebox is a firm that provides high-quality services to its customers. Their main concentration is on entrepreneurs, high-growth businesses, and investors located in Asia.
They've grown their business operations to consultancy services, investor services, and more after forty years in the business.
You may rely on Bluebox to offer the finest assistance services available.
Key Differentiators
Have been around a long time
Put clients' interests before their own
Global Expertise
Asia's First
8. Hawksford
Hawksford is a firm that specializes in company formation and incorporation services.
They provide services that are designed to meet the specific demands of each client and his or her business requirements.
A business formation kit is the best aid in setting up your new firm, which can be completed in as little as two days. Through the process, you will get the required assistance to open your own company.
Hawksford also offers access to world-class resources for entrepreneurs like them and their network of worldwide partners and consultants.
The management at Hawksford has developed a winning strategy for success that makes life simpler for both entrepreneurs and company owners.
They are unique in the market since we do more than offer standard incorporation services.
They'll also advise you on creating and maintaining a strong company culture while protecting your new business with creative intellectual property rights.
Key Differentiators
Strategic Hub
Tax Benefits
Leading Provider
Dedicated Team
Customised Solutions
Accredited by Governmental Authorities
Multilingual Account Managers
Over 200 Qualified Experts
Client Testimonial
Hawksford have been faultless in supporting myself and my company in setting up in Singapore, arranging employment passes, sorting out international tax queries, managing company financial submissions and even helping with my personal Will.

I cannot speak highly enough of Hawksford Singapore and everyone there I deal with. A wonderful experience and I look forward to many more years for their support.

John Arnup
9. Venture Haven
Key Services
Company Incorporation & Registration
Company Secretary & Secretarial Services in Singapore
Accounting and Outsourced Bookkeeping Services
Passes & Immigration – Working in Singapore
Closing a Singapore company
Website Design & IT Services
Address
531A Upper Cross Street #04-95, Hong Lim Complex Singapore 051531
Website
https://venturehaven.com.sg/
Phone
+65 6444 3130
Email
contactus@venturehaven.com.sg
Operating Hours
Monday – Friday: 9:00am – 7:00pm
VentureHaven is dedicated to assisting you and your company through the incorporation process, up to and including annual compliance requirements.
With a transparent and straightforward system, they communicate business registration requirements clearly, then create compelling content for you to share on your website that keeps the company's name in the minds of potential customers.
This helps them stay informed about your brand and leads to greater purchases from new consumers. As a result, it increases sales, improves customer loyalty.
With VentureHaven's assistance, you can register your firm name, incorporate it, and open a bank account in one day! If you have concerns about the entire procedure, you can count on their courteous and helpful personnel for answers.
Key Differentiators
Over 8 years of corporate experience
Offer additional corporate accounting and secretarial services
One-stop provider of company formation and financial advisory services
Client Testimonial
I'd like to compliment Cheryl and Jasmine for their excellent service in assisting me in incorporating a new company in just a few hours. They helped me to prepare all the documents and provided their professional opinions.

Their professionalism and ability to get to the bottom of the situation quickly exceeded my expectations. I'd highly recommend VentureHaven as your business partner.

Alice Ho
10. Bestar
Key Services
Visas & Immigration
Goods and Services Tax (GST)
Mergers & Acquisitions (M&A)
Tax Services
Accounting & Bookkeeping Services
Payroll Services
Corporate Secretarial Services
Company Incorporation Services
Address
23 New Industrial Road
04-08 Solstice Business Center
Singapore 536209
Website
https://bestar.com.sg/
Phone
+65 6299 4730
Email
admin@bestar.com.sg
Operating Hours
Monday to Friday: 9AM–6PM
In order to register a company, you must show that all the necessary paperwork has been acquired.
This firm collaborates with you to ensure that you receive all of the documents required to establish your business.
If you're searching for a firm that offers a wide range of services and has the significant industry knowledge, Bestar is the business for you. The organization provides human resources assistance, accounting, and financial counseling.
If you want to get your business up and running quickly, go with Bestar. The staff was able to successfully register firms without difficulty.
Key Differentiators
Provide local and international GST consultancy
Ideal location for global businesses
Provides comprehensive accounting and bookkeeping services
Client Testimonial
I must say I am highly impressed with the services and the way they have
Deal with me. Very good staff very good team with perfect knowledge good people I recommend working with them 🙂

Baljit Singh
11. IMC Group
Key Services
Investment holding company
Actively invested across a diverse portfolio of investments
Address
9 Temasek Boulevard
06-02A Suntec Tower 2
Singapore 038989
Website
https://www.imcgroup.net/
Phone
+65 6336 2233
Email
groupcomms@imcpaa.com
Operating Hours
Monday to Friday: 8:30AM–5:30PM
The IMC Group is dedicated to assisting investors, business owners, and small businesses in incorporating their enterprises and making the procedures quick and straightforward.
The objective of the organization is to offer simple expert services including business secretary, accounting, taxation, and other company incorporation services for large enterprises, small businesses, and startups in Singapore.
They want to assist businesses at every stage, from the time they begin up until any share concerns arise. They make certain that their staff is prepared to deal with your company formation requirements at all times.
The IMC Group is a well-known company formation agency in Singapore that specializes in business incorporation services. They are one of the city-state's most popular companies offering a wide range of corporate services to businesses wanting to launch or expand their operations.
Key Differentiators
Provide company incorporation services
Assist on every stage of business and entrepreneurship
Professional team of staff
12. TMF Group
If you're searching for a company that provides excellent service, TMF Group is the business to contact. It is the global leader in business solutions and provides numerous services to both large and small businesses.
TMF Group's accounting, tax, corporate secretarial, consultancy solutions, payroll services, and of course, the finest company formation services in Singapore are but a few of the services it offers.
Despite the fact that its rates may be higher than those of comparable businesses on the island, it provides assurance that your company will be well handled by the island's top business consultants.
Key Differentiators
Localised electronic HRP services
Awards and certifications
Since 1999
Company Incorporation Singapore
Company incorporation in Singapore is a complex process, but by understanding the different services available, you can make an informed decision about which company is right for you.
In this blog post, we have discussed the Best Company Incorporation Services in Singapore and why you should choose them. We've also summarized the process of company incorporation so that you can get a better sense of it and you'll know which service is ideal for you.
Before you go, do check out our other articles as well!
Frequently Asked Questions (FAQ)
If you have any questions about company incorporation in Singapore, you can refer to the frequently asked questions (FAQ) about the best Company Incorporation Services in Singapore below:
What are the best company incorporation services in Singapore?
The best company incorporation services in Singapore include Sandhurst Consultancy, Fastcorp, Lanturn, Osome, and Aspire.
What is the role of the Corporate Regulatory Authority in Singapore company registration?
The Corporate Regulatory Authority (ACRA) in Singapore is responsible for overseeing the registration of business entities, including Singapore companies and foreign companies. They ensure these entities comply with relevant laws and maintain a reliable and accessible record of information.
How does Singapore Companies differ from Foreign Companies?
Singapore Companies are incorporated or registered in Singapore itself, while Foreign Companies are those incorporated outside Singapore but have set up a branch or subsidiary here. The key difference lies in where the company is originally incorporated and where its headquarters are located.
What are the types of business entities that can be registered in Singapore?
There are several types of business entities in Singapore: sole proprietorship, partnership, limited liability partnership, Singapore private limited company, and foreign company (which includes branches and subsidiaries of foreign companies).
What are company secretarial services and why might my Singapore company need them?
Company secretarial services in Singapore handle administrative and compliance aspects of a company. These may include ensuring compliance with statutory requirements, maintaining company records, managing share allotments and transfers, and more.
What is a Singapore Private Limited Company?
A Singapore Private Limited Company is a type of business entity in Singapore. It's a separate legal entity from its owners, which means the owners' personal assets are protected from business debts and liabilities.
What is the process for Singapore company registration?
The process for Singapore company registration involves reserving a company name, preparing company constitution, appointing directors and a company secretary, registering with ACRA, and commencing business activities.
Can I choose any company name for my Singapore business?
Yes, you can choose any name as long as it is not identical or too similar to any existing local company names, it does not infringe on any trademarks, and it is not offensive or vulgar. The name approval is at the discretion of ACRA.
Can a foreign parent company register a business in Singapore?
Yes, a foreign parent company can register a branch office or a subsidiary in Singapore. The branch office is not a separate legal entity from the parent company, whereas the subsidiary, often registered as a private limited company, is a separate legal entity.
What is the difference between a sole proprietorship and a private limited company in Singapore?
A sole proprietorship in Singapore is a business owned by one person, who has unlimited liability for all debts and legal actions of the business. On the other hand, a Singapore Private Limited Company is a separate legal entity, limiting shareholders' liability to their share capital.
Additional Useful Articles
If you are looking for other useful guides and articles about Company Incorporation Services in Singapore, check them out below: