Computer Repair Singapore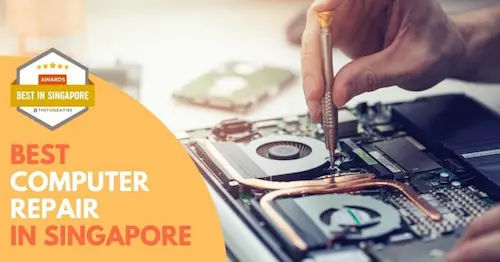 From malfunctioning hard drives to software bugs and network issues, computer troubles can be a major inconvenience.
The best computer repair services in Singapore include LYK Repair, Pronto Arigato, RM Computer Services, Digital Hospital, and TRIT Computer Repair & Data Recovery.
When selecting a computer repair service in Singapore, take into account factors like pricing, service speed, expertise, and customer feedback.
In Singapore, common computer repair issues include hard drive failures, software glitches, virus or malware infections, and hardware problems like damaged screens or keyboards.
Whether it's a hardware glitch, software bug, or network issue, these services are ready to get your system back up and running in no time.
Best Computer Repair Singapore
1) LYK Repair
From cracked screen repairs and battery replacement, to motherboard replacements and water damage repairs, our dedicated technicians will be able to fix your mobile device at your home or office at a time that is convenient for you.
LYK Repair specializes in mobile device repairs for brands like Apple. They've serviced thousands of phones and able to replace power/home buttons, replace damaged charging ports, perform country/network/SIM unlock, place burnt out microprocessors and re-flash your drive in the case of software/OS corruption.
Key Differentiators
Part of the Independent Repair Provider Program which provides access to Genuine Apple Parts
3 locations island wide and offer onsite repair
Professional and trained technicians
One of the best reviewed repair centre in Singapore
Client Testimonial
My phone repaired ! Strongly recommended IPhone lover repair shop! You know who you are ? Very professional done and repair at a good reasonable price . 5mins walk Near to taiseng mrt . Waiting area is cosy and free wifi for waiting store.

Awesome Ness
2) Pronto Arigato
Pronto Arigato started off humbly as a home-based service provider doing MacBook repair. Years later as their hobby turned into a passion, they opened their service centre at Jalan Sultan. Over the years, they've taken this business further than they could have possibly imagined and they owe the success to all of their delighted customers. Their amazing reviews from satisfied customers speak for themselves in showing their commitment to providing excellent service.
Pronto Arigato provides repair, maintenance and upgrade services on Apple and Windows devices. They stand behind their work to ensure that customers are 100% satisfied. They never have and never will have hidden charges. They have and will continue to have their business grow around Integrity as the core value.
Key Differentiators
They provide islandwide collection and return of your devices for FREE!
They provide a warranty for the parts that were replaced by them!
They practice clear and transparent pricing, never have and never will have any hidden charges.
Client Testimonial
This is the second time that I have engaged the services of Pronto for my Apple products. I can only say that they have been very professional, quick to respond and delivered the goods in good working condition. In October 2020, they fixed my MacPro- replaced the motherboard and it is working like new. This time, they had to replace the battery of my iPhone8. It was done in less than an hour. Dean goes the extra mile to give you tips for the best care for your gadgets. Keep up the good job!!!!
3) RM Computer Services
With the support of their customers, RM Computer Services is following the 12th year in the same place for your service. In the Computer and Phone repairing & troubleshooting they have a vast experience with last twelve years. In Singapore, they are always trying to maintain the quality of service and customer service.
For always, they are serving our customers with a brand new smile and respectful attention. They always try to solve the problem of the equipment and send to the customers as soon as possible, it is their plus point. Most of their customers like them because of not only best price but because of RM Computer Services' trustworthy service.
Key Differentiators
Specialist in Mac and PC as well as expertise in Apple and Android Phones
They also undertake Website and Graphics Works
Complete Business IT Support
Client Testimonial
"Fantastic service, knowledgeable and supportive for my needs. They were also very efficient and made my experience smooth and seamless. Would highly recommend using their service!! Thank you again."

Adrian Silva
4) Digital Hospital
Digital Hospital strives to provide consumers with the most affordable and cost effective way of computing while being mindful of the environment and reducing technological waste. If your device suffered liquid damage, mechanical & electrical issues, screen failure, Wi-fi failure, won't power on or has hard drive failures. Digital Hospital has them covered.
5) TRIT Computer Repair & Data Recovery
Are you looking for quality, affordable Apple Macbook repair, iMac repair, iPad repair, Laptop repair or Computer repair service? Do you want a professional Mac repair service that values you as a customer and has over 8 years of experience in the industry? Choose TRIT Computer today for their expertise and professionalism.
TRIT Computer specialises in repairs and offers a wide range of computer repair services for a wide range of models including Apple iMac Repair, Retina MacBook Repair, MacBook Pro Repair, MacBook Air Repair, iPad Repair, Mac Pro Repair, Mac Mini Repair, Data Recovery and other Computer Repair such as PC Repair & Laptop Repair.
6) The Digital Mage
The Digital Mage loves and utilizes gadgets, just like you! With this in mind, you can relax knowing that your computers and technology are in good hands. Windows laptops, Macbooks, tablets, and even cellphones—there's no end to the devices they can fix. However, it's worth noting that this store offers one of the longest warranties out of any store in the mall.
Regardless of how badly your gadget is damaged, you'll be given the same length of warranty coverage. As a result, if this is something you care about, The Digital Mage may be your best option. They also provide trade-in services in case you want to upgrade to a new device. In addition, they have a variety of used computers, if that's more your speed.
While their Northstar service centre might be tough to find, you may use their free pick-up and delivery services. There are no fees for diagnostics, either.
Key Differentiators
Free pick-up and delivery services
6-month warranty for all repairs
Client Testimonial
Thanks to Mike and his team, it has just been repaired at an affordable rate that comes with warranty!!! They also replaced my keyboard and battery; and upgraded it to the latest ios. The whole process was Hassle free as they offered pickup and delivery right at my doorstep.

Bernice Lau
7) Family Data Recovery
Next, we have Family Data Recovery – a one-stop shop that can help you with all of your laptop repair needs. You may entrust your loved laptop to them, regardless of the problem. Their area of expertise, however, is data recovery, so contact them if this service is what you're searching for.
They'll first examine your laptop to find out what's wrong with it, then they'll repair it. They'll also make sure to educate you on the problems with your laptop so that you can avoid similar situations in the future.
Key Differentiators
Free quote
Services various laptop models
8) Tekkie Help
Tekkie Help is a great choice for small and medium-sized companies since they provide a large range of IT-related services. Apart from laptop repairs, they are frequently mentioned as the best WiFi repair business.
Tekkie Help, on the other hand, charges by the hour and isn't necessarily the most reasonable alternative. Furthermore, if you don't want to use their services, they charge a diagnostic fee for computer repairs. And because they provide service all over Singapore, there is also a $95 call-out fee in addition to actual repair expenses. For a regular small or medium-sized business, a simple computer repair can cost up to $200.
These fees, alone, may put them at a disadvantage; however, we respect that their pricing model is upfront and clear from the start. Nonetheless, because to their effectiveness and professionalism while working, costs are offset.
Key Differentiators
Emergency repair service available
Wide range of IT services
3-month warranty for hardware repairs/replacements
Client Testimonial
I have been using Tekkie Help for several years now, and they are my 'go to' team anytime I have a computer glitch that I can't fix. So far, their success rate with me is 100% and again, they have solved my issue on the first visit. It gives me great peace of mind knowing that they are there and that they can just about fix anything

Naras Lapsys
9) iDevice Repair Centre
The first reason we included iDevice Repair Centre on this list is because it boasts a quick repair time, with turnaround times ranging from several hours to a few days on average.
Thanks to their free diagnostics service for all gadgets, if you want to shop around for the best rates, this store won't keep you waiting. They also provide a 90-day warranty on all repairs, which is great. This means that they will fix your device for free if you encounter problems within the 90-day period should you choose not to upgrade your plan.
Key Differentiators
Free diagnosis
Repairs a wide range of devices and 90 days warrenty
Quick turnaround time
Client Testimonial
I'm glad and lucky to find this shop and I can't stress enough how responsive and fast they resolved my laptop battery problem. I really recommend you visit iDevice Repair Centre for your device repair needs and not to mention how reasonable their service fees are.

Ruben Sabejon
10) Lynx IT Services
As a full-range PC repair shop, including Lynx IT Services on our list is an obvious choice, and here are some of the reasons why. You won't have to worry about spending a significant amount of money no matter how long it takes to repair your laptop because fixed repair fees are in place. Not to mention that they operate on a "fixed price" basis, which means you will be charged a flat fee for repairing your laptop and there won't be any hidden surprises after the job is completed.
They stand out from the competition because they also provide a free 30-day remote support service starting on the day they fixed your laptop if there are any problems. You may also come to their service center to have them take a closer look at your device and see what needs to be repaired; there will be no cost whatsoever.
Despite the fact that they mostly operate in-store, one of the things we appreciate about them is that they provide an emergency doorstep repair service, so they can come to your house for computer repairs on Sundays and holidays! It might have been more beneficial if there was a link to fixed rates and call-out costs on their website.
Key Differentiators
"No fix, no fee" policy
Emergency repair service available
Free diagnostics
Warranties apply
Client Testimonial
They were so fast and amazing :') My laptop couldn't turn on for about 2 weeks, I brought it here for a diagnostics and within 30min, they called me to say my laptop was able to run again and that I could collect it. And they didn't charge me a single cent for the diagnostics, it was totally free. Super kind and honest of them. I really appreciate it, thank you guys so much!

Christel
11) Come to Repair
They allow everyone to "come by for a repair" since they can handle anything from your device. You won't have to worry about paying if they can't provide you with a solution, as they have a "no fix, no fee" policy.
They're also Apple-certified professionals, which means they only use genuine or top-quality components for repairs. We can't help but add that they're really quick at completing repairs, too, because they operate on a first-come, first served basis. As a result , we recommend coming in early to get your laptop back within a few hours. We can understand that an appointment may not be possible for everyone, but they're still the best service in town .
Another thing to take note of about this business is that they are highly accessible, even for those with demanding jobs. Repair is open seven days a week, from 11 a.m. until 8 p.m., allowing customers enough time to have their devices checked out.
Key Differentiators
Apple-certified technician
Free diagnostics
Only pay when items are fixed policy
Client Testimonial
Had one of the best experiences, the technician was able to diagnose my problem immediately and revert within 24hrs. The technician was also able to provide me with some alternatives and recommendations, which I really appreciate – not just forcing the fix and the price like some other shops. Very responsive during chat as well

Antonius Howard
12) M3 Digital Hub
Within City Square Mall, they also ensure that all of their laptops and gadgets are in good hands by only hiring technicians with at least 3 years of expertise. They specialize in Macbook and iPhone repairs, but they also repair Windows laptops and Samsung phones. They recycle electronic waste appropriately as part of the mall's commitment to environmental sustainability, which is why we're giving them 5 stars for this!
The good news is that they will check and diagnose your device for free. Furthermore, if you decide to continue, you can watch the whole repair process at their shop—there's no need to worry about them reading your files! While you may conveniently make an appointment for their complimentary diagnostic service online, the only disadvantage is that the portal is only open for pre-bookings from 9 AM to 6 PM. That's how good their services are!
We appreciate their lengthy business hours, as well as the fact that they are one of the few repair businesses that are open on public holidays. With a 60-day warranty service for all repairs, there's no doubting why they've earned returning consumers. And, as an added recommendation, we've heard that they may provide incentives for referrals.
Key Differentiators
60-day warranty
Discounts available
Same-day repairs available
Client Testimonial
Splendid experience! Highly recommended for excellent service and no hidden charging for their services! We tried this shop and had a very good impression from start to finish. Trust was established from the start, which I say, is a component. After reviewing our techs, the problems were presented with remarkable solutions (will be repaired in front of you) then comes their fare charging (i would say). So overall, we are satisfied customers and our gadgets were fixed by the way and that's the most important thing why we went there. Thank you M3 digital hub and more power to your shop

France Bergundo
13) Laptop Doctor
Laptop Doctor is a joint venture between the two most qualified laptop repair companies in Singapore. With over 20 years of expertise, they are experts in their field. When it comes to client service, you won't find them wanting. They fully comprehend the agony of living without a laptop, which is why they provide temporary laptop loans. Only genuine and high quality parts are used to ensure that you get your laptop back up and running in good time.
Key Differentiators
same-day repair
free consultation and quick solutions
convenient laptop loan
free pick and drops service
Client Testimonial
I changed the battery on my Dell XPS 13 and the computer couldn't start anymore. Brought to Uncle William. He fixed it on the spot in 10mn. Fantastic Uncle William, will recommend to my friends. Thanks again!

Guillaume de Penanster
14) Nascorps
If your laptop's battery is failing, you won't have to worry about e-waste produced by Nascorps. E-waste recycling is an important part of their business philosophy. They repair a variety of electronic gadgets, including laptops, printers, servers, and more. All replaced components will be recycled with your permission, of course.
First, you may rely on their free e-waste disposal service to ensure that your broken laptop does not produce any e-waste. This service also includes a data deletion process to guarantee that your data is safe. Because of this service, they are a popular choice among the banking and gaming development industries. It's worth noting that after the free recycling, they will donate a laptop to a child in need.
They offer a 4-6 day delivery time, and we appreciate that they have a decent turnaround time, which is between 4 and 6 days on average. They finish fundamental repairs in the majority of cases within 24 hours or less.
Key Differentiators
Eco-friendly
Repair services for a range of devices
Client Testimonial
I had an issue with my keyboard that required replacement. The owner and the staffs of the Nascorps were responsive and really helpful in sorting out the replacement work at a reasonable price. I highly recommend this place for anyone requiring computer repair services or spare parts

Rajesh Sapkota
15) Mac.Infinity
While they can fix Surface Pro devices, keep in mind that they don't service any other Windows laptops. If that's what you're searching for, feel free to skip this one entirely.
You may examine the cost of repair on their website, as well as a precise quotation through WhatsApp. Mac.Infinity is unique in that it provides student discounts, which are quite useful because MacBook repairs aren't cheap. You may pick between two branches, both of which are conveniently located inside malls. They're also open on Sundays and holidays, so keep this in mind if you're going to drop by.
Key Differentiators
Two branches available
Apple-certified technician
Discounts available for students
Client Testimonial
Brought in a MacBook Air to fix as it could not start. The Mac.Infinity support staff Jian Guo was very professional and took me through my options on what to do. He also helped to prioritize the fixing of my motherboard and I was able to collect the fixed product the next day. Great service and would recommend anyone with laptop or phone issues to bring to this shop to take a look. Thank you

HW Tan
16) Star Shield
Desktops, laptops, smartphones, and tablets can all be serviced by Star Shield. They provide 90 to 180-day warranties on all repairs, but what sets them apart in our opinion is that they have extended warranty options that cover a variety of services. Depending on your demands, you may pick between two tiers. Despite the fact that they all contain similar services like as part replacements, cleaning, and remote technical assistance, there's something unique about each of them.
Key Differentiators
Many branches
Island-wide pick-up service
Client Testimonial
I would like to recommend and commend on technician Eric from Nex branch for the quality service he provided me. My screen blackout and he was very nice to connect to his desktop to extract the important information as I have to submit my assignment within the week. He even give me good advice on how to take better care to my laptop and even when the extra mile for me.

Alvin Bay
17) Fynd
Fynd can transport a repair shop to you, no matter where you are in Singapore, whether you don't have time to travel all the way to a laptop repair store. They can help you solve any problem imaginable, regardless of your device's performance or malware. Expect repairs to be performed in front of you since Fynd comes to your location.
One of the most appealing aspects about them is that technicians work around the clock, allowing them to repair your laptop at late hours until 10:00 p.m. Furthermore, there are no call-out or transportation costs since they are already included in the cost given to you beforehand.
Key Differentiators
Repairs a range of device
Services available in many locations around Singapore
Warranties available
Client Testimonial
Response to service appointment was very efficient and fuss free. There were also text alerts to keep me updated on progress of scheduling appointment, and of technician arriving. Technician arrived promptly and repair was fast. He is in and out within 10 min. Payment options were aplenty as well. All in all a very efficient and seamless experience. Highly recommended.

Norman Tan
18) Mister Mobile
Mister Mobile may appear to be a mobile phone repair shop at first glance, but they also offer Macbook and Surface Pro repairs. Keep in mind that battery replacements are the only Macbook repairs they can perform. They're more flexible with Surface Pro repairs, which include LCD, charging port, and battery replacements. While this restriction is certainly a disadvantage for Macbook owners, it still leaves them as one of the most accessible places to get your Macbook fixed in Montreal.
Key Differentiators
Affordable prices
Many branches around Singapore
Specialises in part replacements
Client Testimonial
Great communication, easy to book and plan. Competitive and transparent prices and timely repair (60 or 90 minutes). They screen replacement has a problem and within warranty they replace the screen and fix the issue.

Giacomo Bottone
19) Esmond Service Centre
When it comes to the repair and maintenance of electronics and computers, you'll want a center that can handle a wide range of models. In this regard, Esmond Service Centre is an excellent choice. The service centre is staffed with highly trained repair experts with over 10 years of expertise providing consumers, ICT support services, schools, and enterprises with a complete range of laptop and desktop repairs.
Key Differentiators
Convenient locations
Quality repair and workmanship
Client Testimonial
Googled for laptop repair shop and found this nearby rather than the old conventional Sim Lim.

I was served by a professional and service oriented guy and later realised he was Esmond the boss! He was humble and no airs.. He will advised you what needs to be repaired rather than spend unnecessary money on it.

My laptop was slow in starting up.. He could hear by the sound and recommended me to change to 250 ssd. Also he said to do a diagnostic check on other issues if any. After that left my laptop for repairs.

3hrs later, the staff called and told me its ready for collection. Amd the ssd is warrantied for 2yrs.

WOW… Amazing experience with Esmond.

I will definitely come for future repairs.

Peter Chua
20) Budget PC Upgrade & Repair
Budget PC Upgrade & Repair is one of Singapore's most dependable laptop repair shops for a number of reasons. One of the things that caught our attention about this business is their flexibility in meeting clients from all over the island. You may schedule an on-site repair or pickup and delivery anywhere on the island, regardless of your location. However, if you cannot make it to the shop, Budget PC Repair can also send their team of professionals to meet you at a location where you feel most comfortable.
We like the idea that they provide free diagnostic services before proceeding with repairs, and we also appreciate how quickly they respond to requests for service. This free service only applies to out-of-warranty laptops and PCs; devices under local warranty will be subject to a diagnostic fee in such circumstances.
Key Differentiators
Warranties apply
Provides free diagnostics
Multiple service centres available
Client Testimonial
Had been going to them several times , an excellent team with amazing service and professionalism. They are most willing to serve from the point of customer's interest. No hard sell, no hard push, no gimmicks, they diagnose and advises the solution, and leave it to customer to decide if they would like to proceed. Best part is, they honor the warranty and you can always go back to them with trust. Excellent company with highest integrity and professionalism. For those who have not try them before, forget about Sim Lim, go to Budget PC for your needs, you will never regret

Sh How
Computer Repair Singapore
If you're in need of Computer Repair, look no further! Stop restarting your computer in hopes that it will fix itself. Now that we have provided you with this list, all you need is to give them a call and hand your device over.
Additionally, check out some of our other useful articles and guides here:
Frequently Asked Questions (FAQ)
If you have any questions about computer repair services in Singapore, you can refer to the frequently asked questions (FAQ) about the best Computer Repair Services in Singapore below:
Additional Useful Articles
If you are looking for other useful guides and articles about Computer Repair Services in Singapore, check them out below: