Corporate Secretary Singapore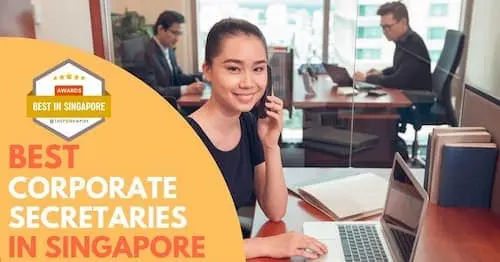 Navigating the intricate corporate landscape in Singapore can be a daunting task without the aid of seasoned experts.
The best corporate secretaries in Singapore include Helmi Talib Corporate, 3E Accounting, AI Accountant, Piloto Asia, and Lanturn.
When selecting a corporate secretary in Singapore, it is important to take into account factors like reputation, experience, and cost.
In Singapore, a corporate secretary oversees responsibilities such as maintaining records, ensuring regulatory compliance, communicating with shareholders, and organizing board meetings.
If you're looking for a corporate secretarial company in Singapore, consider our list of the Best Corporate Secretaries in Singapore.
Quick Summary
Best corporate secretaries in Singapore include Helmi Talib Corporate, 3E Accounting, AI Accountant, Piloto Asia, and Lanturn.
When choosing a corporate secretary in Singapore, consider factors such as reputation, experience, and cost.
A corporate secretary in Singapore manages tasks like record-keeping, regulatory compliance, shareholder communication, and board meeting organization.
Best Corporate Secretary Singapore
1. Helmi Talib Corporate Pte Ltd
Key Services
Audit & Assurance
Accounting & Bookkeeping
HR & Payroll Services
Tax Advisory and Compliance
Corporate Secretarial Services
Internal Audit & Risk Consulting Services
Liquidation & Receivership
Transaction Services
Website
https://www.helmitalib.com/
Address
133 Cecil Street
15-02 Keck Seng Tower
Singapore 069535
Phone
(65) 6339 2776
Email
enquiry@helmitalib.com.sg
Operating Hours
Monday to Friday: 9AM–6PM
Helmi Talib Group is a firm secretarial provider that provides outstanding services. With over 25 years of expertise, they are certain to provide you with long-term professional services that are fast, reliable, and efficient.
The Helmi Talib Group's corporate secretarial services are supported by over 50 accounting professionals, which makes them one that fits everyone's budget and demands. This is a plus point in addition to excellent customer service, since you may contact them directly through their website.
Getting positive reviews with your clients is not as easy to get as it seems, and this company has done it! They make certain that client expectations are met, which we can see as the foundation of their company operations. You will get all of the advantages we mentioned if you work with them.
This growing business may help you in meeting a variety of regulatory demands, including audit, tax, and accounting.
Key Differentiators
Providing accounting, audit, company incorporation, corporate secretarial and tax advisory services
Long-standing knowledge of local customs and traditions
One of the top 30 accounting firms based in Singapore
2. 3E Accounting Pte Ltd
Key Services
Start a Singapore Company
Immigration Singapore
Corporate Secretarial
Virtual Office
Accounting
Taxation
Human Resource
Auditing
Business Advisory
Business Setup
One-Stop Cloud Solution
Other Jurisdictions Setup
Stamp Seal Makers
Legal
Associate Business
IT and Design
Software Sale and Development
Trust Services
Website
https://www.3ecpa.com.sg/
Address
51 Goldhill Plaza #07-10/11
Singapore 308900, Singapore
Phone
+65 6690 9262
Email
info@3ecpa.com.sg
Operating Hours
Monday to Friday: 9 AM to 6 PM
3E Accounting Pte Limited is a well-known company secretary service provider in Singapore.
They have a staff of expert experts who can deliver the greatest and most professional services in accounting, taxation, corporate secretary service, corporate regulatory, marketing and administration assistance, and more.
Accounting by 3E Accounting offers client services and agent support that can meet all of a company's needs to go above and beyond for its clients in the context of the three E's: Efficiency, Effectiveness, and Economy.
3E Accounting Pte Ltd., known for its innovative method and operations that almost seem like a tech start-up, is perhaps the most reputable Corporate Service Provider in Singapore with offices all over the world.
It's not a fluke that 3E Accounting Pte Ltd. can service clients in more than 80 countries. It is only possible if you demonstrate outstanding abilities at home. Although they perform the same task as other firms on this list, it's reasonable to assume that they operate on a level of their own.
Accounting is a business that has the potential to grow rapidly. They marketed themselves as thought leaders on their website, which you may infer from a look at it. They provide many tools and material for companies to assist them with hints about the corporate world.
They've won national accolades and have even been featured in major publications around the world. The comments on their website and social media are excellent, and one of their clients mentioned that they were extremely satisfied with customer service.
Key Differentiators
Greatest expertise to serve beyond excellence
Most comprehensive and responsive services
Cost-saving one-stop solution for your business
Client's Testimony
Setting up a Singapore company is not difficult, but there are steps that you need to strictly follow to make sure that everything will be smooth. I really contacted 3E Accounting because of the good things I read and hear about them. They did not disappoint and setting up a company is a lot simpler because of them. I did not think that it will be possible to start within a month because of everything I had to submit and do. Business owners should consider them because time is important and I was able to start right away.

Melvin Goh
3. AI Accountant Pte Ltd
The name indicates that the firm is an accounting business, but every other company on this list is the same. AI Accounting is another well-known Singaporean provider of company secretary services. They provide two sorts of services: routine and non-routine.
They take care of a firm's secretarial services for an extended period of time in their ordinary secretarial services. In this scenario, the contracts are generally for one year or more.
On the other side, non-routine company secretarial services are a one-time type of contract. Companies who already have secretaries can engage AI Accounting for specific tasks such as Appointment of Auditor, Approval of Director Fees, and so on.
AI Accountant has great executives on board, whether it's a daily occurrence or not. They have the resources and price plans for everyone, including smaller businesses and larger enterprises.
Key Differentiators
Utilizing the benefits that AI technology has to offer
100% digitalized
Latest in AI technology to help improve financial activities
4. Piloto Asia Pte Ltd
Key Services
Company Incorporation
Dedicated Company Secretary
Tax & Accounting
Business Bank Account Opening
Work Visa & Immigration
HR Support
Change Your Company Secretary
Website
https://www.pilotoasia.com/
Address
105 Cecil Street
18-00, The Octagon
Singapore 069534
Phone
(65) 6422 6319
Email
business@pilotoasia.com
Operating Hours
Monday to Friday: 9 AM – 6:30 PM
Although Piloto Asia doesn't have the greatest variety of services when compared to competitors, but they fulfill the most essential ones a company may require.
You may delegate all the gritty details to them so you can focus on running your business, from secretarial services to accounting.
Only two options are available: the foreign package or the local package. Simply consider your company's director's nationality to determine which package is ideal for you—that's all there is to it.
On another note, a lot of foreign company owners praise their simple and rapid procedure in helping them enter Singapore. They also provide comprehensive immigration assistance, as well as bank account creation services.
Although, Piloto Asia is a Singapore-based company but it offers a wide range of services to assist expatriates in establishing their own businesses. For these reasons, we highly recommend it to foreigners who are thinking about starting their own companies in Singapore.
Key Differentiators
Ideal for foreign companies
Has offices across Southeast Asia
Has a 24-hour response promise
Obligation-free consultations
Client's Testimony
I am currently running a IT business in Hong Kong and have been looking to expand into Singapore. I've picked Piloto Asia for company incorporation and accounting after conducting extensive research among several firms.

I found the staff at Piloto Asia professional and courteous. Tam was patient and thorough in explaining the company registration procedure to me, which I found very helpful because company incorporation for foreigner can be overwhelming. They were also very quick to respond too when I had any queries.

It was a satisfying experience, and I'd recommend Piloto Asia if you're thinking of incorporating a company in Singapore.

Edmund Har
5. Lanturn
| | |
| --- | --- |
| Key Services | Incorporation, Accounting, Corporate Secretary, Immigration Services, KYC, Taxes, Payroll, Fund Administration, Fund Formation |
| Website | https://www.lanturn.com/sg |
| Address | 160 Robinson Road #24-09, S0689142 |
| Phone | +65 6304 8087 |
| Email | hello@lanturn.com |
| Operating Hours | 9AM to 6PM |
Lanturn is a modern corporate and fund services company for the growth-minded. It offers UX-driven corporate and fund services for high-growth companies and asset managers. With Lanturn, your business will have unparalleled technology and an expert team giving you peace of mind so you can focus on achieving your business goals.
Lanturn has the trust of 400 businesses and over five years of experience can get you the edge your company needs to start strong right from the get-go.
For 2023, Lanturn is introducing its Launch with Lanturn program that offers affordable business registration packages for self-fund business owners in Singapore.
Key Differentiators
Highly experienced team
Custom-built technology
Fair and Transparent Pricing
Client Testimonial
We've been engaging with Lanturn for more than a year now and using their platform allows us to save time—significantly! It provides real-time updates and communication, and this is crucial when you're running a startup. The flexibility that the platform provides also helps us to automate many processes.

Jamie Lee, The Kind Friend, Co-Founder
6. Ebos SG Cloud Accountants
Key Services
Setting Up Company
Secretary
Accounting
Website
http://www.ebos-sg.com/
Address
120 Lower Delta Road, #10-09 Cendex Centre, Singapore 169208
Phone
+65 9695 4688
Email
ask@ebos-sg.com
Operating Hours
Monday to Friday: 8:30AM–5:30PM
The days of big filing cabinets and piles of paperwork are long gone. Not that those things are necessarily a negative thing, but they can be a little unproductive when files aren't organized properly.
If you want to go exclusively online, Ebos SG Cloud Accountants has you covered. They specialize in accounting and corporate secretarial services, which are both conducted through digital and online means.
However, you can expect to have your documents on the cloud, so you won't have to worry about losing them again. Furthermore, they do not charge clients a disbursement fee such as printing and stationary should you so choose.
We appreciate that they provide a fair basic rate for corporate secretarial services to any size company, which is not the case with many other firms.
However, when compared to other companies, their solution's depth isn't as great, which might be a disadvantage for some. They also provide several extra add-ons for an additional fee, such as a company seal and corporate name changes.
Key Differentiators
Wide range of services
Affordable fees
Fully digital platform
No disbursement fee
Client's Testimony
At first, we think this is just a normal accounting company, as we compare lots of accounts firm. But before you engage, I am sure you will fall in love with their services, their reputations, their responsibility, their follow up, and their professionality. Before engage their services, our company sourcing for accountings services and secretarial services. EBOS did a great follow up all the way, about few months they follow up us, no matter phone call, messages to show us their sincerity and professional. Before we engage, they answered our questions one by one even we havnt commit anythings, and even giving video call, face to face to answer our concens. After several times of follow up, we engage EBOS for accounts and sercretarial services. They are promtly reply and patiently answer our questions although we are zero knowledge in accounts, and sometimes we ask during off from work hours. The accountant even provide personal contact for us to find them easily. After purchase accounting software, they also provide free video call one to one training to assist us. Indeed, we really sastify with their services, follow up, and their responsibility. They are such a such a good teamwork spirit and provide best services to us. Thanks so much😊

HK Juan
7. Jaanik
Key Services
Dedicated Company Secretary
Corporate Compliance
Registered Office Address
XBRL
Strike Off
Switch To Jaanik
Statutory Requirement
Website
https://www.jaanik.com/
Address
One Raffles Place,
34-04, Tower 1, Singapore 048616
Phone
+65 6909 6323
+65 9245 3879
Email
sales@jaanik.com
Operating Hours
Monday to Friday: 9am to 6pm
To fulfill their mission to provide a flexible and dependable service, Jaanik tries hard. It's one of the first things noticeable about them since they're one of the few firms to offer a 24-hour helpline.
In fact, they have businesses incorporated within an hour because of their quick turnarounds! If you're concerned about the guarantee, don't be; their staff is made up of licensed professionals and Chartered Accountants that work quickly.
When you hire their secretarial services, you can anticipate them to follow the Singapore Companies Act on your behalf. You may also entrust them with other tasks such as work pass assistance and trademark registration in addition to this.
Key Differentiators
Wide range of services
Fast response
24-hour hotline
No GST charges
8. Sandhurst Consultancy
Sandhurst Consultancy is a Singapore-based company registration consultancy that boasts of being one of the most established in the country. They've assisted many local and international firms in establishing their presence on our shores.
They also give counsel on taxes and company rules that will be beneficial to their client, in addition to secretarial services.
Based on what we've observed, Sandhurst Consultancy appears to be a big hit among clients in Southeast Asia, with account managers who are fluent in many languages including Mandarin and Indonesian.
They can assist you with obtaining a work permit and permanent residency in Singapore. They can also help non-Singaporeans obtain their work passes and permanent residence applications. This makes them another excellent alternative for overseas customers wanting to establish a business in Singapore.
To sum things up, they are not the most affordable options out there. Their secretarial costs are higher than average in the business, which includes some of the most basic services found in many bundles. However, the firm does provide a bank account creation—ideal for international consumers.
Key Differentiators
Wide range of services
24-hour hotline
Ideal for foreign companies
Specialises in company registration
Multilingual account managers
Client's Testimony
We have engaged Sandhurst Consultancy for Branch Office registration in Singapore. Ms Maribel had patiently discussed the requirements, steps and the fees for setting up a branch. They have also gave us some an advice on corporate tax, goods and services tax, Singapore employment (even if it is not asked)- thanks to you Mr Sukhbir Singh. Generally, we are happy to the services provided by Sandhurst. High recommended

Gabrielle R.
9. Hawksford
It's not surprising that multinational firms like Hawksford would establish a presence in Singapore, which is an important commercial center.
They provide basic business services in addition to conventional corporate service providers. They may assist you in obtaining incorporation status, dealing with taxes, and managing your employee payroll.
They're one of the few firms to offer trust administration services, such as will preparation and succession planning, as well as the management of charitable interests out of our competitors.
Hawksford also provides a wide range of services, making them an excellent choice for individuals seeking for a one-stop shop in terms of business and private interests.
If you are a multinational company, you would also want to make sure that they have a global network of partner companies in order to take advantage of the company's worldwide presence.
They also have multilingual account managers, making them the finest Singapore corporate secretary service for international businesses who have established operations on the island.
Key DIfferentiators
Wide range of services
Global network of partners
Multilingual account managers
Central location
Client's Testimony
Hawksford have been faultless in supporting myself and my company in setting up in Singapore, arranging employment passes, sorting out international tax queries, managing company financial submissions and even helping with my personal Will.

I cannot speak highly enough of Hawksford Singapore and everyone there I deal with. A wonderful experience and I look forward to many more years for their support.

John Arnup
10. Rivkin
Key Services
Singapore company incorporation
Offshore companies formation
Tax and accounting services
Immigration services, and corporate solutions to startups
Small and medium-sized enterprises
Multinational companies who wanted to establish their presence in the city-state
Website
https://www.rikvin.com/
Address
30 Cecil Street,
19-08 Prudential Tower,
Singapore 049712
Phone
+65 6320 1888
Email
info@rikvin.com
Operating Hours
Monday to Friday: 9AM–6PM
Rivkin was founded in 1998 as a reliable source of business support services, ranging from accounting employees to secretaries.
They established a solid client base that included Agoda, JLD, Weeloy, Crosspoint Telecommunications, and other prominent firms over the years. This is proof that they are trustworthy and adaptable in a wide range of sectors.
Furthermore, Rivkin is staffed with a crew of competent and professional corporate specialists, auditors, accountants, and secretaries to make sure that your firm's up to date and compliant with tax rules and other business regulations.
Rivkin is a top employment agency that helps clients get work passes. With an excellent track record for job pass applications, they are a fantastic alternative for businesses wanting to hire from outside of Singapore.
You may make an appointment with them through their online scheduling system if you have any special needs. We chose them as one of the top secretaries in Singapore because we like their simple and easy procedure.
Key Differentiators
Wide range of services
Large number of clients
Ideal for work visa processing
Caters to different industries
Client's Testimony
I am from Mumbai and was struggling to find the right professional service provider to help me Incorporated my Singapore company and get visa. Rikvin team informed me about all local laws and gave me the right advice and helped me setup my company in no time. They are not expensive also….Thanks a lot to Rikvin Team

Amarjit Jaiswar
11. Reliance Consulting
Reliance Consulting was founded in the early 1990s as a company that provides accounting, payroll, and corporate secretarial services to local companies and international organizations in Singapore.
Their secretarial services are divided into three categories based on the size and type of your business: local SMEs, foreign entrepreneurs, and international multinational firms.
All packages include services like maintaining and updating statutory books and records, as well as guidance on how to understand Singapore's Companies Act.
We believe their pricing is fair and beneficial for local SMEs who don't have to pay a premium for the same set of services.
However, if you believe your firm only requires a little of help in specific areas, you may also customize your package to enjoy even lower rates.
They may be a small firm, but they've served as the Singapore corporate secretary for over 400 firms. This demonstrates that they are trustworthy and organized even with limited staff.
While they can handle employment permits, their immigration aid services are rather limited. As a result, you'll need to inquire directly with them if they may meet your needs.
If you are looking for a Singapore corporate secretary who will cater to your specific needs and requirements, they may be the ideal option.
Key Differentiators
Wide range of services
Multiple packages available
Package customisation allowed
30-day money back guarantee
No hidden fees and set-up costs
Client's Testimony
Overall their services are friendly, efficient and good value.

Joseph Daki
Corporate Secretary Singapore
Secretaries are an essential asset to corporate clients, and it's important that you find one of the best corporate secretarial services in Singapore.  
If you're looking for a corporate secretary company or service, look no further than our list of Best Singapore Corporate Secretaries. We hope this article has helped guide your search! If not, feel free to leave a comment down below with any questions about finding the right Singapore corporate secretary for your needs.
Before you go, do check out our other articles as well!
Frequently Asked Questions (FAQ)
If you have any questions about corporate secretaries in Singapore, you can refer to the frequently asked questions (FAQ) about the best Corporate Secretaries in Singapore below:
What are the best corporate secretary agencies in Singapore?
The best corporate secretaries in Singapore include Helmi Talib Corporate, 3E Accounting, AI Accountant, Piloto Asia, and Lanturn.
What is the role of a company secretary in Singapore?
A company secretary in Singapore plays a crucial role in ensuring that the company complies with corporate regulatory authority rules and regulations. They are responsible for maintaining statutory registers, advising directors on legal matters, and managing secretarial needs.
Why is it important to hire a top-tier corporate secretary in Singapore?
Hiring a top-tier corporate secretary is crucial as they can effectively manage your corporate secretarial needs. They ensure that your company adheres to Singapore company law, which is vital for maintaining good corporate governance.
What services do Singapore corporate secretarial services offer?
Singapore corporate secretarial services offer a wide range of services, including maintaining statutory registers, advising on corporate governance matters, ensuring compliance with Singapore company law, and providing support to directors.
How do company secretaries support company directors?
Company secretaries play a key role in supporting directors by ensuring that they comply with corporate regulatory authority rules and regulations. They also provide advice on corporate governance matters and Singapore company law.
What is the importance of corporate governance in Singapore?
Corporate governance is essential in Singapore as it ensures transparency, accountability, and fairness in a company's relationship with all its stakeholders. A good company secretary helps to uphold these principles.
How do corporate secretary services contribute to corporate governance?
Corporate secretary services contribute to corporate governance by ensuring that the company abides by all relevant laws and regulations. They also maintain statutory registers, which provide transparency about the company's activities and shareholders.
What does Singapore company law say about company secretaries?
According to Singapore company law, every company must appoint a Singapore company secretary within six months of its incorporation. The company secretary is responsible for ensuring that the company complies with all relevant laws and regulations.
What are the responsibilities of company secretaries according to the corporate regulatory authority?
According to the corporate regulatory authority, company secretaries are responsible for maintaining statutory registers, advising on corporate governance matters, and ensuring that the company complies with all relevant laws and regulations.
How can Singapore company secretarial services help meet my corporate secretarial needs?
Singapore company secretarial services can help meet your corporate secretarial needs by providing a range of services including maintaining statutory registers, advising on corporate governance matters, and ensuring compliance with Singapore company law. They can also provide support to company directors, which is crucial for the smooth operation of a company.
What is the role of a corporate secretary in Singapore?
A corporate secretary in Singapore plays a crucial role in managing the company's administrative tasks, ensuring compliance with statutory obligations, and acting as a bridge between the company directors and shareholders. This could be an in-house company secretary in Singapore or an appointed company secretary from a dedicated corporate secretarial firm.
Who can be a company secretary in Singapore?
According to the Singapore association, a company secretary should be a natural person who is a Singapore permanent resident. The person can either be a sole director or part of a board of directors. They should also have relevant expertise, often being chartered secretaries.
Can a sole director also be a company secretary?
No, a sole director cannot serve as a company secretary in Singapore. This is to ensure there's a clear separation of duties and responsibilities within the business entities.
What are nominee director services?
Nominee director services are offered by corporate secretarial firms in Singapore. These services involve appointing a 'nominee' or a 'stand-in' director on paper, while the actual controlling powers remain with the real owners of the company.
Why would I need a new company secretary in Singapore?
You may need a new company secretary in Singapore if the previous one has left, if you're unsatisfied with their performance, or if your company has grown and needs additional help. A new company secretary can bring fresh insights and strategies to your business.
What is the difference between an in-house corporate secretary and an outsourced one?
An in-house corporate secretary in Singapore is employed directly by the company and works within the company, while an outsourced secretary is hired through a corporate secretarial firm. While in-house secretaries may have more familiarity with the company, outsourced secretaries can often offer a wider range of expertise and flexibility.
How do I appoint a company secretary in Singapore?
To appoint a company secretary in Singapore, you should first identify a suitable candidate or corporate secretarial firm. After negotiating terms and conditions, you can officially appoint them by a resolution of the board of directors.
What is a limited liability partnership?
A limited liability partnership is a type of business entity where each partner's liabilities are limited to their own investment in the business. This type of structure could be managed by the company accountants and overseen by the company secretary.
Who can be a company director in Singapore?
In Singapore, a company director must be a natural person who is at least 18 years old. They can be a Singapore permanent resident, EntrePass holder, or an Employment Pass holder with a letter of consent from the Ministry of Manpower.
What are the responsibilities of a public company secretary?
A public company secretary in Singapore has several responsibilities, including ensuring regulatory compliance, communicating with shareholders, maintaining company records, and advising the company directors on governance matters.
Additional Useful Articles
If you are looking for other useful guides and articles about Corporate Secretaries in Singapore, check them out below: