Crystal Shops Singapore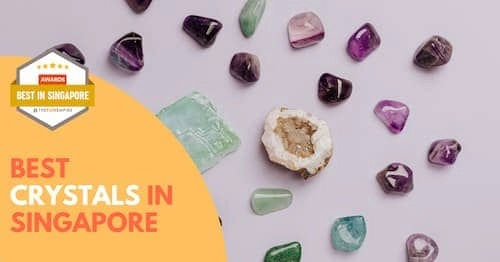 Whether you're seeking a unique gem for healing, decoration, or a special gift, the Crystal Shops in Singapore have got you covered.
The best crystal shops in Singapore include Able N Trust, TAMZA House of Crystals & Lifestyle, Crystal For Sale, and Secret Crystals SG.
When choosing a crystal store in Singapore, take into account factors such as the range of crystals available, pricing, and authenticity. Additionally, some stores offer crystal healing services.
Rose Quartz, Citrine, Amethyst, Clear Quartz, and Black Tourmaline are among the top-rated crystals in Singapore.
From exquisite quartz to vibrant amethysts, explore the best Crystal Shops in Singapore and unearth the gem that resonates with you.
Quick Summary
Best crystal shops in Singapore include Able N Trust, TAMZA House of Crystals & Lifestyle, Crystal For Sale, and Secret Crystals SG.
When selecting a crystal shop in Singapore, consider factors like crystal variety, price range, and authenticity. Some shops also provide crystal healing services.
The most popular crystals in Singapore include Rose Quartz, Citrine, Amethyst, Clear Quartz, and Black Tourmaline.
Best Crystal Shops Singapore
1. Able N Trust
Key Services:
Crystal Mandala Meditation, Personalized Crystal Mandala, Tarot Card Reading, Crystal Ball Reading, Crystal Healing Course
Website:
https://www.ablentrust.com/
Address:
261 Waterloo St, #01-26 Waterloo Centre, Singapore 180261
Phone:
+65 87260038
Operating Hours:
Monday – Friday 11:30am to 5pm
Saturday 11:30am – 4pm
Close on Sunday
In 1993, Medha Tan launched Able N Trust (S). They are one of Singapore's first New Age Healing institutions to offer comprehensive healing. Ms. Medha is a New Ager with over 25 years of experience in the realm of alternative healing. Her professional experience includes crystal therapy, Reiki treatment, teaching, divination, and other forms of healing. One of her most recognized works is the Crystal Mandala, which was created in 1995.
Over the last two decades, their company has had its logo seen on a variety of television programs, radio shows, and magazine interviews including Alternate State, Infusion, Capital 95.8FM The Living Room I-S Magazine Her World Elle Urbanite+e Female Vaidurya Prestige, and others.
They believe that everyone has the ability to control their own destiny. During the years, they've built up a wealth of knowledge and expertise in utilizing natural forces to achieve their aims. They attribute their success to the long-term consumer connections they've created throughout the years. They take pleasure in the uniqueness and authenticity of their work, and they are committed to providing their clients with the highest quality service possible.
Customer Review
A great experience . The crystals are beautiful and the shop keeper is very friendly. She had help me personalised a crystal mandala, and it had been bring me good fortune since!

Samuel Tow
2. TAMZA House of Crystals & Lifestyle
Key Services:
Crystals and Minerals, Lifestyle
Website:
https://www.tamzacrystals.com/
Address:
#01-61/64/65, Sunshine Plaza, 91 Bencoolen Street, Singapore 189652
Phone:
+65 63371446
Operating Hours:
Mon-Sat: 12pm – 7pm
Sunday & Public Holidays: Closed
TAMZA House of Crystals and Lifestyle focuses on decorative crystals and rough minerals, with South American pieces dominating their current lines.
Crystals and minerals have long been prized for their beauty, historical significance, and archetypal meaning derived from metaphysical understandings. In recent years, there has been an upswing in interest among individuals of many races and walks of life, particularly among younger generations. They are dedicated to providing their clients and consumers with the finest and most genuine goods possible. Because they are concerned with wholesale exports and direct imports, they may provide their products at reasonable pricing.
Customer Review
Good selection of crystals, quality Palo Santo, sage and essential oils. THE-Go-to place for crystals !

Heib
3. Crystal For Sale
| | |
| --- | --- |
| Key Services: | Amethyst Cave, Amethyst Geode Money Bag, Agate Treasure Basin, Crystal Kistler, Crystal Ball, Crystal Bracelet |
| Website: | https://crystalforsale.sg/ |
| Address: | Blk 116 Lorong 2 Toa Payoh #01-156 Singapore 310116 (Braddell MRT Exit B) |
| Phone: | +65 98822208 |
| Operating Hours: | Mon – Sun / 10:00 AM – 8:00 PM |
Was founded with a creative mentality and a lofty aim in mind: to provide the holistic advantages and therapeutic effects of gemstones by means of the creation and design of gemstone jewelry that is both fun and luxurious. They feel that when you open your jewelry box, you should find a memento of who you are, how you feel, and what is most important to you.
They have the pleasure of assisting a wide range of people from all across Singapore and the globe throughout their decades on the job. People like this are both energetic and spiritual, and they want to lead a healthy life while also continuing to advance. They are proud to report that their clients frequently become friends as a result of their personalized method and genuine connections.
Customer Review
No review yet
4. Secret Crystals SG
Key Services:
Offers rough crystals, various crystal forms, and accessories
Website:
https://www.secretcrystals.com/
Address:
#04-27 The Adelphi, 1 Coleman St Singapore 179803
Phone:
+65 81017466
Operating Hours:
Tuesday – Friday 1pm – 7:30pm
Saturday 1pm – 7pm
Close on Sunday & Monday
Your one-stop-shop for all your healing crystal needs is Secret Crystals. There are a lot of different pocket-sized stones in a range of shapes for people who want to bring their preferred stone with them everywhere they go. They offer a physical location in addition to an online store, but their prices are cheaper on the internet channel, so keep this in mind if you want to buy.
Customer Review
My favourite place to get crystals! The 2 ladies at the shop were friendly and helpful. They personalised the clear quartz pendent so that I can attach it onto any necklace. They have a wide range of crystals and stones at affordable prices. Do visit them if you are new to crystals as they are very knowledgeable.

Shirley Loh
5. New Age FSG
| | |
| --- | --- |
| Key Services: | Crystal Library, Birthstones, Cleansing |
| Website: | https://newagefsg.com.sg/ |
| Address: | 60 Orchard Road Atrium@Orchard, #B2-04, Singapore 238889 |
| Phone: | +65 62388978 |
| Operating Hours: | Daily 11:30am – 8:30pm |
The NewAge FSG is a crystal and mineral SME that has won several honors. Since 2006, the organization has given holistic guidance to loyal customers, combining ancient customs with contemporary technologies to give harmony to the body, mind, and spirit. The firm is well-known for its birth chart expertise as well as on-site readings. Christina Jee, the company's founder, has thoroughly trained its advisors in providing practical advice based on the year's planetary alignments and how they affect customers' birth charts.
NewAge FSG was founded by Christina, who is a trained Feng Shui practitioner, meditation specialist, reiki healer, and crystal therapist. According to her, the reason for the existence of NewAge FSG was based on people's natural desire to be happy, healthy, and fulfilled. Crystals are natural wonders that Mother Nature has bestowed on us. They have been used since ancient times for health and wellness.
Customer Review
Totally enjoyed my session earlier today with instructor Ken. He explained very clearly during the session and provide us alot of knowledge on different types of gems. And I also love the customise bracelet curated during the session. Thank you Newage FSG for this workshop!

Suiyan Wang
6. Crystal Moments Pte Ltd
| | |
| --- | --- |
| Key Services: | 2D/3D Laser Engraving, Customizing Gift, UV Direct Printing, 3D Modelling |
| Website: | https://www.crystalmoments.com.sg/ |
| Address: | 120 Lower Delta Road #01-14 Cendex Centre, Singapore 169208 |
| Phone: | +65 69707977 |
| Operating Hours: | Daily 10am – 7pm |
With pride, Endless Moments Pte Ltd was established in 2006. They began creating personalized 2D/3D crystal sculptures for visitors to Sentosa in June 2007. Over the last 12 years, they've grown into a prominent seller and provider of customized and bespoke crystal goods in Singapore.
Personalized 2D/3D crystal portraits, custom corporate crystal plaques, trophies, sculptures, reproductions, decorations, and jewelry are just a few of the items they provide. Their gleaming crystal sculptures may be customized to suit your needs.
They believe that for both individual consumers and corporate enterprises, they are dedicated to giving the greatest one-stop personalized services. They feel that their customer-focused approach and cutting-edge technology are what has made them successful. Crystal Moments are carefully designed and produced by their staff of in-house designers and laborers, who are well-versed in meeting the various needs and demands of each customer. Their cutting-edge 3D imaging, 3D modeling, laser engraving, and UV printing technology ensures that everything they produce is top quality.
Customer Review
Very helpful sales staff. They helped me pick out and order exactly what I wanted. product was exactly as expected, for the price expected. Would definitely use again.

Pamela Sim
7. Love for Crystals by Audrey's Wellness
Key Services:
PSYCHIC Reading Session, Andara Matrix Energy HEALING, Home & Office Space Clearing, Akashic Reading, Past Life Reading, Inner Harmony Sound Healing, TAROT Card Reading, Spiritual Energy Healing, Eclectic Chakra Fine-Tuning
Website:
https://www.loveforcrystals.com/
Address:
228A Upper Thomson Rd, Singapore 574360
Phone:
+65 84987653
Operating Hours:
Monday, Wednesday & Friday 4 to 8pm
Saturday & Sunday 12 to 8pm
Close on Tues & Thursday
Audrey Agcaoili runs Love For Crystals Online & Retail Shop, which she co-owns with Joni Yang. Audrey has 18 years of expertise as a Psychic, Angel Intuitive, and Energy Work Practitioner. Audrey and Joni are Crystal Advocates, Wellness Advocates, Animal Advocates, and Nature Lovers!
The belief that all forms of life, including our physical, mental, emotional, and spiritual health is reflected through the use of gemstones and crystals. Love For Crystals obtains its crystals and gemstones from renowned miners and suppliers in Brazil, Texas, Pakistan, India, New York, Arizona, and the United Kingdom. Love For Crystals' stones and gems are gently collected, cleansed on a physical and energetic level with incense and Crystal bowl sound cleaning, and charged by quartz clusters before being put on the shelves.
Customer Review
Excellent service by the staff. When i walked in to the shop, she gave me space to browse around until i ask for help. She also ask me to leave my bag on the bench so i can browse comfortable. I am new to crystals so she patiently explain to me and the energy in this shop feels great and genuine like it is not creepy like some places. She cleaned my crystal before bringing it home. Highly recommend, one of the best crystal shop in Singapore!

Chernie
8. Reiann Riviera Pte. Ltd
Key Services:
Tarot Reading, Crystals Channeling, Positivity Spray, Angels & Spirit Guides Report
Website:
https://reiannriviera.com/
Address:
316 Tanglin Road, KOP KLAE building, Phoenix Park, Singapore 247978
Phone:
+65 88920411
Operating Hours:
Monday – 5PM to 9PM
Tuesday – 1PM to 9PM
Wednesday – 1PM to 9PM
Thursday – CLOSED
Friday – 1PM to 5PM
Saturday – 1PM to 9PM
Sunday – 1PM to 5PM
Reiann's healing practice comprises Green Witchcraft, Numerology, Chakras, Moon Phases, Tarot, Angels, Spirit Animals, Animal Totems, Spirit Guides, Faeries, and Crystals. She is referred to as a Green Witch and to some of her clients and customers, she is seen as a friend. All her products and ingredients are sourced from honest suppliers across the globe and put together with her sets of beliefs that can help you in natural green healing. She is also in support of a positive community and welcomes clients and customers from all walks of life; Different backgrounds, religions, colors, and sexual orientations.
Customer Review
I have been purchasing crystals from Reiann since Nov 2020 through a friend's recommendation. Ever since, she have been generously sharing with me her knowledge on crystals, which really helped me along in my crystals healing journey. Reiann is a very sincere and genuine seller who really wants to help people who are keen to explore crystals and tarot reading.

I highly recommend her services as she's very easy to talk to and no hard-selling at all. Meeting up with her always fills me up with laughter and positivity!

Pauline Ng
9. Ren Ting Trading
| | |
| --- | --- |
| Key Services: | Incense, Lamps, Meditation, Ritual, Feng Shui |
| Website: | http://rentingonline.com.sg/ |
| Address: | 149 Rochor Rd, #03-07/08/09 Fu Lu Shou Complex, Singapore 188425 |
| Phone: | +65 63347273 |
| Operating Hours: | Daily : 11am – 7.15pm |
Ren Ting was established in 1990 and specializes in providing a one-stop shop for customers looking for high-quality Buddhist relics, ritual items from Tibet, a wide selection of incense, offerings, meditation supplies, Man Yi Robes, Feng Shui symbols, and other associated goods from all around the world.
Our newest store, which sells our most popular goods, was created in June 2016 to give its clients a worry-free and more convenient shopping experience. Customers may now shop from the comfort of their own homes using Ren Ting Online, which offers a hassle-free and more convenient buying experience.
They are a GST-registered business, and all prices on Ren Ting Online are inclusive of taxes.
Customer Review
The shop atmosphere very cosy and clean! Bosses & team was very friendly!

MCW
10. GEMSTORY
Key Services:
Crystal Display Decor, Aroma Gems, Cleansing Kit
Website:
https://www.gemstory.asia/
Address:
231 Bain St, #01-73, Complex 180231
Phone:
+65 93668836
Operating Hours:
Mon – Fri: 11:00AM – 7:00PM
Sat & Sun : 11:00AM – 6:00PM
PUBLIC HOLIDAYS : CLOSED
GEMSTORY WORLD PTE LTD began as a sole proprietorship in 2013 and became a Private Limited Company in 2018 with the aim of propagating positivity through crystals. They educate and correct the conventional perception of the sector to satisfy the demands of younger generations, as well as spread crystals' history to their prospective buyers.
After being inspired by GEMSTORY in 2013, he began to study crystals with a focus on gemstone interpretation. They started out as a project aiming to spread positivity among the population through the use of gems. They feel that every gem has its own vibrating energy that interacts with each person and can help them in their daily existence.
Customer Review
Calming and peaceful atmosphere! The moment I step in, I felt very energising. I found interesting activities such as customising my own bracelet and deco pieces with high quality crystals as well as finding lots of natural rainbow inclusions quartz! Customer service is excellent, thorough cleansing for each crystal pieces purchase, along with patient and detailed explanations when enquire. Nice music ambience too!

Cloud Xin Yun
11. Qi New Age Healing
Key Services:
Healings, Readings, Crystal Care
Website:
https://crystals-newagehealing.com/
Address:
42 Kandahar St, Singapore 198896
Phone:
+65 97116843
Operating Hours:
Mondays to Fridays: 1pm to 7:30pm
Saturdays 1pm to 6:45pm
Sundays by appointments only
They're a group of New Age & Healing enthusiasts that set up this internet site for people who, like us, are interested in spirituality and are seeking NEW AGE goods. Crystal healers are a popular spiritual business that sells crystals, books, pendulums, oracle cards, wands, crystal jewelry, and other offerings. They also want to work with Spiritual People who want to display their creative talents. If you wish to market your wands, books, crystal jewelry designs, arts/paintings, and so on… They'd want to help you grow your distinctive natural talents. You should love yourself as much as you love others.
Customer Review
Bought several items from this shop online and when the crystals arrived(very quickly may I add), I can feel the strong positive energy radiating off of them. definitely recommend buying from them no matter on/offline! 🙂

Jins
Crystal Shops Singapore
Crystals have been used for centuries for their healing properties. If you're looking to buy crystals, the shops listed above are a great place to start. Each of these stores carries a wide range of crystals, from tumbled stones to large crystals, as well as gemstone jewelry and other metaphysical items.
Looking for more interesting articles to read? Check out more of our blog posts down below!
Frequently Asked Questions (FAQ)
If you have any questions about crystal shops in Singapore, you can refer to the frequently asked questions (FAQ) about the best Crystal Shops in Singapore below:
What are the best crystal shops in Singapore?
The best crystal shop Singapore include Able N Trust, TAMZA House of Crystals & Lifestyle, Crystal For Sale, and Secret Crystals SG.
What kind of crystal jewellery can I find at the Best Crystals Shop in Singapore?
At the Best Crystals Shop in Singapore, you can find a wide variety of crystal jewellery. This includes necklaces, bracelets, earrings, and rings made from various types of crystals such as clear quartz, amethyst, and citrine.
Do they sell ornamental crystals?
Yes, apart from crystal jewellery, the shop also offers a range of ornamental crystals. These are perfect for decorating your home or office, harnessing natural forces to create a positive environment.
Are there crystals sourced from South America available in the shop?
Indeed, the shop prides itself on its diverse collection of crystals from around the world, including those from South America. You can find unique pieces that are not typically available elsewhere.
How does the Best Crystals Shop in Singapore incorporate the idea of harnessing natural forces?
The shop believes in the power of crystals to harness natural forces for healing and well-being. This lifestyle primarily deals with using crystals like clear quartz to channel positive energy and dispel negative energy.
Can the crystals from the shop help with Reiki healing?
Absolutely! Many customers purchase crystals from the shop for Reiki healing. The crystals, especially clear quartz and amethyst, are believed to enhance the flow of positive energy during Reiki sessions.
Do the crystals from the shop help in warding off negative energy?
Yes, many crystals like black tourmaline and smokey quartz are known for their properties to ward off negative energy. The shop offers a variety of these crystals in the form of jewellery and ornamental pieces.
Does the Best Crystals Shop in Singapore offer services related to birth chart knowledge?
While the primary focus of the shop is on selling crystals, they do have staff members who are knowledgeable about birth charts. They can guide you in choosing the right crystals based on your astrological sign for spiritual well-being.
How can the crystals from the shop contribute to my spiritual well-being?
Crystals are known for their healing properties and their ability to enhance spiritual well-being. Using crystals for meditation, wearing crystal jewellery, or placing ornamental crystals in your space can help create a sense of peace and balance.
What are the best healing crystals I can find at the Best Crystals Shop in Singapore?
The shop offers a variety of healing crystals, including clear quartz, rose quartz, amethyst, and citrine. Each crystal has its unique properties – for instance, clear quartz is known as a master healer, while amethyst is believed to be calming and protective. They also feature specialty items like crystals cube, which can be used for specific healing rituals.
Additional Useful Articles
If you are looking for other useful guides and articles about Crystal Shops in Singapore, check them out below: