Disposal Service Singapore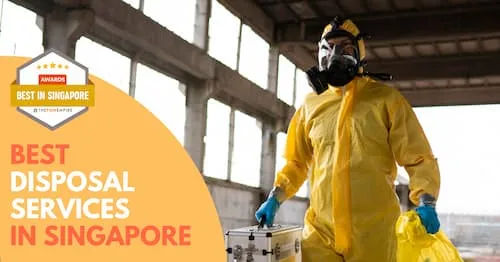 Singapore, known for its cleanliness and stringent waste management policies, offers a range of disposal services to cater to various needs.
The best disposal services in Singapore include Earth Recycling Services, Move Move Movers, KGS, Junk To Clear, and Soon Seng Transport & Movers Pte Ltd.
When deciding on a waste disposal service in Singapore, take into account elements like dependability, cost-effectiveness, and feedback from customers.
In Singapore, disposal services provide a variety of options for waste management, such as general waste disposal, removal of bulky items, and recycling of electronic waste.
In this guide, we'll explore the best disposal services in Singapore!
Best Disposal Service Singapore
1. Earth Recycling Services
Earth Recycling Services provides disposal services of general waste and bulky items for residential, commercial and industrial clients across Singapore. They operate daily and their WhatsApp is open 24/7. They aim to reduce waste going into landfills by sorting out collected items manually at their facility. Most items will be dismantled and sorted out into recyclables and non recyclables. Items that are in usable conditions may be donated to charities. Lastly, they are often praised for their responsiveness, professionalism and efficiency.
Key Differentiators
Recycles as much as possible (via dismantling)
Free quotation, no obligation, no hidden charges
Highly responsive chat and efficient movers.
Client Testimonial
Best service for bulk item disposal. Prompt response from company via whatsapp. Fast to fix schedule date and time. The contractor staff came punctual with call prior to schedule. They know what supposed to be done. No fuss. Got invoice and smooth payment after job complete. Highly recommended!
2. Soon Seng Transport & Movers Pte Ltd
Soon Seng Transport & Movers Pte Ltd is a moving and storage business that has over 30 years of expertise. They also provide transportation of heavy and bulky loads as well as disposals, all of which are handled by a team of movers and packers before being loaded into cargo containers. They are Efficient and dependable, meeting your requirements. They pack your goods correctly before loading them onto the truck, where they shall then be disposed of at a special waste facility.
Key Differentiators
Competitive pricing
Quick quotation
Client Testimonial
This is my second time using the services of Soon Seng Transport and Movers. I was impressed when they helped me with house moving. They take care of my items while moving, and yet still work fast. I can tell they are very experienced from their efficient and fast moving process. When I wanted to move office this time, Soon Seng immediately came to mind again and the move process was very fast, seamless, easy and my items again well taken care of. Thank you Soon Seng boss and staff!!
3. KGS
KGS offers data destruction services that are both secure and environmentally responsible. Their services include but aren't limited to e-waste disposal, data/equipment eradication, and safe paper shredding/disposal. They also provide collection services for large-scale disposals, which is especially helpful if you have a lot of waste. KGS is only one phone call away if you want to use an e-waste disposal business.
Key Differentiators
Secure data destruction
Certified disposal company
Client Testimonial
Engaged KGS for the secure destruction of documents and their rates are fair. Sandy and Max assisted me swiftly in my queries and the process was fuss-free. Drop off was done by my driver, destruction was done, and I received the certificate and invoice the next day. Highly recommend.
4. Junk To Clear
Junk to Clear offers both residential and commercial waste collection. They provide priority same-day service for last-minute organizing or cleaning of your home, as well as full-service waste removal. They handle the disposal of residential appliances, termite-infested furniture, wood waste, and other items. They also provide office document destruction and construction debris removal for new or refurbished structures, as well as home and business trash collection. They have the finest waste disposal services in Singapore to suit your needs, whether it's home or business rubbish.
Key Differentiators
Secure destruction services
Free photo-online quotation
Business waste disposal services
Client Testimonial
High review here was right – their response to my query was super quick (within a couple of hours on Sunday night!) and the amount was quite reasonable, and they arrived on time and had done their job in a professional and friendly manner. Highly recommended Junk To Clear for those who have a need, and I will definitely recommend to my friends/colleagues. So amazed by their service.
5. Move Move Movers
Apart from providing excellent moving services, Move Move Movers is a company that also specialises in providing high-quality furniture disposal and recycling services. They understand that sometimes, you might have old or damaged furniture that you want to get rid of but don't know how to go about doing so. This is where Move Move Movers comes in!
They can help you dispose of your old furniture in a responsible and sustainable way. What's more, they offer the most competitive rates for their furniture disposal services. All you have to do is start decluttering and when you're done, simply give Move Move Movers a call to come and pick up your unwanted items! They have your convenience in mind and aim to complete each disposal project in the shortest timeframe possible.
So if you're looking for a quick, affordable, and easy way to get rid of your unwanted furniture, contact Move Move Movers today! They service both commercial and residential properties, so no job is too big or small for them to handle. Plus, you can rest assured knowing that your old furniture will be disposed of in a responsible manner!
Key Differentiators
Disposes of furniture in a responsible and sustainable way
Competitive rates and excellent customer service
Able to handle disposal services for both commercial and residential properties
Client Testimonial
I have engaged Move Move Movers twice, to move my items as well as to dispose of old furniture.

The moving teams are always courteous and professional. The customer service on WhatsApp is responsive and will come back quickly with available time slots and a price quotation.

Lynn Chan (Google Review)
6. Exped Moving Services
Exped Moving Services is a full-service moving and storage business that specializes in packing, deconstructing, transporting, garbage removal, and storage for both commercial and residential purposes. Exped Moving Services provides a low-cost and quick waste removal service, as well as being professional, courteous, and timely.
Key Differentiators
Secure destruction services
Timely service
Client Testimonial
Gave a reasonable quotation and clear explanation of moving process during site visits. It was a very fast and efficient moving process from the movers till I was impressed. Good team work and synergy that made the moving fun and relaxing. Wrapping was fast and dismantled of TV and bed was quick and safe. They also helped took some small items that was not included in the list. I was also surprised that Exped knew where to park as my place was very crowded during lunch hours. Good customer service and follow up. Fuss free and flexible after sales service. There was no pressure to rush you to return the empty cartons until I paiseh! Overall, highly recommended as the entire end to end moving process was enjoyable!
7. Ace Disposal Services
Ace Disposal Services was suggested to me by my prior customers for their incredibly reasonable costs as well as their quick and efficient service, and it promptly accommodated last-minute bookings. They provide low-cost, simple-to-set-up, quick, friendly, skilled, and on-time waste collection services for residential/commercial/industrial customers. Disposal services include everything from home/business/commercial to industrial.
Key Differentiators
Hassle-free disposal services
Cheap rates
Client Testimonial
A pleasant experience dealing with Ace disposal. Efficient and reliable, I needed urgent disposal even thou their schedule are full they manage to meet my demand to arrange same day disposal service. Excellent customer service. Will recommend them to anyone. Thank you
8. Vimbox Movers
Vimbox Movers, unlike other waste removal businesses, offers destruction, recycling, and pulping certifications for the disposal of your goods and papers. Corporate owners like their administration better than other service providers owing to their excellent confidentiality of delicate documents. They also offer skid tanks and the transportation of all of your unwanted things to an authorized trash site, as well as expert disposal services that are tailored to your needs. You'll certainly get the greatest garbage removal service in Singapore with their bespoke services and experienced specialists.
Key Differentiators
Free quote
Consultants and one-site specialists
Client Testimonial
Boxes: Really liked how they allow you to rent boxes and return them once it's over, but they also allow flexibility should you already have your own. They also send you tape and bubble wrap as well.

Movers: Arrived on time and were very quick, efficient and careful with all my belongings. Managed to move my piano, computer table, screen and other pieces of small furniture with ease and no scratches.

Communication: Very patient in dealing with all my questions about packing and labelling and handling fragile equipment.
9. MK Mover
Mk Mover will assist you to eliminate anything from bulky goods such as furnishings to little things like trash and garbage, ensuring that you get the most out of your possessions. You can be confident that each waste collection is both safe and quick when you work with a group of highly trained professionals who guarantee that every trash removal is correct.
Key Differentiators
Timely service
Highly trained professionals
Client Testimonial
Professional quality value! Punctual and efficient with their service. Despite last minute arrangements and unexpected short comings, they manage to resolve the issue and deliver on time. Definitely one of the best mover I've encountered.
10. Tidy
Tidy offers a comprehensive range of services and amenities to handle all waste safely, whether it's for organization-wide recovery or home renovation. Inorganic, as well as recyclable waste, are disposed of by Tidy. They can also assist with the disposal of old and big items such as furniture and heavy home appliances while you move. Confidential product disposal, total waste removal, and e-waste recycling are just a few of the services they provide.
Key Differentiators
Furniture, electrical, and household waste disposal
24-hour service
Recycling service
11. Greenery Recycle Trading
Founded in 2011, Greenery Recycle Trading focuses on helping its clients to dispose of their clutter by RRR.
This company does disposal services, moving secrecies as well as bin rentals, etc. Instead of simply throwing away your clutter, they either extract its materials and recycle them or donate it to the less fortunate, hence creating a better ecosystem by recycling and upcycling.
They have catered to many satisfied homeowners and companies thus far.
Key Differentiators
They are professionals who can do a fast and efficient job and have been in the industry for over 10 years
Like other SMEs, they take care of their clients very well, thus they have a couple of regular customers.
They are efficient when it comes to providing a quotation and the price is competitive in the market.
Client Testimonial
As the Tigerroars in the Lunar New Year, we would like to commemorate WeLL Centre's achievements in 2021 (despite Covid-19 restrictions)

In just the last 12 months alone, WeLL Centre volunteers in partnership with Mr Edwin Peh, proprietor of a Recycle Company, delivered various household furnitures, home appliances, kitchen wares, mobility aids & bicycles, all near-pristine condition to our rental flat residents.

In all, our lower-income families received: – 35 washing machines– 40 refridgerators – 45 TV sets– 50 sofa sets– 50 beds/mattress – 300 cupboards, shelves, dining/study tables/chairs, mobility aids,"– 500 miscellaneous items including juicers, clothes, irons, fans , microwave ovens, lamps, kettles…– 100 bicycles!!!

THANK YOU SO MUCH, Edwin Peh, many Kind donors & WeLL Volunteers! Now, many rental flat families can enjoy better furnishings & greater comfort at home for 2022! 恭喜发财 身体健康 Wishing each & everyone Good Health & Happiness in this Lunar New Year!

Well & Care In Henderson-Dawson
12. Da Engineering
For residential and commercial needs, DA Engineering offers several waste management services. This entails waste disposal services with a well-known firm that has experienced staff. They have a wide range of vehicles to take away any type of hefty waste. One of their primary focuses is their cost-effective skip hire service, which meets all of your disposal management demands.
Key Differentiators
Rubbish disposal services
Fast collection time
Self-disposal plans
Client Testimonial
Mr Lee was very responsive and approachable. The services provided were prompt and efficient and the team has ' can do' attitude, very important in the service industry. Absolute value for money. Would definitely recommend.
13. Cleanway Disposal Services
Cleanway Disposal Services has specialized in providing high-quality and customized services to clients. They are able to provide extensive services for residential and commercial properties thanks to their experienced and trained staff. They have big trucks that can haul any sort of huge, unwieldy, and heavy waste. So they have the finest garbage removal service in Singapore for you if you have a lot of old and damaged furniture, broken electronics, needless papers, and other rubbish to dispose of!
Key Differentiators
Garbage dump pick-up and hauling service
Free quotation
14. The Trio Movers
The Trio Movers is a Singapore-based moving company that was founded by three brothers with more than 10 years of expertise combined. They offer to recycle your old furniture for you, extend top furniture disposal services throughout Singapore, and provide excellent customer service. The Trio Movers is trustworthy, honest, responsible, and on time, you can be assured that your items will be disposed of efficiently and responsibly.
Key Differentiators
Fast collection time
Certified disposal company
Client Testimonial
Had engaged their moving and packing services on 11-Nov for my house.

Had been very satisfied with very start of my engagement with Mag and followup by Keith coming down and solved all my queries.

The team that came down for the packing and moving services were marvellous.

Would strongly recommend their service and will engaged them again. Thanks
15. Greenway Environmental
First and foremost, Greenway's seasoned management team enjoys their job. Furthermore, in all they do, they act with humility, honesty, and environmental responsibility.
Many people who live in rural areas in developing nations want to improve their communities and develop new waste management systems. On the other hand, many individuals living in rural areas in underdeveloped countries are motivated by a sense of duty rather than by idealism or a thirst for adventure.
Key Differentiators
Product destruction
Also cutting bulky waste
Client Testimonial
Recycling wood concrete plastics metal your trusted responsible sustainability partner need a bin to remove all extra furniture or items just bin it an they will separate all of it. Highly recommended not pricey at all
16. Arkiva Shredding & Disposal
Arkiva provides secure disposal services from document shredding, media destruction to bulk waste removal. This NEA waste collector & facility licensed vendor is well known for their good customer service team who are willing to listen and cater each service to suit their customers. Arkiva is also active in being an eco-friendly company by making sure all items disposed are brought back to their warehouse, dismantle parts into different recyclable categories to ensure nothing goes to waste.
Being i-SIGMA licensed, customers can also let Arkiva handle confidential documents with a peace of mind as a certificate of destruction will be issues upon completion of shredding. Customer reviews are positive with most of them praising Arkiva on their on-time, professional service with reasonable rates at the same time.
Key Differentiators
5 Star Google reviews from customers
Licensed by NEA, bizSAFE3, & i-SIGMA for secure destruction services
Top notch customer service team with "solving customer problems" as priority
Client Testimonial
Great experience with Arkiva. Recommended them to my workplace and didn't look back since. Very timely in their collection and accountable from start to end for confidential documents we needed to be shredded, giving myself and my colleagues a peace of mind. I highly recommend them.

Ling S
17. Eco Exchange
Eco Exchange was established with the aim of accomplishing more to protect the environment. As a result of fast urbanization and widespread usage, demand for raw materials has been increasing.
Extracting essential raw materials also damages the environment and contributes to climate change.
Eco Exchange also believes in doing its part to help the environment, whether by recycling material or by helping to reduce waste. As a result, they support efforts to recycle the products with which we are surrounded. As a result, Eco Exchange also supports efforts to reduce waste.
Key Differentiators
Disposal
Data destruction
Client Testimonial
My company was shifting and upgrading our IT infrastructure. Thus, we needed to get rid of the old Server Rack, UPS, Servers and Desktops. Eco Exchange was just a call away. Their professional team took everything and without damaging any of our fixtures. I'm glad that it's going to be recycled.
18. Teo Bak Soah Trading Co.
Teo Bak Soah Trading Co. was founded in 1977. Since its inception, the company has expanded and evolved to become a well-known waste management firm through innovation and growth.
Both the firm and its subcontractors have gained General Trash Collector Licenses from the National Environment Agency (Singapore). Allowing the company to handle both inorganic and organic waste.
Key Differentiators
43 years of experience
Eco-friendly services
Client Testimonial
Efficient and great door to door service for the collection and recycling of my wooden crate and 1.5m tall safe
19. Mover Compared
Mover Compared is one of the most popular waste removal company comparison sites in the industry, with over 15 years of expertise. Mover Compared has a large database of Singaporean disposal firms, allowing for extensive research. Clients may discover the finest disposal services at the greatest rates and can even locate businesses that provide the lowest price tags based on their needs on Easy-to-navigate sites.
Key Differentiators
Large company catalogue
Quick quotation
Disposal Service Singapore
Disposal services are a very important part of any company's sustainability plan. This service has been proven to be an effective way for companies to reduce their carbon footprint and they have a positive impact on the environment, urban infrastructure, and the economy as well. The disposal process consists of recycling or disposing material that can't be reused in another form. It's essential that you find a reputable company with experience handling this type of project so you're not just dumping your waste into landfills carelessly.
Disposing of these services will help preserve natural resources like earth, air, water, minerals, energy sources by reducing consumption levels while also preventing pollution from chemical substances. If you need assistance finding high-quality disposal service providers then call one or two in our listings now!
If you liked reading this article, check the links below to read similar articles:
Frequently Asked Questions (FAQ)
If you have any questions about disposal services in Singapore, you can refer to the frequently asked questions (FAQ) about the best Disposal Services in Singapore below:
Additional Useful Articles
If you are looking for other useful guides and articles about best Disposal Services in Singapore, check them out below: