Dog Boarding Singapore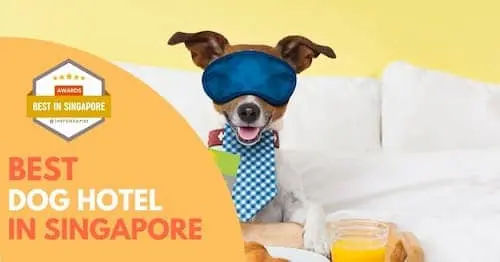 Ensuring the well-being of your furry friend while you're away is a paramount concern for every pet owner.
The best dog boarding services in Singapore include Petronize, Ginny & Friends, Pets Eden, Pawshake, and Mutts 'n' Mittens.
When selecting a dog boarding service in Singapore, take into account elements like the service's location, facilities, and the presence of outdoor space.
When you opt for a dog boarding service in Singapore, the common offerings typically include lodging, meals, daily walks, playtime, and occasionally grooming services.
This list introduces the best dog boarding services in Singapore, each dedicated to offering your dog a comfortable and enjoyable experience.
Quick Summary
Best dog boarding services in Singapore include Petronize, Ginny & Friends, Pets Eden, Pawshake, and Mutts 'n' Mittens.
When choosing a dog boarding service in Singapore, consider factors such as location, facilities, and availability of outdoor space.
The usual inclusions when availing a dog boarding service in Singapore typically encompass accommodation, meals, daily walks, playtime, and sometimes grooming services.
Best Dog Boarding Singapore
1. Petronize
| | |
| --- | --- |
| Key Services | Pet Grooming, Boarding, Day Care |
| Address | Blk 18 Upper Boon Keng Road #01-1135 Singapore 380018 |
| Website | https://petronize.sg/ |
| Phone | (+65) 9871-7593 |
| Email | enquiry@petronize.sg |
| Operating Hours | Monday to Sunday: 10 AM – 6 PM |
If you're looking for a good dog boarding, Petronize is an excellent alternative. The team's 8 years of expertise allows them to properly take care of Furkids while you're away, ensuring their health and safety.
The facility they provide is one of the finest, with air-conditioning and fresh water. When interacting with others, staff monitors each pet to ensure their safety while playing with other furkids.
Key Differentiators:
Varying pet boarding fees for varying sizes of dogs
Provides air-conditioning and fresh water daily
Hands-on staff
Client's Reviews:
A pretty good first grooming experience. Karen was responsive and punctual. The place was clean and pleasant. Corgo was happy and smelled really good after grooming. Transportation home was timely 🙂

Kenneth Yeow
2. Ginny & Friends
If the thought of pricey rooms and extra expenses at a dog hotel has left you disappointed, then check out Ginny & Friends' services and rates! They provide fun-filled activities and well-managed dog care services at low prices, which is just what you'd expect from a great pet sitter.
Their air-conditioned and cage-free environment is unique. Meanwhile, their pleasant outdoor setting allows your dogs to walk and play with continuous oversight.
They also have chew-proof mattresses to be used by all types of ddogs. Their service only costs for $25, which is relatively cheap compared to other dog hotels.
Key Differentiators:
Pleasant outdoor setting
Exercise activities for the fur kids
Grooming salon
Affordable rates
Client's Reviews:
The only doggie day care that I would send Baby to! Baby has a regular since she was a puppy. There is a webcam where it allows you to watch the doggies at play and there will be a staff with the dogs at all times. The staff are well trained and takes good care of the doggies. They are given walks too. Iris the groomer is good too! Baby has not visited any groomer besides Iris.

Vikki Sim
3. Pets Eden
Key Services
Cat Grooming, Dog Grooming, Rabbit Grooming, Pet Plaque & Tartar Removal, Kitty Vacation, Grooming Courses
Address
29 Everitt Rd, Singapore 428576
Website
https://www.petseden.net/
Phone
(+65) 6258 3201
Email
admin@petseden.net
Operating Hours
Monday, Wednesday to Saturday: 10 AM to 7 PM
Sunday: 10 AM to 5 PM
Well this may not be a sole dog hotel but it's worth the try for cat moms.
Pets Eden is a grooming salon for rabbits, cats, and dogs, and they also offer being a cat hotel.Their staycation are done in cozy, air-conditioned, and sterilized suites designed only for your furbaby.
Your cat will enjoy running about its own furniture in the vast floor-to-ceiling vertical room, which provides plenty of area for it to play. It also has cushioned nooks and relaxing music for a soothing lounge. With trained personnel on call 24 hours a day, your cat is in good hands.
Key Differentiators:
Friendly Staff
Good Grooming Services
Client's Reviews:
I took up a course on cat grooming here and the instructor Mike was very patient and informative. And when i cant handle any cat, i would bring the cat in so that the professional groomers can help with the grooming. I also bring in my little precious bull terrier to let them cut his super hard and tough to cut nails. Regardless of the extensiveness of the job to be done.. may it be a ten dollars job or a full grooming session, Pet Eden groomers will take it on with short notice given. I strongly recommend them if you need to groom your pets.

Mr. Singapore 2010
4. Pawshake
| | |
| --- | --- |
| Key Services | Dog boarding, Doggy day care, Dog walking, Dog sitting, Cat sitting, Pet sitting, House sitting |
| Website | https://www.pawshake.com.sg/ |
| Operating Hours | 24 hours |
This next one on the list is a bit different.
Pawshake connects insured pet sitters with home boarding services for the sole purpose of matching them up. Conceived as a dating app for pets, it works similarly to Tinder but with the aim of connecting pet providers and clients instead.
This online service that helps pet owners find a verified sitter in their neighborhood. Of course, you must do some research yourself, such as reviewing the sitters' past feedback, to ensure everything's A-okay. Cost per day are considerably less than those of pet boarding homes at $15.
Key Differentiators:
Unique Service
Pet Sitter Matching
Client's Reviews:
Excellent service by Doreen. She kept her communication constant and polite. Kept me constantly in the loop on the whereabouts of my doggy. Will look for her again.

Matthew
5. Mutts 'n' Mittens
Whether you're welcoming a mutt or a mitten, this is one neighborhood where you'll be welcomed with open arms. Single and double rooms are available, as well as elevated dog beds, and a pool if your companion wants to swim. Mutts 'n' Mittens also houses stray pets that are up for adoption.
The dog and cat housemates are allowed to mingle in the Living Room and the Kitty Korner, respectively, where there are no restrictions.
Key Differentiators:
Encouraged cat and dog socialization
Houses stray pets up for adoption
Client's Reviews:
I chose Mutts and Mittens as the room size is so much more comfortable and spacious as compared to those capsule size rooms in other pet hotels in Singapore. Moreover, Mutts and Mittens room are air conditioned and I could check on my cat via the cctv app they provided. The cat caregiver there updates me daily and is very responsible. Overall, I am delighted with the service provided and I will definitely use their service again.

J Lim
6. Fyfy's Love Pet Services
| | |
| --- | --- |
| Key Services | Grooming, Boarding, Daycare, Walks |
| Address | Hougang, Singapore |
| Website | https://www.facebook.com/fyfyslove/ |
| Phone | (+65) 9026 0492 |
| Operating Hours | Monday to Sunday: 7 AM – 11 PM |
Fyfy's Love Pet offers doggone cute puppy and kitten pictures, as well as a variety of other pet services. Their devotion to their pet services is evident in their ad campaign which highlights the importance of grooming, boarding, daycare, and walks for your beloved furry companion. They are highly regarded by past consumers for continually providing feedback on
They are also trustful and efficient. They make sure to take care of your pet in its finest possible form, as well as having a pleasant time with them.
Key Differentiators:
Positive vibes
Gives pet advices
With high stars reviews
Client's Reviews:
It has been a very positive experience leaving my puppy in the good hands of Karen's. She has constantly provided me update and advises to improve his behavior. Highly recommended for anyone considering pet sitting services to look for FyFy(Karen).

Glenn Wee
7. The Wagington
Key Services
Suites, Daycare, Spa & Fitness, Party & Events, Limo Services
Address
27B Loewen Rd, Singapore 248850
Website
https://thewagington.com.sg/
Phone
(+65) 9638 6347
Email
hotel@thewagington.com.sg
Operating Hours
Monday to Friday: 7:30 AM to 7:30 PM
Saturday & Sunday: 8:30 AM to 7:30 PM
If you're searching for a luxury hotel with dog-friendly rooms where your dogs can have bespoke meals and enjoy a pampered stay, The Wagington is the place to go! Each suite has a variety of grand and lovely furnishings, as well as handcrafted leather orthopaedic beds.
CCTV cameras are also in each room, ensuring continuous surveillance 24 hours a day, seven days a week. They provide full-time daycare and other activities to allow the dogs to socialize and have fun. Swimming, bike riding, treadmill training, and other activities are included in this.
At their Doghill Park, dogs may play freely and safely outside thanks to a huge area created with anti-microbial synthetic turf grass. They also provide salon and spa services for a nutritious groom treatment for your pets.
Key Differentiators:
Pool
Membership rewards
Pet transport
Pet events
Client's Reviews:
I have seen this amazing pet hotel in person and it is top notch. The pets staying there all look happy and well taken care of. The staff definitely has a passion for what they do. I love the bone shaped pool!

Octavia Carson
8. Wanderlodge
At Wanderlodge, your pets may enjoy a cage-free, healthy, and secure environment as they wander about freely. This location may provide the finest dog boarding facility in Singapore whether your beloved dogs want company or alone time!
They have a team of professional groomers, full-time pet sitters, and trained personnel that will look after your pets and ensure that they are well-fed and safe during their stay.
They provide daily daycare services that can assist with separation anxiety while you're away for a week or more.
They teach your dogs bladder and bowel control, loose leash walking, and how to be comfortable around people, animals, and settings that are different from what they're used to.
Pets must pass a complete flea/tick and fungus examination as well as an emotional test. So you may sleep easy knowing that your dogs and their fellow pets in the hotel will be clean and odor-free.
Key Differentiators:
Hygienic facility
24/7 staff
Dog training
Transportation service
9. Breakfast at Fluffy's
Breakfast at Fluffy's is one of the finest pet care services in Singapore, and for good reason: they provide a secure and pleasant environment for your pet to stay in. Their personnel is really empathetic and caring towards all of the animals that they take care of. If you bring your pet back, he or she may not want to go home.
Key Differentiators:
Finest pet care service
Good environment
Pleasant staff
Client's Reviews:
We were surprised at how gorgeous the place is! I am most grateful at how accommodating Elaine is (it included a last minute 5.45am pickup) & how she managed to quickly calm & settle my hyper one down. I am most grateful at how accommodating Elaine is.

Pei Tsing
10. PetAugust
Pet August allows you and your pet to enjoy a number of services, including pet sitting, daycare, grooming, and more.
They have a tiny playground where your pets may play and release their energy. Pet grooming is an excellent method to make sure that your pet is in the best possible shape so make sure to check out their salon and spoil your dog
Key Differentiators:
Friendly staff
Good grooming services
Playground
Client's Reviews:
It's our first time boarding our little Lexie for 8days 7night. We recce many many places and felt the most at ease with Pet August. The staff here are really sincere and genuine. I could tell their genuine love for animals. Being away for so long away from Lexie, naturally we felt very very anxious. But they sent frequent updates, videos and photos. And they were extremely patient with our long list of questions and requests.

Also have them to groom her and she came home smelling great and looking cheerful. She must have had so much fun looking at her sound asleep with a smile on her face… thank you Shinny, Vinna and all the staff and little ones like sunshine and ice for giving her so much love and joy. Definitely gona bring Lexie back every now and then for day care or boarding or grooming:) very satisfied little Lexie and paw-rents. 🙂

Lau Belle Lifeng
Dog Boarding Singapore
We hope that this article has helped you discover the perfect Dog Boarding Singapore!
With so many options out there, it can be difficult to find a good fit for your pup. But now you have no excuse not to bring them along on vacation with these 10 great hotels. From luxurious suites complete with pools and spa treatments to ones where they will feel right at home surrounded by other four-legged friends, we are confident that one of these places is just what both of you are looking for.
So get packing! We look forward to seeing some photos when you return from your trip together.
Interested in more lifestyle ideas? Check more of our blog posts below!
Frequently Asked Questions (FAQ)
If you have any questions about dog boarding service in Singapore, you can refer to the frequently asked questions (FAQ) about the best Dog Boarding Services in Singapore below:
What are the best dog boarding services in Singapore?
The best dog boarding services in Singapore include Petronize, Ginny & Friends, Pets Eden, Wanderlodge Pet Hotel & Suites, Pawshake, Wagington Luxury Pet Hotels & Resorts, and Mutts 'n' Mittens.
What are pet boarding services?
Pet boarding centre provides a temporary home for your pets when you cannot care for them yourself, such as when you're on vacation or at work. These facilities offer a safe and comfortable environment for your pets, ensuring they are fed, exercised, and receive any necessary medical attention.
Why should pet parents consider dog boarding centres in Singapore?
For pet parents who need to travel or are away from home for long periods, dog boarding centers in Singapore offer a safe and engaging environment for their dogs. They provide professional care, feeding, exercise, and social interaction that your dog needs, giving fur parents peace of mind knowing their furry family members are well taken care of.
How does pet taxi services enhance the experience at pet boarding centres?
Pet taxi service offers convenient transportation for your pet to and from the boarding centre. This service is especially beneficial for busy fur parents who may not have the time to drop off or pick up their pets. Some dog boarding centres in Singapore, like Collar Club, even include this service in their packages.
What amenities can pampered pets expect at these dog boarding centres?
Pampered pets can expect a wide range of amenities at these centres. They often feature comfortable sleeping areas, playrooms, outdoor spaces for exercise, grooming services, and even resident vets for any medical needs. Some centres also offer additional services like training and socialization activities.
How much does it cost per night to board a dog at these centres?
The cost per night for dog boarding varies depending on the centre and the specific needs of your pet. On average, you can expect to pay anywhere from SGD 30 to SGD 80 per night. It's advisable to contact the centre directly for an accurate quote.
Are there pet boarding centres in Singapore that accommodate guinea pigs?
Yes, best pet boarding services in Singapore also accommodate smaller pets like guinea pigs. However, it's important to check with the specific centre beforehand as not all facilities may have the resources or trained staff to care for these animals.
How do dog owners benefit from pet transportation services offered by some dog boarding centres?
Pet transportation services help dog owners by providing safe and reliable transport for their pets to and from the boarding centres. This is particularly helpful for owners who may be busy, lack a suitable vehicle, or are uncomfortable transporting their pets themselves.
What is the Collar Club and what services do they offer?
Collar Club is one of the premium pet boarding centre in Singapore. They offer a range of services including dog boarding, pet taxi services, grooming, and even a daycare. Their facility is designed to provide a comfortable and stimulating environment for pets, with professional staff including resident vet nurses for any medical needs.
What should pet parents look for when choosing a dog boarding centre in Singapore?
When choosing a dog boarding centre, pet parents should consider the facility's cleanliness, safety measures, staff qualifications, and the services they offer such as pet taxi services and resident vet nurses. It's also important to consider the centre's approach to care, ensuring they can meet your pet's individual needs and provide a comfortable and engaging environment.
Additional Useful Articles
If you are looking for other useful guides and articles about Dog Boarding Services in Singapore, check them out below: