Fun Group Activities Singapore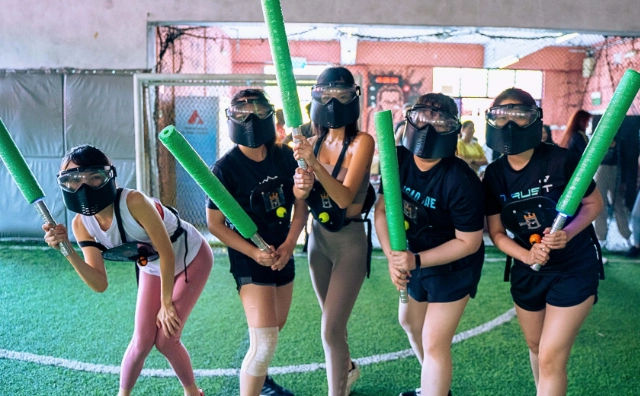 Are you looking to strengthen the bonds within your group while having a blast? Look no further than the vibrant city of Singapore, where fun group activities abound.
Engaging in group activities is not only a great way to create lasting memories but also an effective means of building stronger connections.
Whether you're planning a team building event, a family outing, or a social gathering with friends, Singapore offers a plethora of exciting options that cater to various interests and group sizes. In this article, we will explore the benefits of group activities for connection-building and highlight some of the top fun group activities in Singapore.
Exploring Fun Group Activities in Singapore
Singapore, known for its vibrant culture and diverse attractions, offers an array of fun group activities that cater to every interest. Whether you seek thrilling adventures, cultural experiences, or simply a fun day out with your loved ones, Singapore has something for everyone.
From exciting theme parks to captivating heritage trails, the city boasts a wide range of options to suit different group sizes and preferences. In addition, Singapore's well-connected transportation system and efficient infrastructure make it convenient for groups to navigate and explore the city's offerings.
Benefits of Group Activities for Building Connections
Foster camaraderie and mutual understanding among participants.
Break down communication barriers and promote effective dialogue.
Encourage teamwork, collaboration, and appreciation for diverse strengths.
Create shared experiences and lasting memories.
Develop trust and reliance on one another for support and cooperation.
Provide opportunities for problem-solving, critical thinking, and creativity.
Enhance social skills and interpersonal relationships.
Promote a sense of belonging and community within the group.
Improve overall group dynamics and cooperation.
Strengthen bonds and connections among group members.
Top Fun Group Activities in Singapore
1) Adventure Cove Waterpark
Dive into an exhilarating aquatic adventure at Adventure Cove Waterpark. This thrilling attraction offers a variety of water-based activities, including high-speed water slides, lazy river rides, and snorkeling among colorful marine life. Perfect for groups seeking an adrenaline rush, Adventure Cove Waterpark provides an ideal setting for fun and laughter while creating unforgettable memories together.
2) Sentosa Island Adventure
Embark on a thrilling journey to Sentosa Island, a tropical paradise filled with cool team building activities in Singapore. Start with a cable car ride offering breathtaking views of the city skyline, followed by a visit to Universal Studios Singapore, where you can enjoy thrilling rides and meet beloved characters from your favorite movies. Cap off the day with a relaxing beachside picnic or an immersive nature walk in one of the island's lush gardens.
3) Escape Room Challenge
Challenge your group's problem-solving skills and teamwork by participating in an escape room experience. With various themes and difficulty levels available, escape rooms provide a thrilling and immersive adventure where groups must work together to solve puzzles, find hidden clues, and ultimately escape within a set time limit. This great team building activity promotes effective communication, critical thinking, and cooperation, all while creating an exciting and memorable bonding experience.
4) Trishaw Tours
Experience the charm of Singapore's heritage with a trishaw tour. Hop on a traditional trishaw and embark on a guided journey through the city's cultural districts. As you leisurely pedal through the streets, your knowledgeable guide will share fascinating stories and historical insights about the local landmarks, such as Chinatown and Little India. This immersive experience allows your group to discover Singapore's rich multicultural heritage while creating a fun and interactive bonding experience.
5) Cooking Classes
Unleash your culinary creativity with a group cooking class in Singapore. Join a professional chef and learn to prepare delectable local dishes or international cuisines. From traditional Singaporean favorites like laksa and chicken rice to exotic flavors from around the world, cooking classes offer a hands-on experience where your group can work together to chop, mix, and savor the fruits of their labor. Besides learning new cooking techniques, this fun team bonding activity encourages teamwork, communication, and a shared appreciation for delicious food.
Planning Tips for Group Activities in Singapore
To ensure a smooth and enjoyable group activity experience in Singapore, here are some practical planning tips:
Research and book activities in advance to secure preferred time slots and availability.
Consider the interests and preferences of your group members to choose a team building session that cater to their diverse tastes.
Create a budget that covers activity costs, transportation, meals, and any additional expenses.
Communicate the schedule and itinerary to group members well in advance to allow for proper planning and coordination of the corporate team building event.
Take advantage of group discounts and packages offered by activity providers to maximize cost savings.
Stay updated on any COVID-19 guidelines and safety measures implemented by activity venues and follow them accordingly.
Fun Group Activities Singapore
Fun group activities have the power to bring people closer, create lasting memories, and strengthen the connections within a group. In Singapore, a city renowned for its attractions and vibrant atmosphere, you'll find an abundance of options to cater to your group's interests and preferences.
From thrilling adventures to cultural experiences, Singapore offers a diverse range of team building games that will leave your group energized and connected. So, gather your group, embrace the spirit of adventure, and embark on a journey of building stronger connections through team building activities in Singapore.
Frequently Asked Questions (FAQs)
If you have any questions about fun group activities in Singapore, you can refer to the frequently asked questions (FAQs) about the fun group activities in Singapore below:
Why are group activities important for building connections?
Group activities provide a platform for individuals to engage in shared experiences, fostering camaraderie, and mutual understanding. They promote effective communication, teamwork, and trust-building among participants, ultimately strengthening the connections within the group.
What types of group activities are available in Singapore?
Singapore offers a wide range of team building exercises to suit various interests. Some popular options include adventure parks, cultural tours, escape room challenges, cooking classes, trishaw tours, and beachside picnics.
Can you provide examples of thrilling group activities in Singapore?
Certainly! Adventure Cove Waterpark offers exhilarating water-based rides, while Sentosa Island features attractions like Universal Studios Singapore, cable car rides, and immersive nature walks.
Are there activities that promote problem-solving and teamwork?
Yes, escape room challenges are excellent for promoting problem-solving and teamwork for your next team building event. Participants must work together to solve puzzles, bubble soccer, laser tag find clues, and escape within a given time limit.
How can group activities benefit corporate team building?
The best team building activities Singapore can enhance teamwork, communication, and collaboration within a corporate setting. They provide a relaxed and interactive environment for employees to bond, team development and a more cohesive team.