Gym Singapore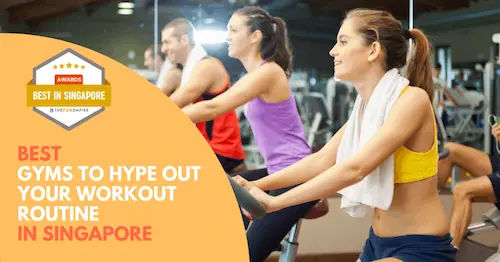 In the bustling city-state of Singapore, maintaining physical fitness is essential for a balanced lifestyle.
The best Gyms in Singapore include Dennis Gym, The Gym Pod, The Strength Yard, Sunbae Boot Camp, Platinum Fitness, Amore Fitness, and BoOm Singapore.
When selecting a gym in Singapore, take into account aspects like the gym's location, available equipment, options for personal training, and the variety of group classes offered.
In Singapore, gyms provide a diverse range of programs that encompass strength training, cardio workouts, boot camps, yoga classes, boxing, and personalized training sessions.
Here, we have curated a list of the best gyms in Singapore to help you find the perfect fitness hub tailored to your needs and preferences.
Best Gym Singapore
1) Dennis Gym
If you're a bodybuilder who loves competing in competitions, Dennis Gym is the perfect location for you. They are the official sponsor of a prominent bodybuilding competition in Singapore. Personal training, several programs and classes, and muscular toning and fitness training are among their specialties. They provide membership options that range from six months to two years. You can even get two personal training sessions for free if you sign up with them.
Key Differentiators
Student and senior citizen promotion
Flexible membership plans
Client Testimonial
Great place to workout. Clean and completed equipment. Value for money gym. Their access key able to use at all their different outlet Tampines, TS and Balestier. Highly recommended!

Yeow Jian Wu
2) The Gym Pod
The Gym Pod's mission is to provide the space, tools, and knowledge for anyone to exercise and get fit. Whether you're a beginner who wants to #JustGetStarted or already a fitness professional, The Gym Pod welcomes you to enjoy the most private workout you'll ever get! Looking to have a Gym Pod placed near you? Let The Gym Pod know your dream location!
The perfect place to get in the right headspace and enjoy a private workout session. Have an entire gym in Singapore to yourself with access to all equipment without the need to queue! Rates start as low as $7 per pod session, talk about affordable! You can also book an individual bike at The Spin Pod as low as $5.00! Make sure to check them out today.
Key Differentiators:
Privacy: all of the pods can be privately booked via the mobile app. No uncomfortable distractions, no queueing for equipment, etc.
Convenience: fully operational 24/7. The Gym Pod aims to provide a Pod for everyone to use whether they are commuting from work or just want to step outside their home.
Peace of mind: No pricey gym memberships or pushy sales staff. Simply download the app and book your session.
Customer Review:
At a time where everyone is worried about contracting COVID-19, I feel as if The Gym Pod is the perfect solution. I have not once worried about my safety as every time I walk in there it is spotless. At the moment I would not feel nearly as safe working out around others in a much more public gym; however, The Gym Pod provides a unique experience where one can workout in full isolation in a very clean environment. Thank you for everything and providing a safe place to workout.

Monty Day
3) The Strength Yard
The Strength Yard is a no-frills gym, looking to introduce strength training and it's benefits to the public. Valuing technique and training longevity above everything else, they, therefore, have all of their group classes with a small coach to student ratio. The Strength Yard's end goal is to have everybody become self-sufficient in their training. Hence, they provide an open gym area for anyone who's confident enough to be training by themselves.
Want to get stronger together with friends? Check The Strength Yard out now.
Key Differentiators:
Specialises in functional free weights strength training
Friendly and conducive training environment for people across all skill levels
No contract membership options
Customer Review:
You come to The Strength Yard to find a place to lift, but instead, you find a community; a friendly, down-to-earth, unpretentious group of people who really know their stuff. Everyone here is very kind, and it shows in their attention to detail and to their clients. The team has an unrelenting focus on quality and good form/technique, so the instruction here is top-notch, much more professional and meticulous than you'll get at a chain gym.

Since I started PT here, my persistent back-ache (familiar to all women) has completely vanished, I actually have visible glutes (yay booty) and it's a joke at my workplace that I have the strength of 10 men. More than that, I love coming to the gym and I'm happier and healthier for training here with Ed – I totally recommend this place! They are very girl-friendly, and you will meet several amazing ladies who lift heavy and look amazing while doing it, so I would encourage any woman to give it a try.
4) Sunbae Boot Camp
Raise your fitness game to the next level! Sunbae Boot Camp provides a specific sports performance training based on personal goals and sport-specific demands. Their sports performance training improves functional movements to support the demands of life and sport. Sunbae Boot Camp help athletes of all levels shore up weaknesses, decrease injury risk, and build strength and power.
Beach day can never be more productive than this! Challenge yourself, go with friends or team mates to try it out.
Key Differentiators:
Located by the beach
Sports focus Bootcamp
Energetic coaches
5) BoOm Singapore
boOm is all about creating a fun and holistic environment where people can workout, feel safe and not be intimidated by the people, the instructors, or the space. boOm is also currently conducting classes via Zoom. Holding 3 workout types on Zoom – BoomBox, boOmCAMP and HIITxStretch, a 45-50 minute class separated into two segments of 30minutes of HIIT and 15-20 minutes of stretching.
boOm provides a "holistic and engaging workout" and a platform to experience the "art of boxing" and the advantages of functional training. Besides boxing, boOm also offers BoomCircuit, a full-body circuit workout with a maximum of eight people to a class. Been wanting to hit up gyms in Singapore? Try boOm Singapore!
Key Differentiators:
boOm believes that safety comes first. boOm advocates that a good workout needs to be safe. Instructors pay special attention to form, and stress quality of reps over quantity. Take the workout at your own pace and listen to what your body needs.
All boOm workouts are inclusive and diverse no matter your fitness background. They are suitable for anyone regardless of fitness background, or where you are in your fitness journey. boOm is all about bringing different people into the same space, to share a common goal of doing something good and productive for themselves. It doesn't matter if you've never participated in a group class or if you just can't live without them, boOm happily welcomes you to join them. They believe in building not only a safe and fun space for people to work up a sweat, but space where building a community of people from different walks of life is possible. Focus on the present and get stronger.
boOm classes described in three words: "high-energy", "positive" and "hyper-engaging".
6) Legends Fight Sport
The Legends team is made up of passionate, dedicated and knowledgeable individuals. They are always learning to be better coaches so as to provide you with the best training opportunities. Whether you want to box to improve your fitness level, learn the real art of boxing or get quality coaching to help you advance in your boxing career amateur or pro, The Legends Team is there at every step of the way.
"Once a Legend, always a Legend. Just like you, we at Legends are fighters too."
Key Differentiators:
We are the ONLY boxing ONLY gym in the CBD area.
The gym and training programme is run by former National Team and SG's current top professional boxer, Muhamad Ridhwan 'The Chosen Wan'
Our members are students of the craft and are fun people!
Customer Reviews:
I love the environment and the attitude of the people who train here. I have trained in many many gyms in Singapore and none can rival Legends when it comes to the diversity of the people this place attracts.

Gullnaz Baig
The training is thorough and for every session, I feel that there is always something new to learn. What makes Legends great is the fact that the coaches really have their eyes on u throughout the 1 hour session and will not let you feel that you are just going through the motion.

Vinson Susilo
7) Savate Club Singapore
If you are looking for a high-quality Boxing / Kickboxing gym in Singapore, which won't break the bank, Savate Club Singapore is the place for you.
Whilst Savate Club Singapore focuses on many aspects of the sport, such as technique and tactics which can be applied in sparring, they also value dedication, perseverance and spirit just as much.
Above all else, a positive atmosphere is a key motivator in their training journey. Controlled sparring is what usually happens at the end of each session, but Savate Club Singapore also offers the opportunity for hard contact sparring to advanced practitioners who enjoy the challenge!
Key Differentiators:
Small group class for a better coaching
Cheapest club in Singapore (1000$/year, including all classes access, T-shirt, events…)
Fully and new equipment (premises, ring, weights…)
8) Dennis Lee Ving Tsun Martial Arts Association Singapore
Dennis Lee Ving Tsun Martial Arts Association is the school of choice in Singapore to pick up authentic Ip Man Wing Chun. The founder of the school, Master Dennis Lee is the chairman of Ving Tsun Athletic Association and the disciple of Grandmaster Ip Ching, the 2nd son of Ip man and has trained for more than 25 years with him.
Local instructors – Terrance Ho and Andy Chia are disciples of Master Dennis and are certified instructors of the VTAA, the association established by the late Grandmaster Ip Man. They are the only school in Singapore that is certified to impart the Ip Ching lineage of Wing Chun. The school uses a modern training management system to effectively manage the training progress and level of efficiency of individual students in traditional art.
Pick up a new skill in this school, check them out today.
Key Differentiators:
Fun and cohesive training environment
The closest link to VTAA – Ip Man Wing Chun school in HK
VTAA certified instructors
9) Virgin Active
Virgin Active's facilities, which include spas and restaurants in their six locations, represent a world-class first experience. Virgin Active has several clubs all around Singapore and the globe, so you may work out when and where you want to exercise.
Key Differentiators
Exclusive membership benefits
Client Testimonial
love the space & staff at tanjong pagar. very professional except one counter staff named hafiz. not sure why hired this guy. defintely no service standards.

Nicholas Peck
10) The Pit
The Pit's training will help you smash your fitness objectives, and the burn will hit you where it hurts. When it comes to intensive strength and conditioning training sessions, expect a no-nonsense approach from the gung-ho gym. Take your fitness routine to the next level with one on one training or group classes like Muay Thai.
Key Differentiators
Expect a no-nonsense approach
Client Testimonial
Great PT gym, camaraderie is awesome while we work out hard , Ving knows his stuff, focuses on your success and has fun along the way ! No more foot or knee pain some more muscle and less belly !!

Brenton Smith
11) F45
Go all out with F45. The Aussie fitness center's 45-minute sessions are based on HIIT, circuit training, and functional exercise designed by celebrity trainer Luke Istomin. Each session aims to increase strength, endurance, and resistance. It's claimed that the studio's mix of interval, cardiovascular, and strength training is effective in burning fat, increasing lean muscle mass, and boosting the metabolism.
Key Differentiators
Combine elements of HIIT
Each workout aims to improve strength, cardio and resistance
12) Gymm Boxx
A single gym was the beginning of Gymm Boxx. They expanded their facilities gradually throughout the years until they became known as the finest gym in Singapore. They have successfully opened numerous branches and are on track to reach a decade in operation next year.
Clients may join for a long- or short-term membership, which gives them access to their amenities and classes for a month, three months, six months – even twelve months. They have an impressive gym floor space which offers amenities such as lockers, showers, towel service and clean changing rooms. It is the best place to go to if you're looking for a reliable gym in Singapore that delivers what it promises to its members.
Key Differentiators
Personal training
Campaigns and special promos
Open to public gym facilities
Client Testimonial
1) Good facilities, quality equipment and environment to get a great workout in. 2) Especially love the dedicated deadlift platform with the bumper plates. 3) Membership fees is reasonable too.

AJF Writes
13) Barry's
Barry's is a Los Angeles-based top HIIT studio that has been frequented by A-listers. Barry's now in Singapore welcomes you to sweat it out at its world-famous HIIT classes held in the Red Room, which is known for its high intensity. The carefully curated workouts are known to include on treadmill activities with resistance and incline, boxing and a lot of circuit training. The best part? You get a full body workout in just 45 minutes!
Key Differentiators
Carefully curated workouts
Immersive and motivating experience
Client Testimonial
I love everything about Barry's Singapore – the space, its aesthetics, the people, the great vibe and energy. My favourite instructor would be Rachel – she's got so much great energy to share and her classes never fail to get me all pumped up. I would go to a 7 or 8am class for her.

It's a great community at Barry's. If you haven't try it already, i'll highly recommend going with a few friends and make new friends there too.

Andee Chua
14) CrossFit Mobilus
CrossFit Mobilus offers a lot of encouragement, like no other gym I've been to. Even when competing for the fastest time, the community tie is solid at CrossFit Mobilus. And MobCon, a 30-minute metabolic conditioning class intended to boost endurance, isn't any different. The Workout of the Day (WOD), often referred to as a benchmark, is announced and different participants will race against the clock to complete the prescribed reps and see who can finish first.
CrossFit Mobilus features a variety of workouts that appeal to both novice and expert CrossFitters. On an Airdyne, for example, you might cycle or perform barbell deadlifts with a partner. Don't worry if you're alone; the camaraderie that develops from doing the WOD as part of a group is perhaps one of its biggest draws.
Key Differentiators
Range of exercises
Community bond is strong
15) Anytime Fitness
There's a great selection of Anytime Fitness locations in Singapore. They have thousands of gyms worldwide and many outlets throughout the nation. They provide customized services and fully equipped facilities for people with all degrees of fitness. In addition to specialized classes, personal training, fitness assessments, wellness programs, and even vitamins or supplements, they have bespoke solutions for their members.
Key Differentiators
Free classes
Health plan discounts
16) TFX Millenia Walk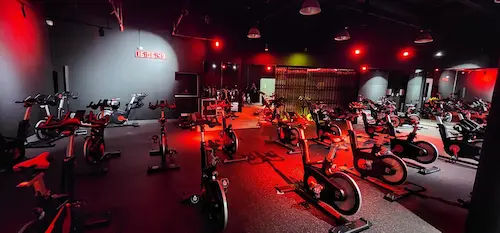 The largest fitness center in Singapore, TFX Millenia Walk, helps you smash your fitness objectives. Work on your endurance and strength with cutting-edge gym equipment. Alternatively, work up a sweat at its cycling studio, yoga room, and group exercise rooms with Small Group Training (SGT) classes for everything from boxing to circuit training. The TFX Personal Trainer will help you unleash your potential and shape a healthier lifestyle.
Key Differentiators
Makes you push yourself
Variety of exercises
17) Safra
Safra's Gym is a fitness center in Singapore that caters to those with mid-range budgets yet offers premium and unique events and activities. You will not be disappointed if you join up here. They have a lot of things planned!
Adventure, arts, and culinary activities are some of the categories covered. They range from target sports to team sports and wellness and fitness programs. It will be worth it for people who take advantage of membership packages since they will get certain benefits and privileges, such as educational plans, insurance, legal information services, and healthcare.
Key Differentiators
Treats and deals
Team building and seminars
Client Testimonial
Almost perfect, it has everything that I need and near my place!

Jing En K.
18) ActiveSG
In their functional fitness program, Active SG offers a range of exercises. Each exercise is intended to build various parts of the body, as well as enhance stability and prevent injuries. All practices are useful in our daily lives, such as going up stairs and even grocery bags carrying. They also provide specialized programs for families and people with disabilities.
Key Differentiators
School holiday programmes
Different academies and clubs
19) Ultimate Performance Singapore
Is this the year you've resolved to achieve your personal fitness objectives properly? If you want your gym membership to provide you with the best body transformation possible, perhaps it's time to enlist the services of a personal trainer. World-class athletes and coaches from Ultimate Performance work together to help you achieve your fitness goals — whether they're weight management, muscle gain or improved performance — by offering a wide-range of performance and nutritional services.
If you got a gym membership because of it, then Ultimate Performance is the place to go. Made of top quality materials and with cutting-edge technology, the Ultimate Performance gym is ideal for serious fitness enthusiasts.
Key Differentiators
Free trial sessions available
Personalised training
Client Testimonial
Had a great experience with UP and specifically with my trainer Peter. Peter was encouraging as well as helped learn important aspects about training and nutrition. Being a vegetarian, he helped identify the right sources to incorporate into the diet to hit the required amounts. I am happy with the results and look to continue the discipline and hard work from hereon

Yagneshwar Nanduri
20) Pure Fitness Singapore
Some individuals become more inspired when they collaborate on projects. If that's the case, Pure Fitness' gym membership is most likely for you. Though their monthly expenses may be greater than typical, it is well-justified by the sheer quantity of classes they offer, from TR-X training to yoga to Zumba to Body Combat – name any cardio/aesthetic/well-rounded workout method, and Pure Fitness has you covered. Their facilities are also extremely impressive, unlike any other gym I've seen in Toronto.
They also have four locations across Singapore, so no matter where you are on the island, you'll always be able to find a gym. In other words: there's no reason why you shouldn't go to the gym!
Key Differentiators
Complimentary trial available
Client Testimonial
Nice spacious gym with decent equipments but atmosphere sucks especially nexus of personal highly qualified trainers.

You can manage well only if you workout with them, self workout and availability of equipments/platform is really thumbs down. It feels like, gym is not meant for members but for trainers

Varun Kashyap
21) Ritual Gym
If you're looking for a gym membership that will help you get the most out of quick, short workouts, Ritual Gym is definitely worth considering. Ritual Gym specializes in High Intensity Interval Training, which involves brief bursts of intense activity followed by rest periods. Because sessions at the Ritual Gym are only about 30 minutes long, this is ideal for people who want to be more active, but don't have a lot of free time. For most people, the 30 minutes that they do spend at Ritual Gym will be time well spent because it is likely to yield results and make them feel great.
Ritual Gym is accessible in two ways: a small group class in one of their three (turning 4) branches, and an app. This means you may do your Ritual Gym exercise at any time, even if you're on the road.
Key Differentiators
Paid trial sessions available
App available
Quick workouts
Client Testimonial
friendly coaches! workout attire, showers, hairdryers all provided!

Dipping Nutella
22) Evolve MMA
Named as the #1 ranked martial arts organization in Asia by CNN, Yahoo! Sports, FOX Sports, and more, Evolve MMA is Asia's premier championship brand for martial arts and has the most number of World Champions on the planet with over 1,000 years of collective championship experience.
The outlets are equipped with state-of-the-art facilities for training in martial arts, including equipment for strength and cardio conditioning (such as airdyne bikes, rowing machines, treadmills, power racks, gym sleds, TRX), a full-size boxing ring, and an official MMA octagon cage for realistic training.
Train in MMA, Muay Thai, Brazilian Jiu-Jitsu, Boxing, and other fitness programs with authentic World Champions and living martial arts icons, including Angela Lee, Demetrious Johnson, Shinya Aoki, Nong-O Gaiyanghadao, Marcus "Buchecha" Almeida, Drian Francisco, and more.
Key Differentiators
With 800+ classes per week across 4 convenient locations in Singapore, Evolve MMA has the largest and most comprehensive class schedules in Asia.
Evolve MMA is the only martial arts gym in the world to be affiliated with both Renzo Gracie Academy in New York (world-renowned training academy for Brazilian Jiu-Jitsu) and Sityodtong Muay Thai gym (legendary camp by Grandmaster Kru Yodtong Senanan) in Thailand.
They offer programs for complete beginners (who have never done any type of exercise at all) to advanced competitors (who want to raise the level of their game). All age groups, genders, skill levels, and fitness levels are welcome. Evolve MMA has the highest standards of excellence and you can expect the highest quality martial arts instruction available anywhere in the world.
Client Testimonial
Being a flight attendant gave me a chance to see and compare different gym facilities when I fly to different countries. I'm personally very particular about hygiene and cleanliness, I would say Evolve MMA is really impressive.

Due to my job nature, I'm always not around, and training regularly is a challenge. However, every time I stepped into Evolve I will always feel welcomed.

The staff, the students, the world champion Instructors are friendly and humble and always willing to share their knowledge with the students. I learned what is perseverance, respect, and being humble.

On TOP of that, they have a gym corner with weights, machines, etc. Do I need another gym membership? No! Evolve is my 2nd home, my place to go to whenever I come back from my flight.
Gym Singapore
And there you have it, the 7 Best Gyms in Singapore. Whether you were looking for a place for combat sports like boxing, mixed martial arts, boot camps or just love the atmosphere and privacy of a gym, we've got it for you. We hope this list helped you out!
If you know a business that is in need of help or you would recommend to others and more, let us know so we can feature them too!
Check out more articles by FunEmpire in the links provided below.
Frequently Asked Questions (FAQ)
If you have any questions about gyms in Singapore, you can refer to the frequently asked questions (FAQ) about the best Gyms in Singapore below:
Additional Useful Articles
If you are looking for other useful guides and articles about Gyms in Singapore, check them out below: