Halal Buffet Singapore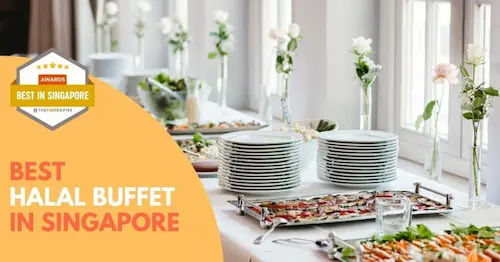 Singapore offers diverse Halal buffets, satisfying cravings with delicious seafood, aromatic Asian dishes, and mouthwatering Mediterranean cuisine.
The best Halal buffets in Singapore include Jinshangyipin Buffet Hot Pot, The Landmark Restaurant, Taste of India, and Carousel.
When selecting a Halal buffet in Singapore, take into account factors like the range and quality of food, pricing, and location.
Singapore offers a delightful fusion of diverse culinary delights in its best Halal buffet dishes. Indulge in succulent Chili Crab, flavorful Chicken Rice, and refreshing Gado-Gado Salad.
Let's embark on a culinary journey to explore the best Halal buffet options in Singapore.
Key Consideration Factors
Variety of Food: It is important to find a halal buffet that offers a variety of food options. This way, you can make sure that everyone in your party will get something they enjoy.
Freshness of Food: Quality matters when it comes to halal buffets; make sure to check if they serve fresh and delicious dishes.
Price: The price of the buffets in Singapore should also be taken into consideration, as you want to get value for your money.
Location: Depending on where you are located, the location of a halal buffet can be an important factor.
Best Halal Buffet Singapore
1. Jinshangyipin Buffet Hot Pot
Another popular choice for dinner is Jinshangyipin Buffet Hot Pot, which serves delicious halal food. The restaurant's menu includes both authentic Chinese hotpot and barbecue, with two categories: Standard and Premium.
The Standard menu, on the other hand, is limited in terms of meat selections. In addition to that, the selection is balanced out by a large hotpot menu at a reasonable price from the restaurant. Premium adds three more meat dishes to the mix, as well as premium seafood ingredients for hotpot.
Jinshangyipin Buffet Hot Pot also provides home delivery for people who want to eat a delicious hot dinner at their leisure.
Key Differentiators
Wide variety of food options
Quick service
Client Testimonial
My first time here with family. Staffs were friendly and helpful. Lots of variety to choose from. I recommend the mushroom soup base. Nice ambience and the space is spacious. Currently there's a promo going on. Will visit some other time.
2. The Landmark Restaurant
The Landmark Restaurant is considered one of the finest halal buffets in Singapore, providing a diverse range of exquisite halal cuisine from all over the world. It's ideal if you're searching for a luxurious and pleasant dining experience. Its lavishly decorated interiors will make you feel as though you're in a different location, adding to the overall halal buffet experience.
Apart from its interiors and vibes, the restaurant's food includes a wide selection of international dishes — including Singaporean, Malaysian, and North Indian cuisine — that people may select from. The Mutton Rogan Josh, Beef Rendang, Sambal Telor, and Thai Chili Lala are some of the notable dishes on the menu. If you love halal buffets, you'd definitely enjoy the Landmark Restaurant.
You can enjoy everything The Landmark Restaurant has to offer at a reasonable price. It provides diners with frequent discounts and promotions, so keep an eye on its website.
Key Differentiators
Halal dishes from different countries
Elegant dining experience
Client Testimonial
Atmosphere always inviting! Always loved coming here. My 3rd time here… The controlled assisted choosing of the food spread is quite genius. Food is delicious and quite a variety. The staffs all are friendly and welcoming. Will come here again of course!
3. Taste of India
Indian cuisine is one of the most flavorful cuisines available, and it's easy to enjoy for the first (or second or third!) time at Taste of India!
Taste of India is a wonderful mix of tastes from North and South India, as the name implies. There are several varieties of Indian cuisine on the menu, including Tandoor dishes, Chettinaadu dishes, and many more for your liking.
Some of our personal favorites are the Chicken Tandoori, Prawn Sambal, Butter Chicken, and Paneer Butter Masala. These dishes provide a little taste of what Taste of India has to offer while still being vegetarian!
Key Differentiators
Offers catering services
Open for home delivery and ala carte dining
High quality services
Client Testimonial
I want to express my thanks to the taste of india team and Karthik for catering for my colleagues earlier. I received good reviews from my friends and they loved the food.

The dum briyani was packed professionally in bento boxes for convenience. Well cooked and food tasted really good. The Meat was fresh, tender and savoury. Really appreciate it so much and "Taste of india" has never let me down.
4. Carousel
The Carousel has consistently been rated among the top halal buffets in Singapore by various review platforms. AsiaOne People's Choice Awards has named it the best buffet restaurant in Singapore for seven years running.
You won't be disappointed with what Carousel has to offer if you're seeking for a halal restaurant that provides more than the usual halal foods.
Isn't it true that a wonderful dining experience isn't complete without great customer service? It's no surprise, given Carousel's reputation for providing excellent customer service.
If you want to return to Carousel for a meal but don't have the time, you may choose for restaurant-wide delivery. Its cuisine can now be sent right to your home.
Key Differentiators
Multi awarded restaurant
Delivery services
Affordable menu
Client Testimonial
Went there once more than 10 years ago and always thinking of recommending to everyone. Finally got a chance to be there again to celebrate my birthday! Service and Food ok but no lobster or crab for lunch buffet!
5. Four Seasons Catering
When it comes to a diverse selection of cuisines that may be enjoyed at any time, Four Seasons Catering is one of the best options on the island. This firm is most recognized for their packed meal boxes, which include popular Asian dishes like Hainanese Chicken Rice, Thai Basil Chicken, and Pandan Nasi Lemak. Their halal buffet is also an equally popular option for people who want to enjoy halal food in bulk.
Four Seasons Catering has also been providing buffet choices to those who want them recently. The Spring Buffet Menu, Summer Buffet Menu, Autumn Buffet Menu, Winter Buffet Menu, Indian Buffet Menu, Tea Reception Menu, and Western Buffet are among the seven varieties of buffet selections available.
The restaurant's name and cuisine suggest that it only utilizes the finest and freshest ingredients throughout the year. It has been like this since the start of the restaurant, and there are no signs that it will change anytime soon. Finally, when it comes to catering for particular tastes, the business is also up to snuff.
Key Differentiators
Meal and party boxes available
Wide array of menu options
Caters to webinars
Client Testimonial
We catered from Four Seasons for a corporate event. The gourmet meal boxes were tasty and value-for-money! It was very well-received by all our attendees. Delivery was also timely to all addresses. Joseph was also responsive and handled our various requests well, despite the changes and tight timeline. Thank you!
6. StraitsKitchen
If you want to find out what local halal food tastes like, StraitsKitchen is the place to go. It provides a wide variety of halal meals, both locals and tourists seem to enjoy its version of Singaporean halal cuisine.
StraitsKitchen features three distinct cuisines for breakfast, lunch, and supper, each as distinctive as the other. Indian, Malaysian, and Chinese are just a few of the global cuisines on offer.
The lively theatre kitchen at this restaurant is another reason we think it's one of the finest halal buffets in Singapore. You may watch how its expert chefs cook every dish behind the counter and listen to the active cooking noises.
Key Differentiators
Local Halal dishes
Lively theatre kitchen
International menu
Client Testimonial
Fantastic experience… Chef Ashok is young but has a deep understanding of Indian cuisine. The starters were tenders and succulent, mains was perfectly spiced and most importantly the desserts were not too sweets!!! Ashok deserves a dedicated space like Rang Mahal and the talented chef is up to something big in long term!!! Highly recommend to visit the kitchen table at W Sentosa and try the magical food.
7. Captain Kim Korean BBQ & Hotpot Buffet
If you're looking for some Korean food, Captain Kim Korean BBQ & Hotpot Buffet has you covered. This restaurant's Halal-certified dishes include Korean BBQ and army stew hotpot with over 60 distinct flavors of meat. Captain Kim Korean BBQ & Hotpot Buffet provides outstanding value for a weekday lunch buffet, with a fine selection of halal food.
The halal offerings at this buffet restaurant are consistently some of the best meals you can find in Singapore, as it provides a large variety of halal cuisine for people who want to enjoy Korean BBQ and hot pot dishes.
The buffet restaurant also provides free-flowing beverages, allowing you to easily enjoy your cuisine. Another wonderful feature of Captain Kim Korean BBQ & Hotpot's buffet is that children under 90cm are entitled to a complimentary meal! If you have an ID, the restaurant honors senior and student discounts.
Key Differentiators
90 minutes weekday lunch
5-minute walking distance from Tampines MRT
Client Testimonial
My first having lunch at Captain Kim's since we were in the East area and craving for halal Korean food. The place closes at 3.30pm for its buffet lunch session and we arrived at 2.30pm. Had about half an hour to get our food as the buffet counter is closed by 3pm. For 2 pax, 1 hour is just nice to have a normal lunch. We love the Mongolian beef, its meat cut thinly and is chewy even after being grilled. Thank God for the free flow calamansi drink that helps to clear the palate. The glass noodle is yummy, too. However, we wish there were more choices especially for dessert.
8. Deli Hub
Finding excellent food on a budget is often difficult. After all, it's not inexpensive to employ top-notch ingredients and pay skilled chefs to prepare your preferred meals. Fortunately, this isn't the case with Deli Hub. Deli Hub is one of the earlier businesses featured on this list, having years of expertise under its belt. The company knows how to provide halal food that's both delicious and affordable for consumers.
The items listed above, whether they are veggies, livestock, or spices, can be prepared into tasty supper entrees with the help of Deli Hub's experienced kitchen staff. Those who wish to find out more should note that no-frills catering and buffet services at Deli Hub include simple dishes that are delicious and attractive.
There are various catering services to select from, such as a full-service alternative, delivery service, live stations, and makan boxes. Deli Hub is willing to fulfill any demands that may arise; all that is required of those interested in learning more about the company's services is to contact it.
Key Differentiators
Uses freshest and finest ingredients
Offers appetisers, vegetables, meats, seafood, and dessert dishes
Wide array of catering services
Client Testimonial
Ordered for my daughter's 100 days celebration, great experience! Food was really delicious, salesperson was really attentive and friendly, delivery guy was all smiles and very polite as he set up the buffet. Awesome job Deli Hub!
9. Royal Palm
We recommend visiting the Royal Palm if you're planning to eat with a large group of friends. It's a large and comfortable halal restaurant that can seat up to 350 people, making it one of the greatest dining spots on the island.
The efficient customer care team at The Ritz-Carlton, Sentosa is one of the finest halal buffets in Singapore, as we proudly claim. Every visitor will be greeted warmly when they arrive and directed to a table with the ideal view.
Furthermore, Royal Palm is recognized for its wide range of halal foods, such as local cuisines and international delicacies like Western, North Indian, and Mediterranean cuisine. Every visitor will undoubtedly enjoy the restaurant's worldwide and multiethnic menu. The Fish Head Curry, Prawn Sambal, and Spicy Chili Crab are some of the restaurant's most popular halal items.
Key Differentiators
Diverse and international menu
Affordable menu
Excellent customer service
Client Testimonial
Came here for my brother solemnisation. Service staff was pretty good. But cleanliness and attentiveness needs to improve. The napkin on my plate was a stained and my niece was given a cracked glass which is for water. The overall ambiance was good. The green curry, mutton curry and satay chicken dish was pretty good.
10. Seoul Garden
Seoul Garden is without a doubt a popular local hangout! Their famous marinated Korean meat is served in a buffet-style setting, allowing you to leisurely grill and catch up with family and friends. If you're dining alone, don't worry because they've also introduced Personal Grill Sets! Premium cuts that are beautifully marbled, delicate, and savory.
Key Differentiators
Affordable menu
High quality ingredients
High quality service
Client Testimonial
Seoul Garden has always been about the experience around the table. The smokeless tabletop cooker, the amazing flavor of the food. Had a long overdue catch up with friends last night and nothing has changed, except that it is no longer a buffet due to the pandemic. Instead you order from the table and the servers bring the food to your table quite promptly. The place was full (by safe standards) and we stuffed ourselves too.
11. Peppermint
This holiday season, treat yourself to a delectable spread from Peppermint! Their succulent and delicious Traditional Christmas Roast Turkey is marinated with herbs and spices (freshly plucked from their Urban Farm), served with mouthwatering chestnut stuffing and a homemade turkey giblet sauce.
There's also a new menu, which includes delicious dishes like the Milk-Fed Veal Au Poivre and Black Angus Beef Belly! You won't find any overcooked steaks here because their meats are all properly cooked with a juicy pink center. Seafood connoisseurs will be overjoyed to learn that they serve freshly shucked oysters and unlimited king prawns too.
Key Differentiators
Wide range of menu
Fresh ingredients being used
Quick service
Client Testimonial
Excellent service. Lovely decorations. They have different little areas which can sit 8-10 for private functions which are so window pretty and insta ready! Obviously for during HA, they will give it if you have a smaller group size. We had a lovely afternoon.
12. Asian Market Cafe
From their name, you probably already know what Fairmont Hotel's Asian Market Cafe has to offer in terms of food. Yep, pan-Asian and Singapore cuisine! Seafood on ice, Japanese sushi, roasted duck, live roti prata and satay stations, mutton rendang, Singapore style chilli crab and more are among the buffet items you can enjoy. The buffet is priced at $98++ for adults and $48++ for children below 12 years old, from 4-6pm daily.
Key Differentiators
Reasonable pricing
Certified halal
Hospitable staff
Client Testimonial
The place is very cosy. Staff are friendly. Encik was very patient n guide us thru the buffet (due to pandemic mode) , food are served to us n if you wanted any dishes, they will serve to your table.. Food is good.the dessert was great too.
13. Window on the Park
On The Park at Holiday Inn Singapore Orchard City Centre is a holiday hotel buffet restaurant that is exclusively halal! Experience delectable treats like Chinese Rojak, Kueh Pie Tee, Chef's Singapore Laksa, and prawn mee from the region or Asian cuisine.
Their succulent poached prawns and Canadian cold mussels are sure to please seafood aficionados. To round out your meal, try one of their delicious desserts, which include cakes, kueh, and ice cream in a variety of colors.
Key Differentiators
Local Halal dishes
Delivery services
Quick service
Client Testimonial
Nice ambident eventhough there are a lot of noise when all ppl start talking, maybe if the table are far apart, noise level will be reduced, friendly staffs
14. Atrium Restaurant
If you're feeling hungry, visit Atrium Restaurant, the halal-certified hotel restaurant at Holiday Inn Singapore Atrium! Look forward to their specially prepared signature dishes, outstanding live stations, and a blend of local and international cuisines.
Atrium's fresh assortment of Fine De Claire Oysters, Poached Tiger Prawns, and Australian Black Mussels is a must-try!
Key Differentiators
Supreme quality ingredients used
Wide range of option of the menu
Competitive pricing
Client Testimonial
Great experience dining in here. Very fast respond for the food and very great service. Very good customer service. Especially Frennie the Senior Asst Restaurant Manager, Janice and Edmund. Food is incredibly nice. Very unexpected for the good quantity food. Very well recommended. Will definitely return.
15. Ginger at PARKROYAL on Beach Road
Ginger is another Singaporean halal buffet restaurant to open. Its most famous items include chili crab with mantou, crispy lamb with Thai green curry, slow-braised beef rendang, and more!
There are also five live stations where you may try satay, BBQ chicken wings, and other delectable grilled dishes. Ginger has a seafood and BBQ dinner with tantalizing goodies like lamb rack, Wagyu beef steak, and sambal clam.
Key Differentiators
Quick service
Professional chefs
Great serving
Client Testimonial
Nicely redecorated place with newly revamped menu. Must say that the Crab Bee Hoon is really nice…and all peeled, which is great for keeping your fingers clean. Nice little wok hei as well. The Hainanese Chicken Chop is a great idea – brings back memories of old style Hainanese pork chops. A bit more of the tangy sauce would be great. The chicken cutlet is HUGE….fish is Halibut, which is tastes like crab. The popiah is also pretty good – the crispy bits are interestingly made of ayam penyet style crisps. Worth giving this place a try. The place has undergone a solid revamp, well done!
16. Kintamani Indonesian Restaurant 
Do you have an insatiable desire for Indonesian cuisine but aren't quite sure what to order? It's time to visit Kintamani Restaurant at Furama Riverfront hotel, where you'll get a taste of Bali. Since 1985, this eatery has been serving up a delectable mix of Indonesian foods that will make you feel like you're in the thick of a Balinese town!
Key Differentiators
Competitively priced dishes
Helpful customer service
Premium quality ingredients
Client Testimonial
Was here with the wife today having dinner buffet. I like the ambience and their ayam +lamb! Food tastes great, a must go if you're looking to try.
17. Marina Bay BBQ Steamboat
Satay By The Bay's Marina South is home to Satay By The Bay Marina BBQ Steamboat (MBBS), an alfresco buffet. MBBS is conveniently located near the renowned Gardens By The Bay and Marina Barrage. MBBS is a fantastic place to unwind and relax away from the crowded city life. It's not to be missed as a great meeting spot for families, couples, and groups!
With a wide selection of fresh seafood, meats, vegetables, sweets, and soft drinks, you will be spoiled for choice. Come and discover that our various special packages are ideal for every event.
Key Differentiators
Affordable Price
Huge Variety of seafood
Scenic Views
Client Testimonial
The food was awesome. Seafood is fresh. The sambal so power. And good service from the staff. Will definitely come again. Thumbs Up.
18. Sakura International Buffet
Sakura International Buffet Restaurant is one of the Halal buffets that serves a wide selection of international cuisine at reasonable rates. This low-cost buffet restaurant, with seven locations across the country and over 100 distinct dishes, is a great alternative for multi-tribal events.
Key Differentiators
Reasonable prices for all-you-can-eat Halal food
Durian world
Client Testimonial
Seafoods are fresh!
19. Sedap Thai BBQ Steamboat
At only S$20 per person, you may dine on an all-you-can-eat buffet meal at this Berseh Food Centre Thai steamboat joint. That's a deal too good to resist.
Key Differentiators
Affordable
Client Testimonial
Amazing and extraordinary meat. The best part is that it is halal. Very tender meat and the pepper meat was so nice.
20. Kublai Khan Mongolian BBQ Restaurant
Kublai Khan Mongolian BBQ Restaurant serves up some exotic Japanese and Mongolian dishes. This restaurant is ideal for families as well as casual eaters since it's located in Clarke Quay Central. The Mongolian barbeque selection includes freshly sliced meat served with Mongolian-style sides and sauces, making it a must try.
Key Differentiators
Mongolian barbeque selection
Client Testimonial
Excellent food and service.
Halal Buffet Singapore
The halal buffet in Singapore offer halal food from all over the world. There are halal buffet restaurants that can provide halal food from different parts of the world such as Indian, Malaysian, and Chinese cuisine.
Before you go, do check out our other articles as well!
Frequently Asked Questions (FAQ)
If you have any questions about halal buffets in Singapore, you can refer to the frequently asked questions (FAQ) about the best halal buffets in Singapore below:
Additional Useful Articles
If you are looking for other useful guides and articles about halal buffets in Singapore, check them out below: