Indoor Activities Singapore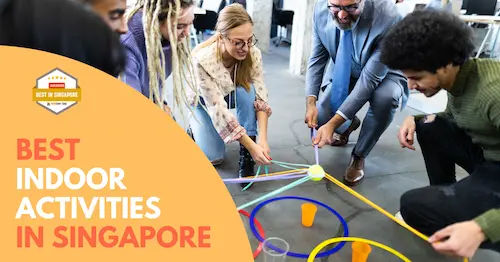 Discover Singapore's vibrant indoor wonderland, offering diverse activities for all interests, from art enthusiasts to thrill-seekers. It's an exciting retreat, rain or shine!
The best indoor activities in Singapore are Candle Making Workshops, Escape Rooms, Bubble Soccer, Amazing Race, Archery Tag, Laser Tag, Art Jamming Workshops, Giant Board Games, Poolball.
Take into account various factors like age group, duration, cost, and location when making reservations for indoor activities.
As one of the leading team building companies in Singapore, FunEmpire boasts an impressive track record of over 50,000 successful events and 8,000 client reviews with a 5-star rating.
Here's our list of the best indoor activities in Singapore for all ages!
Best Indoor Activities
Adventure Activities
1) Laser Tag
Laser tag is one of the most perfect indoor team building activities in Singapore for people of all ages! Go on exciting missions with your group, creating unforgettable and unique connections. Whether you decide to take advantage of nature's beauty by playing outside or stay warm indoors – laser tag can easily be adjusted to fit any size group. Make sure you add this inclusive and flexible activity into your next team building event agenda for an amazing experience!
2) Combat Archery Tag
Ready yourself for a heart-pumping experience unlike any other – Archery Tag! Combining the best of both dodgeball and archery, this game is guaranteed to keep everyone engaged. As teams compete against one another in an exciting atmosphere, they must aim their foam-tipped arrows at their opponents while wearing face masks for safety purposes to emerge victorious. Step up your game night with Archery Tag – the ultimate rush of adrenaline awaits you!
3) Poolball
Experience the thrill of an array of exhilarating pool games, such as Poolball Classic and Poolball Sabotage, on the world's largest pool table! Not only is this game great for strategic planning and communication between participants from any age group or corporate event size, it also offers incredible opportunities to build strong camaraderie within groups. Perfectly suited for both small gatherings and large parties alike – take your chances with our gigantic pool table right now!
4) Ninja Tag
For those of you seeking the chance to verify your ninja abilities, Ninja Tag is offering an adrenaline-fueled team building experience with foam Ninjas Daggers, vests for scoring and numerous missions! Together with your coworkers, enter a close combat battle and have fun playing every thrilling game mode provided. So don't wait any longer – unleash that internal warrior within you now!
5) Saber Tag
Arm yourself with a fierce combat saber and battle against other players to achieve your game goals. Immerse yourself in exciting missions like Saber Wars and Defenders of The Galaxy while honing your squad's teamwork and communication skills! Become the hero you always wanted to be – join this adventure today!
Are you looking to add an element of fun and excitement to your corporate team bonding event or birthday party? Then look no further than Saber Tag! With this exciting game, you'll create unforgettable memories while bringing co-workers closer together. Plus, in Singapore it's one of the coolest activities out there – so make sure not to miss out on all the fun! Get ready for a thrilling adventure – join us at Saber Tag today!
6) Bullet Ball
Ready for a more thrilling kind of Dodgeball? Introducing Bullet Ball, an original concept created by FunEmpire! Get your adrenaline pumping with one of the most exciting team building activities in Singapore at your next session – without breaking the bank. You won't be disappointed in the fun factor!
Looking for a thrilling indoor activity for leadership development in Singapore? Then look no further than the exciting sport of Bullet Ball – held right here in Singapore! Whether you're looking to test your group's coordination skills or just have some fun, you'll find it all with this unique activity. Best of all, you don't even need to leave the comfort of your office conference room as we bring the experience straight to you!
7) SaberFit
Reap the rewards of an unparalleled saber fitness workout that combines thrilling combat techniques and exciting pair-work duelling! Our uniquely designed group exercise, complete with team building elements, is perfect for your Singaporean team bonding event. This energetic experience not only provides a challenging but also creates a sense of unity among colleagues while having loads of fun at the same time! Get ready to sweat and enjoy this one-of-a-kind activity – it will be truly unforgettable!
8) Bullet Strike
Laser tag is reinvigorated with the exciting Nerf Gun experience. Utilizing soft foam bullets, players must use powerful Nerf blasters to strike their opponents and complete objectives during a thrilling indoor group activity. Safety-conscious participants don protective masks while they battle it out in these spirited team-building games.
9) Giant Whack-A-Mole
Ready for an extraordinary and entertaining experience? Then don't miss out on the remarkable Giant Whack-A-Mole, the beloved arcade game that has been customized with a team building twist in Singapore. Participants must battle opponents off to capture colorful balls! This exclusive activity is something you won't want to miss – seize this chance now before it's gone!
Creative Workshops
10) Canvas Art Jamming
Tap into your inner artist with FunEmpire! Join us for a fun and exhilarating Art Jamming session, the perfect way to build relationships with friends, family or coworkers. Our supplies are top-notch and our instructors provide helpful tips – no experience necessary! Get ready to unleash your creativity in an indoor team building workshop that will leave you feeling relaxed and fulfilled.
11) Tote Bag Art Jamming
Ready to take the plunge into an unparalleled Art Jamming extravaganza? Welcome aboard FunEmpire's art jamming journey with our signature creative totes! Unleash your inner artist and design a personal or giftable tote like no other. Our Art Jamming has everything you need for an enjoyable session without any prior painting experience – all that is required is YOU!
12) Terrarium Workshop
Are you in need of a delightful and revitalizing team-bonding experience? Our terrarium workshop is the ideal solution! Indoor activities like this one are sure to bring your colleagues closer while creating meaningful relationships. Plus, participants will get to take home their beautiful handmade terrariums – Singapore's go-to activity for teams that never fails to impress!
13) Stitched Leather Workshop
Are you eager to learn the art of hand-stitching leather? Our Stitched Leather Workshop is a perfect opportunity for you! We will provide comprehensive instructions on how to create your very own cardholder, as well as all necessary supplies. The class size is kept small and cozy so that each student can have an intimate learning experience. Don't miss out – join us today and gain skills that will last a lifetime!
14) Non-Stitched Leather Workshop
Are you searching for innovative indoor team building activities for employee engagement in Singapore? Look no further than Leather Workshop in Singapore! Here, your group can learn the essential properties of leather and create their own amazing products such as coin pouches, key FOBs or even luggage tags that they can keep or give away as gifts. So come join us at Leather Workshop – craft something incredible with your colleagues today!
15) Gel Candle Making Workshop
Who said team building in Singapore had to be boring? Level up the fun in Singapore with a Candle Making Workshop! Not only will your colleagues learn and bond, but each attendee gets to take home their own unique creation – a scented reminder of this unforgettable experience. There's no better way for teams to build camaraderie than through creativity!
16) Soy Candle Making Workshop
Whether you are just starting out with soy candle making or an experienced crafter wanting to decorate their creations with beautiful sands and figurines, we have a package perfectly suited to bring your candle vision alive.
17) Clay Making Workshop
Unleash your creative side with FunEmpire! Our workshops are snug, small and an enjoyable way to pick up a new ability. All supplies included. Every participant can make their own unique mini clay figurines!
18) Cooking Class
Let the tantalizing tastes of Singapore's food culture become a part of your organization's team building activity with our indoor team building exercises – cooking classes! These sessions will have your colleagues traveling through different flavors and crafting your very own masterpiece as amateur chefs. Not only are they sure to leave all satisfied after their meals, but also wanting for more! Join us on this culinary journey today and explore local delights like never before.
19) Perfume Workshop
As the old saying goes, scent is often a reflection of one's character. At the perfume workshop, you can craft your own signature fragrance by combining diverse scents to create something truly special and befitting of who you are!
Through this craft workshop in Singapore, you will get to bond with your colleagues and learn more about each other by experimenting with scents. Plus, at the end of the session everyone gets a bottle holding their own custom aroma — an unforgettable experience!
20) Balloon Sculpting Workshop
Ignite your creative spirit and learn how to create mesmerizing balloon figures, such as a pirate sword, butterfly, rainbow or flower—all from the comfort of your house!
Quest Activity
21) Escape Room
For an unforgettable team-bonding experience, look no further than Escape Rooms! Your squad will be challenged to work together and tackle puzzles against the clock. With various settings and enthralling riddles in Singapore, you are sure to have a fabulous time connecting with your colleagues. Unleash your inner detective and get ready for an unmatched adventure that you'll treasure forever!
Leisure Activity
22) Giant Board Games
Are you ready to relive your childhood in the most epic way possible? With our lifesize Giant Jenga, Pick Up Sticks, Connect Four or Snakes & Ladders – there is no limit to the fun! Our interactive board games will break any ice and make Singapore come alive with classic nostalgia. This indoor team building idea is perfect for any event – it's time to challenge your friends like never before!
Virtual Games
23) Virtual Escape Room
Unleash your inner genius while bonding with loved ones and colleagues in FunEmpire's award-winning virtual event experience! Developed as an interactive platform, this game can accommodate groups of two to hundreds. Test your problem solving capabilities from the comfort of home – making it perfect for corporate team building activities. Don't miss out on the opportunity to challenge yourself, friends and family today!
24) Virtual Amazing Race
Are you ready to take the plunge on an exciting global venture? Unleash your competitive side as you traverse through far-flung locales with friends and colleagues, while working together towards a common goal of unlocking thrilling rewards! Don't miss out – join us now for an unforgettable ride that will leave you and everybody around electrified.
25) Virtual Squid Escape
Are you and your friends ready for an unforgettable adventure? The Squid Game Escape Room will definitely keep the excitement flowing as you work to escape from the masterminds behind this game. Solve tantalizing puzzles, crack tricky riddles, and uncover hidden secrets that guide your way out of captivity! Will your team be able to put their combined wits together in time before it's too late?
26) Virtual Food Quest
Are you an expert in all things food? Then why not put your skills to the test with Singapore's one-of-a-kind Virtual Food Quest from FunEmpire! Let us tantalize your taste buds as you embark on a captivating culinary adventure. This quest is sure to be epic – don't miss out, join now!
Strengthen the bond with your friends, family and/or colleagues while enjoying a unique food-related puzzle experience from different cuisines! Not only is it an excellent opportunity to spend quality time together but it also allows you to test your team's communication abilities as you discover new dishes. Revel in the joy and laughter that comes from this flavourful game in Singapore – who knows, perhaps some snacks will be calling out for attention soon afterwards!
27) Virtual Time Travel
Get ready to embark on the one and only virtual time travel journey! Have you ever wondered if time travel is possible? If so, then this adventure will be perfect for you. Gather your friends or colleagues together and explore puzzles from different eras in space-time. Test your skills against the clock – can you complete your mission before it's too late? Experience history like never before with this extraordinary journey through time!
28) Virtual Travel Experience
Embark on a virtual escapade with your global peers and solve interactive puzzles to discover the culture, all in an enthralling atmosphere! Work together to accomplish missions and unravel a thrilling story. Looking for exciting team building games in Singapore? Look no further than Team Building Games Singapore's Virtual Travel Experience – invite anyone from any corner of the world, play remotely and have fun today! Don't worry about size restrictions; this is guaranteed amusement for whichever group you choose.
29) Virtual Game Show
Are you searching for an exciting, amusing and budget-friendly team building activity? Look no further than The Game Show Challenge! This innovative game pits teams against each other in trivia contests that are sure to bring lots of joy – from board rooms in the office to conference centers or even restaurants. You can play it virtually anywhere! Plus, there will be laughing, cheering and plenty of high-fives as people get together to play this fun challenge. So why not offer your colleagues a truly memorable bonding experience with The Game Show Challenge right now?
30) Virtual Time's Ticking
Rally your team to take on an extraordinary adventure, protect the city by uncovering a thrilling mystery! Get ready and combine forces for this mission – utilize each resource available in order to solve the puzzle before it is too late. Join together as one and put an end to any malevolent threat.
31) Virtual Jack's Hangover
Are you ready to come to the rescue of your pal Jack, who had a bit too much fun last night and is now struggling with an unbearable hangover? He can't remember what happened – so it's up to you and your team! Speed over there; search through his hotel room, investigate the casino he was at, piece together clues as briskly as possible. You're under pressure: Jack must catch his flight shortly! Can you assist him before time runs out?
32) Virtual Nightfall
Are you ready to push your team's intellectual prowess and creativity? Virtual Nightfall is back with a thrilling ride that calls for collaboration, astute observation skills, and persuasive excellence. Play as detective or killer – even a superhero! In the end, justice prevails. Who will come out on top in this enthralling game of mystery? One of the best indoor team building programs around for sure!
Virtual Workshops
33) Virtual Canvas Art Jamming
Ignite your creative spark with FunEmpire! With our Virtual Art Jamming session, you can connect and create art alongside friends, family, or colleagues – no prior knowledge of artwork needed! Enjoy this fun-filled painting experience that provides all the amenities for a relaxed atmosphere. Let your inner genius shine; join us at FunEmpire today!
34) Virtual Tote Bag Art Jamming
Ignite your creative spark and come join us for a unique Virtual Art Jamming session – make your own tote bag! FunEmpire is here to guide you throughout the whole stress-free process, providing all of the materials necessary. You don't need any art experience; simply bring an open mind and let those imaginative juices flow! Create something amazing – whether it be for someone special or as a gift for yourself.
35) Virtual Terrarium Workshop
Are you and your colleagues or friends looking for a fun, imaginative activity to do from the comfort of home? Look no further than FunEmpire's acclaimed digital workshops! And we'll send each participant their very own Terrarium Home Kit – all at the click of a button. So why not get creative together in the convenience of your living room?
36) Virtual Non-Stitched Leather Workshop
Take the leap and join us for our Virtual Leather Making Workshop! Our accomplished instructors will teach you the essentials of leather crafting, allowing you to create beautiful custom pieces from the comfort of your home – no experience necessary! Get ready to embark on a new journey with this incredible opportunity that is ideal for novice makers or experts looking to explore something new.
37) Virtual Stitched Leather Workshop
Unleash your creativity and join our professional live facilitation to learn how to create an amazing stitched leather card holder! Our Virtual Stitched Leather Making workshop not only provides you with the necessary skills and techniques, but also gives you the freedom to saddle stitch right at home. With instruction from experienced facilitators, craft a distinct product that is entirely yours – all within one convenient session!
38) Virtual Soy Candle Making Workshop
Unleash your team's creativity by signing up for FunEmpire's Virtual Candle Making Workshop! Here, you can craft a delightful soy candle with an elegant figurine from the materials provided in our home kit. Bond and nurture deeper relationships within your group with one of Singapore's most engaging activities – don't miss out on this exclusive chance to come together today!
39) Virtual Clay Making Workshop
Are you in search of an exciting and creative team-building activity? Why not make your own clay figurines or charms! Our toxin-free, lightweight air dry clay is great for everyone — even the kiddos! With this one-of-a kind experience, you'll be having lots of fun while also crafting something special that can be gifted to your friends and family.
40) Virtual Balloon Sculpting Workshop
Let your imagination soar and learn how to create balloon sculptures from the comfort of home! Make a pirate sword, butterfly, rainbow or flower with our easy-to-follow tutorials.
Indoor Activities Singapore
With so many indoor activities to choose from, there's something for everyone in Singapore!
Whether you're looking for indoor challenges for team building, adventure activities like laser tag or combat archery tag, creative workshops in Singapore such as canvas art jamming or soy candle making workshop, virtual games and workshops – the list of 40 best indoor activities has got it all.
So what are you waiting for? Get your sunscreen on and explore some of these amazing indoor adventures today!
Interested in related articles? Do check out the links below!
Frequently Asked Questions
If you have any questions about Indoor Activities in Singapore, you can refer to the frequently asked questions (FAQ) about the Best Indoor Activities in Singapore below:
Additional Useful Links
If you are looking for other useful guides and articles about Indoor Activities in Singapore, check them out below: