Japanese Restaurant Singapore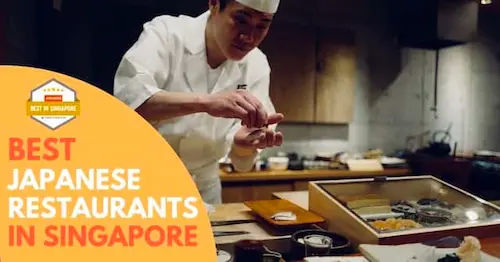 Japanese cuisine has many different types of dishes that are all delicious in their own unique ways.
The best Japanese Restaurants in Singapore are The Gyu Bar, Fat Cow, Akira Back, The Sushi Bar, and Shukuu Izakaya.
When selecting a Japanese restaurant in Singapore, take into account aspects like its location, authenticity, food quality, price range, menu variety, and ambiance.
Sushi, sashimi, ramen, tempura, and yakitori are among the commonly enjoyed dishes in a Japanese restaurant.
Whether you're looking for a delicious lunch spot or an authentic Izakaya experience, this list has got your back!
Key Consideration Factors
Quality of Food: The quality of food is arguably the most important factor to consider when choosing the best Japanese restaurants. Look for places that use fresh and high-quality ingredients, and have skilled chefs who can prepare Japanese food with precision. The taste, texture, and presentation of the dishes should all be top-notch, in terms of a high quality Japanese cuisine.
Authenticity: If you're looking for an authentic Japanese dining experience, it's important to find restaurants that offer traditional dishes and cooking techniques. This can include everything from sushi and sashimi to teppanyaki and shabu-shabu, and other delicious Japanese cuisine. Check if the restaurant has Japanese chefs or staff who can speak the language fluently as this indicates an authentic experience.
Atmosphere: The atmosphere of a restaurant can greatly affect your unforgettable dining experience. Whether you're looking for a casual or formal setting, make sure the ambiance matches your expectations. Consider factors such as lighting, music, decor, seating arrangement and noise level.
Service Quality: Good service can make all the difference when it comes to enjoying a meal out. Look for restaurants with attentive staff who are knowledgeable about the menu and can make recommendations based on your preferences or dietary restrictions.
Price Point: Japanese cuisine can range from affordable to quite expensive depending on factors such as location, quality of ingredients used etc., so it's important to consider price when choosing a restaurant. Look for places that offer value for money without compromising on quality or portion size, especially which that offers quality Japanese food.
Location & Accessibility: Consider how easy it is to get to the restaurant by public transport or car parking availability if you are driving there. Some of the best Japanese food Singapore are found in Orchard Plaza, JW Marriott Hotel, Far East Plaza, and Carlton Hotel. These places offers great food, some have private room with hot pot, edomae sushi, and raw fish.
Reservation Policy: Check if reservations are required especially during peak hours or weekends so you don't end up waiting too long for a table.
Best Japanese Restaurant Singapore
1. The Gyu Bar
The Gyu Bar's cozy, beautiful ambiance makes it an ideal place to dine with family and friends. It's a contemporary authentic Japanese restaurant Yakiniku experience that offers guests with a handcrafted gourmet dining experience.
It also isn't a cheap Japanese restaurant, with dinner seats ranging from $30 to $50. The menu is divided between lunch and dinner courses, so you won't run out of things to eat.
The Gyu Bar's menu highlights their top pride, premium Wa-Oh Japanese beef, which you can try in a variety of rare cuts, tastes, and textures. Every cow is raised in a calm environment and fed only with veggies.
The diverse meat options will appeal to the meat-lover. There's also organic and freshest seafood, steak, noodle soup, ramen, and a range of other meals on the menu. All of their ingredients are acquired responsibly from Japanese farms, indicating that the quality and taste of their meals are good.
2. Fat Cow
Fat Cow is a Japanese restaurant at Westin Resort Sentosa that specializes in exquisite bespoke meats and Wagyu beef from Japan. This well-known steakhouse, not just for its exceptional raw, cold, and hot starters, but also for its omakase experience, is recognized worldwide.
The interior of Fat Cow, from the lounge to the dining area, is a modified contemporary Japanese restaurant with wood and shimmy bronze woven together discreetly. The aesthetics of simplicity and minimalism are two concepts frequently employed in design.
The Fat Cow's devotion to offering a wide range of distinct, tiny dishes overloaded with strong tastes and focusing on Japanese Wagyu beef is unique. Those who want their unforgettable dining experience to be different each time may enjoy omakase experiences at Fat Cow.
3. Akira Back
The eponymous celebrity chef's latest endeavor is the namesake of Akira Back, a contemporary Japanese restaurant in South Beach, Singapore. It's one of several dining concepts run by the hotel.
For one, the interior of this Japanese restaurant in Singapore is anything but conventional. A communal dining table is available, as well as a bar and cozy places for private eating. It's conveniently located near the same lift lobby of the Marriott hotel, making it convenient to access if you're staying there.
The cuisine is organized into categories such as "cold" and "hot" dishes, sushi, sashimi, rolls, and main meals. It's a decent variety of food, although the creative departures may be noticed throughout.
In this excellent Japanese restaurant, the staff is both capable and pleasant. This is unquestionably one of the finest Japanese restaurants in the area if you're in town or looking for a modern spin on quality Japanese food.
4. The Sushi Bar
The Sushi Bar's cuisine is exquisite and will delight your senses. This Japanese restaurant specializes in typical dishes such as donburi, sushi platter, assorted sushi, sashimi, sushi, and Japanese-style pasta, all of which are authentic Japanese food.
The Sushi Bar's aim is to provide exquisite cuisine in a calm, unassuming atmosphere: A carefully curated selection of fresh dishes, as well as a broad range of Japanese sake and whiskey, round out the experience. They think that offering good food at a reasonable price is an important aspect of their service.
5. Shukuu Izakaya
Shukuu Izakaya, a Japanese restaurant, is a sensory Izakaya adventure right at your doorstep, founded by four lifelong friends with diverse talents and a common enthusiasm for all things Japanese. Shukuu Izakaya takes great pleasure in this distinction, so much so that it appears right below their name on the Shukuu website. The proprietors are sommeliers who have made it their mission to spread love and awareness for the underappreciated Japanese spirit in Singapore
Shukuu's menu, which offers more than 90 different sorts of Japanese tapas, is a testament to the owners' and employees' hard work and dedication to delivering a complete izakaya experience. You'll be relieved to learn that the dishes are reasonably priced!
6. Shinji by Kanesaka
Shinji by Kanesaka, a Japanese restaurant, is an extension of Japanese Chef Shinji Kanesaka's Edo-style sushi restaurant, which first opened in Tokyo's elegant Ginza neighborhood. Their goal, according to its basic ideas, is simply a desire to share an appreciation for old Japanese culinary traditions without compromising their integrity.
An omakase (Japanese for "your own") dinner is hosted by a Japanese team of artisans chefs and expertly handled by them. The Japanese fine dining experience is further represented by Okami-san, the restaurant's caretaker who ensures that guests are well-cared for.
Shinji by Kanesaka is Chef Shinji's first endeavor outside of Japan, and it continues to build on the success he has earned as a renowned culinary figure.
7. Sen of Japan
SEN of Japan is a modern Japanese restaurant and bar that offers classic Japanese dishes with a contemporary twist. Their menu, which is focused on freshness or "Sen," includes delectable meals created using a variety of high-quality ingredients.
Nakano Hiromi, former head chef at NOBU Las Vegas and current owner of SEN Restaurant & Bar, has gathered a collection of traditional Japanese ingredients. Sen features one of the most extensive sake menus in Singapore, as well as a sweetness-dryness chart to assist you in selecting the finest combination for your meal.
8. Tamashii Robataya
Tamashii Robataya is a Japanese restaurant situated in the North Canal Road. It strikes the right balance between tradition and innovation, which makes it well worth seeing if you're looking for an authentic Japanese dining experience.
The best thing about this restaurant is the delicious and inventive Kappo dishes that may satisfy any hunger, all made with real and fresh ingredients. There are a number of options to pick from, including shabu-shabu and ramen.
The open kitchen view at Tamashii allows visitors to see how their meals are made, making it an additional draw. When dining in at this eatery, you'll never be bored. The open kitchen sight makes it a fantastic place for small groups to gather because this is an excellent starting point for conversation.
9. Shinzo Japanese Cuisine
Chef Patrick Tan, the head and sushi chef at Shinzo, takes the craft of making sushi seriously, not in a way that you see him with a stern expression, bent over mouthwatering fish and seafood, but in a way that he has dedicated more than 39 years of his life to understanding the art of creating sushi. He strives to create a unique connection with his customers, whether they are strangers, friends, or family, over sushi and sake.
Shinzo's lunch and dinner omakase sets highlight their fresh and seasonal ingredients, which start at $80 per person. It's made up of four parts: appetizers, sashimi, a cooked dish, sushi, soup, and dessert.
If you consider yourself to be a sushi expert, Shinzo's is the place to go at the start of each season; that's when their menu changes to make room for the plentiful produce of the time. This puts freshness at the center of each dish that reaches your dining table.
10. Esora
The Lo & Behold Group's Esora, has a 26-seater Japanese restaurant in a heritage shophouse and contemporary kappo cuisine – simply defined as "to cut and cook" – plated by chef Koizumi.
Shigeru Koizumi, the chef-owner of this Japanese restaurant, serves kappo cuisine with meticulous care. He fuses contemporary cooking methods with an obsessive focus on fresh ingredients to create the ideal dining experience as a result of his background at three-Michelin-starred Nihonryori Ryugin in Tokyo and Singapore's very own two Michelin star Odette
The meal's real triumph is the tea pairing, in which each drink is tailored to the other beverage's advantages. Here, tea is regarded as an art form; it's prepared carefully and served in thinnest, most delicate stemware and champagne coupes.
11. Sushi Jiro
Sushi Jiro is a renowned Japanese restaurant that specializes in omakase and sushi dishes. Sushi Jiro transports fresh ingredients from Japan at least four times a week, much to the dedication of its chefs.
If you wish to dine at this restaurant, please fill out the online reservation forms on the website. Sushi Jiro also offers a comprehensive online ordering system to complement this feature. So, people who can't visit either location can still enjoy Sushi Jiro's cuisine thanks to the restaurant's delivery and take-away choices. This best Japanese restaurant only uses the best and freshest ingredients to make the best dish you could taste!
For others, delivery services are the most effective option to eat at Sushi Jiro's because of the quality of service. However, you should be aware that it is also one of expensive Japanese restaurants.
12. Sushi Kimura
Sushi Kimura, in a quiet corner of Palais Renaissance, is one of the city's best kept secrets. This Japanese restaurant specializes on Edomae-style sushi that is prepared with fish flown in from Tokyo's Tsukiji Market and sushi rice produced from a particular farm in Yamagata prefecture using only high-quality Japan imported ingredients.
Chef Tomoo Kimura, a Japanese-born chef who has worked at several fine dining and Michelin-starred restaurants, must be a perfectionist since he makes sure that every dish is made with only the highest quality ingredients and presented to perfection. Chef Kimura makes his own sushi rice in Hokkaido spring water, and it's not ordinary. He is a fish maturation expert, and he incorporates unique fish that are rarely seen on Singaporean sushi menus. With a warm smile, the congenial chef welcomes his customers with a simple explanation of each dish.
13. Koh Grill & Sushi Bar
Koh Grill & Sushi Bar does not require much of an introduction, especially for Japanese food enthusiasts in Singapore. It's a fun and cheerful restaurant where you can get delicious sushi and Japanese grills at reasonable (not cheap) prices. They are known for their Shiok Maki.
This Japanese restaurant is located inside the Food Republic food court on level 4 of Wisma Atria Shopping Centre. It's a small location but tidy, cozy, and comfortable. One side has transparent windows that provide a view of Orchard Road beneath. The viewpoint is pleasant, making the area feel larger.
14. Tatsu
Tatsu is a Japanese restaurant that offers budget-friendly meal sets.
It started as the only Japanese restaurant in Singapore with a 24-seater long counter to provide customers with a sense of simulacrum eating at a genuine ramen shop in Japan. If you're looking for an authentic Japanese ramen dining experience, this won't disappoint.
This Japanese restaurant's quality and taste of its fresh sashimi and sushi do not fall short of what you'd expect from a real Japanese eatery. That's because it purchases fresh fish air-transported directly from Japan four times a week, ensuring maximum freshness
Tatsu is one of the few inexpensive Japanese restaurants on the island, with lunch sets costing $28 to $36. It's ideal for a quick lunch break from your job.
15. Mikuni
If you're searching for a nice Japanese restaurant, consider Mikuni. When it comes to a variety of foods, Mikuni is the best. Its menu is divided into a la carte items, bento boxes, lunch sets, dinner sets, winter lunch offerings, and winter dinner meals.
The restaurant is well-known for its beef steaks, grilled unagi, various sashimi, tokjo sushi, and unagi kabayaki. The majority of its mains are composed of high-quality meat or seafood, both of which are considered delicacies in Japan.
When it comes to meal options, guests will never run out of choices at Social House. It does not, however, have a budget-friendly menu; the cheapest lunch option is approximately $80.
16. Rakuya
Rakuya is a Singaporean restaurant that blends authentic Japanese cooking with creative flair, making it one of the most distinctive Japanese restaurant in the city.
Chef Kenji's brilliant mind provides for the exceptional cooking, which is possible due to his vast experience working in Japanese restaurants and hotels.
Another thing to note about Rakuya is that it frequently refreshes its menu in order to keep things interesting, so every dining experience here will be distinctive. What doesn't change is that its components are always fresh.
Diners can select from a variety of Japanese dishes, as well as from a wide range of delicious sakes produced in different parts of Japan. If you have no prior knowledge on sakes, the pleasant personnel will be more than happy to provide you with one.
There is no need to worry if you are on a tight budget, because the vast majority of its meals are reasonably priced. In reality, the most popular dishes at Rakuya include lunch sets from Japan that cost about $15 to $28.
17. Tampopo
Tampopo is a Japanese restaurant with numerous eateries in Singapore, one in Oasis Terraces, and two others in Ngee Ann City. All of these locations are open 24 hours a day, 7 days a week to fulfill Japanese cuisine cravings.
Tampopo now sources seafood and other ingredients fresh from Japan in order to keep its cuisine as authentic as ever. Customers may then consume these items either raw or refined into Japanese dishes like udon and sushi, such as a bowl of watercress soup.
The owner of this restaurant is also a part of one of Japan's longest-running sake breweries. As a result, consumers can expect nothing less than the highest quality ingredients and goods.
Tampopo offers a wide range of meals that will suit every tummy. All of these delectable dishes are also available to takeout and deliver. Those who can't visit any of Tampopo's restaurants may simply order online.
18. Unagiya Ichinoji
Unagiya Ichinoji is the finest Japanese restaurant if you want exotic eels and squids. This Japanese restaurant is well-known for its grilled unagi, as its name implies.
All of the food it sells to its customers is imported from Japan. Unagi is grilled in the Japanese style, which means eels are steamed before they are grilled.
Unagiya Ichinoji is well-versed in how to prepare unagi. As a result, it also serves nori, wasabi, green onion, clear dashi, and other accompaniments for a complete and genuine unagi dinner.
Unagiya Ichinoji, besides offering food and methods, also represents Japanese culture by employing traditional Japanese chefs and adapting its settings to modern Japanese ideas.
19. Teppei Japanese Restaurant
Teppei, the Orchid Hotel's ground-floor restaurant, is one of the finest destinations to fulfill your Japanese food desires. This Japanese restaurant, recognized for its low-cost cuisine, has developed a solid following among both old and new customers.
Chef Yamashita, a happy chef who loves to cook for his customers, creates all of the meals on the menu himself. He has lived in Singapore since 2006 and tries to re-imagine Singaporean cuisine for his cuisine.
The restaurant's menu, which features everything from omakase set dinners to bara chirashi lunch bowls, shows how committed the establishment is to providing every taste. If you want to pamper yourself or go out for dinner with your loved one, Teppei Japanese Restaurant's omakase should be at the top of your list!
20. Rockon Tokyo
Rockon Tokyo, the cozy Japanese restaurant serves obanzai instead – Kyoto-style home cooking with a variety of side dishes that go perfectly with sake.
The restaurant's extensive listing of dishes is made up of fresh, seasonal ingredients – one that varies every two weeks based on what's in season. Create a meal using a succession of tiny plates – both hot and cold – ranging from the delectable potato salad ($18) scented with freshly shaved black truffles, to the classic hijiki seaweed ($6) served with beans and tuna for a hearty bite.
21. Nanbantei Japanese Restaurant
In Nanbantei Japanese restaurant, traditional seating is provided, but you will also experience how your orders are prepared over an open flame sizzling from dripping meat fat and fluids which is the best yakitori experience.
Do not hesitate to sit by the grilling station as you watch your meal being created—over an open flame, sizzling from dripping meat fat and juices. The exquisite simplicity of fine ingredients grilled to perfection, right as your order leaves the grill.
Nanbantei's bento and lunch sets are a great alternative for when you're on a tight lunch break but don't want to spend time assembling meals. The majority of their guests select the Yakitori Bento, which consists of yakitori skewers prepared with vegetables, rice, and dessert for the day.
Do you want to avoid the crowds? You may dine in peace and quiet at home, enjoying yakitori cuisine. Place your order on their website or via WhatsApp for free delivery if your purchase is S$125 or more.
22. Rappu
The Feather Blade's crew has come up with another concept, this time centered around handrolls. Listen to Wu-Tang Clan and Kendrick Lamar while you enjoy freshly wrapped rolls and cocktails at this groove-focused restaurant.
The centerpiece of the restaurant is a 36-seat sushi bar, where meals and beverages are prepared ahead of time right in front of you. The menu will feature only seven handrolls, including an insanely extravagant creation topped with uni, wagyu, and caviar.
For $36, customers will receive six freshly prepped sushi rolls, each with a variety of fresh fish. It begins with fatty toro, diced hotate, and house-brined salmon dressed with wasabi furikake as easy-to-love choices.
23. Omote
Omoté is always busy; and most of them come to this laid-back Japanese spot for its reasonable chirashi bowl.
Each bowl of sushi rice ($12.80) at Omote is topped with a hefty spoonful of chopped seafood, making this meal an excellent value. Have it on its own or enhance your dinner with exquisite uni, fresh scallops, and other Japanese seafood imported from Japan. It's best suited to a drizzle of house-blend soy sauce, which was developed especially for the restaurant and its seafood.
24. Sabar
Sabar has a new nest in Tanjong Pagar after moving out of Japan Food Town at Wisma Atria. The restaurant specializes in mackerel dishes and offers sushi packed with the joint's distinctive fish in a variety of ways, such as grilled and flame-seared.
25. Ikoi Japanese Restaurant
Do you get butterflies in your stomach when you think about all-you-can-eat Japanese buffets? Ikoi should be your first choice in Singapore.
Singapore foodies are well aware of the wonderful Ikoi Japanese Restaurant, which has been serving its famous Japanese a la carte buffet for twenty years.
Customers at Ikoi Japanese Restaurant enjoy some exquisite sushi that never runs out, and it's just the beginning. We urge you to plow through the full, gorgeous menu. After all, it's a buffet! And that implies there's only one price for everything.
26. Aoki Restaurant
Aoki Restaurant was established in 2013 as a joint venture between Owner-Chef Kunio Aoki and the Les Amis Group.
Owner-Chef Kunio Aoki presides over the sushi counter and kitchen. With a traditional culinary style, his creations are kept refreshingly contemporary with modern undertones. Only the best fresh and seasonal produce sourced directly from Tokyo's Toyosu Market and other artisanal suppliers from all over Japan are used in the 36-seater restaurant, ensuring a steady stream of loyal customers.
Do take note that the restaurant requires a smart-elegant dress code, and children have to be 15 years old and above to dine in the restaurant.
27. Tomi Sushi
Tomi Sushi originated in Niigata Prefecture in Japan, in 1954. In over 50 years, they have already opened 21 branches in Japan.
With 3 locations in Singapore, together with a sake bar, Tomi Sushi promises to bring the best Japanese food from Niigata to Singaporeans. Offering genuine nigiri sushi, course meals and other sushi staples, Tomi Sushi is definitely one sushi bar to visit if you're craving for the best Japanese dishes!
28. Shoukouwa Restaurant
Singapore's only 2-Michelin star restaurant, Shoukouwa Restaurant is a premier Japanese restaurant offering an unparalleled dining experience through its exquisite Edomae sushi cuisine and impeccable service. The restaurant only offers 8 seats in front of the chef, ensuring direct interaction and personalised attention between the chefs and diners. Their expert chefs only utilize the freshest ingredients – ensuring an enjoyable Japanese meal!
29. Public Izakaya
The classic pub atmosphere of Japan's ancient pubs is well represented at Public Izakaya. It's almost always jammed to the rafters, and for good cause. The meals are fantastic, the prices are reasonable, and the music is great. Of course, no matter which restaurant you visit, the food always hits the spot. The takoyaki here utterly destroys the competition, as well as daily happy hour.
30. Keria Japanese Restaurant
It should be no surprise that Cuppage Plaza has quickly become one of the most popular areas for Japanese sake bars. It's all very "if you know, you know," so a lot of izakaya joints are hidden in this run-down structure. Despite its obscurity, it's tough to score a table at Keria Japanese Restaurant, and most people make reservations at least two weeks ahead of time. Order the shirako ponzu ($16) if it's available; it's a somewhat controversial dish since it's essentially fish sperm, but it's one of the few Japanese restaurants that does it well.
31. Fukusen Restaurant
Hotel Clover's newest tenant is Fukusen Restaurant, which specializes in omakase restaurant cuisine from the homeland twice a week and high-quality seasonal seafood imported from Japan.
Let the chefs know your tastes and take control of one of their five- to eight-course omakase dinners ($80-$160), You may purchase a la carte items from the menu, which includes the clover fukusen roll ( $28) which contains a scallop carpaccio, and other sushi filled with salmon sashimi, cucumber, foie gras, and cherry tomato. For the meat lovers, Grilled Grade A Wagyu steak ($60) served over rice or noodles is a must-have. Be served one of their many sakes to compliment the meal.
32. Hashida Singapore
Chef Kenjiro "Hatch" Hashida may be a well-known name in the culinary world for providing exceptional sushi cuisine, but at his third and most recent iteration of the eponymous restaurant on Amoy Street, it is the little features that really wow.
The interior is decked out with elegant hardware and personal touches, beginning with the inside. Take a stroll through the torii gates and sit at one of three dining rooms – each with its own feel. A meal here is best experienced through a dinner omakase.
33. Kyuu by Shunsui
For $129, you may enjoy a ten-course omakase dinner. The low price doesn't imply that Kyuu by Shunsui cuts corners on the quality of their dishes; expect a variety of seasonal sushi, grilled king crab, and a rice bowls overflowing with dashi-soaked ikura. If it seems like too much, go for the five-course option instead.
34. Waku Ghin
The contemporary Japanese restaurant by renowned chef Tetsuya Wakuda, which had been closed for months owing to renovations, has now reopened at a new site (next to its previous location) within Marina Bay Sands. Additional grounds teem with fresh delights aside from the intimate chef's table omakase experience that Waku Ghin is recognized for.
35. Ristorante Luka
Although most people seek out Japanese restaurants for cuisine, Ristorante Luka is on to something with its wood-burned pies. Both rosso (red) and bianca (white) pizzas can be found at this Italian-Japanese restaurant. The Bianca Bianchetti ($26) pizza, for example, is topped with whitebait, seaweed, anchovies.
36. GOHO
There is nothing quite as daunting as an omakase dining experience, and it's something no one wants to attempt. From the start, you hand over control to the chef, who hands you each course in turn. It's almost like a ritual – then you depart. You receive the best aspects of an omakase dining experience at GOHO, where the focus is on simplicity and quality.
37. Koji Sushi Bar
On most weekday afternoons, it's apparent that Koji Sushi Bar has amassed a devoted following of white-collared workers due to its inexpensive lunches. Benny Cheong, the chef and owner of Shunjuu Izakaya before it closed in 2014, runs the place now.
Koji's most distinctive attribute is its freshly grated wasabi, which isn't found in many Otoro sushi rolls at this price range. You also receive a tub of housemade soy sauce to apply individually to each nigiri and pretend you're an expert sushi chef.
38. House of Chirashi
House of Chirashi is a Japanese restaurant that specializes in chirashi bowls. And, true to its name, the establishment's bowls are truly beautiful – not only do fresh, thick cuts of sashimi get used, but furikake and edible flower petals are also added for even more flavor.
39. Tokyo Soba
This little hole-in-the-wall soba shop isn't the sort of place you'd want to take your friends. The cozy eatery, which serves freshly made soba in hot and cold varieties, has a limited seating capacity (mostly two seats). To provide a smooth, slurp-able texture, noodles are prepared with 80 percent buckwheat flour and 20 percent wheat flour. The best part? A meal here costs less than $20.
40. Kiyoshi Japanese Restaurant
Kiyoshi might not be particularly unique among Japanese restaurants, but their inaniwa udon, a thin hand-stretched noodle produced in the Akita prefecture, distinguishes them.The self-proclaimed inaniwa udon is said to be the most chilled, and we couldn't disagree after trying the chirashi udon ($23.80). Order the Kiyoshi Combination Udon ($38) for a sample of everything. Consider it a tiny dish meal-in-a-bowl: each bowl has distinct toppings such as ikura and prawn tempura, allowing you to sample various flavor pairings.
41. Healthy Soba IKI
At first, we didn't have very high expectations for Healthy Soba IKI as a specialty handcrafted soba shop on the fourth floor of One Raffles Place, tucked away in one of Singapore's most remote locations.But with the freshly prepared soba, there is no comparison. The 100 percent buckwheat soba also has a slew of health advantages. Order the Avocado Kaisen Totoro Soba ($18), a chirashi-style sofa with fresh salmon and tuna that's served with a chilled dipping sauce, if you're here.
42. Hello Arigato
The first impression is extremely important, and Hello Arigato understands how to make a great one. It begins with a welcome home that invites people to come inside. The space is warmed by concrete flooring and wooden fixtures. The menu, on the other hand, entices customers to stay. The same method has been infused with the choice of cuisine and beverages to offer new dishes that are as comforting as they are innovative thanks to the team behind The Refinery, a Japanese-inspired restaurant with a focus on small plates.
43. Yujin Izakaya
You'll notice that new kid on the block Yujin Izakaya is, to put it plainly, really cool before you even sit down. The walls are adorned with framed manga images, creating a fun and colorful environment that doesn't take itself too seriously. So, you shouldn't too. Their sake list features some rather unusual varietals, such as Hoya Daiginjo and Ohmine Junmai Daiginjo from Yamaguchi Prefecture.
44. Pipes by Hattendo
Pipes by Hattendo, previously known for its cream buns, has expanded to include savoury sando sandwiches. Don't be fooled by the café's modest appearance in Dorsett Residences' Outram Park – the lengthy menu rivals that of other sandwich shops. It's the Nitamago Potato Salad Sando ($14) that has us hooked, though. There's also a delicious homemade potato salad filled with truffle oil, drizzled over with an ajitsuke egg sliced into half to reveal its gooey yolk.
45. Ki-Sho
Expect to pay a significant sum for the three omakase menus ($230, $280, $330 for six standard courses plus three, five, or seven seasonal dishes) served by chef Kazuhiro Hamamoto from the renowned Waku Ghin.Twice a week, ingredients from all across Japan are airlifted in, including ankimo (monkfish liver), aori ika (bigfin reef squid) and hida wagyu (Japanese Wagyu). Choose from the list of over 50 traditional and seasonal sake served in the 8-seat sake room at Ki-sho.
46. Kappo Shunsui
At the top of Cuppage Place, look for a frosted glass door flanked by salt bowls on either side. Ring the bell and wait. Because what's inside is well worth any cloak and dagger mayhem. Kappo Shunsui is a private Japanese dining experience available only to those in the know.It's one of the few restaurants in Singapore that serves Kappo cuisine, which combines five primary food preparation methods: grilling, steaming, frying, simmering, and serving dinner raw.
47. Hvala
The original Hvala shop is in Chijmes, a stunning teahouse that has turned the art of tea brewing into a real art form. It has since grown considerably, with additional shops in Somerset, Craig Road, and Beach Road popping up – but one thing's for certain: it's a trustworthy location to pick up freshly blended matcha. Order a selection of straight matcha, which is simply matcha whisked with water – no milk. You may now appreciate the distinct tastes of each type of matcha: some are stronger, while others have a lingering mellow flavor.
48. Suzuki Gourmet Coffee
Don't be fooled by the calm Japanese teahouse's interior. The café's menu, in fact, is largely comprised of espresso-based beverages. After all, this tranquil hideout in an industrial building on Jurong Island, which is run by Suzuki Gourmet Coffee, one of Singapore's oldest roasters since 1979.
49. Odaka Coffee and Sweets
Okada Coffee and Sweets is a beloved local favourite for its hand-roasted coffee, which includes speciality blends. Its origins are from Kyushu's Okada Coffee itself, first established in 1945. Try the house specialty coffee (from $7.50), but also one of their main courses to get a taste of what rustic, homemade Japanese cuisine is all about. The chicken karaage curry ($13) is sure to be a favorite, served with hojicha rice and pickles on the side.
50. Yakiniquest
With the new neighborhood comes a new culinary experience that aims to provide guests with a yakiniku journey like no other. This 64-seat restaurant has four private dining areas with smokeless ceramic charcoal gas grills, each of which gives greater control over the grilling process to produce a finely grilled result that retains the integrity of the selection cuts.
Expect only top-quality wagyu grade meats with perfect marbling and uncommon cuts that are skillfully seasoned and meticulously grilled to provide mouthwatering delicacies. Accompany the meat with a selection of Japanese wines, such as oolong high shochu, Yamakazi 18 Year whisky, or sake.
51. Yakiniku Yazawa
Yakiniku Yazawa at Robertson Walk is one of the newest places to sample morsels of self-barbecued meat. Yazawa, which serves Japanese barbecue comparable to Korean BBQ, has been receiving rave reviews and after a recent visit, it's easy to see why. However, don't expect a dim cave crammed with rowdy beer drinkers. With built-in suction on the sides of the grill, the location is fairly smoke-free, and it's also quite a nice sight with banquette seats in semi-private cubicles equipped with grills on griddles.
52. Ganko Sushi
For the past 26 years, Ganko's executive chef, Kuwahara Toshiyuki, has been a part of the company. At 22 years old, he became an itamae: the top sushi chef. It's not a term to be taken lightly — not everyone is an itamae. For many years, it requires an intense commitment to learning and mastering the art of sushi making.
Japanese Restaurant Singapore
Don't fret! We've got you covered. Whether you're looking for a quick lunch spot to enjoy a piping hot bowl of ramen or an authentic Izakaya experience, this list has got your back. Which of these Japanese restaurants in Singapore are on your radar? Let us know if we missed any that should be added to the list and don't forget to share with all of your friends who love delicious food as much as you do!
You may also check these related articles for other awesome restaurants in Singapore:
Frequently Asked Questions (FAQ)
If you have any questions about gaming chairs in Singapore, you can refer to the frequently asked questions (FAQ) about the best Japanese restaurants in Singapore below:
Additional Useful Articles
If you are looking for other useful guides and articles about Japanese restaurants in Singapore, check them out below: