Lighting Shop Singapore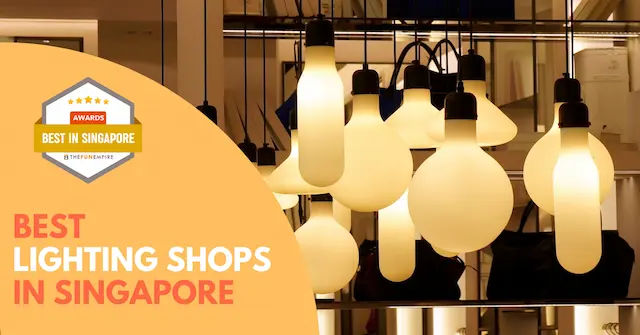 When it comes to illuminating your spaces with style and beautiful interior design, choosing the right lighting can make a world of difference.
In Singapore, a multitude of lighting shops cater to diverse aesthetic and functional needs.
This guide showcases the best lighting shops in Singapore for 2023 that have consistently offered excellent customer service, quality products, and innovative designs.
These lighting companies have been handpicked based on their experience, expertise, authoritativeness and trustworthiness in the industry, ensuring that you can light up your spaces with total confidence.
Quick Summary
The best lighting shops in Singapore include Light Makers, Regal Lighting, Verde Light, Sembawang Lighting House, Horizon Lights, Lightings.com and SG Light Store.
When selecting your preferred lighting shop in Singapore, consider key factors such as product range, quality, design options, price, customer service, installation and warranty policy.
Check whether the shop carries eco-friendly and energy-efficient lighting options to help reduce your electricity bill and contribute positively to the environment.
Best Lighting Shop Singapore
1) Light Makers
Key Services
At Light Makers, they are dedicated to providing customers with quality products ranging from LED lighting, crystal chandeliers, decorative fixtures, weatherproof outdoor lighting and more for:
• Residential Lighting
• Commercial Lighting
• LED Lighting
• Ceiling Fans
• Magnetic Tracklights
• Chandeliers
• Customisation (Design & Fabrication)
Product Highlight
Alouette Multi-Fixture Pendant
Website
www.lightmakers.com.sg
Address
318 Jalan Besar, S208976
Phone
6392 5665 / WhatsApp 8815 7805
Email
sales@lightmakers.com.sg
Operating Hours
Monday – Saturday: 9am to 7pm
Sun & PH: Closed
Light Makers Pte Ltd is one of Singapore's longest-standing retailers and suppliers of lighting, an established specialist in all aspects of lighting solutions for residential and commercial use.
The company was established in 1986 by the current management team, offering a wide range of lighting fixtures to suit varying consumer needs and trends, as well as inventive customisation of designs that are uncommon in the local market.
As a local lighting company, it has been working with interior designers and project managers for over 30 years now, with talented and accumulated experience to curate fixtures of buyers' choice that are safe and quality-assured for public consumption.
By 2021, the company has amassed a portfolio of clients from all walks of life including – small and medium-sized businesses, corporate entities, religious institutions, project managers working on government contracts, interior designers for luxurious living spaces and new or existing homeowners in Singapore.
It is a trusted company that has also exported overseas through fervent referrals, from customers that are satisfied with the company for its quality service and delivery.
Key Highlights
All-In-One lighting supplier with extensive product range and services: The company is a one stop shop full service lighting company for all your lighting needs.
High quality customised lighting: It has extensive expertise and specialization in customised lighting that few local
Tailor-made and modification: The company specializes in customized lighting, with few local suppliers able to match its level of attention to detail, product knowledge and professionalism.
Customization as per images or references: You can share any image reference you find online with their experienced team, and they will be able to make it for you precisely how you want it.
Regular product and design updates: The company constantly refreshes their line of lights and will only make-to-order upon order requests. This enables them to create truly unique and high quality lights in Singapore.
Products Offered:
Glass Fixtures
Indoor Lights
Decoratives
Ceiling Light
LED Designs
Smart Magnetic Fixtures
Accessories
Outdoor Lights
Customer Review
"I came to know of Light Makers when I was looking to renovate my home with modern lights. Been to a couple of lighting shops and none really spoke to me until I decided to give this shop a go after seeing the website & good reviews, and was I not disappointed.

I had great advice and assurance from the very experienced and humble sales team, that took care of everything the moment I made my purchase as everything delivered looked just as good in pictures and as discussed.

The team made me very happy when I saw the end result and I couldn't have asked for anyone better than the friendly and sincere staff from Light Makers. Thank you once again and my family & friends will definitely be back."

Dennis Cheng
2) Regal Lighting
Regal Lighting Gallery offers affordable and high-quality LED lighting solutions for homeowners in Singapore.
They curate their products carefully from reputable sources and continually refine their selection.
In addition, they distribute popular ceiling fan brands in Singapore and provide personalized recommendations based on customer needs.
Key Highlights
Personalized service based on reliability and honesty: The company has built their business based on dedicated customer service and long-lasting relationships over the years.
Customized light sourcing on demand: The company can source specific lighting solutions for customers on demand.
Wide range of ceiling fans with competitive pricing: The company is a distributor of more than 10 brands of ceiling fans with competitive pricing.
Products Offered
LED Lights
Ceiling Lights
Pendant Lamps
Ceiling Fans
Bathroom & Kitchen Accessories
Customer Review
Buying from regal lighting was great! Sam was very helpful, showing us the various lightings. He was also very patient to show us how to change the lights. Definitely will go back next time and will recommend them to anybody looking to buy lights for their new or existing home.

Jeremiah Lim
3) Sembawang Lighting House
| | |
| --- | --- |
| Key Products | Home LED Lighting Fixtures, Ceiling Fans, and Corner/Wall Fans |
| Website | www.sembawanglightinghouse.com |
| Address | 602 Sembawang Road, S758458 (shophouse beside Sembawang Shopping Centre) |
| Phone | 6759 7703 / (Whatsapp) 8526 6676 |
| Email | slh8888@hotmail.com |
| Operating Hours | 10am-7pm Daily |
Founded in 1997, Sembawang Lighting House (SLH) has a wide selection of lighting fixtures at competitive prices.
Located near Sembawang Shopping Centre, the company offers light fixtures such as crystal chandeliers, hanging dining lamps, acrylic ceiling lights, track lights, downlights, pendant lights, floor lamps and other LED lighting.
They have a team of local experienced electricians if customers require installation service for items bought from SLH.
For ceiling fans, they are the authorized dealer for brands including KDK, Fanco, Crestar, Acorn, Samaire, Spin, Decken, Vento, Bestar and Efenz.
Customers can contact them via their website or WhatsApp them for enquiries and transactions.
Key Highlights
Practical lighting fixtures for home (i.e. crystal chandeliers, tiffany dining lamps, hanging lamps, acrylic ceiling lamps, track lights, downlights). Their lamps are easy to replace with E27 bulbs or magnetic LED panels. They offer carry-in warranty for their lights.
Compare across 10 ceiling fans brands with local warranty. They are the authorised dealer for various ceiling fan brands such as KDK, Fanco, Crestar, Efenz, Acorn, Bestar, Flaire, Vento, Samaire, Spin, Kaze, Decken. Welcome to try before buying. Come with local warranty. You can compare across various brands in a shop, with over 20 ceiling fans on display in store.
Highly rated by customers: The company has achieved a rating of 4.8/5.0 Stars from over 1,000 customer reviews on Google and over 500 reviews on Facebook. Customers have praised their good experience from purchase to delivery as well as their installation services.
Products Offered
LED Lights
Ceiling Lights
Pendant Lamps
Ceiling Fans
Downlights
Table Lamps
Wall Lights
Dimmer
Customer Review
Emily was very patience and helpful in helping me select the lights for my apartment, I bought 10 lights and I'm very pleased with the quality of the products. The installation staff, Denis & Shirley are very professional, skilful and thorough in their work. I will recommend Sembawang Lighting to family or friends.

Chelsea Ang
4) Verde Light
Established in 2010, Verde Light offers a wide range of outdoor and indoor lighting fixtures for both commercial and residential purposes.
The company became renowned for quality and innovation with their customizable and unique light fixtures, gradually becoming one of Singapore's top lighting suppliers.
The company has partnered with renowned international brands like Panzeri, Vistosi, and Ferroluce to oversee product distribution in Singapore, Brunei, and Malaysia.
Key Highlights
A wide range of high-quality products: The company provides reliable fixtures that offer both comfortable lighting and stable fittings. They have introduced a range of lighting solutions that are manufactured and designed in-house, including PSB-approved options, IP Rated solutions, Safety Marked Dimmable solutions, and Low Glare solutions.
Warranty available on products: All products come with a 4-year on-site warranty for users.
Customization options are available to meet your specific interior design needs.: If you have specific requirements for your projects, the company can customize the lights to meet your needs.
Products Offered
Architecture Lights
Flex Products Showcase
Vistosi Showcase
Touchable Collection
Panzeri Product Showcase
Ferroluce Product Showcase
13˚ Product Showcase
Flos Product Showcase
Customer Review
I can't say enough good things about Verde Lights! Their selection is fantastic, and the quality of their lighting fixtures is top-notch. The staff is always friendly and incredibly knowledgeable, making the shopping experience a breeze. Whether you're looking for something classic or a statement piece, you'll find it here. I've decked out my entire home with their gorgeous fixtures, and couldn't be happier with the results!

Gladys
5) SG Light Store
Key Products
Bathroom, Kitchen & Lighting
Website
www.sglightstore.com
Address
3 Ang Mo Kio Street 62, #04-03 Link@AMK, Singapore (569139)
Phone
97560459 / 6250 7408
Email
sales@sglightstore.com
Operating Hours
Monday to Friday : 10am – 6pm
Weekends : 10am to 8pm
Public Holiday: Closed
SG Light Store is an online lighting shop in Singapore that provides the cheapest high-quality LED lights and a variety of creative lighting solutions in Singapore.
This lighting company has a strong and excellent quality control team that will ensure the quality, safety and reliability of their lighting products. All their products come with a 1-year warranty period (and upt to 3-years warranty for Safety Mark Driver light fittings).
As a trusted distributor of LED lighting in Singapore, their lighting products have attained the Singapore Safety Mark, CE and CCC markings.
This lighting shop also offers other products like cheap ceiling fans, water heaters, kitchen sinks and bathroom appliances.
Key Highlights
Online lighting shop Singapore with fuss-free shopping experience: As an online lighting shop Singapore, their website lists their entire product catalogue which you can browse easily on your computer or mobile phone. They provide free delivery for orders above $250.
Competitive prices: They offer direct factory pricing. which is some of the most competitive prices in Singapore.
Wide range of products: They carry a wide range of LED lights, ceiling fans, bathroom appliances, kitchen sinks and even water heaters.
Warranty available on all products: All products at this lighting shop come with a 1-year warranty period
Trusted distributor of LED lighting in Singapore: Their lighting products have attained the Singapore Safety Mark, CE and CCC markings
Products Offered
LED lighting fixtures
Ceiling Lights
Downlights
Pendant Lamps
Table lamps
Ceiling Fans
Kitchen Appliances
Bathroom Appliances
Customer Review
I've bought a number of products form this shop over the years. They are fairly priced, quality products and quite knowledgable over WhatsApp and in the shop. My goto shop for home lighting products. Highly recommended.

Tim
6) Horizon Lights
Key Services
Best online lighting shop Singapore
Website
store.horizon-lights.com.sg
Address
Orion @ Paya Lebar, #06-06, 160 Paya Lebar Rd, 409022
Phone
+65 6338 3767
Email
enquiry@horizon-lights.com.sg
Operating Hours
Monday – Friday: 09.00 am – 6.00 pm
Saturday: 11.00 am – 6.00 pm
Closed on Sundays & Public Holidays
Horizon Lights offers a wide range of lighting solutions, from traditional to modern, to illuminate any space. They continuously introduce new designs and stay updated with the latest trends.
Horizon Lights is your one-stop shop for all your lighting needs. It offers a wide range of options to meet your needs, including subtle fittings, energy-efficient choices, ceiling lights, and floor lamps.
Grab, Paris Baguette, Singapore Polo Club, Medi Corp, Singapore Prison Service, and many others are among their clients.
Key Highlights
Up to date fixtures: This lighting shop is the go-to destination if you're seeking affordable yet stylish creative lighting solutions.
Comparing tool for easy purchase: The website offers various features, including the ability to shop by price and a tool for comparing different light fixtures. This allows you to easily find and select the perfect option that suits your specific needs.
Quality images and descriptions: Their website offers comprehensive product descriptions accompanied by high-quality images.
Shipping available with warranty: They offer both shipping services and a warranty, ensuring a seamless experience for their customers.
Products Offered
Ceiling Lighting (ranging from pendant lights to ornate chandeliers)
Smart Lighting Systems
Floor Lamps
Pendant Lamps
Track Lights
Table Lamps
Spotlights
Wall Lights
Lighting Accessories
Customer Review
I had bought a lot of LED lights from Horizon Lights! I was very surprised to get a good personal service from Jhonny who helped me to select the right choices and made sure that all are tested properly. Also gave his contacts for any help during installation. Very good experience! Quality of the lights are very good. I was able to install them with no difficulty. Value for money

Subramanian Gopalaratnam
7) Lightings.com.sg
| | |
| --- | --- |
| Key Services | Singapore based company with three lighting retail outlets locally since 2004 |
| Website | www.lightings.com.sg |
| Address | #01-73, Vertex, 33 Ubi Ave 3, 408868 |
| Phone | +65 6256 0080 |
| Email | enquiry@lightings.com.sg |
| Operating Hours | Monday to Sunday: 11am–7pm |
Lightings.com.sg boasts three retail outlets in Singapore, providing shoppers with a significant advantage. With a remarkable 18 years of experience in the lighting industry, the company has established itself as a trusted name.
The company meticulously refines all its products, ensuring that they meet the highest quality standards before making them available for sale in their stores and on their website. Collaborating with renowned and prominent brands, the company offers a diverse range of styles and designs.
Lightings.com.sg offers fixtures at wholesale prices, allowing you to enjoy discounted rates even when purchasing single items.
While they do offer a website for purchasing light systems, their physical stores boast a wider range of products beyond those available at their online store.
Key Highlights
Fixed rate installation service: There's no need to be concerned about installing the lights you bought as the company offers installation services at a fixed price.
Warranty available: All their products come with a one-year warranty.
Attractive package deals: The company offers a one-stop package deal, where the more you purchase, the greater your savings.
Affordable prices on products: You can enjoy affordable shopping with the assurance of the company's best price guarantee on all its products.
Free delivery with minimum purchase: The company offers complimentary delivery for orders exceeding $30.
Products Offered
Philips (Luminaries, LED Lights)
Wiser Smart Home
Designers Lightings
Pendant Lights
Downlights
Ceiling ( Ceiling Lamps. Ceiling Lights)
Lamps (Track Lamps, Wall Lamps, Outdoor Lamps, Floor Lamps, Table Lamps,)
Crystal Chandelier
Customer Review
Great service from Gewel! Super friendly and nice! Repeat customer and happy to work with her as she is very helpful and can provide good advice too. Thanks!

Joraine Tan
8) Lightcraft
Established in 1977, Lightcraft initially focused on manufacturing lighting fixtures. Over time. it has evolved into a full service lighting company, providing a wide range of lighting services.
The company's products are produced and branded under the Vision-Lite, Hakkon and Lampcom brands.
Their retail showrooms provide a comprehensive range of outdoor and indoor lighting fixtures collections, including LED downlights and suspension luminaires.
Key Highlights
High level of customization available: You have the freedom to customize your lighting fixtures if desired. The company offers personalized and tailor-made lighting solutions.
Quick installation service: Installation services are available for lighting products purchased from the shop. The chargers vary depending on the requirements and the product(s) purchased.
Free delivery on minimum purchase: Free delivery is available for orders totaling $500 (nett) or more. You also have the option to choose self-collection for the products you have purchased.
Comprehensive lighting solutions: Over the years, Lightcraft has evolved to provide a full suite of lighting services, catering to a broad spectrum of customer needs.
Quality guarantee with warranty available on products: The company offers a "carry-in" warranty.
Consultation available for light selection: The company offers consultation services to assist clients with their lighting plans and purchases.
Products Offered
Ceiling Lights
Pendant Lights
Downlights
Track Spotlight
Table Lights
Wall Lights
LED Lights
Projector
Festive String Lights
Dimmer
Accessories
Customer Review
They have a great selection of unusual lights design you won't find it at common light shops. Promotions are affordable. Nicole was welcoming to answer our queries and friendly 🙂 we got a few lights from them. Thanks Lightcraft!

Benjamin KF Tong
Lighting Shop Singapore
In conclusion, Singapore is home to a plethora of lighting shops that offer a diverse range of products to cater to various needs and styles.
Whether you're looking for a unique chandelier to enhance the ambiance of your restaurant or simply seeking to replace an outdated light fixture in your home, Singapore's lighting stores are sure to have something suitable for every space.
When shopping for lighting solutions, be sure to consider factors like price, quality, design and installation services provided by the lighting shop.
Check out some of our other related articles and guides below:
Frequently Asked Questions (FAQ)
If you have any questions about Lighting Stores in Singapore, you can refer to the frequently asked questions (FAQ) about the best Lighting Stores in Singapore below:
What are the best lighting shops in Singapore?
The best lighting shops in Singapore include Light Makers, Regal Lighting, Verde Light, Sembawang Lighting House, Horizon Lights, Lightings.com and SG Light Store.
How much is lighting in Singapore?
Lighting in Singapore costs anywhere from $5 to $50 for a basic LED light bulb. For more complicated light fittings, such as luxurious chandeliers or customised light fixtures, they can cost hundrens or even thousands of dollars.
Is expensive lighting worth it in Singapore?
Expensive lighting can be worth the investment considering factors like longevity, energy efficiency, and aesthetic appeal. High-end lighting fixtures often add a unique touch to your home decor and may come with additional features like dimming or colour-changing capabilities.
Why are light fittings so expensive in Singapore?
Light fittings can be expensive due to several factors including the materials used, the complexity of the design, and the brand or designer name associated with the product. Additionally, high-quality light fittings often provide better illumination, energy efficiency, and longevity, which can justify the higher price point.
How long do LED lights last on average?
On average, the lifespan of an LED is 50,000 hours.
What affects the lifespan of LED lights?
LED's lifespan gets affected by extreme heat, frequent use, or using a higher current than what the light was designed for.
Do LED lights ever burn out?
LED lights do not burn out. Unlike traditional lights, which abruptly stop working when their power runs out, LEDs just slowly deteriorate over time.
Additional Useful Articles
If you are looking for other useful guides and articles about the best Lighting Shops in Singapore, check them out below:
Can't spot your brand on our list? It's time to turn the spotlight on your company! Don't miss this incredible opportunity to gain visibility. Send us an email at advertise@funempire.com and we'll share how you can skyrocket your brand presence by getting listed!