Movers Singapore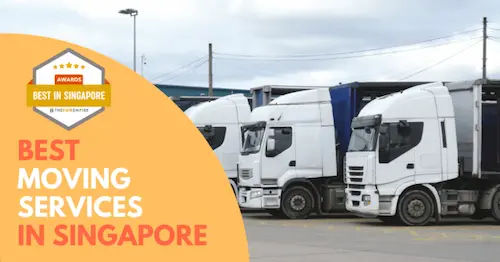 Moving can be a daunting task, but with the right assistance, it can become a stress-free experience.
The best movers in Singapore include Cube Movers, Fortuna Hu, CYC Movers, Move Move Movers, and Wise Move.
When selecting a moving service in Singapore, take into account factors such as pricing, dependability, professionalism, and the level of service quality.
Top-notch moving services in Singapore offer a range of solutions, including residential and office relocation, international shipping, and storage options.
Read on to find the perfect match for your moving requirements!
Key Consideration Factors
Reputation: When searching for a moving company, look for one that has a solid reputation in the business. Look at the company's web evaluations and get recommendations from people you know who have used moving services in the past.
Experience: Pick a moving company that has been in business for a number of years and has expertise working with moves that are comparable to the one you are planning.
Services offered: Take into account the specialized services that the moving company offers. Do they pack your belongings and then unpack them as well? Will they be able to move huge goods such as pianos and appliances?
Insurance Coverage: It is essential to choose a moving company that offers insurance coverage for your goods while they are in transit, so that you are covered in the event that anything is damaged or lost during the move.
Price: While looking for a moving company, it is important to compare the costs offered by a number of different firms in order to select one that is affordable while still giving a high level of service.
Availability: Be sure that the moving company is accessible on the days that you need them, particularly if you are planning a move during a time of the year that is considered to be peak moving season.
Best Movers Singapore
1. Cube Movers
Cube Movers take immense pride in offering the most reliable, quality-focused moving and storage services at some of the lowest prices around. With years of experience managing residential, commercial and industrial relocations, they have served countless clients expertly packing/unpacking their items before or after a move. Their team specializes in handling even the most difficult moves like pianos, pool tables, bed frames electrical appliances and machinery with ease – no job is too big for them!
Key Differentiators
Comprehensive Range Of Moving Services – Their comprehensive moving services cover every aspect of your move: from packing to transporting to disposing. Whether you need help relocating a house, commercial office or industrial facility – they've got it covered!
Transparent Rates, No GST, No Hidden Cost – Integrity and transparency are the cornerstones of long-term success in business. With that in mind, Honest Business Moving guarantees all moving quotes with no hidden fees so you can rest assured knowing they have your best interests at heart.
Free Boxes Provided + Promotion & Lucky Draw Offers – By leveraging economies of scale and providing continuous training to their movers, Cube Movers is able to pass the savings on to its customers. Experience Cube Movers for yourself and get a chance at winning some amazing prizes!
Safe, Secure, and Reliable Moving Service – As a way to give customers peace of mind, they are backed by public liability insurance up to $1M and their storage facilities have coverage up to $100k. Move and store with them, safe in the knowledge that you're fully protected!
Client Testimonial
I engaged Cube Movers to help move my pool table. As you can see from the pictures, it is being wrapped and secured safely to their lorry. It arrived at my destination safely and I am satisfied with it. 5 stars!

Marcus Lim
2. Fortuna Hu
There are places you haven't been to, but few buildings and residences Fortuna Hu doesn't serve! They have successfully carried out more than 10,000 moving cases locally. Fortuna Hu is a professional team of movers who are always ready to offer their services of transferring your home or office from one place to another across Singapore.
They use a customer-friendly approach in every situation. When you hire them, Fortuna Hu will take care of Packing/Unpacking, Dismantling/Assembling, and moving your items with great safety.
Key Differentiators
Fast and safe moving
Cheap and professional
Reliable and efficient
Client Testimonial
Today all your staff are helpful and professional…. 表现专业,服务尽责, 感谢。 会推荐你们。
3. CYC Movers
CYC Movers believes that their customers, people who care about their families and colleagues, deserve nothing less than a trusted and assuring moving experience from a dependable movers company.
CYC Movers provides these experiences, what they coined 'The CYC Experience', by paying close attention to their clients' concerns, priorities, various considerations pertaining to their move, and of course, to the properties that they are entrusting to them to have them moved safely to their new home, office, data centre or lab.
Incorporated in 2003, CYC Movers is a movers company that specializes in the provision of residential and commercial relocation solutions, domestically and internationally. Essentially as a professional moving company in Singapore, they mainly provide house moving services, office moving services and international moving services.
Key Differentiators
Their customers hire them because they know they can trust them to take care of their properties and be assured throughout their relocation process.
They protect their customers' properties with high grade packing materials including protection blankets, furniture socks and hardboards.
They do not overbook their services and risk being unable to deliver the trusted and assuring moving experience that their customers have come to expect of them. This means they put their customers' best interest over their wallets.
Client Testimonial
This is my 3rd time using CYC and requesting the same team with Supervisor Chandran. They made my shifting fuss free and fun! Highly recommended for their timely fuss free and professionalism

Sara Goh
4. Move Move Movers
Founded in June 2019, Move Move Movers aims to be the most professional and transparent moving service company in Singapore. Their customers' satisfaction is their top priority, and Move Move Movers offers all their customers a hassle-free service. Their competitive prices are transparent with detailed inclusions and exclusions for all customers, with no hidden costs.
On the day of the move, rest assured that only the most experienced full-time movers from Move Move Movers will handle your precious belongings and furniture. In addition to real-time GPS tracking so that you know where the movers are, their lorries are all equipped with power tailgates, which means no manual lifting is required and that helps to reduce the chance of scratches on your items.
Their customer service team is also very responsive, as you'll receive a reply within seconds once you WhatsApp your sales coordinator.
So if you're looking for a reliable and professional moving company in Singapore, do consider Move Move Movers! They are dedicated to providing you with the best service possible and will make sure your move is as smooth as possible.
Key Differentiators
Competitive, transparent prices
Experienced full-time movers and GPS tracking
Very responsive customer service
Client Testimonial
Very satisfied with their service – they were responsive and gave a transparent breakdown of their prices, unlike the other movers from which I asked for a quote. Their quote was also the lowest by far. They were flexible and allowed me to add to the moving list, although that increased the cost ultimately, but it was still calculated based on the cost list. On the day itself, the movers were very cheerful and efficient, and made the move a much less stressful experience.

Note that they ask for the number of boxes you have, which is very hard to estimate, but I'm sure if you took pictures they would be able to provide an estimate.
The WhatsApp communication is very competent in English; the movers themselves speak mandarin, so I'm not sure how the experience will be like for non-mandarin speakers. But for myself I will definitely engage their services if I need to move again.

Melody Lee (Google Review)
5. Wise Move
Next up, we have Wise Move. They have established themselves as the Singapore movers marketplace. It is the go-to place where customers with large or heavy deliveries can find local movers in Singapore with just one enquiry. The platform is free to use and will save you time and money!
Key Differentiators
Wise Move allows you to compare prices and get to know movers before accepting their quotes by reading previous customer feedback on their platform.
Quotes from Wise Move are up to 75% cheaper than standard rates.
Wise Move allows customers to save time with one inquiry to reach a network of Singapore movers travelling along your route already.
Client Testimonial
The move I had requested was much more complicated than I thought. The team demonstrated problem-solving skills and perseverance to get the task done. Really appreciated their work and will definitely use them again!

Jennifer
6. Red Sun Movers
The team of Red Sun Movers has been in the moving industry since 1997. Whether one is moving across the island or just relocating 5 minutes away, moving can prove to be quite a challenge. Moving to a new location requires a lot of planning and work ¬ The task of organizing, packing, loading, unloading, unpacking, and reorganizing is, frankly, a pain. With Red Sun Movers, the process of relocating can be much less stressful.
Started in 1997, the team of Red Sun Movers is here to ensure that their customer's move will be as hassle-free and smooth as possible. They possess a passion for quality service and have the resources and professionals to tailor each move to one's individual needs.
Whether customers are looking for professional movers for a residential relocation or roadshows and events, Red Sun Movers is here to provide one with friendly, professional moving services that are reliable, prompt, and cost-effective.
Key Differentiators
Firstly, Red Sun Movers provides packing services – they have the necessary equipment such as boxes, tapes, protective coverings & quality packing materials.
Next, Red Sun Movers always ensures that a comprehensive plan will be established ahead of time so that the moving process can be done smoothly.
Finally, Red Sun Movers allows for their customers to utilize a temporary storage service.
Client Testimonial
I did a local move in late September 2020 and consulted 3 different companies before choosing Red Sun Movers. They gave me the most reasonable quote and I liked how carefully their consultant went over the items I needed to move so they could give me a more accurate quote. The moving staff was very professional, efficient, and careful with my belongings. Terrance and his team at Red Sun made the moving process go very smoothly. Thanks, guys!

Kristy Kang
7. Rentalorry
Next up, we have Rentalorry. Rentalorry as its name implies – is a lorry rental service primarily based in Singapore.
Whether one is looking for a lorry for their relocating needs or looking for an experienced lorry driver, Rentalorry is definitely the place to go.
All in all, Rentalorry aims to be a company that anyone can go to should they feel that their current vehicle is unable to meet the job requirements!
Key Differentiators
Rentalorry has a large network and variety of vehicles available of different sizes and capacities.
Next, Rentalorry has a professional team of packers who are trained to wrap and handle furnitures and equipment.
Last but not least, Rentalorry has a range of packages which cater to a variety of budgets and needs.
Client Testimonial
Engaged their services for the first time (vehicle & driver only – to moved some furniture & boxes including an additional pickup location). They responded promptly, punctual with arrangements, helpful & pleasant service, and to top it off, charges were very reasonable. This review is unsolicited and completely on my own accord. I would engage them again without hesitation.

Crosby Ong
8. M&P International Freights
M&P International Freights is a professional freight forwarding company that also specialises in relocation services. In particular, the company focuses on international moves and pet moves. Their experience with transporting various types of goods and cargo worldwide makes them a reliable and trustworthy option when it comes to overseas relocation.
If you're planning to ship fragile items like pianos, M&P International Freights can also help to apply for cargo insurance so that you can prepare for any unforeseen events. Furthermore, they offer warehousing services if you require storage space for extra furniture as well as furniture disposal service for unwanted items.
Key Differentiators
M&P International Freights provides a range of moving services to meet your needs. You will not have to worry about finding different providers for different services.
The movers at M&P International Freights are experienced and reliable. Thus, you can be assured that they will take care of your belongings and furniture to the best of their abilities.
You will be assigned a personal M&P consultant who will serve as the main touchpoint between you and the company, offering you undivided attention and personalised care.
9. Allied Moving Services Singapore
Allied Moving Services Singapore has always been closely connected to high-quality moving. They were first established in 1973 and Allied Moving Services Singapore only had 50 employees at that time.
However, they have managed to grow themselves into one of the largest and most respected providers of moving services, handling over 50,000 international moves annually.
As one can see, Allied Moving Services Singapore definitely has the necessary experience to handle any moving needs!
Key Differentiators
Firstly, Allied Moving Services Singapore has a international moving team whom are experts at navigating border processing and the safe delivery of your precious belongings.
Next, Allied Moving Services Singapore has different types of moving services for clients (International, Domestic, and Office).
Finally, Allied Moving Services Singapore has excellent tracking technology where one can use it to track their goods 24/7.
Client Testimonial
Very pleased with the entire team at Allied Pickfords, both in the office as well as the actual movers. All of them were very organized and responsive to my needs. Thanks for a smooth moving experience!

Kelly Payford
10. Weload
Their company's objective has always been to protect the interests of our consumers and to keep prices low. We learned that customers put a premium on two things: convenience and price. They wanted to revolutionize the industry, and they researched a way to guarantee optimum productivity while still keeping costs reasonable.
They provide you with a wide range of services so that you may book your move any time and have your products delivered by movers who care about you and your schedule.
Key Differentiators
Affordable prices from $40

Instant quotation

Customisable moving services anytime, anywhere
Client Testimonial
From admin to movers themselves, thumbs up! I'm thankful that everything went smoothly, movers came within the stipulated time, my items were handled with care and movers were able accommodate to last min arrangement. Thank you weload!

Laila
11. Vimbox
Vimbox lets you customize your moving experience to reflect how much effort you want to put in yourself. You may choose between a basic move package or add more packing or unpacking services to save time. Regardless of the option, you'll get box boxes and tape at no additional cost.There are also a variety of services available for any ad-hoc need you might have, including piano moving, handyman services, and lorry rental with a driver.
Key Differentiators
Wide range of services
Free boxes & tapes
Client Testimonial
I engaged Vimbox Movers at the end of 2021 to help with my office move. They were responsive from the start and answered all of my enquiries promptly and with great patience. The price quoted were reasonable and comparable with the others as well. Their movers are friendly and accommodating to our requests. I would like to give a shout-out to their customer service staff Stella for her warm and friendly service.

Arlyana
12. KNT Movers
They have a lot of knowledge as Singapore's major relocation business. They aim to anticipate what each and every client need in order to make their move as painless and pleasant as possible while also providing expert Singapore relocation services at a reasonable price. Their service is second to none, with the finest movers and packers in Singapore! They provide movers who are experienced in relocation and understand the process and challenges involved in making a smooth transition to a new place.
With over 20 years of experience, their movers in Singapore can assist you with a free quote. Each client is assigned a removal coordinator, who is the main point of contact for all of your relocation needs in Singapore or international moving requirements!
Key Differentiators
Wide range of services
Dedicated removal coordinator
Client Testimonial
The crew members have totally exceed our expectations. They were on time, very fast and efficient. All our stuff were moved out within an hour. Many thanks to the sales, Harry, for always reachable, responsive and he provided me the cheapest quotes amongst all the other movers. Best value and best service. Harry even offered me further discount from the original quotes. I'd definitely recommend KNT for your moving needs.

Terence Tan
13. The Lorry
TheLorry is a lorry rental, van booking service that is both quick and simple. They offer lorry transportation, expert house shifting, and office relocation services. To ensure that your goods are transported safely and securely to your final destination, they work with reputable and experienced drivers. Try it out now to discover a new way to make moving deliveries !
Key Differentiators
All-inclusive moving packages
Technology-empowered logistics platform in South-East Asia
Vehicle transport from small size to 10 ft lorry, professional house moving, furniture disposal service, office moving and business logistic solution
Client Testimonial
I used this delivery service with a week's notice, to move a washing machine and clothes dryer, plus other bulky stuff between two locations. The movers were very accommodating and professional. I will definitely use this provider again.

Conway Lai
14. Shalom SG
Shalom International Movers has a long history in the logistics sector, having more than 39 years of experience helping to empower it. Shalom International Movers began as a one-man and one-van operation before gradually expanding into a full logistics provider. Their principles of offering high-quality moving services with peace of mind have remained constant and steadfast throughout the years.
Shalom Movers provides the greatest level of service, and you may rest confident that you are receiving excellent value for your money as well as peace of mind for all of your moving and storage needs. They work with organizations like the Institute of Technical Education and the Institute for Adult Learning at SkillsFuture Singapore to teach their personnel how to be better mentors. Their movers are certified Institute of Technical Education (ITE) On-Job Training Centers (OJTC), BizSafe 4 Certified, and Lean Management trained to move your goods in the safest and most efficient way.
Key Differentiators
Successfully moved over 200,000 times.
Only moving company to be awarded national acclaim in business excellence
More than 39 years of rich history in empowering the logistics industry.
Client Testimonial
Engaged Shalom for an all in one services, from Moving to Disposal and Storage. I was not disappointed. Evaluator gave professional advises and quotation was clearly defined. On Moving date, movers was punctual, furniture are wrapped carefully and disposal was swift. Overall a fuss-free experience.

Colin Goh
15. Exped Moving Services
Exped Moving Services is a full-service moving and storage firm that provides from packing to disassembling, transporting, disposing of your unwanted belongings, and storing the contents of your house, workplace, warehouse, manufacturing facility, and tradeshows.
Choose them for a worry-free next move. From the minute you contact them to the moment your last box is unloaded, their movers will look after you and your possessions with care.
Key Differentiators
24/7 Services
SMS/Email alerts – Customers will always be kept informed with our top-notch customer service.
Full-service moving and storage company offering from packing, dismantling to moving, disposal of your unwanted items, and storage for the contents
Client Testimonial
Engaged their services for my move. Pre-move customer service is great as they visited FROM and TO locations to get the necessary paperwork and applications. Moving day is quick, efficient and prompt. It was a 3 man job, and they worked well together. My move was completed in less than 2.5 hours with a truck load of items. They even helped to wrap furnitures and unwrapped them at the destination location. Highly recommended. Thank you Sean and the moving team!

Benjamin Chong
16. Vs Movers & Logistics
VS Movers is one of Singapore's most professional and cheap movers and packers. VS Movers provides one-stop services for residential and commercial relocation, removal, storage space usage, packing and unpacking, assembling and dismantling, as well as disposal services at the lowest rates available. Over the years, their team of movers, drivers and customer service staff has worked hard to ensure that each moving experience is pleasant, on-time, and on-budget. their expert mover strives for 100% client happiness in every move.
They're interested in knowing what their consumers want, and each relocation is unique. That is why they tailored their services to provide a favorable outcome for their customers, ensuring that whenever they require any moving services, they go back to VS Movers.
Key Differentiators
Most professional and lowest-priced movers and packers in Singapore
One-stop solutions for residential and commercial moves, removals, storage space rental, packing and unpacking, assembling and dismantling, and disposal services
Client Testimonial
Second time using VS mover. Thank you for a smooth moving experience again. My king-size bed was well dismantled/assembled. Last minutes decided to move my storeroom rack and they helped dismantled/assembled too. Big thank you Vallem and your partner.

Adelyn Tan
17. The Trio Movers

The Trio Movers – Movers Singapore (Credit: The Trio Movers)

Key Services
House/Office relocation, perm/temp storage solution, packing and unpacking services, disposal services contract delivery
Website
http://www.thetriomovers.com.sg/
Address
31 Woodlands Close #02-15
Phone
6908 7475
8321 5709
Email
thetriomovers@gmail.com
Operating hours
9am – 6pm (Mon To Sat)
Ops Team: 24/7

Formed by 3 brothers, The Trio Movers have a team of young movers who have earned plenty of praise via Facebook/google reviews. Their services include manpower, dismantling, wrapping and even padding if necessary – all included in their quotation with no extra costs. Fair pricing with NO hidden cost + great customer service is the company top priority.

There's even a storage service in case you need to move out of your old place but aren't able to move into your new one just yet. All the items will be kept safely in a climate-controlled environment, so your furniture won't get damaged by mould or humidity. For a 14-foot truck worth of items, it'll cost an estimated $250 per month to store; otherwise, the minimum charge is $60.

Key Differentiators

NO hidden cost
Experienced and professional movers
No-obligation free site survey and free boxes

Client Testimonial

Moving house is a stressful event. The entire process of engaging the right moving company adds to the stress. I am glad that Trio Movers helped with my  move. The first touchpoint was with Mag (Magdalene) who is cheerful, positive and helpful throughout my communication with Trio Movers, even when I needed to hold on to their boxes as my storage was not built yet. Keith who conducted the site survey and provided the quotation is professional and helpful with moving advice. Also, their moving team on D day was cheerful and polite. I would recommend Trio Movers to anyone who is looking for moving services.
Movers Singapore
In conclusion, these are some of the best moving services in Singapore that we have picked out from the whole lot if you're moving to another place, whether it'd be a new home or office. So be sure to check them out and you can be assured that your items will always be in safe hands!
However, if any of you are still interested in checking out our other lifestyle articles, be sure to click on the links you see below:
If you know a business that is in need of help or you would recommend to others and more, let us know so we can feature them too! Contact us here!
Frequently Asked Questions (FAQ)
If you have any questions about Movers in Singapore, you can refer to the frequently asked questions (FAQ) about the best Movers in Singapore below:
Additional Useful Articles
If you are looking for other useful guides and articles about Movers in Singapore, check them out below: