Nail Salon Singapore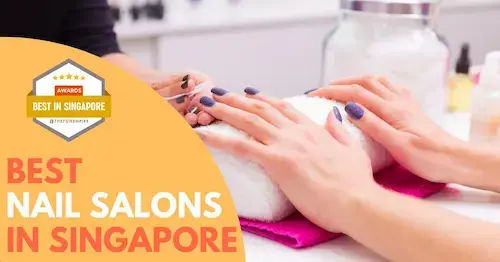 When it comes to looking presentable, nails can be considered as one of the important aspects of a person's aesthetics.
The best nail salons in Singapore are Project Nails, Eileen Nails, Hanah Nails, Nail Lodge, and The Nail Status.
When selecting a nail salon in Singapore, take into account elements like cleanliness, ambiance, pricing, range of services, product quality, and location.
The most popular services you can avail at a nail salon in Singapore are manicures, pedicures, and nail artistry, complemented by spa treatments such as waxing and massages.
Discover the top nail salons in Singapore and get spoiled for choice with the wide range of options available.
Key Consideration Factors
Cleanliness of the salon: The cleanliness of the salon is important as it serves to protect customers from potential bacteria and infection.
Atmosphere: A comfort atmosphere can help you relax while enjoying your manicure experience.
Price and variety of services: Prices and the variety of services determine if a nail salon in Singapore is suitable for you.
Quality of products used: It is important to check if the products used are of good quality, as they can affect your nails and skin.
Availability of experienced staff/technicians: Experienced staff or technicians can help to ensure the best manicure experience.
Reviews from customers: Reviews from customers will be able to provide an overview of the quality of manicure services provided by the nail salon.
Location (in relation to convenience): The location of the nail salon in Singapore is also a factor to consider in relation to convenience.
Hygiene protocols in place (disposable tools, sterilization): Hygiene protocols should be in place to ensure customers' safety.
Now that you know what to look for, here are the Best Nail Salons in Singapore!
Best Nail Salon Singapore
1. Project Nails
Project Nails is a cosy as well as a stylish nail salon in Katong and Jurong offering manicures, pedicures, Cuccio Paradiso hand & feet spa, nail art, eyelash extensions, waxing, hair services and more. Unwind in their massage chair, followed by their complimentary premium tea and homemade cookies baked by their salon's founder. Relax knowing you are in the capable hands of their talented manicurists. They invite you to experience for yourself the Project Nails difference. Who knows, you just might like or maybe even love it.
Key Differentiators
Transparency. Their prices are clearly listed so that there are no surprises. You can find the price list online, in their nail salons and even on their salon facades. They believe in price transparency.
Value. They pride themselves on value and that is why you will not see endless promotions or special offers that might overwhelm and confuse you. Instead, rest easy knowing the main event not to miss is their anniversary special each August. The rest of the time, they believe you will appreciate the laden worth of their standard pricing.​ They may not be the lowest price in town but you can rest assured that you are in the hands of trained skilled staff worthy of the much pricier nail salons.​
Integrity. They use genuine products purchased either from the manufacturer themselves or authorized distributors only. This helps ensure the traceability and quality of the products they use. Their reviews online are the real deal. They were written by their customers and they appreciate the wonderful comments and even the rare bad ones. They look forward to receiving the feedback, be it positive or negative.
2. Eileen Nails
With more than 6 years of experiences in the nail industry, Eileen Nails is a private, by-appointment-only home-based nail studio. Previously from Sengkang, Eileen is currently based in her newly furbished crib in the Bidadari estate starting from December 2020. It is easily located, with just less than 5 minutes walk from Woodleigh MRT station. Eileen provides manicure, pedicure, nail art as well as extension services all-in-one using reputable products from Japan and Korea. With her passion for the arts and meeting new people, Eileen believes in creating an overall positive experience for customers. As a result, she has garnered many positive reviews on several platforms such as Google, Facebook and Instagram.
3. Hanah Nails
Hanah Nails is conveniently located in the heart of town at the 3rd storey of Bugis Street. With over 10 years of combined experience, their professional manicurists provide quality nail services from basic manicure/pedicure to the most complex customized nail artwork.
Hanah Nails only sources products from authorized distributors and manufacturers directly to ensure the highest product integrity. They pride themselves as providing quality nail services at affordable prices, starting from just $13 for a classic manicure!
Key Differentiators
Competitive and transparent pricing. Price list is listed on their website and displayed at the shop front
Huge variety of more than 2000 types of colors, shades and tints and add ons to choose from.
Client Testimonial
Hannah and Nicole are wonderful. I was always afraid of places with cheap pricing as I wasn't sure sure whether there would be quality. Rest assured they are professionals and they tell you which nail art or designs suits depending on your finger type. I have small fingers and they were helpful in helping to choose a design that fit my nail perfectly. Hanah is a great boss who made my first experience memorable as she is able to hold a conversation and she double checks her work after she is done to ensure there are no sharp edges on the nails and whether there are adjustments need to be made. Nicole listened to what I needed and did exactly that. They are able to recreate the design and artwork that I wanted. What's wonderful is that it's cheap and the ambience is great. Plus great service. I 10/10 recommend!!! Thank you hanah dearie and Nicole. My nails are beautiful thanks to you!

Rachel (Google Review)
4. Nail Lodge
Nail Lodge is nestled in the heart of Serangoon Gardens on a second-floor shophouse opposite MyVillage mall. They provide a cosy environment with exclusive privacy for you to sit back, and relax in an ambient close to home. 🙂 They carry a full product range to cater to your nail care needs. Additionally, they now offer even more specialised beauty services such as eyelash extensions, SHR hair removal, and LED teeth whitening. Their regular customers love their philosophy of customer focus and no hard selling of products. Pamper yourself with a well-deserved treatment session today! First-timers also get to enjoy an exclusive discount, chat with them to find out more!
Key Differentiators
Their manicurists are equipped with a combined experience of nearly two decades.
They are committed in providing a exclusive environment for all clients.
Promotions are run from time to time in order to cater to clients of various demographics.
5. The Nail Status
Founded in 2004, The Nail Status started out with a single nail station and a dream to bring the best experience to anyone who wants to pamper their nails. Presently, they have evolved into a uniquely Singapore chain salon offering a multitude of beauty services to their customers.
6. AgnesG.Nails
AgnesG.Nails is your one-stop Nail, Lash & Brow grooming salon. Equipped for the fashionista who demands style and yet functional. A team of proficient and experienced therapists to help achieve customisable works of art be it for nails, lashes or brows according to customer satisfaction.
7. Exquisite Nails Spa
Established in the heart of Siglap for almost 18 years, Exquisite Nail Spa has always been trusty to their loyal and precious customers. Over the past years, their positive and well trained teams always strive to provide an efficient, professional and ever-refreshing personal experience for their valued clients. Their constant improving techniques, creativity and imaginary nail art services foster the trust over the years! Throughout the years, they thank their customers, their friends and family who develop excellent relationships and trust with Exquisite Nail Spa!
8. Nail County
Nail County is one of Singapore's top nail salons. It provides Korean nail art, provide nail repair treatments, and a variety of pedicure and manicure treatments. Nail County provides the best nail treatment in comfort with a vision for providing a gratifying experience to all clients who visit the salon. Experts in the field can be certain that you will be satisfied with the services and prices.
9. The Nail Social
The Nail Social is Singapore's first socially aware nail salon, employing disadvantaged women from the community to provide them with professional skills and employment opportunities. Customer service entails not just the use of non-toxic, environmentally friendly, and cruelty-free products like Zoya and Jacqueline Burchell, but also extras like a complimentary glass of wine every Friday. With a cause and great service, The Nail Social has already become one of the most popular nail salons in Singapore.
10. Home Nails
Home Nails, with four years of expertise in the manicure sector, is the ideal answer to your nail needs. Home Nails is located in Singapore's heart; furthermore, it provides low-cost options. Their well-trained and pleasant staff of nail artists that can do any type of nail work imaginable. The gel extensions offered at this salon include 3-D acrylic nails, matte dry nail extensions, gel polish, and much more.
11. Nail Artistry
Nail artistry is a big nail salon with a huge television that broadcasts the latest movies as you get your nails done. Manicures start at $15 and can go up to $30 for spa treatments and pedicures. It has hand-picked characters including pikachi and Tororo to print on your nails.
12. The Nail Artelier
Whether it's charming anime characters, delicate feminine hues, or vibrant accents of color, The Nail Artistry's staff of expert designers all have a variety of modern designs in their portfolios. Settle into their soft furnishings for a Classic Gel Manicure (S$58) while watching the latest movie screening on their huge TV.
Allow dedicated attention to detail and careful application of products to make your nails look like they've been dragged through the jungle with a Safari Eco Gel (S$68) mani. Or, leave it all up to the pros and get a Deluxe Spa Manicure (S$90), an extensive treatment that includes cuticle care, hand massage, and nail shape. These offers are available at all The Nail Artistry outlets while stocks last, so hurry!
13. Nailgasm
YouNailgasm provides the greatest nail treatments. The professionals are knowledgeable and kind to clients. All of the instruments are thoroughly sterilized; you get excellent service. The Nailgasm is recognized for its high standards of clinic cleanliness. You'll like the safe cosmetics and well-maintained equipment and tools at the salon. There are no shortcuts taken. Clients are guaranteed to get superior service and low prices.
14. Nail Haven
Fiona, the founder of Nail Haven, began as a hobby but gradually evolved into a profession influenced by the beautiful Japanese nail art scene. With ten years of industry expertise under her belt, the private home studio specializes in Bridal Nail Art that ranges from basic French manicures to complex bespoke modifications. Spa and treatment services are also provided on request.
15. Fancy Nails Paradise
One of the nail salons in Singapore that undoubtedly lives up to its name, but at a more budget-friendly price, is Fancy Nails Paradise. This nail parlor, which features a baby blue interior and huge royal armchairs, is one place where you will be treated like royalty without having to spend an arm and a leg for it.
16. Kiyone+LIM
You can't get any more elegant than Kiyone+LIM, the latter meaning "Less Is More." While they stick to a single hue throughout their whole color palette, their designs are all created by Japanese manicurists with an exquisite touch. Manicures begin at S$80, which is substantially more than most locations charge, but considering that this includes a hand and forearm massage, we can't think of a better way to spend $80.
17. Manicurious
Manicurious is a well-known manicure service. Glossy, matte, elegant, and basic are just a few of its excellent manicure designs. If you prefer pictures on your nails, this is the place to go. You may relax comfortably in the warm atmosphere while having your nails done at this salon's vintage-inspired chairs. Its prices can be considered towards the higher end of Polish nail salons, but given the above-average quality you will receive it is definitely worth it.
Gel nails with excellent quality last longer. It has a staff of experts and patient patients. You get a complimentary cup of tea while getting your dream manicure. The manicure service starts at $18.
18. Dollhouse
Dollhouse is one of Singapore's most inexpensive nail salons, with a range of gel manicures and nail art, as well as add-on treatments like acrylic extensions and waxing. All of their manicurists have received extensive training and are incredibly pleasant. Furthermore, the establishment is conveniently situated near City Hall station and you can easily get there using public transport.
19. m'pir the nail bar
m'pir the nail bar is a fantastic nail salon for Singapore's working class. You may get a fast nail treatment during your work breaks at Shaw Centre, which is strategically positioned in the heart of Orchard Road. You'll be able to affordably have your nails done with the price of $15 or less.
A nail manicure is individually built to meet the demands of the consumer. If you don't have a lot of time, look for a fast-drying topcoat. Those with less time can get a complete manicure as well as angel gel.
20. Nailush Spa
Many people are familiar with the frustration of travelling numerous train connections before reaching their destination. But here's some fantastic news for you: you do not have to plunge into the rush-hour Orchard traffic just to get a manicure. For only $20, enjoy an Express Gel Manicure at Nailush Spa in Punggol Town, a short 4-minute walk from Punggol MRT station.
21. Trimmings Salon & Spa
You may get a complete package of feet and hands treatment at Trimmings salon and spa. You may have both sports grooming and a medical pedicure for your heels.
Trimmingshas over ten years of expertise in the beauty industry and specializes in nail care. It has a mission to make a difference in the beauty business by ensuring that it is honest and clear. Trimmings is a lovely, tranquil location for your manicure.
You may become a regular for Pedi treatments if you have the assistance of a dedicated team. Their manicure services start at $18.
22. Privacy Beauty Lab
One of Singapore's most well-known and inexpensive nail salons is located right in the heart of the island! Despite being in Singapore's busiest area, Privacy Beauty Lab provides a quiet and comfortable haven for individuals searching for a high-end yet budget-friendly manicure. They provide men and women with a variety of nail creations and styles to choose from, ranging from glittery nail art to the classy metallic shade.
23. Peony Blush
After you've been inside of Peony Blush for a while, you'll notice that it's not what it seems. The store's exterior is deceiving, but its interior offers a colorful wonderland of nail and beauty treatments. For $25, get an Express Gel Manicure or Pedicure, and opt for gel nails with Glitter or Matte designs for an additional $5.
24. Beaute Nails
Stepping into Beaute Nails is like entering a chamber of luxury, complete with velvet curtain and plush seats. This opulent sanctuary imports non-toxic gelish and nail color from Korea. They specialize in Ultrasound Manicures, where expectant mothers may get their hands on a mini manicure. A pampering session begins with a gentle cleanse and scrub, followed by an intensive hand mask.
The manicure is then completed using keratin-enriched cuticle oil. After your treatment is finished, you can sit back and enjoy some magazines or television while your nails dry out in the cozy chairs. There are also other services available such as eyebrow waxing, eyebrow dying, eyebrow plucking, eyelash extensions, makeup application, and more.
25. Lily Nails Salon
Lily Nails Salon, located in a cozy area of Bugis Street, is one of the nail salons in Singapore that has earned a devoted following. Expect to be pampered like never before as you entrust your nails to the salon's highly trained manicurists. Furthermore, with the option of opting for a sleek nail art design without the hefty price tag, Lily Nails Salon is perfect for you! The salon's motto of "Healthy Beauty" promises that they'll put your nails' safety first.
26. Urban Company
Urban Company offers a one-of-a-kind manicure company model. Unlike other nail salons, Urban Company creates your nails in your own home. At your doorstep, they provide high-quality pedicure and manicure services. With eight years of experience in the business, they offer high-quality manicure art at affordable prices. The company's mixologist approach adds to the quality of their services.
Choose a service on their website or app, choose the nail colors you like, then schedule a manicure appointment. Advance reservations of two hours are accepted. The nail technicians use clean instruments and sanitize treatments before applying them to your nails.
27. AUUM – The Honest Nail Spa
AUUM is a one-of-a-kind nail spa that provides customised and safe nail treatments for children, pregnant women, and new moms. Their services include revitalising foot scrubs and massages for men as well.
With environmental and health concerns in the nail care sector, environmentally friendly nail spas have emerged to provide those who want beauty without the negative consequences. That's why AUUM focuses on using eco-friendly products for treatments at the spa. They take extra steps at AUUM to keep you safe by decreasing the likelihood of skin diseases or, even worse, disease transmission. They utilize bio-degradable disposable towels, files, buffer, file pad, and toe separators. After each use, they also disinfect our metal instruments.
28. Bellus De Charme
Charm offers a wide range of beauty treatments, from head to toe. Nail, waxing, makeover, eyebrow shaping, brow embroidery services, and IPL hair removal are some of the services offered by Charmme.
They promise to keep our tagline "Beautify with Confidence" in mind when it comes to all clients, and strive to offer complete confidence in the work of their staff. The team is fully trained and up to date on the most recent beauty trends and techniques, ensuring that they are well-versed in the latest beauty trends and skills.
29. Nailz Haus
From nail technicians, artists, and nailcare specialists, they have an incredible team that can meet all of your manicure and pedicure needs. This nail salon is a sanctuary where you may pamper your always working-so-hard hands and feet with meticulous attention. Nailz Haus believes in being open and diverse, which is why they can be found in several locations throughout Singapore. As a result, you may get all technology available to science at reasonable rates. They also excel in the use of water permeable/breathable paint, which has no downtime and does not interfere with ablutions or prayers.
30. Remède Spa
Pedi:Mani:Cure Studio by Bastien Gonzalez, the French podiatrist, offers a salon of nail treatments at the St. Regis, a five-star hotel in Singapore with its famous Remède Spa. Celebrities from around the world (including Naomi Campbell) are said to adore him for his opulent spa treatments and waterless pedicures.The top offering is Bastien's Duo, a four-hand treatment that includes two therapists who will rejuvenate your nails and leave you feeling revitalized with a massage. We also suggest Bastien's Pedicure, which includes polishing to restore natural radiance, a mild treatment to remove skin abnormalities and dryness, as well as a calf and foot rubdown.
31. Oh Nails
If you want your nails to be loud, visit Oh Nails. With these Instagram-worthy nails, you'll be on trend. Cleo Chew, the company's founder, frequently shares photos of her innovative and flamboyant nail art designs on Instagram, so you may check them out. Head to her salon, choose the design and type of nail art you want, and make your nails the focus. However, keep in mind that pedicures are not offered.
32. N20
If you put a higher value on softly moisturized toes than meticulously painted nails, consider booking an appointment for a foot massage at N20. Your feet will be treated to a luxurious soak in a combination of moisturizers, a clay mask to detoxify, a deep cleanse and scrub, and a non-greasy foot balm.
33. Bejeweled
Bejeweled – A cutting-edge nail salon and boutique business located in the heart of Singapore's Central Business District at International Plaza as well as North-East of Singapore. They provide a wide range of beauty treatments, ranging from manicures to spa treatments, natural-ingredient based facials, eyelash enhancements, and hair removal.
34. Twenty Nails
Twenty Nails believes that going to the nail salon in Singapore is more than simply getting your nails done. It is one of the many ways to empower yourself through self-care by enjoying this special treat every time you step into the salon. They are also committed in making certain that you care for your nails well by utilizing the necessary treatments for various conditions.
Their treatments are designed to only feature goods that are safe, natural, less-toxic, vegan, organic, or cruelty-free. The salon also takes pride in being responsible and honest, while also ensuring that you may enjoy these simple pleasures without guilt by keeping our prices reasonable.
35. The Nailist
The Nailist's founders are actually siblings who had a vision for a warm haven of calm that wasn't plagued by the relentless pressure tactics found in the spa business. At the Nailist, they think in high-quality goods and honest service, and believe that the rest will take care of itself!
36. Painted Nail Bar
The principles of Painted Nail Bar are appealing, outstanding, and meticulous. The area this nail salon in Singapore created is meant to be a haven of peace. Your tranquil place.
Painted Nail Bar is a hidden gem in Singapore's River Valley that offers high-quality manicures and pedicures for men and women. Their soothing manicure and pedicure treatments will provide your nails with a beautifully polished appearance while also adding a touch of opulence and lushness to your day.
We're confident that you'll enjoy Painted Nail Bar. You will leave feeling lovely and cared for. They are dedicated to providing you with an opportunity to express yourself and be acknowledged. Experience joy.
37. Princess's Cottage
This salon provides high-quality nail services at a reasonable price! Classic/Spa Manicure Pedicure, Acrylic/Gel Nails Extension, Customized Nail Arts, the newest Gel Polish Manicure Pedicure, Eyebrows Shaping and Make-up Services are just a few examples of their customized services.
They are also the exclusive distributor of Shinygel, a Japanese-made product. The salon said it wasn't difficult for Princess's Cottage to pick this as a representative brand because it is in line with their company objective – the idea of treating consumers' nails to restore them healthy and attractive.
They also maintain the cleanliness and hygiene of our facilities and nail instruments with adequate sanitizing equipment and solutions. Visiting this salon, customers will become Princesses and Princes and can rest assured that you will look fantastic.
38. Nail Craft
The Nail Craft is located at Panjang Ring Road and is one of Singapore's most well-known nail salons. They are a small nail spa that specializes in manicures and pedicures. With a team of enthusiastic and trained artists, you can count on them to be in great hands.
They pride themselves on a spotless and pleasant atmosphere, as well as outstanding client service. They pay close attention to the small factors that ensure high quality and want you to appear and feel attractive, which is empowering!
39. Miracle Of Nails
Relax at this nail spa that has been in operation since 2007. Waxing, face threading, and henna are all available at this salon which locates in Coronation Plaza. Gel nails are priced at $118 while an Express manicure costs just $12 if you're in a hurry, or get a complete spa treatment (mani + pedi) for $58. For $18, little ladies under the age of 12 may get a mani-pedi. Isn't this perfect for a day out with your daughter?
40. Polished Nail Boutique
The owner of this spa started out by doing nail art, and eventually evolved her hobby into a full-fledged salon. This is a nice little store located in a quiet area of Ghim Moh, directly across from theGhim Moh market. If you're searching for some beautiful new nail art, this is an excellent location to visit.
41. VIVA — KEPPEL BAY
Let's go to a spa day with views of the Marina. Its wide selection of nail spa services, which include Collagen and Paraffin procedures, will pamper and prepare your nails.The salon also does nail art for certain events, and it offers a mother-daughter pampering package for $185. The spa specializes in classic manicures and pedicures, as well as a wash and blow dry with the spas' cruelty-free products.
42. Zenth Nails
Have you been wanting to try out the ombre nail look or just need a break? Zenth Nails offers a wide range of clamming manicure and pedicure treatments, as well as trendy nail designs. Aromatherapy Spa treatments are also available. A scrub and mask are included in the spa mani or pedi ($77 and $88 respectively). Zenth also serves children, so you may bring your little girls with you. For just $10, you can get a kid's manicure!
43. D'arte Nail
The small nail salon in Tanjong Pagar Plaza that began as a home business has grown into a cozy salon. De'arte Nail, the brainchild of Taiwanese nail artisan Ivy Lin, offers a variety of manicure services, from basic manicures to hand-painted gel art nails. The cost of a hand and foot massage varies between $55 and $90, with classic French tips costing as little as $10 per pair.
44. The Nails Spa
The Nail Spa is a pleasant little hideaway to visit if you need to get your nails done following a shopping expedition, grabbing some bakes Tiong Bharu Bakery, or dining at one of the numerous restaurants in the vicinity. It offers manicures and pedicures, as well as the signature spa treatment, in Gel, Classic, and Express varieties. Little Princess pedicures are available for children as well, with a price of just $12.
45. OKKONAILS
At OKKONAILS, you may go whimsical with your nail design, using manicure names such as celestial, stardust, and crescent that include cuticle care. Try out the stunning jade effect nails. From $30 to $40, these nail makeup sets come with four to eight gemstones, stickers, powders, or drawn nail art (star dusts) and a complete set of gradient or French nails without base color (crescent) or any of their current nail art. It also does basic gel manicures and pedicures and has classic gel manicures and pedicures for the minimalist, and provides Express GEL mani's and pedi'S for just $25. Do you need a further incentive to visit? OKKONAILS is regarded as one of the finest nail salons in Tiong Bahru.
46. Bellissima Nails
This nail salon in Singapore has been around for over 30 years and has experience dating back to 1989, so you can rest confident that your nails will be handled with care. Relax in this elegant, sophisticated salon located in the Palais Renaissance at Orchard Road. Waxing and manicures are offered, as well as Paraffin Wax treatments, CND Spa treatments, and a variety of nail designs including cat eye gel effect, acrylic nails, classic French white tips, or more modern French glitter tips. Whatever design you pick, your nails will look amazing.
47. Emmaline Manicure
Emmaline Manicure is a nail salon in Singapore located at Roxy Square that is well-known among East Coast and Katong locals. Express manicures are only $10, while Express pedicures cost just $12. A classic manicure and pedicure will only set you back $38. Of course, it's no wonder that this place was voted one of the top three nail salons in Marine Parade. Acrylic/UV overlays and extensions, gel polish, and exquisite nail designs by talented manicurists are just a few of the nail artistry services available.
48. Colourful Nails
Colourful Nails is a popular nail salon in Far East Plaza, with a fantastic reputation and just look at the 5.0 stars on Google! With Express manicures and pedicures priced at only $5 and $9, respectively, you'll get a lot for your money in this socially conscious salon. You may also add $5 for French tips to your Express Gel manicure or pedicure for an additional S$20 or S$22. At these prices, you can shop more of Orchard Road without fear of spending too much on your nails.
49. Grace Nails
Just a three-minute walk from Clarke Quay, you can get a complete set of French tip nails for $20, as well as the stunning cat eye effect nails, which cost just $3 per nail or $28 for the entire set. Do you want a gel manicure only? The cost of a Gel manicure starts at $115, but a relaxing hand or foot treatment will set you back by $30 or $40, respectively.
50. Shugar Prestige
Relax and pamper yourself and your kid. Take a look at Shugar Prestige's gorgeous studio, which includes an adorable children's area for you and your young lady. The Classic mani-pedi costs $25, and the Little Princess Classic mani-pedi costs $22. Facials, waxing, and threading are additional services. Would you like more pampering? Shugar Prestige's specialty is nail spa treatments. Choosing from a range of natural chemicals, herbs, and essential oils is all you need to get started. After a relaxing soak, enjoy a luxurious milk and rose petal soak, foot massage, and jacuzzi.
51. 8Twenty8 Nails
8Twenty8 is a high-end salon in Tanjong Pagar that offers private parties and a variety of manicure, pedicure, and waxing services including nail art. They offer a variety of gorgeous nail art designs. The salon did a fantastic job for Olivia Eleazar of the jewelry company Ask & Embla, too.
52. Nail Queen Far East Plaza
Hannah Bradshaw, a model and television presenter, has been to this obscure treasure in the far east plaza, which is considered one of the top three nail salons on Orchard Road. The salon offers just $12 Express manicures, as well as gel acrylic overlay (transparent) for $60 and waxing services. Take a look at this lovely salon; it could give you a new style to try for the summer!
53. Vedure Face, Body & Nail MediSpa
Have you been thinking of, "What are the nail salon near me?" Check out Vedure's website. For soft skin and anti-oxidants like real honey and golden olive oil, the Tuscan grapes and wine nail spa bathes your hands and feet in actual red wine. The salon offers a variety of spa treatments, including the Guavaberry and Acai exfoliating and smoothening treatment, as well as a revitalizing, rejuvenating Ginger, Mandarin, and Grapefruit treatment. The salon specializes on classic treatments, including shaping and polishing, as well as Gel and French manicures. Gents' and kids' manicures are also offered, so why not make a trip to the salon part of your family day?
54. Nails & Good Company
Is it possible to obtain a good deal on nails? Visit Nails & Good Company for a stunning manicure. Try its Classic Gel manicure and pedicure for $105 (back by popular demand), or the Deluxe Gel mani-pedi, a luxurious cruelty free, vegan, and paraben free spa experience for your nails, hands, and feet. This treatment contains a restorative mud mask and an organic creme butter hand massage. You have the option of selecting from a variety of distinctive scents, such as ocean breeze, cucumber, lavender, or vitamin C.
Nail Salon Singapore
With the best nail salons in Singapore featured in our list this time around, we hope that they will be useful for you. These nail salons are well-equipped with the proper skills and tools for your manicuring needs. Hence, please feel free to contact any one of these brands for more information.
Since you have made it to the end, why don't you check out our other fun as well as awesome articles!
Frequently Asked Questions (FAQ)
If you have any questions about Nail Salon in Singapore, you can refer to the frequently asked questions (FAQ) about the best Nail Salons in Singapore below:
Additional Useful Articles
If you are looking for other useful guides and articles about Nail Salons in Singapore, check them out below: