Part Time Cleaners Singapore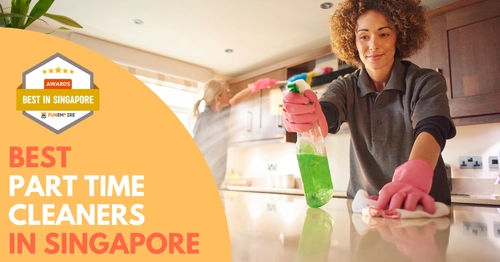 Looking for a cleaner to keep your home or office looking great? If you live in Singapore, we've got a list of cleaners that should be able to help you. With the list below, there's no need to go from one company website to another. We have done all the research and compiled it into this post so that you can find your perfect match quickly and easily!
1. AFM the Cleaning Company
AFM the Cleaning Company is a vibrant and dedicated cleaning service provider. With a focus on building personal relationships, they strive to develop trust and understanding to better cater to your unique cleaning needs. Their team's flexible schedule and responsiveness ensure that their services are as convenient as possible, allowing you to enjoy a clutter-free home and an exceptional experience.
Let them take care of your cleaning, so you can have more time for the things that matter most to you!
Key Differentiators
One-stop service for all residential cleaning needs
Trained housekeepers
Quick response within 30 minutes
Client Testimonial
I started using the weekly cleaning service from AFM and have been satisfied with the helper's work, backend support, and response time. Will definitely recommend AFM to friends and/or relatives who require part-time cleaners

Ang Iris
2. Mop Squad
Mop Squad, on the other hand, appears to be focused on cleaning floors—and that's quite accurate! They also provide their own "niche floor services" such as carpet and tile polishing and restoration.
We understand how difficult it is to get rid of the filthy gunk that builds up on our bathroom floors and walls. If this is a problem you're having, we highly recommend getting in touch with this firm for this specific service!
Bathrooms, like the kitchen and living room, are also equipped with their own in-house laundry and dry cleaning services. You won't have to worry about this either because they provide their own. Simply put your items in a bag and they'll return them to you neat and folded.
They also provide exactly the same suite of cleaning services as your next agency does—including spring cleaning, moving in/out deep cleaning, business cleaning, and more.
3. Axgee Cleaning
Axgee Cleaning is made up of a team of professional cleaners ready to take on whatever cleaning task you have—be it move-in cleaning or disinfection.
The first thing we like about them is their attention to detail in selecting employees. Even without supervision, they do thorough background checks on each cleaner to ensure that they can be trusted in consumers' homes.
Furthermore, their cleaners are covered by insurance, so you won't have to worry about any liabilities should a cleaner suffer an accident while on the job. Of course, it also implies that the firm looks out for its own personnel—and that propels them to perfection with us!
We appreciate that exact prices are provided on their website to allow consumers a simple point of reference. This also removes any concerns about hidden expenses, since everything is already there. They have some of the most inexpensive fees on our list, which is something you should definitely consider. That's another good reason to sign up!
Unfortunately, you'll need to bring your own cleaning products. However, compared to the benefits of hiring this firm, it's a minor hiccup.
4. Budget Cleaning & Housekeeping Services
We believe that Budget Cleaning & Housekeeping Services is worth considering for its extremely low prices.
In addition, when you have a cleaning service like ours around, you don't have to spend a fortune on weekly housekeeping. Weekly cleaning costs begin at $288, which is far less than the majority of businesses and organizations today.
Although these plans include basic services such as sweeping and cleaning most surfaces, we believe that the absence of ironing services is a negative for the majority of clients. If you want your clothes to be ironed, you can still do so—for a fee.
Alternatively, if you're absolutely dissatisfied with your current cleaner, you have the option of canceling your service at any time. Typically, the firm charged customers an administration fee to cover replacements among other things. However, as of right now, we're pleased to hear that all of these are waived!
Not only that, but there are no hidden fees. Simply put, you will be charged for the services you requested only.
5. Art of Cleaning
Art of Cleaning provides a wide range of services to suit both residential and commercial locations, from mattress cleaning to sofa cleaning.
Art of Cleaning is not only well-known, but they're also a reputable business when it comes to carpet cleaning in Singapore. Despite the fact that they utilize both dry and wet cleaning techniques, customers have informed us that the drying time is relatively quick after their service.
As a result, when you think about it, their great word-of-mouth might be due to their exceptional customer service. What's more, beyond these, what really impressed us with Art of Cleaning is how thorough and successful they are when it comes to cleaning services.
Although they don't offer as many house cleaning services as others, they can still clean well. Their cleaning solutions are safe and hypoallergenic, so you won't have to worry about your kids developing allergies.
6. A1 Facility Services
Facility Services, A1 is a fully certified cleaning business with over 100 cleaners ready to serve clients in Singapore. They're well-known for their professionalism and punctuality, which is why they've made it onto this list!
Aside from the typical cleaning services you'd expect in an agency, they provide a few ad-hoc cleaning services, including pest control, aircon servicing, and dishwashing. This is especially true if you're searching for a little company that can provide a variety of services.
They also provide weekly housekeeping services for those who want cleaners on a regular basis. The cost is determined by the size of your home, so you can get lower rates if you only have a studio apartment. In the end, their prices are more reasonable than our other choices. Just keep in mind that there is a $20 weekend surcharge.
7. 6 Days Cleaning
Since 2014, Cleaning Services has been providing house and office cleaning to Singaporeans. They provide all of the fundamental services, from ad-hoc cleaning to weekly general cleaning, that your typical cleaning service does.
What you should know about this business is that they provide very affordable weekly cleaning services, which are priced at a flat rate regardless of your home's size. In fact, after 7 PM, they offer sessions for just $19 per hour!
Despite their low prices, we're disappointed to learn that Day Cleaning's weekly cleaning services need a three-month commitment. This is far longer than the usual two weeks given by other cleaning businesses in Singapore.
The drawbacks outweigh the benefits, however. There are no keep costs when you reserve with them, for example.
Following that, you have the option to replace your cleaner if you are dissatisfied with them. While we're on the topic, don't be afraid to utilize this method because there are a variety of reviews regarding some of their cleaners' job quality.
8. Hiremop
Hiremop may look like any other cleaning business at first. However, if you dig deeper, you'll discover why they've earned a reputation for their office and after-party cleaning services.
So, what exactly makes them different from the rest?
For starters, they don't provide any set packages for commercial cleaning. They tailor their services to your property's configuration and specific demands.
A typical showroom cleaning session will include dusting, mopping, and wiping all available surfaces, which is how they'd demonstrate to you past tasks. This is entirely customizable and will depend on your specific demands.
They've worked on a number of high-profile projects. Their track record speaks for itself, as evidenced by the fact that they've worked on projects for organizations like the Ministry of Trade and Industry and Deliveroo. In terms of their after-party cleaning services, let's just say they're well-equipped to handle even the wildest parties on the island in a short amount of time.
9. Part Time Maid
Part-Time Maid works like your typical cleaning agency. Simply give them a call and leave the rest to them. They will provide a cleaner that would suit your needs and preferences!
They primarily service residential cleaning, although their network of expert cleaners generally focuses on domestic cleanings. As a result, if you're searching for a cleaner to work in your business or organization, we recommend giving them a call first to obtain a more accurate list of services before assuming they can meet your needs.
There are now only two alternatives for house cleaning services: weekly cleaning or spring cleaning.
The latter is a fantastic option for individuals who have little time to clean, such as busy executives and working parents. Their services appear to be adaptable enough to handle the amount of work you want done each week.
The prices are a little steep if you take into account their hourly rate, however. On the plus side, because there are no admin fees involved, you'll just be paying for the services you requested.
10. KMAC International
KMAC International is a domestic cleaning business that also offers commercial cleaning services. They are a one-stop-shop for all of your cleaning needs because of their extensive list of offerings.
KMAC uses a network of cleaners rather than hiring individual ones. From this, you may be certain that each cleaner has been thoroughly checked.
General cleaning services are limited to one-time services such as spring cleaning and post-renovation cleaning, but there is a one-month minimum commitment period. If you're searching for a part-time cleaner for light cleaning work, this firm may not be right for you.
On the other hand, this is a significant benefit for those who want to sit back and skip out on most of their chores on a regular basis. Weekly house cleaning is expected.
From what we've seen, KMAC appears to be a big success among businesses offering commercial cleaning services, having worked with Decathlon, Under Armour, and Mitsubishi among others.
11. Domestic One
Another well-known brand when it comes to part-time cleaners is Domestic One. They can serve a wide range of cleaning services across the island with their vast pool of experienced and efficient cleaners. The amount that this organization chose to spend on their weekly cleaning services is just about the same as what they think you should pay for a quality service. When you consider their hourly charges, they offer as little as $16 per weekdays and $17 on weekends—that's less than the Singaporean industry standard!
12. Meide
Meide is more than simply a cleaning company. You won't find packages or regular services here because they provide unique one-time and consistent cleaning services. They'll take care of everything for you, whether it's an after-party clean up or twice-a-week regular vacuuming. Just say the word and they'll get the job done for you.They don't employ automated systems to pair you with the next cleaner on your preferred schedule, which is what sets them apart. Finally, to make it even more appealing, they personally select the best one for your needs and requirements.
13. Sparkling Housekeeping
Sparkling Housekeeping delivers top-notch house cleaning at a reasonable price. That's because they have connections with many different cleaners in Singapore. Cleaning services are available for both residential and commercial clients. Part-time cleaning, spring cleaning, post-renovation cleaning, and moving out cleaning are some of the services provided by this firm. To clean a one-bedroom apartment, Sparkling Housekeeping requires 4 cleaning sessions and a one-time agency fee.
14. Clean on Demand
Another fantastic app for part-time cleaners on demand is CleanonDemand. The majority of these cleaning companies, like ours, provide only the fundamental services such as spring cleaning and general tidying. As you can see from their packages, they provide those services in addition to additional specifics. The quantity of space your apartment or house has, as well as the amount of floor area it has, will also influence which bundles you can pick. Simply download the software from the App Store or Google Play. From there, you may choose a cleaning package that best meets your demands.
15. Helpling
Consider Helpling a reliable app to have on hand when you need a part-time cleaner on call. When you can simply book a part-time cleaner at any time of day, why bother asking your pals for recommendations?
Whether you need a part-time cleaner for normal home cleaning or are moving out of your apartment, you can discover someone suited to your needs and schedule here. Aside from that, you may also schedule maintenance services such as pest control and plumbing. This convenience deserves mention in our book!
We also appreciate how simple it is to use their software, even if you have no technical skill: anyone could learn how to work it in a matter of minutes. Simply follow these three easy steps to begin using our booking system right away: create an account, select a date and time for your service, and pay for it by making an online payment
Keep in mind that, as with any service you hire, you must also supply the cleaning supplies for your cleaner. While this isn't usually an issue for most people, it might be a minor burden for some.
16. Sureclean
Looking for part-time cleaners in Singapore? Sureclean is the perfect choice for all your cleaning needs. They offer a range of services, including general home cleaning, housekeeping, and part-time helpers. Their part-time maids and helpers are trained professionals who will ensure that your home is clean and tidy. If you need a more thorough cleaning, their deep-cleaning service is just what you need. For those who have just completed a renovation, their post-renovation cleaning service will ensure that your home is clean and ready for occupancy. If you're moving in or out of your home, their move-in and move-out cleaning services are perfect for you. With Sureclean, you can be assured that your home is in good hands. Visit their website to learn more about their services and schedule an appointment today.
Key Differentiators
Vetted and screened professionals: All of their professional cleaning crew have gone through a tough selection process and constantly go through performance reviews and trainings to ensure they perform to their best.
Backed by the Sureclean Happiness Guarantee: Your happiness is their goal. If you're not happy, they'll work to make it right.
Dedicated Customer Happiness Officers: Their dedicated customer happiness team is there for you – Monday to Sunday from 9:00 to 18:00 by email, phone, or WhatsApp.
Client Testimonial
I would like to express my deep appreciation to Gilbert of SureClean! Gilbert was assigned to disinfect our home & deep clean our mattress. He arrived earlier than expected with ready smiles. The service provided was exceptional, reliable, and professional. He even provided advice on future maintenance which I'm really grateful for. Thank you for going above and beyond what's required of your job, Gilbert! Highly recommend Sureclean to anyone who desires fussy free professional service!

Agnes Tan
Part Time Cleaners Singapore
Hiring a part-time cleaner for your home or office is an excellent way to keep on top of the mess without spending too much time and money. If you're unsure on which agency would best suit you depending on your preference, We would highly recommend considering any of these choices we have listed as we are confident they would not disappoint!
Before you go, do check out our other posts as well!