Photo Studio Singapore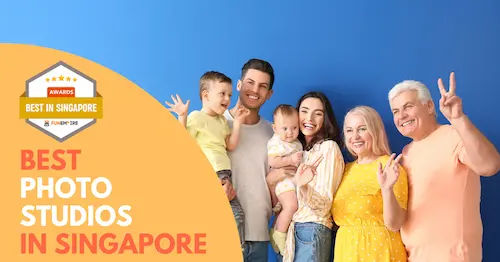 When it comes to capturing memories through photography, Singapore boasts a wealth of fantastic photo studios.
The best photo studios in Singapore include Alta Productions, Studio Memories, New Age Photo Studio, COCO Creative Studio, and Firefly Photography.
When selecting a photography studio in Singapore, take into account factors like your budget, the studio's location, and the photography style that suits your preferences.
Certain photo studios Singapore have expertise in particular types of photography, such as graduation, family, wedding, newborn, or pet photography.
Let's delve into the best photo studios Singapore, each offering a unique blend of style, ambiance, and technical expertise.
Key Consideration Factors
Best Photo Studio Singapore
1. Alta Productions
Alta is an award-winning video production company based in Singapore. Started by Michael Chua and CK Chan, who are pioneers in the Singapore film industry. Serving as a parent company to Alta and Skyshot, Upside Down Concepts has delivered over 2000 projects since 1998. With a focus on corporate videos, our expertise in film, drama, TVCs and documentaries have paved the way for a robust clientele. With our sister company, Skyshot specializing in aerial and time-lapse, we are at the forefront to engage in more challenging projects from potential clients.
Key Differentiators:
Studio Rental for photo and video shoots
Award winning
More than 20 years of video production experience
Client Testimonial:
Very professional, resourceful and fun team to work with – with quality productions and lots of initiative. Keep up the good work! 🙂

– Alvin Yee
2. Studio Memories
Studio Memories offers a wide array of photo shoots to all customers. Our professional team ensures that every family creates memories that last forever with our whole family photo shoot. Alternatively, significant moments in life, from pregnancy, to newborns and different stages of childhood, may also be captured through various photoshoot packages. With our range of selections, Studio Memories ensures that everyone are able to capture their favourite moments in any style they prefer under the hands of our award-winning photographer.
Key Differentiators:
We provide a wide range of beautiful dress for the Maternity photoshoot
Wide variety of beautiful and creative themes backgrounds to select from for all photography packages
Multi-Award Winning and certified trained newborn photographer
Client Testimonial:
We were made to feel comfortable and relaxed during the shoot. The photographer was great with the kids, putting everyone at ease and producing amazing images. He managed to capture beautiful shots of my kids despite both of them being difficult to keep still and smiling at the same time! Happy with their service!

– Connie Lim
3. New Age Photo Studio
The best thing about memory is capturing them." And that is what we aim to achieve as we collect that precious moment for you. Every shoot is completely inspired by you and crafted by us. We'll get to know you and involve you in the creative process to make this a truly individual experience. We aim to shoot amazing photos that provide you with a lasting memories of your whole day that are especially tailored to you, telling your story in fine imagery; creating a bespoke package that is everything you want and more.
Key Differentiators:
Female photographer and make-up artist, creating convenience for female customers
Customizable packages, creating the suitable package for each individual customer
Providing door-to-door services for newborn packages, creating ease and convenience for newborns and parents
4. COCO Creative Studio
An established photography studio in Singapore, COCO Creative Studio grew rapidly in the photography industry. The main photographer and art director is Jose Jeuland who contributes to international magazines and as been shooting for international companies and individuals. At COCO Creative Studio, we have a strong speciality in portraiture resulting to high end output – from a personal portrait to corporate shoot. Some of the clients that we've worked with were from luxurious Hotels, wine and fashion brands. Our services also ranges to several sectors such as interior and exterior, product photography, commercial, and video productions.
Key Differentiators :
High Quality Photography
Perform in various sectors
Client satisfaction
5. Firefly Photography
Firefly Photography is a customer experience focused photography company that creates and documents visually compelling stories. They are born out of the need to foster human connection through visuals that channels empathy, relate and reach people's hearts and minds. They believe not only visual in a form of art but also a tool that can make a difference, that can educate and bring people closer, thus their tagline, "Building Bonds, Glowing Moments".
Key Differentiators
Client Testimonial
Had a great experience with Rucha for our photography session! She was friendly, enthusiastic and made us feel at ease during the session. Also suggested many creative poses for our shoot! Studio was small but cosy and had all the essential facilities (changing corner, graduation gowns/mortar boards for loan). Highly recommend for any graduation or entire family shoot at this place.

Maple Khoo
6. Kim Tian Colour
Kim Tian Colour Centre Centre (KT Colour) was established in 1994. Since then we have gained a reputation within the photographic community for producing work of the highest standard. We have streamlined our production and printing facilities to meet the evolving needs of both the photographer and local business. We have thus developed into a full service digital lab.
Key Differentiators:
Latest printing technology to produce quality prints
Fast turnaround time & Customer support
Endless customisation with our service & products.
Client Testimonial:
I have visited KT Colour twice, once to enquire about a set of services and on the second occasion to get them executed. I would highly recommend them for two key reasons:

Customer service oriented: On both instances, while the staff were quite busy, they took time out to explain what can and cannot be done and suggested alternate ways to achieve my objectives.

Knowledge: They genuinely understand the technicalities involved in photo printing and beyond. They seem to have the latest professional equipment, support most requests and are able to advice you not just on the prints themselves, but how to get them framed and preserve them among other things.

– Vinayshankar Kulkarni
7. MamaMiyo Photography
MamaMiyo is founded by a mother of two, Lesley. Through the years of taking photos with love and patience, she have developed a bright and airy style that shows the calmness of pregnancy and the playfulness of babies which compliment the early days of a newborn's life. Lesley has received overwhelming feedbacks from customers, praising her for being a great "baby whisperer". The editing work is what Mamamiyo is proud of too, customers can receive photos with beautiful basic retouch within just days after the photoshoot and followed by high quality detailed retouch on selected photos. The best photos are kept in the best form for every customer.
Key Differentiators:
Value for money package and hassle free process
Wide range of outfits and props
High quality photos with detailed retouch
Client Testimonial:
We did the prenatal and newborn shoot with MamaMiyo. The woman behind the lens and her assistant gave us a fabulous experience. The shoot with them was hassle free and they were able to capture the feeling that we were looking for. Our photographer was able to calm our newborn and also get our toddlers to participate in the shoot. Mamamiyo came to our place for our newborn shoot and this service is very beneficial to us especially when my newborn was just discharged from the NICU. The end product was amazing making it difficult for us to decide on which to select. I am glad to have them photograph this unforgettable journey for us.

– Wendy Tan
8. Vision Photography
Daniel prides himself on having a fun energy and approach to achieve genuine smiles during his entire family shoots. He loves to adapt to each child's personality and age to get the most out of each shoot, making it a fun experience for everyone, including Mum and Dad!! Over the years he's honed his skills of newborn photography to capture those precious moments in a creative, natural and safe way so the parents feel relaxed and comfortable throughout.
Daniel has often been called the "baby whisperer" by parents at the end of their session because of the way he was able to handle and sooth their baby. He also takes a tailored approach to each shoot in terms of client's likes and dislikes, so they end up with photos that they love.
Key Differentiators:
A 100% record of 5 out of 5-star reviews on Facebook from previous clients with over 60+ reviews.
All-Inclusive, simple and affordable pricing structure where you receive 40-50+ digital photos with no extra costs.
A full professional studio in a relaxed home setting where children can play and make themselves comfortable.
Client Testimonial:
"It was our first maternity shoot, but Dan made us feel so much at ease with his humour and understanding nature and kept the entire shoot very natural and relaxed. We also planned a newborn/ family session with him. But were nervous that our 4-week-old baby may not be comfortable during the photoshoot at the studio or we may end up not achieving the poses and pics we really wanted! But thanks to Daniel and our luck with Zubin, it went so smooth. Dan is incredible with babies, super patient and has some amazing tips to share. We are thrilled with the pics from both the maternity and newborn/family photoshoot. I would absolutely recommend him for his passion, energy and skill with the camera to everyone seeking to creating lovely memories with a fabulous photographer."
9. Tomato Photo
Tomato Photo is known for its simplicity. High level of simplicity in both quality of images and simplicity in getting you the results that is important to you. Our work is benchmarked at international levels. Each year, we enter and win numerous international awards so we know what we offer you is of an international level. Our clients are successful families who are time poor, know exactly what they want and are masters at leveraging on others' expertise. Our client prefer boutique studios that offer unique kinds of work; sophisticated yet simple to understand. Highly recommended!
Key Differentiators:
Boutique Studio that offer 24 hours turn around time for its professional quality.
Lift Landing Studio for Family that needed easy access for elderly.
100% Satisfaction Guarantee. Money back if you are not happy with the results, although we have success rate of 99.994% over 12 years.
Client Testimonial:
Working with Hart was a very enjoyable experience. He made us all feel very relaxed and at home, and brought our personalities out. He listened to my concerns and met my vision in the final photographs. I am thrilled with the end result. They are timeless and artistic. The images will be on my walls to be loved for years to come. Highly recommend his services.

– Anna Scoffin
10. Bambini Photography
Bambini Photography have been photographing expectant mums, babies and families since 2009. The most impressive thing about them is their extensive selection of studios. You can have maternity, newborn, family, babies, children and corporate photography in their studios. They even have an adult sized bath tub in their studio for maternity milk bath photoshoots.
Key Differentiators:
We can handle a whole suite of portrait photography services from maternity, newborn, Baby milestones, children, family, extended family, graduation and corporate portraits.
Quick turnaround of images and online selection of images.
4 dedicated studios on-site to cater to different genre of photography.
Client Testimonial:
We recently had some family photos taken with Bambini Photography and were very happy with the complete experience, from the photo session to the resulting photos and canvas prints. The session was quicker than we had expected, light hearted and fun. The photos are fabulous!! The photos for selection arrived promptly, as did the canvas prints which we ordered. Thank you to the team at Bambini Photography for a great experience and lasting memories.

– Kerrie Benham
11. Mount Studio
Mount Studio is a Photo and Video Studio founded in 2017, and is located in the vicinity of Bishan. We offer Professional Photography and Videography services, as well as Photo Studio and Video Studio rental. We serve both private and corporate clients. The founders of Mount Studio have a combined experience of more than 15 years in the industry, and have served many notable clients. Mount Studio's trusted clientele includes 3M, Klook, Gold Heart, JCube, Costa Cruise, Bossini, IBM, G2000 and many more.
Key Differentiators:
All-in-one Production House, convenient for customers to engage studio, photography/videography, makeup artist, stylist at one place.
Top Quality photos and videos from our years of experience
Client Testimonial:
We engaged Mount Studio for product photography and we are very pleased with the outcome. Our sales increased after the website revamp and one of the contributing factors was of the good photos taken by them. We highly recommend their great service. Photographer is very professional too.

– Fire Safety SG
12. Momo Studio
Momo Studio is a boutique photography studio specialising in pet photography! Led by Master Photographer Yong En, Momo Studio focuses on creating pawsome portraits of your pets and family that you'll love. Capture these moments in her studio, in the great outdoors or at the comfort of your home!
Key Differentiators:
Booking and ordering process is fast and easy. Photographer is fun-loving, meticulous and loves working with people & pets.
Available on evenings, weekends & public holidays
Mobility-friendly, Kids & Pet-friendly studio
One Client Testimonial Example (if any):
"Very very friendly and cheerful photographer!! Yong en definitely removed any awkwardness that one might face during a shoot. She's very good with baby too, making my boy laughed/smiled so much! And thank you for accommodating to my super hyper yoshi too! Very pleased with the outcome of our family photo!!"

– Shu Yi
13. Our Studio Space
In 2017, Nordic Studios started as a vision, meant as/a blend of comfort, fun and aesthetics. Through the years, we have received immense support from all our clients, far beyond what we imagined, and we are gratified for that. Yet, the time has come for Nordic Studios to evolve into something greater; a renewed and refurbished space of style, not limited to a particular genre and still providing affordable photography and videography services. It is with our utmost pleasure and delight to announce – to our clients and friends alike – we are now "Our Studio".
Key Differentiators:
Cyclorama studio on site
Only accepting one booking at a time. The entire space will belong to you during your booking without sharing with others.
Affordable in house photography and videography services.
14. RS Photography
Established in 2013, we, RS Photography is a highly-qualified studio with a wealth of industry experience to our name. Having served more than 200 satisfied couples while hosting over 500 photo-booths since our official inauguration, the impressive proficiency and skill we display in the art of wedding photography belies our age. Guided by a strong belief in a vibrant and positive work environment, our team is able to produce works of the highest quality though passion and talent.
Key Differentiators:
Photography service ( Event, wedding, corporate and interior )
Videography service ( Event, Wedding, corporate and movie )
Aerial Service ( photo & filming )
Client Testimonial:
That was a good experience working together with Ricky Ee of RS Photography Singapore. For our event in Singapore we hired RS Photography for a Photo booth and event photography! In the presales everything went perfect alreaedy. Ricky is proactive and fast in responding, answering all our questions! During the event Ricky and his team did a perfect job and the photo booth experience was one not to forget. Extra compliment for the photographer of team Ricky!

– Emile Leus
15. Babygraphy
Babygraphy started in May 2019 and offer services dedicated to families. Starting from maternity stage to newborn and to family, Babygraphy will help capture your life changing stages. So if you are thinking if you should do a photoshoot, the answer is – Why not? These moments are precious and could not be rewind. Don't miss these moments, hop on to our website and contact us! We will be happy to talk to you.
Key Differentiators:
Have a mummy that will take care of the baby throughout the shoot
Our Efficiency in doing the shoot
Our Props for the Baby
Client Testimonial:
Jaden and his team are very professional when it comes to baby photography. He knows how to make sure that the baby as a model will not be under pressure or stress every time the photo taking is in progress. He is patient enough to wait when he feels that my baby needs to feed or need to change diapers. Overall, great experience at the comfort of our own home! Thank you Babygraphy!

– Christian Julian
Photo Studio Singapore
There you have it! The Best Photo Studios Singapore. Prepare to suit up, doll up, and capture life's memories. When you look back at these photos in the future, they will always remind you of the good times that are spent with loved ones and family.
If you are keen to explore more to help you with planning any of your special occasions, here are more helpful links that might inspire you! All the best!
Frequently Asked Questions (FAQ)
If you have any questions about Photo Studio in Singapore, you can refer to the frequently asked questions (FAQ) about the best Photo Studio in Singapore below:
Additional Useful Articles
If you are looking for other useful guides and articles about the best photo studios in Singapore, check them out below: