Pottery Studio Singapore
Pottery in Singapore is an age-old art form that has captivated people around the world for centuries.
In Singapore, pottery studios offer a great way to explore your creative side and create beautiful pieces of artwork.
Whether you're a beginner or an experienced potter, there are many pottery studios where you can hone your skills and express yourself through these workshops in Singapore.
Here we have compiled a list of the best pottery studios in Singapore for those looking to discover their inner artist.
From small scale classes held at home to large studio spaces for team building in Singapore with all the necessary tools and equipment available, each studio provides something unique and special.
With this guide, you will be able to find the perfect space for your creative journey!
Key Consideration Factors
Here are some things to remember when choosing a pottery studio in Singapore:
Location: Depending on your schedule and the cost of transportation, you may want to consider studios that are located close to where you live or work.
Price: Pottery classes come in all shapes, sizes and price points; it's important to find something that fits within your budget.
Tools & Materials: Different studios provide different materials and tools, so it's important to check what is available before you jump into a class.
Instructor Experience: It's always best to learn from an experienced instructor who can guide you through the process and provide valuable feedback on your work.
Best Pottery Studio Singapore
1. Arudio Studio
Arudio is an art studio based in Singapore that is led by Poh Sin Yong, a well-known ceramicist. The pottery studio provides various workshops, art fairs, and events. You can opt for handbuilding or throwing short courses which let you create numerous ceramic pieces and cover one glazing session. Alternatively, you can try out trial sessions for $55 (approximately three hours) and make a single piece.
2. School of Clay Arts
The School of Clay Arts offers pottery lessons and workshops on demand, and allows independent study in their studio (open studio rates can be found on their website). To ensure readiness for wheel throwing, participants are advised to complete the fundamental pottery course for handbuilding. The classes are small and are held on weekends. Besides wheel throwing, the School of Clay Arts provides classes for Salt Glazing and Surface Decoration.
3. Boon's Pottery
Boon's Pottery is an art gallery and workshop founded by Master Potter Chuan Siang Boon in 1998 in Singapore's Chinatown Eastend area. You can learn handbuilding or wheel throwing techniques on Tuesdays through Fridays from 2 p.m. to 5 p.m. To schedule a lesson or tour, please call ahead.
4. Blackjack Studio Pottery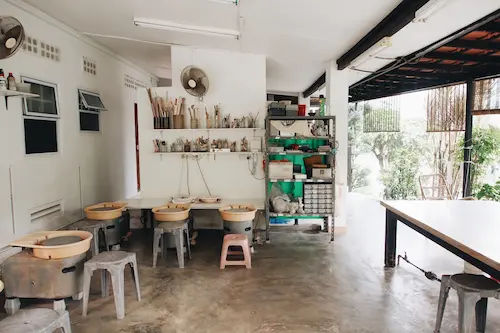 Blackjack Studio Pottery, previously known as The Potter's Shed was founded in 1983 by Lim Meng Khuang and his wife, Karen. Both potters are educators and ceramic artists with more than 30 years of teaching experience.
Key Differentiators
The key distinguishable characteristics of the studio since it's inception has always been the studio's location.
Great care is always taken to create an environment that is inspiring and conducive for creative work, and the current space is nestled amongst the lush greenery of the fringes of Bukit Timah Nature Reserve.
Mr Lim and Karen place emphasis on developing a students understanding of the core principles of ceramics.
Client Testimonial
Blackjack Studio Pottery holds very special place in my heart. Both Mr Lim and Karen have their own strengths and have taught me everything from the basics of slab making to the advanced nuances of ceramics such as tool-making, clay-recycling to kiln-stacking. There is much support in the beginning phases of classes, however, ample space is given to each of the student to develop our own styles in the more advanced stages. The lessons and studio space are structured to allow exploration of material in a supportive environment. I find this method, extremely productive and useful for a person who enjoys the slow pace of pottery while exploring different techniques – in which both Mr Lim and Karen are well versed in addressing questions of all sorts. I enjoy this pottery studio a lot and will continue to stay here to be mentored by my teachers.
5. Taoz Ceramics
Taoz Ceramics Studio has been open since 2013 and focuses on creating art and training artists. The pottery studio aims to inspire imagination and creativity in its students by helping them create distinctive art pieces. It serves as an educational resource and support system for anyone interested in ceramics. The pottery studio offers classes for all skill levels as an introduction to ceramics for beginners and as a means for experienced artists to enhance their skills.
6. The Clay People Ceramics Studio
The Clay People Ceramics Studio is a creative space that welcomes ceramic enthusiasts from all walks of life to manifest their imaginations and craft them into reality. The pottery studio is run by the head ceramist, Teo Boon Gim, who is a veteran in wheel throwing and experienced in ceramic sculptural art. He aims to make this studio a haven for like-minded people, to grow a community that loves ceramic arts and pottery.
7. Studio Asobi
Studio Asobi offers various pottery classes, including single-session pottery making, traditional pottery lessons, team-building activities, and spiritual retreats. They also use their talents to bless those in need by donating a portion of their profits to charity. Additionally, they teach pottery part-time to injured migrant workers and conduct pottery classes in nursing homes.
8. The Potters' Guilt
The hourly rate for lessons at Potters' Guilt is $55, with the option to choose a higher-priced package. The Own Time Own Target (OTOT) program is available to alumni to allow them to use the studio space whenever it's convenient for them.
Unleash your creativity at The Potters' Guilt ceramic workshop! Our experienced artists are on hand to help you bring your vision to life in our warm and well-equipped pottery studio. Stop by after work for a relaxing session or book our space for your next team building activity.
9. Padme Hum Studio
At Padme Hum Studio, you can express your imagination and creativity by making beautiful art pieces in their spacious studio. Their goal is to spread magic through ceramic art and help students create unique artworks. Regardless of whether you're spending the day or wanting to explore your talent, you'll have a blank canvas to work with.
10. Thow Kwang Pottery Jungle
Thow Kwang Pottery Jungle is a family-owned business that has been around since 1965. Inside, you will find Singapore's oldest dragon kiln which dates back to 1940. The Tan family used to focus on producing a large amount of pottery, but now they specialize in importing and exporting, selling pottery wholesale both in-store and online, hosting pottery workshops for people of all ages (including schools, corporations, and individuals), and continuing the tradition of firing the dragon kiln. They do this once or twice a year.
11. Sam Mui Kuang Pottery
Sam Mui Kuang Pottery has been providing pottery classes and workshops for various ages and skill levels since it was established. It is situated in Singapore's central region near the CBD and South Bridge Road, and has a team of Master Potters namely Lim Teck Kiong, Lim Chai Ling, and Rosaline Cheah-Tan who have more than 30 years of experience. They offer classes in wheel throwing, hand building, and glazing, and also conduct weekend workshops.
12. Ves Studio
Ves Studio, located in the charming Chip Bee Gardens neighborhood, is a haven for people who love ceramics. You can buy their wonderful products, as well as participate in pottery-building classes and workshops that are sure to inspire your creativity. Prices start at $300 per person, and it's no surprise that this ceramics studio is a favorite among locals. Additionally, there are many enticing food options nearby – why not enjoy a treat after a fun day out?
13. Mud Rock Ceramics
Mud Rock Ceramics is a renowned ceramics business founded by two skilled ceramic artists. The company has built a strong reputation, serving clients ranging from design firms and restaurants to individuals, government bodies, and architecture businesses. The founders' diverse experience within and outside the United States enables them to handle a variety of ceramic projects.
14. Goodman Ceramic Studio
The Goodman Ceramic Studio is a pottery studio that offers various programs taught by experienced ceramics experts and art teachers. They are located in the Goodman Art Centre, which used to be an old school but now has beautiful greenery. The studio provides bright spaces and luxurious foliage, making it feel like a home away from home. Some of the programs include wheel throwing with Tom Lim or mural painting with Hazel Wong.
15. Common Touch Craft
Would you like to try your hand at creating your own 3D artwork with clay? Common Touch Craft offers pottery workshops and classes suitable for all ages and skill levels. You don't need any prior experience, just an eagerness to learn and enjoy the therapeutic process of making your own pottery. Come and join our acclaimed pottery sessions for a fun and vibrant art-creating experience!
16. Ceramic House
In the early 1980s, two passionate potters joined forces to create Ceramic House, a pottery workshop. They dedicated themselves to perfecting their pottery making techniques through practice and experimentation, and they still incorporate this extensive knowledge and heritage into the workshop today.
Join our community of pottery enthusiasts and artists at Ceramic House. You can even follow in the footsteps of others and start your own pottery studio! At Ceramic House, we take pride in producing only handcrafted, one-of-a-kind works. Sign up now!
17. The 8TH FLOOR Creative Space – Wheel Throwing
The 8TH FLOOR Creative Space is a studio in Singapore that offers a pottery program focused on personalization. It is the first and only studio in the city to do so. The instructors at the 8th FLOOR closely monitor each student's progress and design the program to match their learning pace. This means that you will learn each step of the pottery-making process in detail and at your own speed. By attending these sessions, you will not only improve your skills but also have a great time with your friends.
18. Am I Addicted | Korean Pottery Studio
Come create ceramics in our spacious studio and join our friendly artistic community. Learn from skilled professionals and enjoy tasty vegan Korean dishes, ginseng smoothies, or americanos once your pottery session ends. Our classes start at only $80 per person. Join us today for a crafting experience!
19. Urth&Phire
Urth & Phire is a ceramics studio that specializes in creating ceramic tile murals and sculptures. The studio was founded by a devoted artist who encourages participants to explore innovative approaches in this age-old craft. The workshop offers a tranquil and motivating atmosphere, providing a space for you to unleash your creativity.
20. Center Pottery Singapore/3Arts
Center Pottery provides pottery classes and workshops suitable for all ages. They have collaborated with psychologists to integrate pottery art with contemporary psychology, which has led to the development of a well-structured therapeutic program. This program is available to the general public, as well as mental health patients.
Center Pottery is situated beside one of the two remaining Dragon Kilns in Singapore. It provides a peaceful and spacious venue for people to enjoy pottery making and connect with nature, cultivating joy and serenity.
21. Bethel Pottery by Studio MC
At Bethel Pottery, you can peacefully observe as your pottery piece is crafted and take some time to relax. This lovely venue also offers inspiring art, motivational ideas, and captivating stories.
Have you seen the large-scale ceramic commissions by the passionate craftsman who runs a pottery studio with extensive teaching expertise? His works are on display at various locations including NUH, the ITE Headquarters, and Woodlands MRT station. You can book a single session for $90 or choose from discounted packages. They also offer a pottery set for those interested in building their own.
Pottery Studio Singapore
The pottery studios in Singapore offer a variety of classes and workshops, from wheel throwing to mural painting. Whether you are an experienced ceramicist or just starting out, there is something for everyone.
With the guidance of skilled experts and teachers, you can explore your creativity through various mediums such as clay and tile murals. By attending these sessions, not only will you learn how to make beautiful pieces but also enjoy being part of a vibrant artistic community.
So if you're looking for new ways to express yourself creatively while having fun at the same time, why not check out one of the many pottery studios in Singapore?
Looking for more articles? Check out our recommendations below:
Frequently Asked Questions (FAQ)
If you have any questions about pottery studios in Singapore, you can refer to the frequently asked questions (FAQ) about the best pottery studio in Singapore below:
Other Useful Articles
If you are looking for other useful guides and articles about pottery classes in Singapore, check them out below: