Recruitment Agency Singapore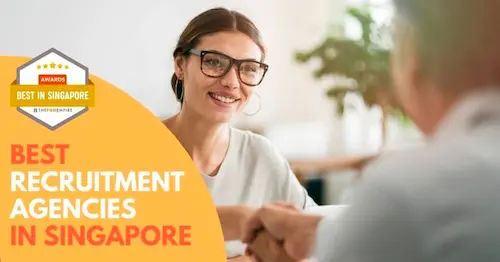 Navigating the job market in Singapore can be overwhelming, with numerous opportunities to align your career aspirations and skillset.
The best recruitment agencies in Singapore include Trust Recruit, Recruit First, Recruit Express, and HackerTrail, Job Plus.
When selecting a recruitment service in Singapore, take into account factors like industry focus, types of job positions, and range of services provided.
Recruitment agencies play a crucial role in Singapore by streamlining the hiring process, linking job seekers to relevant positions, and supporting the smooth operation of the diverse economy in the city-state.
Let's delve into the best recruitment agencies in Singapore that can help shape your professional journey.
Key Things To Remember Before Choosing A Recruitment Agency In Singapore
Check if the agency is licensed: The first step is to check if the agency is licensed by the Ministry of Manpower (MOM). All recruitment agencies in Singapore must have a valid license from MOM in order to operate legally. You can check the list of licensed employment agencies on MOM's website.
Check their accreditations: You should also check if the agency is accredited by any professional bodies such as the Association of Employment Agencies Singapore (AEAS) or the Institute of Certified Public Accountants in Singapore (ICPAS). These accreditations are a good indication that the agency is well-established and has a good reputation.
Check their track record: It is always helpful to check an agency's track record to see if they have successfully placed candidates in similar roles before. You can ask the agency for testimonials or case studies from past clients.
Check their fees: Most recruitment agencies in Singapore will charge a percentage of the candidate's first-year salary as their fee.
Ask for client referrals: A good way to gauge an agency's credibility is to ask for referrals from their past clients. This will give you a better idea of the quality of candidates they have placed and the level of service you can expect from them.
Know what services the agency provides: Not all recruitment agencies offer the same services. Some may only provide basic resume screening while others may offer a comprehensive range of services such as interview coaching and salary negotiation. It is important to know what services the agency offers so that you can choose one that best suits your needs.
Ask about the agency's recruitment process: It is also helpful to know about the agency's recruitment process so that you can be sure that they are using the latest methods and technologies. This will give you a good idea of how efficient and effective they are in finding the right candidates for your company.
Now that you know what to look for, here are the Best Recruitment Agencies in Singapore!
Best Recruitment Agency Singapore
1) Trust Recruit
With more than 20 years of collective consulting experience, Trust Recruit provides personalized workforce solutions for corporate clients. Their clients range from multinational companies to the public sector, as well as small and medium enterprises.
At Trust Recruit, integrity and reliability permeate every level of our recruitment process.
TRUST is their currency of interactions; be it with valued clients, talented job-seekers or their own employees. Through premium staffing services, they are committed to connecting and developing quality relationships between candidates and companies.
Key Differentiators
True to their Values
Trust is the fundamental principle in our business and integrated into our corporate culture.

Unrivalled Attention
Each client deserves our best and our consultants manage a lean portfolio to ensure successful end-to-end placement.

Successful Matching Rates
With our extensive database, we provide well-matched talents and personalities, of which many continue to stay with their employers for years.
Client Testimonial
Our overall experience with Trust Recruit is excellent in terms of finding top quality Engineering Candidates in a short period. We received good quality of candidates, good support, and advice provided, as well as an ability to match candidates to our requirements.

We have been working closely with Trust Recruit for almost two years and feel fully confident in expressing satisfaction.
2) Recruit First
Headquartered in Singapore where it was founded in 1992, HRnetGroup started off as a 4-person team. Today, they have over 900 consultants across 13 Asian cities – Singapore, Bangkok, Hong Kong, Jakarta, Kuala Lumpur, Beijing, Guangzhou, Shanghai, Shenzhen, Suzhou, Taipei, Tokyo and Seoul. Their primary focus is to understand your concerns, design services that address those concerns, and root them in technology so that they always remain relevant.
Key Differentiators
Part of HRnetGroup Limited: A leading recruitment and staffing firm.
Focused on delivering tangible results.
Delivering Transformative Solutions
Client Testimonial
Thank you for the services provided by Recruit First; I received clear and timely information, and the recruiter's service was also very good and satisfying. thank you very much!!.
3) Recruit Express
Established in 1996, Recruit Express is a familiar name that has grown to become a leading recruitment consultancy firm with 14 offices in Singapore and footprints in Hong Kong, Kuala Lumpur and Taipei. 2017 is a significant year for them as they get listed on the Singapore Stock Exchange.
Key Differentiators
Reliable services
Informative advice
One of the best recruitment agencies
Client Testimonial
Andrea is quite professional and friendly. dealt with her regarding certain job openings, she assisted me well in preparing me and explained well regarding job roles she recommended to me. Thank you. 🙂
4) HackerTrail
SUPERCHARGE YOUR TECH RECRUITMENT
HackerTrail is changing recruitment forever, by helping their clients embrace an AI-powered hiring process and nurturing techies across the globe to score their dream jobs.
Over 150 customers such as Dell, Tabsquare, RedMart trusted the team of tech enthusiasts to successfully achieve:
Gamified Hiring Campaigns for Graduates with an outreach range up to 300,000 potential candidates and placement of 70 employees concurrently.
Fruitful placement of over 1000 managers and C-suite executives with expertise in infrastructure, cloud, software engineering, cybersecurity, product management and technical sales.
Shortening the recruitment time by 40% as well as increasing the candidate fit by 60% leveraging the proprietary AI-powered applications, i.e. Scout and Litmus.
Key Differentiators
RECRUITMENT 4.0 – Signature C-Suite and management hiring programs supported by an AI-powered platform result in a 95%+ successful placement rate.
TECH COMMUNITY – Dedicated platform for techies to foster a sense of belonging and provide support in their pursuit of personal growth, and by extension, an improvement in their motivation and commitment to the potential employer.
INDUSTRY TRAILBLAZERS – Through their ongoing commitment to developing state-of-the-art applications to revolutionise the process by which companies hire tech talent, HackerTrail continues to set benchmarks for the future of the recruitment industry.
Client Testimonial
HackerTrail has one of the best interview-to-offer ratio amongst all of our recruitment partners. I believe this is due to their top-notch service which includes consistent follow-ups, active listening, and hiring experienced recruitment professionals within their team. Looking forward to even more successful hires with our continued partnership.

Iryani Kamal​
5) Job Plus
JobPlus Employment Agency was established in 2003 to provide the staffing link between job seekers and employers with the aim to successfully match both parties for a perfect job fit. Their firm specialises in temporary/permanent placement, contract staffing, IT / Payroll outsourcing, HR consultancy and international talent recruitment.
They start by having a deep understanding of clients' industries and requirements. Thereafter, they assist HR managers in fulfilling their headcount through their comprehensive resume database and own direct searches by shortlisting the right talent for your organisation. They represent many companies from a wide spectrum of industries both local and multi-national corporations. Their successful employment agency track records distinguish them from our competitors.
Key Differentiators
Friendly staff
They would find the best company just for you
Aims to find the right person for your company
Client Testimonial
Thank you for the services provided by Recruit First; I received clear and timely information, and the recruiter's service was also very good and satisfying. thank you very much!!.
6) JAC Recruitment Agencies Singapore
JAC Recruitment is an international recruitment consultancy dedicated to connecting companies with the best talent across Asia and Europe. Their approach to business is firmly underpinned by their core values, championing freedom, discipline and fairness in delivering exceptional standards of service to clients with speed and sincerity.
With a corporate culture rooted in the concept of 'Tsunagu', a Japanese term meaning to pass, to link or to continue, they aspire to build meaningful professional connections in support of individual, societal and economic growth on an international scale.
Key Differentiators
Always put their client's needs first
Source candidates who they feel are the best talent
Client Testimonial
I applied for a role that was advertised by JAC Recruitment. Throughout the entire hiring process, the consultant and associates were extremely professional in handling the application to ensure both the hiring company and candidate were a right fit for one another. As a candidate, I was given regular updates and kept well informed on the overall process, as well as feedback from the hiring company.

I would highly recommend JAC Recruitment as a recruiting partner for firms, as well as for candidates looking for their next career move.
7) Kerry Consulting
If you've been in the financial services business for a while and want to try something new, you've come to the right place! Kerry Consulting has a large network of multinational companies in the commerce and financial sectors. This makes them an ideal choice for people aiming to make their mark in a regional or global context.
Based on what we've seen, Kerry Consulting's jobs are largely aimed at individuals seeking for mid to senior posts such as supervisors, department heads, and vice presidents. If you're coming out of school and looking for your first job, this firm isn't the best option for you. It also applies to those searching for employment in another country.
You may submit an application for a position by sending them a brief message on the chosen listing—there's no need to create an account! Simply send them a note with your CV, and wait for a response.
Key Differentiators
Regularly updates vacancies in commerce and financial services
Opportunities abroad available
No sign-ups needed
Client Testimonial
I had a very good experience with Ailing Huang. She is pro-active and very helpful in finding correct match for your profile. She has helped me to find me correct match for the 2nd time (previous one was before 5yrs plus). She is open-minded and has strong connect with finance job market.
8) Sciente International
Another alternative for people working in the IT industry is Sciente International. Whether you're a software developer at a telco or a data engineer at a bank, they have numerous prospects available across many sectors. Sciente International specializes in IT employment. This implies that you won't discover comparable career opportunities, as opposed to most recruitment businesses.
It's worth noting, however, that this does have its benefits for those who are already employed in IT or who are thinking about making a career change. They even provide consulting services to individuals who are considering changing careers to IT. So, if this is something you're thinking about, keep them on your radar.
The greatest disadvantage we've discovered is that their database isn't as advanced as others, since it can only be arranged chronologically. There are no filters to customize, which makes narrowing down your search difficult. Alternatively, you may always submit them your CV and have them do the searching for you.
Key Differentiators
Regularly updates vacancies
Consultancy services available
Covers different industries
Free tech career coaching
Client Testimonial
Divya is helpful and very forthcoming as well as empathic. Highly recommend her!
9) 3C Synergy Construction Recruiters
Synergy has a reputation in the industry for filling labor and recruiting demands in the construction and real estate sectors. As a boutique recruitment firm, they are best suited to people with expertise in any of these fields. While most possibilities are based in Singapore, they do have openings in Hong Kong companies, where they maintain a satellite office. So if you want to work in another part of the world, you can!
Although Synergy isn't really a headhunter, we've noticed that most openings are best suited for mid- to senior-level professionals. As a result, inexperienced job seekers and temporary workers may have trouble finding employment here. We like the fact that they don't require applicants to stay in a certain firm for a set length of time in order to secure employment here.
Key Differentiators
Easy sign up
Opportunities abroad available for construction jobs
Has a referral reward system
10) Manpower
Here's something for both seasoned and novice IT professionals: Manpower is one of the world's best recruitment agencies, specializing in IT. They're also a Fortune 500 company, which says a lot about their reputation and success in the recruiting business. Despite their specialization, they have listings in many companies in multiple industries, including customer service, engineering, and pharmaceutical firms.
Today, the most common form of employment is either permanent or temporary. Temporary work with hourly fees is a rare case these days, so if that's what you're searching for, this agency isn't for you. Another potential disadvantage for some people may be that Manpower's Singapore job database does not include opportunities based outside of the country.
Key Differentiators
Covers different job levels
Has offices worldwide
Client Testimonial
My Sincere thanks to Miss Yvonne Ong who found me my ideal job. The process was smooth and professional. She encouragement and followed up throughout the process. A truly professional recruiter who is kind and passionate in helping job candidates. Thank you once again and keep it up! You have done Manpower services proud! ⭐⭐
11) Randstad
For those just starting their career, Randstad is an excellent place to look. Although the bulk of their vacancies are for IT-related jobs, they also have a wide range of job sectors, including marketing, corporate support. Regardless of your skill level or amount of experience, you'll almost certainly find a job scope that suits your needs here. You may also find that Randstad only advertises jobs for local offices, which means that you cannot apply for opportunities outside of Singapore.
You may also work as a temporary worker for Randstad at their Singapore Land Tower office on a project-based or time-based basis while searching for your dream job. This is an excellent alternative for high caliber professionals who want to increase their employment experience and are flexible with their schedules. The fact that this service is free of charge to everyone adds to its attractiveness!
Key Differentiators
Has offices worldwide
Covers different industries/fields at all job levels
Free benchmarking report
Contract work available
Client Testimonial
Thanks a ton to Ravi Teja for helping me secure my new job. I was pleasantly impressed with Ravi's approachable demeanor and his strong interpersonal and listening skills. As a recruiter he went above and beyond to ensure that I was kept informed every step of the way and gave me all the information required(especially during the covid time) to be successful.
12) Phoenix Recruitment
All engineers, architects, and interior designers are hereby invited to participate in this one! Phoenix is one of the island's recruitment firms that specializes just in the built environment. Being a specialized recruiting agency may imply that they are smaller than others, but it isn't necessarily a negative thing. In fact, limiting their clientele to a specific group may result in better opportunities for you.
Of course, there are some drawbacks to working as a small agency. For example, because job vacancies in this sector are somewhat limited, Phoenix Recruitment does not have a big database of vacancies like as many large agencies do. As a consequence, they maintain their postings regularly updated on their website, Facebook page, and LinkedIn group. This proactive attitude will likely bring more benefits than not having regular job postings, and you'll be their best advertisement!
Key Differentiators
Regularly updates latest jobs available
Has a referral reward system
LinkedIn group available
13) Frazer Jones
Frazer Jones is a well-respected employment agency that specializes in HR positions. They primarily fill full-time roles in organizational growth, talent acquisition, and employee relations under this sector. You may anticipate opportunities in various industries and corporate sizes as a worldwide recruitment company.
Despite these benefits, we've noticed that the majority of vacancies are targeted toward mid-level HR personnel. As a result, entry-level job seekers may find it difficult to seek for their first employment here. Still, you may submit your CV so that you can get access to future openings!
Key Differentiators
Has offices worldwide
Opportunities abroad available
Suited for mid-senior level professionals
14) DP Search
DP Search may not appear to be anything special at first, but they are actually one of the industry's pioneers in Singapore! They've been in business since 1990, which means they know their way around the business. They've sent successful candidates to businesses all over Southeast Asia, including Vietnam, Thailand, and Indonesia. So if you're thinking about moving to another country, DP Search may provide you with opportunities there as well!
You won't discover a list on their website, as most boutique agencies with specialized audiences lack one. While this may be a minor disadvantage for some people, you can benefit from their small team's personalized service. They'll meet with you to discuss the position once they've found it for you.
Simply submit your CV to them, and they'll able to discover a suitable match for you—no registrations necessary.
Key Differentiators
Available jobs abroad
No sign ups required
Perfect for those looking to move on to their next job
15) Persolkelly
Persolkelly is a global recruitment agency that has been operating since 1946. They have offices in several nations throughout the Asia Pacific region, including South Korea, Taiwan, and Hong Kong, to mention a few. This means they can connect you with other firms in the area who are seeking for your expertise.
If you're searching for a full time job that will help you launch your career, we recommend submitting your CV to them immediately since their Singapore database only covers opportunities on the island. That said, Persolkelly is also an excellent alternative for individuals looking for a way to begin their profession. In Persolkelly, there are lots of entry-level roles, as well as those that are a little more senior level.
Key Differentiators
Global network with offices across Asia Pacific
Opportunities abroad available
Latest jobs
16) Garner International
Garner International focuses on executive search and headhunting. If you're searching for entry- and mid-level jobs, this probably isn't the place to go. Now, what makes this agency unique is their executive career coaching services. You can expect one-on-one sessions with either their region director or chairman through Skype here. They've been recognized as one of the best international coaching firms in the world, and they're recognized for their excellence in executive coaching. As a result, this firm may be an excellent way to launch your career!
Unfortunately, this service isn't really free for everyone. However, you may schedule a 30-minute introductory call to determine whether this coaching service is suited for you or not. We're disappointed that their online database isn't frequently updated. Because the agency's focus is highly specialized, opportunities are likely to be restricted as well. So if you're an individualist, this isn't the agency for you.
Key Differentiators
Coaching services available
Opportunities abroad available
Executive search
Client Testimonial
I received some incisive insights on improving my prospects in search of my next career move, from working on my CV to my Linkedin profile, amongst other things.
17) Ace Recruiters
Ace Recruiters is Singapore's leading recruitment agency that specializes in finding the best talent for businesses. It has a deep industry expertise, and can provide fast recruitment and staffing solutions. It utilizes its expertise to find the best candidates for businesses, maximizing their employee investments. Ace recruiters is a great resource for employers looking to quickly fill positions with the best candidates.
Key Differentiators
Required resources with minimum fuss
Short Notice
Temporary to permanent staff placement
18) Energy Resourcing Group
Energy Resourcing Group is a well-known job recruitment firm that operates in Singapore and throughout the world. Energy resourcing specializes in the energy sector and has significant expertise assisting the construction, distribution, renewable energy, mining, and fuel sectors, among others.
Key Differentiators
Global technical recruitment agency
Opportunities abroad available
QHSE & Compliance
19) Russell Reynolds
Russell Reynolds is a recruitment company with expertise in executive succession, talent search, and assessment, as well as leadership development. Russell Reynolds has a long history of recruiting expertise and uses it to assist businesses improve their HR performance.
Key Differentiators
World-class leaders
50+ Years of experience
Global offices
20) Logistic People
People looking for employees seek out Logistic People because they want good service. The company focuses on recruiting in the supply chain, logistics, and transportation fields. Logistic professionals assist job seekers in locating exciting career possibilities while providing a one-stop solution to businesses and applicants.
Key Differentiators
One-stop solution for career and recruitment services
Jobs in transportation, logistics and supply chain sectors
Hassle-Free Hiring
21) Boyden
Boyden Singapore offers a variety of talent advisory, assessment executive search, and candidate coaching services. Boyden provides recruitment services for industries such as industrial, consumer, health, financial services, and retail. Boyden is a globally renowned talent consultancy.
Key Differentiators
Globally renowned talent consultancy

Variety of services

Latest jobs
22) JAC Recruitment
JAC Recruitment is an international recruitment consultancy dedicated to connecting businesses with top-level talent in Asia and Europe. Our business philosophy is founded on our core principles of freedom, discipline, and fairness, which we promise to provide excellent service to our clients quickly and honestly.
We pursue to establish valuable professional connections in support of personal, societal, and economic development on a global scale with a corporate culture based on the idea of "Tsunagu," which means to pass, connect, or continue.
Key Differentiators
Locations across Asia, Europe and Japan
Comprehensive training
Personalised career advice

Recruitment Agency Singapore
This article provides the best recruitment agencies in Singapore. Most recruitment agencies focus on recruitment and recruitment related roles, however, other recruitment agencies will focus on providing HR services. There is an opportunity for growth and advancement and companies may be willing to train new recruitment staff. However, opportunities are primarily only available for those with experience. Keep this in mind when looking for a new recruitment agency.
If you want to read more interesting articles, follow the links below:
Frequently Asked Questions (FAQ)
If you have any questions about recruitment agencies in Singapore, you can refer to the frequently asked questions (FAQ) about the best Recruitment Agencies in Singapore below:
Additional Useful Articles
If you are looking for other useful guides and articles about Recruitment Agencies in Singapore, check them out below: