Restaurants with a View Singapore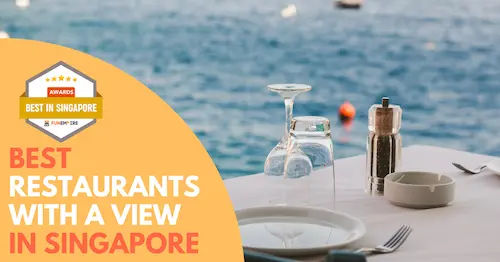 Singapore is a beautiful country that offers many restaurants with a view.
The best restaurants with a view in Singapore include Spago by Wolfgang Puck, Potato Head Singapore Rooftop Bar, Arbora Hilltop Garden & Bistro, Panamericana, and Level33.
When selecting a cafe in Singapore, take into account elements like its location, view, menu choices, and ambiance.
Singapore's scenic restaurants offer popular dishes like Chili Crab, Hainanese Chicken Rice, and Char Kway Teow, combining delectable flavors with stunning views.
We've gathered the best restaurants in Singapore for you to enjoy delicious food while experiencing the beauty of the city.
Best Restaurants with a View Singapore
1. Spago by Wolfgang Puck
The two distinct areas of this rooftop restaurant in Singapore will suit your particular style. The dining room is ideal for working lunches or a romantic treat, whereas the bar is perfect for relaxing with friends.
The relaxing lounge terrace with views of the magnificent infinity pool is an excellent place to enjoy alfresco activities, whether you're searching for a laid-back atmosphere or not.
In addition, meals range from breakfast to supper as well as sundown sweets like cocktails and light bites.
Key Differentiators
Two distint areas depending on your style
Bold and inventive chefs
Dishes with a hint of local flavours
Customer's Testimony
Came here to celebrate my little sister birthday. Trust me when i say every penny you spend here is worth it! The manager was super attentive even offer to serve you the food on your plate for sharing. Despite its a fine dining restaurant but we leave the restaurant will a full stomach!!! They also gave a Birthday card with all staffs name on it. Thought it was super cute! We had a great time here..

Nur Rafeeza
2. Potato Head Singapore Rooftop Bar
Forget about the city center and Marina Bay. Venture into history as you dine in here in Potato Head, where it's all about Keong Saik's heritage zone!
Potato Head's sun-drenched rooftop garden, which overlooks the gardens of neighboring hotels, is as much a treat for your eyes as it is for your taste buds.
It's a popular hangout for locals and tourists alike, with its flavorful cuisine and amazing views of the city. It will always make you feel like you're on top of the world with its tropical cocktails, groovy beats, and chilled vibes.
Key Differentiators
Bar
Vegetarian friendly
Great customer service
Customer's Testimony
"With a view overlooking heritage shophouse rooftops and the modern skyline, as well as an exotic tiki-themed cocktail menu, this is the place to hit if you're looking for a breath of fresh air."

City Nomads
3. Arbora Hilltop Garden & Bistro
Here's where you can enjoy a meal in a hilltop garden away from the city's hustle and bustle.
This laid-back restaurant, which is perched 100 meters above sea level, serves a mix of European and Asian dishes as well as handcrafted beers and botanical-inspired beverages.
Whether you're here for a family lunch or dinner with friends, the pleasant outside dining area is ideal.
Key Differentiators
Features a selection of western classics and Asian delights
Refreshing craft beers and botanical inspired drinks
Surrounded by the lush greenery and tranquillity of Mount Faber Peak
Customer's Testimony
Very nice place and also busy staff. They try their best to accommodate requests. Food and drink quality is good. Just don't let the wind blow away your serviettes 🙂

Constantine Low
4. Lavo Italian Restaurant & Rooftop Bar
Lavo may transform from a weekend brunch venue to a trendy club (with a DJ booth) in an instant! How versatile, right?
At the 57th level, you can expect an elegant Italian-American dinner with spectacular city views while you eat. The restaurant's most famous offering is the colossal Lavo meatball, as well as signature dishes like charred octopus and pies.
Also, don't forget to bring your second stomach for the 20-layer chocolate cake. For a relaxing weekend, come by for a champagne brunch.
Key Differentiators
Experienced chef with more than three decades of background
57-stories above ground
180 degree view of the city
Customer's Testimony
5 star dining experience here at LAVO! The view is absolutely fantastic. You can expect to pay premium pricing here for food and drinks. But the view and ambiance makes the price worth every dollar.

Truffle fries were delicious. Meatball pizza was good with crispy crusts. The pork chop with pistachio was good too. The fried oreos dessert is a must try!

Service is great and very attentive. 5/5 recommended! Do remember to reserve in advance.

Justin Soon
5. Level33
This top-of-the-line microbrewery, restaurant, and lounge is an incredible location to add to Singapore's list of sky dining options perched high over the city at the Marina Bay Financial Centre's penthouse.
The restaurant is ideal for business lunches, get-togethers with pals, and elegant dates. The cuisine also incorporates beer brewing components to improve the taste and texture of the food.
Take a seat indoors for a more peaceful experience or go outside to the outdoor area for fresh air and stunning views of the Marina Bay waterfront.
Key Differentiators
World's highest urban microbrewery
Spectacular view over Singapore's Marina Bay and city skyline
For any occasion
Customer's Testimony
Went here for NYE, chose the venue for the great view of the Marina Bay area. Was very pleasantly surprised with the good food quality. Great taste and large serving of mains and dessert. Fixed menu was adapted for allergies and a vegetarian option was served. Staff very friendly and knowledgeable. Informal atmosphere. The beer cocktails are also definitely worth a try. Parking on site is very cheap in the evening. Reservations required.

Remco Jonker
6. Panamericana
Panamericana has wide-open sea views due to its excellent situation on the charming Sentosa island.
With alfresco seats on its breezy veranda that overlook glittering vistas of the South China Sea, it is well worth the effort to leave the mainland.
The extravagant meal selections at Panamericana are just as appealing to the eyes as they are to the stomach. The colorful menu draws from 14 different countries that run along the Pan-American Highway.
Key Differentiators
Rich diversity of cultures and cuisines found in the 14 countries
Sits on a prime spot upon Singapore's finest and most prestigious golf club
7,000 sq. ft of indoor and outdoor dining and drinking space
Customer's Testimony
Excellent place for a relaxing view of the sunset. Food is definitely on point and well worth the money. Kudos to the chefs especially those who were on the grill, the steak was absolutely fantastic. Shout out to Sam who served us, his service made our day!

Justine Leong
7. Caffe Fernet
Caffe Fernet is everything a girl could desire to be. Caffe Fernet is gorgeous on the inside as well as the outside:
The gleaming long bar invites with warm tones of brown, brick red, and gold, while the dining area offers views of glittering Marina Bay Sands in all its grandeur.
The cuisine is rich and hearty, with dishes like chicken agrodolce and highly praised Mafaldine cacio e pepe, it's Italian-inspired home cooking on the menu. To share a few small plates, try the seared scallops and veal meatballs.
Key Differentiators
Brand new and bold New-Italian menu
Most unexpected ingredients and local produce together
WIth a great view of the bay
Customer's Testimony
Great food, excellent service!
We celebrated our engagement there right after the proposal and they were so nice about everything! Truly enjoyed our time there! The view is really awesome too! Thank you Caffe Fernet!

Zach Zheguang Han
8. Super Loco Customs House
Why not try out one of the ways to enjoy it? If you want to avoid waiting in line or getting a table at Caffe Fernet, go over to Super Loco Customs House for some Mexican cuisine instead.
Plus, glancing out towards the water while under fairy lights adds to the restaurant's chill atmosphere even more.
Signature dishes on the menu include tacos topped with slow-roasted pork shoulder and crispy chicken, and Ceviche de Mango made with sustainably farmed seabass.
Key Differentiators
Offers delivery island wide
WIth a sustainable mission
Virtual group catering
Customer's Testimony
Our host Ivy is amazing. Superb and sincere service really made our day. The specially arranged birthday surprise for my friend really blew us off.Give her the recognition she deserves.I didnt expect the service to be so good. Would recommend my friends.

Cheryl Tan
9. Monti
This swanky Italian restaurant and bar pulses with the life by the bay, taking over the space formerly occupied by Catalunya at Fullerton Pavilion. The Monti is housed in a glass dome that overlooks Singapore's skyline, and if you're there at the right moment, you'll be able to see the Spectra.
Its pasta is freshly made on a daily basis, while its mains range from fish of the day to meats like rib eye and pork grilled in its Inka oven.
Key Differentiators
Private event space
Island wide delivery
Rooftop bar
Customer's Testimony
This place is impressive, from the food to the service. The burst of flavours when eating the mains is really indescribable. Some places rely on their views/ambience rather than focus on the menu and food, but Monti is impeccable in all aspects. The view, service, ambience and most importantly, food, were amazing. They told us that they spent the past 2 years perfecting their lunch menu, and I must say it was a job well done.

Went for a celebration, had a nice relaxed lunch. Kudos and thank you to the team!

S Chan
10. 1-ATICO
Ion Orchard's multi-concept rooftop dining destination, which has panoramic views of Singapore, is the ultimate spot to enjoy a drink in the city.
The experience will also vary depending on the concept you dine at: FLNT offers a birds-eye perspective of the city center, and is in direct eye-line of the horizon (ideal for watching the sunset); whereas Argentinean cuisine combines smoked-kissed grilled meats with a view overlooking Marina Bay.
They will introduce you to Nikkei cuisine, which is a fusion of Japanese and Peruvian ingredients.
Key Differentiators
Transforms into a radical futuristic playground
Has two concepts: FIRE and FLNT
No shorts or slippers are allowed on their premises.
Customer's Testimony
Came here for the Christmas lunch. Overall Great service and food portions and also the views are very nice despite it being a rainy Christmas Day.
The Christmas platter was huge and plentiful, that we couldn't finish. Thankfully the staff offered to pack the food for us to bring home so there is no waste. Dessert was also good , the 3 desserts including crepe ice cream and cookies
To enjoy the most of the Christmas menu, I should have starved myself for a day before coming!!

Kevin KW
11. Supply & Demand
The cuisine is very Italian, ranging from risotto to pasta to pizza that you can share. The Afternoon Delight from ($22) is a popular pizza choice, since it transforms a full English breakfast into the pie. Mushrooms, runny egg, and bacon are included in addition to the traditional marinara sauce and mozzarella. In addition to traditional burgers and fries, Impossible foods has introduced a "plant-based" menu for vegans and vegetarians. Meatballs With A Crunch ($19++) is one of the dishes on the new plant-based menu, which is prepared with Impossible meat instead of beef.
Key Differentiators
Flagship restaurant of the "Supply & Demand" brand
Italian Trattoria and Rooftop Bar
Customer's Testimony
Second time visits and the foods were delicious as expected. First time trying the uni risotto, so creamy and yummy! Great to sit beside the kitchen so we got the food delivered as soon as it got out from the pan !

Clare L
12. Kinki Restaurant and Bar
Expect a Japanese-centric cuisine. Begin with one of their maki rolls, such as the foie gras and scallop or soft shell crab options. The more popular ones include: $25 – $30 for 125 grams of noodles, with 500 calories and a few carbohydrates. Many are priced under $30+. For mains, we recommend the Crispy Ume Kurobuta Belly ($28++), which is pork belly marinated with an ume honey plum dressing and fried until crisp.
Key Differentiators
New-age twist
Sweet new art murals
Customer's Testimony
Delicious food, nice ambiance & view, and great service! Prem was serving my table and he was friendly, prompt, and helpful. All the food was tasty, but my most favourite dish was the ac/dc sushi, which is a fried roll. It was a great dinner experience, highly recommended!

Stelliana Siswanto
13. Fry Rooftop Bistro And Bar
You might go for the Fry Beef Burger ($22 plus), which includes a chunky 100 percent ground beef patty, as well as an ozzy slice of grilled cheese. There's also Homemade Mac & Cheese ($18+), which is warming, gooey, and served with fries, mash, or salad—you'll be hard pressed to keep the top button of your pants intact. If you'd like to sip some beverages with your supper, stop by from 4 p.m. to 7 p.m. for a 20% discount on the wine menu, excluding bottles.
Key Differentiators
Heart of Club Street
Local western dishes with a twist
Customer's Testimony
This place is hard to beat. Stunning all-around views, good people, and good vibes. All you need is an open mind and good people skills. The first time we chanced upon this place, we walked through its doors as strangers and left as friends. Staff was friendly, and drinks and food were good! What a gem of a place in the beautifully restored shophouse district of Chinatown.

Mahathir Aziz
14. HONCHO
For dinner, descend to the ground floor to HONCHO for your supper. Begin with small bites like the Tamago Mayo & Ikura on Toast ($14 and up), which is an egg mayo sando that's been elevated, and work your way up to their mains. If you adore skewer, the Yakitori Squad ($20++) comes with a medley of gizzards. Otherwise, indulge in the Uni Capellini ($38++), which is pasta tossed in smoked uni butter and served with seafood.
Key Differentiators
Izakaya and omakase restaurant
Stunning sunsets and moonlight reverie
Space for talents and artists to showcase their work
Customer's Testimony
Was in Chinatown to run some errands and happened to park right in front of Honcho. We decided to try it out and it was such a great find! Atmosphere was great at the alfresco dining area and food was absolutely amazing.

Sherby PS
15. Florian
Start your meal with burrata, available between $16 and $22 per portion, with a variety of toppings in addition to tomato and arugula. Next, pick from their pizza or pasta menus for main courses. Wagyu steak comes from a breed of cattle known for their marbled meat, which means it's extremely juicy and flavorful. The housemade ragu is made richer by Wagyu beef. Florian offers weekend brunch to offer something unique.
Key Differentiators
Venetian cuisine. Rich and varied.

Authentic visuals, tastes and scents of Italy

Intimate indoor and beautiful calm alfresco seating options
Customer's Testimony
Awesome service especially from Joshua who went out of his way to make sure my last min vday celebration was good. Gave great advice, did his best to make us comfortable. The food is also great tasting.

Ronnie Gao
16. Southbridge
The bar's signature cocktail, the Key Lime Raise Bar ($15), is served with a complimentary slice of cake and pals are encouraged to order additional slices. The small plates include items like their Octopus Taco ($18) topped with mentaiko sauce, or Chicken Karaage ($16) served with a punchy Sriracha mayo. Sundays are also great days to come and enjoy 1-for-1 Roku gin all day long. Normally priced at $16 or more per drink, you'll pay only $8 each.
Key Differentiators
The sexiest 360° view of Singapore's skyline
Open-air rooftop of a refurbished heritage shophouse
Customer's Testimony
Nice place to hangout for drinks and oysters! Recommended to make a reservation as the place was pretty small. The view here is stunning although it can get a little hot before the sun sets. Their oysters were really fresh. We loved the oyster with the ponzu and yuzu sauce. The other bar food were alright but the highlight was the oysters. The bartender and servers were all very friendly. My hubby and friends enjoyed the drinks and had a great night too! Recommended to go during happy hour as well!!

Malissa Tan
17. Sweetea Caffe
For $38.80, the afternoon tea set here is a wonderful choice. Sweet and savoury bites include ondeh ondeh cake and luncheon meat fries, which are served in a tiered setting. Even if the food isn't spectacular, Sweetea Caffe provides a unique dining experience if you're trying to impress your partner. Please be aware that dining at the balcony requires a reservation.
Key Differentiators
Heart of Chinatown, Scenic View Cafe Bar
Customer's Testimony
Lovely cafe with good ambience. Awesome view at the 3rd floor balcony (outdoor). Narrow balcony which only cater table for 2 paxs.

Malissa Tan
18. Joie Restaurant
Make your way to Joie Restaurant for a Japanese-European fusion dinner that's also vegetarian after a chilly day spent shopping at Orchard Road. The six-course lunch for two people is priced at $39.80, while the seven-course dinner for two people costs $69.80, with a starter course, side dishes, soup, main dish, dessert and drink included.
Key Differentiators
Private Room available for 5 person & above

Modern meatless cuisine
Customer's Testimony
Nice food, nice service! Definitely worth to visit again! The waitress will introduce every single dish when they served, and pay patient and attention to customer's need even it's peak hour at Friday night. Treat my friend a birthday meal here, restaurant provide a small cake and the waitress sing a birthday song to my friend. She also offer help to take a photo for us, 5 stars service! (thumbs up)

ZY c
19. Sol & Luna
Sol & Luna is a lovely garden café among lush vegetation. It's on the 17th floor of CapitaSpring's Green Oasis, where the rooftop sky garden is. The main menu has more than two dozen options, some of which are available all day. They also have a six-course lunch menu (from $28) and an eight-course dinner menu (from $60). A high tea menu ($28 per person) with free-flow black coffee or tea is also available.
Key Differentiators
Sky-high city views

Treading the balance between tradition and innovation
Customer's Testimony
Secret up in the middle of the skyscraper. The views are stunning and the ambience inside is fine and warm. We enjoyed the cuisine, with an Italian theme. This is a great place for a dinner engagement or a date night. Young, hip and cool vibe.

Michela Zanata
20. Overeasy
They serve classic mains at a reasonable price, such as Smashed Avocado Toast ($19) and California Pancakes ($19), as well as their very own wagyu beef burger, The "To-Die-For" Burger ($27), with additional choices including an Impossible Burger ($29) and The Truffle Burger ($29).
Key Differentiators
Sweeping views of the Marina Bay skyline

Vibrant spirit of the 1960s and '70s
Customer's Testimony
Had a wonderful time here! Portions are big and filling, and the truffle burger was really good. We came to celebrate a friends birthday, and they gave us a complimentary slice of cheesecake too! Exceptional service and would def recommend to others

Lock
21. Merci Marcel
You'll feel like you're dining in a European back alley at Merci Marcel's garden terrace. It's the place to go if you want something between elegant and casual. From fresh acai bowls to seared foie gras, the restaurant's selection of delectables is endless. They also have an 8-page long drinks menu with organic wine, rose et champagne, and unique French beverages.
Key Differentiators
Greener corner of Singapore's shopping district

Bauhaus architecture, tropical motifs and an eclectic mix of vintage & modern furniture pieces
Customer's Testimony
Best make a reservation as they can be packed even during a weekday lunch. Service is generally quick and very friendly and the food while simple, is well prepared. Beef burger is something I would recommend. The buns are very light and it doesn't fill you up so can order other things to try!

Teck Boon
22. Binary
The restaurant serves a variety of vegetarian dishes, including vegetarian mac and cheese ($14) and the Impossible Kofta kebab ($18). They also have an extensive drinks list with draught beer, tequila, and mocktails starting at $12. Their fluffy home-made kubaneh bread, which comes with garlic butter and kombu butter, is highly praised. The tiger garlic prawns are also a popular choice—you can have them as a side ($18) or main course ($38), both of which include thermidor or creamy mentaiko.
Key Differentiators
A bistro bar with Asian and Western flavors at the table
Customer's Testimony
My favourite was the Kubaneh bread! It was so good that we ordered another portion of it. Goes very well with the rest of the sauces from the other dishes. You can expect all the tapas dishes to be flavourful and yummy. Overall, a place with nice vibes and food. The service was excellent. Pearlynn, the manager, was friendly and recommended us great food choices.

Ed Ho
23. La Scala Ristorante
With its handcrafted stone oven baked pizzas and homemade pasta, La Scala Ristorante is recognized for providing traditional Italian cuisine. Monday through Friday between 11:30 a.m. and 2:30 p.m., they have a set lunch for $21 that includes a soup, main course, and dessert.
Key Differentiators
Bring the tastes, sights and sounds of a buzzing Italian summer's day
Customer's Testimony
Nice ambience. Need booking if not fast fully occupied. Set menu was value for money. Service top notch. Kempinski singapore.

Susan Yong
24. The Masses
That isn't the end of the celebration, however. They've introduced a new "5th year anniversary" menu with new dishes including lobster pasta ($35) and Summer Truffle Tart ($18). The menu includes Asian fusion dishes such as the Iberico Secreto, which is grilled in a lychee wood Josper Oven ($29.90). Quail "chicken rice" is another dish on the menu that's worth noting for its unusual name. If you'd want to try their set lunch (which costs $35.90, includes a starter, a main dish, and a drink), come for lunch on weekdays.
Key Differentiators
"Happiness is other people."
French food with a distinctly Asian touch
Customer's Testimony
What an underrated restaurant! The food is superb and I love the Angus short ribs that just melts in your mouth. It's to die for! What a great restaurant to visit and it's recommended to book in advance before coming over as it will be pack during dinner and lunch time. They do change their menu every so often but if you're adventurous, ask the staff on what they personally recommend to try.

Jeremy CTE
25. Shashlik Restaurant
Shashlik Restaurant has been grilling delicious things like skewered meat and deep-fried "corndog" chicken since 1963. And while they did take a pause in 2015, they've now returned for good. Their cakes and desserts are intentionally set on fire – the Baked Alaska ($18), a ice cream meringue cake that will be flamed with dark rum in front of your eyes, is one we recommend. If you want to add a memorable touch to your dinner table with a bespoke cake, call ahead.
Key Differentiators
Customer's Testimony
Located at a discrete corner in far east shopping cte, this place is a gem. The ambience in the restaurant is gorgeous with soft lighting and traditional wood style colours. Not qualified to say whether the food is Russian enough, but they are fantastic. Love the bun with butter. The borsh soup is flavourful with chewable onions n beef. The blue flame ribs is tender. Great place to visit again.

Jd L
26. 1-V:U
1-V:U, located on the top of Outpost Hotel in Sentosa, is a place where you can let go and enjoy great food at the same time. Start your evening with a plate of their Oyster Sling (S$6 per piece, minimum two pieces) and work your way up to delectable mains like the V:U Wagyu Patty Melt (S$25), which comes with an Asian pear-and-jalapeño salsa).
Key Differentiators
Premier day-to-night beachfront
Sentosa Island's first and only rooftop vibe dining destination
Customer's Testimony
I had a great time visiting 1-V:U for brunch! There was a wide spread to choose from including a create-your-own porridge station and all your classic brunch favorites. The staff were very attentive and friendly and the place had a great vibe and atmosphere. 1-V:U is a welcome new addition to Sentosa's restaurant scene and I look forward to visiting again soon!

Shona Williams
27. Zorba, The Greek Taverna
Zorba, The Greek Taverna is a place to eat into simple Greek dishes for those seeking an exotic dining experience on date night. It's located along the riverfront of Clarke Quay and serves as the ideal spot to refuel with humble Greek meals for couples looking for an unique dining experience. For a more traditional Greek food experience, try the Dips Platter (S$28), which contains a selection of six different homemade dips served on a bed of warm and fluffy pita bread. After that, try the Mixed Grill Platter (S$88), a true Greek communal meal experience. The enormous platter has a variety of meats on it that will undoubtedly pique your appetite!
Key Differentiators
Authentic culinary experience that is Zorba the Greek taverna
Located along the waterfront of Singapore River
Great food and service
Customer's Testimony
I loved the service from a certain Greek man that greeted us at the table and gave us a wonderful experience. It was our first time there. After reading about the food from a food blogger, we decided to try. Apart from the great food, I believe it is the service provided that make a significant impact.

Isaiah Fadzlin
28. Como Cuisine
Since we're talking about a romantic dinner, there's no way we can avoid the tranquil Dempsey neighborhood. With views of the Botanical Gardens, Como's cuisine is picture-perfect for the 'gram. Como Cuisine is where you should be going if you want a botanic ambience with every part of the restaurant. Don't forget to finish your meal with the eatery's signature Pandan Crepe (S$12). These pillow-soft bundles are packed with whipped cream and ripe mangos for a sweet conclusion to your meal!
Key Differentiators
Organic produce
Freshest in-season ingredients
Great menu
Customer's Testimony
Food was good and our server Denyse was amazing, made us felt so at home

Jessica Lim
29. Voyage Patisserie
Looking to impress your Valentine with a culinary food tour? You will be on a culinary journey at Voyage Patisserie, where your meal will represent Chef Jonathan's path and the experience that the team behind Voyage Patisserie wants to offer you with through the various dishes served. Jonathan—owner and head chef of Voyage Patisserie—worked in France for two years before returning to Singapore. Jonathan hopes to bring elegant fine dining to the heartlands with high-quality imported ingredients.
Key Differentiators
Nice balance of flavors
A variety of awesome desserts
Good ambience
Customer's Testimony
Lovely place with great food with top quality ingredients. Love how they finish each dish with love and care.

Heard the menu is ever changing and is created according to what is in season. But loved most of the dishes and how they were presented. Great for gatherings or even a date night.
Desserts are great as well! You must leave some space to satisfy the sweet tooth.

Dylan Xie
30. The Botanic
Consider The Botanic for a lovely date. This restaurant is ideal for couples who are looking for places with a positive energy. The interior dining area was redesigned to have a more nature-inspired atmosphere. Give the Smoked Sambal Short Rib (S$39) a go, with its delicate and rich taste. This combination works well with the horseradish and roasted padron pepper flavors. The Ginger Flower Pannacotta (S$12) is the perfect finale to a delicious meal.
Key Differentiators
Fantastic location
Excellent cocktails
Good food and ambience
Customer's Testimony
Awesome dining place with lots of vegan and vegetarian options. Beautifully crafted food. Wonderful food play with herbs, spices, fruits and vegetables!

Eileen Tan
31. Olivia Restaurant & Lounge
Olivia Restaurant & Lounge, located right at Keong Saik Road, serves a taste of Barcelonian-inspired flavors with rustic tiling and light wooden features that will definitely get you and your Valentine's date in the mood. Have a taste of the world's best beef, the Dry-Aged Galician Beef (marinated for 45 days) (S$32). This dish will surely bring pleasure to your Valentine's date with its fantastic meat flavor and juicy fatty edges that were pleasurable to bite into, making every slice delicious.
Key Differentiators
Superb services
Friendly staff
Delectable food
Customer's Testimony
We had a fantastic night out! Excellent food, great wine and cocktails, electric atmosphere (we had the outdoor table) and most importantly, an impeccably warm host who made the night special. Shout out to Asst mgr Saroj,

Cheryl Lim
32. Bar Cicheti
Bar Cicheti is a lovely Italian eatery that would make an excellent Valentine's dinner. The high arch of lights at the pasta restaurant's heart is complemented by the high arch of lights in the dining area, making the space feel much more intimate. Have fun with pasta like their Paccheri (S$20/S$34), which comes with a fiery kick. The Slow-braised Polpo (Spanish octopus) and tastes to complete the meal—fresh tomatoes gently simmering for a long period, blended with fiery chilli, anchovies, and capers. Fill up the meal with starters including the Salvia Fritta (S$8) and Lingua Di Manzo Tannato (S$18), which will seal the deal nicely.
Key Differentiators
First homegrown pasta and wine bar
Fresh handmade pasta
Adventurous wines
Customer's Testimony
Classics done well – tastes elevated and homely at the same time! Favs are the battered sage leaves, paccheri (always get the full size!) and tiramisu (I paired mine with Durian)

Juliana Mohd Hashir
33. LUMO
It's difficult to find spaces for intimate dates. LUMO is the place to be if you're searching for a softly illuminated booth seat for just yourself and your spouse with mellow lo-fi music in the background. The bar and restaurant, which is located at South Bridge Road, provides a hotbed for unique drinks and cuisine that is given a unique spin.
For a pre-dinner drink, saddle up to the bar and enjoy the Devil's Breeze (S$20), which is both refreshing and tasty. The bar serves a variety of appetizers to complement your drinks, including the Aged Chicken Wings (S$18), which are moist and flavorful. Every bite has a rich, intense flavor that is best tasted with your fingers.
Key Differentiators
Lively speakeasy-type restaurant bar
Signature cocktails, wines and Modern European fare from the woodfire
Stylish interior
Customer's Testimony
The food was fantastic. Personal favourites were the Sakura pork and Cauliflower steak. Service was top notch and there was never a moment I felt unattended to. Lemon Gin Fizz will be my go to cocktail to end the night.

Timothy Chan
34. Pasta Brava
Pasta Brava, an outstanding Italian restaurant with old-fashioned Italian interior designs, offers fresh handcrafted pasta. They also provide colored pencils to draw on the white table cloth while you wait for your meal! Even more entertaining for your dinner date; you may play Pictionary if you run out of things to say. Definitely try the various types of pasta on offer. If you enjoy tomato-based seafood pastas, the Linguine Regina Del Mare ($23) is a must-try. The risottos, too, are very well done and don't taste like gruel. The Risotto Nero Alla Sinfonia Dei Nostri Mari, a seafood and squid ink risotto ($23), is another option.
Key Differentiators
One of the Oldest Authentic Italian Restaurant in Singapore since 1991
Handcrafted Pasta
Rooftop ambience
Customer's Testimony
Whenever we crave for pasta, it's definitely Pasta Brava. Been a returning customer for years. Great food & excellent service as always.

Irene Chan
35. L'Entrecote: The Steak and Fries Bistro (Customs House)
The iconic entrecote steak at L'Entrecôte on the Customs House is an excellent vantage point for viewing the Marina Bay skyline, so you'll enjoy panoramic views of the elongated promenade while dining on its well-known entrecôte. L'Entrecôte The Steak & Fries Bistro, on the other hand, has a warm and inviting vibe thanks to its rich red accents throughout. Natural light streams in via floor-to-ceiling windows to brighten up the interior.
In addition to its classic menu, try dishes like the Wagyu Beef Cubes It comes with a small pot of its golden L'Entrecôte sauce to pair with the glorious meet. The sauce is made with a secret recipe with 53 ingredients, allowing you to flex this fact and impress your date.
Key Differentiators
French bistro fare
Refreshing drinks and bar bites
Stunning views of the Marina Bay waterfront
Customer's Testimony
Great service. We were out cycling in the area, and was looking for a comfortable place for lunch. Weather was a little hot and our kids were being a little more fussy than usual and the staff did their best to make everyone feel comfortable. Food was great too!

WH HO
36. Trapizza
This is a simple, pizza restaurant with a view of the sea for beach-loving couples. The open-air design allows you to dine on a variety of wood-fired thin crust pizza and pasta meals while taking advantage of the sea air. After dinner, you may go for a stroll on the beach like in the movies! The Sicilian specialty is a layered pizza that comes with sausages, olives, and capsicum for $23.90. The Seafood linguine ($22.90) is another dish to try while taking in the stunning view. However, while it has a little more pick-up than usual due to its location on Sentosa, the alcohol is significantly higher and reaching all the way to Sentosa may not be the greatest choice for a first date, but it's an excellent option as a second or third date.
Key Differentiators
Large dining space
Bold menu featuring authentic, hearty Italian fare
Creative re-interpretations of classic cocktails
Customer's Testimony
Loved the pizza. The pizza base was one of the best I can remember eating, light and flakey while the toppings were very fresh and tasty.

Andy Durkin
37. Les Bouchons
With its rustic and charming decor, the Les Bouchons transports you to Paris. The 300g Grilled Ribeye With Vigneron Butter (S$36.80) is juicy, and the top is nicely charred, which more than enough to consume along with free-flow fries. The degree of rawness in Parisian Steak is always one degree less than regular steaks, therefore if you want a medium-rare steak, request that it be cooked to your liking. If you want further options, consider adding a little snack, such as the Burgundy Escargot with Garlic Butter ($18). A delicious yet inexpensive steak dinner date.
Key Differentiators
One of the first in Singapore to serve French Steak Frites "Steak & Fries"
Classic French cuisine and quality steak frites
Extensive list of value-for-money quality wines
Customer's Testimony
I had rib eye for dinner, it's soft and good grilled lines on surface but under expectation of the taste. Its sgd 50++. Portion is pretty good. I will still visit again for sure. Thank you

Alice Bu
38. PS.Cafe at Palais Renaissance
PS.Cafe, which already has five locations, is now offering five more locations in Singapore. PS. Cafe continues to provide beautiful, elegant cafe settings that are a pleasure to visit. The interior is likewise filled with soft light, ensuring that the romantic atmosphere is stirred. I chose this one to highlight since it is near the city center.
The Cafe is famous for its Truffle Shoestring Fries ($15) that are extremely huge and full of truffle oil. The Crab Tart ($32), which comes with prawn bisque cream, lemon-dressed greens, and harissa, is a popular menu item that sells out quickly. To round out your meal, try the Sticky Date ($14.90), which includes butterscotch as well as vanilla ice cream to go with the warm pudding.
Key Differentiators
Beautiful design and architectural elements in its indoor and outdoor spaces
Featuring a menu packed with yummy PS. classics
Features a weekly specials menu, a full bar and a large dessert selection
Customer's Testimony
Very nice, cosy and romantic setting for dinner date. Service staff is attentive, helpful yet discreet. Food quality is good esp the truffles fries. Highly recommended.

John Ho
39. Pietro Ristorante Italiano
The restaurant was opened by chef Peter Neo and, as the name implies, primarily focuses on Italian cuisine. The food of this restaurant is unique in that it employs only fresh, original ingredients and homemade specialties in its recipes. The pizzas are a must-try, prepared right in the red wood-fired oven. It's fantastic to watch as the cook bakes them before your eyes, and they're delicious. The delicious Pizza Pietro ($26) has 1-for-1 deals, so it's a great value.
Pietro's Menu is extensive, and it contains a broad selection of pizzas as well as delectable appetizers, soups, risotto, and a wonderful range of pasta. Not to mention classy desserts and wine. There is a 1-for-1 deal on the Linguine al Cartoccio, which is a spicy crayfish pasta with an additional dish.
Key Differentiators
Hand stretched thin-crust PIZZA fired in a brick pizza oven
Comfy eating spot
Hearty portions
Customer's Testimony
Went for lunch on a weekday for their 1:1 set. Cozy neighbourhood restaurant with parking in front of shop. Worth the $ and good service. Tasty mushroom and bisque crab soup. Big portion of pizza enough for 2.

Recommended.

Mei L
40. Rider's Cafe
Riders Cafe is a popular spot for brunch beside the Bukit Timah Saddle Club, where you can enjoy delicious meals and gaze at the magnificent horses. A hidden discovery with a specific allure in the midst of all the peaceful verdure. It's still quite busy on the weekends, where brunch wraps up at 3 p.m., so make a reservation.
Try the Pacific Benedict ($16) with swimmer crab, poached eggs, and Spinach and Shrimp Hollandaise for a more oceanic flavor. It's pretty laid-back here, but it's a wonderful place to go on a date away from the city's hubbub.
Key Differentiators
Attentive service staffs
Great brunch experience
Tasty food
Customer's Testimony
I like the simple n vintage feel as I stepped into the cafe. Can view the horses from far. Good service n food portion is just right !

Olivia Sam
Restaurants with a View Singapore
If you've been struggling to think about where to eat or how to spend your dinner tonight, this list will be helpful!
With these restaurants on your radar, there should never be any problem finding somewhere perfect for your next date night or family outing. These restaurants are excellent choices whether you want something romantic and intimate or if you prefer something more lively and energetic. Which restaurant did we miss, let us know and leave a comment down below?
Looking for more interesting articles to read? Check out more of our blog posts down below!
Frequently Asked Questions (FAQ)
If you have any questions about restaurants with a view in Singapore, you can refer to the frequently asked questions (FAQ) about the best Restaurants with a View In Singapore below:
Additional Useful Articles
If you are looking for other useful guides and articles about Restaurants with a View In Singapore, check them out below: