Security Company Singapore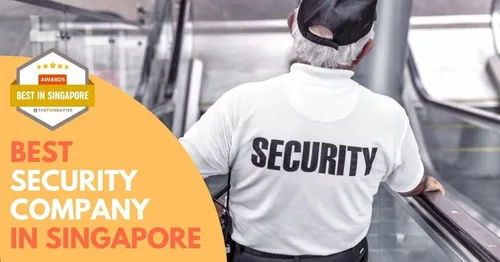 Whether you're seeking to secure your business or your home, choosing the right security company is paramount.
The best security companies in Singapore include HRS Security Services, Centurion Security, Focus Security Services, Uniforce Security Services, and SecuriState Pte Ltd.
When selecting a security company in Singapore, it is important to take into account aspects like reputation, experience, training, and customer reviews.
In Singapore, security companies play a crucial role in safeguarding businesses and individuals, contributing to its well-earned reputation as one of the safest places on Earth.
This article will provide you with a list of the best security companies in Singapore that are worth checking out if you're looking for security services.
Quick Summary
Best security companies in Singapore include HRS Security Services, Centurion Security, Focus Security Services, Uniforce Security Services, and SecuriState Pte Ltd.
When choosing a security company in Singapore, consider factors such as reputation, experience, training, and customer reviews.
Security companies are vital in Singapore, ensuring safety and protection for businesses and individuals, contributing to its reputation as one of the world's safest places.
Best Security Company Singapore
1. HRS Security Services
Key Services
Security Services, Traffic Marshall Services, CCTV Remote Monitoring, Events Security, Security Solutions, Security Consultancy, Security Installation Services
Website
http://www.hrs-security.com/
Address
151 Chin Swee Road #02-27, Manhattan House. Singapore 169876
Phone
6814 0890 / 6814 0891 / 9383 3200
Email
contact@hrs-security.com
Operating Hours
Admin Office – Monday to Friday 9am to 5pm
Central Command Centre – 24 hours
Since 2020, HRS Security Services has been growing its standing as a reputable security company in Singapore. They are BizSAFE Star Certified and members of all the associations related to the security industry such as Association of Certified Security Agencies (ACSA), Security Association of Singapore (SAS) & Union of Security Employees (USE).
HRS Security Services was started in 2020 to move away from the traditional method of providing security to one which incorporates Man, Method & Machine to provide their clients with the best possible security outcomes. Being able to integrate security operations with security technology, this provides the services buyers with cost efficient solutions while increasing the productivity of the security manpower deployed.
Key Differentiators
They believe in providing their clients with professional security services complimented by the use of security technology.
Cost saving solutions without compromising the require security.
Having a professional team with many years of industry experience that is able to practically solve on the ground issues.
Client Testimonial
HRS Security Services has been providing security services to our premises for the last 2 years with a very stable and professional team of security officers who have build an excellent rapport with all stakeholders. The security company's management team is very responsive and acts on any feedback provided immediately

Mr. Leong
2. Centurion Security
| | |
| --- | --- |
| Key Services | Various security management systems |
| Website | https://centurionsecurity.com.sg/ |
| Address | 6001 Beach Road, # 18-01A, Golden Mile Tower, Singapore 199589. |
| Phone | +65 6339 7110 |
| Operating Hours | Contact for more information |
If you're looking for a security firm in Singapore that can manage security auditing for specific events or locations, then Centurion Security is the company to contact. They also provide a variety of management systems in addition to this.
They provide incident management and visitor management as well as an eLearning platform. They also employ facial recognition systems and surveillance drones, making them one of Singapore's most advanced security firms.
Key Differentiators
Surveillance drones and robotics
Video Analytics and Facial Recognition
Client Testimonial
One of the best companies I have ever seen. The staffs were so friendly and efficient. They help me out by answering all of my question really well and clearly. Definitely am impressed with this company. Awesome company!!!

Jag S
3. Focus Security Services
Since 2002, Focus Security Services has been a pioneer and one of the most reputable security companies in Singapore. They are Bizsafe Level 4 Certified and members of both the Union of Security Employees (USE) and the Security Association of Singapore (SAS).
Focus Security Services was founded in 1992 and has grown to be a major player in the security industry. In order to expand their team, they decided to join forces with Asiatact Singapore, a prominent Software Technology Company, and Jettact, a Manpower Recruitment Firm. Focus Security Services is certain that this business adds value for its clients and employees.
They have devised methods for reducing manpower without sacrificing the responsibilities required to be done as a result of their thorough study and development, which were carried out by both Asiatact Singapore and Focus Security Services. This allows customers to save money while still maintaining security.
Key Differentiators
Bizsafe Level 4 Certified
Client Testimonial
Hi there, I'm a Resident from NV Residence. I would like to send my Compliments to your Company as I had a positive experience with your Company. Last week, my son and I was trapped in the lift. We both panicked as we did not know what to do. My son tried to force open the lift's door but was unable to do so. Finally, I pressed the Emergency button at the lift panel and I believe one of your Security Officer (Male, I forgot to take down his name) responded to me. He was very polite and reassured me that help is on the way and that he will go to the lift to assist my son and I. Around 2-3 Minutes later, I could hear this Malay Male Security's Voice who was speaking to me over the lift intercom. He kept reassuring me that everything will be fine and help is on the way.

When I was in the lift, I did not feel that your Guard was going the extra mile as it is the Guard's Duty to assist anyone trapped in the lift but about 20 Minutes later, when the lift door opened, I was very touched when I saw that he actually bought 2 bottles of Water for my son and I. Not only did he offer us bottled water, he also escorted us back to our unit. I really hope that your Management can convey my Gratitude to your Security Guard as his action, in my opinion, was going more than an extra mile! Thank you, Focus Security!!

suzan chong
4. Uniforce Security Services
Key Services
Full range of security services
Website
http://www.uniforcesecurity.sg/
Address
10 Ubi Crescent, #02-68 Ubi Techpark (Lobby D), Singapore, Singapore 408564
Phone
Main Office – +65 67476708
24Hrs Hotline – +65 67476707
Email
enquiries@uniforcesecurity.sg
Operating Hours
Monday to Friday: 8:00am – 5:00pm
Uniforce Security Services provides one of the most secure services in the country. The business has continued to adapt to new methods of enhancing security in order to provide an unrivaled and efficient service. Clients adore their innovation and personalization skills. You'll feel much safer with Uniforce Security Services if you hire them as a team of licensed and skilled security guards who know what they're doing.
Key Differentiators
Security manpower
Security consultancy
Executive protection
Client Testimonial
Excellent Management and HR. Very professional. Recommended.

Firdaus M
5. SecuriState Pte Ltd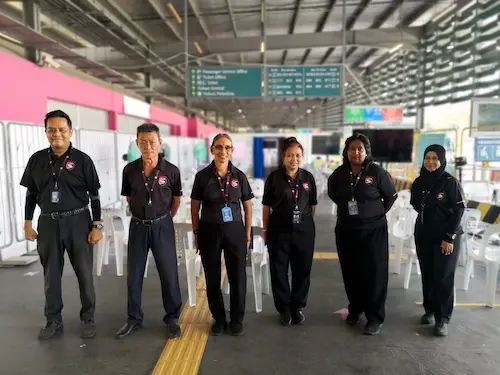 Key Services
Security Services, Maritime Security, Consultancy and Training, Asset Protection, Polygraph and Drone Services
Website
securistate.com
Address
20 Sin Ming Lane, #05-65, Midview City | Singapore 573968
Phone
6684 5652
6684 5650
Email
info@securistate.com
Operating Hours
Open 24 hours
SecuriState Pte Ltd has been operating for over 10 years since its establishment in 2010. During this time, SecuriState has continuously strengthened its capabilities in the broad security arena. With 4 offices and bases worldwide, SecuriState has recently opened a new office in West Africa to better serve clients in the region and tap into new opportunities on that frontier.
They have now taken a turn toward technology and embarked on new projects in the Middle East to complement their Maritime Security Services. SecuriState Pte Ltd is launching their new Maritime Drone services to provide Shore to ship logistic services for their shipping clients. They have set up the foundation and foresee the next 10 years as an exciting time for SecuriState to flourish.
Key Differentiators
Tech based Security eco-system to support the officer in the ground to execute his work effectively
Have well trained Security Officers and Concierge Officers
Advance technology: Irep system, BioMetric Access Control, CCTV system, 24/7 Command ops, Drone services, lie-detector services, Remote Monitoring
Activation of Securistate Rapid Response Team within specific time for any reinforcement or extra assistance required at 24/7 availability
On-call Wheel-clamp services
Client Testimonial
I recently had the pleasure of working with Securistate and I must say, their security solutions and customer service exceeded my expectations. From the moment I first reached out to them, their professionalism and commitment to customer satisfaction were apparent.
The team Securistate is incredibly knowledgeable and took the time to understand my unique security needs. They provided a comprehensive assessment of my property and offered personalized recommendations to ensure maximum protection.
Their state-of-the-art security systems, coupled with their efficient installation process, have left me feeling confident in the safety of my home and business.
One aspect that sets Securistate Pte. Ltd. apart from other security providers is their exceptional customer service. They are always available to answer any questions and address concerns promptly. The ongoing support and maintenance services they provide have given me peace of mind knowing that I can rely on them to keep my security systems running smoothly.
In addition to their technical expertise, Securistate is friendly and approachable staff make the entire experience enjoyable. They genuinely care about the well-being of their customers and go the extra mile to ensure that you feel secure and supported. Also salaries they are paying without any delays.

Priyanka Sebastian
6. YS Security Services
Key Services
On-site consultancy
Website
http://yssecurity.com.sg/
Address
50 Gambas Crescent #08-11 Proxima @ Gambas Singapore 757022
Phone
+65 9663 1753
Email
admin@yssecurity.com.sg
Operating Hours
Weekdays: 8:30 AM to 5:30 PM
Saturday: 8:30 AM to 1:00 PM
At YS Security Services, you'll discover a team of skilled and certified security professionals as well as an extensive variety of technological solutions. They also have command centers manned by knowledgeable operators who may assist with responsive solutions, especially in times of emergency.
They can also detect the site's exposed risks, develop strategic preparations, and take action immediately. You may thus plan ahead and avoid any future difficulties with their aid. To learn more about their fees, processes, and security services in Singapore, contact their office as soon as possible.
Key Differentiators
Advanced technology solutions
Inspection done by supervisor
7. Rightmen Security Services 
Security clients in Singapore can count on one of the top security assistance in the country when they need it. They're well-known for their use of cutting-edge technology and frequent updates to improve security, as well as new additions.
Hire Rightmen Security Services to ensure that you get top-notch protection and safety. You may reach out to them on their website or give them a call.
Key Differentiators
Visitor Management System(VMS), Real-time Clocking System, Attendance Monitoring (iREP mobile application) and remote CCTV monitoring
Offers iREP attendance, iREP clocking system and an online communication system
Client Testimonial
Very Great company with no problem Of payMaster, Always on dot. salary keep increasing of review. Excellence Place to stay..

aldiyn Noor
8. Aetos Holdings
| | |
| --- | --- |
| Key Services | Grand celebrations and national events |
| Website | https://www.aetos.com.sg/ |
| Address | 5 Corporation Drive Singapore 619774 |
| Phone | +65 6773 9296 / 1800-5646-273 |
| Email | info@aetos.com.sg |
| Operating Hours | Weekdays: 8.30am to 6.00pm |
Look no further than Aetos Holdings if you need a security agency in Singapore that can handle major and significant events. Aetos Holdings has been providing an all-encompassing variety of safety and security services to firms, organizations, and even government agencies for several years. They've also worked on numerous large events including Marina Bay Countdown Celebrations, F1 Singapore, and the recent National Day Parade.
They provide services including infrastructure protection, escort, aviation security, enforcement, asset management, and more. They are one of Singapore's most advanced and top security companies. They utilize a wide range of monitoring, detection, and management systems with their technological solutions.
Key Differentiators
Maritime security
Crisis and emergency management
Client Testimonial
Busy place at Peak hour. Traffic can be crazy!

HM Haneef NiQ
9. Deep Security
At Deep Security Services, you can feel confident that your safety is a top concern. They are recognized as one of the most competitive and affordable security services in Singapore because they customize security needs based on the client's demands. To help cut costs while maintaining clients' security, they blended their strong protection techniques with technology to offer more cost-effective services without compromising their high-quality security.
The company also employs stringent selection procedures and rigorous training of security guards before deploying them to facilities, ensuring that they are prepared for their duty. It's also verified that all of the security personnel are licensed by the PLRD, which ensures their validity.
Key Differentiators
Good Welfare System
GRADE A 2018 & 2019
10. Sovereign Security
Sovereign Security is your best bet if you need a security firm in Singapore that provides a diverse range of services. Visitor management systems, operations executives, patrol car services, guard dogs, and many more security solutions are available through Sovereign Security.
The firm is run by former police and military personnel as well as commercial security guards in Singapore who can handle all types of security. You may rely on their highly skilled and experienced staff whether you need protection for residential, commercial, or industrial areas. They also have a team of investigators that can help solve issues related to theft, vandalism, or any suspicious incidents that happened in any location.
We think that they are one of the most adaptable in our article on Singapore's security firms, owing to their extensive portfolio of services.
Key Differentiators
Relief security officers for in-house services
Client Testimonial
Sovereign security is an excellent company. A very good pay master. Most of the staffs are 15 years in service with sovereign. Referring to the review of Mr.Durai siva i totally disagreed his comments.

Sivasekaran govindsamy
11. RAS Security Services Agency
Are you looking for a secure guarding agency in Singapore? Ras Security Guard Agency Management is a well-trained and experienced security business that can provide the appropriate guards for your property. Once they have agreed to terms with RAS security, their management team conducts a site inspection to identify potential security flaws and holes that may put the premises at risk.
To ensure that no holes exist in their personnel, they keep up with regular training to maintain and enhance their existing abilities and satisfy the ever-changing needs of the security sector. What they provide is essential; it is people's safety that is at stake. As a result, they must be certain that they can deliver on their obligations.
Key Differentiators
Well Trained and Experienced Security Officers
Graded B (Good) by PLRD for Year 2017 /2018 /2019
Client Testimonial
Wishing a Happy Deevali to all the staff and director. An Efficient and Reliable security agency.

Ramzan khan
12. Metropolis
| | |
| --- | --- |
| Key Services | Advanced technology solutions |
| Website | 20 Sin Ming Lane #08-63 Midview City Singapore 573968 |
| Address | https://www.metropolis.sg/ |
| Phone | (65) 6352-6769 |
| Email | hr@metropolis.sg |
| Operating Hours | Daily: 8:30 AM to 6:00 PM |
Only the best security firms in Singapore may possibly meet your needs. If that's the case, you'll be happy with Metropolis. Metropolis is a top-rated security firm that has received an A grade from the Police Licensing Regulatory Department. They provide comprehensive training for their employees and also security technology solutions for both day and night operation.
The company also offers biometric access control, advanced video surveillance systems, and visitor management solutions. They have a centralised command centre staffed by security experts that is under their supervision.
Key Differentiators
Centralised command centre for CCTV cameras
Visitor management system
Client Testimonial
All the staff there are very helpful

GuiQuan LIM
Security Company Singapore
This security company Singapore list includes security companies in Singapore that provide security services. There are many security companies in the security industry in Singapore, and the security industry is doing well in general. Security companies Singapore can provide many different types of security services for you, so be sure to check them out when deciding who to hire for security services like home security or security guard services.
Before you go, do check out our other articles as well!
Frequently Asked Questions
If you have any questions about security companies in Singapore, you can refer to the frequently asked questions (FAQ) about the best Security Companies in Singapore below:
What are the best security companies in Singapore?
The best security companies in Singapore include HRS Security Services, Centurion Security, Focus Security Services, Uniforce Security Services, Focus Security Services Pte Ltd, Sovereign Security Services Pte Ltd, and SecuriState Pte Ltd.
What sets the best security company in Singapore apart from the rest?
The best security company in Singapore stands out with its provision of high-quality security services. It employs a professional security team with years of experience, providing top-notch security solutions that meet and exceed customer expectations.
Why is licensing by the Regulatory Department PLRD important for a security company?
Licensing by the Police Licensing & Regulatory Department (PLRD) is crucial as it signifies that the security company has met stringent standards set by the Singapore Police Force. This provides an assurance of quality and professionalism in the provision of security services.
What kind of experience should a top security company in Singapore have?
A leading security company in Singapore should have several years of experience in the industry. This experience equips the company with the necessary skills and knowledge to handle various security situations and challenges effectively.
What does a professional security team offer?
A professional security team offers a wide range of high-quality security services. These include security system installations, CCTV security surveillance systems, and commercial security consultancy. The team's expertise ensures the provision of top-tier security solutions.
How does a security company work with the Singapore Police Force?
A security company works closely with the Singapore Police Force, ensuring its operations align with the rules and regulations set by the Police Licensing & Regulatory Department (PLRD). This collaboration enhances the quality of security services provided to clients.
What type of security systems does the best security company provide?
The best security company provides a diverse range of security systems, including CCTV security surveillance systems and advanced alarm systems. These systems are designed to provide comprehensive security coverage to protect properties and individuals.
What role do commercial security consultants play in a security company?
Commercial security consultants play a pivotal role in a security company. They provide expert advice on the most suitable security systems and measures for commercial properties, ensuring optimal protection and security.
Why should one consider high-quality security services?
High-quality security services offer robust protection for both properties and individuals. These services are comprehensive, reliable, and delivered by a professional team with years of industry experience.
What is the significance of the provision of security in Singapore?
The provision of security in Singapore is paramount to maintaining a safe and secure environment for businesses and individuals. It involves implementing effective security systems, providing quality security services, and working closely with regulatory bodies like the Police Licensing & Regulatory Department (PLRD).
Additional Useful Articles
If you are looking for other useful guides and articles about Security Companies in Singapore, check them out below: