Serangoon Gardens Food Singapore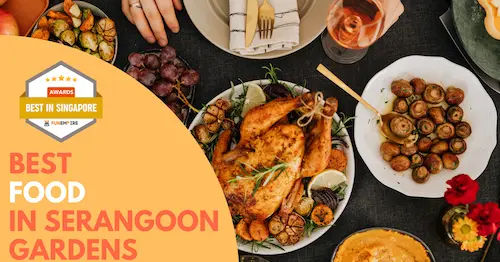 Welcome to Serangoon Gardens, a gastronomic paradise nestled in the heart of Singapore.
The best food options in Serangoon Gardens Singapore include Apollo Coffee Bar, Sun Ray Cafe, The Larder Cafe, Baker & Cook, and Amber Ember.
When selecting a dining establishment in Serangoon Gardens, Singapore, take into account factors like pricing, type of cuisine, and ambiance.
Some of the popular food options in Serangoon Gardens, Singapore include Hainanese chicken rice, chili crab, prawn noodles, Italian pastas, and American burgers.
So whether you're looking for a quick bite or a leisurely meal, this guide will help you find the perfect place to eat in Serangoon Gardens.
Best Serangoon Gardens Food Singapore
1. Apollo Coffee Bar
Is this cafe your style? It's located in the heart of Serangoon Gardens' area, where you may enjoy a cup of coffee. Apart from great coffee, they also serve hearty meals for people with big appetites.
Don't hesitate to sample their delectable sweets after your meal! This is one of the Instagram-worthy cafes in Serangoon Gardens.
Key Differentiators
Bright, laid-back destination
Offering brunch & an international menu
Plus a take-out option
Customer Testimonial
Absolutely a shocker this place only has 4.2 stars. I was there on a weekday night with 4 others, and we were all impressed. The food is amazing, can't say much about the service but then again this is a cafe, not a restaurant establishment. Every fish was good, with interesting mish mash of ingredients and a unique flavour to it. Can't miss the tater tots. Worth every buck! I reckon it's crowded on weekends but if you can come off-peak hours, it would probably make a really cute date.

Olivia low
2. Sun Ray Cafe
Singaporeans appear to be big coffee drinkers, as this cafe serves hand-crafted coffee. You read that correctly; they don't use machines to make their coffee, which makes it even more delicious. They also bake their own bread with spreads that are produced in-house, as well as make their own bacon jam! One of them is bacon jam, and if you're daring enough, you should try it!
Key Differentiators
Pet-friendly cafeteria
Serving artisanal bread & hand-brewed coffee
Homestyle setting
Customer Testimonial
First time trying this pet-friendly cafe. The place was clean, air-conditioning was just nice.

Friendly staff with a tech-savvy ordering method. You can literally order and pay for your food within minutes. It was a fuss-free and convenient way.

Food quality is good, the bread was freshly baked and just the right texture. Prices are definitely affordable for a cafe setting. Aromatic coffee for the late brunch.

Terry Seetoh
3. The Larder Cafe
The Larder Cafe serves a wide range of foods and beverages to satisfy your hunger! starters like truffle fries, steak dishes, sandwiches, and wraps are just a few of the items on their menu.
Would you want to hear more about it? This charming café gives a delightful dining experience with your loved ones!
Key Differentiators
Friendly and relaxing place
Serving quality foods and drinks
Has a branch in Toa Payoh Central too
Customer Testimonial
Located In the heart of serangoon garden, above guardian pharmacy. Have a good catchup with girlfriends, good ambience and looking down at the whole of serangoon garden. We ordered fish and chips, sweet potatoes fries. Mama burger…

All digitalized scanning the qr code to get the menu and start ordering, payment once orders submit in. Very convenient and people sitting same table can just scan individually and pay separately. Easy easy.

Nice food.

Will be back again.

Jenifer Tan
4. Baker & Cook
This cafe offers all-day breakfasts, pastries, and desserts. This cafe is all about European baked products, so if you've been looking for a great place to get some delectable pastries, here's the place! It's the perfect location to relax with some delicious baked products!
Key Differentiators
Hand-selected locations
Stunningly designed bakeries
Casual and cosy neighbourhood
Customer Testimonial
Tucked in a nice quiet spot in Serangoon Village, this shop is a great place to catch up with friends on an early weekend morning. It has both indoor and outdoor seating and can cater to large groups! (Cos I sat in a fairly long table)

Ordered eggs Benedict and a smoked salmon avocado toast. Both dishes were great starters for the day! I also included the Xmas designs I took previously. Found them pretty cute

Leon T
5. Amber Ember
Amber Ember is located on Upper Serangoon Road, close to the old Upper Serangoon Shopping Centre.
Here, they serve a range of brunch-style foods such as jaffles (a toastie variant with no relation to a waffle), scrambled eggs on toast, and coffee, but with a unique twist that sets them apart from your typical cafe choices.
Key Differentiators
Breakfast all-day
Brunch Restaurant
Passionate service
Customer Testimonial
A cafe with a relaxed atmosphere, clean and spacious environment, good staff attitude and wonderful food for brunch or lunch, definitely a must-visit Café in Serangoon. Delicious jaffle "nice to meat you" , totally fell in love with the first bite, and the avocado sour dough is also a must try signature dishes, will definitely visit again.

JAO JAO
6. Babba
Babba is a contemporary Peranakan cafe and restaurant located in Serangoon's Jalan Riang that serves both lunchtime and evening meals.
Key Differentiators
Transformative Peranakan Cafe & Restaurant
Day: Little Babba serves up brunch items with peranakan influence
Night: Big Babba dishes out authentic traditional peranakan fare
Customer Testimonial
Had a fantastic time there. Their food was absolutely delicious. Especially loved their eggs, chilli crab fries and salmon salad!

Their service was also commendable. Had a chat with one of the chefs there and you could tell he was passionate about the food he serves. Would definitely recommend.

Bryan Koh
7. Chu and Co
In the heart of Singapore's Serangoon Gardens, Chu and Co is a pet-friendly bakery cafe serving freshly baked bread, pastries, coffee, and gelato. Enjoy your time with your friends and pets in the backyard.
Key Differentiators
Customer Testimonial
Had a hot Masala Chai (pretty yumz) and both Herbed Tuna Melt and Mushroom Melt as well as bought home a baguette! Very cheesy melts (love it) and had my hands on heating up the baguette with butter and egg on it (super crispy). And mum had curry with it 🙂

Would love to try their gelatos and some pastries some other days (too much options to choose from and not sure where to start) – worth to try!

Joanna Yeong
8. Kooks Creamery
Who cares about trends when it comes to delicious ice cream? And few businesses do this hot-and-cold treat as well as Kooks Creamery. A popular spot for sugar junkies, this minimalistic cafe was founded by two sisters. There's something special about hot gooey matcha chocolate and cold velvety ice cream to us.
Key Differentiators
Baked Lava Cookies & Ice Cream
Handmade
Drool-worthy Kookie Bites
Customer Testimonial
Small but comfortable place for ice cream! Personally loves cookies fudge so I enjoyed in very much. I recommend chocolate cookies and lemon curd tart ice cream. Limited parking lot as most of them are for season parking.

Joey Chan
9. Oblong
Ditch the ordinary waffles and liven things up with some red velvet waffles at Oblong, a dessert cafe in Serangoon Gardens that has excellent ice cream. Their waffles are available in a variety of tastes including tiramisu, charcoal, and pandan gula melaka.
Key Differentiators
Extraordinary waffles
Excellent ice cream
Variety of tastes
Customer Testimonial
One of the best waffles! Red velvet waffles with ice cream – Shiok! Tried Spooky Dark Chocolate n it was nice, not too sweet. But Salted Caramel with Pistachios was normal, won't recommend though. Waffles will take quite some time.

Leoz G
10. The Better Scoop
The Better Scoop, a shop that sells ice cream, has relocated to 264 Serangoon Central and is now known as Just Because Creamery before. The Better Scoop's new shop in Serangoon Central, compared to its old outlet at 8 Jalan Legundi in Sembawang, will provide a wider range of ice cream.
Key Differentiators
Handcrafted ice cream
Made with real ingredient
Ice cream shop
Customer Testimonial
We got the regular waffle with osmanthus oolong and honey chamomile + butterfly pea ice cream. The waffle is crispy and tasty, and we loved the ice cream. The ice cream flavours really shine and it was like drinking chamomile / osmanthus oolong tea – definitely one of the better ones around.

Viv Lee
11. Hai Wen Yuan BBQ
This stand is easy to locate: simply walk into the food centre and one of the first businesses you'll encounter will be it. If the lengthy line during dinner is anything to go by, Hai Wen Yuan BBQ may be Chomp Chomp's most beloved barbecue restaurant.
Customers adore the BBQ stingray which comes with a distinctive red sauce. The delicate, flaky fish is coated in an addictive sambal sauce and served on a banana leaf with red onion slices.
Key Differentiators
Stingray bbq
Crowd Favorite
Over 30 years of service
Customer Testimonial
Undisputely the BEST BBQ seafood stall in Singapore! (been around for over 30 years)

Chih Fei Lee
12. Swee Heng Wanton Noodle
The Wanton Noodle House, which has been serving excellent wanton mee for decades.
The firm noodles have a bite and are paired with chunks of charred, salty-sweet char siew meat and some green veggies on the side. A little bowl of soup will also be given to you with wantons.
Instead of using beef, you might also try spinach noodles as a healthier alternative. Other items on the modest menu include dumpling soup and chicken feet noodles, among other things.
Key Differentiators
Been in service for decades
Excellent wanton mee
Crowd favorite
Customer Testimonial
Best wanton mee since old school days in chomp chomp (ang sa lee aka Serangoon garden. The spinach mee and wanton is superb. I opt for all wantons without char siew. Digital payment available too.

Anthony Tan (Ant)
13. Ang Sa Lee Oyster Omelette
The name of this restaurant is most associated with its namesake oyster omelette, and it's a favorite among both regular customers and first-timers.
The texture of the oyster omelette is somewhat mushy, and not as crisp as other restaurants' versions. The chilli sauce is on the sour side and adds a welcome tang to the oily and salty flavors.
Key Differentiators
Famous oyster omelette
Local and tourist favorite
Flavorful dishes
Customer Testimonial
Wonderful food. And aunty has super memory to remember every single customer and their order. Customers are not provided with receipts or any numbers and aunty can remember everything salute to her.

Hannif Khoo
14. Chong Pang Huat
If you enjoy BBQ chicken wings, this is the stall to visit. It's not complete without a stop by this vendor.
Locally grown and processed with a special fermentation process, their BBQ is silky soft and flavorful. Their flesh is succulent, moist, and meaty, yet it maintains its moisture during cooking. To balance out the rich tastes, drizzle some lime juice and chilli sauce on top.
Key Differentiators
Bbq Chicken wings
Must visit
Flavorful bbq dishes
Customer Testimonial
The best BBQ chicken wing for me.

Yap Awai
15. Ah Hock Fried Hokkien Mee
This restaurant serves up a delicious plate of Hokkien mee. It's been given a Michelin Plate accolade, and it appears to be a crowd favorite as well, judging by the long line. If you prefer your Hokkien mee on the drier side, this is the way to go. Remember to top it with a spoonful of sambal chilli sauce for an extra kick.
A large bowl of noodles, prawns, squid, egg and fresh bean sprouts cooked in a delicious prawn stock will set you back for around $3.
Key Differentiators
Delicious Hokkien Mee
Michelin Plate Awardee
Crowd Favorite
Customer Testimonial
Long wait so get other things while here. Won't travel well so has to be eaten there. Hawker food so good price for the portions.

Tasty, good texture, mix of noodle types with thin bee hoon, and overall salty savoury satisfaction.

Would come again but line is always long.

Leon Lin
16. Big Big Fries
Big Big Fries is one of the food centre's most unusual enterprises, which is run by two young vendors and specializes in photogenic fried potatoes. But these are not the frozen spuds you'll find in the supermarket's freezer section.
Rather, Big Big Fries serves handmade, freshly baked fries that are 20cm long and are dressed with a rainbow of lip-smacking sauces, including mentaiko mayo, seaweed mayo, barbecue and nacho cheese. Expect to pay approximately $7 for this dish.
Key Differentiators
Singapore's first HANDMADE LONG FRIES
Instagrammable Dishes
Handmade and Fresh
17. Chia Keng Hokkien Mee
This is a more saucy version, with the trick being in the stock that lends this sweetness to the dish. It's best eaten hot while still wok-hei. The chilli sauce was excellent, as well.
Each portion has enough prawns, a delicate pork belly, and crispy pork lard to satisfy even the biggest hunger. The portions are priced at $4, $5, and $8 with plenty of prawns, delicate pork belly, and crispy pork lard.
Key Differentiators
Generous portions
Saucy version of the dish
Excellent chilli sauce
Customer Testimonial
There's only 2 types of Hokkien Mee to satisfy one's craving at Chomp Chomp, wet or dryer version. Both stalls are good.

Personally I prefer Chia Keng coz it's the original unhealthy style with pork lard and pungent belacan (see photo) – Whilst Ah Hock version is less saucy & healthier. BTW both have their own fans & long queue during peak hour.

Photo featuring both specialist, uncle Chia pose for me & uncle Hock whipping up the flavor!

Se Leonard
18. Ang Mo Kio 409 Fried Carrot Cake
This food stall is known for its Fried Oyster and Carrot Cake.
While a number of internet reviews rave about its Orh Luak, there is another standout dish which was Chye Tow Kueh.
If you're searching for a hearty, sweet treat to satisfy your sweet tooth, try Carrot Cake. The white and black varieties are available; order them and get a yuan-yang plate of half white and half black.
The white version had a bit of crispy texture to it, but its soft and smooth radish cake made it quite pleasurable. The black variation was also good, although I would have liked the sweet black sauce to have more distinct tastes.
Key Differentiators
Famous carrot cake
Known for Fried Oyster dish
Crowd favorite
19. Ah Mai Satay Bee Hoon, Hainan Beef Noodles
The only Chomp Chomp Food Centre stall that offers both classic Hainanese Beef Noodles and Satay Bee Hoon.
Plus, they offer a variety of other dishes, such as the Crispy Mushroom Platter, Fried Pumpkin, Fried Chives Roll, Crispy Chicken and Fried Wanton.
The Satay Bee Hoon was served with gravy, which had an intriguing tang to it. The peanuts were crunchy and fragrant, as they should be.
Key Differentiators
One of the food stalls that uniquely serves both Hainanese Beef Noodles and Satay Bee Hoon.
Great dishes
Crowd favorite
20. Ayman Alam Desserts (Traditional Cheng Tng)
This is one of the few dessert stalls in the Chomp Chomp food centre.
The following are two characteristics of this stall: it serves just Cheng Tng and is Muslim-owned.
The dessert was refreshing, and it was the ideal way to beat the heat at this food center. Noteworthy, too, is that the bowl was brimming with ingredients, including candied winter melon and soft sweet potatoes. Fortunately, it wasn't overly sweet.
Key Differentiators
One of the dessert stalls in the food centre
Muslim-owned
Refreshing Dessert
21. Maison Kayser
Maison Kayser, founded by Eric Kayser in 1996, is an authentic artisanal French Bakery, which means that artisan bakers from Maison Kayser start baking in-house early in the morning in Paris, Singapore, and other 24 countries around the world, using natural leaven and a long fermentation process to produce the best quality day after day. Eric Kayser has reinvented the bakery concept by developing unique settings and new gourmet codes while remaining true to tradition. Their use of natural ingredients makes them one of the best Serangoon Gardens bakery in Singapore.
Key Differentiators:
Use of natural leaven
Long fermentation process
Unique settings and gourmet codes
Customer Testimonial:
The almond croissants and lemon tarts are amazing!!!! So flavourful

Nilesh Jayasiriwardena
22. Chu & Co
They want people to come chill, relax, sit on the stairs, and hang out in their 'yard.' When it comes down to it, it's all about creating a community with the people via the things they do. CH bakes Sourdough breads, Viennosaries, Sammies, Churn Gelato, and Brew Coffee. It's an experimental area where people may express themselves creatively and continue to redefine their own notion of food. They employ specialist flours and experiment with different grains to provide you a variety of flavors, and they continually alter their offers so that no one gets bored. Their creative cooking methods make them one of the top Serangoon Gardens bakery in Singapore.
Key Differentiators:
Experimental area for creativity
Different grains for variety of flavors
Constantly altering menu
Customer Testimonial:
Their breads always the best! But take note that no dine in anymore, they only do takeaway now

Chai wee chen
23. Baker & Cook
Baker & Cook, which first opened its doors in 2012, is Singapore's first authentic artisan bakery & foodstore. Their bakery items are handcrafted and created using time-honored methods and honest ingredients. Dean Brettschneider, a recognized Global Baker, created and is the proud owner of Baker & Cook. With their 'passion is their major ingredient' mentality, they strive to create a contemporary eating and shopping experience while enriching as many people's lives as possible. They also aim to prioritize their team members and consumers. Their homemade recipes make them one of the finest Serangoon Gardens bakery in Singapore.
Key Differentiators:
Handcrafted bakery items
Time-honored methods and honest ingredients
Passionate mentality
Enriching experience
Customer Testimonial:
Well this is a lovely place in a the neighborhood for some nice artisan coffee n freshly baked loafs. Always good to spend some time just winding the evening away

Helen Ng
24. Châteraisé
The enormously renowned Japanese pastry "Chateraise" has made its way to Singapore, launching its first store in Isetan Jurong East on April 1, 2015. Through agricultural partnership with Japanese farmers, they are focusing on employing the greatest and healthiest ingredients in their sweets. They bring the goodies directly from Japan to you, their Singapore admirers. Their focus on using healthy ingredients makes them one of the best Serangoon Gardens bakery in Singapore.
Key Differentiators:
Use of great and healthy ingredients
Pastries delivered directly from Japan
Customer Testimonial:
Strawberry cake was good, and male cashier was polite. He also double checked my order before packing it.

Annie Ho
25. Serangoon Garden Bakery
Serangoon Garden Bakery & Confectionery is a Singapore institution that has been serving Singapore-style old-school bread, often known as bun, for decades. Serangoon Garden Bakery & Confectionery's daily fresh bakes are a real tribute to the standards of old-school local-style breads. Serangoon Garden Bakery & Confectionery features a large assortment of traditional buns. Pillowy soft with a brown surface and a white inside, it breaks apart effortlessly and has a particular aroma that people have become accustomed to. Their classic Singaporean bread makes them one of the finest Serangoon Gardens bakery in Singapore.
Key Differentiators:
Old-school Singaporean bread
Daily fresh bakes
Large assortment of traditional buns
Customer Testimonial:
ove their butter cake the most. It's super soft and fluffy!! Their banana cake is good too Bread is nice and soft. Recommended to give it a try for anyone who is passing by!

Vivian Ngm
26. The Rebel Company Cafe & Bar
Beers and wines at low and moderate costs for gatherings of friends and family. A selection of sharing platters, appetizers, and pizzas to go with the beers and wines for a low-cost get-together. Everything from Angus steak to pork ribs to grilled fish and duck confit is available. That isn't everything. In addition to the standard western menu, there also satay, prawn paste fried chicken, and Buddha bowls. This is why they are one of the best Serangoon Gardens bar in Singapore.
Key Differentiators:
Low to moderate prices for drinks and food
Extensive menu with both western and eastern dishes
Quiet and cosy ambience
Customer Testimonial:
"Sharing platters are fantastic. Their oxfordlanding merlot is amazingly smooth and goes well with their meats. Their staff are friendly and attentive to your needs. Have been my regular cafe so far!"

Frank Png
27. Happy Daze Bistro Cafe
They are a neighborhood café and pub. They provide a wide range of alcoholic and non-alcoholic beverages. This heartland pub is ideal for a relaxing Friday night, serving popular beers such as Asahi, Heineken, and Guinness as well as a selection of wines. Another one for animal lovers: in addition to your favorite Asian and Western foods, this pet-friendly café delivers nutritious doggy meals so you can share your dinner with your pups. Come on down and sample their Western and local fare. This is why they are regarded as one of Singapore's finest Serangoon Gardens bar.
Key Differentiators:
Friendly and casual environment
Variety of alcoholic and non-alcoholic beverages
Food menu with both Western and local dishes
Pet-friendly
Customer Testimonial:
"Best bar in the area, in my opinion. Great beer selection and bar food. They show all of the big sporting events. Staff are friendly and efficient. Oh, and you can buy a basket of fish fingers!"

Ben Turner
28. The Straits Wine Company
The Straits Wine Company was founded in 2006 with a single goal in mind: to share the art of wine with discriminating consumers across Asia. They are now a major wine importer, retailer, and distributor with operations in Singapore and Malaysia. The Straits Wine Company is a global champion for quality and artisanal wine producers, with an emphasis on sourcing well-crafted wines made by enthusiastic and forward-thinking winemakers. The Straits Wine Company has developed over the years to become a valued partner and collaborator of Michelin-starred restaurants, cutting-edge hospitality organizations, and luxury hotels. This is why they are regarded being one of Singapore's finest Serangoon Gardens bar.
Key Differentiators:
Quality and artisanal wine
Global champion for quality wine
Michelin-star collaborations
Customer Testimonial:
"Friendly staff with good selection of wines."

Tan Joseph
29. Plonk
Plonk, which opened in January 2013, is a modern and welcoming neighborhood restaurant and bar in the heart of Singapore's lovely Serangoon Gardens. It's the go-to local for friends and family from "the 'Goon Gardens" and beyond, inspired by fresh vegetables, excellent food, and laid-back Australian attitudes. They provide an eclectic selection of organic and natural wines, foreign beers and spirits, Paradise Coffee Roasters' locally roasted Brazilian and Ethiopian coffee, and high quality teas from the Gryphon Tea Company. This is why they are recognized as being one of the Singapore's outstanding Serangoon Gardens bar.
Key Differentiators:
Modern and welcoming restaurant
Australian-inspired attitudes
Eclectic selection of organic and natural wines
Customer Testimonial:
"Foods are incredibly nice! Definitely exceed our expectations!"

Charles Lai
30. Thirsty Craft Beer
They enjoy craft beer and have a good time. Thirsty was created by combining the two. They've been working since 2012 to make craft beer more accessible to everyone. They deliver the world of craft beer to your doorstep with a touch of fun, on a mission to convey joy via artisan brews. They feel that beer brings people together, and there has never been a better moment to be a beer fan, with the plethora of flavors and options that craft beer provides. That's why they're acknowledged as among the premier Serangoon Gardens bar in Singapore.
Key Differentiators:
Accessible craft beer
World of craft beer delivered to your doorstep
Conveys joy via artisan brews
Customer Testimonial:
"The service was great and the staff were very knowledgeable about the different types of beers. I would definitely recommend this place to anyone who is looking to try something new."

John Lee
Serangoon Gardens Food Singapore
And that completes our Serangoon Gardens Food Guide!
We hope you found your favorite cafe or bakery, and maybe even discovered a new hawker stall to try. If you're ever in the area and looking for a good meal, be sure to reference this guide. And if you have any suggestions of your own, feel free to leave them in the comments!
Thanks for reading.
Looking for more interesting articles to read? Check out more of our blog posts down below:
Frequently Asked Questions (FAQ)
If you have any questions about food options in Serangoon Gardens Singapore, you can refer to the frequently asked questions (FAQ) about the best food options in Serangoon Gardens Singapore below:
Additional Useful Articles
If you are looking for other useful guides and articles about food options in Serangoon Gardens Singapore, check them out below: