Serviced Apartments Singapore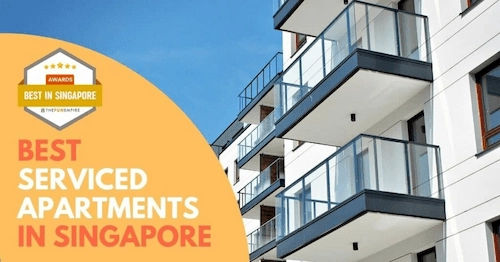 Whether you're planning a weekend getaway or a longer-term stay, serviced apartments in Singapore offer a seamless blend of comfort, convenience, and luxury.
The best serviced apartments in Singapore include Aurealis Serviced Residence, Great World Serviced Apartments, Heritage Collection, Le Grove, and Far East Hospitality.
When selecting a serviced apartment in Singapore, take into account elements such as its location, available amenities, and provided services.
Serviced apartments provide greater space and privacy in comparison to conventional hotels, making them a perfect choice for families or extended stays.
This curated list of the best serviced apartments in Singapore will guide you in finding the perfect home away from home for your next staycation.
Key Consideration Factors
Facilities: Ensure that your ideal Serviced Apartment is equipped with all the amenities necessary for an enjoyable staycation, including a lounge area, BBQ pits and swimming pools.
Amenities: Carefully inspect the plethora of features that are provided by the Serviced Apartment, such as air-conditioning, Wi-Fi access, and parking space.
Location: When selecting a destination, make sure to stay close to the action! Pick a spot which is convenient and near several popular attractions and restaurants – you don't want to miss out on all of the fun that's waiting for you!
Purpose: Serviced Apartments may serve a range of functions, from wedding ceremonies to business gatherings. Consider the ambience you want to create and choose the Serviced Apartment appropriately.
Size: Serviced Apartments come in a variety of sizes and styles. You will need to choose a Serviced Apartment that can fulfill your demands based on the number of visitors you anticipate.
Best Serviced Apartments Singapore
1) Aurealis Serviced Residence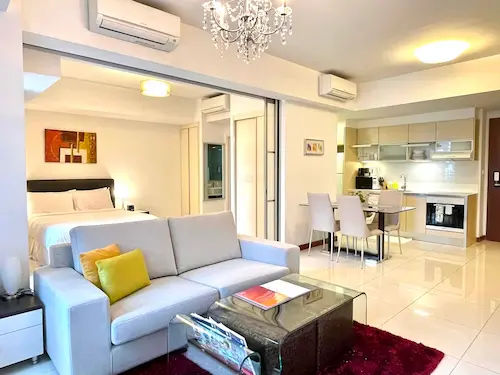 Aurealis Serviced Residence is a beautiful 5-star residence fronting the Marina Bayul 5-star residence centrally located in Marina Bay financial district. Please view their residence video and read their Google Reviews. Click to see their location.
They are
Centrally located in Marina Bay and Raffles Place, right next to Marina Bay Financial Centre, One Raffles Quay and Asia Square.
Front the breathtaking Marina Bay, and just a 5 minutes' walk to 24-hour local food court Lau Pa Sat, Marina Bay Sands Resort, Esplanade and Gardens by the Bay, major banks and museums.
Large shopping mall at basement with supermarket, restaurants, bakeries, pharmacy, hair salons, salad bars, fruit juice stations.
Integrated with 2 MRT train stations – Downtown MRT and Raffles Place MRT stations, connected from our Residence via air-conditioned basement.
Each Suite:
has a work table and HP laser printer
has unlimited wireless Internet access, local calls and a wide range of TV entertainment, including Netflix
has well-defined living room, bedrooms, dining room and a fully equipped kitchen with crockery and cutlery, a full-sized fridge and a washer cum dryer
is beautifully furnished with high quality furniture, including plush Sealy pillow- top beds, silky Egyptian-cotton bedlinen and thick towels
Their Facilities (free to use):
Fully-equipped Gym overlooking the Marina Bay
2 large 25-metre long swimming pools
Hot water jacuzzi
2 tennis courts
BBQ pits and many more!
Key Differentiators
Located at beautiful Marina Bay downtown area, next to Marina Bay Financial Centre
Modern apartments with ensuite HP laser printer, washer-cum-dryer, fully-equipped kitchen and an amazing range of facilities
Excellent guest services and high housekeeping standard
Client Testimonial
Great apartment! Every time after the cleaning, the apartment looks like new. Great amenities (swimming pool is just one love). Excellent location, less than 10 mins' walk to the Marina Bay Sands. Excellent communication with Aurealis staff. I forgot the entrance card a couple of times in the evening. Isabelle was very quick to respond and helped me out. Highly recommend!

Roman Blagoveščenskij
More Google Reviews for Aurealis Serviced Residence
2) Great World Serviced Apartments
Located just 10 minutes away from the Central Business District and Orchard Road shopping belt, Great World Serviced Apartments offers 304 fully furnished apartments with a wide range of accommodation options for singles, couples and families with kids and pets. Situated along Zion Road, right next door to Great World shopping mall and office tower, everything you need is just a stone's throw away.
Choose from a variety of spacious 1 to 4 bedroom apartments or settle down in one of our penthouses, where the city skyline beckons. Suitable for flexible stays from a week to a year, each well-appointed apartment is furnished and equipped with essential amenities and a fully functional kitchen, providing ease of integration with the comforts of home. To support an active lifestyle, our extensive range of facilities include a near Olympic-size Outdoor Swimming Pool, Jacuzzi, Steam Room as well as a fully equipped Gym, Tennis and Basketball Court.
Key Differentiators
Largest serviced apartment in Singapore offering a comprehensive range of apartment types.
First local serviced apartment to receive BCA Green Mark award.
Winner of Singapore's Leading Serviced Apartments in World Travel Awards 2020.
Client Testimonial
Home away from home for 5 months – super welcoming staff and convenient location, great pool.

"I stayed at GWSA for ~5 months when I relocated from Aus to SG for work. Despite it being COVID and a strange time to relocate, the staff made me feel home away from home. They were super helpful with any request I had, and the service was brilliant, one time my A/C had broken and it was fixed within an hour. The pool is fantastic (nearly 50m!), and there are tennis and basketball courts also.

Unfortunately the gym was shut for some of my time there due to COVID but was a good facility when I did go. The location is perfect. Above Great World shopping centre, easy for groceries, and right near Zion Hawker for good food. You are basically on the river which is perfect for walks. Don't be put off by the lack of MRT nearby, there is a daily shuttle to the CBD which takes ~10 mins, and you can walk back along the river. Thanks to all the team at Great World for a wonderful stay."

Caitlin W
3) Heritage Collection
Heritage Collection Singapore is a homegrown boutique hotel chain and serviced apartments provider. Their exclusively curated properties and personalized services make them your accommodation of choice. They offer a modern and cosy space, stocked with all the essentials needed for your stay. Their apartments are also located in Singapore's Central Business District, allowing you to visit the attractions easily.
Key Differentiators
Their apartments are fully furnished and conveniently located in the Central Business District
Corporate bookings available
Flexible lease terms (min 3 months)
Client Testimonial
"Excellent service; cleanliness, comfort, staff and location accessibility are excellent. Shoutout to accomodating and friendly staffs Jarwin and Arynna."

Aline
4) Le Grove
Le Grove Residences, one of Singapore's premier serviced apartments, has been revamped from the bottom up to the tune of more than $30 million, elevating both exteriors and interiors to greater levels of refinement and comfort.
Nestled within a tranquil residential area, Le Grove Serviced Residences is just a short walk away from the famous Orchard Road shopping belt, Singapore's iconic shopping and entertainment district.
Key Differentiators
Perfect location within walking distance of Orchard Road, with many shopping malls nearby
Refinement and comfort
Premier serviced apartment
Client Testimonial
"Comfort, clean, all facilities and very close to the heart of Singapore. You will not go wrong by choosing to stay at Le Grove. Everything is provided in the serviced apartments for your stay."

Muhammad Azeem
5) Far East Hospitality
Because It has serviced residences of different apartment types in several locations, it should be simple for you to discover the one that is nearest to your job or the city's core. Each area has its own set of advantages. They prioritize the needs of their guests and offer well-planned specials that are tailored to your interests during your stay.
Each apartment has all of the essentials, as well as all of the contemporary appliances and technology required for a convenient living environment. Their facilities include a swimming pool, wine cellar, gymnasium, and other activities.
Some of their serviced apartments in Singapore include: Far East Plaza Residences (above Far East Plaza Shopping Centre), Orchard Scotts Residences, Orchard Parksuites, Village Residence Robertson Quay and more.
Overall, if you're searching for serviced apartments in Singapore that offer accommodations across the island, Far East Hospitality may be one of the top choices.
Key Differentiators
Comfortable serviced apartments in several locations
Facilities available
Special discounts are available
Client Testimonial
"I stayed here for two months after relocating to Singapore with all my family members. Nice facility and good service from employee. Breakfast place is a bit small but it depends on how deligent you are in the morning. Swimming pool is …"

Sangmin Ryan Lee (reviewing Orchard Scotts Residences)
6) Wilby Residence
Wilby Residence's laid-back atmosphere will appeal to those who just want a simple yet pleasant environment. For nature lovers, the outside appearance offers lovely greenery for a pleasant experience. In addition, there are several dining choices, grocery stores, and entertainment options near the home. You may also take advantage of the shuttle service to tour around Holland. Furthermore, the shuttle service will be able to take you around the city on special occasions.
The apartments may only accommodate up to six people. They also have their own set of amenities and services. For us, the best serviced apartments in Singapore are those that are accessible while still being near to great recreational areas.
Key Differentiator
Shuttle service
Facilities such as tennis courts
Several amenities nearby
Client Testimonial
"I teach at a university on Clementi Road and stay at Wilby Residences Bukit Timah in part because the bus rides to and from school are quick and easy. But this serviced apartment distinguishes itself for the spacious rooms and helpful staff. After three years away, when I returned this fall, they remembered me and gave me the apartment that I had previously. I can't ask for more and I highly recommend Wilby."

Paul McAfee
7) MetroResidences
With Metro Residences, you can quickly locate the most suitable Singapore service apartment that will meet your high standards and lifestyle. It provides a comprehensive list of service apartments in Singapore with verified competitive services and fantastic price offers. Their apartments may accommodate up to 6 people, or if you want some alone time, they provide a specific category for that.
Despite their high rents, they are quite affordable. They have a distinctive contemporary minimalist style in their homes, which some people use as an apartment holiday in Singapore.
Key Differentiators
Competitive services such as housekeeping services
Conveniently located
Minimalist style homes
Client Testimonial
"I stayed at Metro Newton for 3 months, they were super helpful and responsive, from handling reservations to any enquiries I had during my stay. The apartment was clean, new & the location was very convenient. You can opt in for their weekly housekeeping which made the stay very comfortable. If you're looking for accommodation during your stay in Singapore, I highly recommend Metro Residences! Thank you team for making my stay so pleasant!"

Sophia Choi
8) Frasers Hospitality
For many years, Fraser's Hospitality has catered to both local and international guests all around the world. Each generation has shattered previous boundaries, demonstrating that they deliver high-quality and flawless services. They provide a variety of services suited for corporations, couples, young kids, and friends. It may also be used as a service apartment for Singapore staycation.
Some of their service apartments include Fraser Suites Singapore, Fraser Residence Orchard Singapore, Capri by Fraser, and more.
Key Differentiators
Variety of services
Multiple serviced apartments across Singapore
High quality services and excellent customer service
Client Testimonial
"Cozy Serviced Apartment for people who want a nice quiet place to stay.

Not too many units so there isn't a crowd competing for space at the pool, BBQ, terraces, & other places to relax.

Comfortable overall.

Located in the heart of the city."

A 3 (reviewing Fraser Residence Orchard)
9) Figment
Take a look at Figment if you're searching for a service apartment in Singapore that gives you the sense of being part of a community and neighborhood. If you're searching for high-quality serviced apartments in Singapore, there's no doubt about it: Figment is the way to go.
Aside from the stunning locations, there's also the lease to consider. You won't have to worry about signing a contract that is too long, too short, or too pricey when you use Figment. This is because all of Figment's clients are entitled to flexible leases.
Key Differentiator
Wide range of properties
Flexible leases available
Several locations across Singapore
Client Testimonial
"A home away from home for this weary traveller. The team were incredibly accommodating and the room and house was exactly what I needed travelling to Singapore for work. If I'm ever in Singapore for more than a few weeks I would definitely stay at a Figment place again!"

Yew Eng Ng
10) Serviced Apartments Association
The Serviced Apartments Association (SAA) was established in February 2000 as a private sector representative organisation in Singapore. SAA's membership is open to companies that own, develop or manage serviced apartments in Singapore. Members of the SAA are required to meet the operating standards defined by the association and the Urban Redevelopment Authority, Singapore's land use planning and conservation authority.
There are currently 13 corporate members represented in the SAA. Collectively, they offer a wide range of serviced apartments across Singapore. These apartments are of varying sizes; provide convenient access to different parts of Singapore; offer quality service and are extensively furnished to make visitors feel at home.
Key Differentiators
Directory of Serviced Apartments in Singapore
13 corporate members that offer a wide range of serviced apartments
Client Testimonial
"Lovely staycay and the staff is so friendly! Great location as well as there are many food choices around."
11) Ascott The Residence
Being in expat-friendly locations like Orchard, Mount Sophia, and Liang Court. Being at the center of Singapore's excitement is a part of the Ascott Lifestyle — to broaden your perspective and explore Singapore's culture and cuisine further whether you're staying in Singapore on a short- or long-term assignment.
Key Differentiators
Located in the most fashionable shopping destination in Singapore
Easy access to the Central Business District, world-class shopping malls and premium medical facilities in Singapore
220 suites comprising studios to two-bedroom units and penthouses
Client Testimonial
"Staycation within the city. Quiet and clean place to relax for a day or two away from work."
12) Oasia Residence Singapore
The new Oasia Residence serviced apartments seek to be your home away from home, and every detail is given careful consideration. Take, for example, the Sunrise scent that greets you in the lounge, as well as their aqua gym for a revitalizing workout without any negative effect on your body.
Key Differentiators
Refundable offers can be changed or cancelled with no charge up to 24 hours before arrival day.
Book direct for the lowest price online.
All our hotels in Singapore have been certified with SG Clean.
Client Testimonial
"Safe a clean place, room is comfortable."
13) Treetops Executive Residences
How would you enjoy this Garden City environment other than in eco-luxury accommodation? Over 200 plant species have been planted on 60% of the property, all of which may be appreciated from the comfort of your own home. Each apartment is also equipped with an air filtering system to purify the air and promote healthy living.
Key Differentiators
Eco-luxurious environment for a refreshing resort style home away from home experience
An oasis of residential privacy set in five acres of lovingly tendered grounds
Adoption of a Green Philosophy that inculcates healthy living practices and adopting state-of-the-art facilities
Client Testimonial
"One of the best accommodations in town if you plan to stay for more than 6 days. Their apartments are fully equipped with required amenities and daily housekeeping is also available. Kitchenette has all that you need to cook your own food. Just order from the grocery shop and pick it up from reception. Breakfast has good varieties too. All in all, highly recommended."
14) Oakwood Premier AMTD
Oakwood Premiere AMTD Singapore is located in the city center, and it offers fully fitted studio and one-and-two-bedroom serviced apartments. These apartments are ideal for larger families and are designed for luxury living. Each unit has a kitchenette, high-definition flat panel TV with multi-channel cable, and free laundry access. The private spa features a gorgeous infinity swimming pool and grand bath, as well as an aromatherapy shower. Other facilities include an outdoor infinity pool, fitness center, and technician services. Housekeeping, as well as outside cleaning are also available.
Key Differentiators
Award-winning luxury hotel and serviced apartment
Distinctly modern, the property features 268 beautifully appointed apartments dressed in a luxe contemporary style
24-hour fitness center, outdoor infinity pool, and Residents' lounge
Client Testimonial
"Highly recommended for short and even long term stays, excellent location, top service, quality food and options for all tastes, great facilities and everybody even with the mask happy to serve and help you, the key for us is Pet Friendly Especially thanks to Fiona and Roy, we are still overwhelmed for the amazing stay at Oakwood."
15) 8 On Claymore Singapore – Managed By Accor
Executive studios, two to three-bedroom apartments, and even a penthouse are available at this serviced residence in Orchard Road's business district. More than just creature comforts: 24-hour security, internet access, a gym with a sky pool, morning wake-up calls, and daily buffet breakfasts are all available.
Key Differentiators
SG Clean certified
A 5-minute walk from Orchard MRT
All 85 non-smoking apartments are kitted out with modern conveniences like unlimited high-speed WIFI, fully-equipped kitchen and in-room washer-dryer
Client Testimonial
"Well furnished serviced apartment smacked in the slight outskirt of Orchard & Tanglin… a breeze walk, 8-10mins away to shopping malls like Scotts & Shaw centre (Lido Cinema), friendly staff… nice & very affordable place to consider for those visiting Singapore for more than 3 days…"
16) Oakwood Studios
The city's well-known shopping avenue, Orchard Road shopping belt, is home to this lovely apartment, which was recognized for the Best Interioredesign in Serviced Apartments in 2017. You'll be living in luxury with its inspiring and instantly appealing visual appeal. They feature studio, one, and two-bedroom apartments as well as deluxe variants of these units that are ideal for young families with children. You may also relax on your own balcony or take a dip in the rooftop swimming pool while charging up at the well-equipped gym.
Key Differentiators
Certified SG Clean by National Environment Agency
Part of Oakwood Clean360, a robust hygiene programme and received a Trusted Cleanliness badge by TrustYou, where the property is assessed based on public recommendations and government regulations
Client Testimonial
"Most impressed with the service standards here. Informal vibes but professional attitudes. Studio was comfortable for two, although there's no dining table (coffee table instead), we enjoyed dining at the balcony!"
17) Ariva on Shan
This is a great place to reside if you want to be away from the commercial area or hustle of Orchard Road. You'll be conveniently located near popular family-friendly shopping malls such as United Square and the North-South MRT line travels past both Orchard Road and the CBD. The apartment complex has serviced apartments with a private balcony washer and dryer (laundry and dry-cleaning services are also available), free Wi-Fi, and a hair dryer. Kitchen equipment includes a fridge, rice cooker, microwave kettle, induction cooktop, and rooftop garden; there are also fitness center and pool access.
Key Differentiators
Affectionately known as "The Dream Cube", Shanghai Corporate Pavilion presented a dazzling multi-media sensory experience based on the theme of "My City, Our Dreams'
A total 8 awards from the Expo Centre, commending its exemplary efforts in Pavilion Management, Guest Service, Teamwork Excellence and many service ambassadors were singled out for their outstanding contributions to create the perfect guest experience
Client Testimonial
"We stayed at the Ariva for about a month when arriving in Singapore. Our studio was small (exactly as advertised) but super functional with everything we needed. The staff is super helpful and attentive."
18) Lanson Place Winsland
Lanson Place Winsland is in an upscale neighborhood near the Somerset MRT station, and offers beautiful, contemporary living areas. You'll be just a stone's throw from Orchard Road, with a variety of dining, shopping, and entertainment choices at your fingertips. The complex has studios, one-bedroom, and two-bedroom serviced apartments (amenities vary by suites). You will have access to a gym, washeterte, fully equipped common kitchen, and rooftop swimming pool with bar (where you may unwind in the jacuzzi) or book the BBQ pit for private parties.
Key Differentiators
Incorporating elements of the best Singaporean accommodations – spacious, well-lit, and with open views – their serviced apartments blend in a touch of Asian design
Ultra-spacious rooms with modern décor inspired by the tropical colours of Singapore
Client Testimonial
"I would definitely recommend Lanson Place for my friends. Wonderful place in Singapore very close to all big centers, for both families with kids (like mine) and couples (like my parents). It has beautiful scenery and very good facilities, that fit for leisure but also for working away. Especially, the staff are very very helpful and friendly – that make us feel like we are in our home. I even received a surprised gift on the birthday. My son would still often talk about his "home" in Lanson even we've moved out for months. Many thanks to all the staff of Lanson Place Winsland for such a nice experience."
19) Pan Pacific Serviced Suites Orchard
Situated in Orchard Road's heart, this property offers studio and one-bedroom serviced apartments as well as penthouses with full facilities. The rooms include a fully equipped kitchen, washing machine, and dryer, as well as an en suite bathroom with a rain shower and bath products for your convenience as well as daily housekeeping services.
Key Differentiators
Located in the heart of prime shopping district and popular sights
Asia's Leading Serviced Apartments (2021)
Traveler's Choice (2020)
Client Testimonial
"Great service and hospitality, clean and great facilities. Staff were all so welcoming and helpful!"
20) Lyf Funan
This Singapore home, located in the city's downtown area, provides studio, studio bunk, two-bedroom and four-bedroom rooms with playfully creative motifs. The unusual coolness does not end there! Check this out: It also has a life-sized hamster wheel that functions as a treadmill, as well as a social kitchen where you may prepare meals while getting food ideas from chatting with other guests. This place is ideal for those seeking for a more hostel-like communal experience.
Key Differentiators
A stone's throw away from City Hall MRT station and within the Central Business District
Proximity to an array of business and entertainment attractions and surrounded by a host of iconic landmarks from heritage sites to opulent art galleries
Client Testimonial
"Love that the room is in the mall and it's so convenient . The room design is really minimalistic which makes it really cozy and clean."
21) ST Residences
Established in September 2017, ST Hospitality Pte Ltd ("STH Group"), previously known as Straits Organization Pte Ltd, is a wholly-owned subsidiary of Katrina Group. STH Group runs various lifestyle brands, i.e. ST Residences and ST Signature.
STH Group had served more than 30,000 guests in the serviced apartments and hotel rooms. Guests can choose from hotel rooms for daily stay, serviced apartments for a weekly stay or corporate housing for a long-term stay. In addition to that, with a single point of contact, STH Group makes guest booking completely fuss-free.
In a short span of time, both ST Signature and ST Residences have achieved Hotels.com "Loved by Guests" 2021 award winner, Booking.com Traveller Review Awards 2020 with excellent ratings and Agoda 2020 Gold Circle award winner. This is the motivation for ST Hospitality to continue going the extra mile and providing value-added innovations and services.
Key Differentiators
Contactless Check-In and Check-out Process
Contract Flexibility for Length of Stay
Fully Furnished Apartments
Client Testimonial
"The place is clean with all the necessary amenities. Great to have a dining table, fully equipped kitchenette with fridge and electric stove, all in the same room. The whole unit is spacious including the bathroom. Also happy to have "make room" service and a laundromat in basement and detergent provided.
The check-in and check-out was smooth. Friendly and responsive service. High recommended."

loannaP
Serviced Apartments Singapore
Serviced apartments are a great way to save money and get more space for your needs. There is an apartment that will suit any lifestyle or budget, so take some time to find the serviced apartment in Singapore for your extended stays that works best for you!
Take a look and see if any of them would fit into your budget or lifestyle! For more related articles:
Frequently Asked Questions (FAQ)
If you have any questions about Serviced Apartments in Singapore, you can refer to the frequently asked questions (FAQ) about the best Serviced Apartments in Singapore below:
Additional Useful Articles
If you are looking for other useful guides and articles about the best Serviced Apartments in Singapore, check them out below: