Swimming Lessons Singapore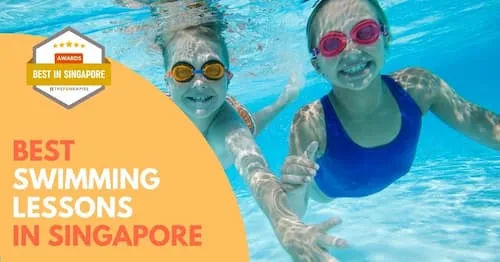 Not only is swimming a fantastic form of exercise, but it is also a life-saving skill.
The best swimming lessons in Singapore include Elite Coach Singapore, Swim Masters, Swimwerks, SWISH! Swim School, and Ace Dolphin Swim School.
When choosing a swimming lesson in Singapore, consider factors such as location, class size, qualification of coaches, and cost.
Swimming lessons in Singapore are categorized into different levels, catering to a variety of skills from water confidence to complex stroke techniques.
Let's dive right into these swim classesSingapore has to offer and find the one that best suits your needs!
Best Swimming Lessons Singapore
1. Elite Coach Singapore
Presently, Elite Coach specializes in fitness personal training, Muay Thai Boxing, Kids' Gymnastics & Dance, Contemporary Dance, and private swimming lessons (SwimtoFly method) in Singapore. Moreover, they have consistently been helping their clients achieve their fitness objectives for almost 10 years. In addition, their SwimtoFly method has helped over 2300 students in Singapore to learn to swim; using the concept of flying in the water (over 26M views online: Youtube, AppStore, Web). Elite Coach has also opened a studio in Novena since July 2020, and been conducting both studio as well as private classes to expand their client base. They offer fitness & HIIT, Muay Thai, Flexibility, as well as Yoga classes in our studio.
Key Differentiators
Firstly, Elite Coach provides quality coaching services to the whole family (kids swimming, martial arts, and sports; as well as adults aquafitness, martial arts, and circuit training)
Secondly, their swim coaches use the SwimtoFly methodology to coach their clients; where kids and adults learn to understand how their bodies can 'fly' in water when they are completely relaxed
Thirdly, their coaches can provide private swimming lessons at clients' location OR at the studio (dry land only); subject to client preference as well as convenience
2. Swim Masters
Swim Masters Swim School (SMSS) is a leading swim school with a unique three-month programme for learners with different abilities and profiles. Classes are conducted by highly experienced coaches. It teaches swimming to children of all ages and abilities, children with special needs and adults aside from regular lessons in MOE schools, Childcare centres and International Schools.
Regardless of skill levels, Swim Masters coach newbies interested to learn swimming as well as experienced swimmers eager to hone their technique. Parents and students can download the exclusive Swim Masters Mobile app to track their child's progress. Swim Masters also provide lifeguard services to corporate clientele!
Swim Venues: Senja Cashew Community Club, Swimming Complex Headquarters, Bukit Batok Swimming Complex, Queenstown Swimming Complex, Delta Swimming Complex, Clementi Swimming Complex, all public swimming pools and private pools
Swim Fees: $100 for 4 lessons
Key Differentiators
Train and Certify students life skills- 1) MOE Schools 2) Kids. 3) Special Needs
Provide Mobile Apps to students and parents to track their progressions
Embarking to be swimming world on Udemy Portal
Client Testimonial
I highly recommend Swim Masters Singapore, My Kids learns swimming confidently in water and just a few sessions only my 5 year old daughter can swim independently on her own!

Sherreyl Villamor Lai
3. Swimwerks
Since 2015, Swimwerks Aquatic Training and Services LLP aims to promote water safety and equip keen individuals with swimming as well as life-saving skills. Over the years in the industry, they have expanded and formed Swimwerks Asia Pte. Ltd. in 2020 to undertake new portfolios. With that in mind, Swimwerks aims to be a leader in being a one-stop aquatic hub in Singapore as well as the Asia Pacific. In addition, Swimwerks is an authorised Swim Center of Swim Schools International (SSI) and has attained bizSAFE Level 3 in 2021.
Key Differentiators
Firstly, customizable swimming lessons at your condominium.
Secondly, structured syllabus and small class size.
Thirdly, certified Swim Teachers.
Client Testimonial
Hey Herron, my child attended his second swimming lesson today with Swimwerks. I am surprised and delighted by your swim teachers professionalism in handling the students despite one toddler in the group who has been throwing tantrum and refuse to enter the water during the lesson. Seeing how your teacher handles this situation, I am thankful that we have made the right choice to let our child learn with Swimwerks. I am impressed with how your teacher display his empathy, passion and dedication when handling our children. We are really grateful for that. Please convey this message to your team. Thank you, teachers.

Havighnan's Mum
4. SWISH! Swim School

SWISH! Swim School is located in Dempsey Hill, which has an idyllic atmosphere with lush vegetation. Their saltwater pools can accommodate babies (the water never gets too cold!) and the pre-squad level, making them the only Singaporean swim school with both temperature-controlled indoor and outdoor saltwater chlorinated pools. Their team of AUSTSWIM-certified swim coaches will have you and your kids transformed into mermaids in no time, with lessons for children of all abilities, a competitive youth squad, and adult swimming instruction. Are you too tired to drive the children to swimming lessons? Sign your helper and youngster up for Auntie and Me swim lessons, a collection of daily sessions that teach kids water confidence while also instructing them on how to swim.
Firstly, best swimming instructors with the right skill set, attitude and fun
Secondly, available trial lessons
Client Testimonial
William started swimming 6 months ago with Swish Swimming. The first 3 months he complained a bit, but did everything he was asked. Fast forward to now, it's the highlight of our week, he loves it and I have a child who can't wait to get wet and swim! He has learnt so much and has so much fun plus is learning a life skill!
5. Ace Dolphin Swim School
Ace Dolphin Swim School have been turning splashes into smiles since 2008! Their popular classes, led by experienced coaches certified in NROC, Swimsafer, and the Tatsuki (TJAP) methodology, ensure your child benefits from their fun and engaging swimming lessons. With a progressive curriculum and over 6000+ proud graduates, join their community where children "Blaze through Water, Glide like Dolphin". View their availability on LessonPlan and get instant confirmation!
Key Differentiators
They incorporated the Prestigious Tatsuki Swimming curriculum (TJAP).
They are known for their fun and engaging classes.
Customers can instantly purchase their classes listed here. No hassle!
Client Testimonial
I started my boys swimming 4,5 years ago.. Thanks to ACEDOLPHIN coaches especially to Coach Hanrong and Coach Raymond for believing in one of my son who's diagnosed ADHD and pushing them to their limits. There were days when I know my boys absolutely did not want to do that set that the coaches just scribbled out, but they were still able to make it through and get faster. You believed that they could do it, even if I thought they couldn't. They learned new skills, prepared themselves for the long term success and interest in swimming. The coaches are knowledgeable and fun, very focused in teaching. I would recommend ACEDOLPHIN to any parents! Well done coaches, keep up the good work! 👍🏼👍🏼👍🏼👍🏼👍🏼

Yuan Hao Triston Tay
6. Swim Best Swim School
Presently, SwimBest Swim School offers group as well as private swimming lessons in Singapore for our valuable students. Their swimming classes in Singapore are conducted by professional as well as dedicated swimming instructors. In fact, their swimming class are designed to suit different ages as well as stages. In addition, SwimBest Swim School strive to deliver the best swimming lessons in Singapore to all ages and levels, with a wide variety of programs including SwimSafer 2.0 for kids swimming lessons.
Ultimately, their passionate and certified swimming instructors are dedicated to providing the most effective as well as fun swimming lessons to their students. Moreover, the safety of our students is our number one priority. Thus, their swimming instructors are fully equipped with CPR and lifesaving skills to ensure the learning experience fun and safe. In addition, parents would have peace of mind knowing their child in safe hands. We specialize in conducting "Toddler Swimming Class", "Kids Swimming Class", "Adult Swimming Class" as well as "Ladies Swimming Class".
Key Differentiators
Firstly, their teaching system delivers a 100 per cent success rate for their students.
Secondly, they are pleased to announce that their students achieved a 100% passing rate for the SwimSafer test conducted to date.
Thirdly, they conduct the best as well as effective swimming lessons conducted in Singapore.
Client Testimonial
"My daughter passed her Swimsafer 2.0 Silver & Gold in 6 months after taking one-to-one lessons with Coach Raymond. Besides being patient and encouraging, Coach Raymond's expertise in teaching the right techniques and conditioning helped to lower her timings greatly in the demanding Gold requirements. A great swimming coach, he also makes an effort to communicate with parents by providing feedback with every lesson. He is also flexible and accommodating to changes in lesson timings. I strongly recommend Coach Raymond to any parent and child who wishes to achieve their Swimsafer in a professional and nurturing environment. Well done, coach Raymond!"

Client
7. Swimmerse Swim School
Swimmerse is formed with Swim and immerse in its name, signifying swim immersing in fun activities as well as to conquer phobias. It is established mainly to enhance the swim experience through a plethora of games as well as activities. Since 2007, Swimmerse provides group and private swimming lessons in Bukit Batok, Clementi, Hougang and Sengkang Swimming Complex. In fact, Swimmerse delivers guaranteed learning results through efficient, fun and enriching lessons at the most competitive price around. As a result, it is no surprise why Swimmerse is gaining fast recognition in the market.
Key Differentiators
Firstly, students are taught by MOE coaches with over 10 years of experiences
Secondly, delivery of the Swimsafer syllabus through engaging as well as interactive coaching methods
Thirdly, one of the top reviewed swim school on both Google and Facebook
Client Testimonial
Swimmerse is the 3rd learning school/coach my kids had through their swimming lesson journey and by far they're the best. Experienced with handling young kids, coach Reave always wears a smile and is always encouraging towards the young ones. I'd highly recommend them if you're looking for a swim school for your kids, one they could stick with

Client
8. 2 Bubbles Swim School
2Bubbles Swim School was formed in 2006. Presently, it consists of 4 dedicated coaches and no employed coaches. As a result, this helps them keep the quality of their coaching methods as well as results. Nothing gets diluted. Moreover, safety is a major concern in grouping their swimmers and they continually access each and every swimmer to stream them to the best possible group that helps improve their learning capability. In fact, they work with their swimmers as a team and they have enjoyed victories at swim meets and other sporting events. In essence, just being a part of their physical transformation is what drives them to continue in their craft.
Key Differentiators
Firstly, no employed coaches. Their coaches are fully dedicated
Secondly, continual updates on coaching and swimming techniques
Thirdly, controlled group class environment; safety is a top priority
Client Testimonial
Coach Joe has pushed me to be the best that I can be. I've observed his coaching from afar and finally got the courage to approach him for lessons. I never even dream that one day, I'd be racing in a swimming race!

Jayden
9. Inspire Mum & Baby Fitness, Birth and Swimming Centre
Presently, Inspire Mum & Baby offers a wide range of services dedicated to prenatal and postnatal mums, children as well as women. As a women-centric centre, they have supported thousands of mothers physiologically and psychologically through their pregnancy journey to motherhood and beyond; coached their children to be competent swimmers; as well as supported many determined women's fitness regime.
Their antenatal program consists of services such as aqua therapy, prenatal yoga and doula services. As one of the pioneers of baby swimming, they also offer swimming lessons to children from the age of 2 months onwards. They are also Singapore's only official centre for Watsu®️ therapy, offering Watsu®️ sessions for women across all age groups from babies to mothers. For their fitness program, they offer classes such as Pilates, Cardiolates and yoga.
Key Differentiators
Firstly, Singapore's only official centre for Watsu®️ therapy
Secondly, Indoor Heated Mineral Salt Ozone Pool – ensures optimal comfort
Thirdly, Uses Birthlight philosophy with a play-based, child-focused learning format
Client Testimonial
What helped was a great pace and the interweaving of games and play to achieve certain goals (set by the teacher). It also helped that Sophie did not feel like class was mundane or like a drill. The instructor incorporated lots of interaction as well as interesting ways to get the kids to comply and perform, using language and stories that are appealing and attractive to their young minds. The patience shown by the instructors is astounding. We are usually quite amazed by that alone!

Client
10. Aquatics In Motions
Since 2017, Aquatics In Motion brings best practices to its aquatic programs in the niche areas of infant and toddler swimming, kids' water safety and swim stroke development. The school has helped hundreds, children and adults alike, in being water safe and achieving their goals of swimming competency since 2011. At their swim school, they believe in providing excellent swimming instructions in a safe as well as a fun environment. Passionate coaches from their school helps ensure that learners stay on track, achieving their intended goals. Customised lesson plans for various age groups help tailor to different learner's abilities. So whether you are looking for infant aquatics, kids swim classes or adult learn-to-swim lessons, check out Aquatics In Motion. They hold their classes at public pools as well as private condominium pools.
Key Differentiators
Firstly, they focus and specialises in baby and toddler swim programs
Secondly, their swim school is an affiliate with Singapore Swimming Association, thus our children's learn-to-swim programs are aligned with the SwimSafer Syllabus
Thirdly, their swim school is a member of international swimming communities such as the Australian Swim Schools Association (ASSA), United States Swim Schools Association (USSSA), and the International Swim School Association (ISSA)
Client Testimonial
Can't recommend Coach Justin enough! He has been teaching my first kid since he was 2 and my second one since he was 6 months. Both of them are now very comfortable and confident in the water. An extremely patient coach who deals well with children of all ages

Michelle Lim
11. Happy Fish Swim School
Happy Fish is the leading swim school with 10 indoor heated swimming pools in Singapore & Malaysia, providing high-quality learn-to-swim programmes for all ages since 2007. With 13 years of research as well as experience, we commit to bring the best learning experience to all our students. Using state-of-the-art water sanitisation as well as filtration system, our students can learn to swim in a comfortable, controlled environment with crystal clear water.
Presently, our lessons are conducted by professional and dedicated instructors. Students are fully trained in-house with their proven teaching system. The coaches undergo numerous hours of training, attachment as well as stringent assessment. Together with passion and their vast swimming experience, we are committed to ensuring the learning experience fun as well as safe for everyone.
Key Differentiators
Firstly, most experienced in the industry
Secondly, a socially responsible company
Thirdly, our outlets are the biggest with an indoor heated swimming pool in each outlet
12. XSA Swim Academy
XSA Academy was founded by Coach Xavier, a full-time swimming instructor with over 18 years of experience. He strongly believes that it is important for children to understand and learn about water safety from a young age, and conducts his swimming lessons with a good sense of humor. He makes his swimming classes enjoyable, and his students are able to overcome their fear of water and learn an important life-skill.
Coach Xavier finds satisfaction and achievement in seeing his students progress in their swimming techniques and abilities. He conducts lessons for all age groups, ranging from as young as 4 years old to adults. If you're looking to overcome your fear of water and learn how to swim, XSA Academy is a good choice for you.
Key Differentiators
Professional swimming instructor
Offers SwimSafer
13. Isplash Swim School
Isplash Swim School provides a diverse range of swimming lessons for people of all ages. In fact, it offers separate adult women's swimming lessons that have been taught by expert, certified instructors.
Sharkskin loves its tried-and-true teaching system, which has been shown to work by both instructors and pupils. You or your child will learn how to swim by the last session of the course if you enroll in Sharkskin's lessons.
Key Differentiators
Affordable swimming classes
Experienced swimming coaches
Proven teaching method
14. Condo Coaches
If learning in groups isn't your thing, hiring the greatest private swimming instructors in Singapore is your best bet. Condo Coaches is well-known for its skilled and certified private swimming instructors, who are available to teach both children and adults. Over the course of seven years, Condo Coaches has educated more than 4,079 confident swimmers and countless self-assured individuals.
Condo Coaches's fees are reasonably priced in comparison to other one-on-one swimming lessons. Its personal swimming instructors will even cover the cost of transportation to your destination. Aside from having the top swimming instructors in Singapore, Condo Coaches also employs a large number of additional coaches for different activities including piano lessons and yoga sessions.
Key Differentiators
Professional and experienced coaches
Wide range of services for those not looking for a group class
Competitive rates
15. Swim Coach John
Swim Coach John goes above and beyond the norm when it comes to teaching swimming techniques. Its swimming coaches assist students in building confidence underwater so that they can improve their performance. nSwim Coach is recognized for employing some of Singapore's finest swimming instructors, who have learnt several methods to teach various swimming skills to thousands of pupils effectively.
If you're a busy individual, we strongly advise signing up for swimming lessons at Swim Coach. In order to fit the hectic schedules of some of its adult students, Swim Coach provides varied swimming times.
Key Differentiators
Flexible schedules
Proven training method
Experienced coaches
16. Swim Hub
Look no farther than SwimHub Swimming School if you're searching for a swimming school that can provide flexible lessons. Providing private lessons and small group classes at swimming pools in all condos, private houses, and swimming complexes in Singapore, SwimHub also has their very own Private Outdoor Swimming Pool, which is located at Upper Jurong Road.
Their goal is to provide affordable and good swimming lessons for all age groups and experience levels. Whether it is for a toddler swimming lesson, kids swimming lesson, or adult swimming lesson, SwimHub is able to refer you to the best swimming instructor for your needs.
The school houses some of Singapore's most capable and experienced swimming instructors, all of whom have years of expertise under their belts. Through constant training, SwimHub ensures that its team of professional coaches are always up to date on new swimming techniques. This is done so that you, the client, can learn in the most efficient way possible
Key Differentiators
Free trial lesson (for kids and toddlers, at own condo only)
Experienced swimming coaches
Affordable swimming classes
Client Testimonial
The Instructor of Willy is very kind and warm-hearted,skillful ,especially very patient with Children.

Client
17. State Swim
The city's newest outdoor pool is located at Suntec City and has a lap lane, water skiing area, diving platforms, an action zone for speed-driven activities like dragon boating and paddleboarding. It also features fountains and flower shows throughout the day. Swimming lessons are available for all ages at State Swim.
Key Differentiators
Firstly, Over 50 years State Swim has developed and refined a powerful approach to aquatic skill development. Our style is unique because it supports technical skill and safety for superior learning outcomes and for all ages.
Secondly, Our Teacher-Team includes some of the most experienced aquatic educators in the industry.
Lastly, Our pool water is of the highest quality and presentation; and many Schools are equipped with Ultra-Violet Light purification systems for fresher, cleaner water without the heavy smell of chlorine (great for asthmatics or swimmers with skin sensitivities.)
Client Testimonial
My 6 year old daughter only started at State Swim just 4 months ago, and in that time she has made more progress in the water than her previous 2 years. I guess "there's something in the water" here! The instructors are brilliant- they're patient, diligent, very professional and focused on making strides of progress in each lesson. Highly recommended

Client
18. AquaDucks
AquaDucks has spent three decades perfecting its training method, which incorporates American, European, and Australian techniques. Each group of swimmers – infants & toddlers (six to 36 months); preschoolers (three & four years old) – will progress through six levels of stroke instruction, as well as stamina development.
Key Differentiators
Firstly, Its swimming programme was founded in 1989 and we provide swimming lessons across multiple locations in Singapore
Secondly, they have blended the best techniques from all over the world combined with extremely passionate coaches, to deliver an exclusive world class swimming programme.
Lastly, Besides Babies & Toddlers, Preschool and Learn to Swim classes, you can also join us for Competition Training, Domestic Helper Water Safety Adult Swim Training and aquaFit lessons.
Client Testimonial
It has been my top priority to send my daughter for swimming lessons, and aquaDucks is my choice. My daughter has been with aquaDucks from when she was eight months old, and she is now five years old. Thank you to all the coaches, especially to coach Anna, my daughter's coach, for her dedication and patience. My daughter always enjoys her lessons.

Client
19. Little Splashes
Little Splashes is a swimming school that conduct swimming lessons for all ages from three months old. They have a variety of swimming pools, including indoor heated pools, which makes it a great choice for swimming lessons. Their swimming techniques are based on American, European, and Australian stroke techniques, which makes them one of the best swimming schools in Singapore
Key Differentiators
Firstly, Little Splashes' curriculum has been refined and evolved with the times, currently centred around studies that have proven that swimming has aided young children in character building, promoting brain stimulation and cognitive development.
Secondly, In-house progress reports are available for every Little Splasher at the end of every term – this allows parents to check-in on their child's progress.
Lastly, Each water activity and every routine practice of a targeted skill through play and songs, serves a purpose in our vision.
Client Testimonial
Highly recommended. All teachers here are very experience in handling kids from 3 months. My son started with them since 3 months and my son look forward to his swim class every Sunday.

Client
20. Marsden Swim School
Marsden Swim School is one of the best swimming schools in Singapore. They offer heated and salt-chlorinated pools that are perfect for infants and children up to seven years old. They also have locations all over Singapore, so it's easy to find a class near you.
Key Differentiators
Firstly, Marsden Swim School is the only tier-one/Gold Standard AUSTSWIM swimming school in Singapore.
Secondly, Highly-trained and accredited swim coaches.
Lastly, 25 and 50 metre training pools cater for our older swimmers and squad training.
Client Testimonial
My daughter has been attending lessons at Marsden since she 4 months old! The coaches are calm, patient and reassuring, even on the worst baby bad days! At 14 months, she is water confident and looks forward to her weekly pool sessions 🙂 a worthy investment of time for an essential lifeskill!

Client
21. SwimRay
SwimRay is one of Singapore's more adaptable schools, able to serve any pool and any timing from morning to night. Former naval divers and commandos staff the instructors, ensuring that you will be in competent and experienced hands.
Key Differentiators
Firstly, Top Rated and Most Reviewed Private Swimming Lessons Provider in Singapore.
Secondly, only swimming school to be an Award Recipient of Singapore's Top 500 SMEs of 2022.
Lastly, Swimray coach would be someone who has had on-the-ground-experience of working or competing in stressful water environments. This ranges from competitive swimmers, triathletes, Naval Divers, Lifeguard, and Commandos.
Client Testimonial
Coach Jo was very professional in his training, and knows how to step up the intensity of the program and motivate our son. Strongly recommended.

Client
22. Singapore Swimming Academy
Singapore Swimming Academy is a swimming school that conduct swimming lessons for all ages, from six months old and up. The swimming school uses heated and salt-chlorinated pools that are fit for infants and children up to seven years old.
Key Differentiators
Firstly, conducts classes at over 22 swimming complexes.
Secondly, 323 instructors, and counting.
Lastly, instructors are all qualified and certified by Sport Singapore, the governing agency for sports in Singapore.
Client Testimonial
During first trial 1.5 months back, my kid was scared of water and crying to quit. Coach Ong is very passionate about teaching kid. After the class, he purposely spent sometimes personally to bring my kid to go around the water splash in kids pool to help her overcome fear. Now, she is no more scare of water and enjoy learning to swim. Thanks and strongly recommend coach Ong in Singapore Swimming Academy!

Client
23. Able Aquatic School
With Able Aquatic School's large team of specialists, your youngsters will be ditching the floaties and learning to swim in no time. Able Swim School is based on the internationally recognized Swimsafer and Learn to Swim curriculum, and teaches group lessons at more than two dozen swimming complexes around Singapore. Private sessions are also available for children who aren't yet ready to attend a group class.
Key Differentiators
Firstly, longest running swim school in Singapore
Secondly, experienced team of coaches
Lastly, developed their own swim training program for each swimmer
Client Testimonial
My children favourite swim school! Always looking forward to their weekly swim classes conducted by Coach Shawn. Coach Shawn is patient, fun and the kids enjoy the company of him. Would recommend anyone who is looking for swim classes in Tampines Able Aquatic School.
24. AquaBambinos
AquaBambinos was founded by a pair of moms who simply wanted their children to enjoy swimming, but it has since grown into one of Singapore's top swim schools for kids. Sweethearts with sensitive skin won't have any problems at this indoor swimming school, which has a strictly regulated heated indoor pool where the water temperature and chlorine levels are carefully maintained. AquaBambinos' swim instructors utilize kickboards, noodles, and bubble packs to make the experience more enjoyable; however, they use them sparingly in order that your children don't get dependent on them. AquaBambinos teaches infants, toddler children, and kids aged three years old and older how to swim. Trial swim lessons are offered.
Key Differentiators
Firstly, Heated Swimming Pool to a comfortable temperature of 30 – 34 degrees Celcius
Secondly, offers lockers, hot water showers, changing rooms, baby changing tables and toilets
Lastly, children-friendly waiting area
Client Testimonial
Team of patient coaches- special mention to coach Darryl who spent weeks coaxing my son to even get near to the edge of the swimming pool. Week after week he followed my son's pace, never once trying to speed up the process. And as a result, my son gradually gained confidence and most of all, trusted his coach. Agree that there're shortcomings in their administration but they are trying their best.
25. ElitePro Swim School
Do you want to learn how to swim privately or join a group swimming lesson? ElitePro Swim School is a professional swim school that teaches kids, toddlers, youngsters, and even grownups. Certified swim coaches can teach at over 100 sites on the island, including condos, international schools, and private swimming pools. In addition, lessons are customised to meet your specific requirements.
Firstly, conduct quality training
Client Testimonial
The coach did a great job for my girls.
26. Little Swim School
Garett Lee, the creator of 'Little Swim School,' has more than 18 years of expertise in a range of age categories and specialties as a veteran swim coach. The ideal learning environment for infants, toddlers, and kids is provided by this swimming school in Singapore, which has a temperature-controlled, salt-water chlorinated pool. The ultimate 'Little Swim School,' the company's headquarters is at Westway on the West Coast Highway, but they also run classes in Yio Chu Kang and Queenstown, as well as private and group lessons at residences.
Firstly, sheltered environment shields you from weather elements such as harmful UV rays from the sun, the rain, and the wind
Secondly, saltwater chlorination
Lastly, heated pool regulates water temperature to ensure a comfortable and conducive learning environment
Client Testimonial
Rustic environment with great teachers! Thanks Little Swim School!
27. Pacific Swim Team
Kids as young as three years old and adults are trained by the Pacific Swim Team. With extra lifeguards on staff, your child's swimming lessons are extremely secure. Students may choose to compete in events such as the Singapore National Age Group Championships. You may expect to obtain certifications recognized by SportsSG, such as the SwimSafer Program, National School Program, Singapore Lifesaving Society, and Singapore Swimming Association.
Firstly, Top 3 Outstanding Teacher Award
Secondly, Singapore National Age Group Championships 2019
Lastly, NUS – SP Invitational Lifesaving Championships 2017
Client Testimonial
I would like to recommend Coach Kenny for being extremely patient in guiding my son, who is trying to overcome his fear of deep waters. Coach Kenny has been encouraging him along and I am very appreciative of his efforts. Thank you for your guidance
28. Red Dot Penguins Swim School
The Red Dot Penguines swim school in Singapore provides baby swimming lessons with parent-child activities for infants aged 6 months to two years old. Every session is designed to help your baby develop confidence and swimming abilities using songs and activities. Swimming lessons begin with the fundamentals, teaching floating confidence, underwater immersion and breath control. Self-rescue skills and independent exploration will also be encouraged by the skilled instructors. There are also regular swimming lessons for two-year-olds and more for competitive swimmers aged 6 and up, as well as a Swim training program that mixes CrossFit with sprint-style swim sets for leisure and ex-competitive swimmers aged 18 years or older.
Firstly, world-class programme
Secondly, constant innovation and improvement
Lastly, excellent swim programs with professionalism and respect
Client Testimonial
Committed coaches n progressive programs that help the kids to understand how to swim in the water rather struggling in the water to keep themselves afloat…
29. SG Condo Coaches
Looking for a private swim coach or swimming lessons near you? To discover a swimming instructor for all ages, go through SG Condo Coaches. The hassle-free inquiry procedure may all be completed online, and you will be matched with the right coach for your family's swimming demands promptly. The site doesn't only provide reasonable lesson fees, but it also contains no extra or unexpected costs for your reservation.
Firstly, undivided attention from the teacher
Secondly, more cost effective as you learn faster
Lastly, customized swimming lessons
Client Testimonial
All can i say is ITS WORTH IT.

These are actually real proper coaches and also i can make use of the facilities.

Definitely recommend condo coaches to people looking for quality classes and convenience!
30. Singapore Swim School
Hit up Singapore Swim School if you live all the way in North Singapore and don't want to go all the way out for swimming lessons. The Woodlands Swimming Complex is where they're based. Swimming lessons for beginners, intermediates, advanced, and competitive levels are available; lessons may also be given at most public swimming pools and private condo pool.
Firstly, one of Singapore's most reputable swimming schools
Secondly, over 20 years of experience
Lastly, qualified, proven swimming instructors
Client Testimonial
My kid aged 5 just started this Feb and is able to swim for short distance. I'm very happy with the coach Wilson.
31. The Swim Lab
Hit up Singapore Swim School if you live all the way in North Singapore and don't want to go all the way out for swimming lessons. The Woodlands Swimming Complex is where they're based. Swimming lessons for beginners, intermediates, advanced, and competitive levels are available; lessons may also be given at most public swimming pools and private condo pool.
Firstly, Systematic Lesson Plan
Secondly, Inspiring & Experienced Coaches
Lastly, Nurturing Environment
Client Testimonial
A swimming pool with facilities open to the public. The building was recently renovated to become the Hwa Chong Alumni Association building with an office and a cafe serving food similar to Starbucks, but cheaper. The Water Polo team trains here frequently and can be seen from the cafe. Prices are reasonable at around $5 for a meal.
32. Swimmingly
Swimming lessons are conducted according to the Swimsafer curriculum, Singapore's national water safety campaign that aims to raise children's swimming skills. Lessons are designed to be both fun and challenging, depending on your child's swimming level. The swim coaches are also meticulously certified by well-known organizations such as AUSTSWIM, SSI & STA before being hired.
Firstly, Highly Qualified Coaches
Secondly, Fun Learning Environment
Lastly, Structured Swimming Guidance, according to the Singapore Swimsafer Standards
Client Testimonial
Kids really enjoy their lesson and are looking forward to the next, Thanks Coach
33. Little Fishes Swimming Lessons Singapore
Little Fishes Singapore Swimming lessons has the Best Infant and Toddlers' swimming program in the world. Your infant or toddlers will be able to swim back to you safely in the shortest possible time. Our Programs have been curated carefully for every stage with international curriculums in mind.
For hard to handle children, we have proven that your children will go back to you from class with a happy smile. We love challenges, especially so for hard to handle children. We believe that no children can be too hard to handle.
A good lesson plan is important and so is an effective and efficient delivery of the lesson plan. A good lesson plan should be interesting, interactive and also have an objective. All our lesson plans have a learning outcome and we will guarantee to deliver the results from your expectations. As our results are proven, we prohibit photography or videography during our lessons.
Key Differentiators
Best programs in the world
Your infants and toddlers will be able to swim back to you safely in the shortest time
Ability to handle the most difficult children in the world.
Programs are curated with international curriculum in mind.
Results Guaranteed
Client Testimonial
"Highly recommend Coach Steven for parents looking for toddler swimming lessons! He is patient and thoughtful with his lesson plans. My two kids love going for swim lessons every week."

Nora Stella
34. Swim101SG
Presently, Swim101SG aims to create a safe as well as an enjoyable environment for your child to learn to swim. In fact, they strongly believe that the ability to swim is an important life skill and are confident that your child will enjoy learning with them. Their program caters to people of all ages to take up swimming lessons in Singapore, whether for leisure, health, or sport. Moreover, the Swim Safer 2.0 Swimming Programme is the national syllabus used to help teachers conduct swimming lessons. Hence, it ensures swimming lessons for all ages are delivered to a high and consistent standard, as well as creating an enjoyable environment for your child to learn in. Their coaches are also registered under the National Registry of Coaches.
Key Differentiators
Firstly, it is very Affordable
Secondly, SportsSG swimming program: Swimsafer 2.0
Thirdly, coaches from NROC (National Registry of Coaches)
Client Testimonial
Coach Jimmy is knowledgeable as well as professional. A great funny guy by nature and every swimming lesson is a joy to my daughter. Thanks to Coach Jimmy! Highly recommended!

Client
Swimming Lessons In Singapore
And there you have it. the best swimming lessons in Singapore! Be sure to check them out if you are planning to pick up basic swimming skills.
Since you have made it to the end, why don't you check out our other fun as well as awesome articles!
Frequently Asked Questions (FAQ)
If you have any questions about swimming lessons in Singapore, you can refer to the frequently asked questions (FAQ) about the best Swimming Lessons in Singapore below:
Additional Useful Articles
If you are looking for other useful guides and articles about Swimming Lessons in Singapore, check them out below: