Team Activities Singapore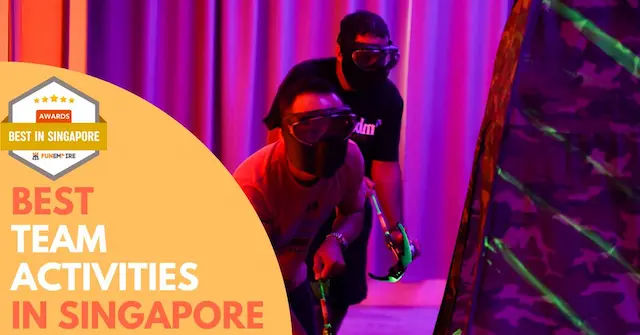 Team activities in Singapore are a series of productive and fun-filled exercises designed to enhance team cohesion, communication, and overall effectiveness.
Best Team Activities in Singapore include Laser Tag, Escape Rooms, Bubble Soccer, and creative workshops in Singapore like Art Jamming, Terrarium Workshop, Cooking Team Building, and Leather Workshop.
When planning team activities in Singapore, contemplate factors such as team size, interests, budget, and learning outcomes, to ensure an experience that enhances both effectiveness and enjoyment.
Using our extensive 10+ years of experience in corporate team building in Singapore at FunEmpire, we have curated a list of the top team activities in Singapore that you and your colleagues should engage in together!
Key Consideration Factors
Before getting into the best team activities in Singapore, here are some consideration factors to remember:
Benefits of Team Building Activities
Team activities in Singapore offer countless benefits to both individuals and business organisations. Below are some of the main advantages that team building can bring:
Enhances Team Cohesion: In today's digital age, team members often lack personal interaction and face-to-face communication with one another. Through engaging group activities such as Escape Rooms, Giant Board Games, and Bubble Soccer, teams are able to strengthen relationships and increase understanding of each other.
Encourages Creative Problem Solving: Team activities provide an opportunity for group members to come together in a relaxed environment and use their creative problem solving skills to achieve a common goal. This provides invaluable experience that can be applied back at work or university.
Develops Leadership: Certain team activities such as Amazing Race and Archery Tag require team members to take initiative in leading their group and managing tasks effectively. This builds confidence and encourages leadership skills which can be applied back in the workplace.
Improves Communication: Many activities, such as Art Jamming and Candle Workshop, require effective communication between team members. This encourages the development of interpersonal skills which can be applied in many contexts.
Promotes Fun and Happiness: Above all, team building activities are a great way to bond, have fun, and create lasting memories with your colleagues.
Best Team Activities Singapore
Adventure Activities
1) Laser Tag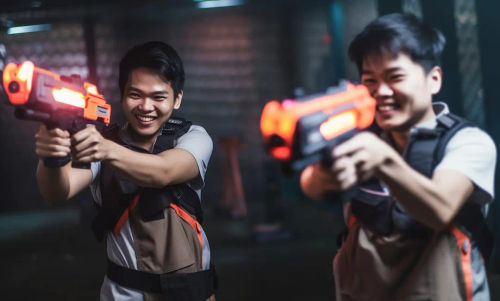 Strengthen your team's connection with the ultimate bonding experience – Laser Tag Singapore! Step into an immersive world of excitement and camaraderie as you engage in this thrilling team building game.
With state-of-the-art laser tag equipment and adrenaline-pumping scenarios, your group will be taken on an unforgettable adventure that will bring them closer together. Exercise strategic thinking, effective communication, and a dash of creativity to outsmart your opponents and emerge victorious.
Whether you are navigating through dark corridors or strategizing with your teammates, every moment will be filled with heart-pounding suspense and exhilaration. Get ready for an extraordinary experience that will leave a lasting impact on your team, forging memories that will be cherished for years to come.
Come and join us for an action-packed adventure that you won't forget anytime soon!
2) Combat Archery Tag
Experience the thrill of Combat Archery Tag Singapore and feel your adrenaline rush! Our award-winning activity combines elements from paintball, dodgeball, and archery for a heart-pounding experience.
Immerse yourself in the excitement as you strategize with your team, dodging arrows and aiming for victory. With our state-of-the-art facilities and specially designed foam tipped arrows, we prioritize safety and comfort without compromising the excitement.
Get ready for an action-packed game that will have your heart racing and your competitive spirit soaring. Whether you're a seasoned player or new to the game, Combat Archery Tag Singapore guarantees an unforgettable adventure that will leave you craving for more!
3) Poolball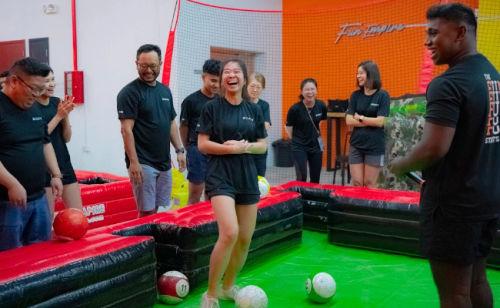 Strategizing and minimal physical exertion are two of the primary elements to playing Poolball. This makes it perfect for corporate team building, as communication is heightened and rules remain easy to understand across a wide age group – from young professionals to mature adults alike! Whether you're a young person or an adult, we can provide tailored services for all your needs: corporate team building activities, NS cohesion events, school outings, birthday celebrations, carnivals and festivals.
4) Bubble Soccer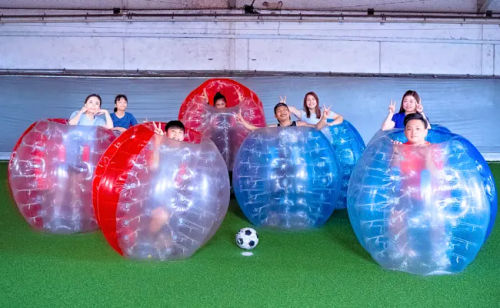 Bubble Soccer Singapore is not just a great way to have fun and bond as a team; it's an unforgettable experience that will leave you with lasting memories!
Imagine strapping on those giant bubble suits, feeling the excitement building up as you kick off for an exhilarating session of bubble soccer. As you bump into each other with your giant bubbles, laughter fills the air and the joyous chaos unfolds.
Rolling around, laughing uncontrollably, and having an absolute blast, you'll truly immerse yourself in the hilarity and thrill of this unique sport. Get ready for a fantastic time filled with laughter, friendly competition, and plenty of physical activity that will bring your team closer together.
5) Ninja Tag
Elevate your team-building activities to a whole new level with our exhilarating Ninja Tag Singapore experience.
Inspired by the agility and strategy of an obstacle course, this exciting adventure will challenge your team to work together, using their wits and physical prowess to overcome obstacles, solve mind-boggling puzzles, and complete thrilling missions, all within an impressive time frame.
With its fast-paced nature and emphasis on teamwork, Ninja Tag Singapore is the perfect choice for any group seeking a unique and unforgettable experience that will foster camaraderie and create lasting memories. Get ready to unleash your inner ninja!
6) Saber Tag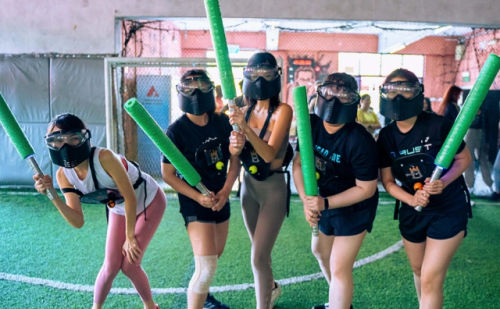 Saber Tag Singapore is the ultimate activity for teams seeking to unleash their inner Jedi! This exhilarating game, which can be enjoyed indoors or outdoors, engages players in an epic battle of wits using foam swords.
Imagine the thrill of strategizing and outmaneuvering opponents as you wield your trusty lightsaber, immersing yourself in a world of fun and excitement. Suitable for both kids and adults, Saber Tag offers an unforgettable experience filled with laughter, surprises, and memories to cherish.
Get ready to embark on an adventure like no other! May the Force be with you!
7) Bullet Ball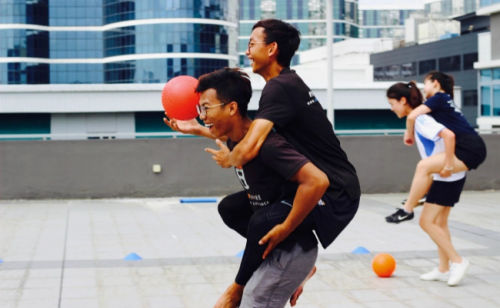 Bullet Ball Singapore is an exciting team building activity that brings together the best of dodgeball and basketball. Get ready to put your coordination, agility, and strategy to the test with this high-energy and dynamic game!
Players will be divided into two highly energetic teams, unleashing their competitive spirits as they engage in an exciting game of tag. With plenty of unexpected twists and turns, each game promises an unforgettable experience where no two moments are ever the same.
Get ready to immerse yourself in the thrill and excitement of Bullet Ball Singapore!
8) SaberFit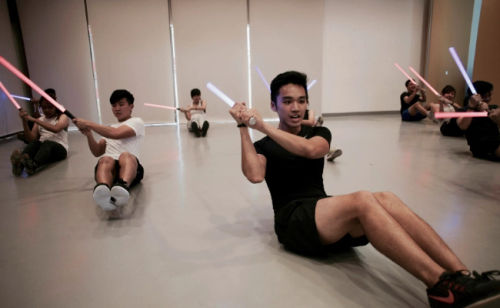 SaberFit Singapore is not just a regular workout; it's a fun and energetic fitness experience like no other. This unique workout combines martial arts-like moves with the use of specially designed foam sabers, providing an intense yet safe full-body exercise that will leave you feeling exhilarated and empowered.
Not only is SaberFit a great way to get in shape, but it's also perfect for team bonding. As you and your fellow participants engage in this thrilling activity, you'll learn how to coordinate your movements, communicate effectively, and work together towards a common goal.
The camaraderie and sense of achievement that comes from successfully executing the choreographed routines are truly unparalleled.
Whether you're a fitness enthusiast looking for a new and exciting way to stay active or a group seeking a memorable team-building experience, SaberFit Singapore is the perfect choice.
Get ready to unleash your inner warrior and discover the incredible benefits of this one-of-a-kind workout!
Quest Activities
9) Escape Room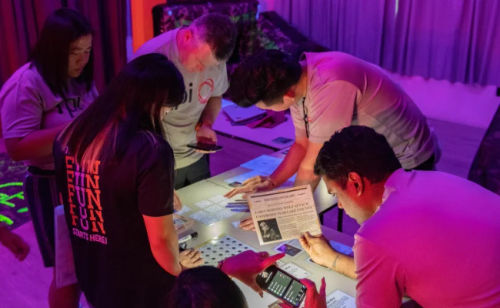 Are you prepared to unravel a thrilling puzzle? Embrace the Escape Room adventure and be entranced by intricate stories, stimulating puzzles, and mysterious characters! Step into an unknown world as you gather clues, decipher riddles and seek answers in order to make your escape.
With a wealth of experience from winning various local and international game designer tournaments, our escape room designers have created the most captivating stories you can find in any escape room. Through utilizing sophisticated game development processes and methodologies, these immersing experiences will truly take your breath away.
10) Amazing Race
Feel like a real-life detective? Ready to embark on an exhilarating adventure that will put your problem-solving skills to the test?
With FunEmpire's Amazing Race packages, your team can come together to decipher perplexing puzzles, execute collaborative assignments, and tackle exciting challenges while racing against the clock.
Immerse yourself in a thrilling and interactive experience that not only fosters teamwork but also strengthens relationships among employees. It's the perfect opportunity to bond, unleash your inner detective, and create lasting memories!
Leisure Activities
11) Giant Board Games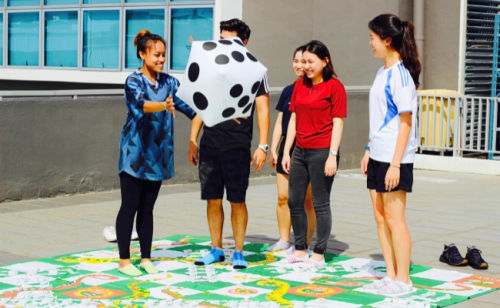 Our large-scale and life-like board games are perfect for rallying people to work together collectively in teams, creating a sense of team spirit and forming bonds as the group works towards one unified goal.
Whether it's at carnivals, corporate team building event, birthday parties or even just an impromptu BBQ gathering in your backyard – our extra gigantic games will bring plenty of entertainment!
12) Cosmic Bowling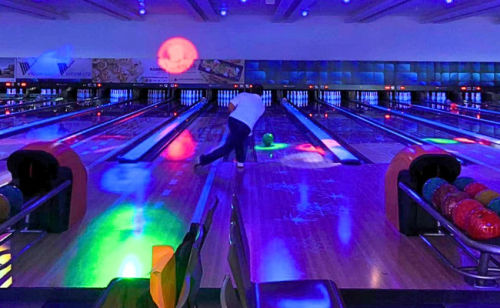 Let your inner strength and determination take over as you confidently step up to the line, ready to make your move. With the Bowling Ball of Choice in your hands, you feel the weight and power, knowing that each swing has the potential to knock out those pins and claim victory.
Get ready for an exhilarating workout session with your teammates, as you engage in friendly competition, pushing each other to new heights in the name of fun. The atmosphere of Cosmic Bowling surrounds you, with vibrant lights and energetic music setting the stage for an unforgettable experience.
As you focus on each throw, you embrace the challenge of using the weighted bowling balls, carefully calculating your every move. The precision and accuracy required to topple no more than ten pins at once is a true test of your skill. Adjusting your stance, you find the perfect balance between power and finesse, aiming for that all-important strike.
So gather your friends, lace up your bowling shoes, and prepare for an immersive journey into the world of Cosmic Bowling. Let the excitement and camaraderie fuel your competitive spirit as you aim for victory with each roll of the ball. Get ready to create memories that will last a lifetime!
13) Yacht Rental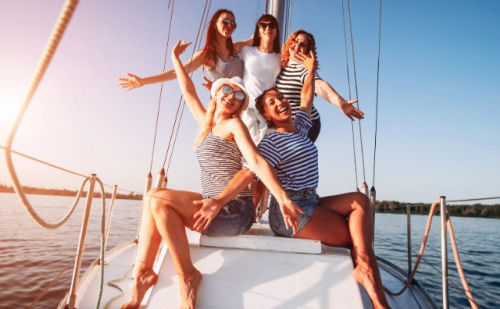 Booking a yacht rental is the ideal way to de-stress and grow closer with your family and friends. With pristine views, unparalleled luxury, and peaceful landscapes, you'll be able to make unforgettable memories in no time!
Whether it's for an important milestone or merely some quality relaxation together; a private yacht rental offers the perfect environment to escape reality.
Enjoy stunning scenery, outstanding facilities, and the opportunity to roam at your own discretion- yacht rentals provide a unique experience that will help you de-stress and create treasured moments with those closest to you!
Virtual Games
14) Virtual Squid Escape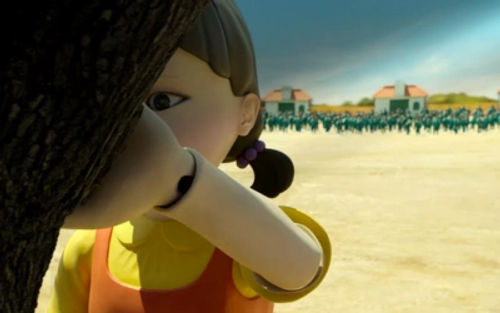 Dare to embark on an extraordinary virtual adventure like never before with FunEmpire's groundbreaking Virtual Squid Escape Experience!
Get ready to be captivated as you and your team enter the immersive environment of our exclusive Squid Game. With mind-boggling puzzles and captivating challenges, this thrilling experience will push your limits and test your skills.
Our dedicated in-house game experts have meticulously crafted every detail to ensure the ultimate immersive journey. Will you have what it takes to make it out alive? Join us and find out!
15) Hybrid Amazing Race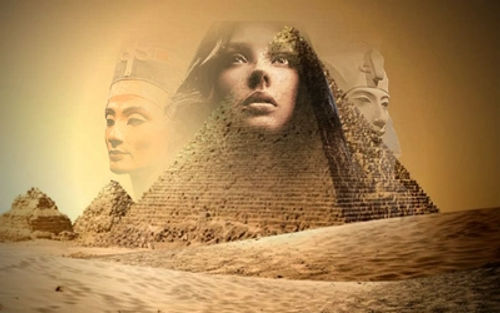 Immerse yourself in the rich and vibrant heritage of Singapore, as you embark on an extraordinary journey. Discover the iconic landmark sites that define this remarkable city-state, while indulging in the mouth-watering local fares that will tantalize your taste buds.
Our captivating hybrid Amazing Race experience is meticulously designed for large teams, ensuring a safe and enjoyable bonding experience. With social distancing observed among groups, you can rest assured that your team's well-being is our top priority.
Get ready to unleash your imagination and embark on a thrilling adventure like no other. From exploring hidden gems to solving mind-boggling challenges, every step of the way promises moments of excitement, laughter, and camaraderie.
Join us for an incredible adventure that will create unforgettable memories and leave you longing for more. Get ready to embark on a journey filled with fun, discovery, and endless possibilities!
16) Virtual Amazing Race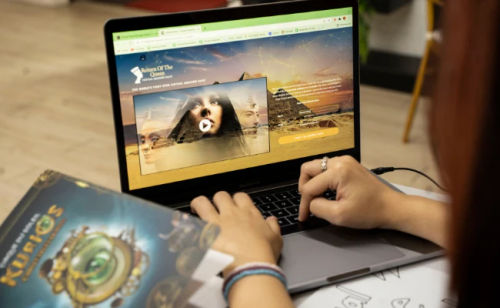 Get ready to embark on an extraordinary adventure of a lifetime with FunEmpire! We are thrilled to introduce Singapore's first and only Virtual Amazing Race Experience, a truly groundbreaking concept that will redefine your perception of virtual entertainment.
In this immersive experience, players will have the opportunity to explore 360° real-life clues, taking them on a thrilling virtual journey around the globe as part of teams.
With its meticulously crafted and captivating storyline, this one-of-a-kind Online Amazing Race promises not only hours upon hours of endless fun and excitement but also a chance to test your teamwork, problem-solving skills, and quick thinking.
Don't miss out on this unparalleled opportunity to immerse yourself in an adventure that will leave you craving for more!
Virtual Workshops
17) Virtual Canvas Art Jamming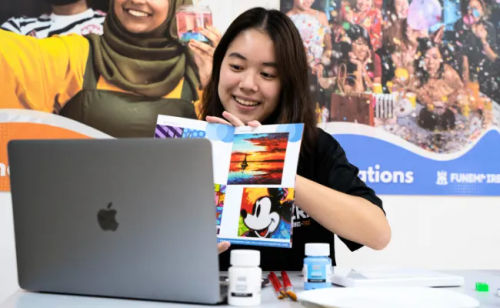 Experience the ultimate rejuvenation of your senses with our Virtual Art Jamming session. It's not just perfect for anyone and any occasion, but it also offers a unique opportunity to unleash your creativity and explore the world of art.
Before the event, we will send you a carefully curated kit containing all the necessary materials, ensuring you're fully prepared. Once the session begins, our professional facilitator will be there to assist you every step of the way. From guiding you through color theory to providing personalized tips, they will help you create a masterpiece that truly reflects your artistic vision.
Immerse yourself in the relaxing and soothing atmosphere as you indulge in this unforgettable experience. Whether you're a seasoned artist or just starting out, our Virtual Art Jamming session promises to be a delightful journey of self-expression and discovery.
Don't miss out on this incredible opportunity to unleash your creativity and connect with fellow art enthusiasts.
18) Virtual Tote Bag Art Jamming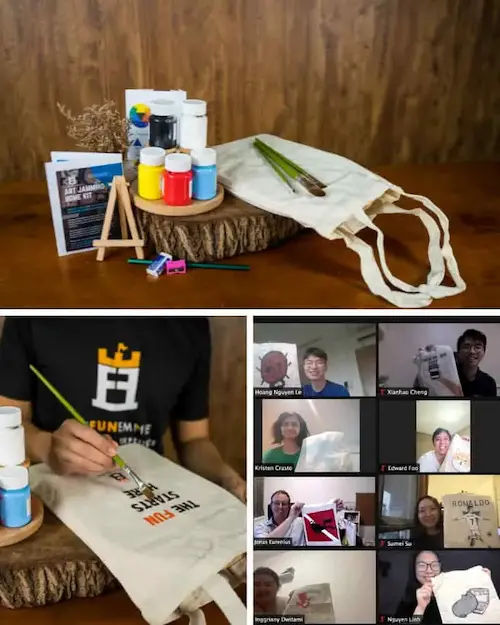 Make your mark on the world and unleash your creativity in our engaging Virtual Art Jamming sessions! Join us for our highly interactive creative tote bag classes, where you can tap into your inner artist and design a beautiful, one-of-a-kind tote bag that truly reflects your unique style.
At FunEmpire, we provide all the materials and guidance you need to have a memorable and enjoyable painting experience, no matter your level of art knowledge. So, don't miss out on this opportunity to create something truly special – come join us today and let your imagination soar!
19) Virtual Terrarium Workshop
Transform your living space into a miniature oasis with the help of our terrarium-making workshop! With guidance from certified trainers, you and your friends, family or colleagues can craft beautiful glass globes filled with vibrant plants–all without having to leave home.
Enjoy the convenience of having individual kits delivered directly to each participant's doorstep before the event begins. Learn about terrarium theory as well as gain practical knowledge on how to create stunning mini gardens right in your own living room!
20) Virtual Stitched Leather Workshop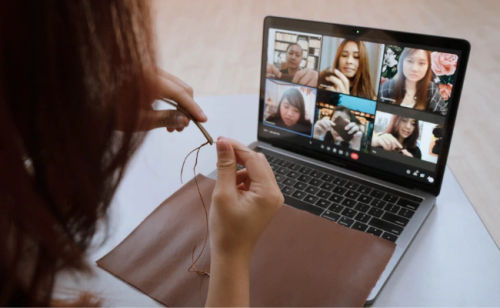 Unleash your creative potential and embark on an exciting journey of learning the fundamentals of leather crafting with our highly acclaimed Virtual Leather Making workshop! Immerse yourself in a world of exquisite craftsmanship as our expert facilitators guide you through the intricacies of this ancient art form.
From the comfort of your own home, you'll have the unique opportunity to explore the artistry of leather crafting and create bespoke pieces that reflect your personal style. With live facilitation and step-by-step guidance, you'll acquire the skills needed to transform raw materials into stunning works of art.
Whether you're a curious beginner or a seasoned artisan seeking to expand your repertoire, this workshop is tailor-made for you. Discover the joy of working with leather, master new techniques, and unlock your true creative potential.
Don't miss this chance to elevate your craftsmanship to new heights with our world-class Virtual Leather Making workshop.
How To Organize Team Activities In Singapore
Identify the Objective of the Team Activity: Whether it's team building, celebrating a milestone, or simply relaxing, knowing your goal will help you choose the best activity.
Know Your Team: Consider the interests, physical capabilities, and comfort levels of your team members. This will ensure that the activity is engaging for everyone.
Set a Budget: Determine how much you're willing to spend. This will help narrow down your options and make planning more straightforward.
Choose a Venue: Depending on the activity, you may need to book a place. Use the resources provided in this guide to find the best venues in Singapore.
Schedule a Date and Time: Make sure the chosen date and time works for all team members. Remember to take into account work schedules and personal commitments.
Make a Booking: Once you've chosen an activity, go to the respective website to make a booking. Ensure that you receive a confirmation of your reservation.
Plan for Transportation: If the venue is far from your workplace or homes, plan for transportation to ensure that everyone can get there easily.
Inform Your Team: Once everything is set, inform your team about the date, time, venue, and what they should prepare for the activity.
Follow Up: As the date approaches, send reminders to your team to ensure everyone is ready and excited for the activity.
Enjoy the Activity: On the day of the activity, ensure everyone is comfortable, participating, and having fun. This is a chance to strengthen bonds and create lasting memories as a team.
Team Activities Singapore
Team activities can go a long way in team bonding and team development. Often, team members will grow closer as they work together to solve problems or complete tasks. The team building games in Singapore that we've provided may help you foster teamwork skills among your employees or friends so that everyone is motivated and excited about the team's success!
There are many benefits of playing these fun team activities with others such as improved communication, problem solving skills, cooperation skills, creativity, and more. If you want to learn how to play any of these fun team building exercises then contact us at FunEmpire!
We specialize in planning events for groups just like yours – whether it be an office party or a company retreat or even a birthday celebration in Singapore – we'll make sure that the entire team will have a great time!
Looking for more information about team activities? Check out some of our related articles below:
Frequently Asked Questions (FAQ)
If you have any questions about team activities in Singapore, you can refer to the frequently asked questions (FAQ) about the best team activities Singapore below:
Additional Useful Articles
If you are looking for other useful guides and articles about the best team activities in Singapore, check them out below: