Team Building Games Singapore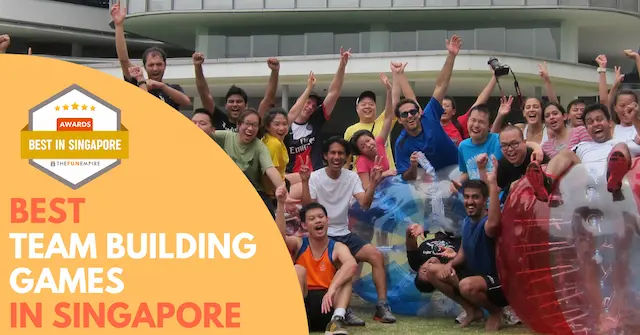 Team building games in Singapore help to foster strong camaraderie, unity, enhance communication and create a better company culture within your organization.
The best team building games in Singapore include Laser Tag, Archery Tag, Poolball, Bubble Soccer, Escape Room, Amazing Race, Art Jamming, Terrarium Workshop, Leather Craft Workshop, Candle Making Workshop and Giant Board Games.
When planning a team building event in Singapore, you should consider important factors such as group size, budget, type of team bonding games, accessibility requirements, time frame and preferred venue.
Effective team bonding activities range from exciting outdoor team activities, indoor team building games, creative workshops and even virtual team building activities.
We've leveraged our 10+ years of team building experience at FunEmpire to shortlist the best team building games in Singapore that you and your colleagues should participate together!
Key Consideration Factors
Team building games are a great way to bring your team together and build relationships. When looking for the best team building activities in Singapore, there are several key considerations to keep in mind.
1. Team Size
First, it is important to consider the size of your team. Some activities may be better suited for larger groups while others may work better with smaller teams. It is also important to think about the type of activity that would be most enjoyable for your group. Some activities may involve physical challenges while others may focus on team building games that improve problem solving skills or communication skills.
2. Budget
Next, you should consider the budget for the activity. Team building activities can range from low cost options such as scavenger hunts or museum days to more expensive options such as escape rooms or Amazing Race-style challenges. It is important to find an activity that fits within your budget while still providing a fun and fun experience for everyone involved.
3. Venue
Finally, it is important to look at the venue where the activity will take place. Many team building activities require specific spaces or equipment so it is important to make sure that these requirements are met before committing to an activity.
By keeping these key considerations in mind when looking for team building games in Singapore, you can ensure that your group has an enjoyable and memorable experience!
Adventure Activities
1. Laser Tag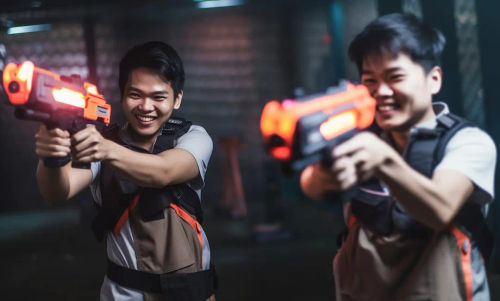 Everyone's favourite team-building activity involves exciting missions for a fun-filled bonding experience. This game is suitable for both young and mature participants, and can be conducted outdoors or at indoor venues – which makes laser tag in Singapore a definite inclusion for your fun team building event!
There are multiple missions, such as Capture the Flag, Mission Impossible and Domination, that you can choose from. The different game objectives will foster greater camaraderie and enable greater bonding among the entire group. It is also great for birthday parties, bachelors' nights, and other occasions.
2. Combat Archery Tag
A combination of dodgeball and archery games, Combat Archery Tag will excite participants of all ages. Teams are put into a fast-paced game environment of eliminating one another by shooting at opposing players. The game is completely safe, with foam-tipped arrows being used as well as face masks for players for additional safety.
The various missions such as The Revival and The Last King are great as team building games as they require strong teamwork, communication and resourcefulness. Ever wanted to channel your inner Katniss Everdeen from The Hunger Games? Well, this is your best choice for your next team bonding event then!
3. Poolball™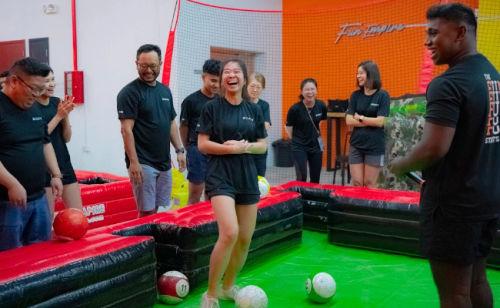 Play a variety of games such as Poolball Classic and Poolball Sabotage on the world's largest pool table. Poolball™ is perfect for corporate team building events as it involves a high level of group strategy and communication among team members. The game can accommodate both small and large groups and is suitable for participants from different age levels.
4. Bubble Soccer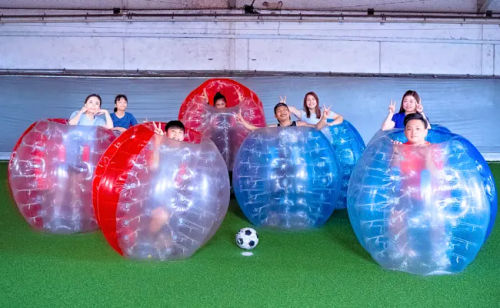 One of the most exciting and fun team building activities in Singapore that you can consider is Bubble Soccer. Bump around your colleagues and friends in a safe manner while still having tons of fun. Strategise and collaborate with your team members as you try to bump your way to success! Get to de-stress while reaping the benefits of an effective cohesion and team bonding exercise.
5. Ninja Tag
Interested in being a ninja and evading your opponents? Now you can with Ninja Tag, a close-combat style team building game that you could play with your colleagues. Each participant is armed with a foam Ninja Dagger and a scoring vest. Different missions are available, so you and your team members will have a ton of exciting game modes to play.
6. Saber Tag®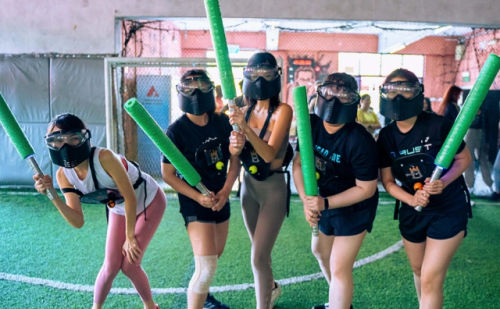 Wield your combat sabers and battle with opposing team members to achieve different game objectives. Participate in exhilarating missions are available such as Saber Wars, and Defenders of The Galaxy to test your group's teamwork and communication.
This game is perfect for your company's team bonding event and even birthday parties! Get ready for a unique and fun team building Singapore experience with Saber Tag®. This is definitely one of the most cool team building activities out there.
7. Bullet Ball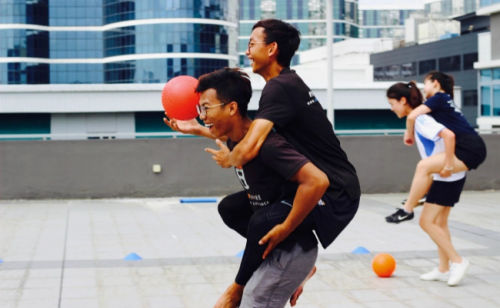 We're sure that all of you have played Dodgeball sometime before, but have you tried a faster and more exhilarating version? Bullet Ball is an original concept created by FunEmpire and is an affordable yet exciting option to consider for your upcoming team building Singapore session.
This activity caters to both kids and adults and can be held even in your office conference room. If you are looking for an activity to test your team's coordination, Bullet Ball is a great team-building game in Singapore.
8. SaberFit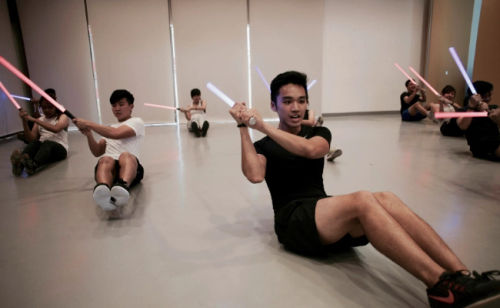 The world's first high energy group fitness workout that involves combat sabers, saber striking techniques. It is a great team activity for you and your colleagues to bond and sweat it out at the same time! It is the only group fitness workout in the world that incorporates a pair-work duelling segment and team-building elements. If you're looking for a unique and memorable team building Singapore activity for your team building event, look no further!
9. Bullet Strike (Nerf Gun)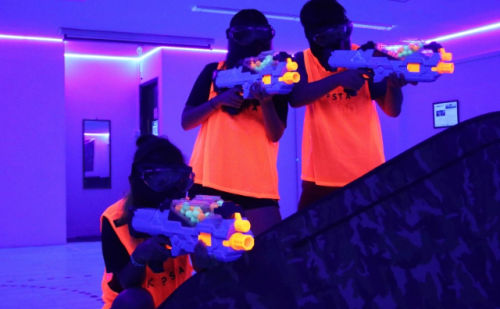 Nerf Gun is an exciting team-based activity that uses foam balls as bullets. Participants need to use Nerf blasters (i.e. guns) to shoot at opponents while achieving different game objectives. Nerf Gun is safe as the bullets are foam-based, and participants are also required to wear safety masks for additional protection during these team bonding activities.
This team building game combines high adrenaline action, as well as a team-based strategy as teams, must outwit each other to emerge victoriously. There are different game modes available that will require participants to work together with their teammates to achieve the respective game objectives. If you're looking for something action-packed and fast-paced, this is one corporate team building activity that you need to try.
10. Giant Board Games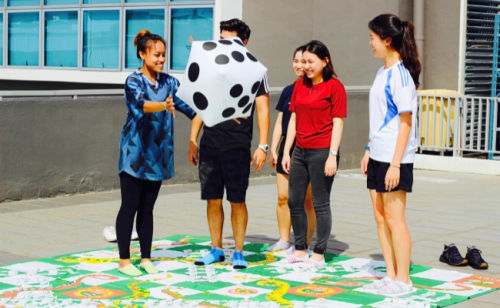 Want to bring your classic childhood games to life in a bigger and better way? There are many different games available such as Giant Jenga, Giant Pick-Up Sticks, Giant Connect Four and Giant Snakes & Ladders. The board games are all life-sized and are effective and interactive icebreaker games in Singapore.
11. Giant Whack A Mole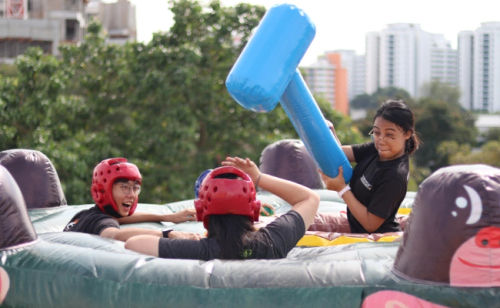 Modelled after the crazy popular arcade game, Giant Whack-A-Mole promises to create an unforgettable experience with lots of fun and laughter. The game requires its players to "hit" opponents who attempt to steal coloured balls. This is one of the most unique team building games in Singapore that you don't want to miss!
Creative Workshops
12. Art Jamming Workshop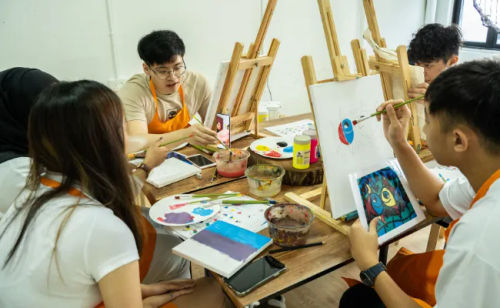 In each art painting workshop, each team member has the freedom to create their own masterpiece that they can take home or back to their office to display. This fun team bonding activity can be done on an individual basis, where each participant draws and paints their own masterpiece, or completed in groups where participants work together to paint a larger art piece.
Coupled with soothing background music for your session, Art Jamming will help to chase any work stress away for you and your colleagues! It is also a fantastic choice for small groups, birthday parties, hen's nights, wedding celebrations, bachelor parties and carnivals.
15. Candle Making Workshop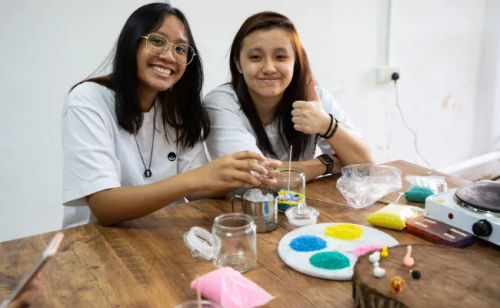 One of the most popular team bonding activities in Singapore is the Candle Making Workshop. In the candle making workshop, every team member will get to create their own scented candles that they could bring home or back to their office after the event. You can choose from different packages based on the type of candle you would like to make, from basic soy candle making to advanced soy candle layering and even gel candle making complete with using colourful sands and cute, intricate figurines for decoration.
24. Neon Bowling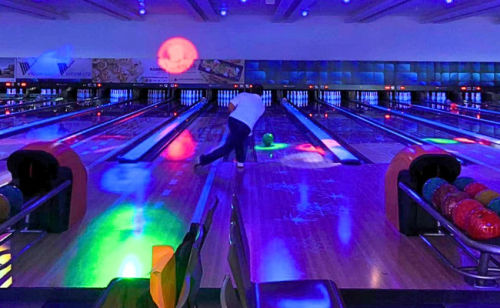 A cool twist of the regular game of bowling is neon bowling: players bowl in a cool glow in the dark experience. The game objectives are still the same, with the aim of knocking down as many pins as possible in a game to attain the highest score.
There are also different team bonding game types that you could try for your corporate team building game that are different from regular bowling. These types of team building exercises emphasize on communication, teamwork and trust in your teammates, which is perfect for your next team building Singapore event.
25. Yacht Rental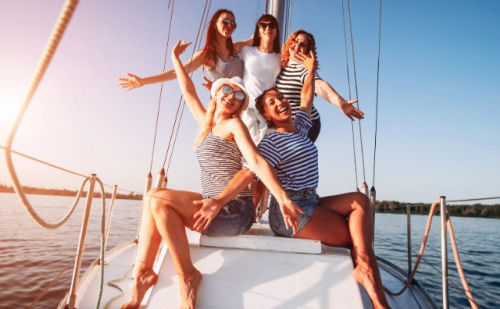 Yacht Rental in Singapore is a great alternative if you are looking to celebrate special occasions away from the hustle and bustle of the city.
If you are thinking of fresh ideas for a romantic proposal night or anniversary celebration, yacht for rent Singapore should definitely be a part of your plan.
It is also a great way to throw fun birthday parties with friends or for corporate team building!
Team Building Singapore with FunEmpire
If you're looking to find the best team building activities in Singapore, FunEmpire creates and provides the world's coolest and most activities for Team Building in Singapore. We have created and developed in-house over 60+ unique and exciting fun team building games that you and your team will love – ultimately leading to a better company culture!
Our award-winning team bonding activities have been well-loved by our diverse clientele, generating over 5,000 5-Star Reviews. We have also successfully organized over 30,000 events for more than 1,000,000 happy participants!
We are the only team building company in Singapore and Southeast Asia that attained the ISO 9001:2015 Certification in Service Quality, the world's gold standard in Quality Management. Our strong track record has led us to achieve awards such as Forbes 30 Under 30 Honouree, APAC Insider's Best Team Building & Events Company, Brands For Good Champion, Spirit of Enterprise Award and more.
Team Building Games Singapore
We hope that you have a better idea of the different types of team building games Singapore, available for your next corporate team building event.
We trust that you now have a clearer understanding of the many team-building activities that are available for your upcoming corporate team-building event.
Looking for more guides about team building? Check out some of our other interesting and useful guides below:
Frequently Asked Questions (FAQ)
If you have any questions about team building games in Singapore, you can refer to the frequently asked questions (FAQ) about the Best Team Building Games in Singapore below: