Chiropractor Singapore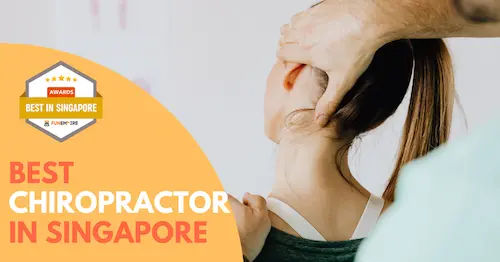 When it comes to alleviating back and shoulder issues, choosing the right chiropractor is crucial.
The best chiropractors in Singapore include Light Chiropractic, One Spine Chiropractic, Vitality Chiropractic Centre, Livewell Chiropractic, and Kissun Chiropractic.
When selecting a chiropractor in Singapore, take into account factors such as qualifications, service quality, experience, and customer reviews.
Chiropractic treatment is beneficial for a variety of conditions, including back pain, shoulder pain, neck pain, headaches, and other related issues.
If you're experiencing back pain, shoulder discomfort, or other spine-related issues, this list includes chiropractors who can provide the relief you need.
Key Consideration Factors
Before heading to the best chiropractors in Singapore, here are some key factors that you should keep in mind:
Quality of Service: You should always ensure that you are in good hands with your chiropractor. This is because they will be dealing with your body and it is best to choose someone whom you can trust.
Reputation: It is also important to check on the reputation of the chiropractor, take a look at their reviews or even ask around for recommendations.
Experience: Lastly, you should also check if your chosen chiropractor is experienced enough to handle your particular case.
Best Chiropractor Singapore
1) Light Chiropractic
Light Chiropractic is one of the most experienced clinics in Singapore operating since 2008. Their doctor was trained in America and has a wide range of skillsets to treat various issues. These skillsets include Upper Cervical Care, specific and gentle spinal adjustments.
From helping women have pain-free pregnancies and early childhood developmental care to the typical musculoskeletal system issues people suffer from such as low back pain, shoulder aches, slipped disc, and general muscle tension around the spine. They also offer free classes to help people manage stress through meditation to active breathing. Their approach to health and well-being is truly inside out.
All the prices are upfront and on their site: Fees for Light Chiropractic
Key Differentiators
1. The doctor spends an ample amount of time with the patient
2. Friendly approachable doctor
3. Quick recovery time
Client Testimonial
I found Light Chiropractic slightly over a month when I was searching for a solution for my youngest son. I read about Atlas adjustments by Dr Theo Kieu. So being rather apprehensive I thought of giving it a try first. To be honest, I have somewhat lost faith in Chiropractors in Singapore before I met Dr Theo. Those that I went to before were either just too eager to get rid of me from their clinic because there were many others waiting in line or they were just not up to it. Put it bluntly, (those chiropractors have) no skill at all.

Vince Koh
2) One Spine Chiropractic
One Spine Chiropractic came to life in 2019 when two friends Dr. Melanie and Dr. Anthony decided to combine their years of chiropractic wellness experience. This dynamic duo aims to increase the awareness that we only have One Spine, and it is something that we should take good care of. They care for people of all ages from grandchildren to grandparents and especially love seeing the growing family members in their clinic: babies, children, and mums-to-be.
At One Spine, they believe in leading by example and have a clear set of philosophies that drive their own lives and their purpose in practice:
They get to the source of the pain or discomfort with the aim to heal you in the long run.
They preach proactivity to their patients so they can be their own health advocates.
They customize their treatment plan for every patient as no one patient is ever the same as another.
Their approach is holistic and comprehensive – (Chiropractic treatments, decompression therapy, corrective exercise, ultrasound therapy, e-stim therapy, and education).
See you at One Spine Chiropractic Singapore, they are there to care for you and your family!
Key Differentiators
Family-oriented clinic
Equipped with cutting-edge facilities
Competitively priced services
Client Testimonial
I am a living example of having gotten relief through One Spine chiropractic treatment… I was spiraling into a depression then and was almost given up on hope.. so for those who suffer the same clause as I do(labyrinthitis and/or Meniere's disease) and felt at wit's end, I hope this message finds you well and don't give up.. give One Spine a try…

Arthur F.
3) Vitality Chiropractic Centre
Currently, it's hard to find time for yourself. There's work, your kids, your partner, your family, your friends; you give your time to all of them and leave little for yourself. You've tried medication and other therapies… but none provided you with a permanent solution. Moreover, they understand and help people like you every day. Hence, they use their experience to tailor a plan that guides you to a successful solution. Vitality Chiropractic is the ONLY Chiropractic Clinic in Singapore specialising in nerve system problems, such as migraines, vertigo, Meniere's disease and neurological conditions. Additionally, their doctor is the FIRST to bring Upper Cervical Specific Chiropractic Care to South-East Asia.
Key Differentiators
Firstly, the only specialist in Singapore for headaches, migraines, vertigo and neurological problems
Secondly, only Upper Cervical Chiropractor in Singapore (the only one to perform this technique in South East Asia)
Thirdly, dedicated recovery suites for faster results
Client Testimonial
I had been having chronic migraines and was desperately seeking alternative treatments. Under Dr. Shaan my condition has improved drastically. I could not be more thankful!

Manasvi Dalkoti
4) Livewell Chiropractic
Since 2018, Live Well Chiropractic was established with the aim of providing alternative care to the heartlands of Singapore. As a result of the increasing demand for chiropractic services, they wanted to make their services accessible to the wider communities of Singapore. Presently, they now provide the highest quality of chiropractic care to the communities of Sengkang, Punggol and Toa Payoh.
Key Differentiator
Firstly, patient-centric care
Secondly, incorporation of functional rehabilitation
Thirdly, experienced Chiropractors
Client Testimonial
As an accountant for over the past 20 years, I have backaches frequently due to prolonged hours of deskwork. Subsequently, I was introduced to chiropractic as my husband was already visiting one. I discovered improvements early on as well as the backaches didn't bother me as much anymore. After the course of adjustments, I feel years younger and I'm happy with the results!

Po Lin
5) Kissun Chiropractic
As a trusted and leading chiropractic clinic in Singapore, Kissun Chiropractic aims to offer affordable as well as effective treatments for all ages in the community. Moreover, its team of Doctors of Chiropractic are Australian trained and experienced in treating musculoskeletal conditions such as headaches, neck, shoulder and backaches, osteoarthritis, scoliosis, sciatica, pregnancy aches and pains and many more. Hence, their patients' conditions are managed through natural, safe, non-invasive, drug and surgery-free health treatments. In this case, you may visit www.kissun.co or contact them for assistance as well as more information.
Key Differentiators
Firstly, they are open 7 days a week. Yes, on Sundays as well as most public holidays for patients convenience
Secondly, their chiropractors are registered with the Australian Health Practitioner Regulation Agency (AHPRA) and insured. Therefore, this means they are accountable to a higher, more rigorous standard than other Chiropractors in Singapore who may not be registered with their home countries or insured.
Thirdly, closed private treatment rooms. Usually, Chiropractic clinics in Singapore tend to offer open treatment rooms. In this case, they offer closed treatment rooms as patients' privacy and comfort is important to them.
Client Testimonial
Firstly, they had private treatment rooms which mean I could have a discussion with my Doctor and not have someone within earshot laying on a table within 3 feet of me waiting for their treatment! Secondly, they took all of my previous Chiropractors letters and notes seriously and advised accordingly. They never told me you need a $5000 – $9000 down payment. Thirdly, my migraines are gone after the treatment! As a result, I have happily told friends and contacts about Kissun Chiropractic. My whole family uses chiropractic care worldwide and this practice is my go-to place when in Singapore.

Smith, Investor – Migraines
6) Chiropractic Singapore
Since 2008, they are driven by the simple objectives of treating people through chiropractic care and sharing the joy of this all-natural, drug-free approach. They ensure that their care is safe by conducting comprehensive consultation and examination before adjustments are given. As a result, their Chiropractors are able to accurately understand your condition and the adjustments required to correct the issue. In essence, they are motivated by their care for the community as well as their members' progress in recovery.
Key Differentiators
Firstly, additional adjustments are free of charge when required due to accidents or injuries, during your period of care with them.
Secondly, an extensive and thorough check-up is carried out before any adjustment is done.
Thirdly, professional as well as experienced chiropractors who specialize in adjustments.
Client Testimonial
Very satisfied with my sessions at Chiropractic Singapore! The staff are always cheerful and welcoming whenever I visit, following up with my next appointments with timely reminders and accommodating to my busy schedules sometimes. Their doctors are awesome at dealing with my aches as well as pains. Therefore, will definitely recommend everyone to try out chiropractic treatments here! 🙂

Ow Yong Chaan Loung
7) Agape Chiropractic Clinic
At Agape Chiropractic Clinic, they believe that every patient's condition is unique and they provide customized treatment for each individual. During the consultation, they will discuss your preferences before providing personalized care. To help you recover healthily, their treatment program will begin with a very thorough examination and explanation, followed by chiropractic care as well as myofascial therapy. Moreover, X-rays or MRI's will only be done if clinically necessary. You will also be taught simple but effective methods to modify your lifestyle and posture. In addition, they will teach you how to strengthen the affected muscles by doing very specific exercises to improve function, circulation, strength and endurance.
Key Differentiator
Firstly, they treat everyone including office executives, athletes, dancers and ballerinas, and pregnant women
Secondly, they have an extremely effective team, who can diagnose, treat, rehab, and monitor your recovery.
Thirdly, no requirements to purchase any packages whatsoever.
Client Testimonial
"Being a ballet teacher means spending long hours on my feet; walking around the studio to check individual student's technique, bending or kneeling to correct them, and dancing to demonstrate exercises. I experienced various aches as well as pains through muscle imbalances, and I decided to try visiting Dr Luke based on a fellow dancer teacher's recommendation. The first visit felt like magic, with my range in motion increased by active release massage as well as manipulation.

Dr Luke was able to explain my problems in simple terms, as well as I found my sessions with him very educational. He taught me exercises and taping techniques to help me strengthen weak areas, and has also generously given me advice on nutrition. If you're looking for a professional yet friendly as well as approachable chiropractor to help you with your injuries or various pain, Agape Chiropractic is the place to be!"

Customer
8) Arc Of Life
Arc of Life Chiropractic is a boutique-styled clinic that offers personalized as well as quality holistic healthcare tailored to the individual. Founded by Dr Andrew Ching over a decade ago, Arc of Life Chiropractic prides itself on offering the most comprehensive as well as integrative range of services
Moreover, in 2018, Dr Andrew Ching became the first and the only chiropractor in Singapore certified as an ANF (Amino Neuro Frequency) Therapy Pain & Holistic Practitioner and Instructor. Dedicated to helping people get rid of their body pain naturally as well as live healthier lives, Arc of Life goes beyond chiropractic to offer the very best of care to their patients. Come, discover and experience what sets them apart.
Key Differentiators
Firstly, in the words of our patients, we are "Not a fast-food chiro" (no quickie 1-2minute adjustments)
Secondly, they go beyond chiro and work on the whole body literally from above, down, inside, out and systemically
Thirdly, the only chiropractor in Singapore who is a certified ANF Therapy Pain & Holistic Treatment Practitioner and instructor
Client Testimonial
Dr Andrew and his team are fantastic, very welcoming and I felt very comfortable from the moment I walked through the doors. Andrew was great and talked me through what we were doing on each session so I clearly understood what journey I had to go on. He explained and shows me exercises I needed to do and now I totally understand how my body works this helps with everyday activities as well as posture. Overall, I have benefited from the treatment and very pleased to recommend his practice to everyone.

Jospeh Koo
9) Dr. Chiro
Dr. Chiro is professionally-trained chiropractic and holistic health care practice committed to revitalising as well as transforming your mental and physical health through non-surgical and non-drug procedures. In addition, they provide quality chiropractic care through holistic assessment and multi-modal adjustment techniques for individuals and families to achieve optimal health from the inside out, head to toe, and for all ages.
Key Differentiators
Firstly, Dr Nicholas Lim has studied the human body as well as nervous system in great details in terms of Chiropractic and Nutrition. Moreover, he can tailor treatments to best serve patients needs in a holistic manner.
Secondly, conveniently located at 52 Blair Road, opposite Singapore General Hospital and Outram Community Hospital next to Outram Bus Terminal and Outram MRT Station.
Thirdly, we provide quality chiropractic care through holistic assessments as well as multi-modal adjustment techniques for individuals
Client Testimonial
"Dr. Nicholas is a great chiropractor! He explained where my neck problem was coming from, how he can help, as well as how I can help myself. He has done wonders for my neck and I highly recommend him!"

Customer
10) Chiroworks By Dr Gary Tho
Presently, ChiroWorks is a pain relief and peak performance clinic. They help people release stress as well as tension, chiropractic adjustments realign, nervous system and body. In addition, they also help to renew patients' habits by teaching them how to help themselves. Moreover, they want clients to feel great, live more and limitless. Notably, ChiroWorks have been recognised as one of the Finest Chiropractors in Singapore 2020 as well as the Top 3 chiropractic clinics in Orchard. In addition, ChiroWorks have been awarded the WhatClinic's Patient Service Award for three years in a row.
For 14 years, Dr Gary has helped thousands of people recover from acute and chronic aches, pains and sports injuries. Additionally, he has also delivered over 800 corporate talks and workshops. Their clients are people who want and need their body to keep up with their everyday lifestyles, such as executives, athletes and many more.
Key Differentiators
Firstly, they focus on your goals, not theirs. If you're looking for relief, that's what they will prescribe and so you can feel better, faster. If you want to fix the pain problem so it doesn't come back, then they'll do what it takes to get your body to heal.
Secondly, They work on more than just spines and bones. So besides the importance of adjustments to correct and restore the alignment and nerve irritation, they also address the muscle movements, the fascia and connective tissues, the circulation, the lymphatic system to remove toxins and the brain-body connection.
Thirdly, they have a giving protocol. Each time they receive, they give. For example, every time someone comes in for an adjustment, they give 40 days of water to farmers for irrigation of crops in rural Africa. Just last month, they partnered with B1G1 Business for Good to plant trees, give education access, medical access, food and clean water access, and more as their way to contribute and change more lives every day.
Client Testimonial
This wonderful clinic does not recommend a pain killer or any other drug. I tried various eastern physicians for treatment but to no recovery results. Dr Gary, an Australian physician attended to me. On my first 2 sessions, my pain was relieved and I could walk some distance. By the time I attended 8 sessions, I was able to walk with less pain and I was so glad that I do not have to rely on my wheelchair and walking frame anymore.

Adeline C
11) The Chiropractic Care
Chiropractic Care is one of the oldest chiropractic clinics in Singapore when it first established in 1992. Their centre has been a place of healing as well as hope for those in Tanglin and Singapore. In fact, they have received many word-of-mouth referrals throughout the years. While they see many busy professionals due to our central location, they welcome patients of all ages to their practice, where you seek to benefit from natural chiropractic care.
Key Differentiators
Firstly, 2021 marks our 29th Anniversary, treated more than 25,000 patients in total
Secondly, when it comes to treating their patients, they do not believe in the conveyor belt system. On every visit, patients are required to account for their recent activities, and to highlight the improvements or new areas of concern to ensure that they are updated on their patient's health condition
Thirdly, they advocate consistency in receiving care with us. They educate as well as address expectations in a more realistic manner (can't expect magic to happen just from a single treatment). In addition, proper spinal care requires time to recover and maintain its optimal condition.
Client Testimonial
The main issues have all been solved, now I am in maintenance mode. There were sessions of traction, manipulation, exercises and adjustments to bad habits that all eventually lead to the cure. Besides the main issues, side issues were also solved. Overall very happy with their service.

Heng Kian Lim
12) ChiroTherapy
Chirotherapy was born to provide a healing environment for everyone who needs a space to get treatment. They wanted to create a space where everyone can relax, enjoy as well as understand the human body better. With a fully equipped clinic for chiropractic, physical therapy as well as spinal rehabilitation, they aim to provide the best treatments for everyone. Presently, they are located in the convenient location of Bugis and have three full-time chiropractors on board. Their chiropractors specialise in postural related pain, neck pain, headaches, back pain, spinal disc issues, nerve pain as well as rehabilitation of the spine and human frame. Hence, they look forward to seeing you in our healing space!
Key Differentiators
Firstly, combined chiropractic adjustments and physical therapy in one session.
Secondly, clinic is owned by local Chiropractors who want to provide affordable care for everyone.
Thirdly, friendly and down to earth team who is approachable.
Client Testimonial
I'm always grateful for every session. Everyone is nice and gracious. The receptionists are always accommodating. The doctors are caring and always make sure I am comfortable in all my sessions. The assistants are very good with their job. Your clinic has definitely improved my life. Thanks so much!

Elaine
13) True Chiropractic Group
True Chiropractic Group was founded in 2010 and is one of the best chiropractic clinics in Singapore.
It features some of the best chiropractors in Singapore on its team, such as Dr. Justin Mariano, who served in the United States Navy and received a Bachelors Degree in Nutrition and Doctor of Chiropractic degree from Life University.
Apart from providing chiropractic adjustment services, Dr. Mariano also helps people to achieve their goals through health education. He has extensively studied the practices of healthy people worldwide to aid in his goal of helping people reach their goals.
True Chiropractic Group also provides a wide range of chiropractic services.
Key Differentiators
Open to children and adults
Easy booking of appointment
Longer operating hours
Client Testimonial
Excellent practice and service. Tom was particularly great in helping me realign my posture. I generally crane my neck forward staring at a screen, sitting at a desk all day. After regular visits and a tailored rehab plan, I can say the pain created from my posture is fixed! Thanks Tom.

Jasper Pipe
14) Re:Chiro Singapore
Formerly known as Singapore Pain Solutions, Re:Chiro Singapore is recognized as one of the best chiropractic clinics on the island. It's a member of The Chiropractic Association of Singapore, and its doctors are both skilled and highly trained. Dr. Jeff Aderer is one of its resident chiropractors. He has over seven years of expertise and specializes in mirror imaging corrective care, gentle laser chiropractic techniques, functional medicine, pediatric care, concussion management, and much more.
Re:Chiro Singapore isn't just for grown-ups with muscular and physical pain, but also for professional athletes recovering from a sports injury and children. It can help sportspeople aiming to improve mobility and minimize the risk of injuries by offering specialized therapy. Spinal problems in children, on the other hand, are typically caused by frequent falls and poor posture throughout childhood.
Aside from chiropractors, Re:Chiro Singapore is home to skillful physiotherapists, orthopaedic surgeons, personal trainers, and even naturopathic doctors who can help you with a wide range of issues.
Key Differentiators
Online booking of consultation
Open to both children and adults
Client Testimonial
Very punctual in their appointment, seldom I need to wait much for my turn. Been there for maybe two months and brought my 12 yr kid and wife along too. Recovering bit by bit from more than 10 years of shoulder and neck ache

See O
15) Healing Hands Chiropractic
Healing Hands Chiropractic is one of Singapore's most accessible clinics, with numerous branches all over the island. Aside from its headquarters in Raffles Place, it has another clinic in Rochester Mall and along Coleman Street. It includes a large group of chiropractors, including Dr. Marc Calaunan, an experienced practitioner with several years of expertise.
Healing Hands Chiropractic is distinguished from other chiropractors by its emphasis on personalized medical services to ensure that each patient receives the greatest level of care possible. Its chiropractic team is trained extensively to deliver outstanding results for all patients. Another thing that many clients appreciate about this clinic is the cleanliness, safety, and comfort of all of its facilities.
It also provides corporate wellness programs, which are ideal for businesses searching for stress-relieving activities for their employees. It is the first and only practice of chiropractic to provide these services in an industrial health and safety setting.
Key Differentiators
Personalised medical treatment
Multiple branches with accessible locations
Client Testimonial
Dr. Nin Kee, Eunice, Julie and team are very helpful and effective in treating my mom's back. Highly recommended!

Sathiya Kumaran
16) Elite Spine Services
Elite Spine Services is run and led by Dr. Michael Bryant, a chiropractor with hundreds of chiropractic treatments on his resume. He attended the University of Michigan and was invited into several prestigious honors programs. Dr. Mike's specialties include neck pain, back discomfort, frozen shoulders, sports-related injuries, and spinal decompression.
Dr. Michael is well-known for making his patients feel comfortable and safe during a chiropractic session. He's also nice, so he tries to engage with patients as a method of distracting them while treating them. The following are some of the therapies offered by his clinic: low-level laser therapy, sports massages, modern chiropractic, and massage therapy.
Key Differentiators
Comprehensive medical treatments
Uses modern medical equipment
Client Testimonial
After reading some reviews on Google, I decided to visit Elite Spine Centres. The first time I met Dr. Mike and his friendly bunch of staff, I was impressed by their professionalism and service. Dr. Mike took the time to explain my condition and worked on a customized treatment to address my condition. After seeing him for about 2.5 months, my back pain and IT band issue has improved. Prior to this, I have been seeing a few physiotherapist but my condition remained the same. Thanks to Dr. Mike and his wonderful and friendly staff, I feel so much better now. They have always been so helpful during each of my visit. Definitely deserves a 5 star rating.

Bernie Chin
17) Macquarie Chiropractic
Macquarie Chiropractic is a chiropractic clinic in Singapore. Dr. Seow Kim Seng is the clinic's director and resident chiropractor. He has only been practicing for less than five years, but he has treated patients of all ages and professions, including professional athletes suffering from a sports injury and office workers. As a chiropractic patient himself, Dr. Seow understands how chiropractic care can help improve the quality of life for his patients.
Macquarie Chiropractic is a relatively recent addition to the island's chiropractor scene, but it has already established itself as the most advanced. It makes use of BTL Super inductive System (SIS), HILL decompression table, BTL shockwave therapy, and LEANDER flexion-distraction table for example.
Due to the epidemic's constraints, Dr. Seow can only see 15 people each month, so those who need care may have to wait a month.
Key Differentiators
Open for all ages
Client Testimonial
If any of my clients/friends/colleagues would ever need to see a chiro that's where I will send them! Dr Seow is such a nice human and a professional + his entire team is top notch Always so welcoming and attentive. Massive kudos for being there for me over those 5 months and helping me with the issues I had to experience due to scoliosis and neck issues. Keep up the amazing work!

Kristi Klaus
18) Active Life
Dr. Wade Thomas Stuchbery is a chiropractic practitioner from Adelaide, South Australia. He completed his chiropractic education at Macquarie University in Sydney before practicing across several clinics in Australia before settling in Singapore to practice. He specializes in neuromusculoskeletal conditions and sports injuries, so he's especially helpful for athletes with pain and injuries. He is a member of the Australian Chiropractors' Association, Sports Physicians Australia, and the South Australian Sports Medicine Society.
Dr. Wade is trained in a variety of chiropractic procedures, including soft tissue releases, cranial releases, and the sacro-occipital technique, as well as injury rehabilitation and the Thompson Drop Piece.
Key Differentiators
Proficient in a wide range of chiropractic
Friendly and approachable
Client Testimonial
Dr. Ryan and Larry presented a workshop at CrossFit Dover this weekend and it was amazing! They were both extremely professional! Each of them put their heart into every piece of the weekend. I learned so much helpful information and look forward to putting it into practice as soon as possible.

Michael Scharmach
19) Onsite Health Singapore
Onsite Health Singapore is not your typical clinic since they also provide on-site and near-site health services directly at the workplace. For their corporate customers, they aim to combine optimum health with maximum time management. Their services may help you get rid of stress and wait times associated with going to clinics and hospitals.
They are excellent since apart from their Novena facility, they also provide physical treatment for a variety of multinational businesses at home. Their firm offers in-house ergonomic assessments, wellness seminars, chiropractic and physiotherapy treatments, all of which are tailored to the requirements of their clients.
They also provide chiropractic treatments at their private clinic in Novena, Singapore. They don't offer packages or have treatment plans that are designed for each patient's specific requirements. What's nice about them is that they give one-on-one sessions, rather than group sessions.
They don't just perform spinal adjustments; all of their chiropractors are also trained in soft tissue therapy, dry needling, exercise rehabilitation, and shockwave treatment. Because they have longer appointment times, you may inquire about anything and you will not be rushed.
Key Differentiators
Longer appointment times
Completed over 50,000 treatments for employees directly at the workplace
Client Testimonial
I was referred to my physiotherapist Doreen Ho by my friend and I will definitely recommend her to my friends as well! She is always patient and detailed in explaining. Not forgetting Vera who is always so cheerful and welcoming the moment I step into the clinic! Thank you all!

Pei Pei Tan
20) Family Chiropractic Clinic
The family-oriented Chiropractic Clinic in Singapore caters to a wide range of health issues for all ages and is run by Dr. Suyi Choo, a chiropractor with an excellent track record. Dr. Suyi studied at the Royal Melbourne Institute of Technology and obtained her chiropractic training in Singapore, Malaysia, and Australia.
Other chiropractors in Singapore are unable to treat both pediatric and geriatric musculoskeletal problems, which is why she stands out. Other therapies accessible at Family Chiropractic Clinic include extremity adjustments, myofascial therapy, SOT therapy, denerall blocks stretching, craniosacral therapy, sports taping, and even cupping.
It differs from other chiropractic clinics in that it focuses on personalized treatments rather than a uniform therapy for all cases. Following the initial consultation, its chiropractors develop a thorough treatment plan. It is known for having some of the most inexpensive therapies on the island, which explains why it sees such a large number of people every week.
Key Differentiators
Family-oriented clinic
Equipped with cutting-edge facilities
Competitively priced services
Client Testimonial
My family and myself have been coming to Family Chiropractic for many years, and for someone with spinal issues such as myself, they are essential in keeping me functional for my physical work.

Hanhwee Ang
21) Natural Healings Chiropractor
More than eight offices of Natural Healings Chiropractor can be found all across Singapore, making it one of the most conveniently located chiropractic clinics on the island. It's recognized for utilizing only safe and natural therapies to cure musculoskeletal problems. Its chiropractic treatments are accessible to people of all ages, from infants to senior citizens.
Every chiropractor on its team has been trained and certified to do spinal decompression, traditional Chinese medicine, and all other types of chiropractic adjustments. Its chiropractors have also been taught to find and create unique therapies for improving mobility, posture, and bodily functions over a longer period of time.
It offers chiropractic treatments as well as other goods that may assist people in improving their muscular strength and endurance. It has an online shop where orthopaedic pillows, functional straps, therapeutic balms, and neck rolls are sold.
Key Differentiators
Safe and natural treatments
Client Testimonial
I highly recommend Natrahea (Heartland Mall) – Dr Karen was on-point and caring in her chiropractic adjustments, and Sherry was intuitive and effective with her sports massage. The support staff are warm, friendly and efficient. Awesome experience!

Linds Tan
22) Atlas Chiropractic Clinic
Atlas Chiropractic Clinic is a chiropractic clinic run by Dr. Terrence Yap, the managing director and resident chiropractor. It's a clinic that not only treats patients but also teaches them about musculoskeletal disorders and how to avoid them. He isn't your everyday chiropractor. In 2006, he became the only chiropractor in the world to have his doctorate awarded by Palmer College of Chiropractic of Florida.
Dr. Terrence obtained his bachelor's degree in exercise science at Concordia University in Canada and focused on adapted physical capability soon after. Atlas Chiropractic Clinic always tries to keep up with the newest evidence-based therapy to assist their patients better. You may trust Dr. Terrence's knowledge because your chiropractic issues will be resolved quickly and effectively.
Key Differentiators
Comfortable and cozy vibe
Accepts patients during weekends
23) Asia Chiropractic & Wellness Singapore
Asia Chiropractic & Wellness offers treatments for different groups of patients, such as children, adults, women recovering from pregnancy, and athletes suffering from a sports injury.
The initial consultation will involve a discussion with an experienced chiropractor to determine the best type of treatment. They will also recommend a wellness program to be followed outside of treatment, in order to help you achieve a positive physical and mental state.
Key Differentiators
Treatments for different groups of patients
Wellness program
Client Testimonial
I have been living with my neckache and headache for more than ten years. Probably taken hundreds of pain killers each time my pain arises. Not knowing what's the underlying issues, I was referred to Asia Chiropractic to have a check. My x-ray shown the disorders of my cervical and lumbar spines. After about 10 visits and treatments/adjustments, my neckache's gone, postures improve and best of all I can sleep better. Thanks Dr Melisa, Linda and Patrice. Your services much appreciated

Vernon Kwek
24) Life Chiropractic Centre
Dr Brian Morris, a chiropractor with over 10 years of experience, founded Life Chiropractic Centre to provide the best chiropractic treatment for Singaporeans. First-timers can expect an affordable comprehensive initial consultation at $49 involving a spinal test, posture analysis, and chiropractic adjustment.
Key Differentiators
Experienced chiropractor
Affordable services
Client Testimonial
Took a chance and tried chiro after seeing quite a number of people at Life Chiropractic Centre whenever I walked passed. After 2 months with Brian, my persistent neck and shoulder issues which caused terrible headaches are no longer a major issue for me. Now into the 3rd month, I just head back to Brian's for routine "maintenance". The new place at Katong Point also has a nice relaxed environment. In all, excellent service without any fuss as bookings are done online easily.

Juliana Lim
25) Chiropractic Concepts
Placing emphasis on patients' health goals, Chiropractic Concepts was founded by Dr Shaun and Dr Chua, who employ the Gonstead chiropractic (which helps with spinal health, muscle health, and joint health) and Functional Rehabilitation techniques.
First-time visitors will receive a free consultation which involves identifying their needs and customising personalised treatment plans.
Key Differentiators
Chiropractic treatments are carried out using the Gonstead system and Functional Neuro-Orthopaedic Rehabilitation
A complimentary consultation for first-time patients
Personalised approach
Client Testimonial
Dr. Shaun and Dr. Chua show a great amount of care for their patients. They are equally committed to understanding the causes of an issue and educating their patients on the holistic way of treating it. I can't recommend them enough.

Nikola Rudic
26) Square One Active Recovery
Founded by Jesse, Square One Active Recovery does not offer chiropractic packages. Instead of multiple chiropractic sessions, Jesse adopts an evidence-based chiropractic technique that helps chiropractic patients reach their recovery and health goals in less than 7 visits.
During the chiropractic consultation, Jesse identifies and tailors the recovery program for his patients, with exercises that they can do at home to recover. His ultimate aim is to ensure that patients do not require his services.
Key Differentiators
Helps chiropractic patients recover with few chiropractic sessions
Evidence-based chiropractic treatment approach
High success rate among previous patients
Client Testimonial
I went to Square One to get treatments for my backache, neck pain and headache. I feel that the exercises prescribed to me really help with my issues. The best part is that being able to resolve my ailments through my own efforts let me feel independent, and give me a sense of control over my own well being. I will definitely recommend Square One to people who wants to be able to take charge of their own recovery and own well-beings.

Cheng Xiang Liou
27) Asia One Chiropractic
Asia One Chiropractic is the ideal destination for finding trustworthy chiropractors in Singapore. Wouldn't you want to get chiropractic care from a clinic that has more than two decades of combined expertise in the field? You will be attended to by one of Asia One Chiropractic's two highly skilled and experienced chiropractors.
Key Differentiators
You will be served by either of the two very experienced and talented chiropractors
There are also chiropractic services offered to expectant mothers to help them relieve body stress
Client Testimonial
I've been coming for regular adjustments under Dr John for the past 3 years and it definitely has made a significant improvement in my posture and my overall well-being (used to have headaches often, back pains & tingling sensations in my hands which all links back to our spine). As an athlete, it helped me perform better too! Sachi also makes my scheduling of appointments super easy & flexible hehe!
28) Chiropractic Studio
Chiropractic clinic that provides posture and spine evaluation, a client-centered lifestyle approach, health spinal maintenance, as well as aftercare and mobility exercises. With a five-star rating out of five reviews, the center assu rm scustomer satisfaction. The personnel is polite, competent, and also offers useful tips for improving one's lives.
Key Differentiators
The chiropractic studio is easily accessible for people to work in Singapore's retail area
$50 new patient offer (t&cs apply)
Client Testimonial
Aaron and the team have positively changed my physical health with the chiropractic care I receive from them. An incredible team full of professionalism, kindness and expertise. If there is one thing that you can do for yourself going forward I highly recommend seeing Aaron and the team
29) Total Health Chiropractic
Total Health Chiropractic Singapore was founded by Dr Tim Errington with the belief that the little aches as well as pains are actually warning signs of larger health concerns that can no longer afford to be left unaddressed. Since its establishment in 2010, it has quickly grown to become the trusted chiropractic business in Singapore. With five clinics and eight fabulously talented doctors, Total Health Chiropractic aims to help patients live a healthy as well as pain-free lifestyle.
Key Differentiators
Firstly, 5 Award-winning chiropractic clinics with 300plus Google Five Star Reviews
Secondly, they have 8 Doctors of Chiropractic with a combined 65 years of experience between them coming from world-leading chiropractic schools.
Thirdly, Total Health Chiropractic is a family-owned business operating in Singapore for over 10 years with a great desire to make their client's experience with us as stress-free, straightforward, and rewarding as possible.
Client Testimonial
I've gone to many different centres and doctors but none could actually solve my issue. So honestly, chiropractic care seemed to be my last resort. To my surprise, the root of my problem is not my lower back but it's my neck! What?! I wasn't very convinced since I've been having lower back pain for the longest time, but after taking a full spinal X-ray scan, I was shown the results and yes, I finally saw the light at the end of the tunnel haha! So now, after 24 sessions, I can confidently say that I'm experiencing ZERO lower back pain now! It's almost like a miracle, really!

Winnie Chan
Chiropractor Singapore
With this line-up of the best chiropractors in Singapore, we hope that it will be helpful for you in the future. The best chiropractors focus on ensuring that their patients recover and achieve their health goals as soon as possible. These chiropractors listed are very experienced as well as have a high level of knowledge regarding chiropractic treatments.
Since you made it to the end, why not check our interesting articles:
Frequently Asked Questions (FAQ)
If you have any questions about chiropractors in Singapore, you can refer to the frequently asked questions (FAQ) about the best chiropractors in Singapore below:
Additional Useful Articles
If you are looking for other useful guides and articles about chiropractors in Singapore, check them out below: