Craft Workshop Singapore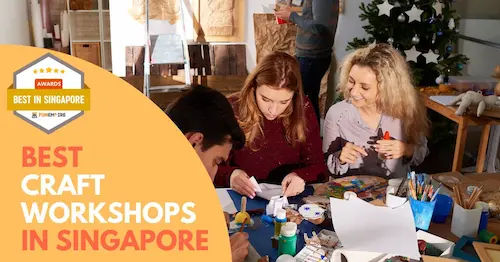 Craft workshops are some of the best team building activities in Singapore.
The Best Craft Workshops in Singapore include Terrarium Making, Art Jamming, Candle Making, Leather Making, and Balloon Sculpting.
When you're planning to book a craft workshop in Singapore, take into account key factors like the size of your group, your budget, the location, the duration, and the available design options.
FunEmpire is one of the best craft workshop providers in Singapore, with an impressive track record with over 8,000 5-star reviews and a successful hosting of more than 50,000 events.
To help you out, we've compiled together some of the best craft workshops in Singapore for you to explore!
Benefits of Craft Workshop
Improves Mental Health: Engaging in crafting activities has been proven to have a positive effect on mental health. It helps reduce stress, anxiety, and even depression. Crafting can give you a sense of accomplishment, which in turn can have a positive effect on your mood.
Boosts Creativity: By participating in craft workshops, you are exposed to new ideas and techniques that can help spark your creativity. This can help enhance problem-solving skills, which can be valuable in many areas of life.
Socializing and Networking: Taking part in a craft workshop can be a great way to meet new people who share your interests. This can lead to new friendships, networking opportunities, and the chance to learn from others.
Increases Self-Esteem: Through crafting, you can create something tangible that you are proud of. This can help boost your self-esteem and give you a sense of accomplishment.
Develops Focus and Patience: Crafting requires a certain level of focus and patience to complete. By participating in craft workshops, you can develop these skills which can be beneficial in many areas of life.
Best Craft Workshop Singapore
Creative Craft Workshops
1. Terrarium Workshop
Unleash your creativity and help the environment by joining our Terrarium Singapore workshop! Our experts have designed an in-house curriculum specifically to be educational, fun, and provide you with hands-on experiences. Create a mini forest that you can take home today for yourself or as a gift – what better way to show someone how much you care? Sign up now and start creating your own unique terrarium!
2. Clay Making Workshop
Unleash your creative potential and learn how to utilize clay for crafting intricate food figures. No prior experience is necessary as you will be guided through each step of the process- even beginners would find it easy enough! Not only is this course suitable for individuals but also perfect for teams searching for an enjoyable activity that can accommodate participants spanning different ages. Sign up now and discover all the wonders of Clay Making!
3. Tote Bag Art Jamming Workshop
Searching for something extraordinary? Look no further and join us at FunEmpire's Art Jamming! Craft your own memorable tote bag with just the force of your imagination. All supplies will be provided, so there is nothing to fear – even those without prior art experience can still participate in all the fun! Embark on a creative journey today and allow yourself to express freely.
4. Cooking Class
Ignite your team-building session with a tantalizing experienced in Singaporean cuisine! Our cooking classes will take you and group on an unforgettable flavor journey, allowing everyone to unleash their inner master chef. Create local specialties that are sure to leave each of your coworkers wanting more! Let the culinary adventure begin!
5. Canvas Art Jamming Workshop
Allow FunEmpire to help you tap into your creative potential. At our facility, revel in an Art Jam session with friends, family members or colleagues that is enjoyable and stress-free! Our specialists supply all the necessary items for a pleasurable painting event – no prior artistic expertise needed! Seize this special moment to let loose and make something lasting!
6. Gel Candle Making Workshop
Unlock your imaginative potential and create a custom gel candle as a group – it's the perfect team-building opportunity! Design with various inserts, advance your candle game, and take home an unforgettable souvenir that symbolizes all of the fun you had working together to build something totally unique.
7. Balloon Sculpting
Ignite your creativity and embark on an unforgettable journey with FunEmpire's Balloon Sculpting Workshop! A fun-filled activity for everyone, you'll uncover the secrets to forming beautiful shapes and colors like butterflys, flowers or even pirate swords. With guidance from our professional instructors as well as all necessary materials provided at the workshop, it is a perfect opportunity for team-building activities and birthday parties alike – book now to open up your world of imagination!
8. Leather Workshop
If you're eager to uncover the mysteries behind hand-stitching leather, then don't miss out on our Stitched Leather Workshop! We'll provide all of the essential materials and give instructions step-by-step so that you can craft your own card holder. With limited seating available, seize this unique chance to gain skills for a lifetime – join us today!
9. Neon Art Jamming Workshop
Brighten up your night with our exclusive fluorescent neon paints and tools! Our Art Jamming session is like no other. After a long day, let go of all stress by creating an electric work of art that glows in the dark! We provide all materials needed to craft an eye-catching masterpiece – simply book your appointment now and get ready for a unique experience you won't find anywhere else.
10. Perfume Making Workshop
As the adage goes, one's scent preference can tell a lot about their character. In our workshop, you will have the opportunity to compose your own unique aroma by blending together different scents! This team-building activity allows all participants to find out more about each other's olfactory preferences while having fun at the same time. At the end of this experience, everyone will be able to take home with them their very own custom fragrance – making it an unforgettable memory for years and years to come.
Virtual Craft Workshops
11. Virtual Leather Workshop
Get your creative juices flowing and explore the art of leather crafting with our economical starter kit! Before you dive into this unique team-building activity, each individual will be provided all necessary materials. Our experienced trainer will then proceed to enlighten you on various types of leather as well as upkeep fundamentals. You'll have the chance to demonstrate what you've learned by designing personalized items such as key fobs or coin pouches. Revel in joyous pride at having crafted something that is both useful and one-of-a-kind – only with us!
12. Virtual Clay Making Workshop
Searching for an inspiring and exciting team-building activity? Why not craft your one-of-a kind keepsakes or appealing clay figurines! Our superior air dry clay provides you with the opportunity to design your projects securely and inventively, without worrying about any toxicity or heaviness. And it's not just about having a fun time – you can also deliver your remarkable creations as personalized gifts for those close to you.
13. Virtual Candle Making Workshop
Unleash your imaginative side and join the FunEmpire Virtual Candle Making Workshop with your team! Our curated home kit comes complete with all necessary materials to create an eye-catching, fragrant soy candle alongside a refined figurine. Grasp this extraordinary chance to form solidarity and strengthen teamwork among colleagues – participate in one of Singapore's top corporate activities today!
14. Virtual Terrarium
Let your imagination come alive with FunEmpire's Terrarium Home Kit – an award-winning workshop sent right to you! Our kit includes all the essential materials, plus a delightful figurine, for crafting your own miniature garden. Not only is it an entertaining and unique craft activity with friends or colleagues, but our qualified experts will also provide both theoretical and practical instruction on terrarium making from the comfort of home. Create a personalized mini-garden that will bring much joy as well as form unforgettable memories!
15. Virtual Art Jamming
Start expressing yourself through art with our interactive painting workshop. From canvas to tote bags, acrylic paints and pencils to erasers – you get an array of materials at your fingertips that can be used to create your own masterpiece! Our experienced facilitators will also guide you in the process as well help you learn basics of color mixing theory during this online session. So why not come join us and turn even ordinary surfaces into something extraordinary?
Craft Workshop Singapore
Singapore is a vibrant city that offers so much in terms of art and culture – and craft workshops are an excellent way to unlock its hidden potential.
From virtual terrariums to candle-making, leather crafting and pottery workshops in Singapore – the range of activities available for teams is immense.
So if you're looking for something special for team building in Singapore, be sure to check out what FunEmpire has to offer. Our qualified facilitators and top-notch materials will guarantee an unforgettable experience for everyone involved!
If you want to read more interesting articles, follow the links below:
Frequently Asked Questions (FAQ)
If you have any questions about Craft Workshops In Singapore, you can refer to the frequently asked questions (FAQ) about the Best Craft Workshops In Singapore below:
Additional Useful Articles
If you are looking for other useful guides and articles about Craft Workshops In Singapore, check them out below: