Wedding Band Singapore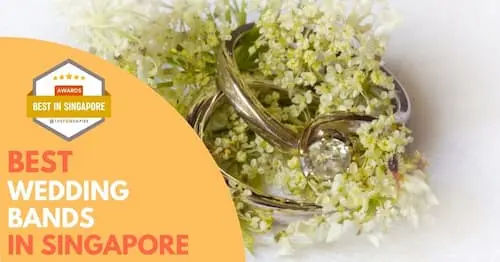 Finding the ideal wedding band in Singapore is a crucial step towards your special day, as it represents the love and commitment between two individuals.
The best wedding band shops in Singapore include eClarity, Goldheart, Poh Heng, More than Diamonds, and Storïs.
When selecting a wedding band in Singapore, take into account aspects like your budget, personal style preference, and the vendor's reputation.
Classic gold bands, diamond-encrusted rings, and custom-designed pieces are among the most sought-after types of wedding bands in Singapore.
Whether you prefer a classic gold band or a sparkling diamond encrusted masterpiece, you're sure to find your dream wedding band in Singapore right here.
Quick Summary
Best wedding bands in Singapore include eClarity, Goldheart, Poh Heng, More than Diamonds, and Storïs.
When choosing a wedding band in Singapore, consider factors such as budget, style preference, and reputation of the vendor.
The most popular types of wedding bands in Singapore are classic gold bands, diamond-encrusted rings, and unique custom-designed pieces.
Best Wedding Band Singapore
1. eClarity
Key Services
Diamonds
Customization
Jewelry
Wedding bands
Address
391B Orchard Road #21-05A Ngee Ann City Tower B, Singapore 238874
Website
https://eclarity.com.sg/
Phone
+65 9833 1220
Email
info@eclarity.com.sg
Operating Hours
Weekdays: 12 PM to 8 PM
Saturdays:12 PM to 3 PM
A well-known brand. It was founded in 2005 and is known for its gemologist assistance, design exclusivity, and outstanding craftsmanship – Specializing in bespoke engagement rings, wedding bands, bridal jewelry & anniversary gifts.
The Passionne L amour Collection series, which features their band in 18k gold, white and rose, is one of the favorites. Its distinctive hue is distinguished by its white and rose gold finish, bringing to life the wonderful taste of wearing a symbolic ring signifying a "till death do us part" promise you will make to each other.
Key Differentiators
"Japanese style" wedding bands
(Probably) first online jewellery retail website
With experienced craftsmen and designers
Customer's Testimony
My husband customised my engagement ring here and we customised our wedding rings here too. Back after 10 years to customise an anniversary ring for my husband and service still as fabulous!

J. Goh
2. Goldheart
The Goldheart world of jewelry is characterized as "luxury with meaning." They also claim to be the first and most popular bridal jeweler in Singapore! White gold and platinum wedding bands were also pioneered by them.
The "Celestial Difference" distinguishes these diamonds from the rest. They are the only ones to distribute the Celestial Diamond, which is the first 73-facet starburst diamond in the world. So special that this cut was invented so more light may travel through!
Every single one of Goldhearts' Celestial diamonds is graded to extremely high standards. Every 0.50-carat Celestial diamond must be approved by the Gemological Institute of America.
To complete the package, they've also included a sapphire gem sitting on the inside of the band. It is to Goldheart what purity and devotion signify. The phrase "simply genuine love between two people" sums up their feelings.
Key Differentiators
First and leading bridal jeweller in Singapore
Exclusive concept of Pure Blue
Offers a wide variety of wedding bands
Customer's Testimony
Been here several times to purchase jewellery. Bought diamond earrings and rose gold rings on different occasions. Love their k style designs as they are stylish and dainty, suitable for both work and weekends. The service is wonderful too.

Vivian Foo
3. Poh Heng
It's time to shine the spotlight on a company that began in Singapore.
Poh Heng Jewelers, the Singapore leader in gold jewelry for 70 years, claims that "gold is who we are." They take pride in their workmanship and utilize human touch at every stage. Every item is verified by the Singapore Assay Office to ensure you're getting the genuine article.
The Poh Heng Trust Diamond is one of the most sought-after diamonds in the world, with less than 5% of all diamonds eligible to join it. Their selection and curation methods are thorough hand-picking. A diamond must be 10 times more brilliant than the 4C qualities.
Key Differentiators
Installment Payments
70 years in the industry
Certified by the Singapore Assay Office
Customer's Testimony
Visited Poh Heng @ Bedok branch today and was served by Cris. Her service was impeccable! She was very friendly and accommodating. Super love her service! I am very pleased with my purchase too. Thank you for the awesome experience! Wishing you success!

Jia Ling
4. More than Diamonds
| | |
| --- | --- |
| Key Services | Custom design – Matching rather than Identical wedding rings |
| Website | morethandiamonds.com.sg |
| Address | 131 Tanglin Road, #02-16 Tudor Court, S247924 |
| Phone | 8181 3649 (WhatsApp) |
| Email | info@morethandiamonds.com.sg |
| Operating Hours | By Appointment (Monday to Saturday) |
If wearability and long-lasting design are important to you, then More than Diamonds is the place for you.
They custom design according to each couple's ideas, but many clients now come to More than Diamonds for their distinct minimal style, otherwise not found in Singapore.
Each item is designed and handcrafted for you. If you have an engagement ring that requires a custom designed ring to sit well with, they will have some creative suggestions. You can describe your style, likes and dislikes and they will work together with you to find the right design.
When it comes to wedding rings, their signature style is 'Matching rather than identical', which means they design to both the bride's and groom's individual taste, while using a common element connecting the rings. If you want something different, but don't identify with large showy pieces, you've found your match in More than Diamonds.
Key Differentiators
Matching Rather than Identical Wedding Rings
Wearable and long-lasting custom designs
Scandinavian-style minimal design, handcrafted locally
Client Testimonial
The most wonderful jewelry experience I've had so far, Chris and Sara patiently listened to my ideas and created a ring that far exceeded our expectations (at a very fair price given the excellent workmanship).
Our only problem is I've turned into a magpie and am now dreaming of the next piece to commission with them.
5. Storïs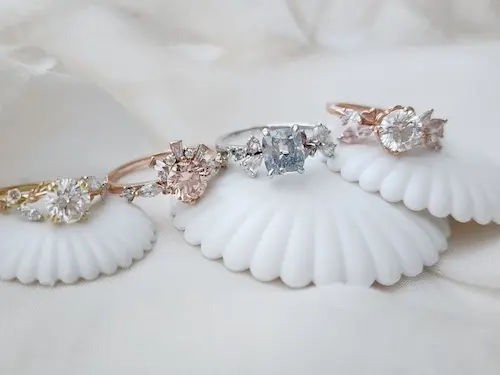 Key Services
Artisanal Fine Jeweller, Bespoke services, customization of wedding bands, engagement rings, wedding set jewellery, heirloom jewellery. They work mainly with natural sapphires and both lab grown and mined diamonds.
Website
www.storisoflove.co
Address
Raffles Hotel (By Appointment only), Nearest MRT Station: City Hall or Bugis MRT
Phone
+65 9685 8136 (Phone)
@storiseve (Telegram)
Email
Design@storisoflove.co
Operating Hours
By Appointment (Monday to Saturday)
Storïs is an artisanal jewellery brand dedicated to bringing out the beauty in each individual story. Through subtle, intricately woven details and personalised symbols, each piece of jewellery is a joyous and intimate moment you share with your loved ones, encompassing all the things you want to express.
Key Differentiators
Love is an art, and at Storïs, they transform it into wearable beauty. Every piece carries a narrative, a symbolic meaning waiting to be discovered.
They are a harmonious juxtaposition of luxury and storytelling, turning your love story into a beautiful work of art meant to be treasured for eternity.
With over two decades of experience, their team, led by Evelyn Ng, co-founder of Fairy's Inc., weaves the magic of love into every creation. Be charmed by the thoughtfully designed jewellery and be touched by the stories told.
Client Testimonial
Eve is one of the sincerest soul we met throughout our wedding journey and we are so thankful that we found her 🤍 she listens to each couple's stories with such sincerity. Sessions with her are so fun! Creativity is a two way street here – She lets you guide the creative direction of your ring designs, but at the same time she gives you her aesthetic inputs. After a few sessions, it feels like she became a friend to us. Honestly this girl boss and her brand is unique and just the best ✨

Daryl & Clarissa
6. Harry Winston
Key Services
Diamond jewelry specialist with a high-end collection of engagement rings, necklaces & timepieces.
Address
ION Orchard Unit 02-19, 2 Orchard Turn Singapore 238801, Singapore
Website
https://www.harrywinston.com/
Phone
+65 6883 9509
Operating Hours
MONDAY – SUNDAY
11:00 AM – 08:00 PM
Harry Winston is another brand to which we would compare the others on this list. Harry Winston was a diamond expert who wanted to establish a gold standard for excellent jewelry and high-end watchmaking and opened his own firm in New York City in 1932. He was also known as "King of Diamonds," fittingly enough.
Traditionally, metal settings have determined gem placement. However, Harry Winston's principle is to allow the gems to decide the design. This set them apart and established their timeless appearance as a whole.
Every Harry Winston diamond must satisfy stringent quality and control standards, regardless of its aesthetic quality. Each stone is cut and polished to perfection before being delivered to the consumers' hands. Their "exacting connoisseurship of gemstones" precisely characterizes this excellence.
Key Differentiators
Exquisite team of highly skilled jewelers whom have been working exclusively for over 40 years
Diamond or colored gemstone of exceptional quality
Ability to transform diamonds and precious gemstones into one-of-a-kind creations
Customer's Testimony
Beautiful items. Great for gifts.

Bung Tiaoqui
7. Madly Gems
If you demand nothing less than perfection, then Madly Gems is the ideal location to discover the greatest wedding band in Singapore! They're recognized for their bright and colorful patterns, which will complement any outfit.
All of their bespoke jewelry is made with responsibly sourced gems and, as the brand claims, there are no two gemstones that are identical, so each is unique and rare. This will add to the uniqueness of the ring for couples.
Key Differentiators
Bold colours and innovative shapes
Only works with the top 0.1% of gemstones, cut for maximum brilliance by lapidary masters
Member of the International Coloured Stone Association's Ethical Accreditation program
Customer's Testimony
What can I say?! My experience at Madly was absolutely wonderful. The ladies were so kind and patient when I was searching for my desired gem , their collection and variety is absolutely astounding! I was indecisive and unsure at times , but they kept me grounded and were supportive the entire way. During the design phase , Emma was so lovely . Her creativity and attention to detail made the entire process fun and she was always present and checking in to keep me updated along my ring's journey. I was blown away by the final product. Thank you Madly for going above and beyond and being a part of such a special 10 year wedding anniversary gift .

Cassandra Dover
8. Carrie K.
Carrie K. is here to make sure that the process of selecting a ring for your big day is as painless and uncomplicated as possible because an event as important as a wedding deserves only the finest ring.
They accomplish this by freely providing clients with tools that can assist them in making better decisions. One of these resources is a library of jewelry-industry tips and insights, whilst the other is a 60-minute class that teaches customers how to pick the finest diamond or gemstone for their rings.
Aside from these resources, Carrie K. also has a wealth of information on the subject of rings. Eternity Rings, Little Secret Rings, and even Morse Code rings are just a few of their gorgeous options.
Clients who want bespoke pieces but cannot find them in Carrie K.'s collection should not be concerned since the store also offers personalized pieces. Clients can transform their ideas into reality by working with professional jewelers with years of expertise in the craft to create one-of-a-kind rings based on their specifications.
However, these fixtures are more expensive than most alternatives, but the materials employed in their construction far exceed the price difference.
Key Differentiators
Unique engagement and wedding ring designs
Online resource centres
Complimentary workshops
Customer's Testimony
We really enjoyed our journey with Carrie K to craft our bespoke engagement ring! We were made to feel very comfortable and welcomed from our initial consultation with Carolyn and Aloysius. The list of questions to get to know us better as a couple was also a very nice touch and played a key role in designing a ring that was not just unique but meaningful to us. We had pretty specific requirements for our gemstone and we could see that Carrie K had high standards they lived up to in their search for our stone.

We just received our end product last week and we love it! Would definitely recommend Carrie K to anyone looking for a bespoke designer for their ring 🙂

Yeo Wenbin
9. Ling Jewellery
Ling Jewellery is recognized for creating wonderfully handcrafted wedding bands and engagement rings. It's also open to customizing wedding ring designs to ensure that every customer is satisfied.
Ling Jewellery distinguishes itself out from the competition through the use of high-end precious gems and metals as one of Singapore's top boutiques for excellent wedding bands.
It's also been praised for its excellent craftsmanship, which allows it to make wedding bands that couples would want to wear forever.
Thousands of couples flock to its stores in Singapore looking for the finest wedding bands, and it has established a solid reputation for delivering high-quality products at affordable prices.
Key Differentiators
A gemologist with a passion and flair for design
Since 2005
Large collection of meticulously crafted wedding bands and engagement rings
Customer's Testimony
My fiance and I visited all the mainstream jewellery stores before deciding to have our wedding rings made by Ling Jewellery! Andrew was super friendly, patient and very good at suggesting ring designs based on our preferences. We loved that there was an amazing variety of rings to choose from, and that the price was still comparable to that of other mid-range jewellers. Highly, highly recommend 🙂

Kerryn Chiu
Highlights
Precious gems and metals
Unparalleled workmanship
10. Vivo Diamonds
You can never go wrong with traditional-style wedding bands. Vivo Diamonds, then, is the finest alternative for you if such a style is what you're searching for!
It has a large selection of certified wedding bands with ideal cut diamonds, making it one of the stores in Singapore that offers some of the best wedding rings.
The store offers a variety of wedding rings and jewelry to choose from. Its jewelry designers have years of expertise and training, and they create fine wedding bands with high-quality workmanship.
Finally, if you have the time to go in person to its store, you may also buy wedding bands and other accessories through its online store.
Key Differentiators
Create your own ring
Skilled and professional staff
Great customer service
Customer's Testimony
Best service I've received in Singapore in a jewelry store (or in general), super friendly and knowledgeable staff. Moreover, they have a large variety of rings for different budgets and preferences. I bought my wife's proposal ring with them and we came back to buy our wedding bands. Very happy with the entire process including the end result.

Ignacio
11. JannPaul Diamonds
| | |
| --- | --- |
| Key Services | Long-running jeweler in an elegant space, specializing in diamonds & customizable rings. |
| Address | 545 Orchard Road, Far East Shopping Center, #1-23, Singapore 238882 |
| Website | https://www.jannpaul.com/ |
| Phone | (65) 9021 9891 |
| Email | sales@jannpaul.com |
| Operating Hours | Monday to Sunday: 10.30am to 6pm. |
At JannPaul Diamonds, they guarantee to provide you with some of the most beautiful and luxurious diamond ring collections to complement your lovely wedding. They have a variety of diamond cuts to select from, as well as an exclusive collection of JannPaul signature diamonds.
They can also make the ring to your precise specifications. You may schedule an appointment with their diamond expert to be absolutely sure of the kind of ring you'll receive.
In the event that you do not have time to go to their showroom, you may request a live video diamond education consultation, which allows you to view their diamond collection in real-time at your leisure.
Key Differentiators
Incepted in 2010 from our parent company House of Hung Pte Ltd
With over 40 years of experience in the trade
Also well known for jewelry craftsmanship and customization services
Customer's Testimony
Very impressed with the top notch and exceptional service from Avery! Avery has been very knowledge and shared well elaborated lessons about diamonds. Beside being sincere, sweet and really friendly, she has been very patient and helpful during the whole selection process for my engagement ring. JannPaul carries and brings in only quality diamonds, can rest assured it is of absolute value. Overall purchasing experience at JannPaul had been amazing and I would definitely recommend to anyone. Thanks again, Avery!

Ian Ng
Highlights
In-house diamond specialist
Large inventory of diamonds
Custom-made
12. Venus Tears
The Japanese jewelry brand Venus Tears is known for its high-quality craftsmanship and low prices. This is to be expected of their Japanese roots. They're a newbie to the Singapore jewelry market, but they've already made a name for themselves thanks to their inventiveness and design flair.
According to their website, they provide only "GIA" certified diamonds and gems from the Central Gem Laboratory Co. Ltd, which is Japan's most accredited institution. All of their GIA-certified diamonds also come with a Grading Report as a sign of confidence.
Key Differentiators
Wide selection of collection
Carefully curated gems and pieces
Excellent and great customer service and satisfaction
Customer's Testimony
Got our engagement ring from Venus tears! Very intricate design, staff was very helpful and friendly 🙂 5/5 recommend!

Sheng Kai Peh
13. Love and Co
Love and Co. is a company that offers a variety of ready-made and bespoke selections. Since its inception in 2007, Love & Co. has cultivated designs that appeal to everyone. Their mission is for their wedding bands to tell your tale through carefully constructed rings, with you at the center.
You can, however, Create Your Wedding Band if you prefer bespoke choices. You will review sketches by their creators, view 3D renderings, and then collect the rings after they are finished.
To begin, browse the website and contact a store for assistance. This choice promises to allow you to make a one-of-a-kind wedding statement while still keeping costs affordable.
Key Differentiators
Complimentary Delivery
Get your orders without worry and exchange them if you change your mind within 7 days
Subscription
Customer's Testimony
Allan was extremely patient and attention to details, he served us with pride and he knows his products well. He gives us a clear explanations on the different diamonds and products. A very pleasant experience given that it was my first time entering love&co. He assisted us in choosing the best diamonds and design for a lifetime. 5 stars service!

Lu Wen Teo
Wedding Band Singapore
There you have it! We have listed the Best Wedding Bands here in Singapore that could offer and customize their products according to your needs. Make sure to check out one of these retailers to ease yourself from the stress of wedding planning!
Looking for more articles to read? Check out some more of our blog posts down below!
Frequently Asked Questions (FAQ)
If you have any questions about wedding bands in Singapore, you can refer to the frequently asked questions (FAQ) about the best Wedding Bands in Singapore below:
What are the best wedding band stores in Singapore?
The best wedding band shops in Singapore include eClarity, Goldheart, Poh Heng, More than Diamonds, and Storïs.
Where can I find the perfect wedding bands in Singapore?
Singapore boasts an exquisite range of jewellery stores offering a variety of perfect wedding bands. From classic styles to bespoke designs, stores like SK Jewellery offer a wide selection to suit every couple's taste and preference.
What are bespoke wedding rings and where can I get them in Singapore?
Bespoke wedding rings are custom-designed pieces that are created according to the specific preferences of the couple. Many jewellery stores in Singapore offer bespoke services, allowing you to create a unique symbol of your everlasting love.
What are some popular choices for classic wedding bands in Singapore?
Classic wedding bands in Singapore often feature traditional designs made from yellow gold, white gold, or platinum. They are typically simple and timeless, making them a popular choice for many couples. SK Jewellery offers an excellent selection of these classic styles.
On which finger should the wedding band be worn?
Traditionally, the wedding band is worn on the fourth finger of the left hand, commonly known as the ring finger. This tradition is based on the belief that a vein in the fourth finger, known as the "vein of love", runs directly to the heart.
Why is yellow gold a popular choice for wedding bands?
Yellow gold is a popular choice for wedding bands due to its timeless elegance and durability. Its classic appeal makes it a perfect ring for symbolising the everlasting love and commitment shared on your wedding day.
How do I find the perfect ring size for my wedding band?
To find the perfect ring size, you can measure the circumference of your ring finger using a piece of string or a strip of paper, then compare this measurement with a ring sizing chart. Alternatively, most jewellery stores in Singapore provide ring sizing services to ensure a perfect fit.
What kind of range can I expect when looking for wedding bands in Singapore?
When looking for wedding bands in Singapore, you can expect an exquisite range of options. From classic yellow gold bands and diamond-studded designs to bespoke creations, there's a perfect ring for every couple.
How can SK Jewellery help in choosing the perfect wedding bands?
SK Jewellery offers a wide range of wedding bands, from classic designs to modern styles. Their experienced staff can provide advice on choosing the perfect ring to symbolise your love and commitment, taking into account your personal style and budget.
How can wedding bands symbolize everlasting love?
Wedding bands are a physical representation of a couple's commitment and everlasting love. The circular shape of the band, with no beginning or end, represents infinity and the lifelong vow the couple makes to each other on their wedding day.
Additional Useful Articles
If you are looking for other useful guides and articles about Wedding Bands in Singapore, check them out below: