Buffet Singapore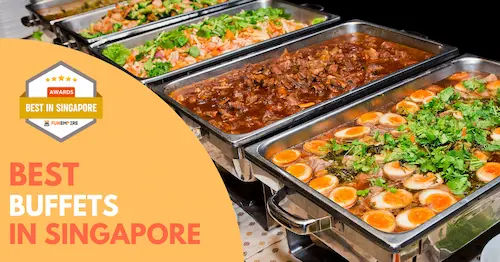 To many foodies in Singapore, buffet is just a place like heaven!
The best buffets in Singapore include Ssikkek BBQ, Dookki, Crystal Jade Xiao Long Bao, Edge, and Melt Cafe.
When selecting a buffet in Singapore, take into account factors like pricing, location, variety of food options, ambiance, and food quality.
Don't miss out on trying Singaporean buffets, where you can explore a wide range of culinary delights that reflect the multicultural society, high-quality standards, and excellent value dining experiences of the city-state.
In this article, we will recommend the best buffet Singapore to save you the trouble of looking for restaurants by yourself.
Key Consideration Factors
Before getting into the best buffet, here are some consideration factors to remember:
Price: Price is one of the most important factors when it comes to buffets. It can range from low-cost buffet with basic dishes to expensive one that offers seafood and steak.
Location: Buffet restaurants are found all over Singapore, so you should also consider your location before deciding on a restaurant.
Variety: The number of dishes offered in a buffet can range from simple to exotic. If you have special dietary preferences, make sure that the restaurant offers dishes that cater to them.
Ambience: The atmosphere of the restaurant should be comfortable and enjoyable.
Quality: Last but not least, it is also important to check if the food served is of good quality and freshness.
Best Buffet Singapore
1. Ssikkek BBQ
If you are a meat lover, Ssikkek BBQ is a true heaven for you!
As one of the most popular Korean buffets in Singapore, Ssikkek BBQ serves a wide range of top-quality meat such as ribeye, pork collar and ribs. You can choose from the marinated meats or the unseasoned ones depending on your preference. In addition, you may want to get some kimchi to balance the fattiness of the meat. If you need any help, you can always approach their friendly service staff.
Key Differentiators:
Attentive staff
Wide range of side dishes
Only accept cash or PayNow
Customer's Review:
The establishment has been there for many years already (easily over a decade). Decided to come and have a meal here again after so many years and was pleased with the food here as the quality and taste have not dropped even after so many years. Oh, and because of covid, there are also precautions taken place to prevent cross-contamination; customers have to ask for assistance now.

Joel L
2. Dookki
The word "Dookki" means 'Two meals' in Korea. Dookki is a very popular buffet in Singapore and has more than 100 stores worldwide.
The literal meaning of two meals is that you will consume the first meal in Korean hotpot style and finish the meal with kimchi fried rice. Firstly for the Korean hotpot, you can choose from different types of Korean rice cakes that are stuffed with different fillings, as well as other ingredients such as boiled egg and glass noodles for the hotpot. Secondly, you can create your own Korean fried rice by getting different ingredients such as rice, kimchi, and sweet corn!
Key Differentiators:
Unique recipes
Endless amounts of topokki prepared in a various way
Fantastic ambience and service
Customer's Review:
Came here with my friends. Awesome experience, awesome food, awesome waitress and waiters. Very attentive and caring. Will definitely come back. Waitress was so kind to give us an extra pot to try another flavour knowing that it was our first time. So wonderful.

Jayne Tong
3. Crystal Jade Xiao Long Bao
The Crystal Jade Xiao Long Bao Buffet is one of the best Chinese buffets in Singapore. Some of their best dishes include Deep-fried Whitebait in Wuxi Style, LA Mian with Scallion Oil served with Dong Po Pork Belly, and Steamed Assorted Flavours Xiao Long Bao.
You will not want to miss this buffet especially if you are a fan of Xiao Long Bao! Their Xiao Long Bao comes in different flavors that include salted egg yolk, chili crab, and mushroom. If you have a sweet tooth, you should definitely try out their Pan-fried Red Bean Pancake and Osmanthus with Wolfberry cake.
Key Differentiators:
Skilfully-crafted delicacies
Super tasty and delicious chili crab XLB
Exquisite Chinese menu
Customer's Review:
Haven't been there since Circuit Breaker 2020. The service is impeccable as usual and yummylicious food, partcularly the chilli crab xiao long pao and duck with basil leaves.

Toon Mae Ng
4. Edge
The Edge is one of the best buffets in Singapore that offers top-quality food at an affordable price, where you can find nearly 120 dishes and 35 desserts.
Consisting of seven open kitchens and master chefs, you will be served with a wide variety of high-end Asian and Pacific Rim cuisine. In addition, there will also be Thai and Korean dishes available. As Edge aims to provide an interactive dining experience for its customers, you will get the chance to observe and interact with the top chefs in Singapore.
Key Differentiators:
Seven open kitchens
A la minute presentations including Singaporean, Chinese, Malay, Indian and Japanese
Theatrical dining experience
Customer's Review:
Restaurant has good ambience and service is top notch. Food wise there is area for improvement. Seafood and sashimi are fresh and tasty. Indian and western sections are good too. However the grill section and satay are cold. Noticed these sections a good amount is already stacked there. Understand there should be sufficient food to cater to crowd but I think the cooks should try to moderate the qty considering its a pretty quiet Monday night.

Steve Tham
5. Melt Cafe
Do you want to try out multiple cuisines in a buffet? The Melt Cafe is one of the few high-quality buffets in Singapore that offers a wide variety of cuisines for you to choose from. One of the aims of Melf Cafe is to provide its customers with a high-end dining experience. You can explore their roast meat, carvings, and the most popular live gourmet stations.
Some of the recommendations include Oysters & Premium Seafood, Royal Tandoori Selection, Herbal Drunken Prawns, and Roasted Wagyu Cuts.
Key Differentiators:
Sophisticated all-day-dining experience
Contemporary and stylish interiors
Delightful patisserie counter
Customer's Review:
One of my favourite buffet restaurants in Singapore. It's not cheap but you get quality food, and abundance of them. Great service staff out there who have in their mission to make the meal as comfortable as possible. Great team for sure and Will certainly be back more, just like how I've been here yearly since 15 years ago.

Dennis Wong
6. Atrium Restaurant
As a Halal Certified buffet in Singapore, the Atrium Restaurant serves a range of cuisines that are well-loved by Singaporeans. On top of the local flavors, there is also a wide variety of international flavors that you can choose from.
The more popular dishes include Fresh Oysters, Chef's Signature Laksa, Chef's Signature Chicken Rice, Fresh Handmade Prata, and Chilli Crab. Some of their signature desserts include Durian Pengat and Traditional Ice Cream with Bread or Waffle.
Key Differentiators:
All-day dining a la carte
Halal Certified buffet
With over 40 buffet items
Customer's Review:
Top notch restaurant crews! You've got to go there to experience their service. Quality food served in small food portions (similar concept like Peppermint's). There's wafer biscuit ice cream too.

Nur Rashidah Amren
7. Shin Minori
Shin Minori means "new harvest" in Japanese. This buffet is perfect for social gatherings with families or friends where many cravings for Japanese food can be satisfied.
From Sashimi to Sushi, Shin Minori offers a wide range of Japanese food from which you can choose. Shin Minori is best known for its a la carte buffets. Some of its signature dishes are Maguro Sashimi, Kani Tempura, Zaru Soba, Spider Temaki, Ebi Tempura Maki, and Harvest Maki Roll. This is one of the best Japanese buffets in Singapore.
Key Differentiators:
Offering quality Japanese food
Affrodable prices
Extensive ala-carte Japanese buffet menu of more than 220 dishes
Customer's Review:
Been here a few times and always enjoyed the food. Sashimi is fresh and the aburi is delicious. Cooked food is good too. The items for the hotpot is nice, especially the scallops. Service is good as usual. I brought my own wine so paid $25 for corkage.

Josh Lim
8. Si Chuan Dou Hua
Si Chuan Dou Hua is a unique buffet in Singapore in which you will be served. If you love Chinese cuisine, particularly Sichuan and Cantonese cuisines, you should definitely try out this place!
Some of their most popular dishes include Braised Seafood Treasures with Sliced Abalone, Marinated Mushrooms in Onion Oil, Minced Meat Dumpling, Braised Sea Cucumber in Sichuan Bean Paste, Boiled Sliced Fish in Sichuan Pepper Sauce and Sichuan Dan Dan Noodles.
Key Differentiators:
Complemented with an acrobatic spectacle
Traditional specialities range from flavourful soups and vegetarian dishes to fiery deep-fried dishes and savoury desserts
Authentic Sichuan dining experience
Customer's Review:
Nice food ! Service is excellent! Will definitely be back for more food in the near future!

Yong Eric
9. Chicken Up
If you are a fan of Korea fried chicken, this is the buffet in Singapore for you!
The chicken meat from Chicken Up is marinated for more than 12 hours and cooked using the Korean double-fry method. You can never imagine how crunchy and juicy the chicken is. If you enjoy spice, you should go for the Spicy Up or the YangNyum style. In addition, you will be served with beer and soju which are perfect matches with fried chicken in Korean.
Key Differentiators:
Offers kids menu
Contemporary approach to Korean cuisine
Family-friendly restaurant
Customer's Review:
2nd time visit and still enjoy the food and sojurita there. Recommended place if u fancy korean fried chicken and other snacks! Tried the beef Bulgogi salad today! It's yummy!!

Priscilla Tay
10. Ginger
Located at Beach Road, Ginger is a buffet in Singapore that has most of its dishes made from the Chinese zi char style. The restaurant had its inspirations from the rich cultural heritage of Singapore, including Kampong Glam, Little India, and Chinatown.
There are a few live cooking stations where you can enjoy fresh and quality seafood such as lobsters and crabs. In addition, you can expect local favorites such as Oyster Omelette, Bak Kut Teh, roasted meat, and Satay.
Key Differentiators:
Myriad of diverse ethnicities and food cultures in Singapore
Halal-certified kitchen
Featuring an affordable and irresistible á la carte buffet
Customer's Review:
Went to Ginger quite a few times but this time I was impressed with the good service. I went on 7 may for dinner and the female staff was very attentive to our needs, promptly replacing our plates and providing us with serviettes and wet towels upon noticing us wiping our hands with the cloth provided. She kept apologising for not clearing the plates in time but it was really fine with us and it's not her fault as she was quite busy as well. Hope she receives our compliments.

Reina
11) Peppermint
If you're searching for one of Singapore's finest halal buffets, Peppermint Restaurant is a fantastic choice! This meal isn't limited to Muslims; it's also quite popular among non-Muslims!
The restaurant is set in a beautiful garden setting, making it ideal for couples looking for a romantic dinner. There are two different types of seating: outdoor or indoor, and both offer stunning views of the park, gardens, and open kitchen.
Key Differentiators:
Serves fresh juices and smoothies
Located in a serene garden setting
Halal-certified restaurant
Customer's Review:
Walk into a splendid dinner buffet menu with an efficient and friendly serving staff. Located inside the hotel, the interiors are beautiful with special compartmental rooms for bigger groups. Option to sit in the foyer feels luxurious amidst some tropical chic aesthetics.

Ewan McRidz
12) Colony
The hotel's restaurant, with a full breakfast buffet, table-side cocktails, and a bakery that offers freshly baked pieces of bread, pastries, and cakes on display. At Colony, you'll discover the freshest seafood. Fresh fish, such as white clams, sea squirts, Australian black mussels, and snow crabs, are available.
Key Differentiators:
Showcases local, Chinese, Indian, Indonesian, Malaysian and Western dishes
Seven open kitchens and breakfast, lunch and dinner buffets
Table-side cocktails
Customer's Review:
Still the best buffet in Singapore. It's affordable given the sumptuous buffet spread, the seafood is fresh too. The ambience and the service is fantastic. Just cannot understand why reservations by phone is full yet walk in is readily available with so many empty tables and chairs.

Sia
13) Lime
Surrounded by lush greenery and an agricultural design, Lime Restaurant, the hotel-in-a-garden concept at PARKROYAL on Pickering, is a beautiful place to dine at. The perfect setting for a delectable buffet. In the spacious Atrium, Lime, the hotel's signature open-kitchen all-day dining restaurant, serves up an extensive range of Asian tastes and contemporary international specialties in a lively, theatrical atmosphere.
Key Differentiators:
Serves up an extensive range of Asian tastes, along with international cuisine
Timeless creations and inspiring concoctions
Three open kitchens
Customer's Review:
We went there just for desserts and truly had a good time! The buffet was in full operation and we could see people enjoying the food. Great place to consider for another gathering. Going back to our desserts – they were yummy and the service was impeccable!

S Wun
14) Oscar's
Oscar's buffet is a hidden treasure with a diverse offering of Asian and International cuisine. Crab legs, pawns, yabbies, and oysters are all part of their seafood selection. Oscar's received a Best Buffet accolade in the Wine&Dine Singapore's Top Restaurants Guide. Fresh seafood, fantastic sushi, and Pork Knuckles are all available at different stations.
Key Differentiators:
Wide range of Asian and International cuisine
Amazing seafood selection
Diverse selection of Assisted Buffet
Customer's Review:
Variety not as much as usual buffets but quality quite good! I like the meats and desserts. The cream puff and the red whole cake were amazing. Service is great too.

Nise monos
15) 21 On Rajah
21 On Rajah is a pleasant option for a more laid-back atmosphere if you're searching for something less formal. If you're on a budget, this is the place to go! You'll spend less money on food here, making it ideal for saving money.
Key Differentiators:
Budget-friendly
Wholesome and hearty Mediterranean cuisine
Also serves South East Asian delights at affordable prices
Customer's Review:
It was my family's first experience here. We were warmly welcomed by friendly service staff. Their impeccable service was beyond words. The food served was scrumptious too. The food was delivered timely just before it was time for break fast. Upon stepping out of the premise, we made a decision to return when another opportunity arises.

Shukor Kassim
16) Carousel
Carousel Buffet Restaurant is the place to go if you're looking for a fantastic buffet to discover the world's cuisine. They are an award-winning buffet place known for their fresh seafood. A variety of foods from the Mediterranean and Asia are available at the buffet. Fresh Japanese cuisine, a lavish seafood spread, and an outstanding French Rotisserie are just a few of the things they offer.
Key Differentiators:
100 mouthwatering dishes
Halal-certified kitchens
Lavish seafood spread
Customer's Review:
Family 2021 year end celebration with a buffet. Wonderful spread and ambience. Varieties of over 50 items to enjoy from starters, mains, seafood, Indian cuisine, Japanese sushi, desserts and more. Happy New Year 2022 everyone!

Sherman Seow
17) The Carvery
The live carving stations, where you may taste slices of roast beef, pork, roast chicken, and other meats, are the highlight of the celebration. They also offer pies cooked in their wood-fired oven, whether you're a meat lover or not. The thin crust ensures that you don't overcompensate with carbohydrates, while still allowing for plenty of gooey cheese and toppings.
Key Differentiators:
Specialise in Western recipes and techniques
Serving succulent roasts, fresh firewood oven-baked pizzas, and breads
Dizzying selection of desserts
Customer's Review:
This buffet spread is not too big up to the point where there's too many options but the variety of meats, seafood and carbs is just perfect and the quality of ingredients and meat is just so good. Came here with my JCC tango mates the d1ay after we landed and for those who know what that is, eating THIS buffet hit all the spots we had been craving for those 9 days.

Evan Tan
18) Straits Kitchen
The Grand Hyatt Singapore has a restaurant called Straits Kitchen, which offers an experience unlike any other in the city. The most unique cuisine from our area is on display here. Diners may choose between a la carte and buffet-style. The chefs will prepare a unique dish especially for those who pick a la carte. Diners also have the option of selecting from an abundance of halal hawker dishes at their leisure, all of which are available buffet-style.
Key Differentiators:
Buffet of local dishes
Halal-certified buffet spread
Serves Chinese, Indian, Malay and Peranakan dishes and desserts
Customer's Review:
Straits Kitchen is a buffet setting with many varieties of Asian dishes to choose from. Love the ambience and the food taste great. The staffs were helpful, courteous, friendly and attentive. Halal certified and Highly recommended!

Din Neo
19) Suki – Ya
Suki-Ya is a traditional Japanese restaurant with an emphasis on shabu-shabu, complete with genuine Japanese cuisine. Look no further if you're searching for a fun place to unwind. You can appreciate excellent cuisine, courteous service, and even better beverages at this restaurant. If all that isn't enough to persuade you, the boundless supply of delectable meat will!
Key Differentiators:
Traditional Japanese restaurant
Featuring a wide variety of fresh vegetables
Top-quality chilled beef and pork
Customer's Review:
Sukiya is a go-to place to satisfy shabu shabu cravings. The food is decent and it was not as crowded as we had lunch during an off-peak timing. Ordered the sukiyaki and tomato soup. The tomato soup was a little bland but there is more flavour with more ingredients added. Overall, the place has met expectations.

tomyumdumpling
20) J65 @ Hotel Jen Tanglin
Buffets are usually well-known for their variety. The seafood at J65 Hotel Jen Tanglin by Shangri-La is particularly consistent, as proven by its name. There are several events and parties throughout the year, including Seafood BBQ & Beer on Mondays or Lobster Rock 'n' Roll on Wednesdays. You'll be sorry if you miss this event because you love lobsters.
Key Differentiators:
Vibrant and modern all-day-buffet-dining restaurant
Serving breakfast, lunch, dinner, and weekend hi-tea and brunch
Easy access to the buffet stations, chef's table, and the live-show-kitchen
Customer's Review:
I was expecting a buffet when I came here, but they only served Set Dinner ( $68++ for 2 pax )on the day I visited. Staff was very friendly, and told us the restaurant was closed for almost two years because the hotel was used to quarantine. They just reopened last month, and Buffet was only served on every Wednesday and Friday. Food was good, especially for caramel nut tart. Would definitely come back to try their seafood buffet next time.

Doris Chen
21) Food Capital
Take a culinary tour of the world at Food Capital in Grand Copthorne Waterfront Singapore, where you'll find international cuisine. Food Capital, formerly Café Brio, is a huge restaurant with high ceilings and comfy armchairs. If you prefer to dine outdoors, the Singapore River is a nice place to do it.
Key Differentiators:
Trendy and spacious buffet restaurant by the riverside
International buffet concept
Flavor-packed creations
Customer's Review:
Festive menu, roasted meat items are not bad, the tempura selection is good and tasty. Seafood is okay clearly can improve the freshness. Dessert are the best. I am not a sweet tooth but still kudos to the pastry/dessert chef.

sin wei Quek
22) Kushi Dining Bar
Near the Tai Seng MRT, Kushi Dining Bar is a stunning treasure. It offers high-end Japanese cuisine that rivals what you'll find at the hotel's buffet. Expect a lavish and delectable variety of cooked dishes, including Wagyu beef cubes, lobster porridge, salmon head, tataki, and other delights.
Key Differentiators:
Featuring premium thick cuts of seafood
High-quality Japanese buffet
Pleasant ambience
Customer's Review:
Great value for money. Cozy experience. Good service. fresh creamy sashimi. love the yellowtail and scallops and ultra king prawn and many more. Update: the Saba fish is good.

dEtRoiX 86
23) The Square Restaurant
You'll never go hungry again with a wide range of delectable dishes at your fingertips. Whether you're looking for our family packs or exquisite roasts, pizzas, and kinds of pasta, or signature laksa with tiny abalone, they have got you covered. At Kintamani, enjoy authentic Halal Indonesian cuisine or order a hassle-free dinner from The Square@Furama, which is available for 24/7 island-wide delivery and drive-thru pick-up.
Key Differentiators:
Reasonable price
Array of mouth-watering eats at your fingertips
Place is comfortable enough
Customer's Review:
Good fun experience for my 4 and 1.5 years old gals. Worthwhile to buy with voucher for dining. Not a very good playground but good enough to keep them occupied for one hour.

Emily Tan
24) Kiseki Japanese Buffet Restaurant
When it comes to value, Kiseki Japanese Buffet Restaurant has no rival. Students and those on a tight budget love this restaurant's fine Japanese cuisine at an affordable price. This establishment has more than 200 buffets items in 29 distinct categories, such as sashimi, robatayaki or Japanese grill, nabemono or hotpot, and Japanese western cuisine.
Key Differentiators:
Student-friendly price
More than 200 buffets items
29 distinct categories
Customer's Review:
Every dishes look delicate, very fresh and flavorful, and are served quickly. A few dish items tend to be in high demand even at the start of the lunch buffet, within minutes it's OOS. Fingers have to be fast.

Euphorie Liew
25) Alley On 25
The one we suggest to you is the one with the greatest food, drink, and entertainment if you're searching for a good hotel bargain. This deal is fantastic since it includes three meals at Alley On 25 – Andaz Singapore as well as a night's accommodation.
Key Differentiators:
Multi-cuisine
Singapore street dining in the sky
All-day dining venue
Customer's Review:
This is my second time here. Food and service were just as good as the first time. The only difference is Randah and Michelle were around this time. They are such a delight, friendly and responsive. Thanks for recommending the waffles, it is divine!!

V
26) The Three Peacocks
The Three Peacocks is one of the greatest buffets in Singapore and has a bar that serves barbecue live seafood and meat. It's preferable to have fresh fish and a good selection of meat. This is the place to go if you're looking for a pet-friendly establishment.
Key Differentiators:
Super upgraded BBQ Menu
Wide range of seafood menu
Pet-friendly establishment
Customer's Review:
It was well worth the price, I think the place is run very efficiently, even though there are a lot of customers, and there are long queues for some food items (we came on Sat.), it was a good experience. The only very minor issue that we had was when u are not near the fan, and since we're grilling the food, the smoke and the heat really can get to you. All the staff were very accomodating and works fast.

Riz Magsombol
27) The Line (Shangri-La Hotel)
The Line at Shangri-La, which is frequently praised as one of the finest, serves a collection of elegant dishes created by a team of creative chefs. The eatery is always full with activity all year round, and it's easy to see why. This hotel restaurant buffet offers a variety of culinary specialties from around the world that represent the finest of international cuisine.
Key Differentiators:
A multi-national team of chefs
Serves Middle Eastern, Indian, Western, Peranakan and Asian delights
Fresh selections of chilled seafood and succulent roasts
Customer's Review:
Fantastic seafood buffet! Fresh lobster, crabs, scallops. We thoroughly enjoyed our dinner here and the birthday celebration. The following dishes are our favourite: Fresh lobster and crab, black pepper crab, and aburi salmon sushi.

Jolene Chua
28) Shabu Sai
Shabu Sai is the place to go if you simply love meat. Aside from all of the meats, you'll discover a variety of veggies as well. For an additional S$1.99++, free soft drinks and ice cream are offered at the desserts bar. Shabu Sai is another excellent choice for value. Shabu Sai serves a variety of high-quality meats from all over the world in their delicious shabu broths, with plate after plate of high-quality cuts available for dipping.
Key Differentiators:
Very ambient and nice atmosphere
Enthusiastic service staff
Fresh ingredients and great tasting soups
Customer's Review:
A wonderful dining experience, elevated by the tremendous hospitality of service staff Willy! Willy helped us with everything from more plates of beef, to more sauces and more soup, many a time without us having to even ask. We have been to many Shabu Sai outlets across the island and this has been the best ever experience we had.

Donn Chiew
29) I'm KIM Korean BBQ
I'm KIM Korean BBQ a trendy Korean BBQ restaurant in town, with a choice of high-quality meats. It's located on the premises of SOTA (School of The Arts). The dragon-shaped restaurant offers more than 50 different dishes on an all-you-can-eat basis, ranging from barbeque meats to ready-fried savoury delicacies such as potato wedges and chicken wings.
Key Differentiators:
Serves tenderly-marinated meat
Free-flow veggies, seafood, soups
Local dishes
Customer's Review:
Lots of meat and cooked food options. Among my favorites were the wings, korean pancake, beef ribs, tteokbokki. Food is served on your table so not able to choose which part we want. We had a reservation for Saturday lunch which is a good thing cause the restaurant was packed. Good value for money if you are a heavy eater.

Tricia Mesina
30) K. Cook Korean BBQ Buffet
This is another Korean restaurant with a decent value lunch and dinner buffet for S$16.90++ and S$26.90+, respectively. The restaurant is divided into three distinct areas. There are air-conditioned and non-air-conditioned dining rooms available. The latter is kept cool with large ceiling fans, so you won't have to endure the unpleasant burnt smell associated with a Korean BBQ dinner any longer.
Key Differentiators:
Great service
Reasonably priced
Welcoming staff
Customer's Review:
My favourite BBQ restaurant. The food was very fresh as usual and CHEAP! Dinner cost you an extra $10 but was worth the price! The staff was very attentive, especially Vivi. Be sure to visit if u are looking for a GOOD Korean BBQ restaurant around Orchard.

Eyta Carmen S
Buffet Singapore
We have come to the end of this comprehensive resource for the best buffet restaurants in Singapore. We hope that you find the contents in this article useful and have picked your favorite restaurant to go to with fellow buffet goers!
Check out some of our other useful and interesting articles below:
Frequently Asked Questions (FAQ)
If you have any questions about buffet in Singapore, you can refer to the frequently asked questions (FAQ) about the best buffet Singapore below:
Additional Useful Articles
If you are looking for other useful guides and articles about best buffet in Singapore, check them out below: