Clarke Quay Bars Singapore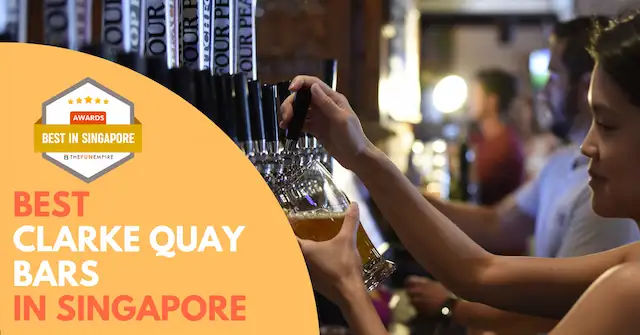 If you're looking for a fun night out in Singapore, Clarke Quay is the place to be. There are countless bars and clubs to choose from, each with its own unique atmosphere. Whether you're looking for a relaxed drink or a wild night out, Clarke Quay has something for everyone and these bars will not disappoint!
These bars are all located in a prime location and offer a great atmosphere for you to enjoy your night out.
In this article, we'll take a look at 8 of the best bars in Clarke Quay!
Key Consideration Factors
Before getting into the best bars in Clarke Quay, here are some consideration factors to remember:
Ambience – Look for a bar that has the right atmosphere and vibe. Some bars may be more laid-back while others are more lively with live music, DJs, dancing and other activities.
Budget – Think about how much you're willing to spend on drinks and food. There are some great budget options in Clarke Quay, but others can be pricey depending on what you're looking for.
Drinks – Look at the variety of drinks each bar offers. Some bars may have a wide selection of craft beers, wines and cocktails while others might offer only a few options.
Food – Some bars in Clarke Quay also offer food that pairs perfectly with your drinks. Look for tasty bar snacks and meals that will make your night out even tastier.
Location – It's important to consider the location of each bar as it can determine how busy or quiet it is on any given night. Look for bars that have easy access from the main Clarke Quay area and MRT station.
Best Clarke Quay Bars Singapore
1. Little Saigon
Along the Singapore River, Little Saigon invites you to unwind in Vietnamese style. Indulge in modern Vietnamese cuisine and delectable cocktails while listening to evocative dance music.
When you order the DIY fresh spring roll platter, which includes a huge portion of pork belly, rice vermicelli, and fresh herbs, you surely can have fun with your friends while eating these delectable meals. Then enjoy creative beverages that honor Vietnam.
Key Differentiators
Vietnamese cuisine
Sip wicked cocktails
Mesmerizing and welcoming
Customer Testimonial
Nice food, great service, good view.

Nguyen Thi Tuyet Trang
2. Level Up
Key Services
Bar
Address
3A River Valley Rd, #02-04 Block A, Singapore 179020
Website
https://1-levelup.com/
Phone
+65 6266 2276
Email
general@1-levelup.com
Operating Hours
Sunday, Tuesday to Thursday:
5PM–1AM
Friday & Saturday:
5PM–3AM
We adore an arcade bar. Level Up gets us all nostalgic with its combination of classic arcade games like Time Crisis, Bishi Bashi, and air hockey, as well as yearly events such as beer pong, foosball, and pool.
We haven't forgotten about the 80s and 90s throwback appearance! It's a real bonus. We can't forget about the food and beverages! Draft beers, classic and signature cocktails, as well as jugs for larger groups all go well with burgers and pizzas.
Key Differentiators
Arcade-theme
Bistro Bar
Comfortable and relaxed social setting
Customer Testimonial
One of my favorite places since I like table games and fun nights!

Its a hidden spot at Clark Q and It is going to be a wonderful experience for you too!

You can get there by walk from the taxi stand near CQ or 10 min from Ckark Q MRT.

Music is always fun and staff are very friendly and helpful!

Drinks are fine too!

We usually go for wine or beer!

See you next time!

John Jackson (insta: imthecraziestdude)
3. Cafe Iguana
Key Services
Mexican restaurant
Address
30 Merchant Road #01-03 Riverside Point, Singapore 058282
Website
https://cafeiguana.com/
Phone
+65 6236 1275
Email
eventsales@menu.com.sg
Operating Hours
Sun – Thur & PH
5pm – 11pm
Fri, Sat & PH eve
12pm – 12pm
Expect exceptional Mexican dining at this decades-old hotspot, which is always packed with locals and tourists. The margaritas are simply mouthwatering and inexpensive, especially during happy hour! Plus, the beef, chicken, and prawn tacos, fajitas, burritos, and chimichangas stuff will surely fill you up quickly
Key Differentiators
Authentic Mexican flavours
Founded in 2000
Freshest ingredients
Customer Testimonial
Really good Bueno Nachos and Angus Ribeye Fajitas! We had a few cocktails including a jug of lime margarita – each of them packed a good generous punch that hits you later – wonderful! This place certainly isn't stingy with the booze they put in their cocktails. The wait staff and bartenders are attentive and take the time to explain what went into the food and drinks. Bartender Lebrace (hope we spelled his name right) was as great as the drinks he made and served up! Thanks for the careful service, Lebrace!

Kristie Chen
4. Chupitos
Key Services
Bar
Address
3B River Valley Road, Clarke Quay, #01-05, Singapore 179021
Website
https://www.thechupitosbar.com/
Phone
+65 8836 0490
Email
info@thechupitosbar.com
Operating Hours
Wednesday & Thursday : 6:30PM–1:30AM
Friday & Saturday: 6:30PM–3AM
Sunday 6:30PM–12AM
Tuesday 12–1:30AM, 6:30PM–1:30AM
Chupitos is the perfect place to start your party, with a menu that includes over 130 shot flavors each categorized according to different drinking preferences and tolerance levels, and a large selection of beers. Bestsellers include Milo Godzilla and Paddle Pop.
Key Differentiators
Shooters bar
Located in the heart of the city
With over 150 power-packed shots
Customer Testimonial
The staffs were very nice and friendly. They have an array of very interesting alcohol shots. When you order a half dozen of shot, the bartender will likely perform a little performance with fire. Although the drinks can be expensive, this shots bar is known to serve up cool combinations. Situated in Clarke Quay, it is popular among teenagers and adults.

Victor Tan
5. Zouk
Key Services
Dance & Night Club
Address
3C River Valley Road, Clarke Quay, #01-05 to #02-06, The Cannery, Singapore 179022
Website
https://zoukclub.com/
Phone
+65 6738 2988
Email
zoukclub@zoukclub.com
Operating Hours
Sunday to Thursday:
9AM–9:45PM
Friday & Saturday:
9AM–3AM
For decades, this large clubbing spot has been in operation. It was the place to see international DJs before the pandemic. EDM crowd-pleasers like Diplo and R3hab have performed on its stage, as well as house and techno legends like Sven Väth and John Digweed.
Zouk, formerly a clubbing haven, has repurposed its area into a spin studio, cinema club, and pop-up kitchen. The reopening of live music offers the venue even more new shows in the months ahead, including performances by Ghetto, Nash D, and Jeremy Boon as well as DJ acts.
Key Differentiators
World-class clubbing experience
Music-driven entertainment institution
30 years in the industry
Customer Testimonial
Went there for birthday dinner since the revamp and I like it a lot! refreshing concept with bouncers and VIP servers at each table, just like the way we were clubbing/lounging pre covid days. Service wise, 12 out of 10, meticulous, considerate and professsional. Thumbs up for this strategy breeze through covid storm.

Jez L
6. Harry's
Key Services
Bar
Address
28 Boat Quay, Singapore 049818
Website
https://www.harrys.com.sg/
Phone
+65 6532 5826
Email
marketing@harrys.com.sg
Operating Hours
Wednesday: 11:30AM–12AM
Thursday: 11:30AM–2AM
Friday: 4PM–2AM
Saturday: 4PM–2AM
Sunday: 4PM–12AM
Monday: 11:30AM–12AM
Tuesday: 11:30AM–12AM
Harry's at Boat Quay is the restaurant and bar group's first flagship venue, situated next to Singapore River. It is well known for its live jazz performances, which are held every night of the week.
While enjoying live jazz, you may also order draft beer and watch live sports feeds from rugby to Formula One racing during the weekend. Every Wednesday night, you can participate in quiz nights at the Boat Quay location and win a free beer bucket.
Key Differentiators
Multiple locations
Happy Hours
Lunch Specials
Customer Testimonial
Ambience of the resto is great. Food serving size and taste amazing except for the nachos appetizer but the dip is tasty. A bit pricy better for sharing.
Good as a hangout place

rödâ
7. Slingshot
| | |
| --- | --- |
| Key Services | Amusement park ride |
| Address | 3E River Valley Road, Clarke Quay, Block E, Singapore 179024 |
| Website | http://slingshot.sg/ |
| Phone | +65 6338 1766 |
Slingshot is a fantastic alternative to Clarke Quay's normal activities of eating and drinking at the many beautiful seaside bars or restaurants, as long as you're not terrified of heights.
This is Singapore's first bungy, and it offers some spectacular sights of the city as well as a rush for even the most hardcore thrill seekers.
At 200 km per hour, the daredevils that give it a go are lofted 60 meters into the air. Slingshot is best experienced when the sun goes down and the city is breathtakingly illuminated.
Key Differentiators
Thrill ride
Perfect for adventure-seekers
Unique way of spending the night
Customer Testimonial
Slightly pricey, but definitely worth going once. It's the anticipation of being catapulted upwards which is the scary part. The rest is super fun. And the view from the top is amazing. Would definitely recommend it!

Neeraj Pattani
8. Cuba Libre Cafe & Bar
Key Services
Cuban restaurant
Address
3B River Valley Rd, Clarke Quay Blk B, #01-13, Singapore 179021
Website
http://cubalibre.asia/
Phone
+65 8418 0203
Email
cq@cubalibre.asia
Operating Hours
6pm – 3am | Sun – Fri
6pm – 4am | Sat
Locals and tourists may be too quick to dismiss Cuba Libre as "just another tourist bar at Clarke Quay," but when it comes to live music with feel-good vibes, this lively bar gets top ratings.
Yes, you won't find many locals here, but this isn't a problem since the club has a fun atmosphere with each night's excellent local bands performing Cuban tunes and some really interesting Latino-influenced versions of popular songs.
Key Differentiators
14 years in the industry
Latin American music, parties
Insta-worthy mojitos
Customer Testimonial
Personalised service by chef Alex Moreno indulging us with exquisite old world wines with gastronomical food (check out the lamb rump steak) pairing that matches perfectly with each bottle we've chosen! Well done!

Arabelle Chia
Clarke Quay Bars Singapore
Singapore is a great place to go for nightlife and Clarke Quay offers some of the best bars in Singapore. We hope that this list has given you plenty of ideas on where to spend your next evening out! If you're looking for more information about what makes these places so special, be sure to check back soon or contact us today.
Looking for more interesting reads? Check out more of our blog posts down below!
Frequently Asked Questions (FAQ)
If you have any questions about Clarke Quay Bars in Singapore, you can refer to the frequently asked questions (FAQ) about the best Clarke Quay Bars Singapore below:
Are there any day or night activities in Clarke Quay?
Yes, there are plenty of activities to do both during the day and at night. During the day, you can enjoy a leisurely stroll along the river promenade, shop for souvenirs and local crafts, and take a boat tour around the area.
Is Clarke Quay safe for visitors?
Yes, Clarke Quay is generally a safe area to visit. However, as with any city, it is recommended that you stay aware of your surroundings and take precautions when travelling alone or at night.
Are there any family-friendly activities in Clarke Quay?
Yes, there are plenty of family-friendly activities to do at Clarke Quay. Some popular activities include a river cruise along the Singapore River, boat tours around the area, and dining at one of the many restaurants in the area.
What are the other bars in Clarke Quay?
You can opt to visit other bars such as Shuffle Bistro Bar, Red Tail Bar, and Crazy Elephant!
Additional Useful Articles
If you are looking for other useful guides and articles about best Clarke Quay Bars in Singapore, check them out below:
Best Clarke Quay Bars In Singapore (2023) by Hyperspace
Best Clarke Quay Bars In Singapore (2023) by TheFunSocial
Best Clarke Quay Bars In Singapore (2023) by BestInSingapore
Best Clarke Quay Bars In Singapore (2023) by MediaFirst